Open Access This article is
freely available
re-usable
Article
Forest Spectral Recovery and Regeneration Dynamics in Stand-Replacing Wildfires of Central Apennines Derived from Landsat Time Series
1
Department of Agricultural, Forest and Food Sciences, University of Torino, Grugliasco (TO), IT 10095, Italy
2
Department of Agricultural, Food and Environmental Sciences, Marche Polytechnic University, Ancona (AN), IT 60121, Italy
*
Author to whom correspondence should be addressed.
Received: 23 December 2018 / Accepted: 30 January 2019 / Published: 4 February 2019
Abstract
:
Understanding post-fire regeneration dynamics is an important task for assessing the resilience of forests and to adequately guide post-disturbance management. The main goal of this research was to compare the ability of different Landsat-derived spectral vegetation indices (SVIs) to track post-fire recovery occurring in burned forests of the central Apennines (Italy) at different development stages. Normalized Difference Vegetation Index (NDVI), Normalized Difference Moisture Index (NDMI), Normalized Burn Ratio (NBR), Normalized Burn Ratio 2 (NBR2) and a novel index called Forest Recovery Index 2 (FRI2) were used to compute post-fire recovery metrics throughout 11 years (2008–2018). FRI2 achieved the highest significant correlation (Pearson's
r
= 0.72) with tree canopy cover estimated by field sampling (year 2017). The Theil–Sen slope estimator of linear regression was employed to assess the rate of change and the direction of SVIs recovery metrics over time (2010–2018) and the Mann–Kendall test was used to evaluate the significance of the spectral trends. NDVI displayed the highest amount of recovered pixels (38%) after 11 years since fire occurrence, whereas the mean value of NDMI, NBR, NBR2, and FRI2 was about 27%. NDVI was more suitable for tracking early stages of the secondary succession, suggesting greater sensitivity toward non-arboreal vegetation development. Predicted spectral recovery timespans based on pixels with a statistically significant monotonic trend did not highlight noticeable differences among normalized SVIs, suggesting similar suitability for monitoring early to mid-stages of post-fire forest succession. FRI2 achieved reliable results in mid- to long-term forest recovery as it produced up to 50% longer periods of spectral recovery compared to normalized SVIs. Further research is needed to understand this modeling approach at advanced stages of post-fire forest recovery.
Keywords:
post-fire recovery; spectral vegetation index; NDVI; NDMI; NBR; NBR2; Integrated Forest
z
-score (IFZ); Forest Recovery Index 2 (FRI2); burn severity; recovery trend modeling
1. Introduction
Another challenging factor to be considered is the land-cover heterogeneity due to the anthropogenic disturbances. This is particularly evident in human-shaped landscapes featuring a complex patch mosaic of crops, forests, pastures, and human infrastructures.
4. Discussion
4.1. Main Differences between SVIs When Tracking Forest Spectral Recovery Dynamics
Post-fire forest spectral recovery observed in four landscapes of the central Apennines is an ongoing heterogeneous process described by the decreasing patterns of the recovery metric (RDSVI) computed with all the SVIs. Nevertheless, substantial differences between the temporal patterns of the SVIs were observed. The different variation range between normalized SVIs is related to the sensitivity of each Landsat band to early post-fire changes [
69
,
95
] in terms of magnitude and direction. In this sense, post-fire variations were found to be higher in those SVIs contrasting one of the two SWIR bands and the NIR band (NDMI, NBR) compared to those using the Red and NIR bands (NDVI) or both the SWIR bands (NBR2) (
Figure 3
). The ability of normalized SVIs to track the rapid spectral recovery occurring soon after the fire seems related to their sensitivity toward non-arboreal vegetation dynamics rather than to tree canopy cover development, as observed in comparisons with IFZ [
42
] and FRI [
41
]. The inter-annual variability of NDVI, NDMI, and NBR was higher respect to that of NBR2 and FRI2. Since sun angle effects should be minimized by the compositing algorithm, which prioritized images acquired closer to a reference Julian day, inter-annual fluctuations seem more influenced by phenological and precipitation effects. As observed by Song et al. [
17
], phenology variations in young stands affect the red, the near-infrared, and the shortwave-infrared bands, which are the ones employed by NDVI, NDMI, and NBR. On the contrary, NBR2 seems less sensitive to variations due to precipitation effects [
38
] and FRI2 also minimized inter-annual fluctuations through yearly spectral statistics of dense forest cover, displaying a linear behavior through time. The higher percentage of recovered pixels achieved by NDVI at the 11th post-fire year compared to the other SVIs (
Figure 4
) confirmed its broad sensitivity to the amount of photosynthetically active vegetation (herbs, forbs, shrubs, and tree regeneration) [
23
,
96
]. On the contrary, SVIs based on the SWIR bands were characterized by a low percentage of recovered pixels, indicating their higher sensitivity both to fire damages on forest cover and to the following forest structure recovery as observed in several studies on post-fire forest recovery monitoring using optical remote sensing [
23
,
24
,
34
]. Results from field-based measurements indicated FRI2 as the most correlated with tree canopy fractional cover.
4.2. Forest Spectral Recovery of Different Burn Severity Classes and Forest Types
Although thresholds employed for burn severity classes were not meant to be used in these study areas, post-fire spectral recovery differences were clearly recognizable at increasing burn severity degrees. This distinction was observed both in the temporal trajectories of RDSVIs (
Figure 3
b) and in the pixel recovery percentages at the 11th post-fire year (
Figure 4
a). Also, these results highlighted that there was slightly more similarity between the recovery achieved at the moderate- and high-burn-severity classes by FRI2 compared to that attained with normalized SVIs. Among the latter, it was also observed that SWIR-based SVIs (NDMI, NBR, and NBR2) achieved considerably lower recovery compared to that of NDVI (
Figure 4
a). Since serious damages likely occurred to the over-story layers at the moderate- and high-burn-severity classes, this seemed to greatly influence the recovery of FRI2 and SWIR-based normalized SVIs. This result suggests that primarily FRI2 and secondly SWIR-based normalized SVIs are sensitive to the gradual development of tree canopy cover. Similar results were already observed through the correlation between field measurements of burn severity and several differenced (post-fire minus pre-fire) SVIs at multiple time intervals [
42
]. Differences observed in the recovery of SVIs between forest types 11 years after fire occurrence seemed to be mainly driven by the magnitude of spectral changes detected soon after the fires (
Figure 3
c).
4.3. Forest Spectral Recovery Time Derived from Monotonic Trends
Modeling trends of the SVI recovery metrics in a spatially explicit manner by coupling Mann–Kendall and Theil–Sen methods allowed for the investigation of the rate of change at those pixels with a monotonically decreasing trend over time. Spectral trends at those locations can be confidently attributed to the development of a post-fire secondary succession [
86
,
87
,
97
]. In this study, normalized SVIs exhibited spectral recovery periods of 12 years or less. However, the periods required by FRI2 to recover were up to 50% longer than normalized SVIs, particularly in the high-burn-severity class. This suggested that FRI2 is more suitable for tracking long-term forest recovery which results in slow rates of spectral changes due to the re-establishment of pre-fire tree canopy cover (sensu Frolking 2009) [
8
]. The sensitivity of IFZ and FRI to the advanced stages of the forest succession was observed in other studies addressing post-fire forest recovery assessment through different SVIs [
41
,
42
] and using IFZ alone [
43
]. The results obtained from the prediction of spectral recovery time were partly in disagreement with those of recovery percentages (
Figure 4
) as, in this latter analysis, few differences between normalized SVIs were observed. This can be explained because the number of pixels used to predict spectral recovery time was 2385, equal to 3.4% of the number of pixels involved in the analysis (69,444). These pixels were selected applying two major constraints to the trends of the recovery metric of SVIs. It was required that the RDSVI trends were significant in the MK test (
p
< 0.01) and that this was concurrently true at the same location. Despite the limited number of pixels, this approach allowed for the comparison between the recovery time of SVIs integrating spatial information. The resulting number of pixels was likely influenced by the lower percentage of significant trends of FRI2 compared to that of normalized SVIs (
Table 4
). Several factors could have limited the percentage of FRI2 pixels having a significant recovery trend in the MK test. Among these factors, FRI showed sensitivity to the delay of post-fire mortality of damaged tree crowns [
41
]. Thus, a subtle decline in tree canopies throughout the analyzed period could produce significant declining trends of the FRI2 recovery metrics. This was particularly relevant in the LA study area (
Figure 5
), where the percentage of significant declining trends was 5.6% of all the forest burned pixels, which was slightly higher than the percentage of recovery trends (3.67%). Also, it is arguable that delayed mortality of tree crowns occurring during the analysis period produced a shift in the direction of the spectral changes, resulting in statistically non-significant trends of the FRI2 recovery metrics. These factors highlighted that temporal trajectories of FRI2 at early stages of post-fire forest succession are generally non-monotonic compared to that of normalized SVIs. Hence, it is advisable that the assessment of significant trends with the MK test at the pixel level be performed considering the advanced stages of forest recovery. Moreover, benefits could come from the use of a contextual approach, exploiting the information of neighboring trends to assess their monotonicity with the MK test [
84
].
5. Conclusions
Assessing post-fire forest regeneration dynamics by means of multi-temporal change detection analysis with Landsat imagery and SVIs allowed exploring different temporal scales of this process. In order to better estimate the future trajectories of forest recovery, it is crucial to understand which SVI can serve better to achieve this scope. Modeling changes of SVIs over a sufficient period with a robust regression approach can effectively address this matter. This study highlighted that the enhanced FRI2 ability to track long-term forest regeneration dynamics could be associated with ecologically meaningful results regarding the length of the forest recovery process and referring to the re-establishment of a continuous canopy cover over the burned areas. Therefore, the choice of the most suitable SVI for post-fire vegetation recovery assessment should be based upon the existing type of vegetation cover and the appropriate timescale. Early to medium stages of the post-fire forest secondary succession can be monitored using a normalized index employing the SWIR bands. However, at a time scale wider than 10–12 years, FRI2 provided reliable results through linear modeling extrapolation. Further research is needed to test its suitability at advanced stages of post-fire forest recovery.
Supplementary Materials
The following are available online at
https://www.mdpi.com/2072-4292/11/3/308/s1
: Table S1: Detailed list of the Landsat data used in this study; Table S2: Landsat images used to map burn severity in the four study areas: Roccafluvione (RF), L'Aquila (LA), Navelli (NA), and Roccamorice (RM).
Author Contributions
Conceptualization, D.M. and M.G.; data curation, D.M.; formal analysis, D.M.; funding acquisition, C.U. and M.G.; investigation, D.M. and A.V.; methodology, D.M. and M.G.; resources, C.U. and M.G.; software, D.M.; supervision, C.U. and M.G.; writing—original draft, D.M., A.V., and M.G.; writing—review and editing, D.M., A.V., C.U., and M.G.
Funding
This research was funded by the University of Torino, research grant "Monitoraggio della rinnovazione forestale post-disturbo attraverso il telerilevamento satellitare e rilievi di campo" and by the Marche Polytechnic University, through the project "Aerial Drone for Environmental and Energy Research".
Acknowledgments
The authors wish to thank Francesco Malandra for his contribution to field data collection.
Conflicts of Interest
The authors declare no conflict of interest.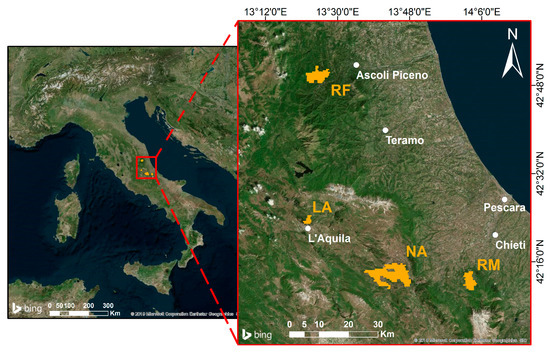 Figure 1. Location and wildfire surface (orange polygons) from MODIS burned area (MCD64A1) of the four study areas: Roccafluvione (RF), L'Aquila (LA), Navelli (NA), and Roccamorice (RM).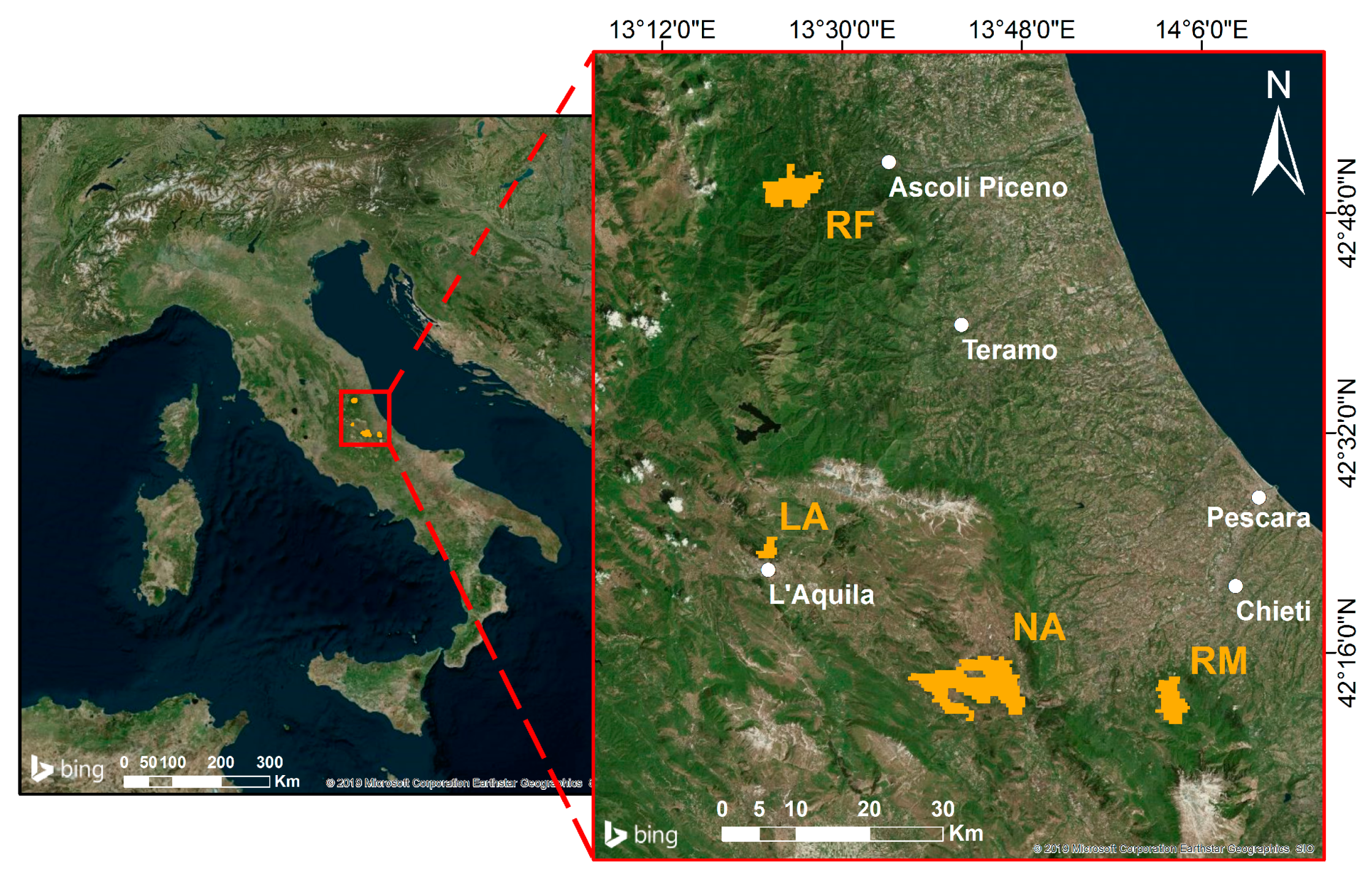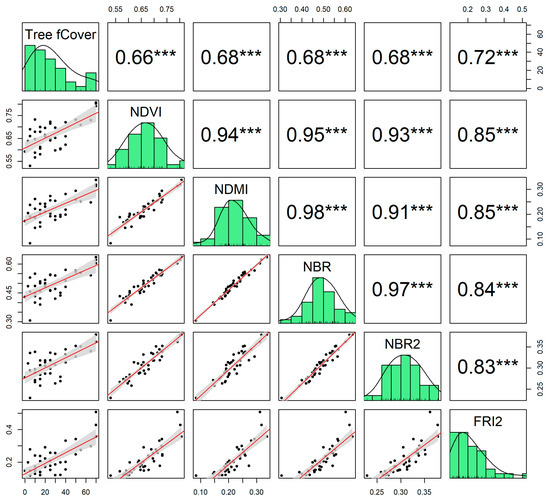 Figure 2.
Correlation matrix of Pearson's test between tree fractional canopy cover (Tree fCover) obtained from field data and Landsat spectral vegetation indices (SVIs). Asterisks indicate that all tests were significant (
p
< 0.001).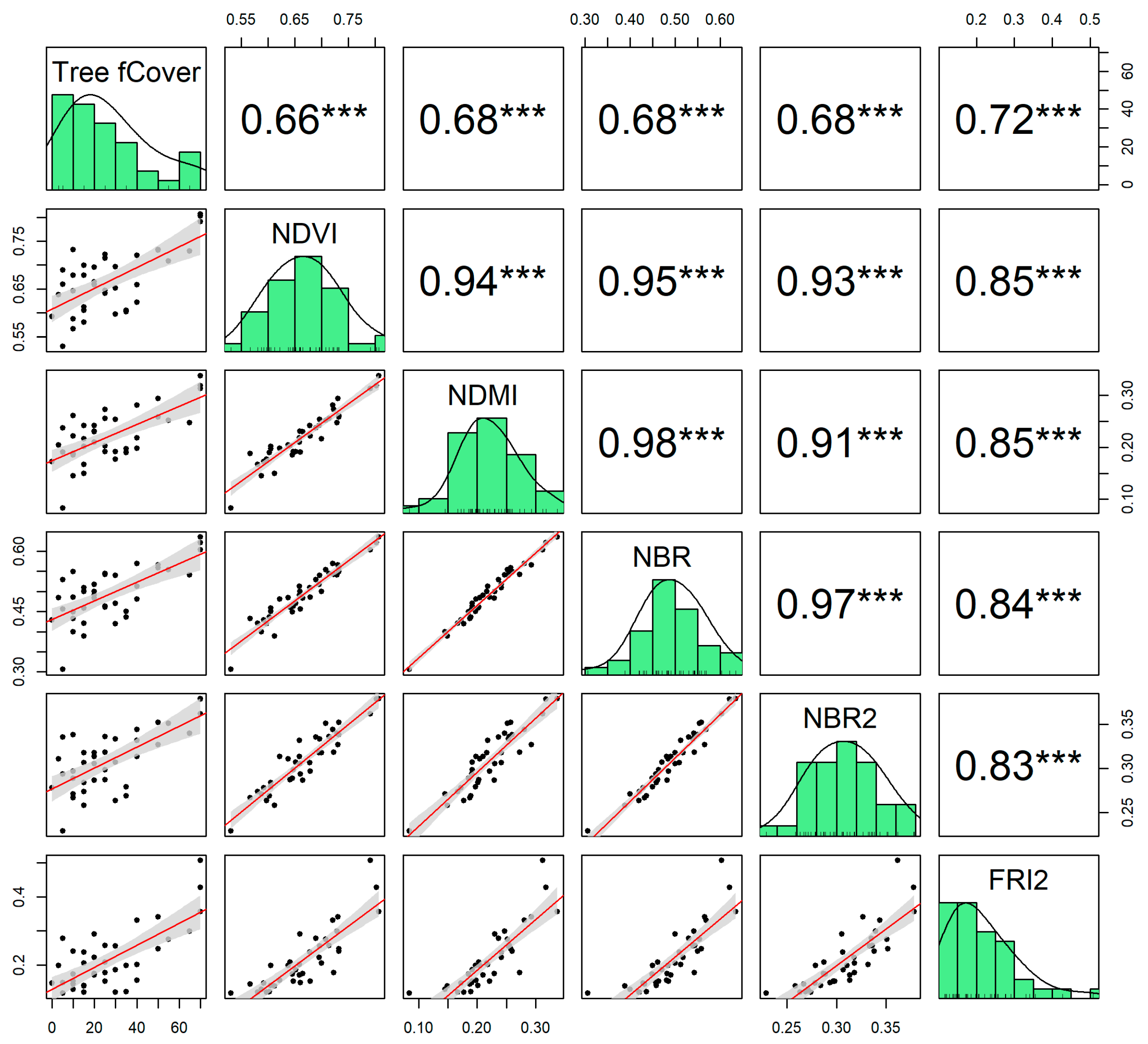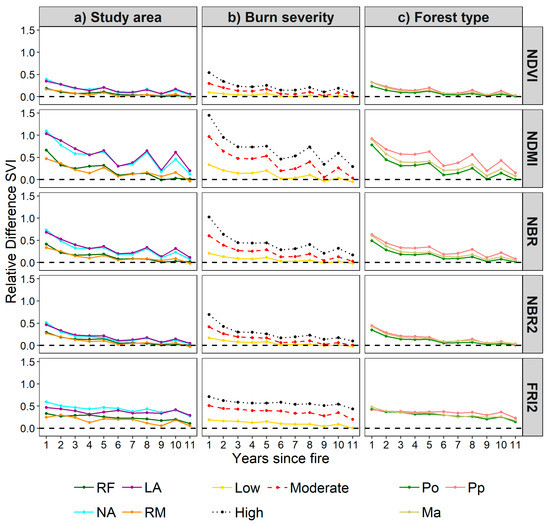 Figure 3.
Post-fire temporal trajectories of Relative Difference SVIs (RDSVIs) (
y
-axis) at one-year intervals (
x
-axis) divided by study area (
a
), burn severity (
b
), and forest type (
c
). Years are expressed relative to fire occurrence. Study areas: Roccafluvione (RF), L'Aquila (LA), Navelli (NA), and Roccamorice (RM). Forest types: Po (pubescent oak), Pp (pine plantations), and Ma (manna ash and European hop-hornbeam).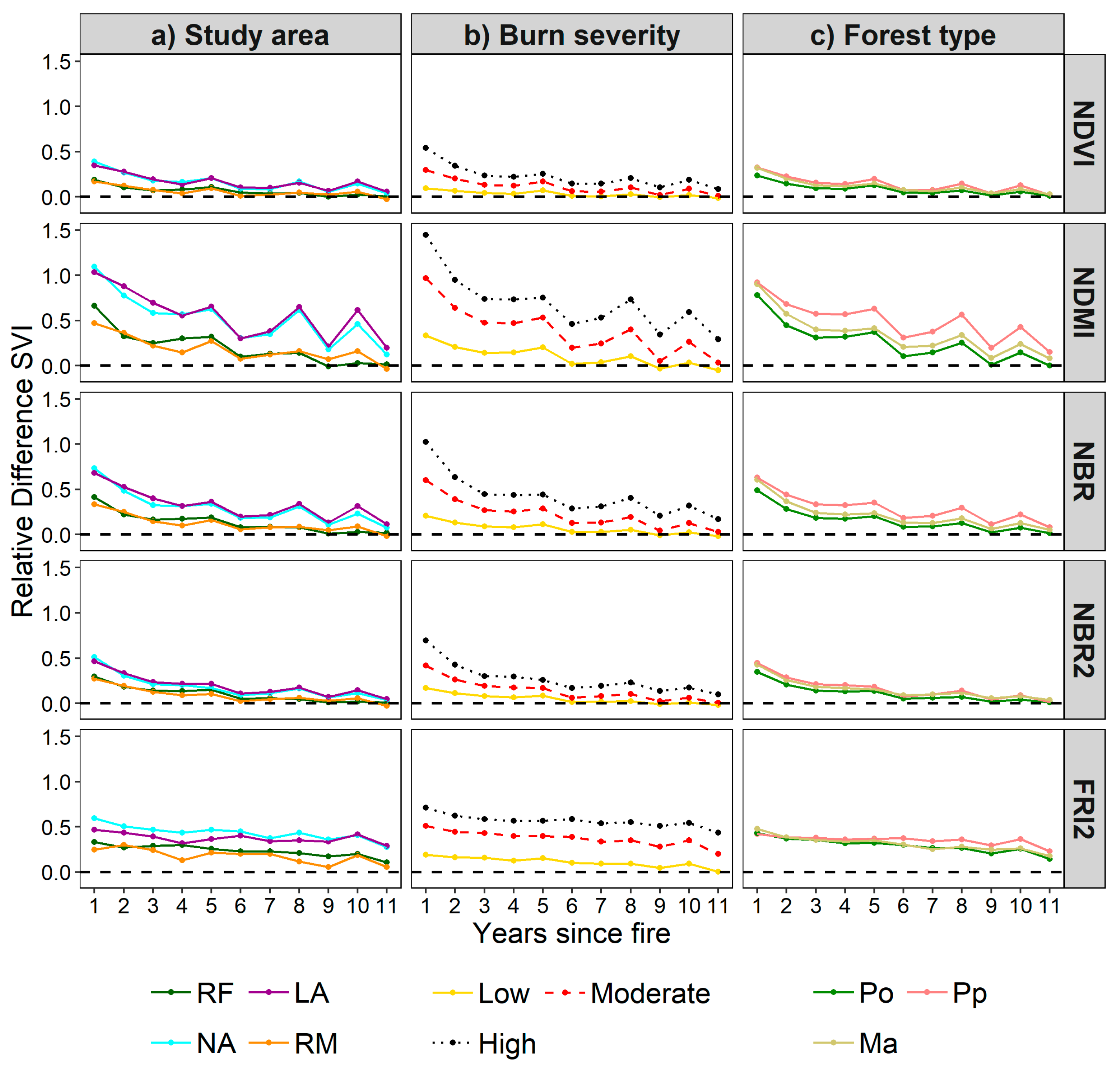 Figure 4. Percentage of recovered pixels aggregated by burn severity class (a) and forest type (b). Po: pubescent oak; Pp: pine plantations; Ma: mixed manna ash and European hop-hornbeam.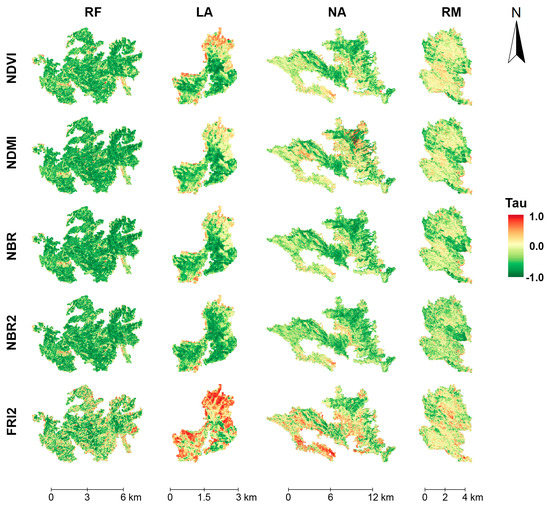 Figure 5. Maps of Kendall's tau rank correlation coefficient relative to RDSVI trends obtained with the Mann–Kendall test. Kendall's tau values range from 1 to −1. Positive values of tau are related to declining trends, whereas negative trends highlight spectral recovery. Study areas are Roccafluvione (RF), Navelli (NA), Roccamorice (RM), and L'Aquila (LA).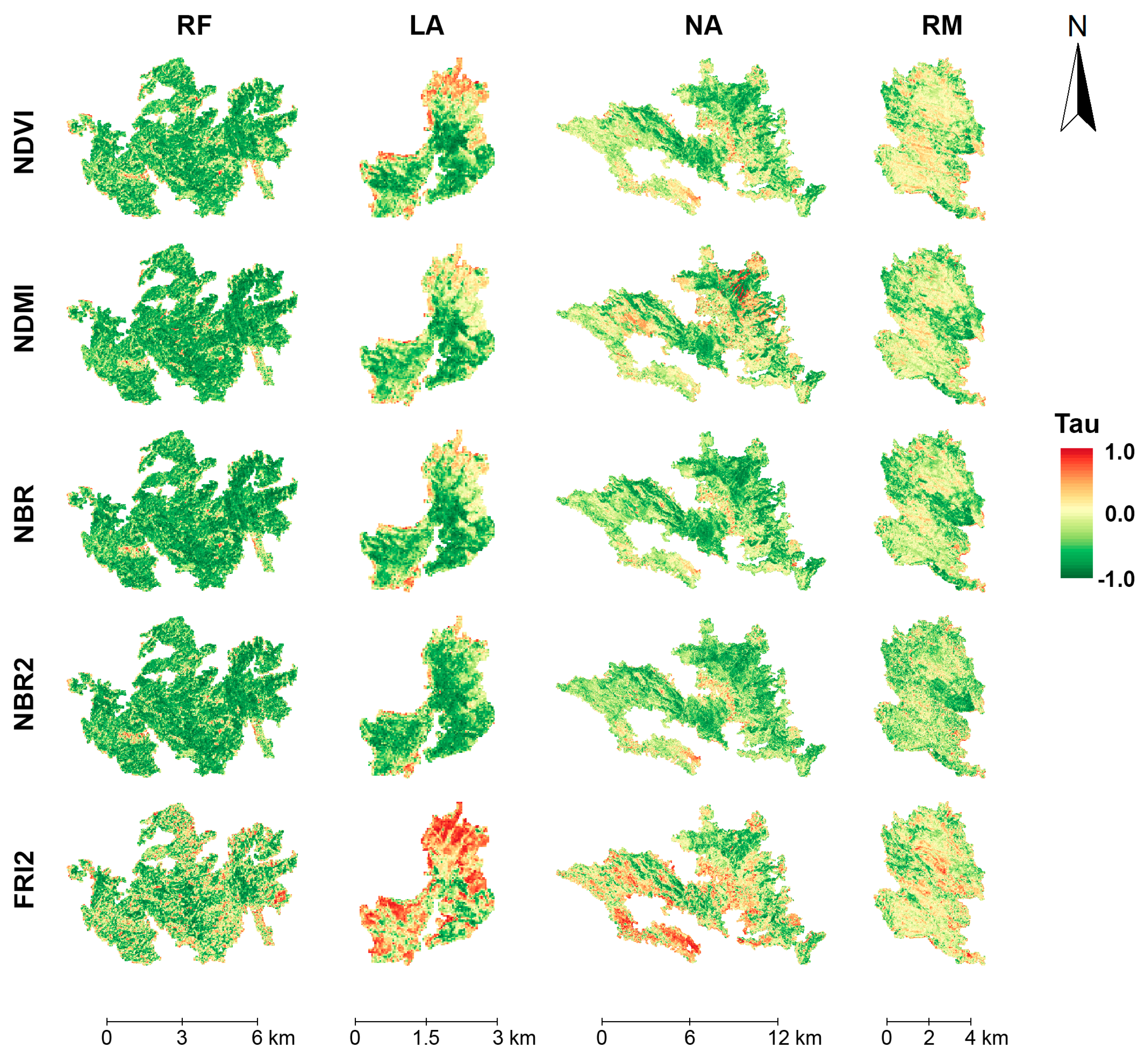 Table 1. Wildfire information, and climate and landform properties of the four study areas: Roccafluvione (RF), L'Aquila (LA), Navelli (NA), and Roccamorice (RM).
| | RF | LA | NA | RM |
| --- | --- | --- | --- | --- |
| Fire start date | 21 July 2007 | 9 August 2007 | 14 July 2007 | 23 July 2007 |
| Overall burned area (hectares) | 2753 | 530 | 6939 | 1823 |
| Forest burned area (hectares) | 1860 | 391 | 1896 | 427 |
| Annual mean temperature (°C) | 12.4 | 11 | 11.8 | 10.9 |
| Annual mean precipitation (mm) | 820.9 | 856.7 | 827.1 | 743.9 |
| Mean altitude (m) ± SD | 628 ± 146 | 977 ± 104 | 787 ± 206 | 933 ± 206 |
| Mean slope (°) ± SD | 28 ± 9 | 21 ± 8 | 17 ± 9 | 17 ± 9 |
| Mean roughness index | 23 | 12 | 9 | 10 |
| Heat Load Index ± SD | 0.76 ± 0.09 | 0.79 ± 0.05 | 0.74 ± 0.06 | 0.76 ± 0.07 |

Table 2. Italian Agency for payments in agriculture (AGEA) orthophoto acquisition dates, accuracy assessment metrics of forest/non-forest cover maps, and percentage of forest cover within fire perimeters. Accuracy metrics: producer's accuracy (PA), user's accuracy (UA), overall accuracy, and K statistic values for each study area (Roccafluvione—RF, L'Aquila—LA, Navelli—NA, Roccamorice—RM).
RF
LA
NA
RM
Acquisition dates
18 June 2007
14 May 2007
9 September 2007
14 May 2007
18 June 2007
21 June 2007
9 July 2007
PA forest cover (%)
95.68
99.45
97.08
94.44
PA non-forest cover (%)
89.3
91.71
93.46
93.56
UA forest cover (%)
88.5
91
93.2
93.5
UA non-forest cover (%)
96
99.5
97.2
94.5
Overall accuracy (%)
92.25
95.25%
95.2%
94%
Kappa coefficient
0.845
0.905
0.904
0.88
Classified forest cover (%)
85.75
73.38
39.11
32.68

Table 3.
Median values and interquartile ranges (IQRs) of years required to complete forest spectral recovery within burn severity classes and forest types by pixels with a significant recovery trend of each Relative Difference spectral vegetation index (RDSVI) (
p
< 0.01). Po: pubescent oak; Pp: pine plantations; Ma: mixed manna ash and European hop-hornbeam.
NDVI (IQR)
NDMI (IQR)
NBR (IQR)
NBR2 (IQR)
FRI2 (IQR)
Burn severity
Low
8.99 (3.82)
8.56 (3.68)
8.85 (3.67)
8.93 (4.19)
10.13 (6.85)
Moderate
9.88 (3.27)
9.70 (3.23)
10.03 (3.02)
9.93 (3.75)
13.38 (10)
High
12.02 (2.53)
11.68 (3.19)
11.93 (2.39)
12.20 (2.84)
18.15 (14.13)
Forest type
Po
9.74 (3.49)
11.01 (4.42)
10.59 (3.49)
9.98 (3.99)
12.35 (11.54)
Pp
11.1 (3.25)
10.08 (2.89)
10.73 (2.80)
11.12 (3.33)
15.69 (11.39)
Ma
12.18 (3)
11.53 (3.56)
11.85 (2.73)
12.36 (3.44)
15.58 (13.32)

Table 4.
Percentage of pixels with a significant negative trend (
p
< 0.01) of RDSVIs with respect to the number of pixels within the area of interest of the study areas. Study areas are Roccafluvione (RF), L'Aquila (LA), Navelli (NA), and Roccamorice (RM).
Study Area
NDVI
NDMI
NBR
NBR2
FRI2
Percentage with a negative trend (τ < 0)
RF
26.86
36.48
39.88
38.42
18.24
LA
19.49
16.04
21.97
27.92
3.67
NA
14.87
18.9
26.99
19.06
10.9
RM
7.56
10.65
17.07
14.87
3.35

© 2019 by the authors. Licensee MDPI, Basel, Switzerland. This article is an open access article distributed under the terms and conditions of the Creative Commons Attribution (CC BY) license (http://creativecommons.org/licenses/by/4.0/).