Open Access This article is
freely available
re-usable
Article
Drone Based Quantification of Channel Response to an Extreme Flood for a Piedmont Stream
1
AquaUoS, University of Salford, Salford M5 4WT, UK
2
School of Science, Engineering and Environment, University of Salford, Salford M5 4WT, UK
*
Author to whom correspondence should be addressed.
Received: 30 June 2019 / Accepted: 17 August 2019 / Published: 29 August 2019
Abstract
:
The influence of extreme floods on the form and functioning of upland systems has concentrated on the erosive impact of these flows. They are seen to be highly competent with coarse sediment transport rates limited by upstream supply and moderated by the 'blanketing' effect of an armour layer. This study investigates the effect of extreme events on the upland sediment cascade subjected to a recent extreme rainfall-induced flood event. The drone-based survey generated orthophotography and a DEM surface, which was compared with historic LiDAR data. This allowed erosion and deposition to be quantified and the surface micro-variation used to characterise stable and mobile sediment. The idealised model of sediment residence time increasing downstream is questioned by the findings of this study as relatively little coarse bedload sediment appears to have been transferred downstream in favour of initial local channel erosion (moderated by legacy large sediment), mid-reach palaeo-channel reactivation, sub-channel infilling and downstream deposition of the majority of mobilised sediment across berm and bar surfaces within the active inset channel margins. Channel margin erosion was largely limited to fine sediment stripping moderated by the re-exposure of post-glacial sediment. Only a weak relationship was found between local channel slope and deposition, with storage linked more to the presence of inset berm and bar areas within the inset active channel. Downstream fining of sediment is apparent as is a strong contrast between coarser active sub-channels and finer bar and berm areas.
Keywords:
Piedmont stream; torrent stream; upland sediment budget; Unmanned Aerial Vehicle; Lidar; drone survey; legacy sediment; sediment transport
2. Data and Methods
2.1. Study Site
2.1.1. System Form
The upper reach of Liza Beck drains 4.5 km
2
of moorland across Brackenthwaite Fell and Whiteside (
Figure 1
) and here the channel flows in a strongly confined valley within steep valley margins (channel width/valley bottom width generally >0.1) as a bedrock (mudstone siltstone and wacke deposits) dominated, cascade/torrent channel (
Figure 2
a). Valley bottom development is minimal although boulder and coarse cobble sediment stores are present. Coarse sediment supply is strong with materials supplied from the well-connected valley sides in the form of screes, valley fans, and bedrock block failure, material is also remobilised from the valley stores mentioned above. The river disgorges across a large fan deposit at Langthwaite (
Figure 2
b), where it presently forms an incised, boulder influenced, cascading, multiple channel network, flowing through relict glacial and fluvio-glacial sediment. Here the river has reworked very little of the drift deposits over which it is flowing with only a narrow corridor of river alluvium recorded. Channel width varies depending on the degree of bifurcation ranging 2–5 m, valley bottom slope is generally above 0.1 in the headwaters dropping to 0.07 across the fan zone. Coarse sediment supply appears strong with frequent local connectivity between the active headwater channel and erodible valley margin drift.
The nature of the system changes rapidly as the gradient drops off over the fan and this is reflected in a rapid fining of sediment with mixed cobbles and gravels and then gravels dominating the channel and valley bottom (this material has infilled the pool above the ford crossing and impacts the crossing itself during most geomorphologically effective floods). Channel movement in this reach is locally frequent linked to the flood regime, however, most often change is confined to the re-occupation of former sub-channels infilled by finer material carried by lower magnitude floods. Valley bottom change appears similarly dramatic with large volumes of coarse material deposited in this zone and frequent local stripping of accumulated overbank fines to generate a complex series of inset berms and narrow floodplain zones. Management of this reach for farming reveals these stepped units very well. This reach forms the focus of this study.
Although the valley gradient has lessened by this point, it remains relatively steep and the channel continues as a highly diverse alluvial system exhibiting, rapids, riffles, pools, and plane bed morphology, occasionally bifurcating across a predominantly wooded valley floor (
Figure 2
c). Erosion and deposition processes remain very active with dynamic gravel and smaller cobble dominated bedload transport system operating to maintain a dynamic system. After this point, the river flows across the floodplain deposits of the River Cocker with which its confluences after Low Liza Bridge. The single thread channel here has been and continues to be managed, exhibiting a straightened character and displaying little in the way of lateral channel movement (
Figure 2
d).
2.1.2. Character of the Storm Desmond Event
Lisa Beck is a small, ungauged, watercourse, however, the flooding in winter 2015/2016 was one of the most extraordinary hydrological episodes witnessed in the UK in recent decades [
36
] defined by a succession of severe storms, bringing extreme rainfall and associated widespread flooding. The upper catchment has a median daily rainfall of 7.6 mm, and a mean of 15 mm, the 84th percentile is 29 mm. An indication of the magnitude of the flood event can be gained from the rainfall record associated with Storm Desmond (
Figure 3
). The catchments of the Lake District were subjected to the second wettest November since records began in 1910 and the wettest ever December with the region receiving 3 times the monthly average [
37
], 341.4 mm of rainfall was recorded over 24 h at Honister Pass and 405 mm over 38 h at Thirlmere, both gauges are close to the Liza Beck study site (
Figure 1
). In Cumbria, Storm Desmond delivered enough rainfall to break the 24- and 48-h UK rainfall records. Its hydrological impacts were extreme, breaking recording the highest ever peak discharges [
38
]. The Centre for Ecology and Hydrology. [
39
] reported that the storm was the largest on record for Cumbria (1867–2017) and used the FEH13 rainfall frequency model [
40
] to estimate the return period at 1 in 1300 years.
2.2. Data Collection and Processing
2.2.1. Aerial Imagery and Historic Maps
Historic maps were reviewed to reveal any historic gross change around Langthwaite. From these, it is clear that there has been no gross planform change since the first epoch Ordnance Survey mapping of the area (1860) although there is obvious straightening of the watercourse across the River Cocker Floodplain. Web-based aerial images from 2004, 2014, and 2018 were also interrogated for change (
Figure 4
) and these suggest some internal reworking of material at the bar unit scale.
2.2.2. Topographical Data
Topographic surveys have been conducted across the historically dynamic region of the river through Langthwaite Green in May 2017. A small unmanned aerial vehicle (sUAV) (DJi quadcopter) was used to obtain multiple aerial photographs of each study reach, using a high-resolution (20 Megapixels, at resolution 5472 × 3648 and 4K UHD video recording) narrow 3:2 aspect ratio, mounted on a remotely operated 3 axis gyroscopic gimble facilitating optimal picture quality. The camera was set to acquire photography at intervals of approximately 5 s in order to ensure sufficient spatial coverage and minimum 80% image overlap, following the principles of [
34
,
35
,
40
,
41
,
42
]. The camera settings were optimized for the survey conditions, these included: ISO levels, exposure compensation, and white balance. The sUAV was flown at low uniform height (~25 m AGL) to generate high resolution imagery (0.01 m) and accurate DTM reconstruction during post-processing (0.04 m). Images were principally captured at or near to nadir with oblique images focused around complex topography and vegetation. Coordinate georeferencing was facilitated through ground control points (GCPs) surveyed using a Leica system 500 dGPS. These GCPs were spaced roughly equidistant at 5 channel widths apart. Such a systematic distribution maximises their effectiveness in post-processing [
35
,
41
], enabling comparison to historic LiDAR.
All post-processing was conducted using Agisoft Structure from Motion (SfM) software on an Intel Xeon processor with 256GB RAM. Overlapping images were mosaicked together using an SfM photogrammetry approach [
42
] where rasterized three-dimensional representations are constructed from two-dimensional images [
43
]. Each individual image was manually inspected for quality, with any out-of-focus images discarded. Within each aerial image, GCPs were identified and assigned their corresponding dGPS-derived coordinate allowing the photographs to be realigned and scaled based on the OSGB-coordinate system. Through a moving window approach, an Agisoft generated point cloud is classified by an angle and distance from the lowest point filtering method. For Liza Beck, an angle of 8° and a max distance of 0.8 m was used as an initial iteration. Liza Beck vegetation was low shrub and Gorse, for trees and continuous canopies, a larger moving window cell size should be used, with a maximum angle of between 20 and 30 degrees and distance threshold at least below the bottom of the tree canopy. Each point within the UAV point cloud is assigned an RGB value, a supervised classification according to colour provides the second iteration to segregate ground points from vegetation due to the contrast in colour between flora surfaces and river gravels. A final manual iteration removes any isolated noise points that may persist. A textured model was then built using the geometry created from the classified point cloud providing a fully orthorectified aerial image of the study reach. Final model statistics are provided in
Table 1
.
2.2.3. Historic Lidar
Aerial Lidar data were obtained for the study site from the Environment Agency data archive for 2009 (1 m resolution). Reported vertical error on these data sets is 0.15 m. The data are georeferenced to the OSGB coordinate system.
2.2.4. Error Handling
When quantifying volumes of erosion and deposition Equation (1) was used to determine the combined error threshold
hcrit
for each of the three data sets
where σ
e1
and σ
e2
are the standard deviation of elevation error in the raw survey data, for each survey. The critical t value at the 95% confidence limit is ≥1.96 (2σ). Normally this procedure uses an average σ
e
value for each surface, resulting in a uniform level of detection being applied to the DEM of difference [
44
]. The resultant threshold applied to the 2009–2017 data comparison was 0.1 m, and this was used to mask the surface difference data derived from consecutive surveys.
2.2.5. Surface roughness estimation
To further investigate the nature of change across along the study reach the DEM's were used to generate local surface roughness statistics [
44
,
45
], allowing review of roughness element change as a proxy for changing sediment size. The standard deviation of elevation was calculated, setting a search radius greater than the largest stone within the study reach (see [
46
]).
3. Results
Change Evidence from Mapping and Imagery
Historic Ordnance Survey mapping of the reach extends back to 1860. The best map resolution was 1:10,000 scale and this failed to reveal any significant channel change across the site. As the river is not revetted along the study reach, it is suggesting that the large calibre fan material exposed in the channel banks is preventing the watercourse from migrating laterally.
The aerial imagery was also reviewed for the presence of palaeo-features potentially evidencing channel behaviour throughout the Holocene. It is clear that the current Liza Beck is cutting down into fan deposits disgorged from the narrow headwater valley further upstream. Fan lobes were not apparent, and it was difficult to identify palaeo-distributaries across the fan surface.
With regard to morphologic units, new active channels are characteristically coarser than surrounding berm and bar deposits, and channel infills appear similar to the general berm/bar surface deposits. No significant deposition of coarse material occurred beyond the inset channel margin.
4. Discussion
The lack of channel movement on the Liza Beck, as evidenced from historic mapping, suggests that the planform of the channel is effectively fixed under the current flow regime with flood flow forces insufficient to erode and mobilise the larger clasts present in the palaeo-fan deposit through which the river is flowing. Attempts by the channel to avulse and activate a different part of the fan is being prevented by active management.
5. Conclusions
Patterns of system change and the processes driving change are the focus of much international geomorphological research. Flood magnitude and frequency are seen as key drivers with regard to triggering change on fluvial systems, coupled with the degree of sediment coupling. Meade [
52
] developed an idealised model of sediment residence time with storage duration increasing downstream as transient bar features give way to more permanent floodplain alluvium. This conceptual understanding is revisited in the light of the research on Liza Beck,
Figure 11
is a model of torrent channel response to extreme floods derived from this study. It suggests that:
Extreme response is moderated by the current competence of flood flows to mobilise larger sediment which remains as a relic of more energetic post-glacial conditions.

Fine sediment stripping down to the remnant post-glacial sediment expands the flood channel to create erosive coarse sediment units.

Lateral change is restricted, again linked to an inability to erode large calibre bank sediment.

Channel movement within the active belt width is primarily through sub-channel creation, these appear to follow palaeo-routes, stripping out smaller calibre sediment.

Abandoned channels become filled with smaller calibre flood sediment.

Local channel slope exerted a weak influence on deposition whilst width change did not impact on bedload transport.

Released finer bedload (mostly gravels) are rapidly re-deposited across inset channel berms and bars downstream.

Relatively little coarse sediment is exported from the channel.
Overall the survey approach used in this paper demonstrates the value of drone-based orthophotography and DEM surfaces with rapid cost-effective data capture and processing allowing change to be elucidated from the grain to the reach scale.
Author Contributions
G.H. and N.E. equally contributed to the production of this research paper.
Funding
This research received no external funding.
Acknowledgments
The authors would like to thank the Environment Agency for access to rainfall data and lidar. We would also like to thank the National Trust for access to the field site, and the anonymous three reviewers who helped to improve the manuscript.
Conflicts of Interest
The authors declare no conflict of interest.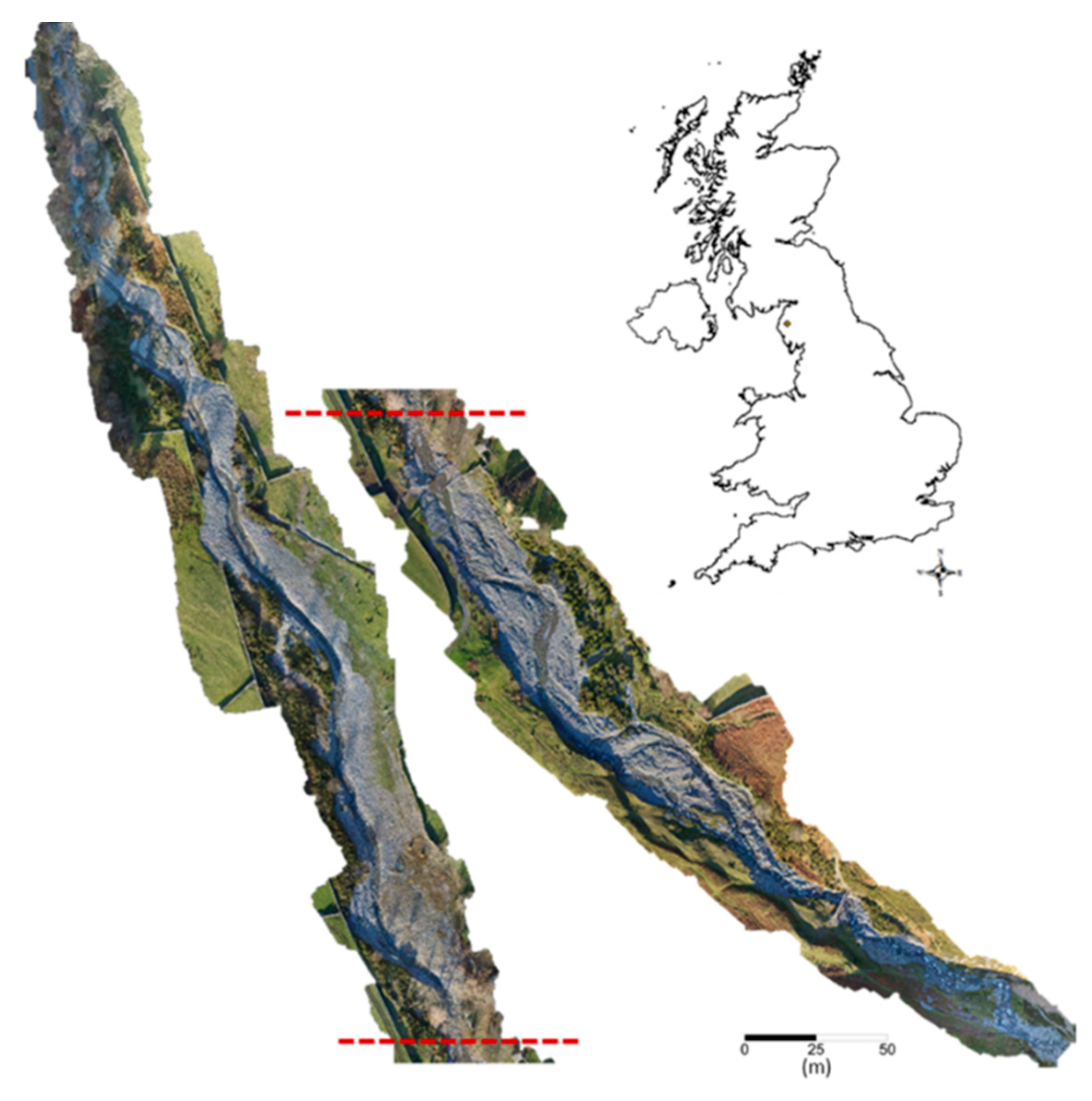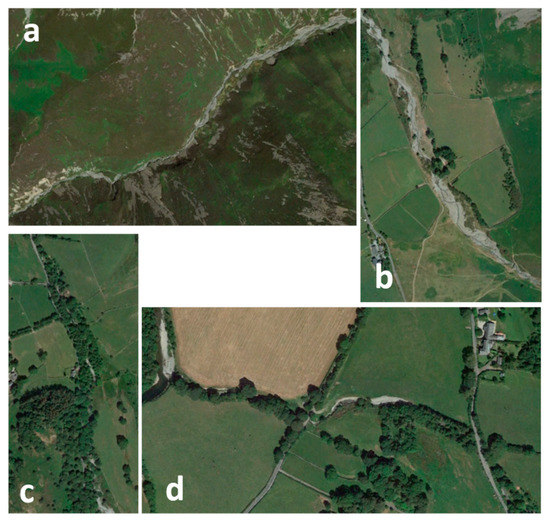 Figure 2. Changing character of Liza Beck, (a) bedrock/boulder cascade, (b) boulder dominated torrent, (c) single-thread/bifurcated, (d) historically straightened single-thread.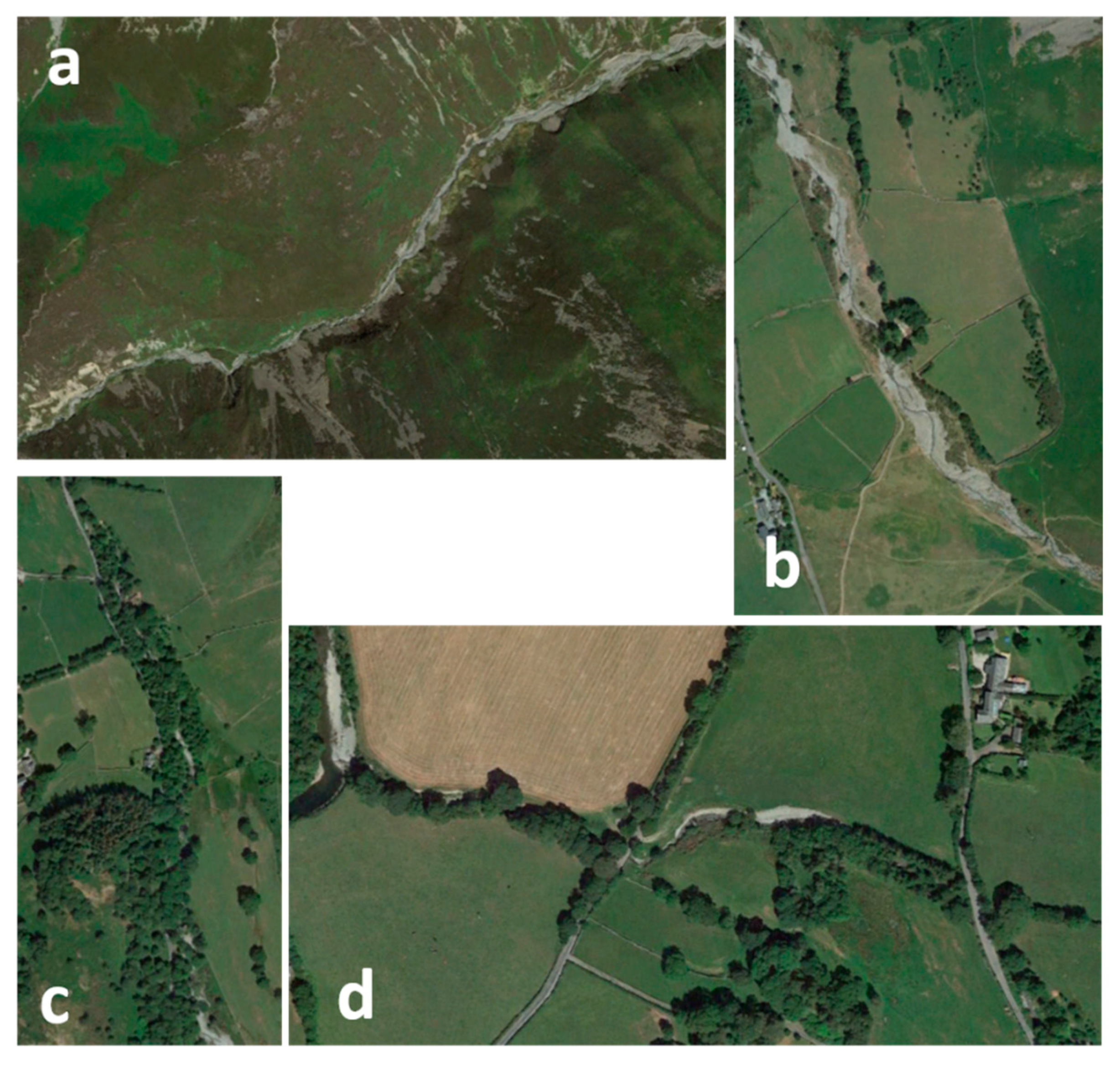 Figure 3. Rainfall record for Honister Pass, Cumbria including the Storm Desmond extreme event December 2015, inset.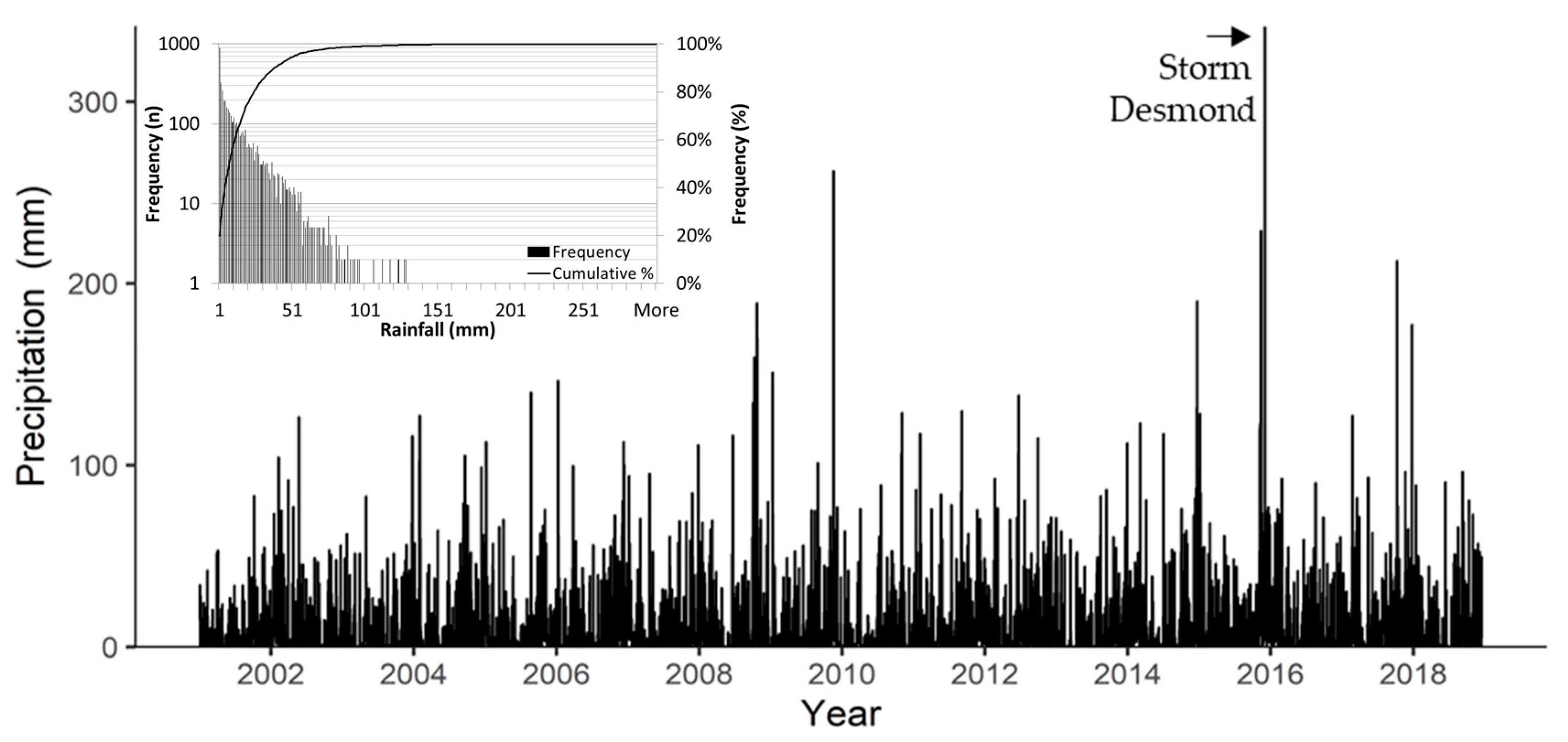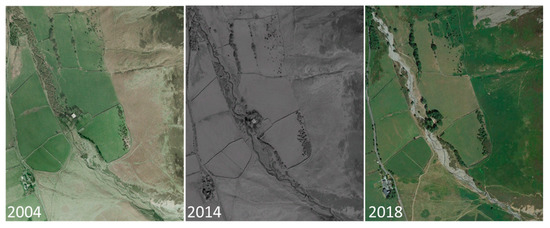 Figure 4. Historic image mapping of the Liza Beck at Langthwaite, Cumbria, UK. Original image resolution 2004 0.6 m (Source Google Earth), 2014 0.5 m (Source Google Earth), 2018 0.02 m.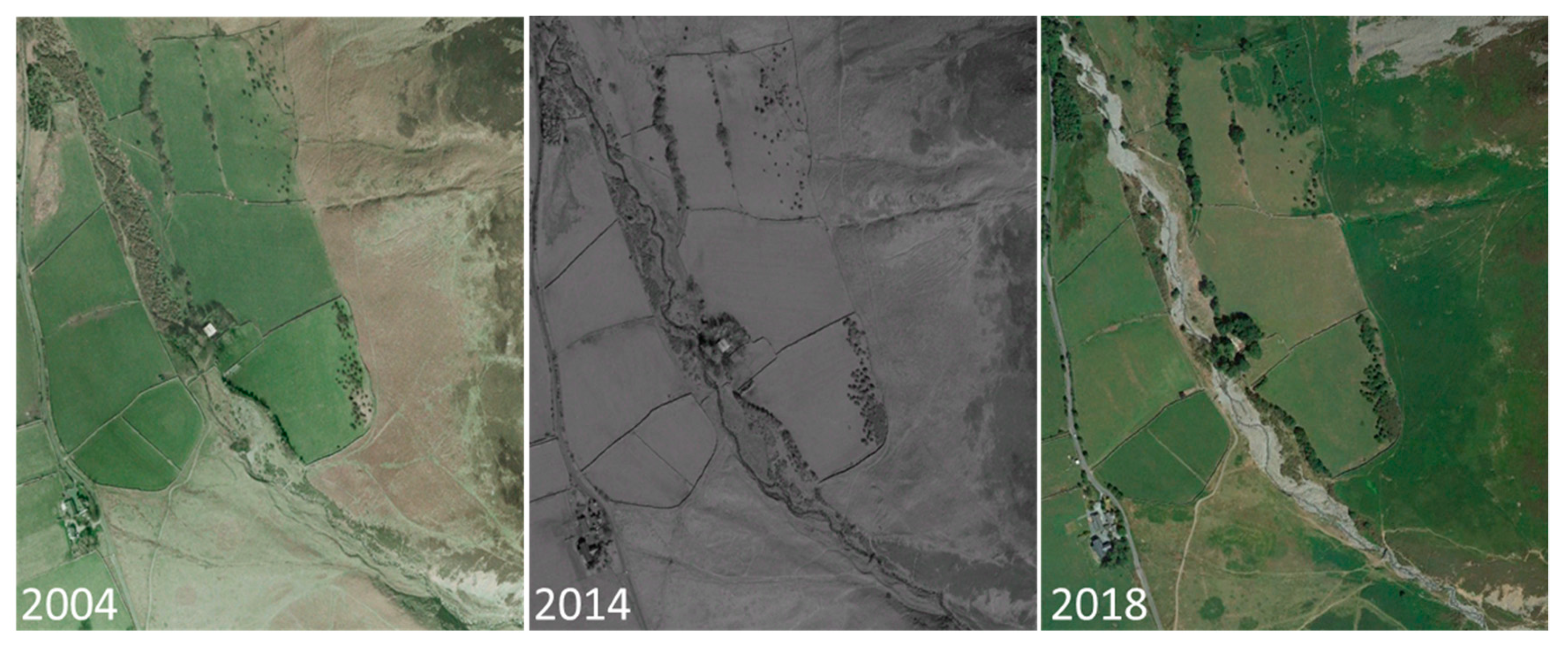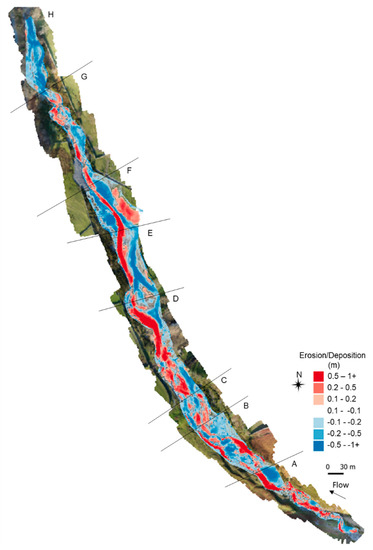 Figure 5. Erosion and deposition pattern recorded along Liza Beck between 2009 and 2017 most strongly reflecting the December 2015 extreme rainfall event in the catchment.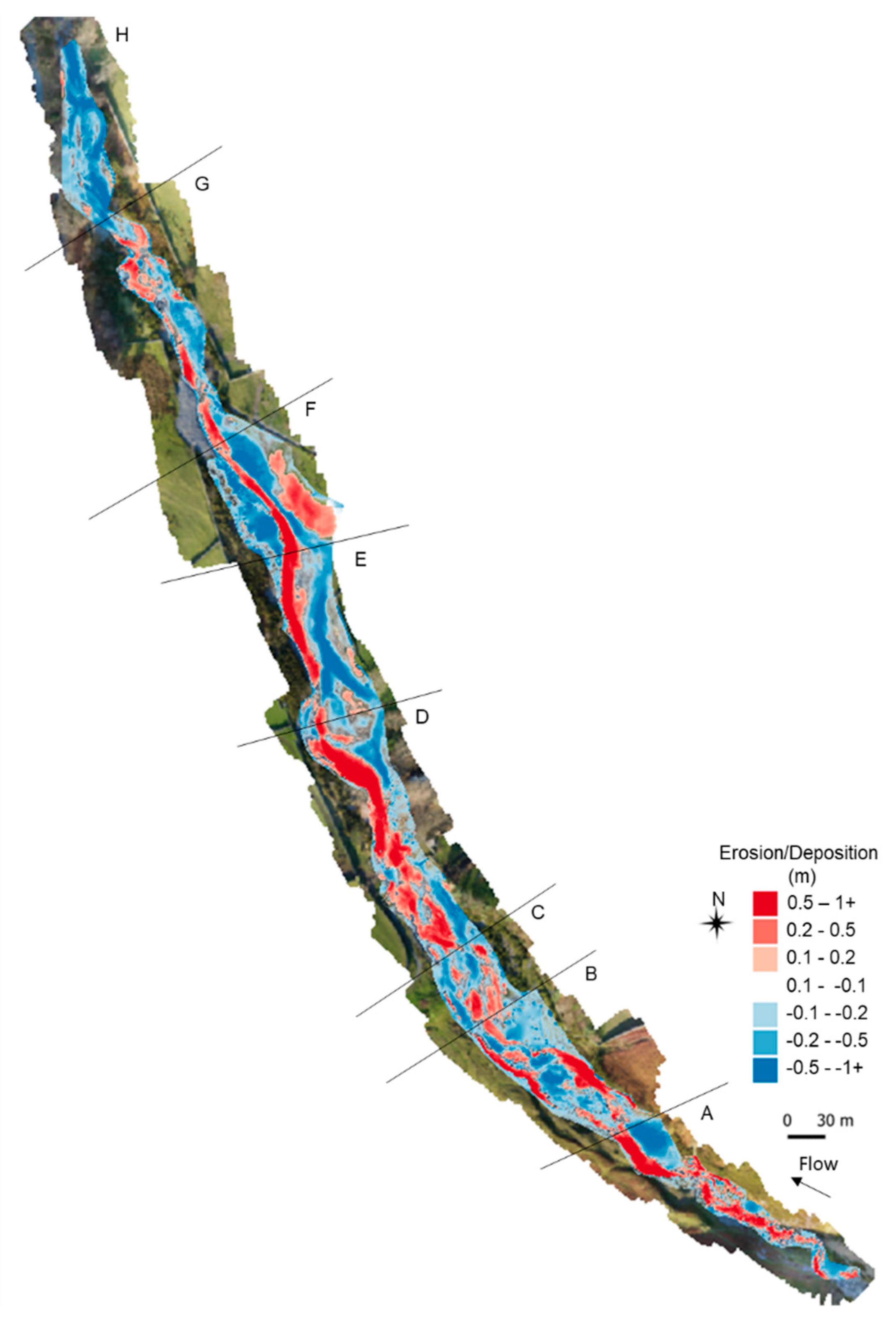 Figure 6. Sub-reach coarse sediment balance (2009–2017) recorded along Liza Beck in relation to local gradient reduction downstream.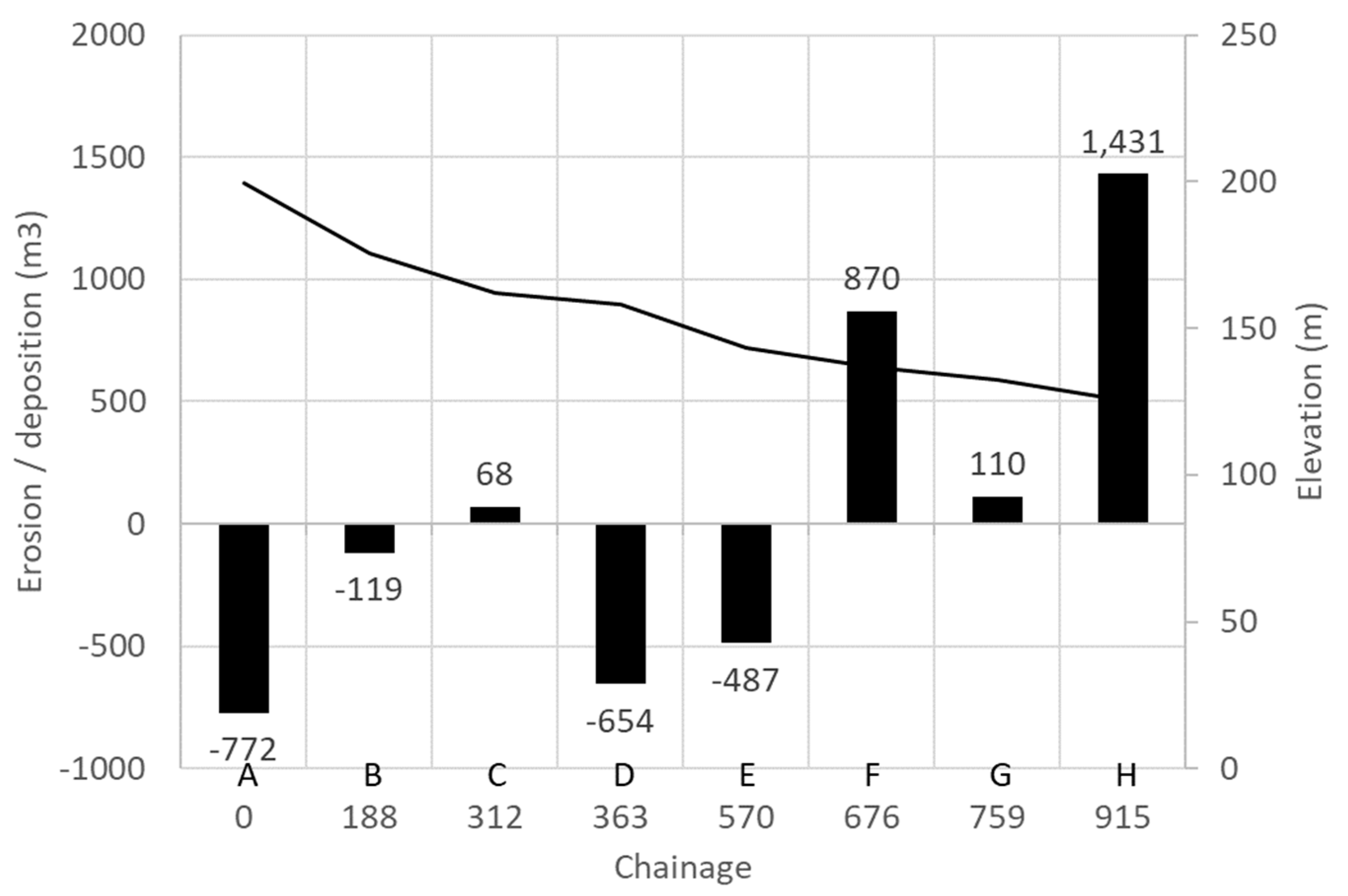 Figure 7. Slope and channel constriction, erosion and deposition recorded along Liza Beck between 2009 and 2017.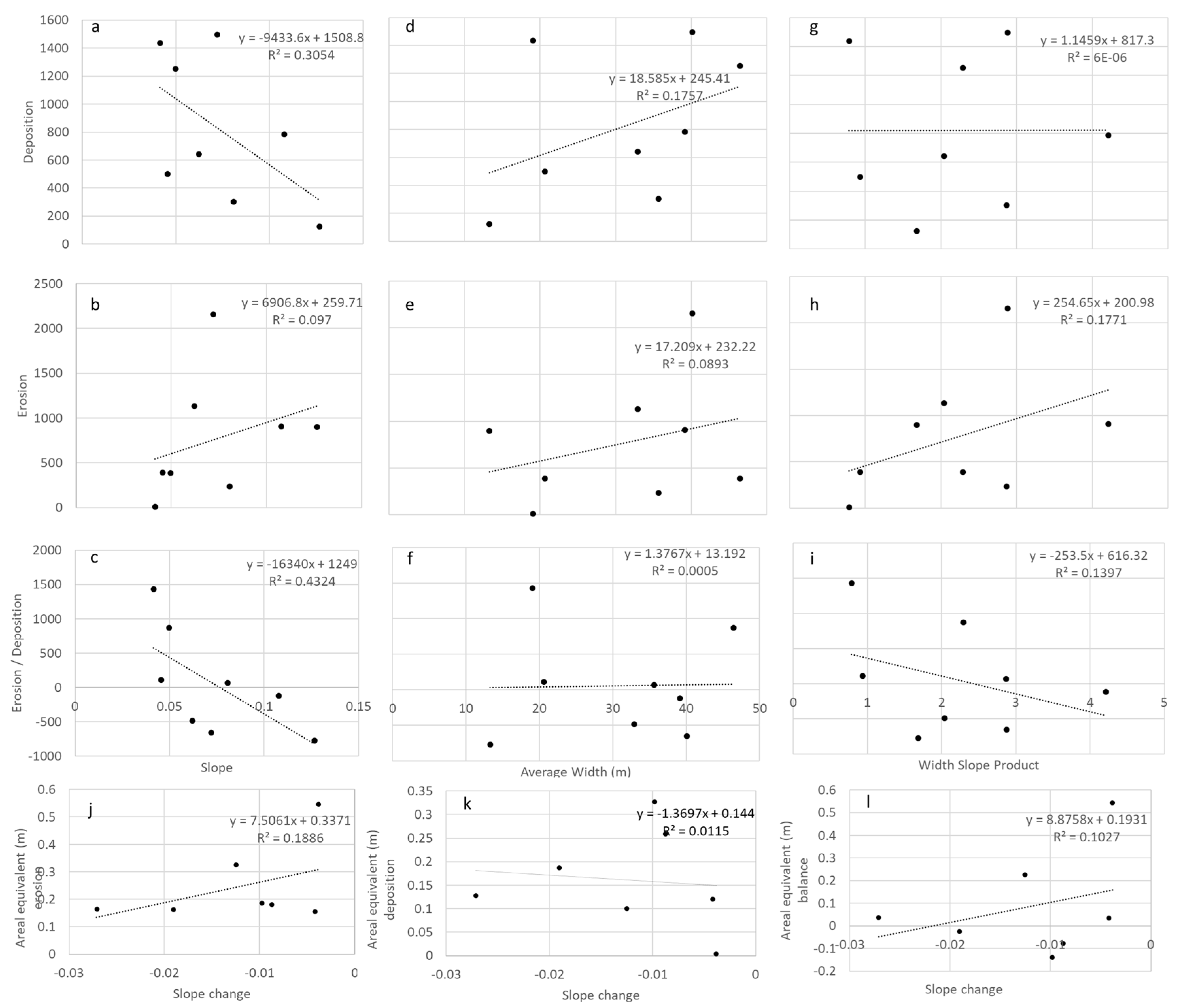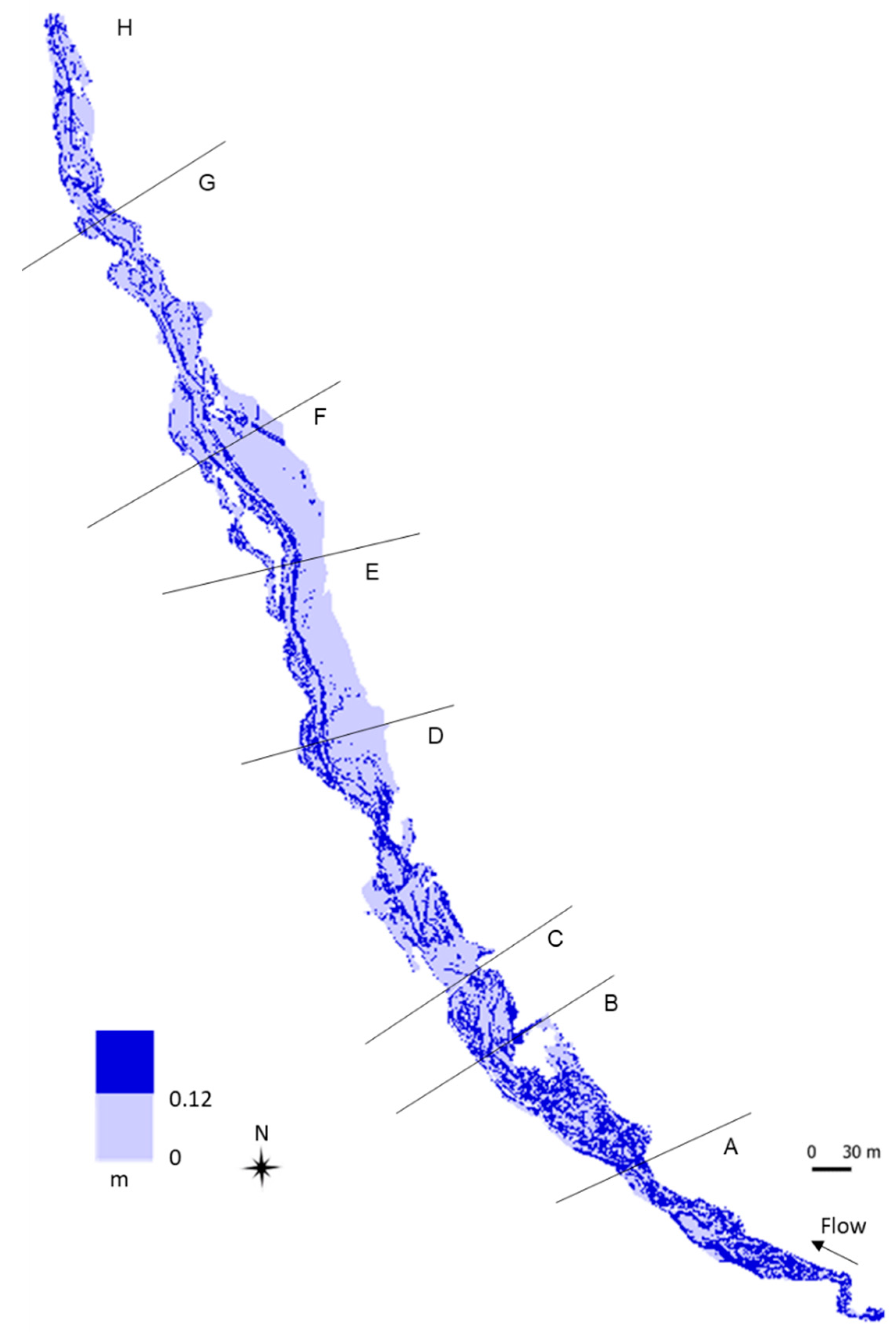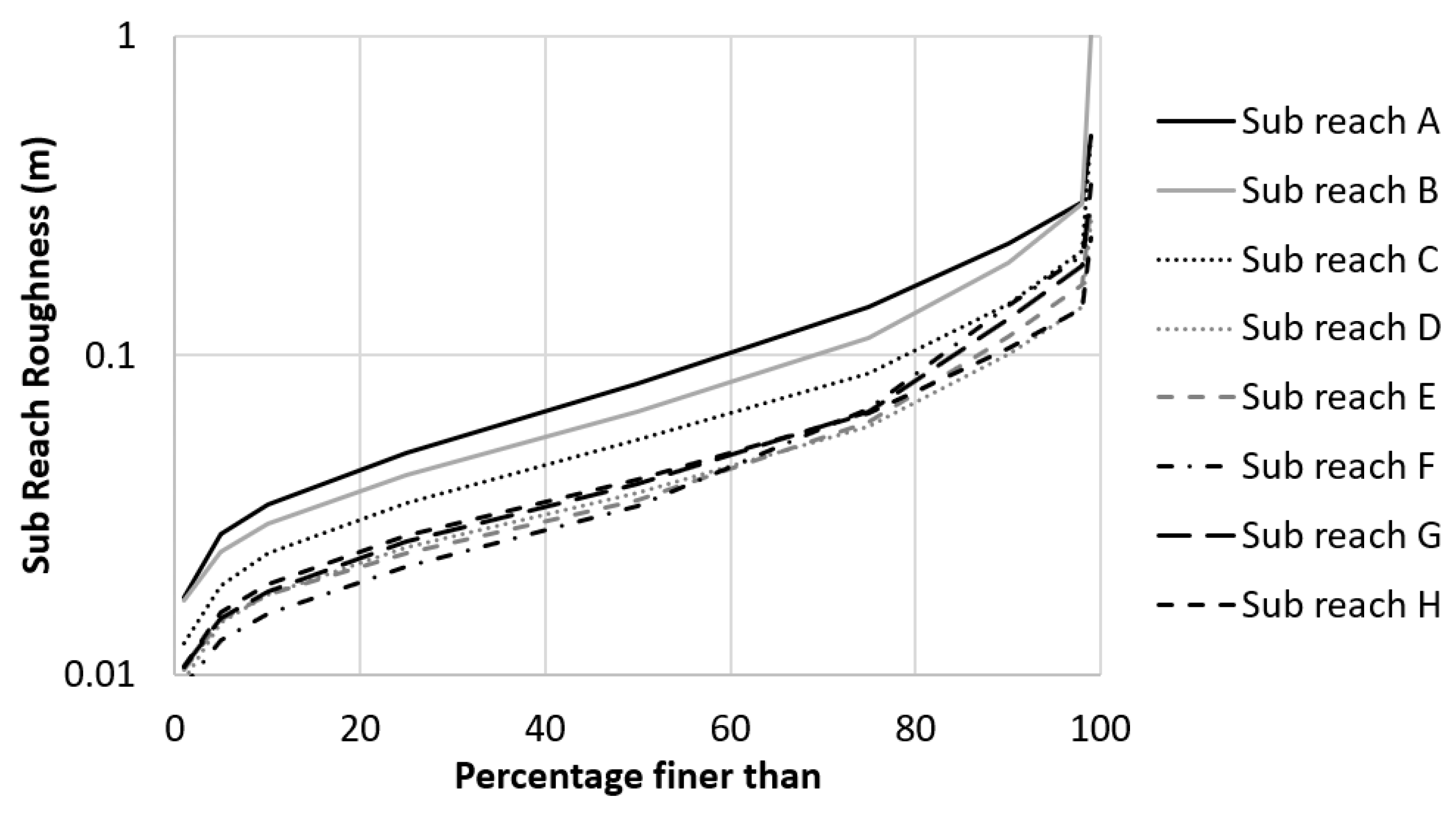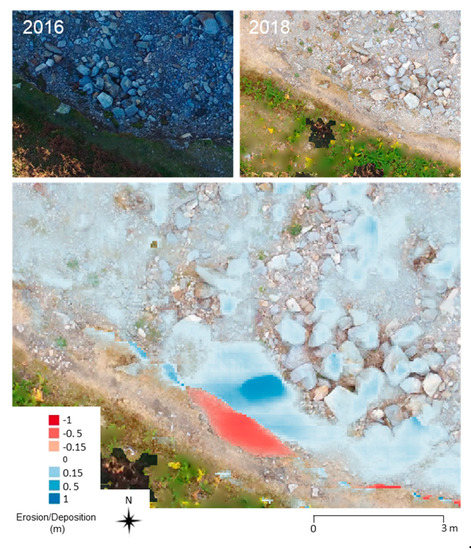 Figure 10. Newly exposed coarse sediment along stripped channel margins on the Liza Beck at Langthwaite.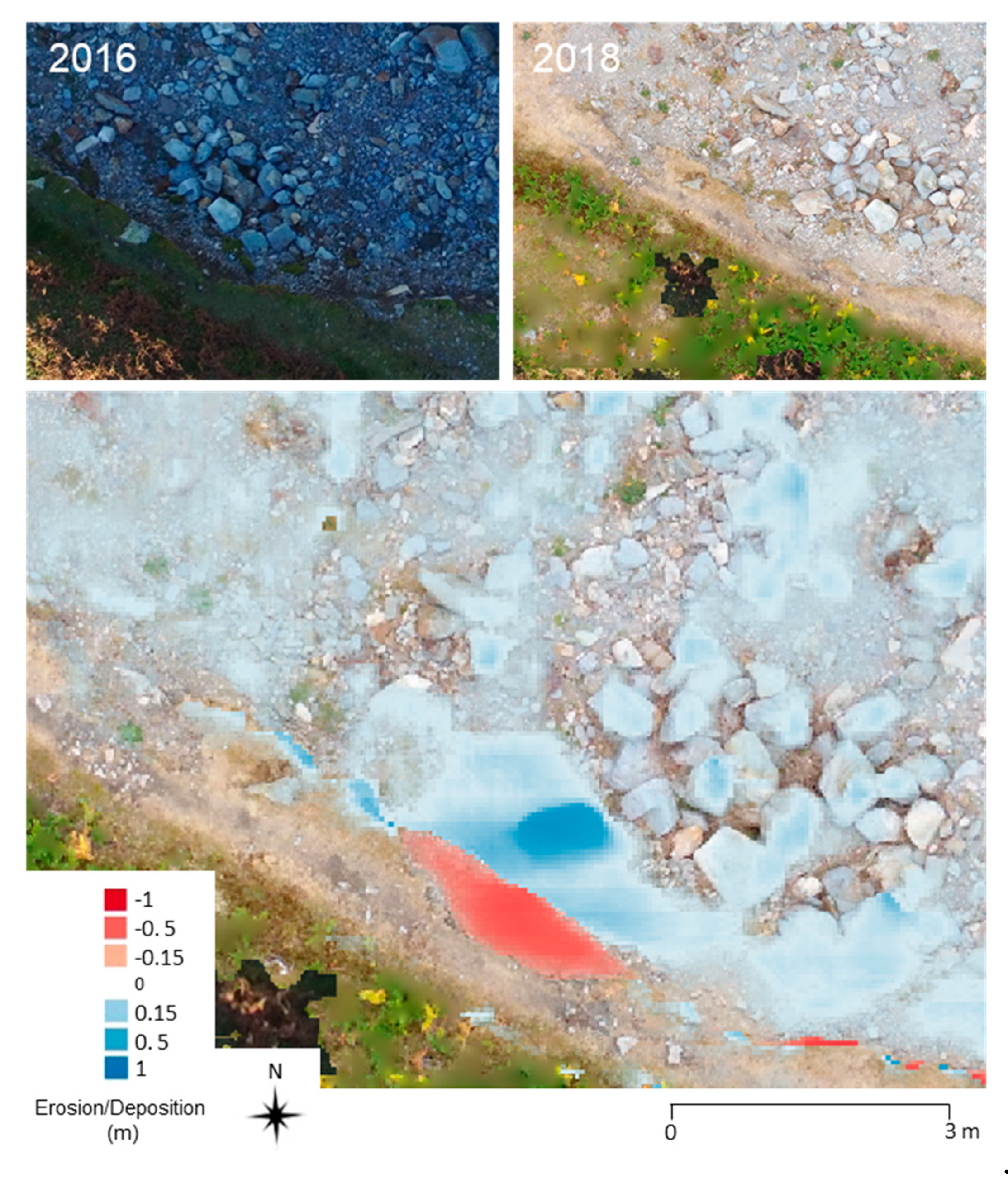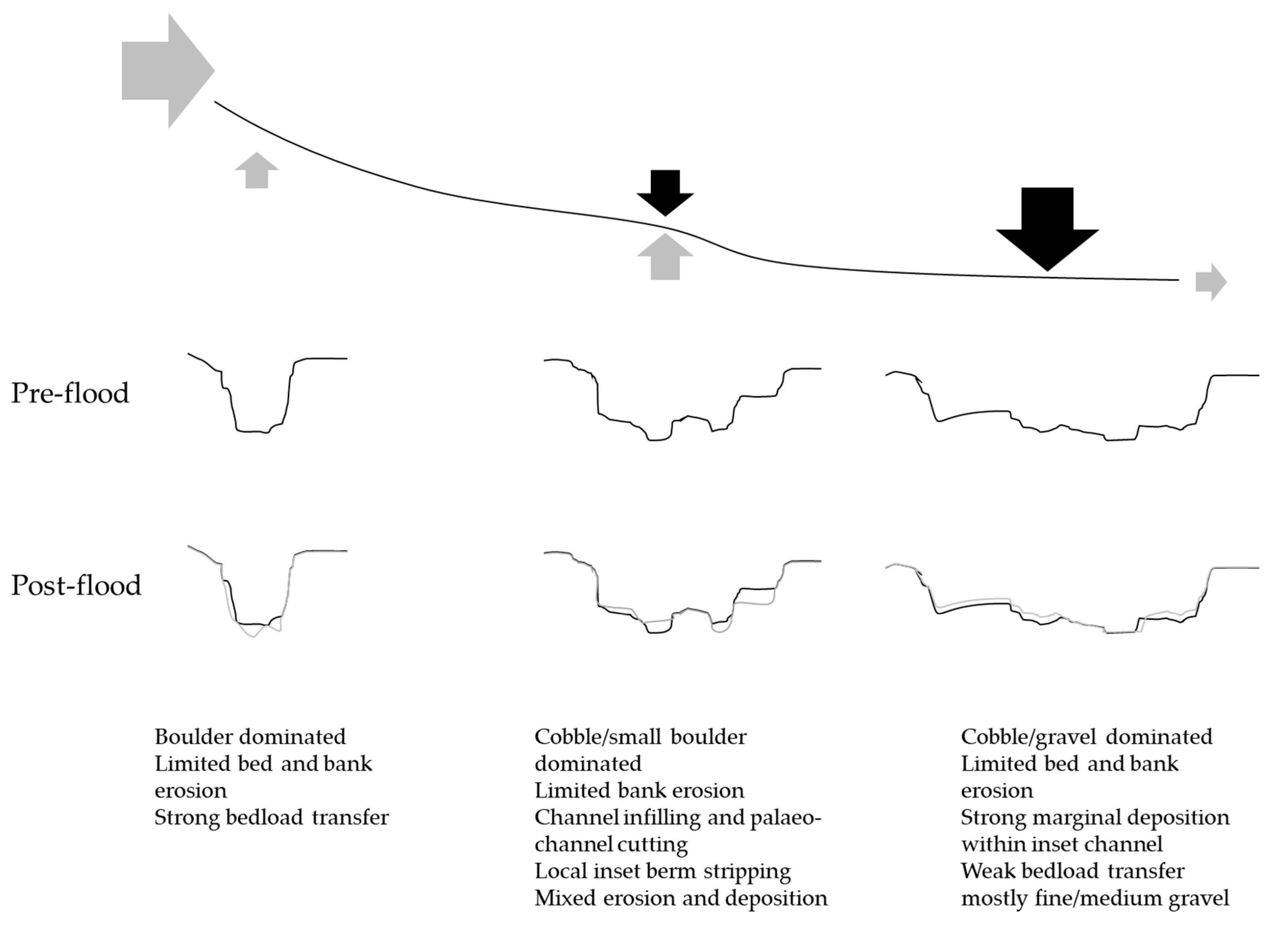 | Survey | Number of Images | DTM Resolution (m) | Ortho Resolution (m) | X Error (m) | Y Error (m) | Z Error (m) | Combined Error (m) |
| --- | --- | --- | --- | --- | --- | --- | --- |
| UAV survey 1 | 467 | 0.04 | 0.01 | 0.014 | 0.025 | 0.007 | 0.030 |
| UAV survey 2 | 530 | 0.04 | 0.01 | 0.017 | 0.014 | 0.021 | 0.037 |
| River | Volume Deposited (m3) | Volume Eroded (m3) | Volume Balance (m3) | Areal Equivalent (m) |
| --- | --- | --- | --- | --- |
| Liza Beck at Langthwaite | 6404.3 | 5177.5 | 1226.8 | 0.036 |

© 2019 by the authors. Licensee MDPI, Basel, Switzerland. This article is an open access article distributed under the terms and conditions of the Creative Commons Attribution (CC BY) license (http://creativecommons.org/licenses/by/4.0/).