Management Recommendation Generation for Areas Under Forest Restoration Process through Images Obtained by UAV and LiDAR
1
Forest Engineer Department, Universidade Federal de Viçosa, Avenida P. H. Rolfs s/n, Viçosa 36570-000, MG, Brazil
2
Eötvös Loránd University, Department of Plant Taxonomy, Ecology and Theoretical Biology, Pázmány P. stny. 1/C, 1117 Budapest, Hungary
3
Soil Department, Universidade Federal de Viçosa, Avenida P. H. Rolfs s/n, Viçosa 36570-000, MG, Brazil
4
Suzano S.A., Meio Ambiente Florestal, Rodovia Aracruz—Barra do Riacho, s/n, km 25, Aracruz, 29197-900 ES, Brazil
5
Department of Agricultural Sciences, Universidade Federal de São João Del Rei, Rodovia MG 424—km 47,, Sete Lagoas 35701-9970, MG, Brazil
6
MTA Centre for Ecological Research, Institute of Ecology and Botany, Alkomány u. 2-4, 2163 Vácrátót, Hungary
*
Author to whom correspondence should be addressed.
Received: 14 May 2019 / Accepted: 7 June 2019 / Published: 26 June 2019
Abstract
Evaluating and monitoring forest areas during a restoration process is indispensable to estimate the success or failure of management intervention and to correct the restoration trajectory through adaptive management. However, the field measurement of several indicators in large areas can be expensive and laborious, and establishing reference values for indicators is difficult. The use of supervised classification techniques of high resolution images, combined with an expert system to generate management recommendations, can be considered promising tools for monitoring and evaluating restoration areas. The objective of the present study was to elaborate an expert system of management recommendation generation for areas under restoration, which were monitored by two different remote sensors: UAV (Unmanned Aerial Vehicle) and LiDAR (Light Detection and Ranging). The study was carried out in areas under restoration with about 54 ha and five years of implementation, owned by Fibria Celulose S.A. (recently acquired by Suzano S.A.), in the southern region of Bahia State, Brazil. We used images from Canon S110 NIR (green, red, near infrared) on UAV and LiDAR data compositions (intensity image, digital surface model, digital terrain model, normalized digital surface model). The monitored restoration indicator entailed land cover separated into three classes: Canopy cover, bare soil and grass cover. The images were classified using the Random Forest (RF) and Maximum Likelihood (ML) algorithms and the area occupied by each land cover classes was calculated. An expert system was developed in ArcGIS to define management recommendations according to the land cover classes, and then we compared the recommendations generated by both algorithms and images. There was a slight difference between the recommendations generated by the different combinations of images and classifiers. The most frequent management recommendation was "weed control + plant seedlings" (34%) for all evaluated methods. The image monitoring methods suggested by this study proved to be efficient, mainly by reducing the time and cost necessary for field monitoring and increasing the accuracy of the generated management recommendations.
View Full-Text
►

▼

Figures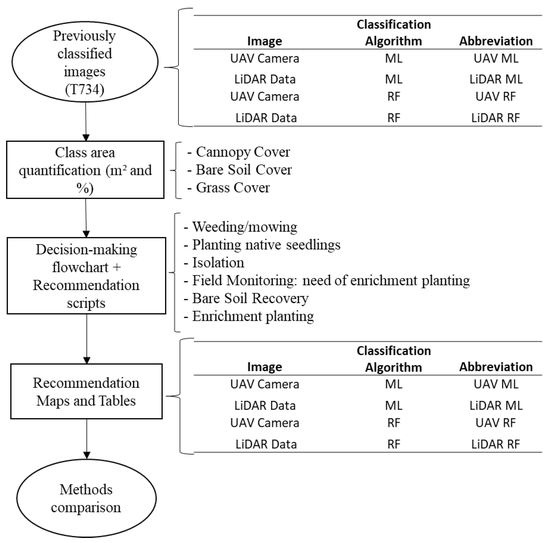 Graphical abstract
This is an open access article distributed under the
Creative Commons Attribution License
which permits unrestricted use, distribution, and reproduction in any medium, provided the original work is properly cited (CC BY 4.0).

Share & Cite This Article
MDPI and ACS Style
Reis, B.P.; Martins, S.V.; Fernandes Filho, E.I.; Sarcinelli, T.S.; Gleriani, J.M.; Marcatti, G.E.; Leite, H.G.; Halassy, M. Management Recommendation Generation for Areas Under Forest Restoration Process through Images Obtained by UAV and LiDAR. Remote Sens. 2019, 11, 1508.
Note that from the first issue of 2016, MDPI journals use article numbers instead of page numbers. See further details here.
Related Articles
Comments
[Return to top]