Open Access This article is
freely available
re-usable
Article
A Novel Approach of Slope Detection Combined with Lv's Distribution for Airborne SAR Imagery of Fast Moving Targets
School of Physics and Electronics, Shandong Normal University, Jinan 250000, China
*
Authors to whom correspondence should be addressed.
Received: 30 March 2018 / Accepted: 13 May 2018 / Published: 15 May 2018
Abstract
:
This paper presents a fast SAR imagery algorithm for Ground Moving Target Imaging (GMTIm) based on the slope detection strategy combined with Time-Frequency Representation (TFR), which is known as Lv's Distribution (LVD). This fast imagery algorithm focuses on the solution of the ambiguity problems and relevant heavy computing load in SAR imagery. Firstly, according to the relationship between the slope of the range walk trajectory and the cross-track velocity of moving target, a new high-efficiency slope detection strategy based on gradient and level-line angle is presented in the image domain. Then, the Doppler centroid shift induced by cross-track velocity can also be obtained. Secondly, owing to the cross-track velocity estimated before, the Range Walk Migration Correction (RWMC) can be performed to concentrate the echo response of the moving target into a single range cell. Finally, due to the superior performance in representing multi-component Linear Frequency Modulation (LFM) signal, LVD is adopted here to represent the Doppler chirp rate of multiple moving targets in a Doppler Centroid Frequency and Chirp Rate domain (CFCR). The performance of the proposed algorithm is evaluated in terms of superiority and effectiveness using simulations, and the comparison between the proposed algorithm and the other conventional algorithms is also presented.
Keywords:
ground moving target imaging (GMTIm); Airborne Synthetic Aperture Radar; slope detection; lv's distribution (LVD)
Author Contributions
The manuscript is written by S.H. under the guidence of Y.Z., J.W. and L.Z. The related research work was carried by S.H. including analysis and simulation. J.W. and Y.Z. and L.Z. have played the supporting role in the theoretical modeling and simulation methodology through seminars and discussions. The other ao-authors have made their contributions through the discussions. The manuscript was finally revised by L.Z.
Acknowledgments
This work was partially supported by Project of Shandong Province Higher Educational Science and Technology Program under Grand No. J16LN21 and the Shandong Province University Science and Technology Project No. J17KA082.
Conflicts of Interest
The authors declare no conflict of interest.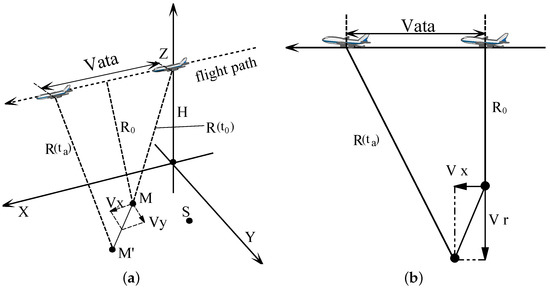 Figure 1. Broadside geometry of a moving target and a static target in the single-channel SAR system: (a) geometry in a Cartesian coordinate system; (b) geometry on a slant range plane.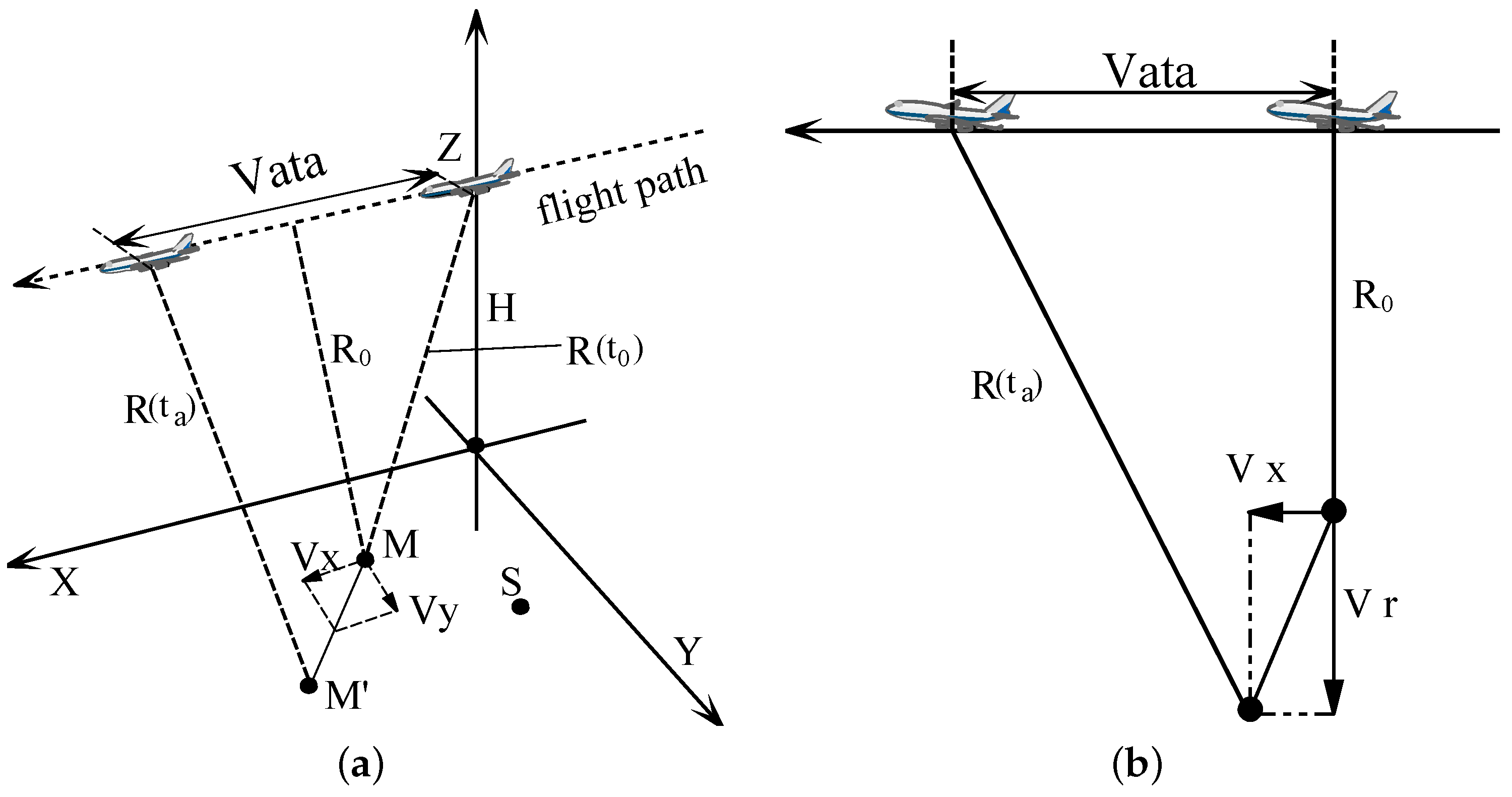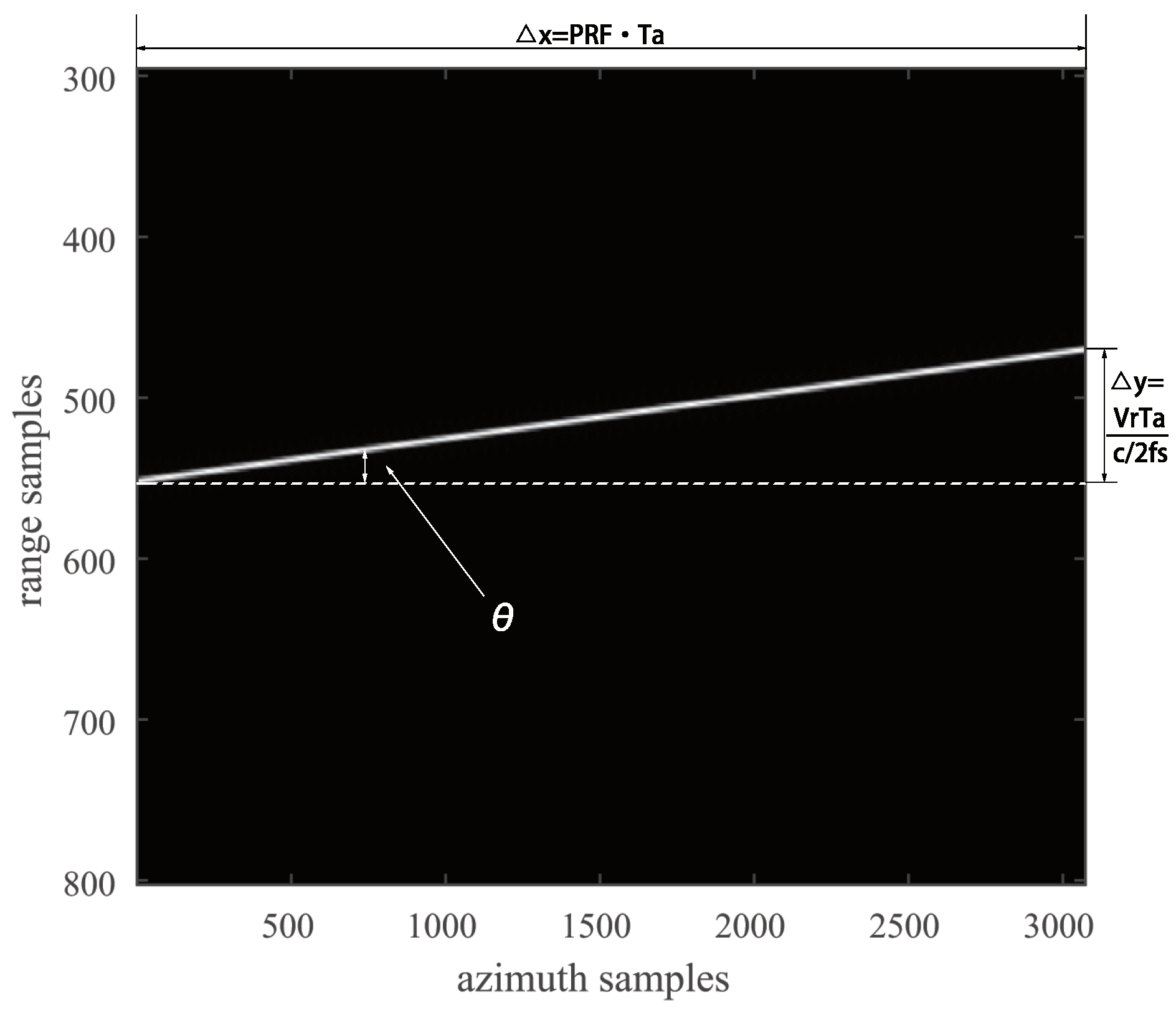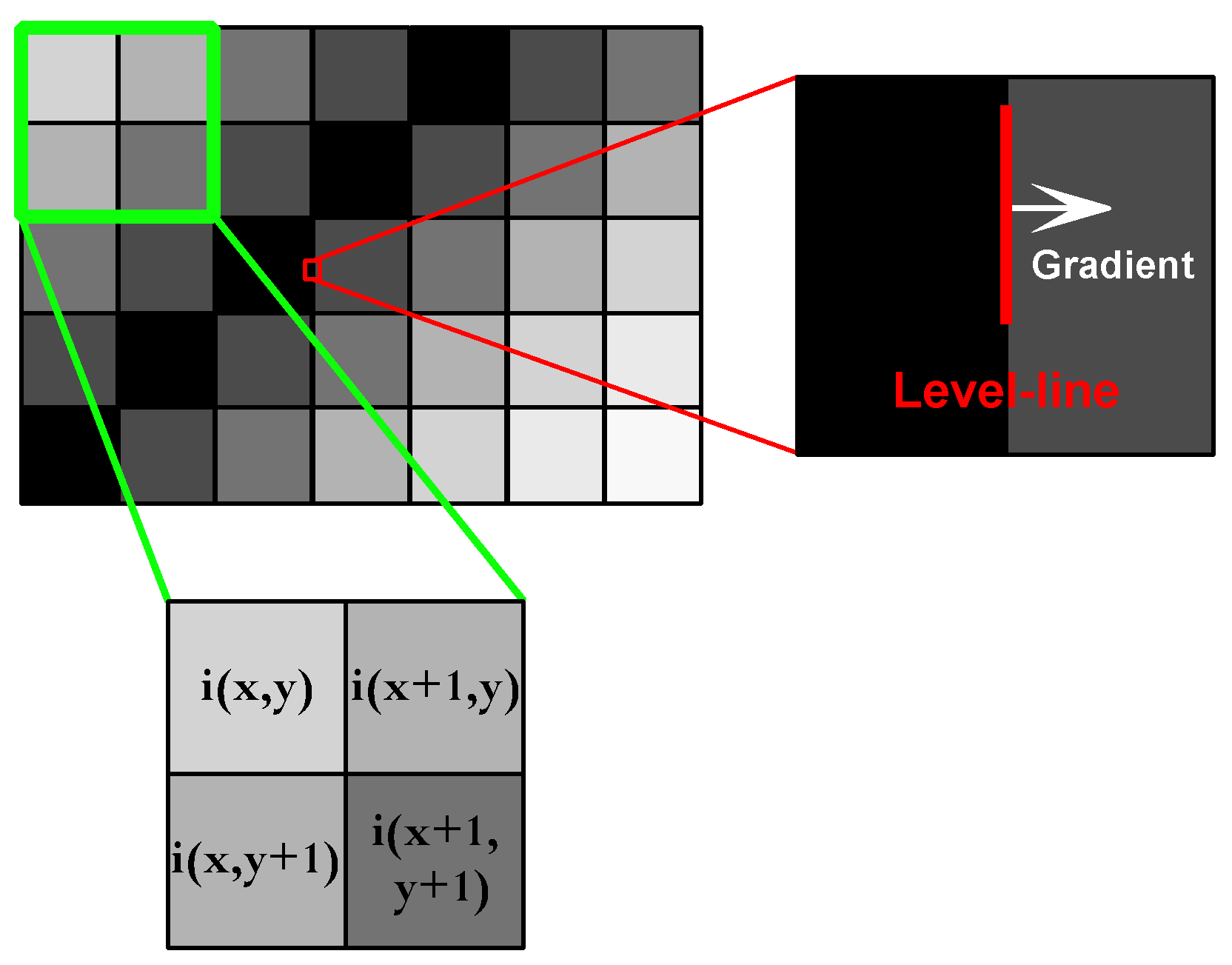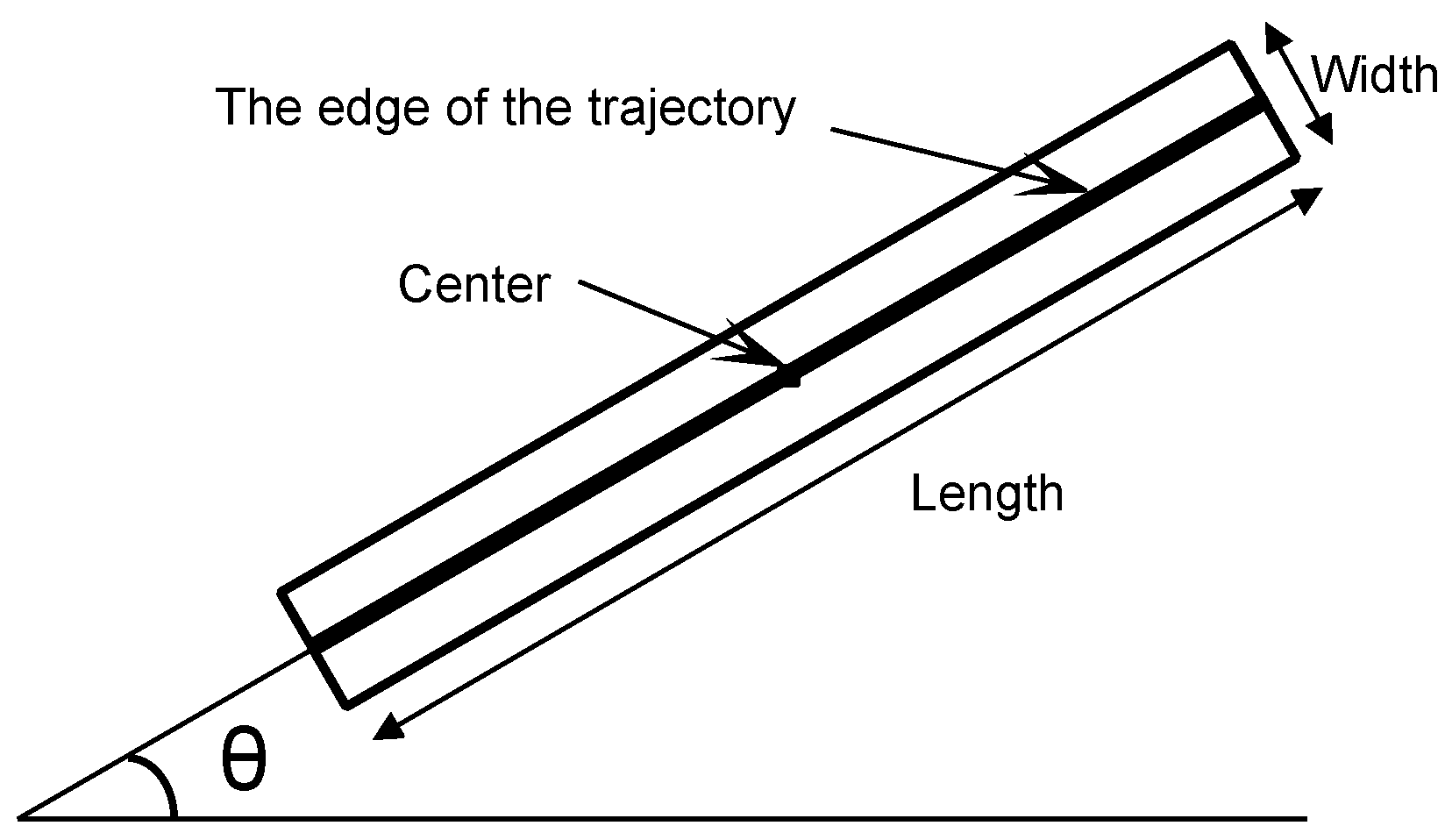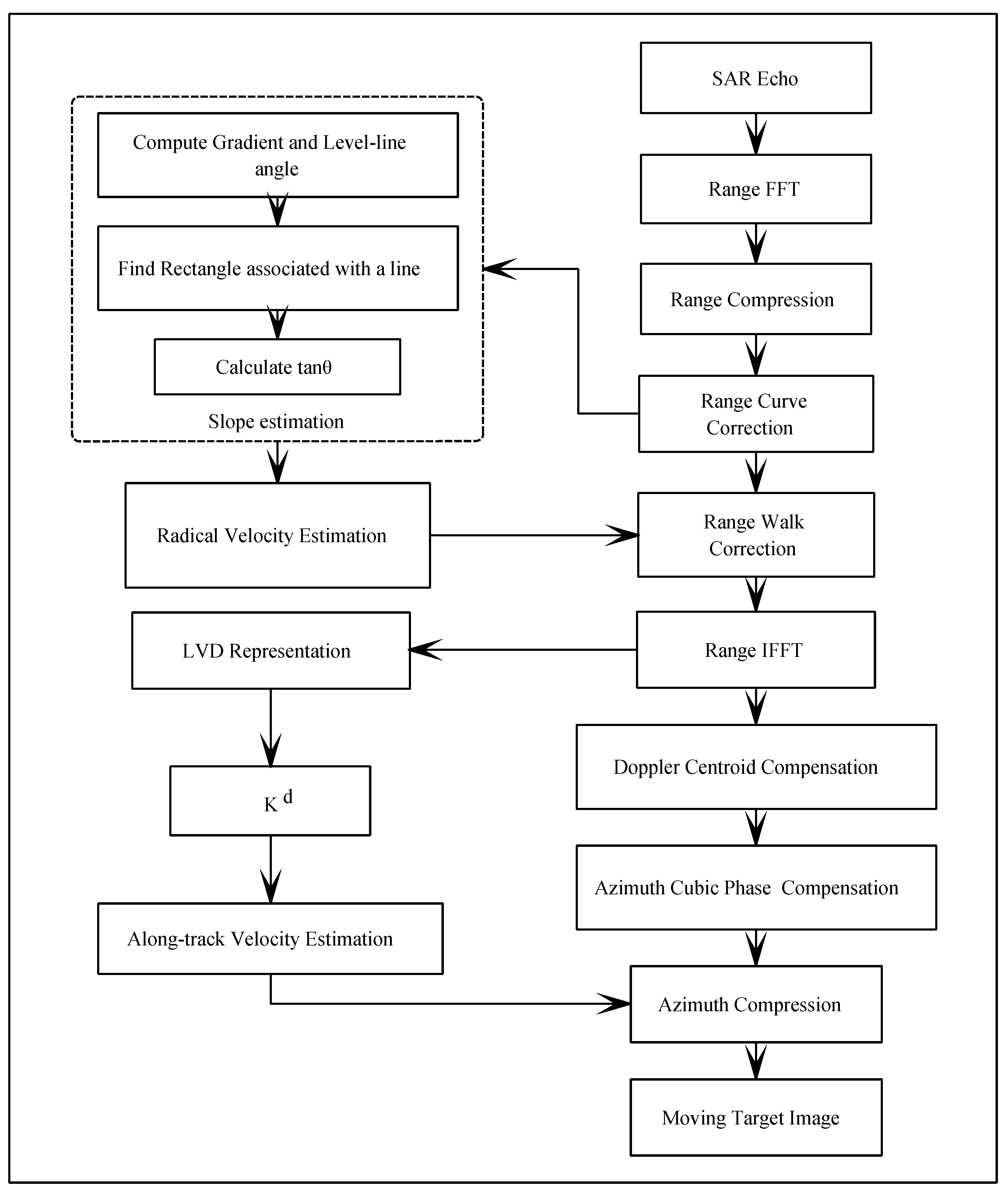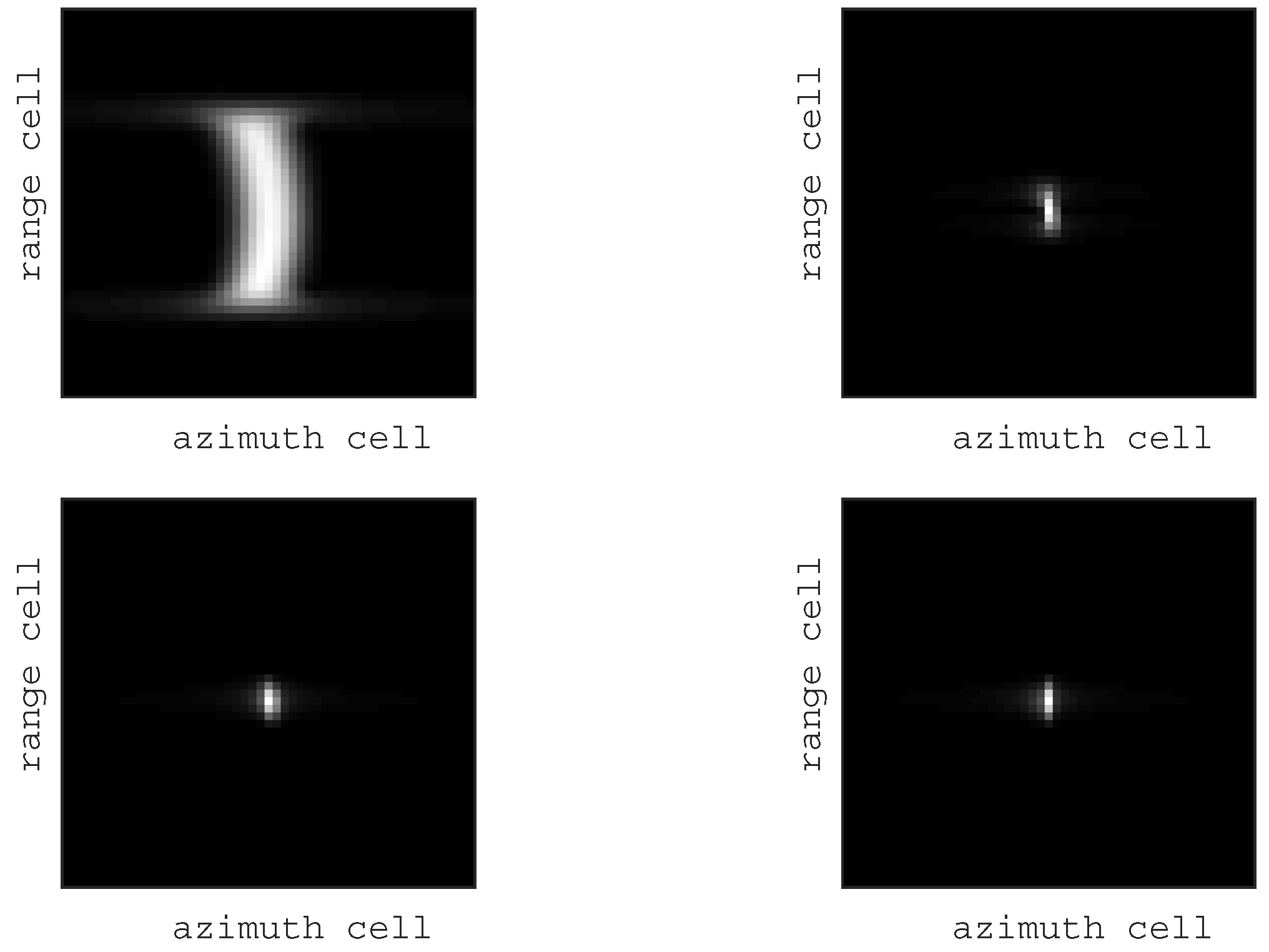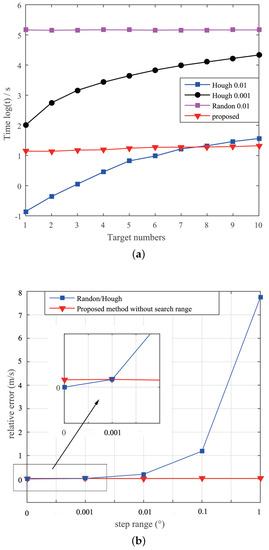 Figure 7. Performance comparison: (a) Computational load of different methods; (b) Relative error comparison of radial velocity.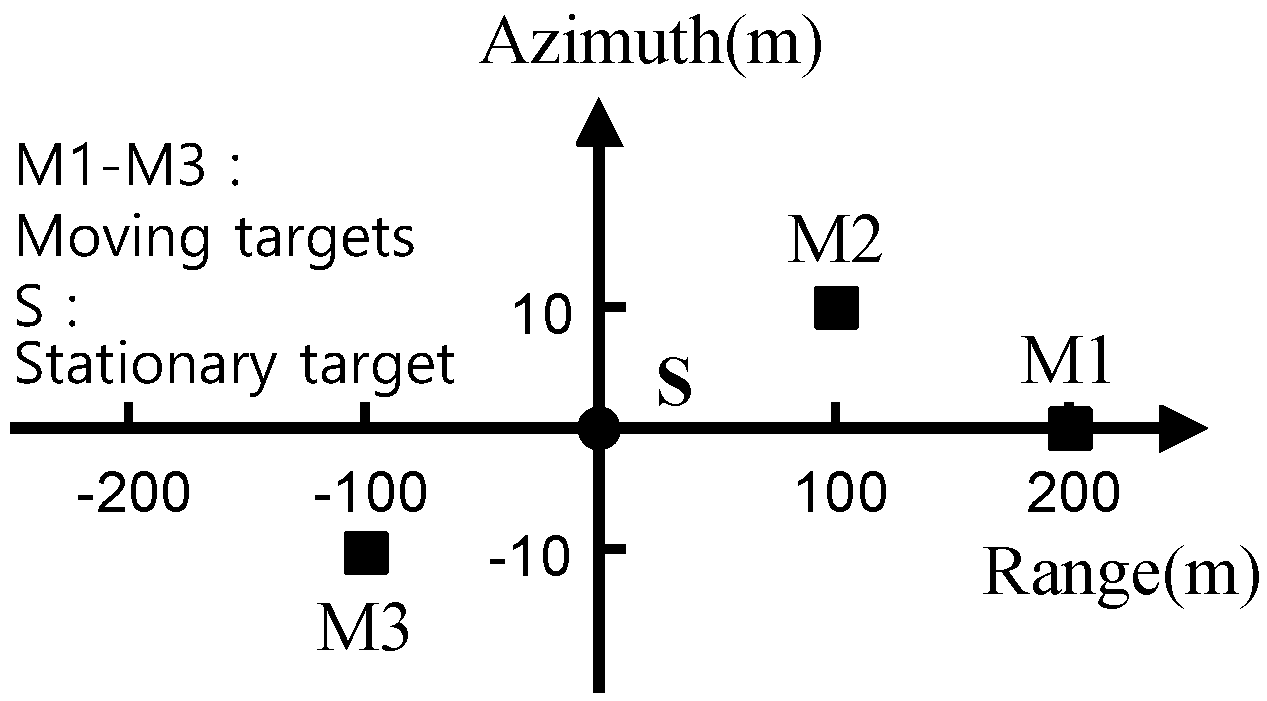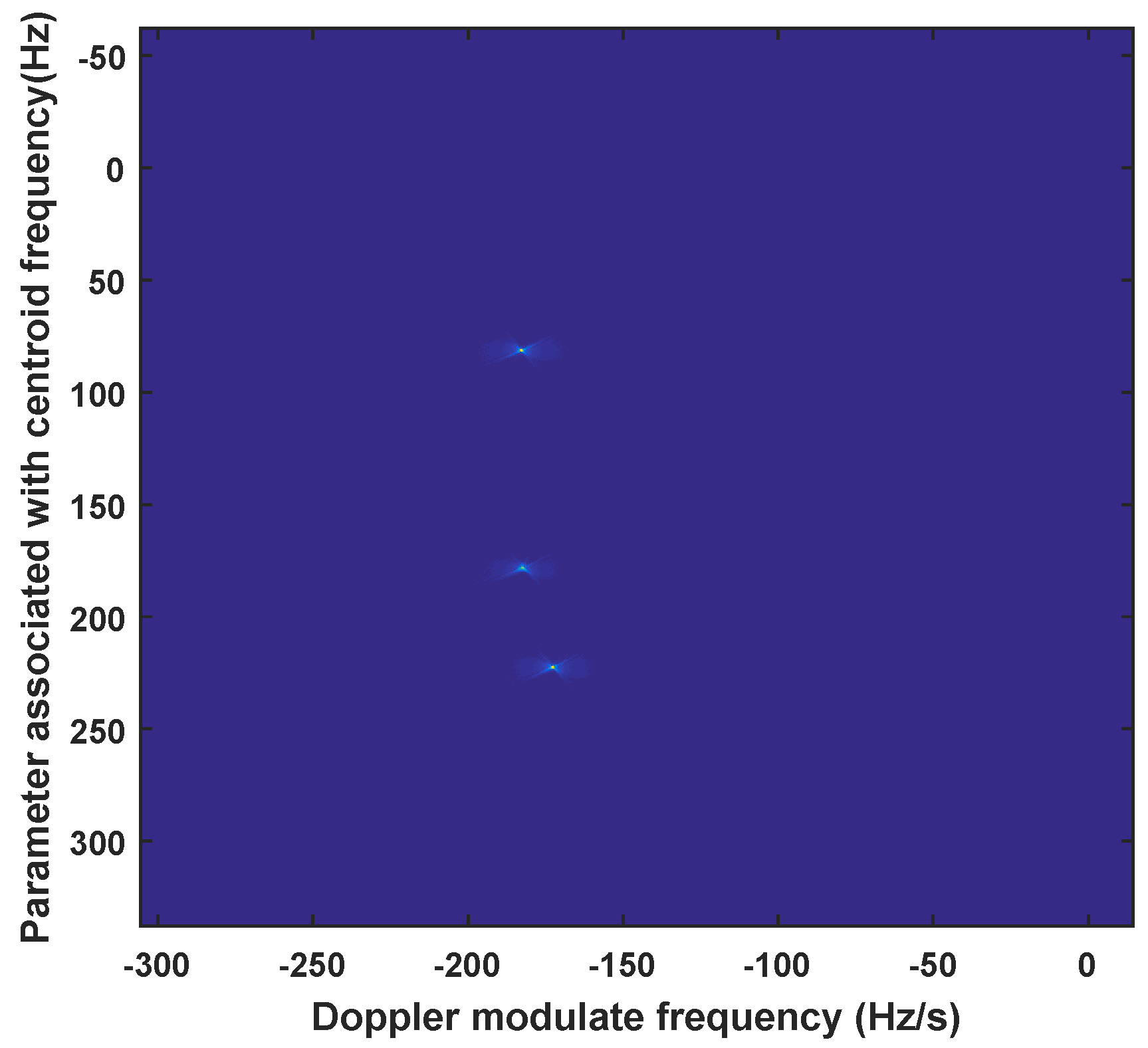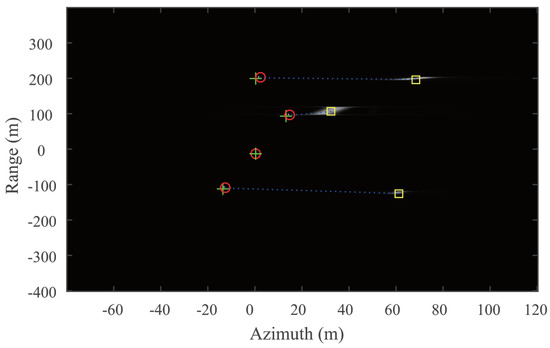 Figure 10. SAR moving target imaging result. The initial position of the moving target is presented by cross symbol. The displaced and defocused target is presented by square symbol. The relocated and refocused moving target using the proposed algorithm is presented by circle symbol.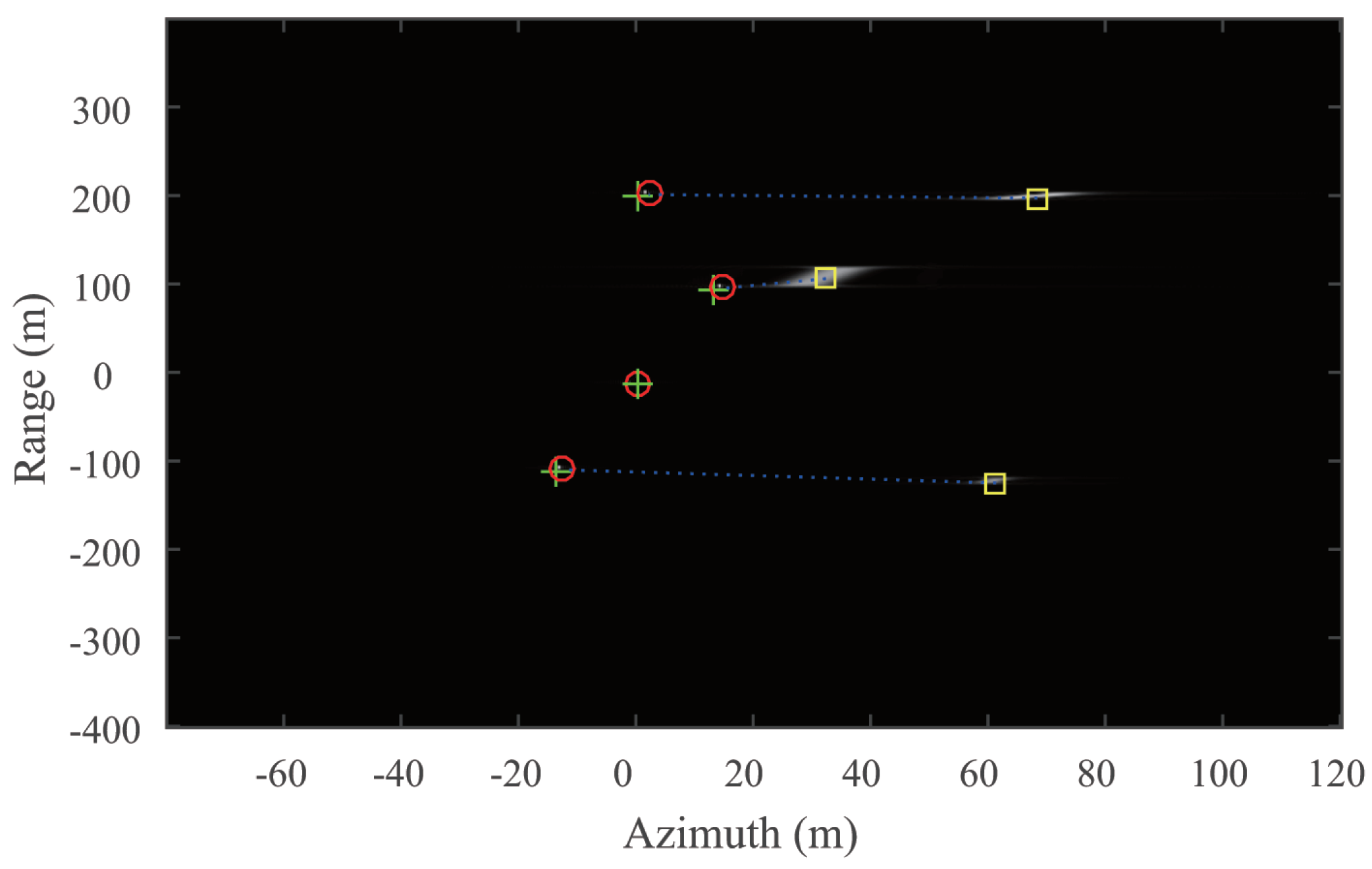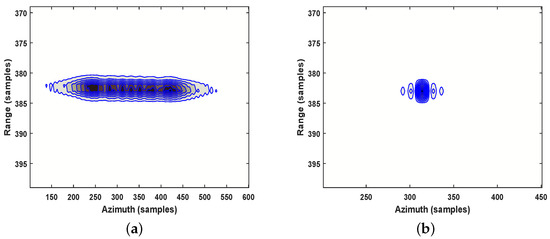 Figure 11. M2 contour image: (a) Range focused image after range walk correction, Doppler centroid shift compensation and the cubic term compensation; (b) Final focused image.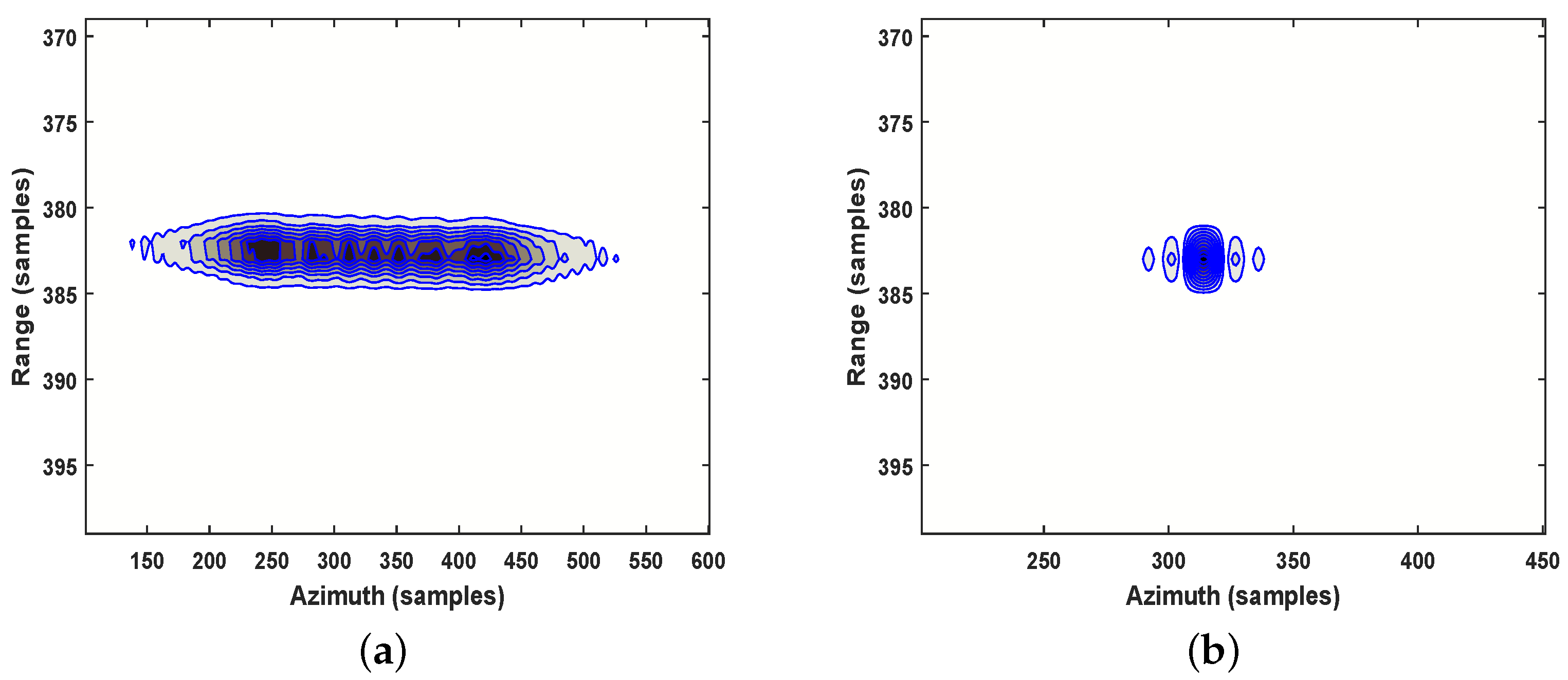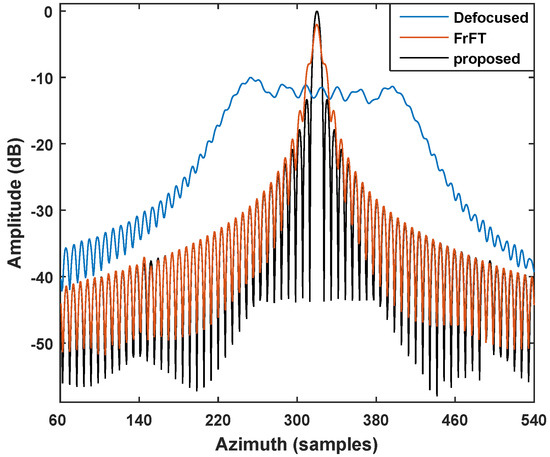 Figure 12. Azimuth responses of defocused and refocused of M2.(Blue line) Defocused target response. (Brown line) refocused target response based on FrFT representation. (Solid line) Refocused target response based on LVD representation.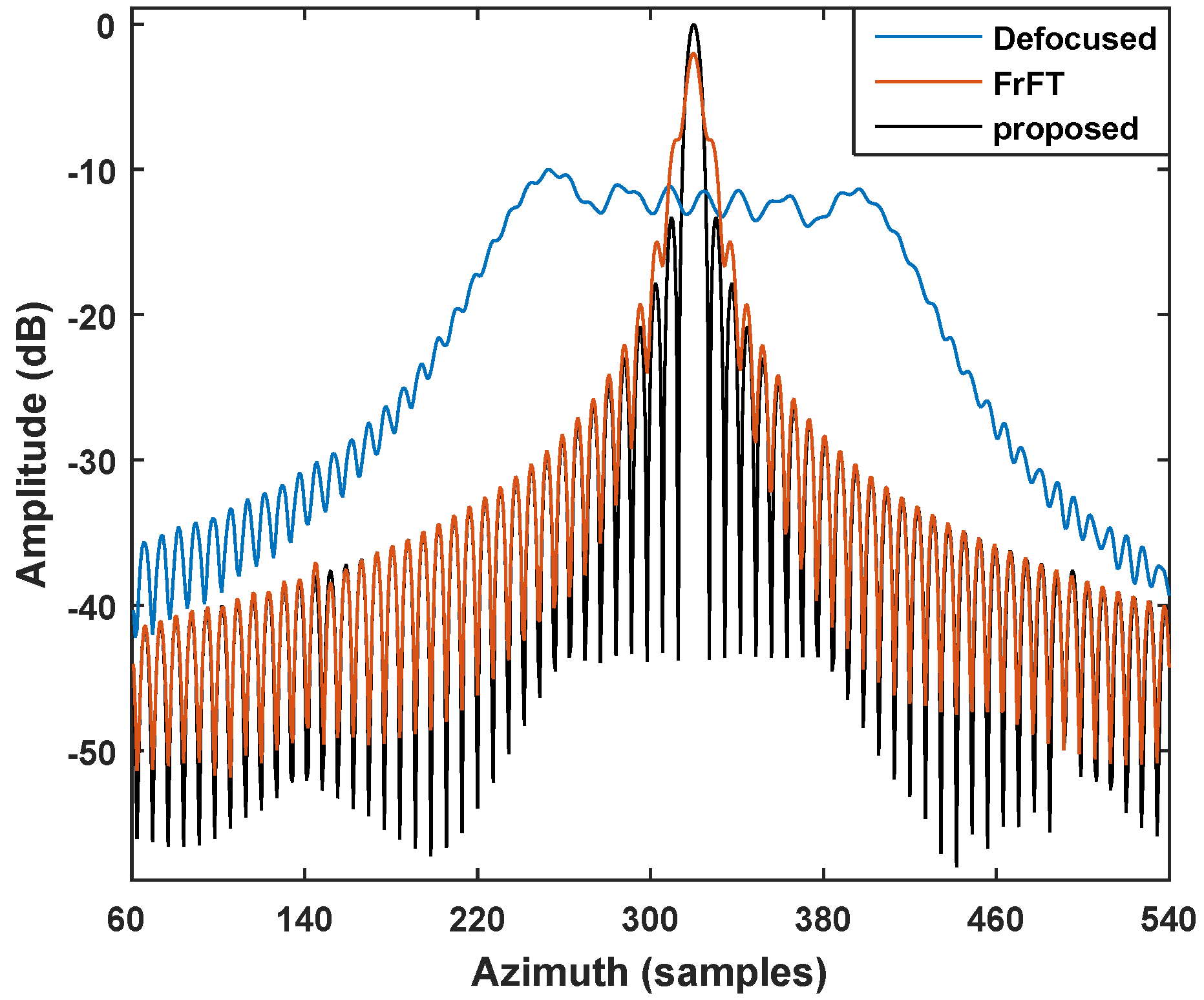 Vreal
Vestimate
25 m/s
searching ranges
1°
0.1°
0.01°
0.001°
32.7382214 m/s
26.18674612 m/s
25.20426081 m/s
25.02414457 m/s
| Parameter Name | Value |
| --- | --- |
| carrier Frequency | 9.6 GHz |
| pulse time width | 4 µs |
| pulse bandwidth | 80 MHz |
| nearest slant range | 7500 m |
| pulse repetition frequency | 1000 Hz |
| platform velocity | 150 m/s |
| | Vr (m/s) | Vx (m/s) | (m/s) | (m/s) |
| --- | --- | --- | --- | --- |
| M1 | 10 | 10 | 9.9975 | 10.0123 |
| M2 | 25 | 5 | 24.9964 | 5.0215 |
| M3 | 10 | 3 | 9.9973 | 3.0118 |

© 2018 by the authors. Licensee MDPI, Basel, Switzerland. This article is an open access article distributed under the terms and conditions of the Creative Commons Attribution (CC BY) license (http://creativecommons.org/licenses/by/4.0/).