Open Access This article is
freely available
re-usable
Article
Addressing Complexity in Environmental Management and Governance
Faculty of Sustainability, Leuphana University Lüneburg, Scharnhorststrasse 1, 21335 Lüneburg, Germany
*
Author to whom correspondence should be addressed.
Academic Editors: Giuseppe Ioppolo and Fabio Carlucci
Received: 23 February 2017 / Accepted: 3 June 2017 / Published: 7 June 2017
Abstract
:
Governance for complex problem solving has been increasingly discussed in environmental sustainability research. Above all, researchers continuously observe that sustainability problems are complex or "wicked", and suggest participatory models to address these problems in practice. In order to add to this debate, this study suggests a more differentiated theoretical approach to define governance for complex environmental problem solving than in previous studies. The approach consists of two vital steps: First, we operationalize complexity and define management strategies for solving environmental sustainability problems based on findings from psychology research. Second, we identify governance strategies that facilitate these management strategies. Linking those strategies suggests that the role of diverse institutions, actors, and interactions differs for five key dimensions of complexity: goals, variables, dynamics, interconnections, and informational uncertainty. The results strengthen systematic analyses of environmental sustainability problems in both theory and practice.
Keywords:
complex problems; complex problem solving; governance; Integrated Water Resources Management; Water Framework Directive; wicked problems
Acknowledgments
This research did not receive any specific grant from funding agencies in the public, commercial, or not-for-profit sectors.
Author Contributions
Sabrina Kirschke designed and performed the analysis and contributed substantially to the writing of the manuscript. Jens Newig discussed the design and results of the analysis, and contributed to the writing of the manuscript.
Conflicts of Interest
The authors declare no conflict of interest.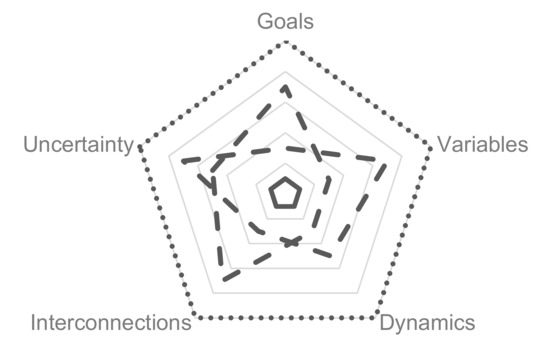 Figure 1.
Variations of problem complexity across five dimensions. Depicted are four generic examples of complex (dotted line), complicated (dashed lines) and simple (solid line) problems, based on Kirschke et al. [
33
].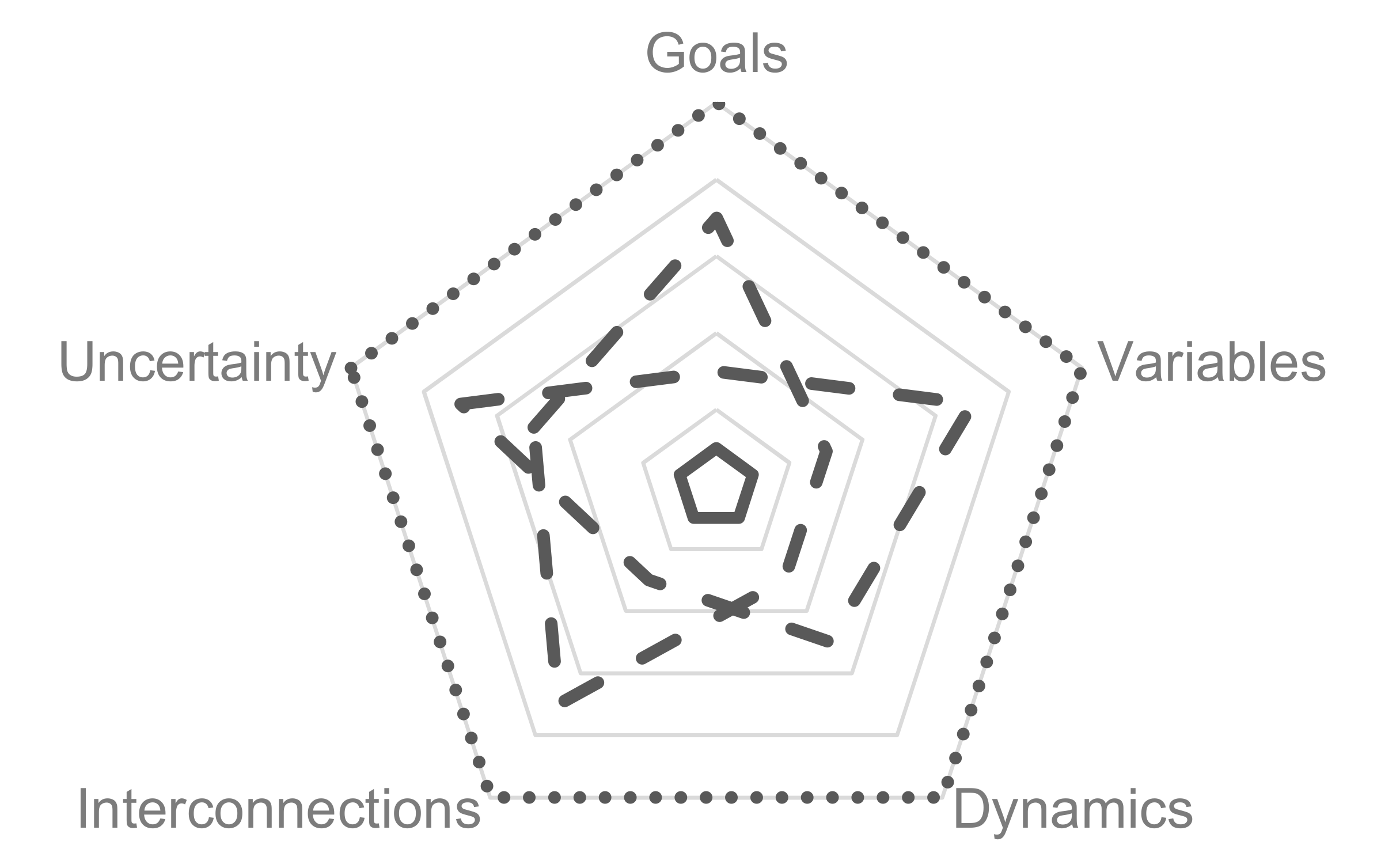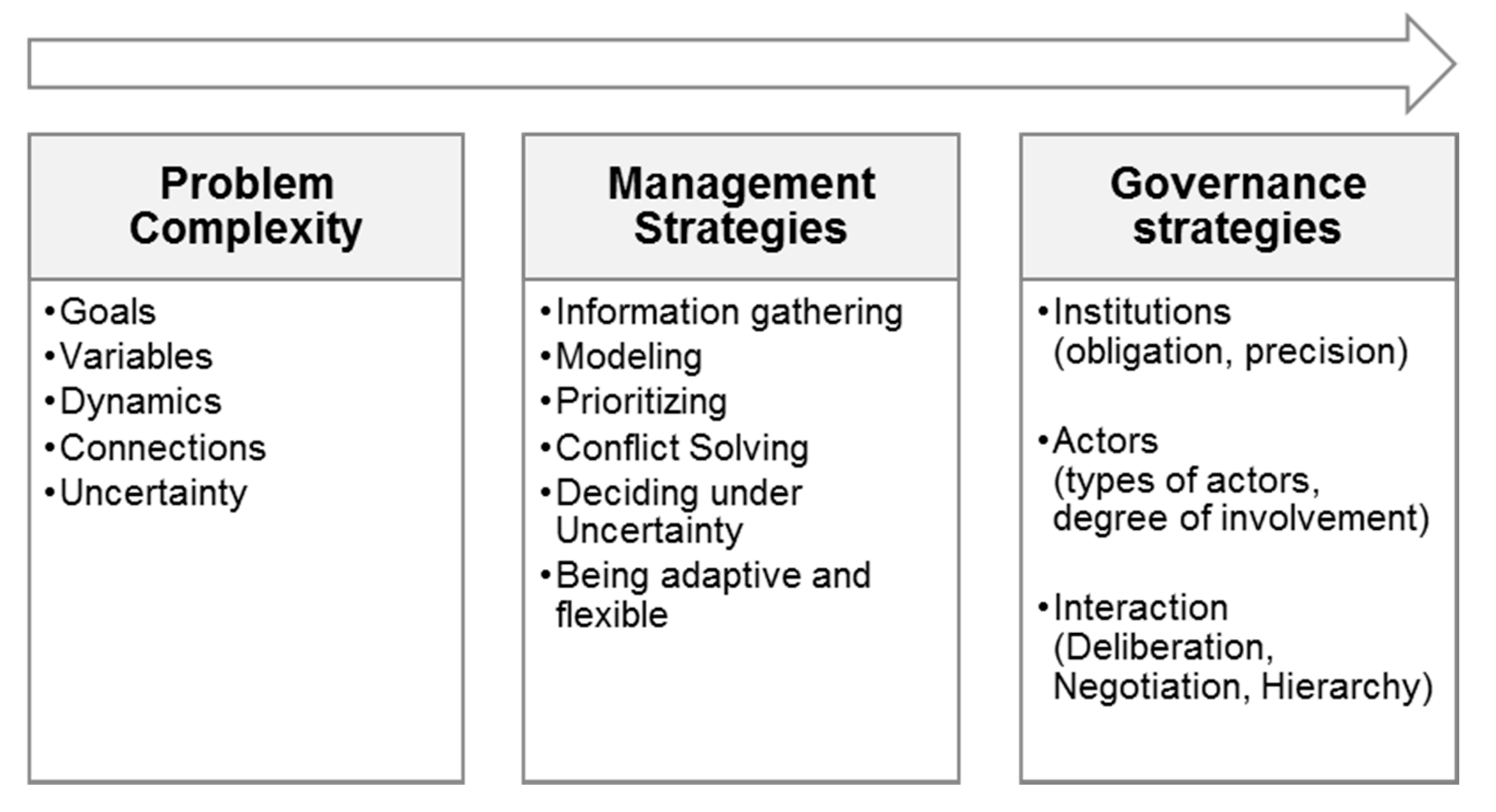 Table 1. Complexity and Management Strategies. 'X' signifies that a given management strategy helps to address the respective complexity dimension.
Management Strategies for Problem Solving
Complexity Dimension
Gathering Information
Modeling and Using Decision Support Tools
Prioritizing of Measures
Conflict Solving
Deciding under Uncertainty
Being Adaptive and Flexible
Goals
x
x
Variables
x
x
Dynamics
x
x
x
Interconnections
x
x
x
Uncertainty
x
x
x
x

Table 2. Governance Strategies facilitating Management Strategies. The table shows how different governance strategies—grouped into institutions, actors and interactions—facilitate the implementation of different management strategies.
Governance Strategies
Management Strategies
Institutions
Actors
Interactions
Gathering Information
Obligation, precision
Involvement of actors in general, involvement of institutions, scientific and local experts, moderators
Deliberation
Modeling/Using Decision Support Tools
Involvement of scientific, local, and political experts
Prioritizing
Involvement of scientific experts
Deliberation
Conflict Solving
Obligation, precision
Involvement of actors in general, involvement of institutions, scientific experts, veto players, moderators
Deliberation/negotiation
Deciding Under Uncertainty
Lower obligation, precision
Involvement of scientific experts, veto players, but lower involvement of institutions
Being Adaptive and Flexible
Lower obligation, precision
Lower involvement of experts, veto players
Deliberation/hierarchy

© 2017 by the authors. Licensee MDPI, Basel, Switzerland. This article is an open access article distributed under the terms and conditions of the Creative Commons Attribution (CC BY) license (http://creativecommons.org/licenses/by/4.0/).