Open Access This article is
freely available
re-usable
Article
Adsorption of Arsenate by Nano Scaled Activated Carbon Modified by Iron and Manganese Oxides
1
Department of Chemical Technology & Industrial Chemistry, School of Chemistry, Aristotle University of Thessaloniki, GR-541 24 Thessaloniki, Greece
2
Institute of Geotechnics, Slovak Academy of Sciences, Watsonova 45, SK-04001 Kosice, Slovakia
*
Authors to whom correspondence should be addressed.
Received: 1 August 2017 / Accepted: 11 September 2017 / Published: 21 September 2017
Abstract
:
The presence of arsenic in water supplies is a major problem for public health and still concerns large parts of population in Southeast Asia, Latin America and Europe. Removal of arsenic is usually accomplished either by coagulation with iron salts or by adsorption with iron oxides or activated alumina. However, these materials, although very efficient for arsenic, normally do not remove other undesirable constituents from waters, such as chlorine and organo-chlorine compounds, which are the results of water chlorination. Activated carbon has this affinity for organic compounds, but does not remove arsenic efficiently. Therefore, in the present study, iron modified activated carbons are investigated as alternative sorbents for the removal of arsenic(V) from aqueous solutions. In addition, modified activated carbons with magnetic properties can easily be separated from the solutions. In the present study, a simple and efficient method was used for the preparation of magnetic Fe3(Mn2+)O4 (M:Fe and/or Mn) activated carbons. Activated carbons were impregnated with magnetic precursor solutions and then calcinated at 400 °C. The obtained carbons were characterized by X-ray diffraction (XRD), nitrogen adsorption isotherms, scanning electron microscopy (SEM), vibrating sample magnetometer (VSM), Fourier Transform Infrared Spectrometry (FTIR) and X-ray photoelectron spectroscopy (XPS) measurements. Their adsorption performance for As(V) was evaluated. The iron impregnation presented an increase in As(V) maximum adsorption capacity (Qmax) from about 4 mg g−1 for the raw carbon to 11.05 mg g−1, while Mn incorporation further increased the adsorption capacity at 19.35 mg g−1.
Keywords:
arsenic(V) removal; magnetic activated carbon; adsorption; iron-manganese impregnation
1. Introduction
Arsenic is a toxic compound, known for its carcinogenic effects to humans who are chronically exposed to high concentration. Arsenic contamination of waters globally is of major concern, because million of people worldwide are exposed to elevated concentrations in their drinking water. Specifically, in Southeast Asia, more than 500 million people consume water with concentrations higher than the WHO guideline value of 10 μg L
−1
[
1
,
2
]. Furthermore, very high concentrations of arsenic are found in wastewaters originating from textile industry, and other anthropogenic activities. These wastewaters have to be treated efficiently to prevent release of high arsenic contents into natural water bodies, which eventually can contaminate surface water and groundwater and finally drinking waters [
2
]. Therefore, the removal of arsenic and other heavy metals, together with organic contaminants from waters but also from drinking water is of critical importance. Arsenic is mostly present in its trivalent form in groundwater due to the prevailing anoxic conditions [
2
] but as As(V) in oxygenated wastewaters. Therefore, in the present study, we simulate wastewater treatment, which has mostly As(V) and is chemically oxidized, thus even As(III) is in the form of As(V). As(III) is generally less efficiently removed by conventional coagulation/flocculation methods, or even by other commonly applied methods such as adsorption, ion exchange and lime softening [
3
,
4
]. Therefore, As(III) oxidation to As(V) is a common pretreatment requirement to transform As(III) into the generally less mobile As(V) species [
5
,
6
].
Removal of arsenic from contaminated water sources by sorption onto iron oxides, metallic iron or magnetic iron oxides has been reported by many researchers in the last decades [
7
,
8
,
9
,
10
,
11
,
12
]. Activated carbons modified by iron hydro(oxide) nanoparticles have quite recently been studied for As removal and were found efficient for the removal of arsenic at concentrations lower than 300 mg L
−1
[
13
]. Mũniz G. et al., 2009 [
14
] studied the arsenic removal of iron-doped activated carbons prepared by impregnation with Fe(III) and Fe(II). They observed that, for a given method of doping (i.e., constant iron(II) or iron(III) concentration, and constant pH), increase of the Fe content always increased the corresponding arsenic uptake. However, the most important conclusion was that arsenic removal efficiencies can be extremely different at a given constant Fe content, depending on the way the doping was carried out. Small and highly dispersed iron oxide-based particles are those leading to the highest as removal efficiency. Consequently, increase of the Fe content is useless as long as an excellent dispersion of iron inside the carbon is not achieved. Zhang et al., 2007 [
15
] presented a method for preparing economic ferric activated carbon composites able to remove arsenic from drinking water.
The main constituents in this composite were magnetite (Fe
3
O
4
), maghemite (γ-Fe
2
O
3
), hematite (α-Fe
2
O
3
) and goethite (α-FeO(OH)). The surface area or the pore structure of the modified activated carbon was not significantly affected, but its ability to remove arsenic was increased significantly. Chang et al., 2010 [
16
] showed that granular activated carbon (GAC) was impregnated with iron through a new multi-step procedure using ferrous chloride as the precursor. Nano-size iron particles were formed in both crystalline (akaganeite) and amorphous forms. The modified Fe-GACs were treated with sodium hydroxide to stabilize the iron in GAC. The impregnated iron was very stable at the common pH range used in water treatment. The arsenic adsorption capacity of Fe-GAC increased significantly with the amount of impregnated iron up to 4.22% and then decreased with higher amounts of iron. Nieto-Delgado et al., 2012 [
17
] studied the development of a thermal hydrolysis process to anchor iron hydro(oxide) nanoparticles onto activated carbon. The modified carbons had a high surface area and the blockage of the activated carbon pores was avoided. They found that the efficiency of their product was depended on the physical and chemical properties of the activated carbons used. The presence of oxygenated and phosphate surface groups on the carbon surface promoted the anchorage of iron hydro(oxide) particles. A direct relationship between iron content and arsenic adsorption capacity was not found.
Therefore, the objective of this study was to produce a novel material able to remove efficiently As(V) from drinking waters of from textile wastewaters without losing its ability to efficiently remove toxic organic compounds. In the present work, we examined the removal of high concentrations of arsenic (in the range of 5 to 50 mg L−1) to simulate industrial wastewaters. However, certain conclusions can also be drawn with respect to drinking water treatment, thus for lower concentrations. A commercially available activated carbon with high efficiency for organics removal has been chosen. It was modified by impregnation with iron and manganese oxide precursors. The effect of Cu precursor on the As(V) removal efficiency was also studied. The precursors were first adsorbed into the AC and then the iron/manganese oxides were formed by heat treatment to temperatures up to 400 °C. The modified sorbents were fully characterized. Their As(V) adsorption properties were studied at various pH and initial As(V) concentrations. Further work with this material would highlight its improved treatment since the main advantage is expected to be the simultaneous removal of organic compounds with the removal of arsenic.
3. Results and Discussion
3.1. Adsorption Performance
3.2. Materials Characterization
The iron or iron compounds amount of the activated carbon is important for arsenate removal, since iron incorporation may block the carbon pores, in this way decreasing the surface area of the sorbent and the number of available sites for arsenate adsorption. For this reason, it is important to measure the surface area of the modified carbon sorbents.
Comparing the above results of the textural features of the raw and impregnated samples to the relative arsenate adsorption capacities and/or the iron content no relation was found. For this reason, the nature of the oxides formed and the surface chemistry of the impregnated carbon samples were further examined.
The patterns of NF and NFC carbons, which are similar to the pattern for the initial carbon N, suggest that either no oxide was formed or the oxide formed was amorphous and could not be detected by XRD measurements.
3.3. Adsorption Mechanism
The Qmax values of NF and NFM impregnated carbons were greater than those for the raw activated carbon, proving that magnetite played an important role in the As(V) adsorption by these carbons. To understand the mechanism by which arsenate was adsorbed on carbon surface, FTIR spectra and XPS measurements were obtained for the N, NF and NFM carbons before and after arsenate adsorption.
Figure 6
shows the FTIR spectra of N, NF and NFM activated carbons, respectively, together with their counterparts after arsenate adsorption. It is worth noting that the spectra for the raw and impregnated carbons appeared to be similar, indicating their similar compositions. For the N carbon, the main characteristic absorption bands are presented at: (i) 1740 cm
−1
due to carboxylic acid vibrational frequencies; (ii) ~1600 cm
−1
related to C=C stretching vibration of the aromatic ring; and (iii) 1150 cm
−1
attributed to –OH stretching and bending vibrations in C–OH bonds (phenols).
The band at about 1600 cm
−1
due to the stretching vibration of the aromatic ring is also obvious for the NF and NFM impregnated carbons, as well as the bands at about 1714 cm
−1
due to the carboxyl C=O stretching. For these carbons, a peak is noticed at ~600 cm
−1
attributed to the stretching vibration of Fe–O bonds in tetrahedral site; this peak has actually been reported as a characteristic peak of iron oxides [
40
,
41
]. Besides, the band at about 1050 cm
−1
can be attributed to the formation of hydroxyl species (–FeOH/Fe–OH–Fe). For these samples, the carbon surface was found to be oxidized during impregnation. That oxidation resulted in the increase intensity of the band representing lactone, as seen in the FTIR spectrum for the NF and NFM carbon samples. Besides, in
Figure 7
, the proton-binding curves show that impregnation resulted to an increase of surface acidity for NF and NFM carbon samples since the proton-binding curves are shifted toward lower pH values for these carbons.
After arsenate adsorption, at the spectra for the impregnated carbons, a new band appeared at 820 cm−1, corresponding to As–O stretching vibration. This comes from the As(V) bounding as a surface complex and not as a precipitated solid phase indicating a specific adsorption at the aqueous arsenate/Fe–Mn oxide interface.
4. Conclusions
A microporous activated carbon was impregnated with iron, iron/cobalt and iron/manganese by a novel and simple impregnation method. The modified carbons were tested for As(V) removal and showed improved properties, with Qmax almost four times higher than that of unmodified carbon. Surface and textural properties of modified and unmodified carbons were correlated to adsorption capacity. The best arsenic (V) adsorption capacities were presented by the Fe3−xMnxO4-modified activated carbon. Mn ions were substitutionally incorporated in the magnetite lattice. It was found that Mn incorporation affected the textural properties of the carbon, as reveled by the decrease of the surface areasurface pH, and the pHpzc, and the increase of crystallinity. Finally, it is proposed that arsenate, which is a Lewis base, was selectively adsorbed through the formation of inner-sphere bidentate complexes on the modified carbon surface. Further work with this material will focus on the removal of both As(III) and As(V) from concentrations relevant to drinking water treatment to show the improved properties of this material for treatment of both species of arsenic. The main advantage, however, is the simultaneous organic compound removal together with the arsenic removal.
Acknowledgments
Funding from the People Programme (Marie Curie Actions) of the European Union's Seventh Framework Programme FP7/2007-2013/under REA grant agreement No. 612250-WaSClean and the European Union's H2020-MSCA-RISE-2016/under REA grant agreement No. 734641-NanoMed is greatly appreciated. Thanks are extended to the Slovak Research and Development Agency within the APVV-0252-10/WATRIP.
Author Contributions
George P. Gallios designed research; Athanasia K. Tolkou performed research, analyzed the data and wrote the paper; Ioannis A. Katsoyiannis contributed to the writing of the paper and analyzed data; Katarina Stefusova analyzed the data; Miroslava Vaclavikova analyzed the data; and Eleni A. Deliyanni analyzed the data and wrote the paper. All authors read and approved the final manuscript.
Conflicts of Interest
The authors declare that they have no conflict of interest.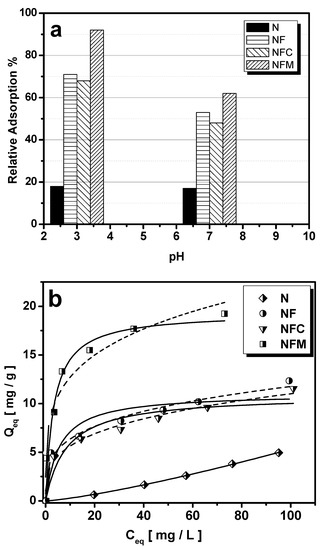 Figure 1. (a) Percentage adsorption of arsenic at pH 3 and 7; and (b) arsenic adsorption isotherms fitted to the Langmuir (lines) and Freundlich equations (dotted lines).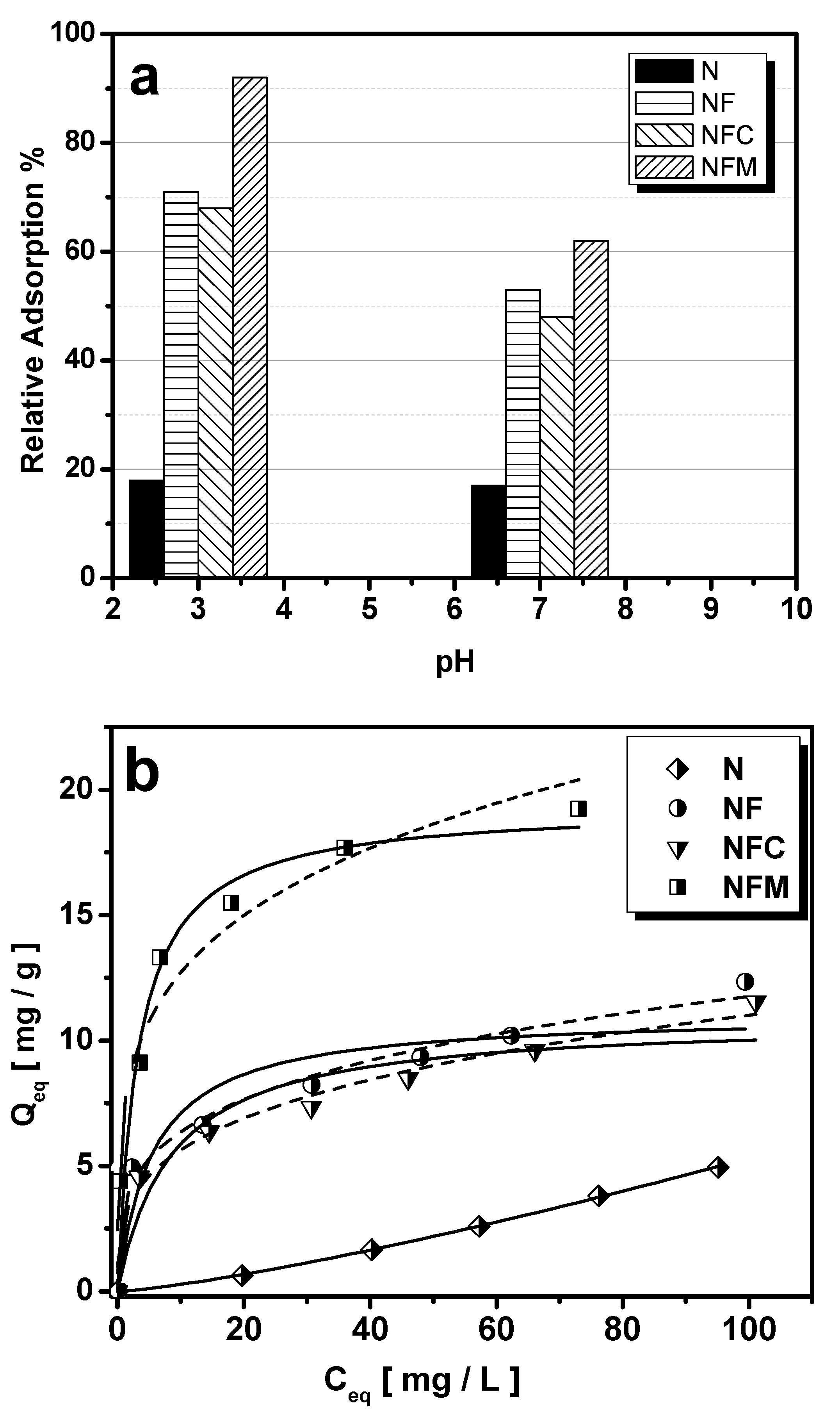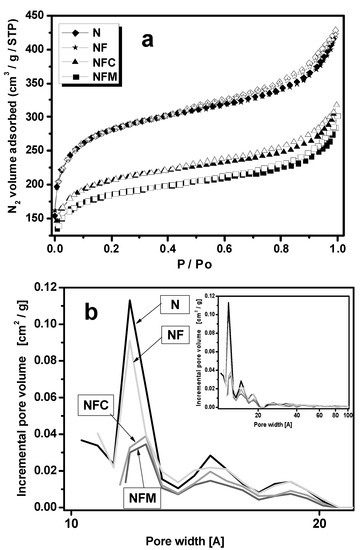 Figure 2. Adsorption of: N2 (a); and pore size distribution (b) for the initial and impregnated carbon samples.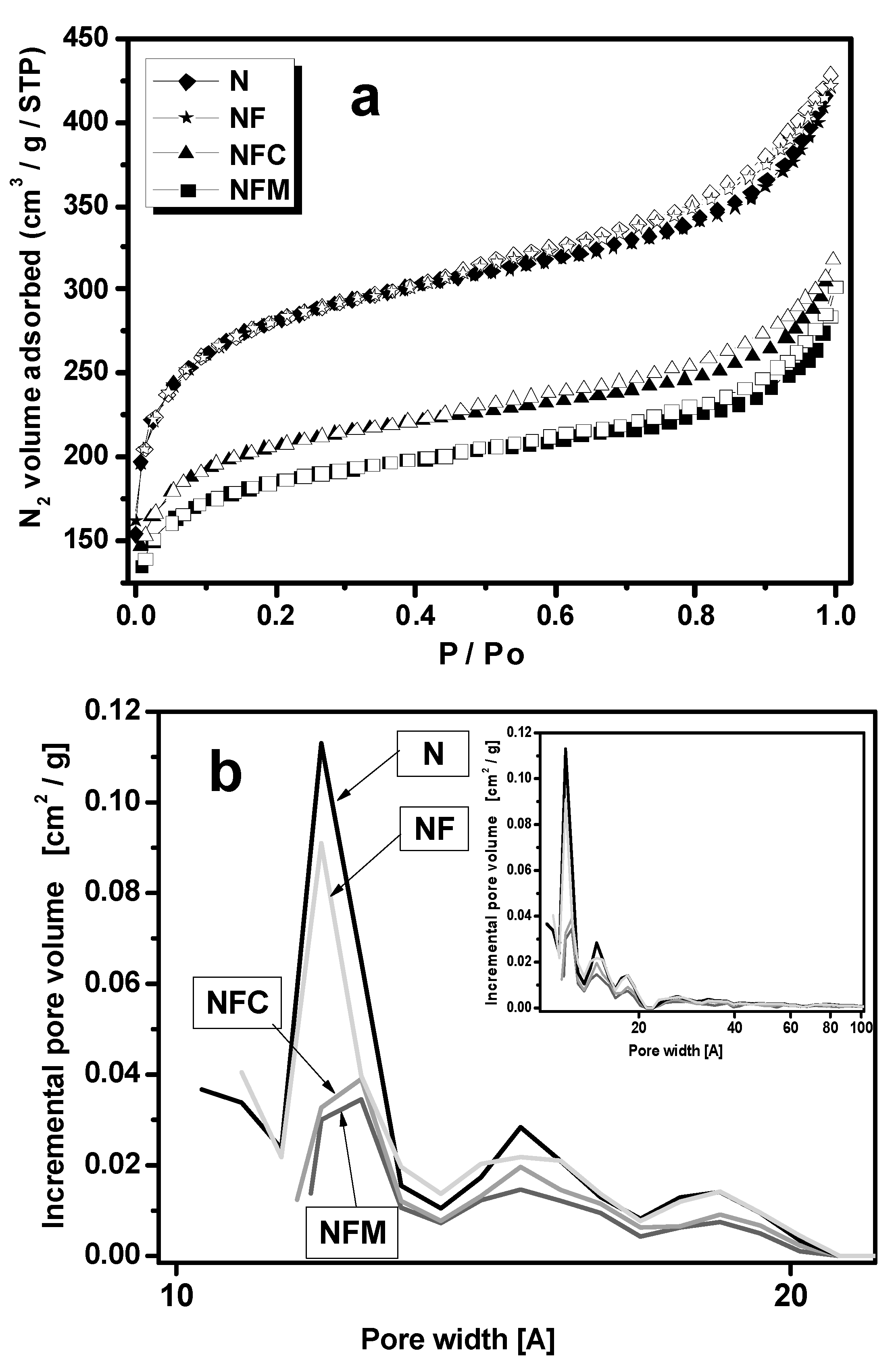 Figure 3. SEM images of: (a) raw and iron impregnated carbons along with the iron distribution maps; and (b) raw and iron impregnated carbons after arsenate adsorption along with iron distribution maps.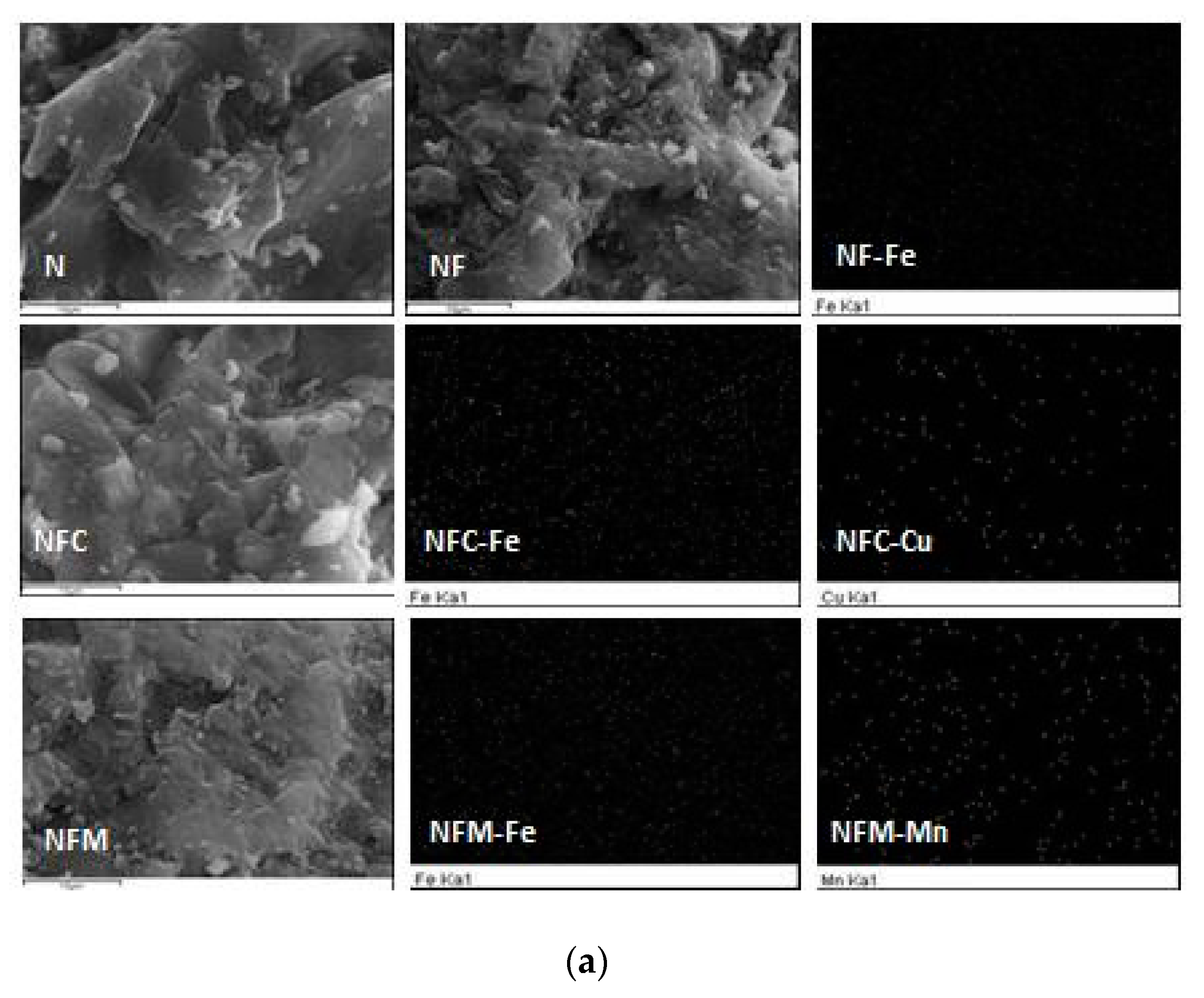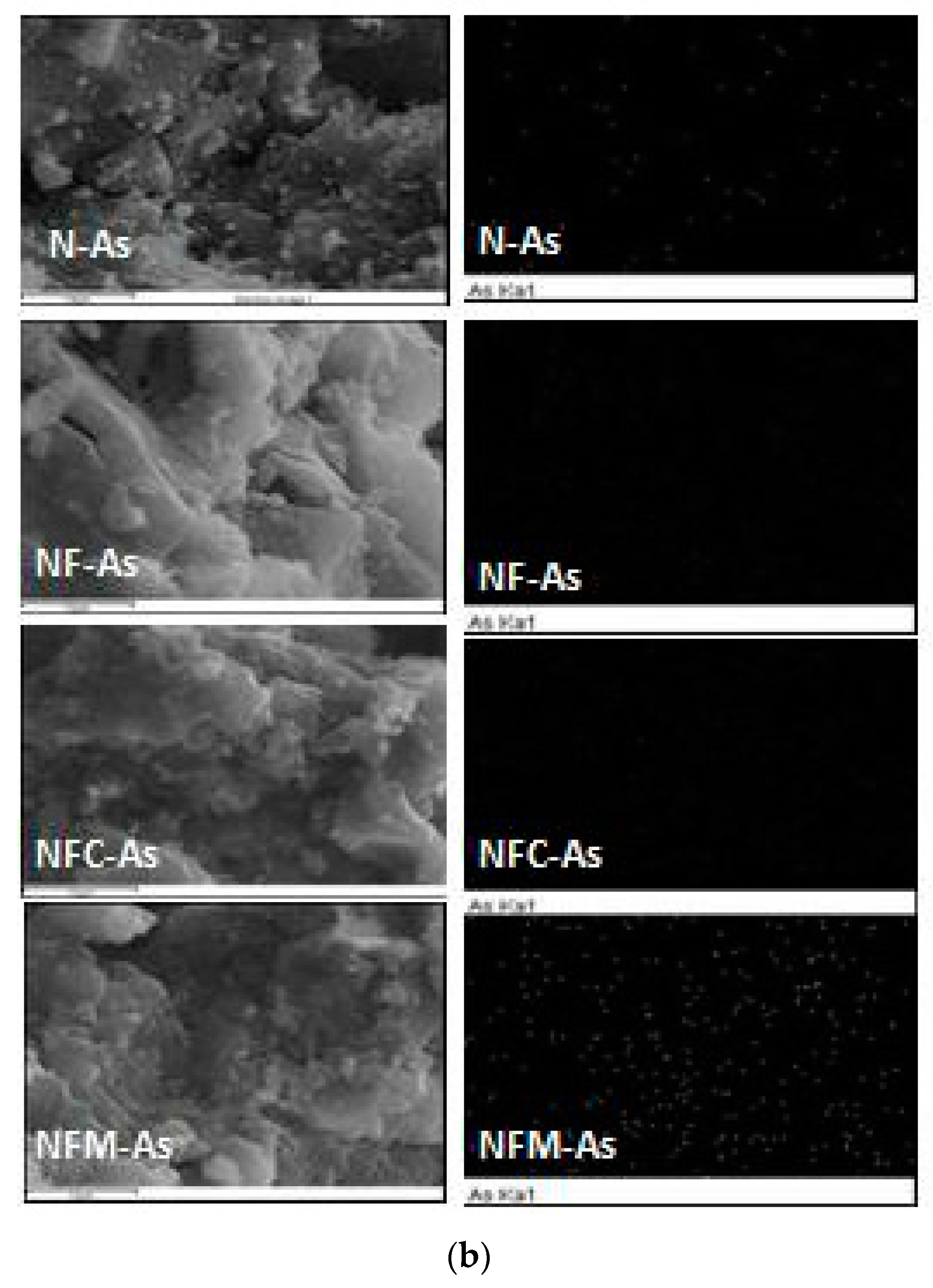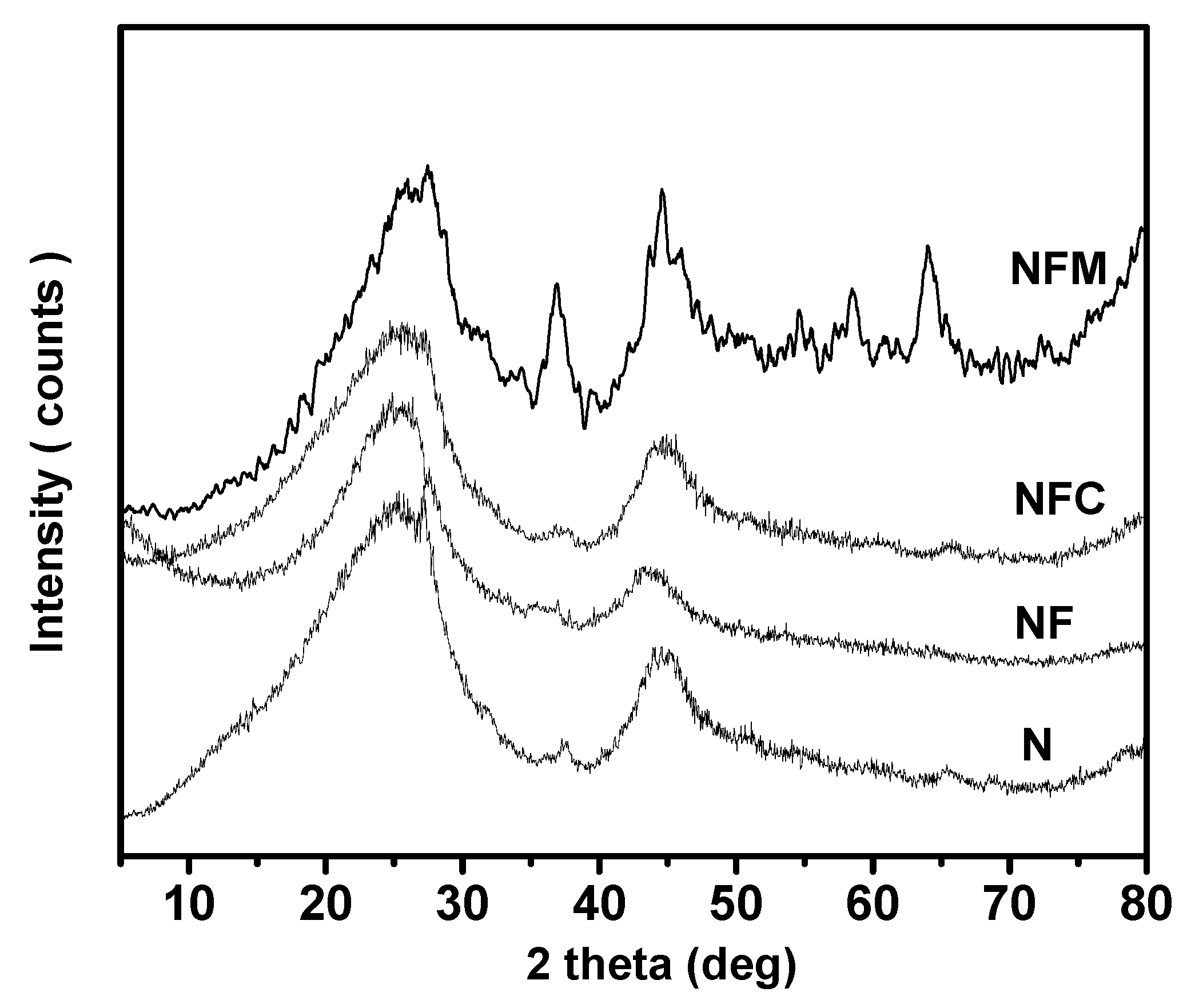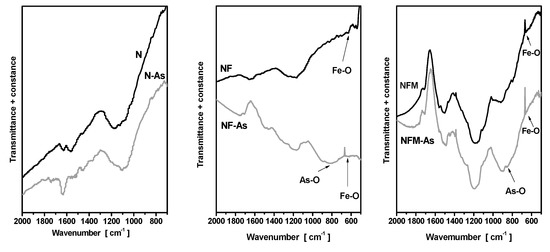 Figure 6. FTIR spectra of the studied carbons before and after arsenate adsorption (adsorption of 100 mg g−1 arsenate for 24 h at 25 °C).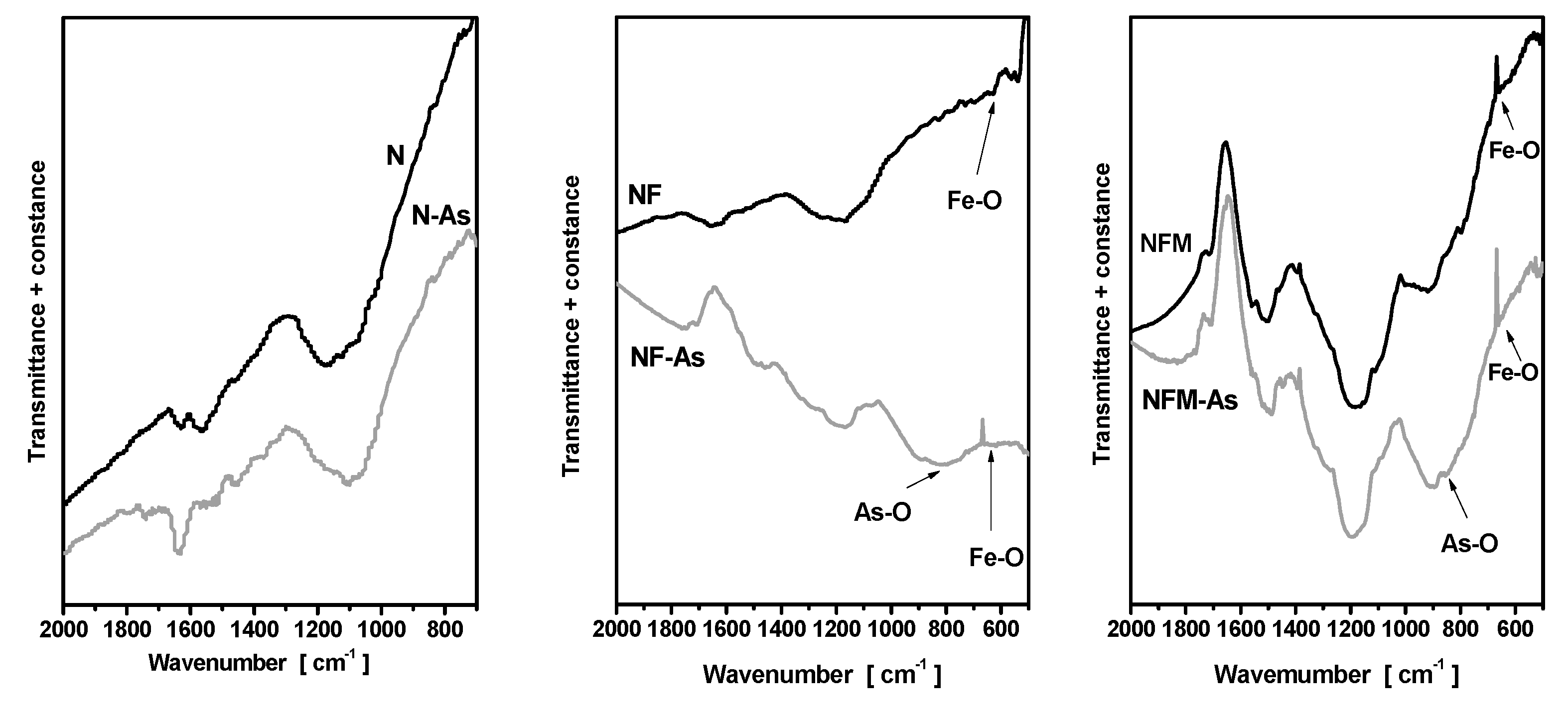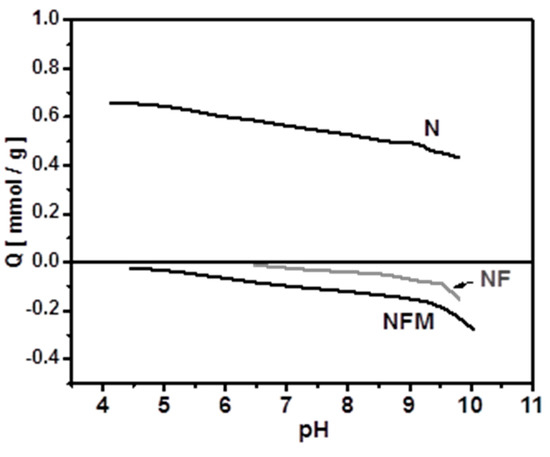 Figure 7. Potentiometric titration curves of the raw (N) and impregnated activated carbons (NF and NFM).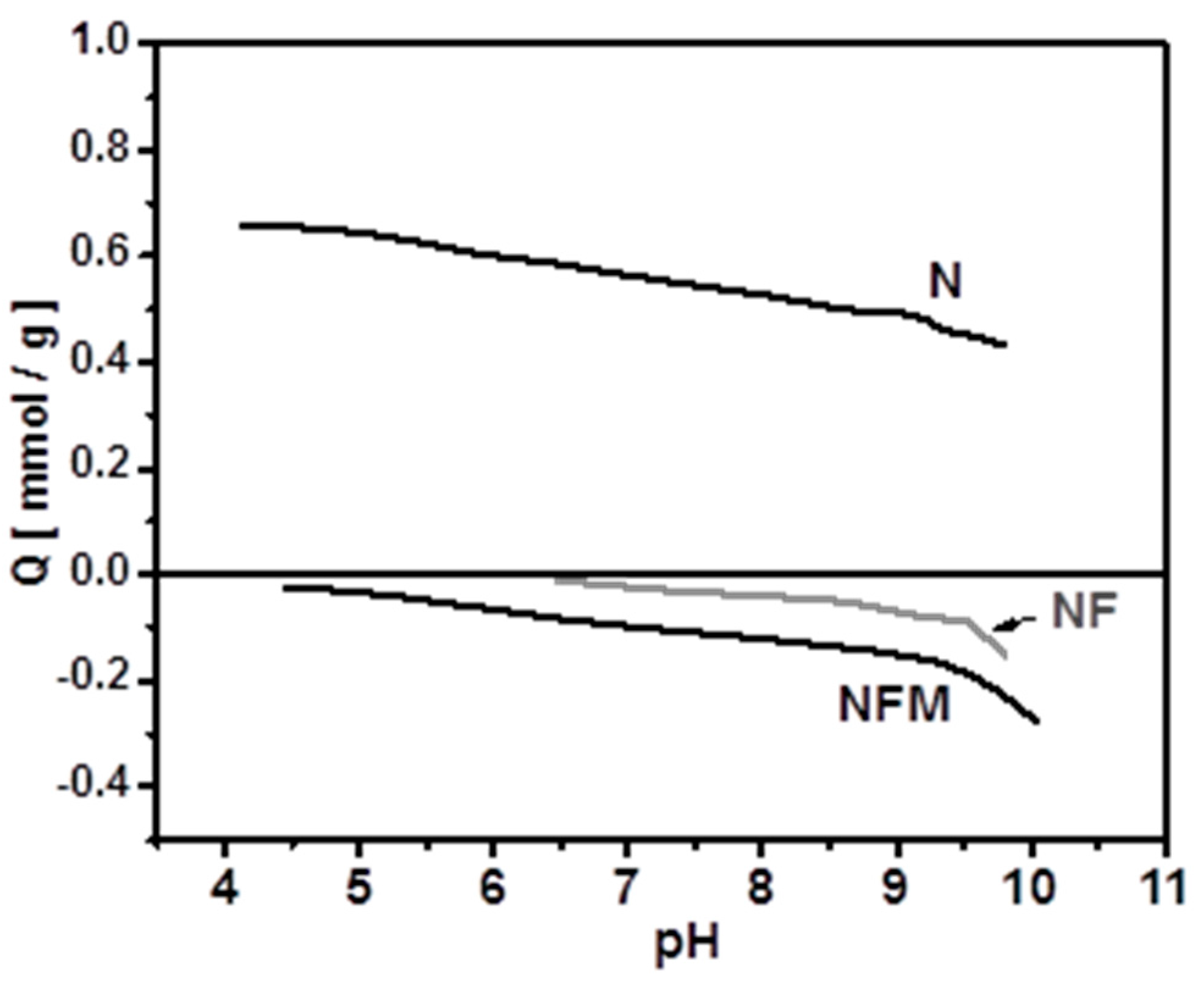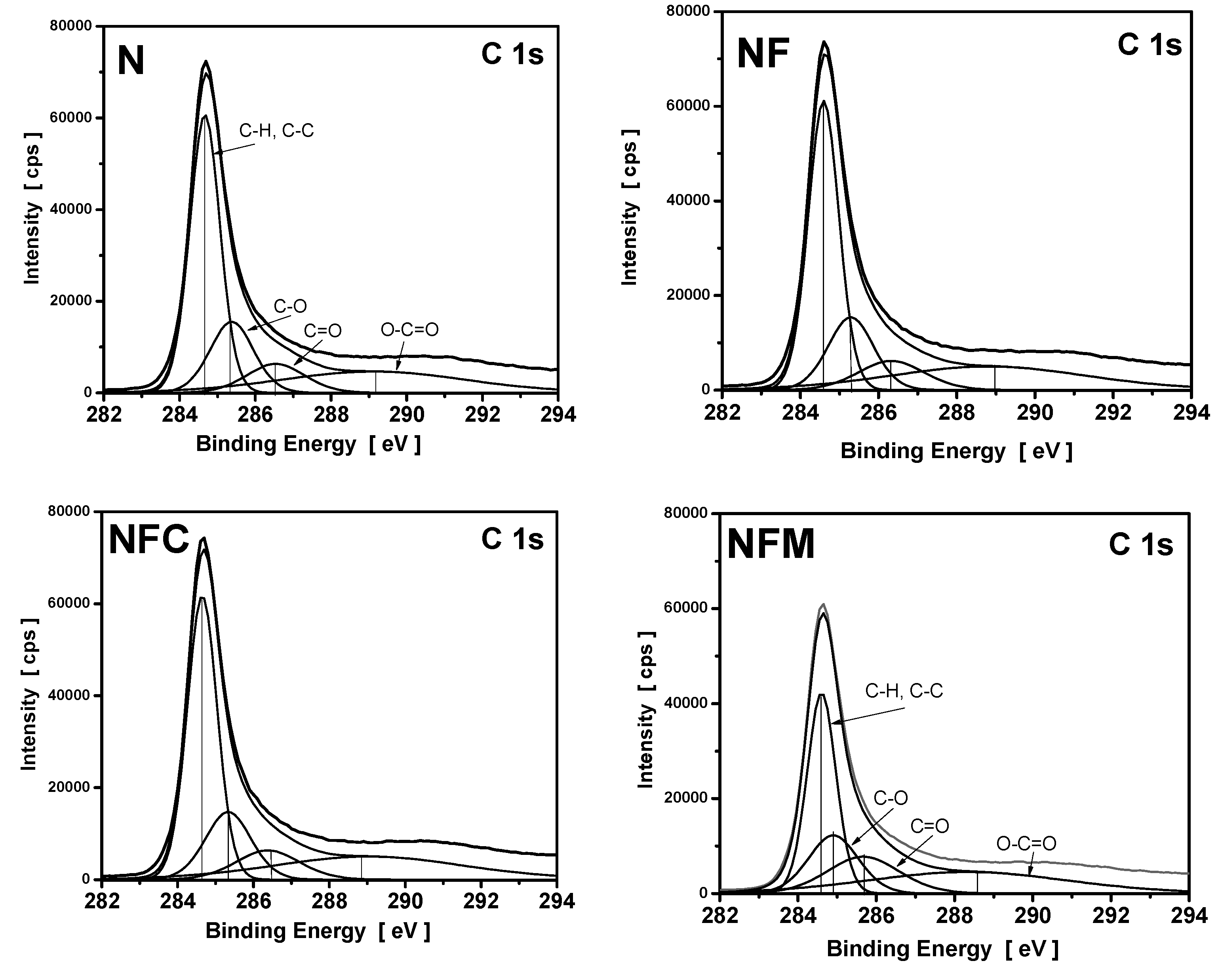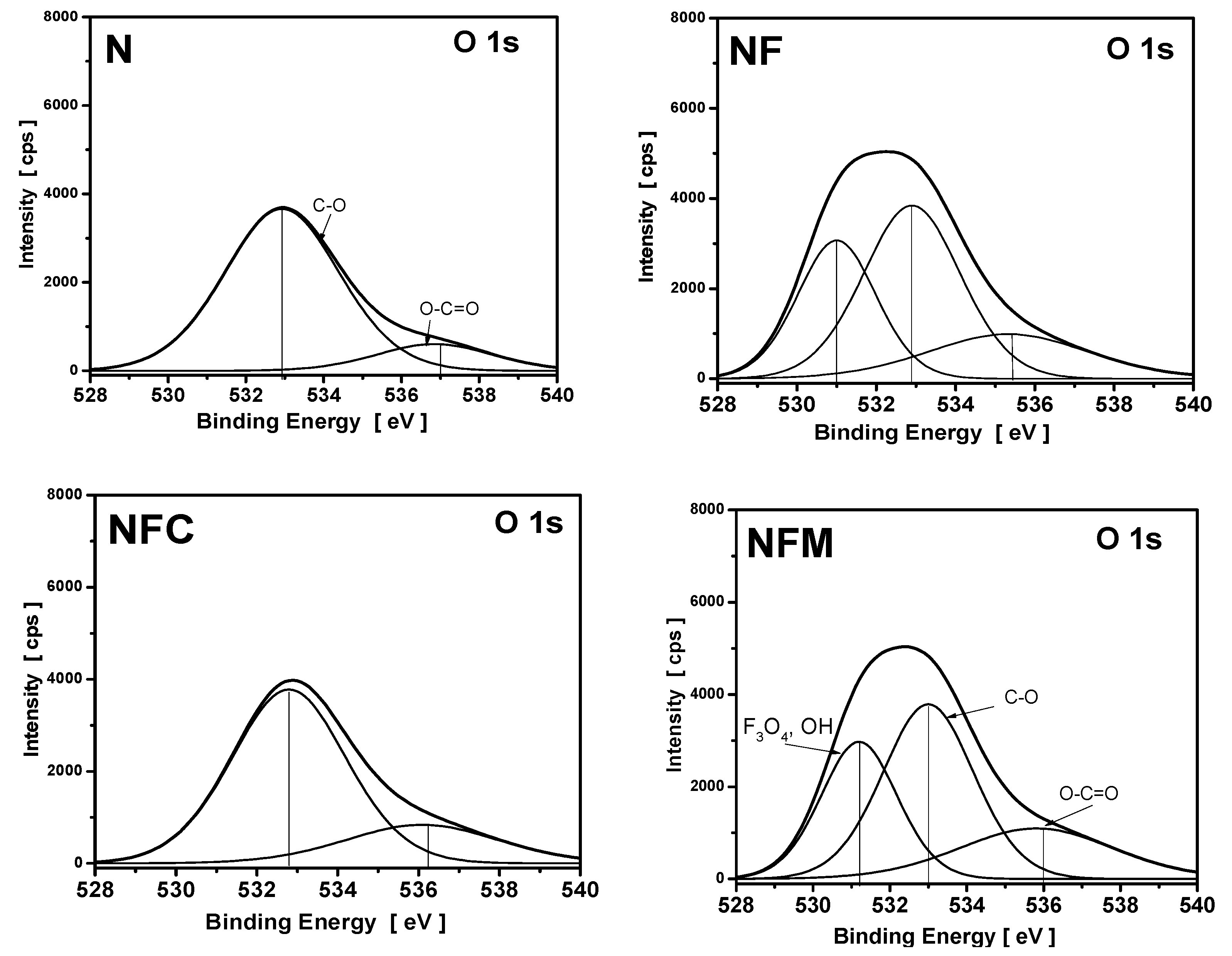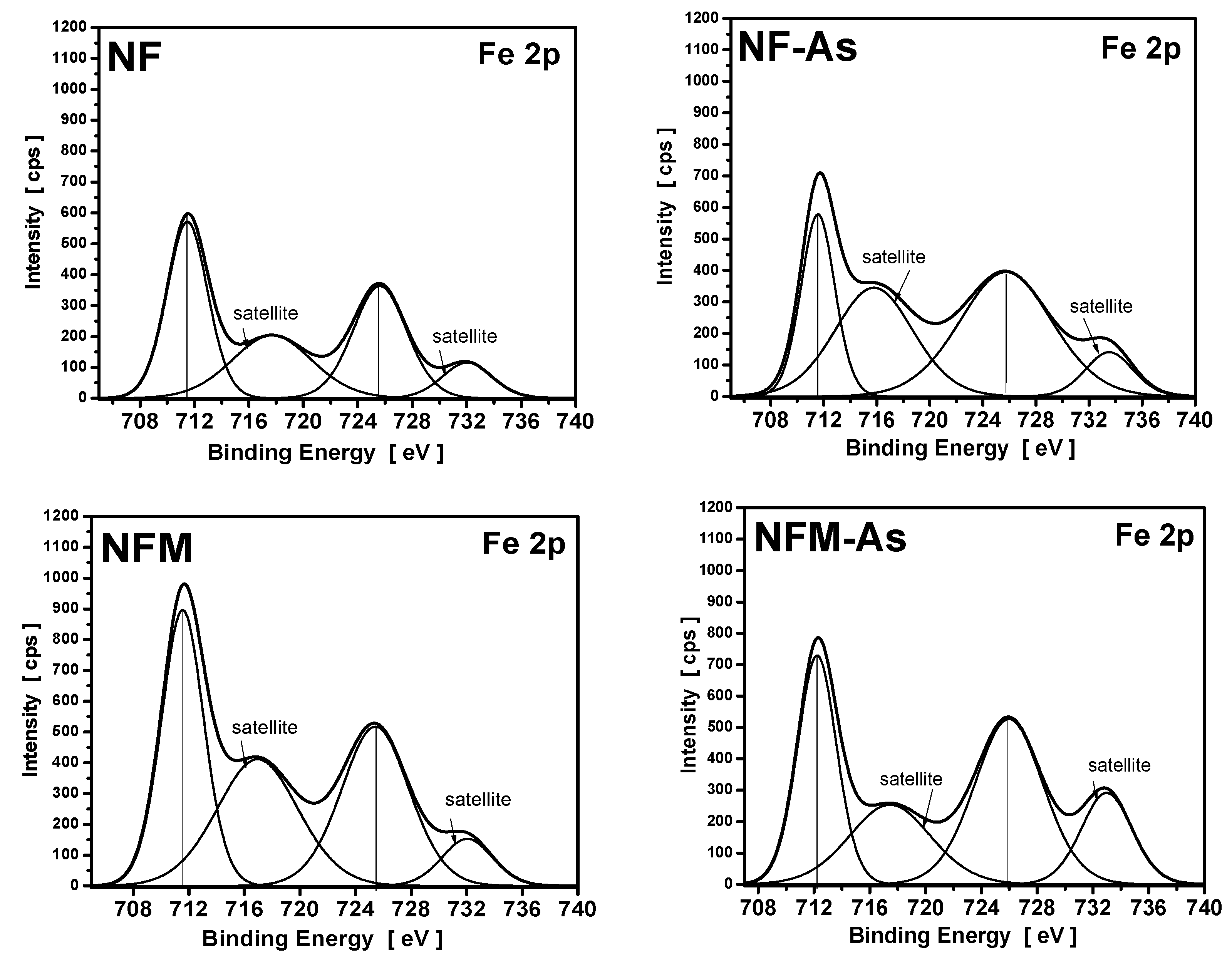 Table 1. Equilibrium parameters for the adsorption of As(V) at 25 °C onto raw and iron impregnated activated carbons.
Table 1. Equilibrium parameters for the adsorption of As(V) at 25 °C onto raw and iron impregnated activated carbons.
Freundlich
Langmuir
KF
1/n
R2
Qmax
KL
R2
N
0.015
1.2778
0.9995
-
-
-
NF
3.437
0.2671
0.9691
11.05
0.1797
0.7299
NFC
2.881
0.2908
0.9748
10.87
0.1175
0.7879
NFM
7.344
0.238
0.9471
19.35
0.3000
0.9523
Table 2. Textural parameters of the carbon materials.

| Carbon Samples | Iron Content (m %) | SBET (m2 g−1) | Vtot (cm3 g−1) | Vmeso (cm3 g−1) | Vmicro (cm3 g−1) |
| --- | --- | --- | --- | --- | --- |
| N | 0 | 980.4 | 0.67 | 0.16 | 0.33 |
| NF | 14, σ = 0.05 | 973.4 | 0.65 | 0.16 | 0.33 |
| NFC | 8.4, σ = 10−6 | 670.3 | 0.49 | 0.11 | 0.25 |
| NFM | 6.4, σ = 10−6 | 649.4 | 0.47 | 0.11 | 0.22 |
Table 3. O and Fe core level binding energies and charges of NF and NFM carbons.
Carbons
Binding Energy (eV)
Calculated Charge (Q*, esu)
O1s
Fe2p
O1s
Fe2p
NF
532.3
711.5
−0.7348
1.5179
NF-As
532.1
711.8
−0.7471
1.6149
NFM
532.5
711.8
−0.7226
1.6149
NFM-As
531.5
712.2
−0.7841
1.7604
© 2017 by the authors. Licensee MDPI, Basel, Switzerland. This article is an open access article distributed under the terms and conditions of the Creative Commons Attribution (CC BY) license (http://creativecommons.org/licenses/by/4.0/).