Open Access This article is
freely available
re-usable
Article
Development of a Biochar-Plant-Extract-Based Nitrification Inhibitor and Its Application in Field Conditions
1
Program of Magister in Agronomic Science, Universidad de Concepción, Chillán 3812120, Chile
2
Department of Soils and Natural Resources, Faculty of Agronomy, Universidad de Concepción, Av. Vicente Méndez 595, Chillán 3812120, Chile
3
Scientific and Technological Bioresources Nucleus-BIOREN, Centre for Biotechnology and Bioengineering (CeBiB), Universidad de La Frontera, Av. Francisco Salazar 01145, P.O. Box 54-D, Temuco 4811230, Chile
4
Department of Chemical Engineering, Universidad de La Frontera, Francisco Salazar 01145, P.O. Box 54-D, Temuco 4811230, Chile
*
Author to whom correspondence should be addressed.
†
These authors contributed equally to this work.
Academic Editor: Zhiyong Jason Ren
Received: 14 March 2015 / Accepted: 7 September 2015 / Published: 2 October 2015
Abstract
:
The global use of nitrogen (N) fertilizer has increased 10-fold in the last fifty years, resulting in increased N losses via nitrate leaching to groundwater bodies or from gaseous emissions to the atmosphere. One of the biggest problems farmers face in agricultural production systems is the loss of N. In this context, novel biological nitrification inhibitors (BNI) using biochar (BC) as a renewable matrix to increase N use efficiency, by reducing nitrification rates, have been evaluated. The chemical and morphological characteristics of BC were analyzed and BC-BNI complexes were formulated using plant extracts from pine (
Pinus radiata
), eucalyptus (
Eucalyptus globulus
) and peumo (
Cryptocarya alba
). In field experiments, fertilizer and treatments, based on crude plant extracts and BC-BNI complexes, were applied and the effect on nitrification was periodically monitored, and at the laboratory level, a phytotoxicity assay was performed. The biochar-peumo (BCPe) complex showed the highest nitrification inhibition (66%) on day 60 after application compared with the crude plant extract, suggesting that BCPe complex protects the BNI against biotic or abiotic factors, and therefore BC-BNI complexes could increase the persistence of biological nitrification inhibitors. None of the biochar complexes had toxic effect on radish plants.
Keywords:
biochar; biological nitrification inhibition; nitrogen
1. Introduction
Rapid population growth has resulted in an increase in food production, resulting in greater consumption of agricultural supplies and nitrogen (N) fertilizer demand [
1
]. Application of N fertilizer has increased from approximately 10 Tg (1 Tg = 1 million tons) N·year
−1
in the late 1950s to approximately 100 Tg N·year
−1
in 2008. This input plays an important role in the ability of intensive agriculture to maintain high productivity levels [
1
,
2
], although N fertilizers also have a large environmental impact [
3
]. This is due to the dynamic nature of the N cycle, in which nitrification plays a major role [
4
], transforming agricultural systems into pollution sources. Up to 70% of N-fertilizer input N can be lost via gaseous emissions, as dinitrogen (N
2
) and nitrous oxide (N
2
O) or via leaching as nitrate (NO
3
−
) [
2
]. Through the nitrification process, microorganisms convert NH
4
+
to NO
3
−
, which is highly susceptible to leaching. Nitrate contamination of fresh water systems often triggers eutrophication, altering the equilibrium of aquatic ecosystems [
2
]. In addition, NO
3
−
can be reduced to nitric oxide (NO) and N
2
O, which contribute to climate change. Agricultural systems worldwide produce nearly 30% of NO and 70% of N
2
O emissions to the atmosphere [
5
], with the latter a powerful greenhouse gas with a global warming potential approximately 300 times more than CO
2
[
1
]. Some studies have estimated that global N
2
O emissions by 2100 will be four times greater than the current emissions because of the increasing application of N fertilizers to the soil [
5
,
6
,
7
,
8
]. Therefore, new strategies are required to reduce environmental damage from agricultural N use [
3
,
9
]. In this regard, nitrification control could be a strategy to improve N use efficiency (NUE) [
4
] while also decreasing N
2
O emissions. To improve NUE and to reduce the associated environmental impacts, three methods have been studied in recent years: (a) the use of urease inhibitors that regulate the transformation of organic-N (amide and urine) to ammonia [
10
]; (b) the use of controlled release fertilizers (CRFs) which have demonstrated many advantages over conventional fertilizers [
11
,
12
]; and (c) the use of biological nitrification inhibitors.
Recent studies on mechanisms to improve NUE show that many secondary metabolites produced by plants, such as phenolic acids and terpenoids, can affect the N cycle through the inhibition of the nitrification pathway [
13
]. Several studies have also reported that some plant species that grow in N-limited soils can produce secondary metabolites that are capable of increasing NUE by inhibiting nitrification, also reducing NO
3
−
loss by leaching [
14
,
15
,
16
]. These studies evaluated the inhibitory capacity of plant species from a Mediterranean ecosystem by using extracts from the root, bark and leaves of
Cryptocarya alba
and
Eucalyptus globulus
at different doses of application. Results of this study indicated that the bark extract from
E. globulus
at doses of 4 mg·L
−1
showed the highest potential as a nitrification inhibitor. Aqueous leaf extracts from
Quillaja saponaria
and the ethanolic bark extract from
Pinus radiata
were also effective at inhibiting N mineralization [
16
]. Previous studies indicate that the bark extract from
E. globulus
and
C. alba
could also inhibit the nitrification process, but the effect was only observed during the first 13 days after the application of N-fertilizer, with no effect after this period [
17
].
One strategy to increase the efficiency of plant extracts is to incorporate them into organic materials like biochar (BC) [
18
]. Biochar is produced by pyrolysis of organic material at relatively low temperatures (<700 °C) [
19
]. Biochar has received considerable agricultural interest as it enhances soil fertility and productivity by increasing cationic exchange capacity (CEC), water retention, aggregation and porosity, soils bioremediation and climate change mitigation [
20
,
21
,
22
]. The adsorption of plant extracts onto biochar was evaluated in a laboratory experiment, which determined that biochar could be used as a matrix to adsorb organic compounds contained in plant extracts, maintaining its nitrification activity [
18
]. However, its effectiveness has not yet been evaluated under field conditions. Therefore, the aim of this study was to evaluate the performance of nitrification inhibitors based on biochar plant extract combinations, using bark extracts from
C. alba
,
P. radiata
and
E. globulus
under field conditions.
3. Results
3.1. Effect of Plant Extracts Adsorbed to Biochar on Nitrification
The effect of BC-BNI
versus
BNI applied as crude extracts is shown in
Figure 1
. In general, it was found that the BC-BNI complexes had less nitrate produced during the period of field assays. Furthermore, BCPi and BCPe presented statistical differences (
p
≤ 0.05) in the nitrate content until 60 days after N-fertilization
versus
their crude plant extracts (
Figure 1
A,B) and BCEu until 30 days after (
Figure 1
C). When we compared the average of nitrification inhibition of BC-BNI complexes with respect to their crude extracts produced during the entire assay period (at 90 days), values of 59%, 66% and 68% in BCPi, BCPe and BCEu complexes, respectively, were obtained.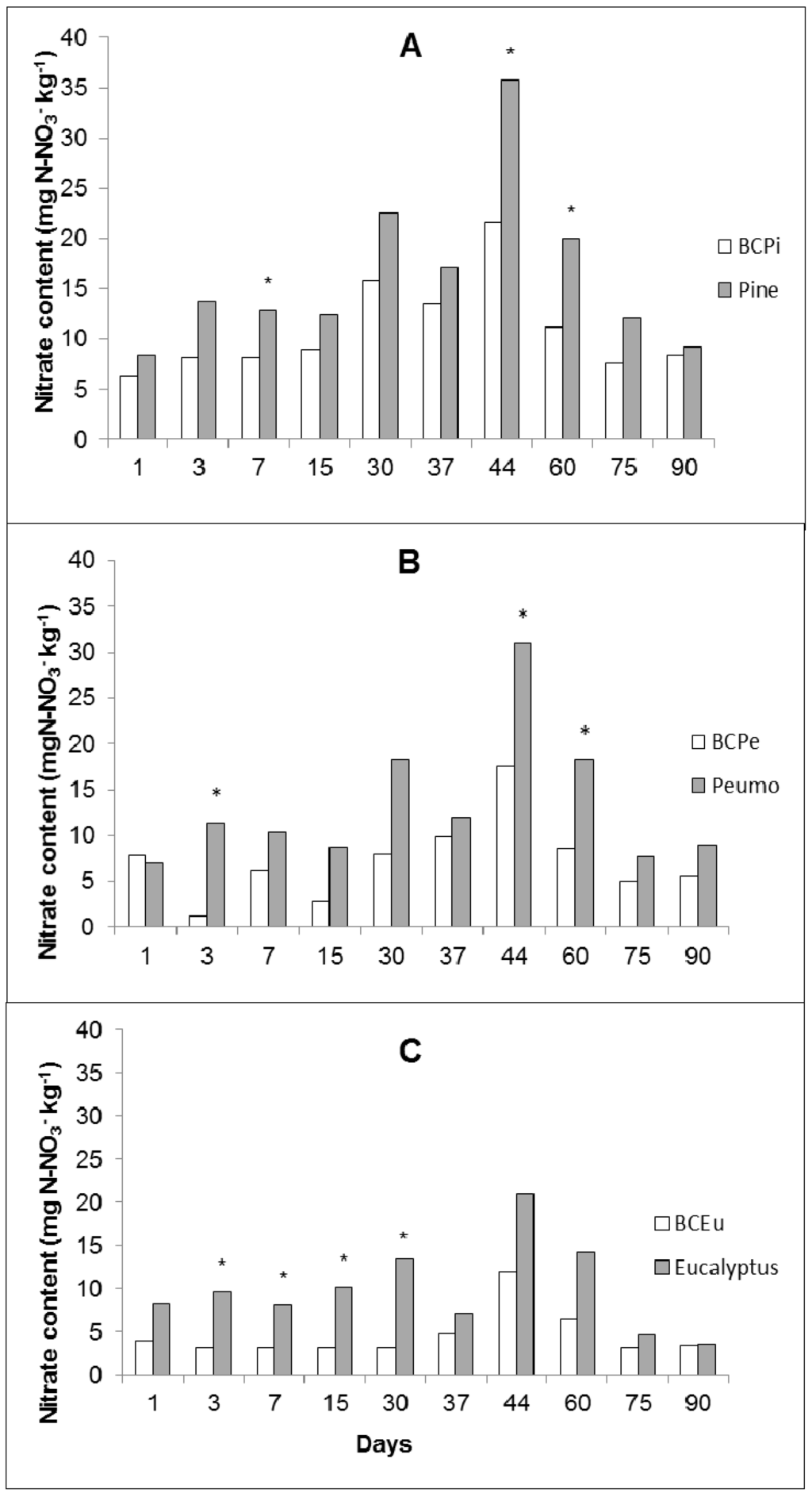 Figure 1.
Soil nitrate content (mg N–NO
3
−
·kg
−1
) in a field experiment following urea fertilization and the application of (
A
) BCPi complex and pine extract; (
B
) BCPe complex and peumo extract; and (
C
) BCEu complex and eucalyptus extract. Bars with an asterisk (*) indicate significant differences between treatments (
t-
test,
p
≤ 0.05).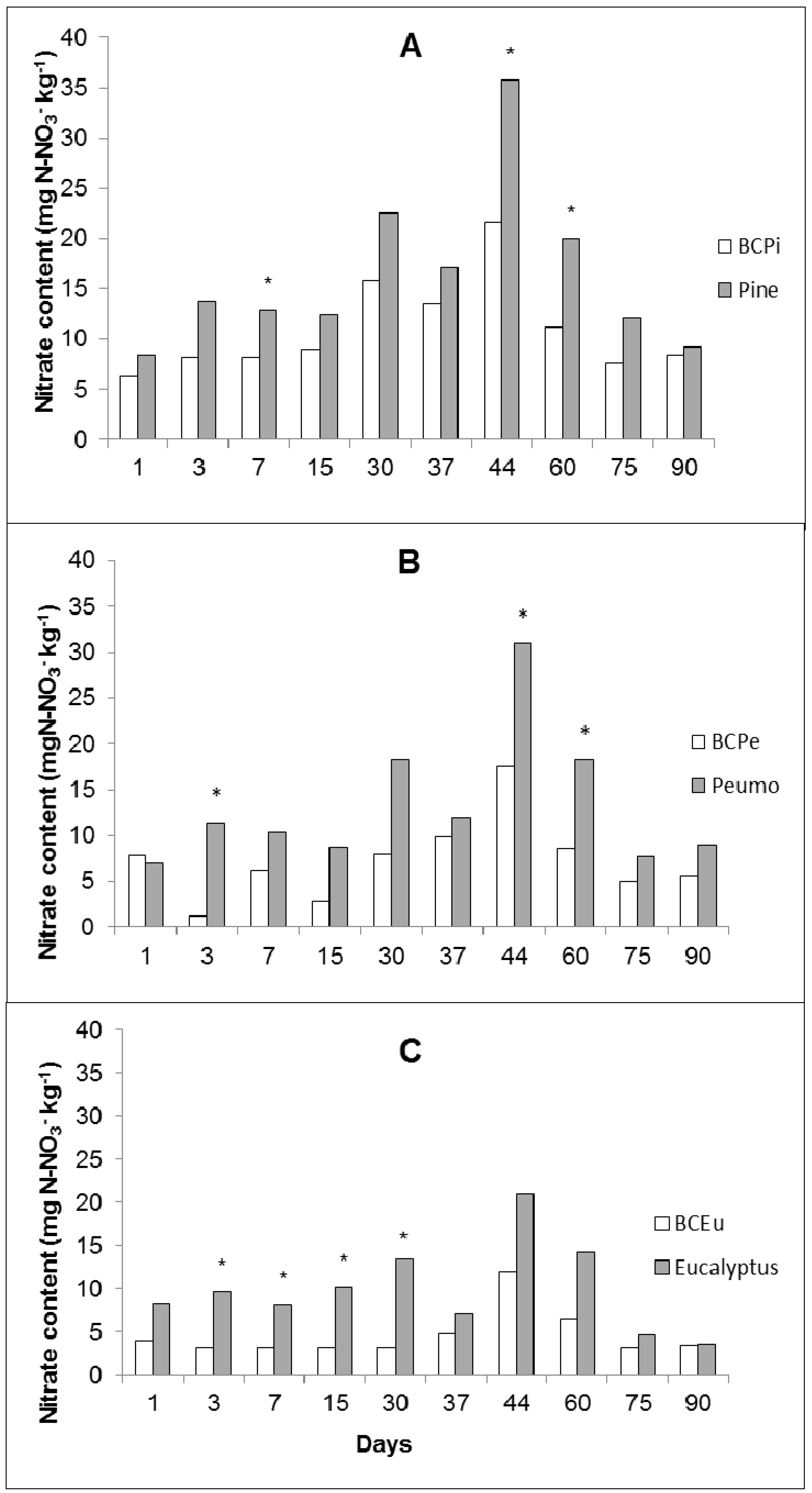 Afterwards, we determined by comparison between BC-BNI complexes that BCPe was the most effective in decreasing the soil transformation of urea to nitrate, since it presented the lesser amount (Duncan test,
p
≤ 0.05) of nitrate accumulated during the entire period, with 206 mg·NO
3
−
kg·soil
−1
in comparison with BCPi (274 mg·NO
3
−
kg·soil
−1
) and BCEu (286 mg·NO
3
−
kg·soil
−1
).
3.2. Chemical Characteristics of Biochar
FTIR analysis was performed to elucidate the functional groups presented in the chemical structure of the matrix of biochar. The FTIR spectrum of biochar is shown in
Figure 2
. Different bands in the spectrum represent different vibrations of functional groups. C=C mode was detected at 1580–1630 cm
−1
, indicating the presence of aromatic rings originating from lignin [
29
], as condensation of aromatic rings is a consequence of the dehydration of wood heated above 500 °C.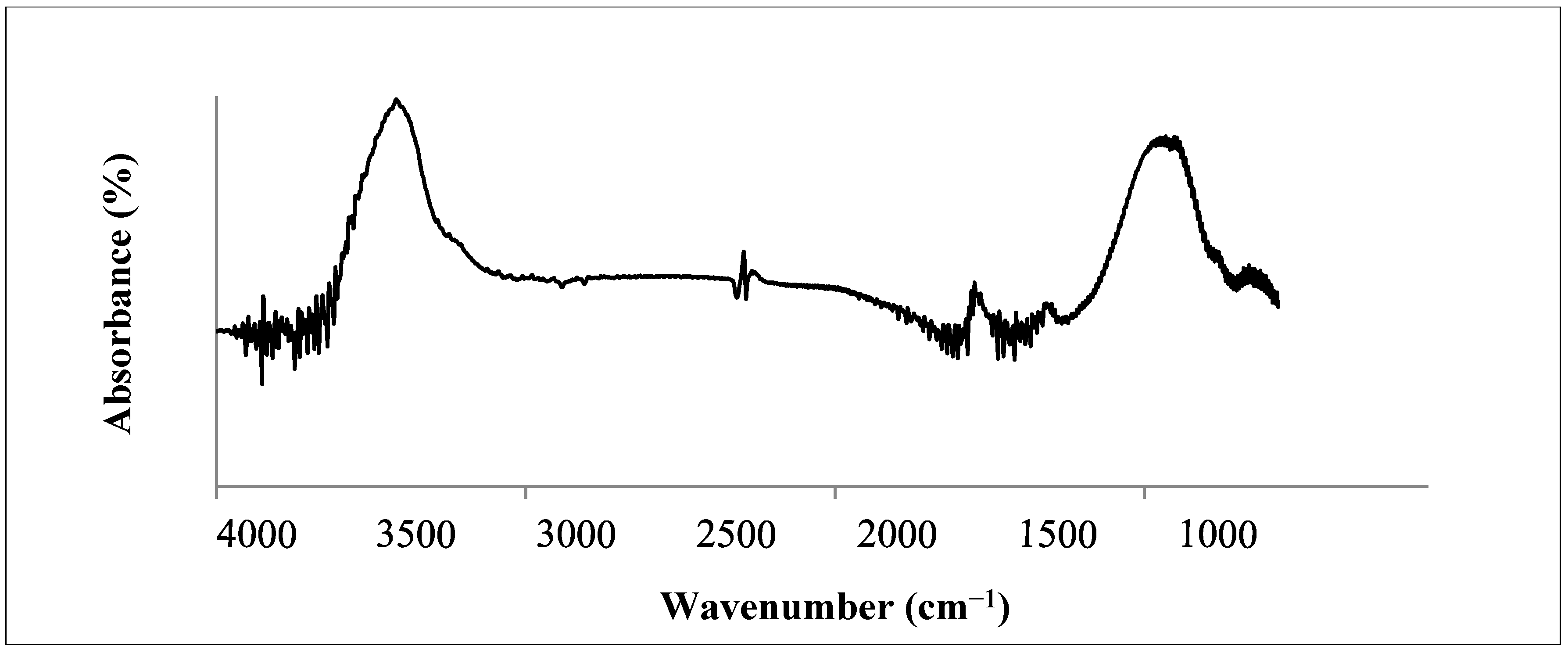 The C=O mode was detected near 1735 cm
−1
and is formed by decomposition of hemicellulose present in the pine bark [
29
]. The biochar obtained by the carbonization of pine bark at 550 °C resulted in a chemical structure with predominantly aromatic rings that conferred resistance to biological degradation [
30
]. This indicates that the physical and chemical characteristics of the BC account for the high stability of the matrix [
19
,
31
].
3.3. Phytotoxicity Assay
The results of the germination index (GI) presented no significant differences between treatments BC-BNI and control (
p
> 0.05) in the germination of radish seeds. The GI in all cases was >50%, where this value was used as a limit in bioassays toxicity [
32
]. There were no negative effects on root elongation (with an average of 65.26 ± 8.92 mm), which indicate that there were no phytotoxic effects on root development. This suggests that the treatments under study were not toxic.
4. Discussion
Biochar is a highly stable carbon matrix formed mainly by aromatic rings, characteristics which provide stability to the complex and a high adsorption capacity for organic molecules. It was first proved that biochar-plant-extract complexes did not cause any inhibition or toxicity for the germination of radish seeds and root development.
The biochar-plant-extract complexes based on plant extracts from pine and peumo bark prolonged the inhibitory nitrification effect until 60 days, after application in the field. It is important to note that the peumo biochar extract reached up to 66% nitrification inhibition compared with the crude plant extract. Further research will be focused on product development to enhance the performance of the biochar-plant-extract complexes as nitrification inhibitors.
5. Conclusions
The biochar used as matrix to adsorb natural compounds allowed increasing the efficiency of natural extracts; generating a biochar-BNI complex that prolonged the nitrification inhibition at field condition, and consequently could be increase the N use efficiency. The use of this biochar-BNI complex did not produce detrimental effects on test plants; therefore these complexes could be proved in crop systems.
Acknowledgments
This research was funded by the Fondecyt Project No. 11100136 titled "A biotechnological alternative to reduce soil N losses and greenhouse emissions from soils", and the International Cooperation Agency of Chile (AGCI).
Author Contributions
Jhónatan Reyes-Escobar and Cristina Muñoz conceived and designed the experiments and analyzed the data. Erick Zagal, Marco Sandoval and Cristina Muñoz analyzed the data and contributed reagents, materials and analysis tools, and Rodrigo Navia analyzed the data. All authors contributed to the writing of the paper.
Conflicts of Interest
The authors declare no conflict of interest.
© 2015 by the authors; licensee MDPI, Basel, Switzerland. This article is an open access article distributed under the terms and conditions of the Creative Commons Attribution license (http://creativecommons.org/licenses/by/4.0/).