Open Access This article is
freely available
re-usable
Article
Unintended Side Effects of the Digital Transition: European Scientists' Messages from a Proposition-Based Expert Round Table
1
Department Knowledge and Information Management, Danube University of Krems, 3500 Krems an der Donau, Austria
2
Department of Environmental Systems Sciences, ETH Zurich, 8092 Zurich, Switzerland
3
Department of Economics and Tinbergen Institute, Vrije Universiteit Amsterdam, 1081 HVAmsterdam, The Netherlands
4
Department of Psychology, LMU Munich, 80539 Munich, Germany
5
Department of Genetics, University of Groningen, University Medical Centre Groningen, 9700 CC Groningen, The Netherlands
6
Institute for Technology Assessment and Systems Analysis (ITAS), Karlsruhe Institute of Technology (KIT), 76131 Karlsruhe, Germany
7
Office of Technology Assessment at the German Bundestag (TAB), 10178 Berlin, Germany
8
Department of Humanities Social and Political Sciences ETH Zurich, 9092 Zurich, Switzerland
9
Hill & Associates, 1207 Geneva, Switzerland
10
Department of Informatics, University of Zurich, 8050 Zurich, Switzerland
11
Swiss Federal Laboratories for Materials Science and Technology (EMPA), 9014 St. Gallen, Switzerland
12
Division of Strategic Sustainable Studies, Department of Sustainable development, Environmental Science and Engineering, KTH Royal Institute of Technology, SE-10044 Stockholm, Sweden
13
Department of Molecular Psychology, Institute of Psychology and Education, Ulm University, 89069 Ulm, Germany
14
SCAN Laboratory, Clinical Hospital of the Chengdu Brain Science Institute and Key Laboratory for Neuroinformation, University of Electronic Science and Technology of China, Chengdu 611731, China
15
Center of Competence Public IT at Fraunhofer FOKUS, 10589 Berlin, Germany
16
Department for E-Governance and Administration, Danube University Krems, 3500 Krems an der Donau, Austria
17
Production Management Department, Laboratory for Machine Tools and Production Engineering (WZL), RWTH Aachen, 52056 Aachen, Germany
18
Institute for Advanced Sustainability Studies (IASS), 14467 Potsdam, Germany
19
International School of Management (ISM), 70180 Stuttgart, Germany
*
Author to whom correspondence should be addressed.
Received: 9 May 2018 / Accepted: 7 June 2018 / Published: 13 June 2018
Abstract
:
We present the main messages of a European Expert Round Table (ERT) on the unintended side effects (
unseens
) of the digital transition. Seventeen experts provided 42 propositions from ten different perspectives as input for the ERT. A full-day ERT deliberated communalities and relationships among these
unseens
and provided suggestions on (i) what the major
unseens
are; (ii) how rebound effects of digital transitioning may become the subject of overarching research; and (iii) what unseens should become subjects of transdisciplinary theory and practice processes for developing socially robust orientations. With respect to the latter, the experts suggested that the "ownership, economic value, use and access of data" and, related to this, algorithmic decision-making call for transdisciplinary processes that may provide guidelines for key stakeholder groups on how the responsible use of digital data can be developed. A cluster-based content analysis of the propositions, the discussion and inputs of the ERT, and a theoretical analysis of major changes to levels of human systems and the human–environment relationship resulted in the following greater picture: The digital transition calls for redefining economy, labor, democracy, and humanity. Artificial Intelligence (AI)-based machines may take over major domains of human labor, reorganize supply chains, induce platform economics, and reshape the participation of economic actors in the value chain. (Digital) Knowledge and data supplement capital, labor, and natural resources as major economic variables. Digital data and technologies lead to a post-fuel industry (post-) capitalism. Traditional democratic processes can be (intentionally or unintentionally) altered by digital technologies. The
unseens
in this field call for special attention, research and management. Related to the conditions of ontogenetic and phylogenetic development (humanity), the ubiquitous, global, increasingly AI-shaped interlinkage of almost every human personal, social, and economic activity and the exposure to indirect, digital, artificial, fragmented, electronically mediated data affect behavioral, cognitive, psycho-neuro-endocrinological processes on the level of the individual and thus social relations (of groups and families) and culture, and thereby, the essential quality and character of the human being (i.e., humanity). The findings suggest a need for a new field of research, i.e., focusing on sustainable digital societies and environments, in which the identification, analysis, and management of vulnerabilities and
unseens
emerging in the sociotechnical digital transition play an important role.
Keywords:
digital transformation; digital curtain; digital vaulting; unintended side effects (unseens), proposition-based expert round tables
Author Contributions
This expert round tables have been planned by R.W.S., P.P. and G.S. (Gerald Steiner). All authors (besides A.R., R.W.S. and G.S. (Gerald Steiner)) participated in the proposal writing. E.J.B., S.D., L.F., A.G., L.H., M.H., S.K., C.M., P.P., J.P.P., O.R., A.R., R.W.S. and G.V.P. participated the expert roundtable. G.S., G.V.P. and R.W.S. worked on the content analysis of the propositions including the Cluster Analysis. The first draft of the manuscript was written by R.W.S., then modified and supplemented by A.R. and G.V.P. All authors read the complete draft and provided feedback and inputs to previous versions of the submitted manuscript and agreed on the final manuscript.
Funding
The European Round Table on Structuring Research on Sustainable Digital Environments received funding from the German Federal Ministry of Education and Research (BMBF), Berlin.
Acknowledgments
We thank Gabriel Lentner for his feedback and Elaine Ambrose for the thoughtful English language editing and four anonymous reviewers for their valuable and inspiring feedback.
Conflicts of Interest
The authors declare no conflicts of interest.
Appendix A. Propositions on the Future Perspectives on Digital Transition
Appendix B. Methodology, Propositions on the Future Perspectives on Digital Transition of the Japanese Expert Round Table on Sustainable Digital Environments
Appendix B.1. Conclusions of the Japanese 2017 ERT
Six Japanese scientists and the first author of the present paper participated in the Japanese ERT. Before the workshop, all participants were provided with Goals 1–3 listed above and a comprehensive workbook including a definition of main concepts (such as sustainability, digital environment, transdisciplinarity). In this way, the ERT was able to focus on key messages provided by the participants. These were collected
after
the Japanese ERT as a
proposition on unseens
involved in the digital transition (see the appendix in Sugiyama et al. [
31
]; a summary table is presented in
Appendix B
).
According to the Japanese ERT, the main technology innovations include the following:
The automatization of service, production, and transportation processes

The management of Big Data

Artificial intelligence in all domains of society

Conversational AI that humanizes robots and human–machine interaction

Digital biotechnology and biocomputers

This digitalization shows essentially new properties, in particular:

Globalized networking

The ubiquity of digital technologies in all domains of life on local and global scales.
The discussion also coined the term
digital vaulting,
denoting that the human–environment relationship has become engulfed by digital media and thus by genuine indirectness (see
Figure 1
).
We should note that the inclusion of
biotechnology
, in particular DNA as a genuine digital conception based on quaternary number-based conception (established by two pairs of directed acids) [
4
] was new for some participants of the Japanese ERT. We mention two issue briefly which may illustrate
unseens
of the digital transition on the
science
system itself by two examples from biology, i.e., first, a
reductive conception of evolution
and second, the understanding of
biocomputers
. The
digital theory of molecular genetics
paved the way for a successful, consistent understanding of the molecular mechanisms involved in evolution. This is, without doubt, one of the greatest success stories of science and allowed for the development of a theory and engineering of genetic modification. But as a consequence (
unseen
), evolution has been conceived exclusively as a random genetic drift that (by chemicals and radiation) [
130
]. Leading ecologists such as E. O. Wilson criticized this overly restricted and sometimes dogmatic view [
131
] which includes a narrow, semantic-free concept of information [
132
]. The ignoring of other factors of evolution such as the role of superorganisms (e.g., the socially mediated learning of groups [
133
,
134
,
135
]) or epigenetic (non-genetic) heritage effects [
133
,
136
] may be seen as an
unseen
. With respect to biocomputers, the invention of biocomputers which include genetical modified E. coli bacteria may induce an
unseen
as cells are cognitive systems (whose behavior may fundamentally differ from those of transistors) may open new floors and
unseens
[
13
,
137
] and ask for a special understanding of (kinds of macro-bionic) computers.
Appendix B.2. Specific Unseens Identified by the Japanese ERT
One of the main messages (I) of the Japanese ERT was that "cultural context matters
"
(all quotes in this paragraph are from Sugiyama et al. [
31
]). Even among experts, "religious views have an effect", e.g., on preferences for humanoid computers. Whereas for Christians, resurrection and salvation make the "embodiment" irrelevant," "sacralization of the natural world and human technology in Shinto and the positive spin given to human life in Shinto and Buddhism promote the development of robotic engineering and the glorification of the humanoid robot in Japan." [
138
]. Another issue may be linked to "public engagement—communication, consultation, and participation," which also refers to "transdisciplinary discussion in unwanted societal changes as well as a shift in science from analog to digital modeling and structure." Obviously, following a meritocratic system for deliberations, the roles and decisions of virtuous and capable leaders play a much larger role than in Western societies [
137
,
139
,
140
]. Thus, the role of academia in (transdisciplinary) practice-science dialogues in Japan may be more important than in Western countries. Nevertheless, "recent reports published in Japan on AI and society indicates that there is a desire among experts to co-inhabit with AI and robots." Although, as mentioned, transdisciplinary processes may be differently shaped in Japan than in other places such as Central Europe, the need for societal dialogues has been stressed by various ERT participants. Simplified, we may learn from this that there are several modes of coping with digitalization, for instance a Western–US–European-mode and a Japanese mode. Ariza Ema presented two unseens that are most presumably related to the cultural dimension. One is the exclusion of the "want-nots," i.e., those who do not want digital technologies from social core processes. The other is a version with strong Western–US bias.
Table A1
presents 13
unseens
identified in the 22 propositions provided by the seven ERT participants. Three are linked to
economic changes on the level of a national or global level
. The Japanese experts, in particular Degeuchi, identified
platform owners
as winners through new B2C relationships who were afraid of possible
platform lock-in
(see B.1.1
Appendix B
). There were concerns that the
digitalization of business and industry
in many respects, including the downgrading of education, status, income, and security of low-capability workers, much resembles the fate of day laborers (B.1.2). Third, the disputed fear of AI-induced unemployment [
141
] has been mentioned.
Another cluster of
unseens
refers to a change in
social structures,
and these culminate in the proposition that digital transformation calls for
redefining humanity
(B.4.1) as new forms of relationships among humans but also new forms of human–(smart)machine interactions. These call for new forms of emotion, faith, and personality. Linked to this is Mori's concern on a (monopolistically owned) networked
superintelligence
(B.4.2) that may abandon decentralized, democratic multi-knowledge systems.
Much attention has been given to the classification of new risks that emerge for humankind. In principle, there are two new types. We may identify new systems (e.g., interconnected systems of global scale) digital systems may cause new-unknown risks (B.3.2 and B.6.1). Shiroyama's concern is for endogenous black-swan-like threats in financial and military systems, whereas Kishimoto focuses on the digital divide and personal risks. And finally, new risks and
unseens
for human- and ecosystem-development-related biotechnological interventions have already been stressed by Scholz as major challenges for humankind [
4
]. Here, the above mentioned genetic modifications
directed evolution
that may follow human desires but not ecological resilience may become an
unseen
.
The below
Table A1
comprises the labels (short description), the primary systems involved, the specific (digital) technology innovation and the originally intended changes by the technology innovation, and the main properties of the unseens.

Table A1.
Labels of unseens, system of rebounds, technology innovation, intended change and description of unintended side effects (for a detailed description see
Appendix B
in [
31
]).
Scientist
Label of Unseens (Numbers See [31])
(Primary) System of Unsseens
Technology Innovation
Intended Change
Properties of Unseens
Hiroshi Degeuchi
Platform Lock-in on the B2C market (B.1.1)
Economics (trade)
Platforms
Better, direct B2C relations (in economic system)
Platform providers build business oligopoly
Low-capabilities franchise workers (B.1.2)
Economics (labor market)
Global web job market
Freelancers may operate and work in a flexible manner in the market
Downgrading of income, social security, and professional education by franchise-laborers
Reality shift (B.1.4)
Ontogenetic development: Experiential, personal knowledge, individual, groups, countries
Oligopoly-based, ubiquitous, digital, worldwide, economically driven web platforms
Personalized information of maximal interest
Different individuals get by biased, disembedded, (artificially) constructed reality information without "evolutionary feedback loops"
Arisa Ema
Ignoring "wants-not" (B.2.1)
Everyday world; individual
Global net and social networks
Convenient, economic, public service
Disadvantaging the "have-nots" and the "want nots"
US-/Western-dominated culture (B.2.2)
Everyday world; human species
Algorithmic, AI-shaped data processing
Including all
US-/Western-imperialism
Atsuo Kishimoto
A new digital risk society (B.3.2)
Societal risks; global, human species
Global web
Improving the world (human evolution)
New personal risks such as protection of privacy, freedom of choice, right to know, reduction of disparity
Junichori Mori
Redefining humanity (B.4.1)
Social system, human species
AI, cyborgs, IoT, new forms of man-machine interactions
Improving the world (human evolution)
New forms of emotions, faith, or behavior
One superintelligence emperor (B.4.2)
Diversified, decentralized, global (democratic) system, human species
AI on globally networked big data
Improving the world (human evolution)
Loss of a diversified, democratic society
Roland W. Scholz
Biotechnological-governance (including biocomputers) (B.5.1)
Cellular and genetic systems; cell
Digitalization of evolution and life (DNA), monitoring and engineering cell processes on the nano-level
Human health, more biomass, smart and efficient computers
Loss of evolutionary resilience; computers as decision makers
Mental internet disorder (B.5.2)
Molecular neuropsychology and epigenetics; cell, organ, individual
Virtual worlds (e.g., 3D gaming worlds)
Information, stimulation, joy, entertainment,
Cyberaddiction (e.g., internet pornography addiction), internet gaming disorders [97,142,143]
Hireaki Shiroyama
Black Swan security management (B.6.1)
Finance, military, ect., society, global species
Genuine, ubiquituous, interconnectedness
Global action
New systems of digital systems risks
Masahiro Sugiyama
AI-induced underemployment (B.7.1)
Job market
Facilitating uninteresting/ routine labor
Higher economic efficiency
Increase of unemployment
Digital biotechnology management (B.7.1)
The genetic system, cell, organ
Genetic engineering
Avoiding hereditary disease, 'improving man'
Loss of resilience …
Appendix C. Short Labels, Technology Innovation, and Primary Impact Domains of Unseens

Table A2.
Intended changes and properties if
unseens
related to the propositons presented in
Appendix A
.
Scientist and Perspective
Label of unseens (Numbers See Appendix A)
Primary System of Unseens
Technology Innovation
Intended Change
Properties of Unseens
Biotechnological level (Scholz, Japanese ERT)
Scholz (see Appendix A)
Monsanto's Roundup Ready and the farmers supply chain
Agricultural value chain
DNA engineering for more yield and more resilient yield
Increase farmer's yield
Shortening of farmers' participation in the supply chain (reduction of genetic diversity)
European ERT

1. Schuh and Prote:

Industrial Change
A.1.1 Industrie 4.0 (security and competition challenges)
Industrial production
Smart ICT by IoT/industrial internet
Lean production efficiency (renewal by human-machine interface
Misallocation of profits to 'data governors' in cross-domain business; new security across industry questions arise
A.1.2 Redefining labor (qualification)
Economics and professional education
Algorithmic data processing from many domains possible
Fast, effective (all) and efficient access to information (processed data)
New interdisciplinary qualifications for white collar workers; new possibilities for blue collar workers
A.1.3 Customer driven production
Market dynamics
Customer-driven production, shared platforms or clouds
Agile, participatory product development
Loss of synchronization; significant change of company culture/processes
A.1.4. Platform economics
Industry and trade
Cyber-physical systems, cyber-physical product
Strengthening industry
Platform industry/ economy abandons traditional industry; new winners and losers [144,145], new business models

2. Bartelsman: Economic Change

A.2.1 Knowledge economy
Data market
Knowledge supplements capital, labor and natural resources (as a commodity)
Making profit with intangible assets
Dispersion of productivity and profitability; change the nature of the products
A.2.2 Digitalized labor
New supply chains ask for different types of skills
Automatization of routine manual and analytic work
Substitution by certain types of (physical or routine) jobs by AI
New types of labor skills and resources
A.2.3 Income inequality
Intangible Productivity paradox
Skewed data
Marginal decline of profits from tangible knowledge (change of scarcity); intellectual capital becomes (partly) digitalized knowledge
Intangible capital causes new types of economic growth [146]
A.2.4 (Ambiguity of intellectual) Property rights
Ambiguity of who is the generator of a new "economically profitable" idea
IoT makes intangible/dematerialized issues valuable
Monopoly distortion in the use of goods produced with transactional data
Recalibrate patent rights; copyright law reform

3. Höjer and Hilty: Environmental Systems

A.3.1 (& A.3.2) Efficiency rebounds on environment
Increase of production and services
Increase of efficiency in production
More and cheaper products
More (cheaper) products and thus more energy/materials are produced [147] if no dematerialization of production takes place
A.3.3. Restructured region (rural home office)
Spatial planning
The meaning of a "workplace" is changing
Reduced commuting and other daily travel
Regional consumption and demand changes; long distance, powerful. stable network
A.3.4 Use of buildings
Economics: Housing and Construction
Digital services reducing demand for space. Matching of supply and demand of interior space.
Less buildings needed
ICT allows for efficient use of energy and private and commercial space [59]

4. Montag and Diefenbach

A.4.1 Human robot
Individual
AI-based robots/decision aids
Better (more rational) decisions
Decisions of AI-robots has more impact than human decisions; liability issue unexplained
A.4.3 Fragmented life (and digital psycho-neuro-dynamics)
Individual, family
Networked ICT for getting information and social contacts
More and better online information (at any time) including gamification [148]
Fragmented life, information overuse by limited human multiprocessing, digital depression, internet addiction etc.; neuropsychological, endocrinological, and epigenetic effect
A.4.4 Psycho-neuro-endicrinonogical dynamics
Individual, cell
Digital media
Access to more information and stimulation
Intense exposure to evolutionary new digital environments causes
A.4.5 (and A.4.4) Digital depression (emotional needs)
Individual well-being
Networked ICT for getting information and social interaction with many people
Increasing well-being and happiness
Critical psychological situations due to limited emotional feedback by digital vaulting

5. Franke: Genetics

A.5.1 Genetical discrimination
Human right of privacy
Reading the genetic code for low cost
Getting access to information about diseases
DNA information is easy accessible for low costs (USD 30) and can be used by health insurance, job and educational decisions
A.5.2 Pharmacogenomics [149]
Cell, tissue, organ, body
DNA and disease data allow for identifying genetically based
Reducing costs for developing drugs
Unknown, e.g., providing floor for new pathogene ("European Disease" like effects)
A5.3 DNA-based medical treatment
Cells
CRISP-CAS9 technology
Changing embryo's DNA for avoiding diseases
What (genetic) diseases at what stage of life should be cured with what costs; is this a directed evolution of a critical kind

6. Parycek and Viale Pereira

A.6.1 Digital policymaking
Politics and administration: digitalization of public services and communication
Data analytics and automated decision by self-organized digital environment
More data-based decisions along the public interests and hybrid forms of organized cooperation
Rebound effects (i) lack of definition on roles, actors and data owners (ii) misinterpretation of demands; (iii) lack of context specific solutions (technocracy)
A.6.3 (and A.6.2) Resilience governance; global and ethics-based
Human species
Globally networked IT
Global, prospective risk/vulnerability management
Missing anticipation of impacts on "ethical, environmental, privacy and equality aspects"
A.6.4 Cybersocial systems
Algorithms of data search and processing on big data
IoT driven pervasive computing in all domains of life
Extending, augmenting, and facilitating human action and cognition
Unknown systemic risks of (erroneous) operation and maintenance;

7. Hill: Cybersecurity and Warfare

A7.1/A.7.2 Cyberwar (Digital warfare)
Digital attack as a new weapon and means of destruction
Infrastructure (water, electricity, airline control, health services, ...) is [and public news/information systems are] digitally vulnerable
War: =utilization of digital networks (forces, cyberattacks) for geopolitical purposes
New, secure IT structures needed, e.g., for IoT; inadequate and cyberweapons available at low costs
A.7.3 Digital-war convention
Collective action against cyberattacks
Ransomware and hacking tools are available
Destruction by cybercriminals and by
A Geneva Digital Convention
A.7.4 Mass surveillance (with and without the state)
Arbitrary digital storage and retrieval
Mass surveillance (e.g., for surveillance economy or political control) as cyber-attack/war on the individual
More (economic/political power on the individual)
Loss of privacy and freedom of thought by search engines (foundations of democracy); censorship: hidden undetectable
A.7.5 AI warbots
AI driven weapons
Semi- autonomous or fully autonomous weapons
Losing less soldiers
Unfriendly fire may emerge; control and responsibility unclear

8. Kirchner and Dowek: Ethics and the Digital

A.8.1 (- A.8.3) Pervasive computation ethics
Pervasive computation machines and computers invade/merge with
Digitalization provides ubiquitous availability, 'unlimited' storage, fast processing, automatization, AI-driven robotization
Getting deeper ... Ethics as a competitive argument for industry 4.0
Personal data and public security; cloning and GMO; diverging cultural ethics on digital machines
A.8.4 Cybersecurity ethics (from ethical hacking to cybersecurity)
Data owners
Hacker tools, sophisticated technologies of interception, interruption. modification, and fabrication [150,151,152]
Developing New forms/areas of high security domains
New rules on individual, organizational, public rights in a space of changing types and motivations of attacks (e.g., ethical hacking [153])
A.8.5 Robot ethics
Semi-autonomous (learning) adapting robots
New forms and integration/merging of human-machine interaction; autonomous robots
Formal ethics for Intelligent machines interact/merge with humans
Machines need formal ethics to follow human ethics; missing "Ethics for, by, and in design" [154]

9. Helbig and Klauser: Global Social Change

A.9.1 Deliberated democracy
Fostering democratic participation by digital communication
A potential for new, uncensored, fair networked discourses (MOODs)
Empowering democracy
Filter bubbles and censoring restrict freedom and unbiased knowledge; no democratic tool as the web is a private good
A.9.2 Finance 4.0
Altering the financial system
The potential to measure, value and trade positive and negative externalities
Boosting a circular economy
A multi-dimensional incentive and reward system beyond money
A.9.3 Democratic Capitalism
Innovation
Monitoring and evaluating global value creation
Overcoming venture capitalism and using crowd funding
Democracy threatened by capitalism

10. Grunwald and Renn: Sustainable Development

A.10.1 Efficiency rebounds
Increasing efficiency by digital monitoring and governing
Technology development
Sustainable, more efficient technologies with less energy and materials
More energy and material because of increase of GDP and less costs
A.10.2 (see A.9.1) Digital democracy
Fostering democratic participation by digital communication
Intelligent software operates on the web
Improve citizens' information for democratic action
Political manipulation; selective, personally biased, opinionated information (reality shift, Deguchi) loss of privacy, omnipresent surveillance
A.10.3 Redefining labor
Abandoning boring routine work
Technology development, digital services
Change of labor demand
Reduction of time in many domains of labor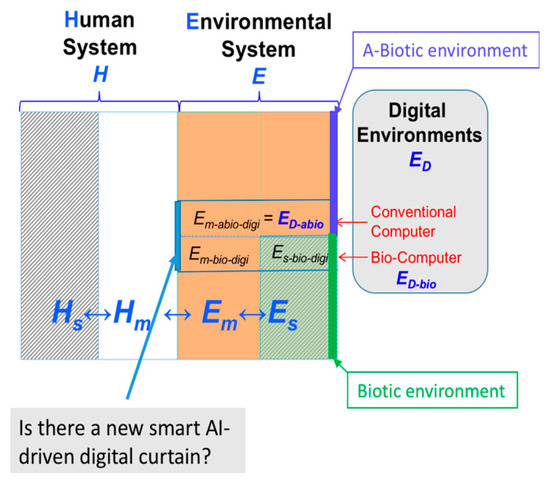 Figure 1. Digital systems at the interface between human systems (that have a social–epistemic–cultural layer that includes digital knowledge and a material biophysical level) that interacts with the biotic and abiotic environment. The digital environment is increasingly an intermediate layer between the human system and the environment. This is called digital vaulting.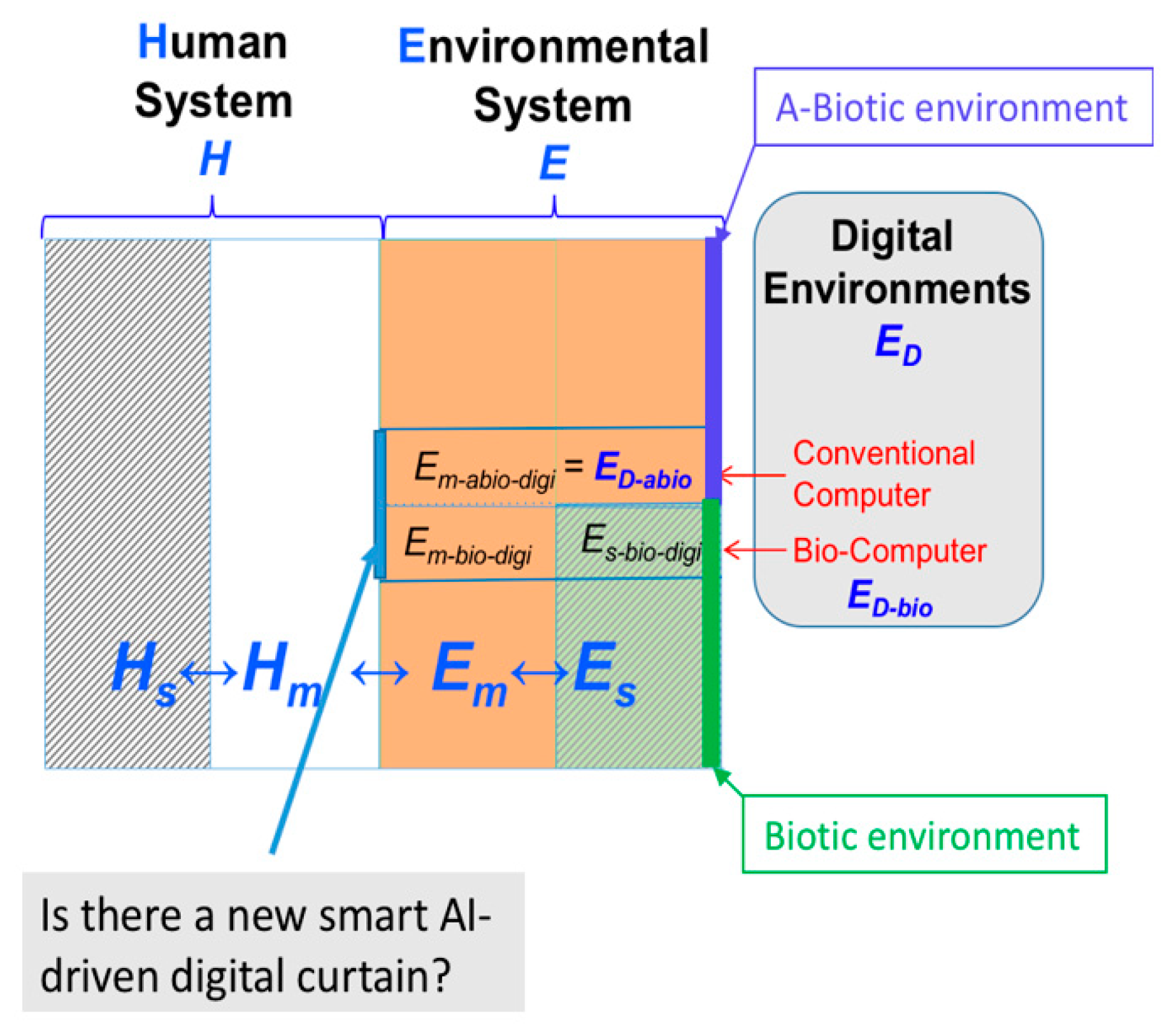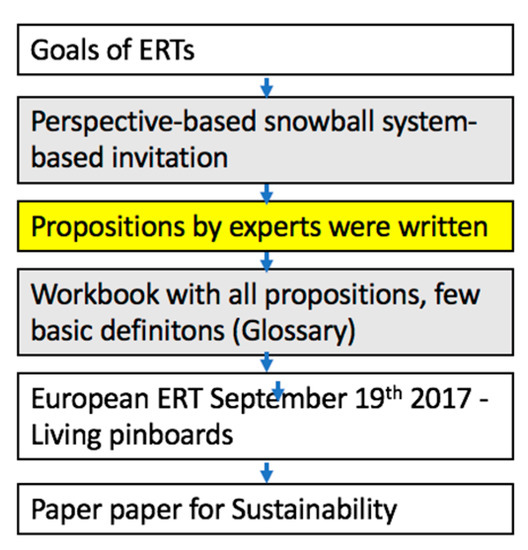 Figure 2. Steps of the European Expert Round-Table (ERT) on structuring research for sustainable digital environments.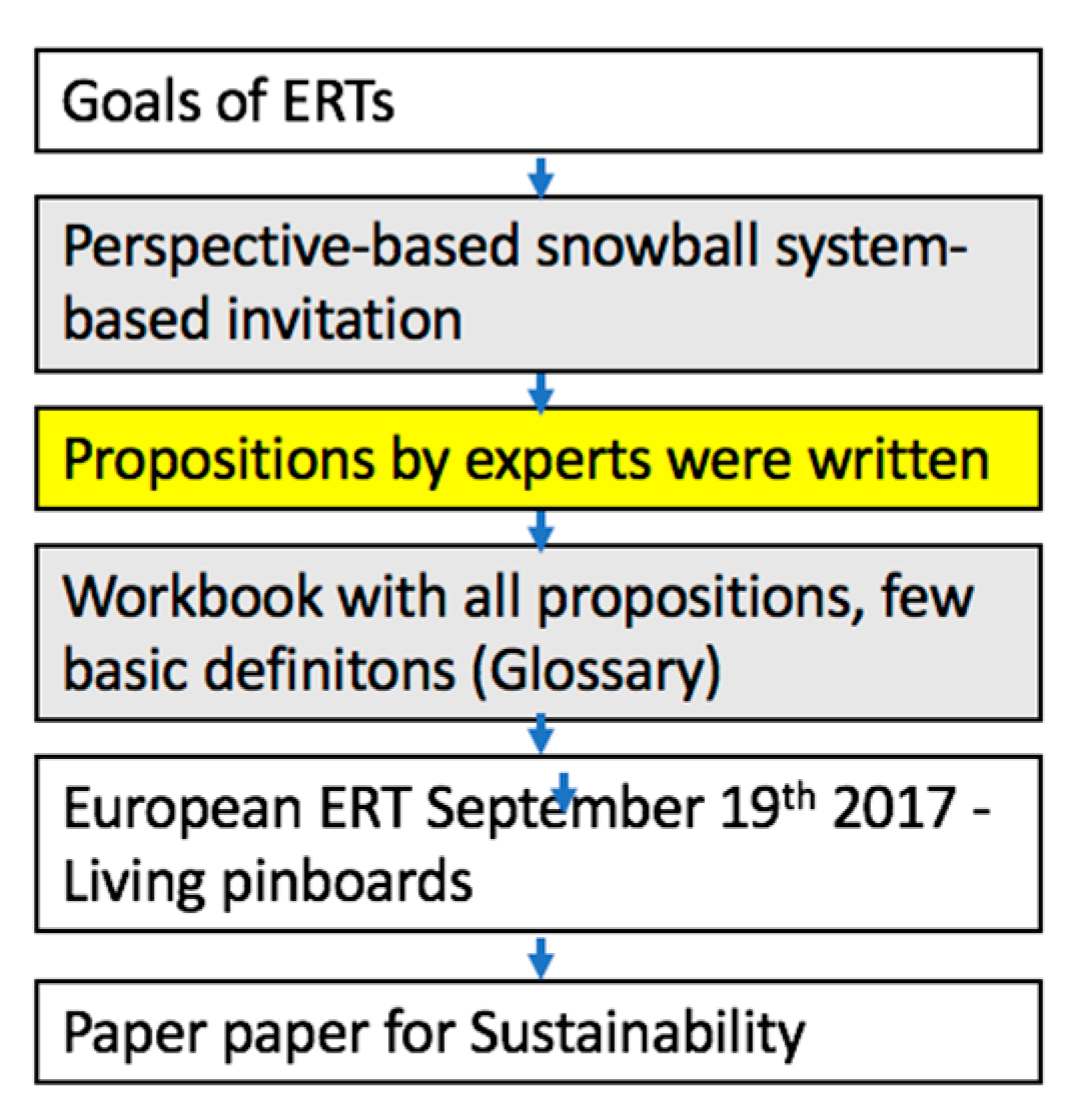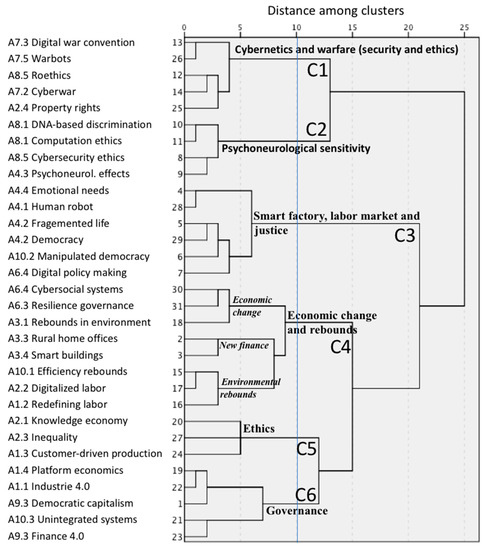 Figure 3.
The main clusters among 31 unseens of the European ERT (the numbering, refers to the perspectives = 1, …, 10 taken—see
Table 2
, and the number proposition of that perspective; see
Appendix A
).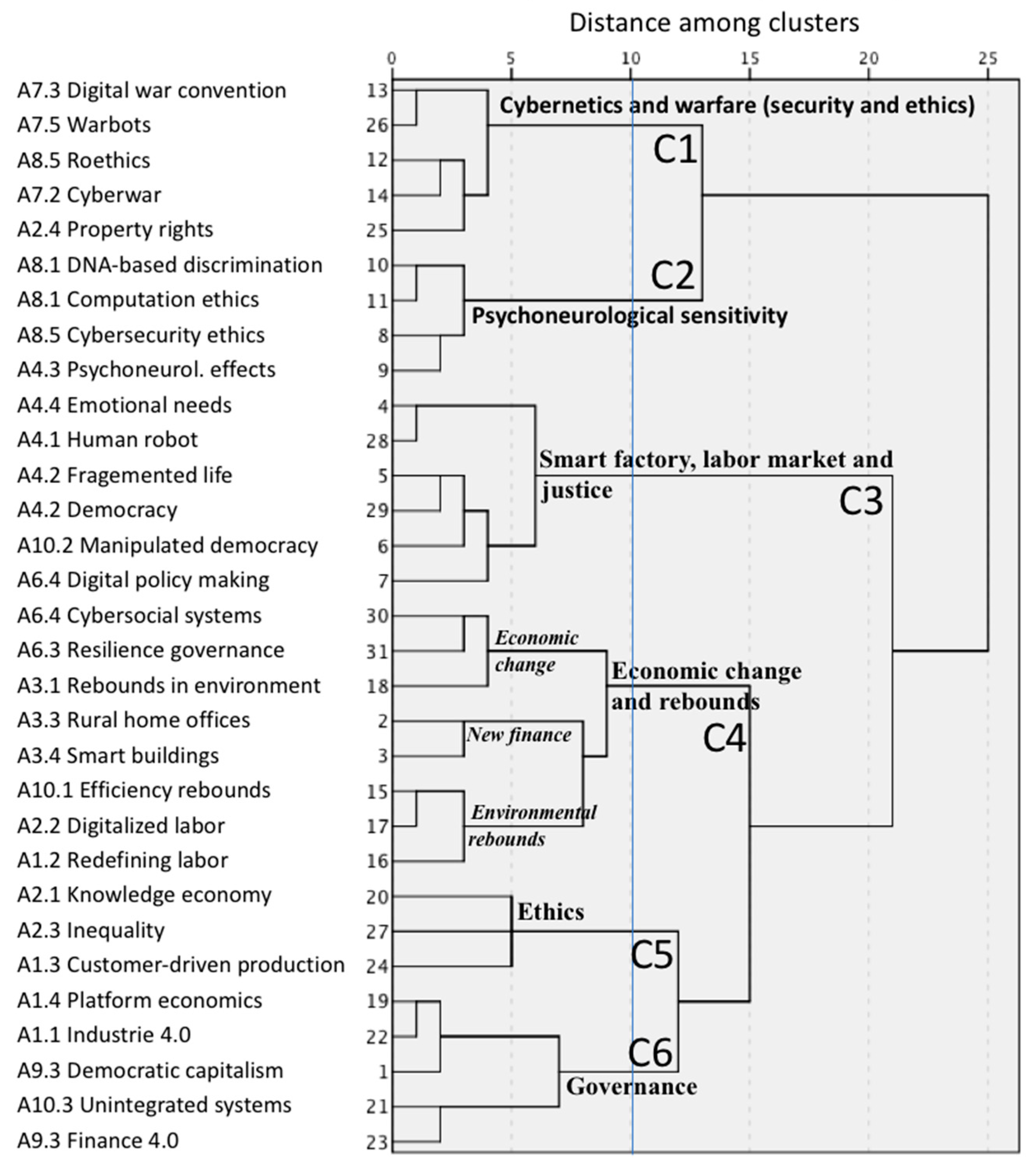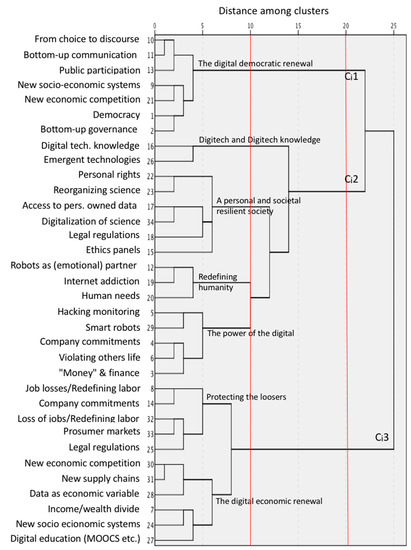 Figure 4.
Clustering of the 34 items (left column; the cluster index i refers to clusters of items) extracted from the 31 propositions on
unseens.

Table 1.
Main operations and technologies related to digital data and technology innovation that may cause
unseens.
Operation of Digital Data
Main Question and Factors (See Bullet Points) with Respect to Impacts and Unseens

Storage

Who is hosting whose data, and how, where, and using what technology? This includes

useens

related to

Retrieval

Who has access to what data under what constraints at what speeds and what search algorithms under what security barriers or access architecture? Here, the following issues are of interest:

○

The economic status of data (data as public good, private good, club good, etc.)

○

Legal regulation of retrieval/use of data (what regulations of access to data govern the system?)

○

Retrieval architectures

○

Hacking, cyberattacks

Processing

For what purpose is data processed—by whom and with what algorithms? What processes in what systems are affected by the processing?

○

Artificial intelligence

: What mental operations (e.g., calculating, writing, rule-based causal inference, etc.) are substituted by what digital algorithms?

○

Self-organizing

○

(Types of) parallel processing

○

Transmission

○

Digital Networks: Electronic Product Code for digital data

○

IOT: RFID-based ubiquitous networked sensing

Table 2. Perspectives and (scientific) experts who wrote propositions for unseens. Perspectives 6 and 7 (marked with *) were not represented at the ERT 1 (participating experts are marked with +, the country of primary institutional association is shown in parentheses).
| No. | Perspective | Experts (Country) |
| --- | --- | --- |
| 1 | Industrial change | G. Schuh + (D) & J. Prote (D) |
| 2 | Economic change | E. Bartelsman (NL) |
| 3 | Environmental systems | M. Höjer (S) & L. Hilty (CH) |
| 4 | Social & neuropsychology | S. Diefenbach (D) & C. Montag + (D) |
| 5 | Genetics | L. Franke (NL) |
| 6 | Big Data analytics | P. Parycek (A) & G. Viale Pereira (A) |
| 7 * | Cybersecurity & warfare | R. Hill + (CH/GB) |
| 8 * | Ethics & the Digital | C. Kirchner + (F) & G. Dowes + (F) |
| 9 | Global social change | D. Helbing + (CH) & S. Klauser (CH) |
| 10 | Sustainable development | A. Grunwald (D) & O. Renn (D) |
1 The ERT was moderated by R. W. Scholz (A) and P. Parycek (A); K. Fritsche (D) and A. Reichel (D) participated as discussants.

© 2018 by the authors. Licensee MDPI, Basel, Switzerland. This article is an open access article distributed under the terms and conditions of the Creative Commons Attribution (CC BY) license (http://creativecommons.org/licenses/by/4.0/).