Open Access This article is
freely available
re-usable
Article
Sustainability in Smart Farms: Its Impact on Performance
1
Area of Business, ESIC Business & Marketing School, Madrid 28223, Spain
2
Department of Applied Economics I, University of Rey Juan Carlos, Paseo de Artilleros s/n, 28032 Madrid, Spain
3
Department of Animal Science, University of Córdoba, Campus de Rabanales, 14071 Cordoba, Spain
*
Author to whom correspondence should be addressed.
Received: 24 March 2018 / Accepted: 18 May 2018 / Published: 24 May 2018
Abstract
:
In Spain, more than 30% of producers have run out of business because of a lack of sustainability. They search for managerial guidelines that allow them to reach the farm's economic viability. When trying to improve the performance of farms and farming systems, a complementary consideration of sustainability dimensions is required. The aim of this paper consists of offering a complementary and integrative approach from the sustainability concept in four different dimensions: economic; technological; organizational; and training in Manchego Cheese Protected Designation of Origin (PDO). Sustainability through the putting into practice of some managerial concepts has been able to reach better results and smarter farms. To perform this study, metrics to analyze each of the mentioned dimensions of sustainability have been applied to a sample of 157 farms with the main objective to identify the sustainability dimensions and its impacts on farm's final results promoting smarter farms. The Structural Equation Model (SEM) has been applied to measure the impact of each dimension of sustainability on final farm's results. Results reported that the farm's economic and organizational sustainability have been influenced by the returns on investment.
Keywords:
protected designation of origin (PDO); farms; smart villages; economic sustainability; technological sustainability; organizational sustainability and training sustainability
1. Introduction
The research question we try to answer is: does the implementation of sustainable practices, from the economic, technological, organizational, and training perspectives allow smart farms to reach best results? Therefore, the main objective of this research consists of analyzing the causal relationships among different dimensions of sustainability and final results at farms. From the empirical perspective, data have been collected from farms belonging to the sheep system in Castilla-La Mancha region, Spain. Unlike previous publications, in this article, as a first exploratory approach, SEM methodology has been applied, to deepen the knowledge of the four dimensions of a smart farm's sustainability. In the following paragraph, the theoretical framework is presented.
2. The Theoretical Framework
To analyze the effect of sustainability on farm's results, a brief description and a way of measuring each of the sustainability dimensions are considered in this analysis. Economic, technological, organizational, and training sustainability are described. As previously mentioned, these sustainability dimensions have been considered in the literature but, to our knowledge, an integrative approach of the four has not been built so far.
2.1. Economic Sustainability
Economic sustainability refers to the firm's ability to diagnose the environment and understand the customer needs better than their competitors [
14
,
15
]. The capability of firms to get adapted to markets is a key issue to reach economic sustainability and because of that, firms must be aware of the environment and customer's needs [
16
,
17
]. Ikerd [
3
] describe how the firm's capability to get adapted to different markets is key. The authors of Lozano [
13
] and Ramdhani et al. [
18
], describe that the market product's target shows the capability of the organization to get adapted, since the spread of markets and products is the capability result to respond to external opportunities. Therefore, the marketing from farms of products such as lambs, rams, live females and males, cheese, wool, manure, and different cheese varieties implies that previously a segment of customers demanding these products has been identified. The same happens with the direct commercialization to consumer or wholesaler, since an opportunity has been identified by widen customers and therefore increasing the activity field.
Smallholders live on the threshold of poverty, within fragile ecological systems showing a high degree of marginalization. Small-scale livestock provides resilience capability, increases the level of diversification and strengthens synergies among activities [
19
]. Mixed crop-livestock system, with a part of grazing native pasture and crop residues on communal lands, within a multifunctional livestock are frequent [
1
]. Milk production and quality depends on sheep's feeding, as it is the case of the use of pastures, by making use of the natural resource coming from land. In the same way, ref. [
4
] relate intrinsic quality and nutritional milk content with the kind of animal management. The animal feeding relies on grass for the roughage, crop residues, by-products, and other local roughage that represent the major source of feed utilized in this livestock system. The Food and Agriculture Organization of the United Nations (FAO) [
1
] and Angón et al. [
20
] indicate that the use of endogenous resources contributes to sustainable livestock, mitigates environmental problems; reduces the dependence of external inputs and decreases production cost, increasing the system's resilience [
1
].
Economic planning helps satisfying customer's needs by means of the development of products. Planning reproduction implies a market analysis, determining how many animals would be required so that customers can value the final product. This way, reproduction planning would facilitate the exploration of future customer's needs. The planning of any organizational process is based in the initial detection of customer's needs with the main objective to reach firm's strategic objectives. Lozano [
13
] and Chou & Chen [
21
] show examples of it. Henningsen et al. [
22
] highlight how managerial skills are key elements to improve firm's economic results. By considering previous arguments, the present Hypothesis 1 is provided: The farm's economic sustainability will positively influence the return of assets (ROA) and return on investment (RF) as profit indicators.
2.2. The Measure of Economic Sustainability
The access to information is key for organizations as managers who can identify changes in the markets and impacts in the detection capability [
23
,
24
]. Such information enables them to achieve a competitive advantage [
25
,
26
,
27
]. Being a member in "Manchego cheese" PDO and the incorporation of unified type feed systems can be considered as indicators of the detection capability. They both allow accessing to timely and accurate information for the achievement of the strategic objectives of livestock farms.
Doppelt [
14
] pointed out that the modern information systems allow organizations create new business according to customer needs. Thus, farms that keep registers have enough information on most demanded products and their evolution and, therefore, they can analyze this information to detect new niches. The domain market-product is the result of having developed a capability to respond to external opportunities [
12
,
13
]. Consequently, the variety in the sales of products implies the detection of new needs. Feeding has changed, increasing the weight of products that come from agriculture due to cultural changes [
2
], so farms that have land available to agriculture use and produce food, which responds to a detected need. This is similar to the use of grazing as it increases the quality of the product [
4
].
The purpose of planning is to meet the needs of customers through product development. This way, planning reproduction allows farms get adapted to future customers' needs [
14
]. According to previous considerations, next table shows the different variables considered in this research to measure farm's economic sustainability.
2.3. Technological Sustainability
The use of information systems provides technological sustainability to organizations [
28
,
29
]. Firm's information systems allow making decisions on production. The information can have an impact in the way organization routines take place or in the design of new ones. Nieves [
24
] reinforces the key role that the access to information by managers plays as main path to reach better results when changes must be identified in the market and respond to them. According to his research, external relations impact on firm's technological sustainability. Examples of technological sustainability can be found in the use of farm's information systems. For example, by properly warehousing data, information systems allow making decisions on the level of reproduction capability of animals. This information can also promote changes on the existing organizational routines and in the design of new ones.
Although farms that belong to the sheep industry do not count on with modern information systems, as for example Big Data [
30
], we can consider that just having registers offer enough information on what the most demanded products are and how the demand on products is evolving. This permits a better analysis of the information and detects different customer's segments with uncovered needs so far. Collins et al. [
25
] and Pearlson et al. [
31
] reinforce the importance for firms to access to proper information by allowing information to be located in the best position to reach a competitive advantage. From this perspective, being part of the "Manchego cheese" Protected Designation of Origin, as the including of unified breed systems of by products can be taken into account as indicators of technological sustainability since they allow the access to accurate and proper information to the achievement of farm's strategic objectives. By considering previous arguments, the present Hypothesis 2 is provided: The farm's technological sustainability will positively influence the return on assets (ROA) and return on investment (RF) as profit indicators.
2.4. The Measure for Technological Sustainability
For [
11
] the integration of knowledge is the result of the process of sharing and combining information arising from the interaction of group members that share their individual knowledge. Rangel et al. [
4
] and Bravo & Herrera [
32
] consider that knowledge management and organizational routines establish the firm's technological sustainability as they allow the integration of the information. They stress the importance of properly using technology to conduct knowledge transfer. The authors of Satish & Yue [
9
] and Aquilani et al. [
15
] reinforced how knowledge includes data, information and experience. According to his analysis, knowledge means the combination of facts, analysis, trainings and lessons learnt that comprise knowledge for an individual. Petter et al. [
33
] describe how IT systems have migrated from being a tool to manage data and fulfill management reporting needs, to provide mechanisms for strategic management decisions, and promote collaboration amongst internal and external agents. Beath et al. [
34
] support how information technology has played an important role to enable knowledge management within organizations. The Food and Agriculture Organization of the United Nations (FAO) [
1
] explained the role of information and communication technologies as facilitators for communication issues and remarked their impact on the processing and transmission of information.
The Food and Agriculture Organization of the United Nations (FAO) [
1
] refer to the situation where hidden patterns and data knowledge are considered one of the most vital assets within organizations. In their view, making use of these assets must be a major concern for managers which can also lead them to improve business decisions. Besides, Beath et al. [
34
] highlight that a good system of internal information management increases firms' sustainability by increasing its absorptive capability and integrating external knowledge into their activities. The farm's events record system (births, death, sales, etc.) is a database that stores relevant information on farm's operative process. This database allows the use and exchange of information among employees [
31
,
32
] and it can be used for decision-making, by increasing the information efficiency and resulting in a greater understanding than that provided separately by each of activities of the farm's value chain.
The planning process refers to the definition of the firm's goals and the more appropriate means to achieve them; that is, it involves making decisions in the present about the firm's future and, according to [
16
] it is a firm's organizational capability. Managers need to know the existing resources in the firm. It influences the development of sustainability [
35
,
36
] and information systems allow firms establish relationships with external environment [
37
]. They facilitate the coordination of employees and the development of behavioral patterns. Wang et al. [
38
] and Toro-Mújica et al. [
39
] described different ways to improve the business position, as example planning. According to previous considerations, next table shows the different variables considered in this research to measure farm's technological sustainability.
2.5. Organizational Sustainability
2.6. The Measure of Organizational Sustainability
Organization sustainability implies the putting into practice of new processes to decrease the production or distribution, improvement of quality, or the production or distribution of new or significantly improved products [
41
].
The use of breeding techniques allows increasing the number of lambs per calving [
39
]. As [
41
] noted, productivity will increase as the reproductive index increases, since more liters of milk and kilograms of meat per lamb will be available. The use of reproductive techniques also may promote organizational sustainability. Explain how artificial insemination allows preserving the genetic variability of the species subject to a continuous process of improvement of its productive characteristics, which means a substantial introduction in the productive process. Process management programs in reproduction and genetic improvement increase organizational sustainability [
40
,
41
]. According to previous considerations, next table shows the different variables considered in this research to measure farm's organizational sustainability.
2.7. Training Sustainability
Collins et al. [
25
] noted that as a complement to the production experience, firms also invest in training sustainability when they provide training to their employees. To understand the sources of a firm's training sustainability, the attention must be paid to the structure of communication between the external environment and the organization, as well as among the subunits of the organization, and on the character and distribution of expertise within the organization. As [
42
] describes, it consists of acquiring and assimilating the external information by integrating it in the firm's knowledge base with the main objective of improving processes and strategies applied to organizations. Firms that possess a high level of training sustainability, present high levels of learning capabilities, by properly integrating external information and converting it into knowledge that can be warehoused [
30
,
42
].
This way, as firms have access to different sources of information, as it can be the access to experts in the various activities realized in a farm (as the advisers and experts in PDO) workers will be able to improve their knowledge though including in the firm the external information accessed. The establishment of processes and the selection of people and leaders are fundamental, since the employees' educational level is a key factor in the absorption capability [
26
,
42
]. By considering previous arguments, the Hypothesis 4 is described: The farm's training sustainability will positively influence the return on assets (ROA) and return on investment (RF) as profit indicators.
2.8. The Measure of Training Sustainability
Different authors have stressed the importance of training, recruitment, and selection processes as absorption training sustainability indicators. Petter et al. [
33
] studied what factors are associated with the competitive success of Spanish small and medium enterprises (SME). They concluded that those SME that apply human resource practices of recruitment and selection and training achieve best results in 71.5% and 84.2% of farms, respectively. Wang et al. [
38
] referred to the concepts "knowledge absorption" and "training sustainability". In their work, they performed an empirical study about the direct impact of IT support for knowledge management on knowledge-based dynamic capability that influences the final firm's performance on a sample of 113 managers from manufacturing industries. To measure the training sustainability, five indicators were used: absorb new knowledge from external/market sources; absorb new knowledge from suppliers, competitors and customers; absorb new knowledge from educational/research establishments; absorb new knowledge from patents; and absorb new knowledge from personnel mobility. They concluded that higher levels of training sustainability were associated with higher levels of firm's performance.
Murovec & Prodan [
43
] provided an empirical analysis with a sample based on the responses to Spanish and Czech Republic's third Community Innovation Survey (CIS3). They distinguished between demand-pull training sustainability and science-pull training sustainability, and noted the training of personnel as determinant in both of them. Angón et al. [
20
] applied an innovative learning strategy that promotes the development of training sustainability to reach a better position of students in market. Baumgartner et al. [
12
] and [
13
] have stressed the importance of hiring new people, as a way of acquiring new ideas and experiences. Likewise, the firms take advantage of investing in training, hiring people becomes very important in a good recruitment and selection process. Training is a key factor. Beath et al. [
34
] pointed out in their study about the adoption of practices of integrated management since former survey participants presented the highest rates of adoption of practices requiring more knowledge or being more labor intensive. According to previous considerations, next table shows the different variables considered in this research to measure farm's organizational sustainability.
2.9. Financial Indicators
Collins et al. [
25
] consider that value creation and profitability are interlinked concepts that cannot be divided. They distinguish between return on assets (ROA) and return on investments (ROI).
2.10. Return on Assets (ROA)
It measures the benefit before interests and taxes as the proportion between benefit before interests and taxes (BBIT) divided by the total net assets (TNA) at the organization. It can also be calculated as the product between the margin over sales and assets rotation. Where Margin over sales = BBIT/Sales; Assets turnover = Sales/TNA and Margin over sales represents to what extent benefits are related to farm activity, while assets turnover represents the efficiency in the use of assets.
2.11. Return on Investments (RF)
RF or ROI are measured as the division between the benefit after investments and taxes (BAIT) and firm's equity. According to [
25
], return on investments depends on return on assets and how external funds are managed in assets presenting profitability over or under financial costs. Considering the approach provided by [
44
], in this research both metrics ROA and RF or ROI have been used to show final results. Some other authors have also used these same ratios to analyse final firm's performance. Table 5 shows these studies.
Figure 1
shows the conceptual model considered for this research.
Existing literature on sustainability indicators and performance was reviewed to support the indicators used in the research model. Four basic types of sustainability have been considered: economic; technological; organizational; and training. All four support a global sustainability concept.
5. Discussion and Implications
Author Contributions
C.D.-P.-H. has developed the theoretical framework; J.L.M.-B. has done de statistical analysis and A.G.-M. has provided the discussion and conclusions.
Funding
This research was funded by ESIC Marketing & Business School under UDI (Internal Research Units) Project.
Acknowledgments
The authors thank Essential Research Project on agricultural resources and technology run by the Spanish National Institute of Agricultural and Food Research and Technology in conjunction with regional authorities (RTA2011-00057-C02), for providing financial support for the survey.
Conflicts of Interest
The authors declare no conflict of interest.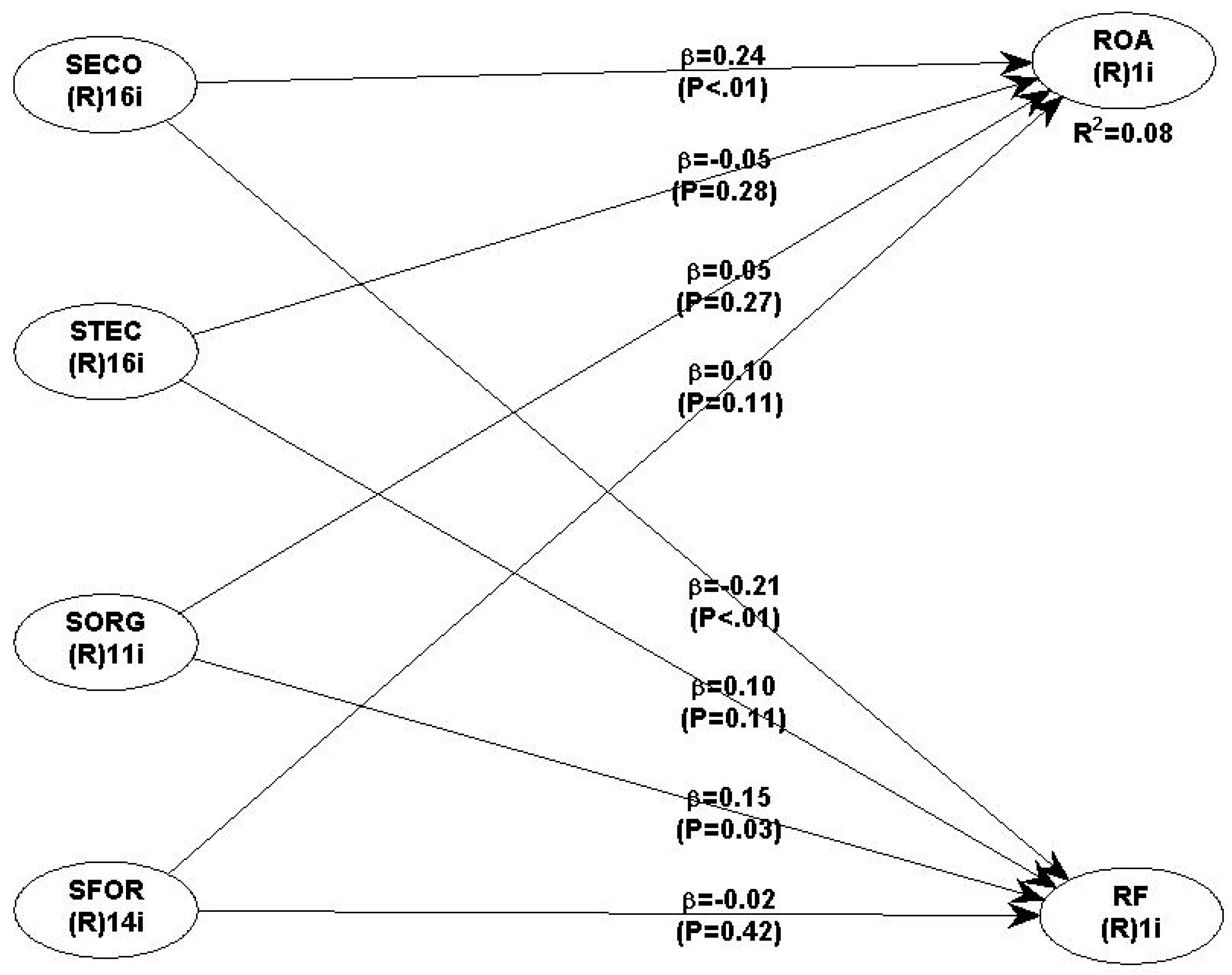 Figure 3. Economic and Organizational sustainability (SECO and SORG) and final performance (return of assets (ROA) and return on investment (RF)) relationship curves. (a,c) Economic sustainability (SECO); (b,d) Organizational sustainability (SORG).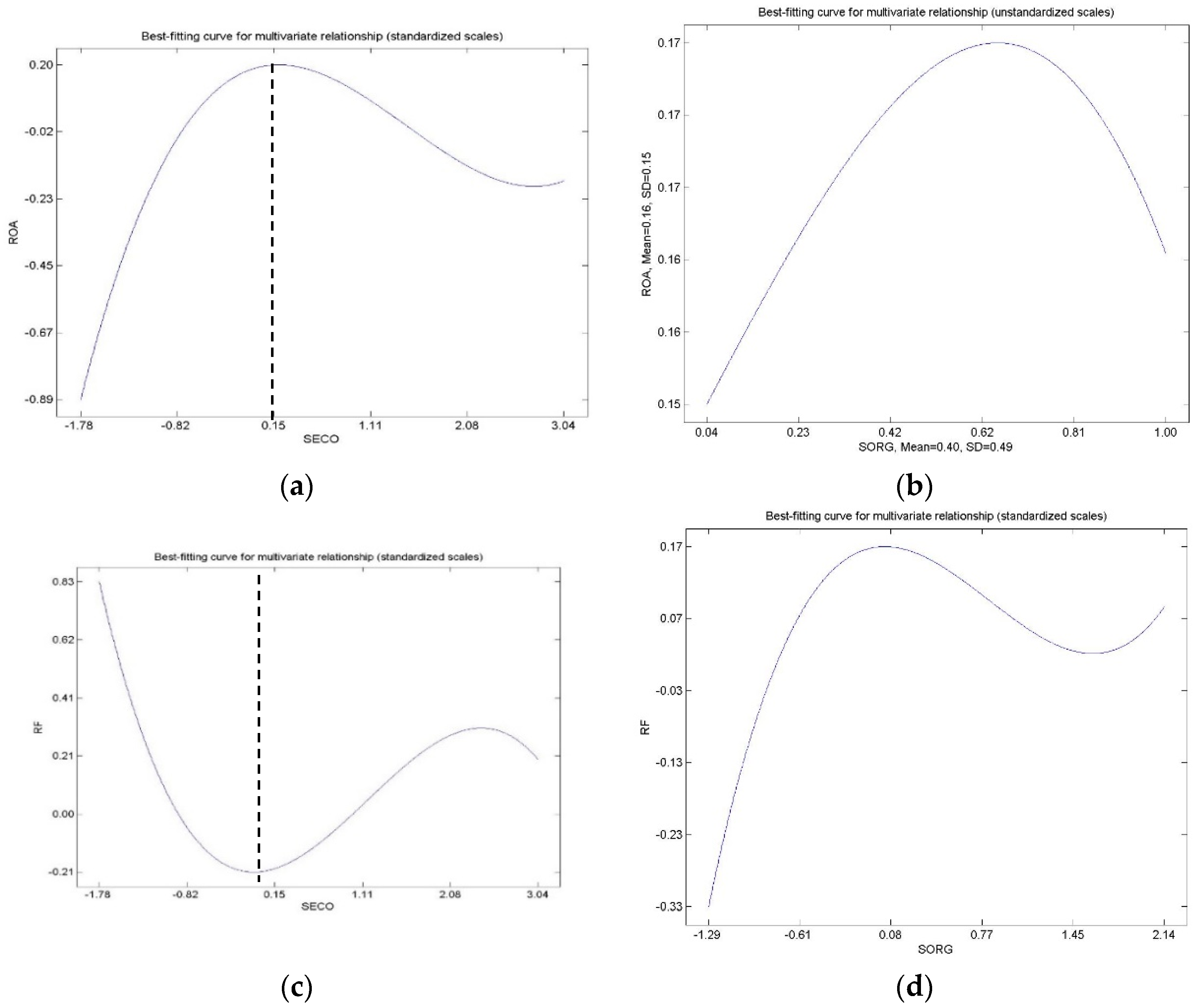 | Indicator | Authors |
| --- | --- |
| MERCH—direct selling from consumer to wholesaler | [12] |
| CHVAR—kind of cheese sold | [14] |
| SLAMBS—selling of lambs | [12] |
| SRAMS—selling of milk per ewe | [1] |
| FSL—female sale | [27] |
| MSL—male sale | [12] |
| CHSO—cheese sold | [23] |
| WOSO—wool sold | [2] |
| MASO—manure sold | [12] |
| UNFE—use of unified as integral food system | [13] |
| SUBP—use of by-products as animal food | [13] |
| PRON—use of pastures | [13] |
| LANDA—use of agriculture for food production | [4,24] |
| REPRO—reproduction planning | [14] |
| KREC—availability of registers | [13] |
| Indicator | Authors |
| --- | --- |
| REGB—system of registers (births, deaths, sales, etc.) | [12] |
| UINF—use of information to make decisions | [35] |
| MILK—milk control as a managing strategy | [16] |
| PLAN—planning of operational processes (reproduction, health, breed, etc.) | [9,15] |
| INTP—Integral planning of different areas | [37] |
| GENP—genetic improvement | [1] |
| DIET—degree of agreement between animal diet and level of production | [36] |
| MINE—use of minerals | [34] |
| SUPL—use of supplements | [33] |
| HEALP—use of health plans | [15] |
| HYGP—use of Hygienic plan | [30] |
| PREV—use of prevention plans | [35] |
| CONSE—conservation of extra materials | [4] |
| STRHE—Strategies for managing animals | [35] |
| TECH—technologies in the milking parlour | [27] |
| ECOG—use of echographia | [1] |
| ANDRO—andrological evaluations | [4] |
| ANSE—animal selection | |
| Indicator | Authors |
| --- | --- |
| IDENT—individual identification of animals | [27,41] |
| CTPAR—control of internal and external parasites | [41] |
| HECON—health control in the udder and in milk quality | [39] |
| NIDIS—disinfection of the nipple after milking | |
| DRTR—application of drying treatment | [41] |
| STREF—putting into practice any strategy to improve the efficiency in the use of water and conservation of land | [40] |
| DISTR—the organization of different areas according to a logic sequences in terms of flowing of animals, machines and workers | [41] |
| DIMEN—availability of milking place according to the flock dimension and easy access to animals and workers | [39] |
| ATANK—availability of milking place a proper refrigeration (in terms of volume and capacity) | [40] |
| CLMI—availability of automatic cleaning equipment and use of protocols in the milking place | |
| ROEQ—availability of place and equipment for the artificial breed of lambs | |
| RPTE—the use of reproductive techniques (flushing, matting, hormonal treatments, etc.) | |
| INDR—reproduction index (birth/sheep/year) | |
| ARTI—the use of artificial insemination as a tool to improve genetics | |
| Indicator | Authors |
| --- | --- |
| TRAIN—training actions | [43] |
| STARE—staff's recruitment | [25] |
| SOING—sources of information | [13] |
| USEAD—use of advisors | [43] |
| TYAD—kind of advisors | [13] |
| CONA—conditions for advisors | [20] |
| GRASC—be part of a cooperative | [34] |
| KINDA—kind of cooperative | [16] |
Index
Value
Value Interpretation
Average path coefficient (APC)
(APC) = 0.112,

p

= 0.038
Significant if

p

< 0.05
Average R-squared (ARS)
(ARS) = 0.040,

p

= 0.154
Significant if

p

< 0.05
Average adjusted R-squared (AARS)
(AARS) = 0.014,

p

= 0.214
Significant if

p

< 0.05
Average block VIF (AVIF)
VIF (AVIF) = 1.874
Acceptable if ≤ 5, ideally ≤ 3.3
Average full collinearity VIF (AFVIF)
(AFVIF) = 3.320,
Acceptable if ≤ 5, ideally ≤ 3.3
Tenenhaus GoF (GoF)
(GoF) = 0.146
Small ≥ 0.1, medium ≥ 0.25; large ≥ 0.36
Sympson's paradox ratio (SPR)
(SPR) = 0.750
acceptable if ≥ 0.7, ideally = 1
R-squared contribution ratio (RSCR)
(RSCR) = 0.711
Acceptable if ≥ 0.9, ideally = 1
Statistical suppression ratio (SSR)
(SSR) = 1.000
Acceptable if ≥ 0.7
Non-linear bivariate causality direction ratio (NLBCDR)
(NLBCDR) = 0.750
Acceptable if ≥ 0.7
Types of Sustainability
SECO
STEC
SORG
SFOR
Financial Indicators
ROA
0.236


(0.001)

−0.047


(0.276)

0.048


(0.272)

0.096


(0.110)

RF
−0.210


(0.003)

0.095


(0.112)

0.150


(0.027)

−0.015


(0.424)

© 2018 by the authors. Licensee MDPI, Basel, Switzerland. This article is an open access article distributed under the terms and conditions of the Creative Commons Attribution (CC BY) license (http://creativecommons.org/licenses/by/4.0/).