Open Access This article is
freely available
re-usable
Article
Transforming Development and Disaster Risk
1
Stockholm Environment Institute, Bangkok 10330, Thailand
2
Climate and Disaster Risk Research and Consulting (CDRC), Sydney 2176, Australia
3
International Centre of Excellence on Transforming Development and Disaster Risk, Stockholm Environment Institute and Integrated Research on Disaster Risk (IRDR) Programme, Bangkok 10330, Thailand
4
Stockholm Environment Institute, Environment Department, University of York, York YO10 5NG, UK
5
Stockholm Environment Institute, 10416 Tallinn, Estonia
6
Stockholm Environment Institute, 10451 Stockholm, Sweden
7
College of Urban and Public Affairs: Nohad A. Toulon School of Urban Studies and Planning, Portland State University, Portland, OR 97201, USA
*
Author to whom correspondence should be addressed.
Received: 30 March 2018 / Accepted: 2 May 2018 / Published: 7 May 2018
Abstract
:
This article focuses on the complex relationship between development and disaster risk. Development and disaster risk are closely linked as the people and assets exposed to risk, as well as their vulnerability and capacity, are largely determined by development processes. Transformation is key to moving from current development patterns that increase, create or unfairly distribute risks, to forms of development that are equitable, resilient and sustainable. Based on a review of existing literature, we present three opportunities that have the potential to lead to transformation in the development-disaster risk relationship: (i) exposing development-disaster risk trade-offs in development policy and decision-making; (ii) prioritizing equity and social justice in approaches to secure resilience; and (iii) enabling transformation through adaptive governance. This research aims to contribute to breaking down existing barriers in research, policy and practice between the disaster risk reduction, climate change adaptation, and development communities by providing cross-sectoral opportunities to operationalize theoretical knowledge on transformation. It also helps to clarify the connections between different global agendas by positioning transformation as a potential bridging concept to link disconnected policy processes. This paper argues for empirical research to test the opportunities presented here and further define transformative pathways at multiple scales.
Keywords:
transformation; sustainable development; disaster risk; trade-offs; equitable resilience; adaptive governance
2. Conceptualizing Transformation
3. Opportunities for Transformation
While the body of research on transformation in complex systems has grown considerably in recent years, transformation remains somewhat abstract when considering the objective of transforming development and DRR policy and practice. The challenge is shaping and defining transformative pathways and action for development and DRR communities of practice. While additional research is needed to further develop the conceptual underpinnings of transformation, attention must also be paid to ensuring this knowledge is translated into action. There is currently a gap in identifying clear, practical entry points for transforming the relationship between development and disaster risk.
To help address this gap, we conducted three further literature reviews to identify three opportunities that have the potential to lead to transformation: (1) exposing development-disaster risk trade-offs in development policy and decision-making [
15
]; (2) prioritizing equity and social justice in approaches to secure resilience [
44
]; and (3) enabling transformation through adaptive governance [
45
].
Figure 1
presents a conceptual framework of these three opportunities and how they relate to one another.
This section aims to provide a brief summary of the three opportunities for transformation. It is important to note that these are exploratory opportunities, which need to be tested empirically and refined, and additional analysis of the development-disaster risk system is necessary as an insufficient understanding of the system dynamics might lead to interventions that are likely to fail. Additionally, this list is not exhaustive and other opportunities may exist that also have the potential to transform the development–disaster risk relationship.
3.1. Exposing Development-Disaster Risk Trade-Offs in Development Policy and Decision-Making
The risk dimension of trade-offs focuses on multiple risks (hazard and non-hazard-related), including interacting risks, that must be considered within decision-making, the prioritization of those risks in the face of limited resources, and differential risk prioritization by policymakers and wider society. The tendency to prioritize more immediate risks or sudden onset hazards means that risks associated with slower onset hazards may be ignored, leading to unexpected and potentially catastrophic impacts in the future.
The time dimension of trade-offs relates to assessing the benefits and losses of a development decision in the short-term versus the long-term, as well as the short time frame in which decisions must often be made, especially in post-disaster processes. Intergenerational equity, in terms of social, environmental or economic well-being, has not been sufficiently considered in development decision-making processes. The uncertain conditions that will be created by development decisions in the long-term, and whether future generations will be able to cope with this uncertainty, are rarely considered.
The participation dimension of trade-offs deals with who is included or excluded and whose interests are prioritized in decision-making processes. Limited participation and low accountability in high-level decision-making can perpetuate risk-creating norms and practices by decision-makers who are usually less affected by disaster impacts. More participatory decision-making can lead to better development and DRR outcomes, however a trade-off exists as it can impact efficiency and increase the time required for policy change. For decision makers, there may also be political trade-offs related to sharing power and altering the status quo.
3.2. Prioritizing Equity and Social Justice in Approaches to Secure Resilience
Resilience has gained popularity as a key principle within both the DRR and development communities, making it a potential entry point for transforming the relationship between the two. We understand resilience to be a system property and thus communities, individuals, or other actors or organizations can undertake actions that change the system and thereby alter resilience. However, actions in one part of the system may have unintended consequences at other temporal or spatial scales, enhancing the resilience of a particular group or community at a particular time, while eroding that of others. We refer to deliberate resilience interventions as attempting to 'secure' resilience when they involve actions that intend to build (increase) or maintain resilience, without suggesting that communities or other actor groups do not have resilience prior to the intervention. Importantly, resilience has been criticized for its failure to address social vulnerability and for disregarding issues of equity and power. The resilience discourse is frequently associated with incremental change, failing to tackle risk-creating development logics or leading to an unfair distribution of risk across a population. Therefore, understood, resilience can lead us to underestimate or overlook the nature and magnitude of the changes required within a system to ensure equitable outcomes.
Consideration of equity and social justice forces consideration of transformation as part of approaches that look to use resilience in practice. Resilience interventions generally do not thoroughly assess
whose
resilience should be secured and if and how such efforts actually tackle the root causes of disaster risk for the most vulnerable groups. The concept of equitable resilience requires us to consider overcoming or rejecting the dominant narratives that exist within a system when they fail to address the inequitable distribution of costs and benefits, including risk distribution. This requires understanding how power is held and exercised, and which actors or processes can create "winners" and "losers" [
48
]. By addressing the inequities in resilience interventions, possibilities can open up for whole-scale transformation within disaster risk and development.
Ref. [
44
] conducted a review of the literature connecting resilience to climate change adaptation, development and DRR to examine how equity and power are conceptualized in current research. The search terms resilience and equity, equality, power, agency, justice, ethics, or human rights were applied to peer-reviewed publications from the period 2005-2015 that appeared in the Social Sciences Citation Index of the Web of Science platform. The findings reveal four key elements that need to be considered if interventions are to work towards equity and social justice: (1) recognizing subjectivities; (2) ensuring inclusion and representation; (3) working across scales (geographical and temporal) and levels of governance; and (4) promoting system(s) transformation when existing arrangements degrade well-being or increase risks for sections of society.
Subjectivity draws attention to the ways in which groups become socially differentiated due to cultural, racial, ethnic, gender or other social attributes, and how this shapes disaster risk. Subjectivities can shape how people interpret experiences and information, including those related to disaster risk, and whether or not people take action to reduce their risk. They can drive the construction of inequitable socio-political entitlements, creating vulnerability for excluded groups. Similarly, subjectivities can lead to differential resilience. For example, individuals may use their subjectivities to harness opportunities to secure their resilience, while the subjectivities of others may repress their capacity to engage with such opportunities.
Inclusion highlights the notion of inclusion of diverse social groups based on different social groupings, including gender, age, ethnicity, disability and sexuality, that influence resource distribution and human-environment relationships (e.g., [
49
,
50
,
51
]). It confronts the power and inclusion imbalances that exist between different stakeholders in decision-making processes at multiple scales, which may lead to exclusion of certain groups and hinder transformation [
52
,
53
,
54
].
Scale acknowledges the importance of geographical and temporal scales in resilience and systems thinking. It is important to understand cross-scale interactions and the scales on which different actors operate, as implications for resilience may be scale-specific, e.g., securing resilience only at the local level, or in the short term. Scale can also contribute to exclusion, for example as those living far from the geographic, political or social core may be marginalized. Thus, to achieve equitable resilience, subjectivities, inclusion and scale must be jointly understood, with transformation, or the possibility for transformation, as the last stage of the four-step process.
3.3. Enabling Transformation through Adaptive Governance
In summary, this section has introduced potential opportunities for transformation through the exploration of trade-offs in development decision-making and the prioritization of equity and social justice in resilience-building. Adaptive governance can enable the transformation of the development–disaster risk relationship. While further investigation is needed to define specific pathways for transformations to occur within development and DRR systems, these exploratory transformation opportunities provide initial entry points for future research. Each of these opportunities intends to unpack the 'locked-in' development and disaster-risk relationship from different, yet complementary, perspectives. Future research will need to enhance the theoretical understanding of where and how transformations can occur in the development–disaster risk system; which types of transformations have the potential to significantly reduce disaster risk and contribute to sustainable development; and how they may be achieved in practice, at different scales.
4. Conclusions
Development and disaster risk are closely interconnected. In this paper, we argue that transformations are needed to move towards equitable, resilient and sustainable development trajectories. As a boundary concept, transformation's utility is in challenging dominant values and goals in current development practice, examining the underlying failures of development and DRR, and calling for radical policy changes. We have outlined three opportunities for realizing such transformations via analysis of the trade-offs that are associated with development or DRR decision making; through an explicit focus on securing equitable resilience through development or DRR interventions; and through the application of adaptive governance to transform development and DRR systems.
Transformation cuts across the development, DRR, and climate change adaptation sectors. By breaking down an abstract concept into 'operational' opportunities for enabling transformation, our findings can contribute to overcoming the barriers in research, policy and practice that currently exist between these communities of practice. We propose that identifying multi-stakeholder and cross-sectoral opportunities for transformation can help clarify the connections between different global policies and frameworks associated with these respective communities of practice, including the Sustainable Development Goals, the Sendai Framework, and the Paris Agreement. Defining and operationalizing transformative pathways allows the potential contributions from different sectors and policy arenas to be identified and negotiated, positioning transformation as a binding concept that can link often disjointed development, DRR, and adaptation actors and policy processes.
By bringing together disparate fields we propose a multi-disciplinary research agenda that can help to ensure successful outcomes of the Sendai Framework and refocus development and risk reduction efforts towards support for those most vulnerable to disaster risks. Many observers are of the view that more radical, transformative changes in policy and decision-making are necessary to address the complex challenges that are changing our world. However, empirical evidence of transformation in action is urgently needed to create the basis for guidance on processes that would lead to a substantial reduction in disaster-related losses and damages. Further research that focuses on testing and refining the opportunities presented in this paper, among others, is urgently needed to enhance understanding of what types of transformations are possible and how they may be achieved in practice.
Author Contributions
F.T., M.B., and K.J. provided the overall framing, review of the transformation literature, and synthesis of research insights for the paper. H.T. and G.H. conducted the analysis of development disaster risk trade-offs in development policy and decision-making. J.E. and J.F. undertook the analysis on prioritizing equity and social justice in approaches to secure resilience. Å.G.S. analyzed the role of adaptive governance in enabling transformation, and D.W. contributed to the review of the Social-Ecological Systems (SES) literature on transformation.
Acknowledgments
The work presented in this article is an output of SEI's initiative
Transforming Development and Disaster Risk
(TDDR). TDDR seeks to integrate disaster risk reduction with equitable, resilient and sustainable development by transforming the complex relationship between development and disaster risk. Its goal is to improve understanding of how risks are created and how they accumulate, recognizing that disaster risk and development are closely interlinked. For more information on TDDR, please visit
www.sei.org/projects-and-tools/projects/sei-initiative-on-transforming-development-and-disaster-risk
. The authors would like to thank Albert Salamanca of the Stockholm Environment Institute for his tremendous efforts in coordinating and guiding the work of the TDDR and express their gratitude to Mark Pelling of King's College London and Marion Davis of the Massachusetts Immigrant and Refugee Advocacy Coalition for their valuable comments on an earlier draft of the manuscript.
Conflicts of Interest
The authors declare no conflict of interest.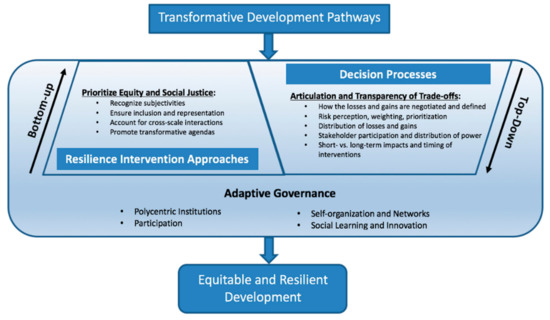 Figure 1. A conceptual framework of three opportunities for transforming the relationship between development and disaster risk.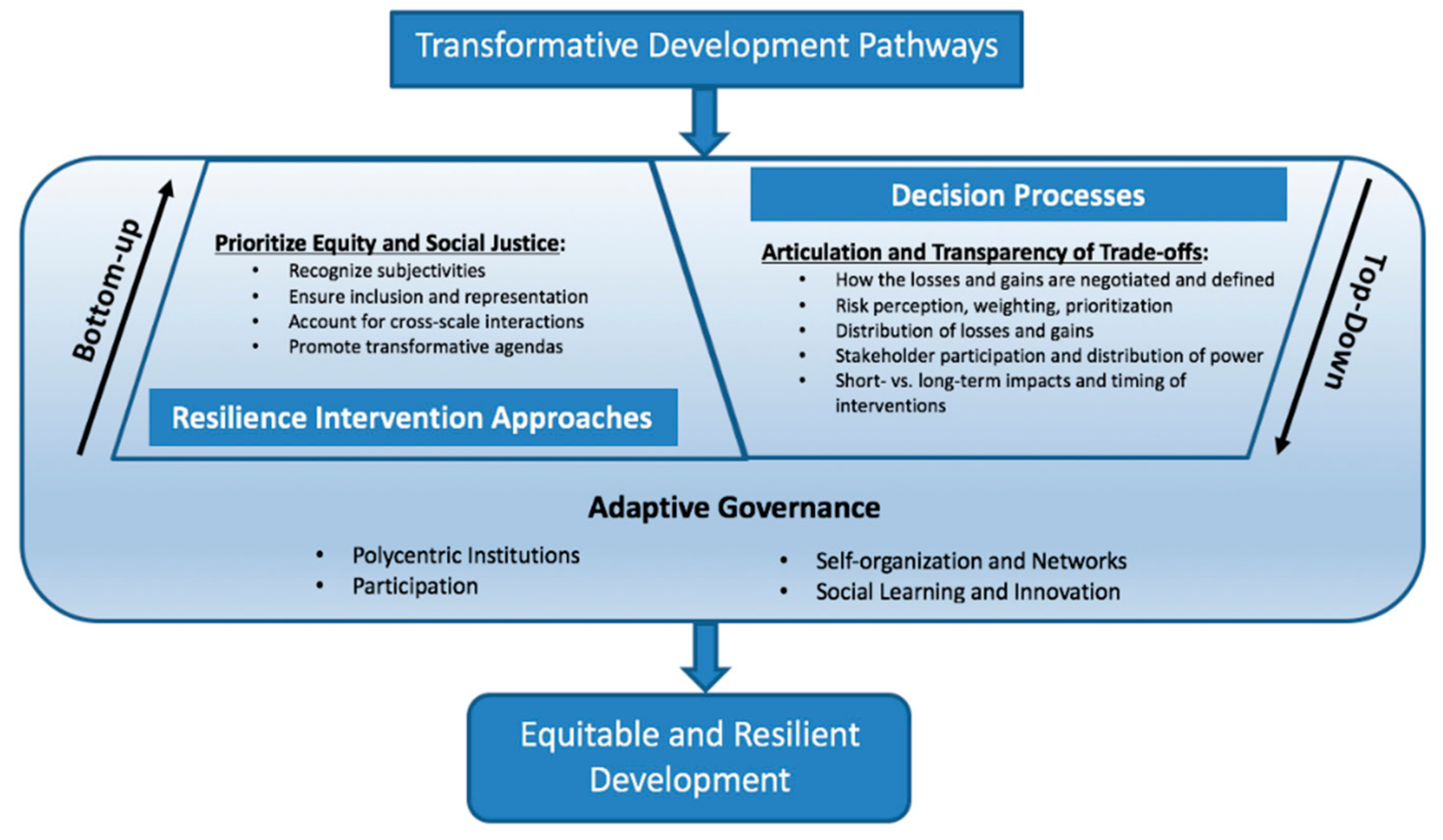 Table 1. Characteristics, attributes, conditions and outcomes of transformations in SES, adaptation and DRR contexts.
Transformation Framing
Attributes
Conditions
Outcomes
Key References
Social-ecological System (SES) Transformation
Recombining existing elements of an SES in fundamentally novel ways to create a new SES


Phases

: Prepare for SES change (window of opportunity); navigate the transition (selecting, learning and adoption); build resilience of the new regime; institutionalize the trajectory; and routinize new feedbacks

Triggers

: Crises; untenable systems; changing environmental or socio-economic conditions


Enablers

: Novelty and innovation; resilience; all forms of capital; diversity of institutions; self-organizing groups and networks; leadership; learning platforms; strengthening cross-scale relationships in the governance structure
A development trajectory and SESs that ensure the sustained well-being of humans and ecosystem services
[32,33,34,35,36]
Transformational Adaptation
Physical and/or qualitative, non-linear radical or step changes in form, structure or meaning-making that include changes in regime management and functioning, behavior, values and perceptions


Indicators

: Adaptations at a larger scale or intensity; new to a context or system; or that transform places and shift locations

Triggers

: Extreme climate events; multiple stresses


Enablers

: Transdisciplinary approaches; value- and place-based approaches; deep inquiry into structures of meaning-making, power relations and root causes of current failures; social networks across scales; local leadership and accountability; incentives; resources; communications technologies
Greater justice, equity, long-term resilience and sustainable development
[24,25,37,38,39,40,41]
Transformative DRR
A fundamental qualitative change, or a change in composition or structure that is often associated with changes in goals, perspectives, governance regimes or initial conditions, towards a different risk management status quo


Pathway characteristics

: competition; experimentation; scale effects; lock-in

Triggers

: Major disasters


Enablers

: Critical reflexivity and inclusion in disaster risk decision-making; innovation; participatory learning; self-organizing groups and networks beyond established institutions; narrative analysis; adaptive co-management; anticipatory planning and behavior beyond coping
Reduced disaster risk; enhanced resilience; sustainability
[12,13,18,42,43]

© 2018 by the authors. Licensee MDPI, Basel, Switzerland. This article is an open access article distributed under the terms and conditions of the Creative Commons Attribution (CC BY) license (http://creativecommons.org/licenses/by/4.0/).