Open Access This article is
freely available
re-usable
Article
ERMOCTAVE: A Risk Management Framework for IT Systems Which Adopt Cloud Computing
1
ING Bank, B-1040 Brussels, Belgium
2
Department of IT Convergence Engineering, Kumoh National Institute of Technology, Gumi 39177, Korea
3
Department of Computer Engineering, Kumoh National Institute of Technology, Gumi 39177, Korea
*
Author to whom correspondence should be addressed.
Received: 22 June 2019 / Accepted: 3 September 2019 / Published: 10 September 2019
Abstract
:
Many companies are adapting cloud computing technology because moving to the cloud has an array of benefits. During decision-making, having processed for adopting cloud computing, the importance of risk management is progressively recognized. However, traditional risk management methods cannot be applied directly to cloud computing when data are transmitted and processed by external providers. When they are directly applied, risk management processes can fail by ignoring the distributed nature of cloud computing and leaving numerous risks unidentified. In order to fix this backdrop, this paper introduces a new risk management method, Enterprise Risk Management for Operationally Critical Threat, Asset, and Vulnerability Evaluation (ERMOCTAVE), which combines Enterprise Risk Management and Operationally Critical Threat, Asset, and Vulnerability Evaluation for mitigating risks that can arise with cloud computing. ERMOCTAVE is composed of two risk management methods by combining each component with another processes for comprehensive perception of risks. In order to explain ERMOCTAVE in detail, a case study scenario is presented where an Internet seller migrates some modules to Microsoft Azure cloud. The functionality comparison with ENISA and Microsoft cloud risk assessment shows that ERMOCTAVE has additional features, such as key objectives and strategies, critical assets, and risk measurement criteria.
Keywords:
risk management; ERM; OCTAVE; cloud computing; Microsoft Azure
1. Introduction
Cloud computing is a technology that uses virtualized resources to deliver IT services through the Internet. It can also be defined as a model that allows network access to a pool of computing resources such as servers, applications, storage, and services, which can be quickly offered by service providers [
1
]. One of properties of the cloud is its distributed nature [
2
]. Data in the cloud environments had become gradually distributed, moving from a centralized model to a distributed model. That distributed nature causes cloud computing actors to face problems like loss of data control, difficulties to demonstrate compliance, and additional legal risks as data migration from one legal jurisdiction to another. An example is Salesforce.com, which suffered a huge outage, locking more than 900,000 subscribers out of important resources needed for business transactions with customers [
3
].
The main cause of these incidences was poorly conducted risk identification during risk management process. Effective risk assess and being aware of different vulnerabilities are the best mechanism for incidence prevention in cloud computing. Thus, a novel risk management framework is highly required to properly identify those risks and to provide an ultimate way of mitigating their occurrence. Our motivation comes from potential security risks of cloud computing due to their distributed nature and mainly the lack of dedicated risk management method. Many risk managers admit struggling to grasp the basics of how the cloud is deployed in their businesses, and how to manage risks linked to this new technology. Identifying risks and understanding them are the prime challenges. Risk management for cloud computing must discover some key risks, prioritize them, and formulate a mitigation plan. Due to the nature of cloud computing risks and the emergence of new risks, one-time risk assessment is not sufficient.
The aim of the paper is to introduce a new risk management method ERMOCTAVE for mitigating risks in cloud computing environment. As a method, we coalesce Enterprise Risk Management (ERM) framework and risk-based information security methodology Operationally Critical Threat, Asset, and Vulnerability Evaluation (OCTAVE). Although OCTAVE is prone to IT-related risks, ERM prioritizes risks and brings risk management to a more strategic level. As an example of ERMOCTAVE application, we suggest a case study scenario of an Internet seller who migrates a part of their web system to a cloud system, Microsoft Azure.
The remaining section is organized as follows.
Section 2
explains terminologies and related works.
Section 3
explains the proposed ERMOCTAVE method in detail.
Section 4
helps understanding of ERMOCTAVE using a case study with Microsoft Azure cloud.
Section 5
compares functionality of ERMOCTAVE and two existing methods. Finally,
Section 6
finishes with conclusion.
2. Terminologies and Related Works
2.1. Terminologies
Cloud computing is a model for delivering data virtually on the Internet through web-based tools and applications, rather than a direct connection to a server. Resources are stored in servers. In the IT security environment, "risk" is the probability that a confidential information is exposed, data integrity is damaged, or information availability is interfered. Risk formula is the result of likelihood probability multiplied by the impact of the above events. Also, risk can be defined as result of identified vulnerability being exploited by a specific threat [
4
].
"IT risk management" is the process enabling the balance between operational cost and economic costs of protective controls in order to protect IT systems that support their organization's objectives. This process provides decision-making in all areas of our lives not only in IT environments. An effective risk management methodology helps managers determine appropriate actions for offering security capabilities [
1
].
Operationally Critical Threat, Asset, and Vulnerability Evaluation (OCTAVE) is a strategic assessment method for risk-based security [
5
]. It uses people's knowledge of security practices to understand the current security posture of the organization. Unlike typical assessments, which only target technological risk, OCTAVE also considers organizational and strategic risks. Using OCTAVE, a small team of people from the operational units and the technology department together address the security requirements, balancing three key aspects: operational risk, security practices, and technology. The OCTAVE method has three phases in which processes are described below [
5
].
Phase 1

Build asset-based threat profiles: Phase 1 gathers information from the organization and defines threat profiles for critical assets.

Process 1

Identify senior management knowledge: Information about important assets, security requirements, threats, current strengths, and current vulnerabilities is collected from senior managers.

Process 2

Identify operational area knowledge: The information is collected from managers of selected operational areas.

Process 3

Identify staff knowledge: The information is collected from general staff and IT staff members.

Process 4

Create threat profiles: Critical information assets are selected and threat profiles for those assets are defined.

Phase 2

Identify infrastructure vulnerabilities: This phase evaluates key components of systems supporting the critical assets for technological vulnerabilities.

Process 5

Identify key components: This process identifies key components from the systems that support the critical assets.

Process 6

Evaluate selected components: Tools are run to evaluate the selected components, and the results are analyzed to refine the threat profiles.

Phase 3

Develop security strategy and plans: The primary purpose of this phase is to evaluate risks on critical assets and to develop a protection strategy and risk mitigation plans.

Process 7

Conduct risk analysis: A set of impact evaluation criteria is defined to elaborate the impact value (high, medium, or low).

Process 8

Develop protection strategy: The organization-wide protection strategy focuses on improving security practices and mitigation plans, which reduce the important risks on critical assets are developed.
Enterprise risk management (ERM) is a framework affected by the board of directors and the management of an entity. ERM aims to identify potential events that may affect the entity and to manage risks using its risk appetite. "Risk appetite" is the level of risk that the entity is prepared to accept in pursuit of its objectives. The level could be averse, minimal, cautious, open, or hungry. ERM offers assurance regarding the accomplishment of objectives set by the entity [
6
]. In ERM, uncertainty has both risk and opportunity. Risk can reduce value while an opportunity can enhance value. ERM components are described as follows.
Internal environment: the internal environment provides basics on how risk and control are addressed.

Objective setting: before the management identifies potential events, objectives of the entity are set. ERM makes sure that the objectives are consistent with the risk appetite.

Event identification: potential events impacting the entity are identified. This process involves identification of events from internal or external sources which affect the accomplishment of objectives.

Risk assessment: identified risks are analyzed and assessed on both inherent and residual basis considering risk likelihood and impact.

Risk response: possible responses to risks are identified. They include avoiding, accepting, reducing, and sharing risks.

Control activities: policies, procedures, and controls are established and implemented to sustain the risk response decisions.

Information and communication: relevant information is captured and communicated enabling people to carry out their responsibilities.

Monitoring: ERM is entirely monitored to react dynamically as changes are made.
2.2. Related Works
The advantages of cloud computing over traditional networks are well known and they include fast deployment. However, identification of the risks in cloud computing is more difficult because of the lack of a dedicated framework. Such risks make businesses feel difficulty when adopting cloud technology. Over the last few years, a lot of documents have been written about risks and guidelines regarding cloud computing adoption. These documents rank highly as a security concern, but rank low across risks where a dedicated risk management framework is required.
Above mentioned works demonstrate that there is no effective method for risk management on immigration to cloud computing. The works are just guidelines or reports on understanding cloud computing risks. If a researcher attempts to propose a framework on the immigration situation, the lack of important features required for proper risk management, such a mitigation plan, critical asset identification, or control activities, is evident.
3. ERMOCTAVE Method
3.1. Structure of ERMOCTAVE
Although OCTAVE and ERM are good frameworks for risk management in their objectives, they are not sufficient for an organization that immigrates to cloud computing. The major advantage of OCTAVE is that three levels, IT technological department, security department, and operational units work in the combined manner. ERM pays attention to uncertainty that holds risk and opportunity at the same time. Since cloud computing is a popular IT technology with uncertainly, we suggest a combination of OCTAVE and ERM with supplements like mitigation plan step.
Basically, ERMOCTAVE is constructed by distributing ERM components to OCTAVE phases as follows [
20
].
Phase 1:

ERM components "Internal environment" and "Objective setting" are merged to OCTAVE phase 1 (Built asset based threat profiles). Such integration helps to make threat profiles in a viewpoint of the organization's objective.

Phase 2:

ERM components "Event identification" and "Risk assessment" are merged to OCTAVE phase 2 (Identify infrastructure vulnerability). Since OCTAVE has component oriented viewpoints on assets, event and risk oriented viewpoints of ERM help correct identification of vulnerabilities.

Phase 3:

ERM components "Risk response", "Control activities", "Information and communication", and "Monitoring" are merged to OCTAVE phase 3 (Develop protection strategies and mitigations plans.). The ERM components enrich protection and mitigation methods of OCTAVE.
3.2. ERMOCTAVE Phase 1
In the phase, threat profiles for critical assets are reported as a result. The profiles are used to identify vulnerabilities and risks. The phase proceeds in the following 8 processes.
P1.1 

Objective setting: this process defines core objectives of the organization who uses cloud computing services. From the objectives, the reason to use the cloud computing services is derived.

P1.2 

Internal environment: the main roles in the organization are described in detail to identify assets and vulnerabilities in the following processes.

P1.3 

Identify assets: this process creates a list of assets. The following question should be answered.

what are important assets?

P1.4 

Identify current security practices: this process creates a list of security practices in use. The following question should be answered:

Which cloud functionalities are used to protect the important assets?

P1.5 

Identify critical assets: this process selects important assets critical to the objectives. The following questions should be answered.

Which assets largely impact on the objectives if they are disclosed to unauthorized people?

Which assets largely impact on the objectives if they are modified without authorization?

Which assets largely impact on the objectives if they are lost or unavailable?

P1.6 

Describe security requirements for critical assets: this process clarifies security properties of critical assets. The following questions should be answered.

Is the critical asset proprietary or sensitive?

What is the security requirement for the critical assets? Are confidentiality, integrity, or availability important for them?

P1.7 

Identify current vulnerability of the organization: this process creates a list of vulnerabilities using the following question.

Which damage on the assets injures the objectives?

P1.8 

Create threat profiles for critical assets: the goal of this process is to identify threats that affect critical assets through the vulnerabilities; the following question should be answered.

Which potential threats have a non-negligible possibility?
3.3. ERMOCTAVE Phase 2
In this phase, risks are identified and assessed by events and vulnerability identification. The phase is composed of the following 3 processes.
P2.1 

Event identification: this process identifies events that can affect on the assets.

P2.2 

Review of identified vulnerabilities: this process links each vulnerability presented on the assets to each potential risk. The following question should be answered.

Which technological vulnerabilities are presented on the assets?

P2.3 

Risk assessment: inherent and residual risks are identified. "Inherent risk" is a risk that has existed in the given organization, and "residual risk" is a risk that still exists even after all controls are applied.
3.4. ERMOCTAVE Phase 3
In this phase, risks on critical assets are evaluated, and protection strategies and mitigation plans are created. The phase is composed of the following 6 processes.
P3.1 

Identify risks to critical assets: the goal of the process is to link each critical asset to an identified risk.

P3.2 

Create risk evaluation criteria and evaluate risks: for each risk, the following question should be answered.

Which degree of impact is imposed on the organization's impact area, e.g., reputation, productivity, and customer confidence?

Also, the process defines the risk evaluation criteria required to understand qualitative measures of the impacts. The following questions should be answered in order to design the risk evaluation criteria.

What defines the degree of each impact such as high, medium, or low?

What is the evaluation value of each degree of impact—high, medium, and low?

If the number of risks is large and the evaluation is difficult, even for experts, a methodology proposed by Fan and Chen can be used [

19

]. In the simple case, the risk score, , for risk

k

is defined as follows [

21

].

where

I

: the number of impact areas

: ranking of impact area

i

on risk

k

(), high ranking has high value of and rankings are different for each. That is, if .

: impact value of impact area

i

on risk

k

. The values are decided by experts, for example, low (1), medium (2), and high (3).

P3.3 

Create risk response and protection strategy: risk response is identified for each identified risk. Four types of risk responses are used, as follows [

22

].

Avoidance: provides activities to eliminate the risk.

Reduction: implements control activities and takes actions to reduce the risk likelihood, risk impact, or both.

Sharing: reduces risk likelihood by transferring to or by sharing a portion of the risk with other subjects or organizations.

Acceptance: takes no action against the risk likelihood or impact.

After determining risk responses, the goal of this process is to develop a protection strategy. The following key questions can be used during this activity.

Which training innovation could help the organization adopting cloud computing to improve its security posture?

How to ensure that all staff in the organization using cloud computing understands their security roles and responsibilities?

What can be done to improve protection of an organization when dealing with external partners?

How to ensure that all staff are aware of business continuity and disaster recovery plans?

P3.4 

Create risk mitigation plans: the goal of the process is to make a risk mitigation plan using the following questions.

Which risk will be mitigated immediately?

Which risk will be mitigated later?

What actions could be taken to make the mitigation plan?

P3.5 

Control activities: the mitigation plan composed of control activities is implemented in this process. The types of controls will be preventive, detective, manual, or automated.

P3.6 

Identify next steps and monitoring: The senior managers must identify the next steps, which will be considered after implementing the mitigation plans though the following questions:

Which security points should be reviewed?

How can senior managers support the initiative of security improvement?

What are the plans for ongoing security evaluation activities?

Management must continue to monitor the effectiveness of the entire ERMOCTAVE to verify that the program adequately addresses the relevant risks and facilitates achieving the cloud computing objectives.
4. Case Study with Microsoft Azure Cloud
Selecting a good cloud vendor is an important step during the decision-making process of immigration to cloud computing. Instead of including the step in the proposed infrastructure, we propose two papers: Baldwin et al. recommended cloud computing environments that work as stable ecosystems for better risk management [
23
], and Martens and Teuteberg proposed a decision model that computes cost for each cloud source and property of a company who tries to adopt cloud computing. Baldwin et al. insisted that a cloud computing system evolves by overcoming attacks from outside and by adopting new concepts and technologies if the system is constructed as an ecosystem with interacting customers, software vendors, and a cloud platform. The feature of Martens and Teuteberg's model is that it outputs costs as the decision background. Thus, it helps decision-making when selecting a cloud computing for immigration quite directly.
We borrow a scenario where an organization adopts cloud computing from a Microsoft Azure manual [
24
]. Since Microsoft Azure takes 15.2% market share in worldwide cloud infrastructure, it is a good choice with stable ecosystem especially for Microsoft Windows users [
25
]. The scenario involves a company who uses a web application called 'orders application' to sell products over the Internet, quite common situation for small company to immigration toward cloud computing. As an Internet-focused organization, it has partnered with external companies that provide services such as transport and delivery. The transport partner merely needs to be advised when an order is made and may also advise the company when delivery to the customer has been done.
Although the order is being used for the business interface, other on-premises applications are used for invoicing, supplier orders, planning management and more. However, this case study only deals with the order's application and its integration with other systems, such as the main management and monitoring applications on-premises.
The company adopts cloud computing to the web application using Microsoft Azure, which is used as a platform for new services and extended capabilities. The company aims to reduce on-premises office costs by exploiting new technologies such that the business offerings in the cloud. Although we are aware of the desire to keep the availability of existing applications to support an immense customer base, the company is willing to invest in the new services development and the change of existing services to enhance the profitability. This includes dealing ahead for concerns such as increased request for their services, offering better business information capabilities, enhancing application availability and performance, and dealing with complexity by, for example, adding external partners.
In our scenario, some vital functions like management/operations applications and some databases are not located in the cloud but on premises. Separated transport partners perform transport and delivery functions. They may use cloud-based services by themselves, but this does not affect the company's application design and implementation.
5. Functionality Comparison
The functionality of the proposed ERMOCTAVE is compared with ENISA cloud risk assessment and Microsoft cloud risk assessment based on ISO 31000.
Table 4
shows a comparison between the three frameworks.
The table shows that ERMOCTAVE method has some important features that the ISO 31000 Cloud Risk Framework and ENISA cloud risk assessment fail to provide. These features and their role in the cloud risk management process are specified below.
Key objectives and strategies establishes a philosophy regarding risk management in the cloud computing by recognizing that unexpected and expected events may occur [

34

].

The critical asset is the most important asset in the cloud computing network. The organization would be largely impacted if something happens to critical assets [

35

].

Risk impact criteria which defines and specifies quantitative measures that are used to evaluate a risk's effect on the organization's mission and business objectives.

Specification of inherent risk refers the level of risk where no control is applied, while specification of residual risk refers the level of risk where all controls are applied.

Risk response provides options and determines actions to enhance opportunities and to reduce threats to the objectives. It includes the identification of actions and decisions on each agreed risk response [

36

].

Mitigation plan refers as action plan to reduce the impacts of the identified risks, even before any damage or disaster takes place. Risk mitigation plans incorporate a list of actions designed to counter the threats linked to each asset. It also serves as the security manager's checklist for monitoring.

Dedicated method: Other approaches are only guidelines and documentations while ERMOCTAVE method is a dedicated and core framework which provides a detailed methodology.
6. Conclusions
The paper proposes a risk management method, ERMOCTAVE, for dealing with risks that arise when an organization uses cloud computing as a part of its system. The proposed method combines the Enterprise Risk Management framework and Operationally Critical Threat, Asset, and Vulnerability Evaluation method with a proper assessment of cloud computing risks. ERMOCTAVE identifies critical assets of cloud computing and links different risks to each specific asset.
Unlike the previous approaches, which are only guidelines or documentations and do not provide the plan of mitigating and controls activities, ERMOCTAVE is a dedicated and core framework providing a detailed mitigation plan and control actions of each identified risk of the organization with cloud computing.
After applying ERMOCTAVE to a chosen Azure cloud scenario, the results are compared with exiting methods (ENISA and Cloud Risk Assessment). The comparison shows that ERMOCTAVE provides important features of effective risk managements in cloud computing.
There are various avenues for further research regarding risk management on cloud computing immigration. One direction is to introduce additional features, like risk appetite, to provide full detail to specific risk identification, such as a risk profile tree. It would be interesting to analyze risk communication by which results of assessment are transferred to decision makers or the public. Good risk communication is essential in explaining official policies to stakeholders, containing relations between risk, cost, and benefit, in detail. Future research is to evaluate and analyze effects of adding more risk criteria. It might allow us to identify risks from new area impacting the cloud computing.
Author Contributions
Conceptualization, S.-Y.S.; Formal analysis, T.-Y.C.; Investigation, M.M.; Project administration, T.-Y.C.; Supervision, T.-Y.C.; Validation, S.-Y.S.; Writing—original draft, M.M.; Writing—review & editing, T.-Y.C.
Funding
This research was conducted during the sabbatical year awarded by Kumoh National Institute of Technology.
Conflicts of Interest
The authors declare no conflicts of interest.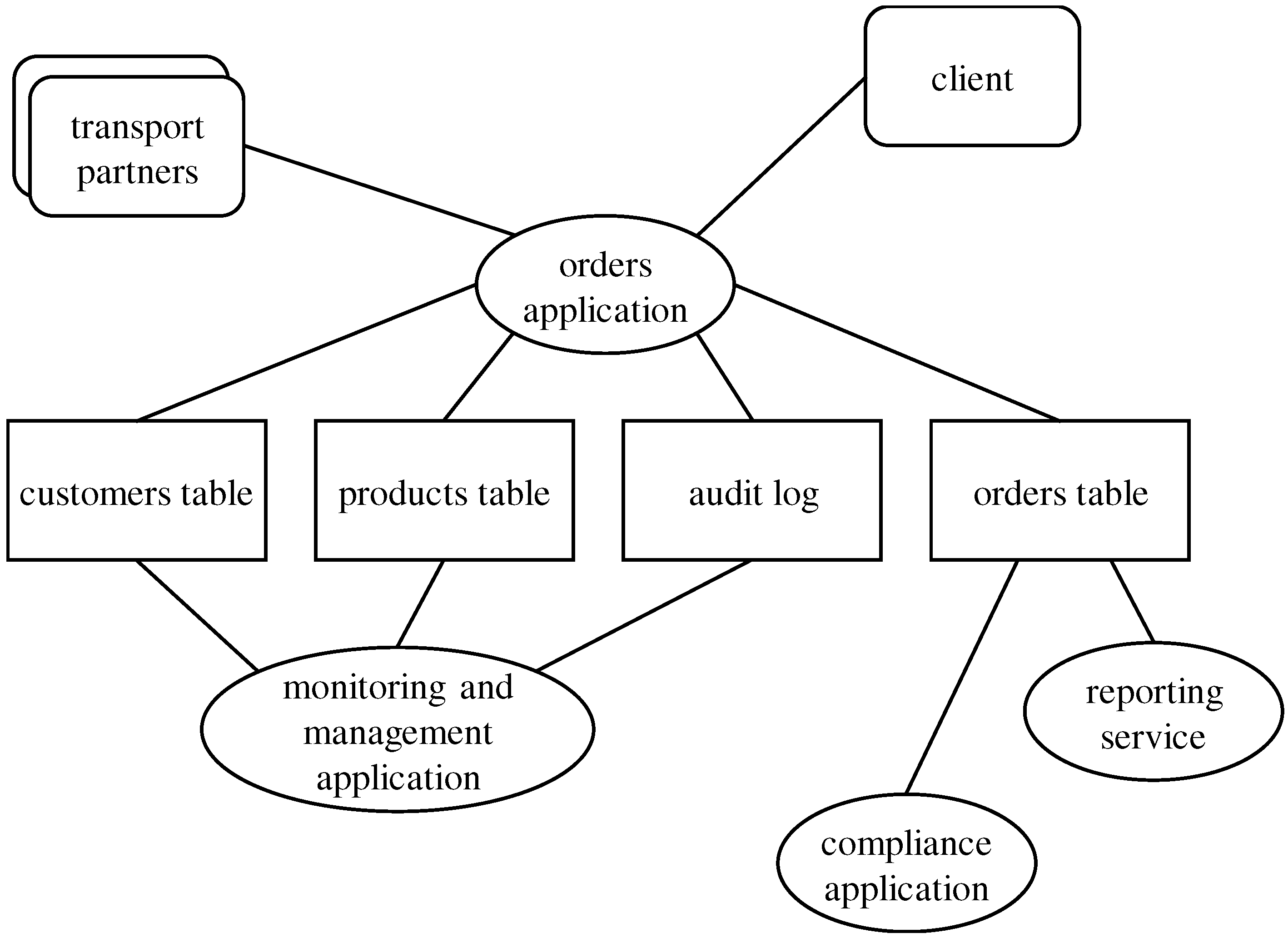 | Impact Area | High (3) | Medium (2) | Low (1) | Notes |
| --- | --- | --- | --- | --- |
| Reputation | O | | | Reputation is destroyed. |
| Customer confidence | O | | | Huge drop in customers due to loss of availability. |
| Productivity | | O | | Inability to access order table to deliver products. |
| Fines/legal penalties | O | | | High profile, deep investigation of the person who violates the rules. |
| Impact Area | High (3) | Medium (2) | Low (1) | Notes |
| --- | --- | --- | --- | --- |
| Reputation | | O | | Unauthorized access to the orders application affects how the company is viewed from externals. |
| Customer confidence | O | | | The orders table privacy is highly violated, and sensitive information can be hijacked. |
| Productivity | | | O | The intrusion may get unauthorized access on orders application, but it would not stop the cloud to deliver orders. |
| Fines / legal penalties | O | | | Investigations should operate in depth and huge fines could be imposed if the intrusion comes out to be quality. |
| Impact Area | High (3) | Medium (2) | Low (1) | Notes |
| --- | --- | --- | --- | --- |
| Reputation | | O | | News about the data loss may affect reputation of the company. |
| Customer confidence | | | O | Online shopping process does not stop because necessary information is stored in cloud. |
| Productivity | | | O | There are a little or no delay on order and delivery processes because the processes use data in cloud. |
| Fines/legal penalties | | O | | People responsible of this data loss must be under investigation. |
| Impact Area | Ranking | Risk 1 Impact Value | Score | Ranking | Risk 2 Impact Value | Score | Ranking | Risk 3 Impact Value | Score |
| --- | --- | --- | --- | --- | --- | --- | --- | --- | --- |
| Reputation | 2 | 3 | 6 | 2 | 2 | 4 | 1 | 2 | 2 |
| Customer confidence | 4 | 3 | 12 | 4 | 3 | 12 | 2 | 1 | 2 |
| Productivity | 1 | 2 | 2 | 1 | 1 | 1 | 4 | 1 | 4 |
| Fines/legal penalties | 3 | 3 | 9 | 3 | 3 | 9 | 3 | 2 | 6 |
| Risk score | | | 29 | | | 26 | | | 14 |
Category
Title
Contents
review
security policies

review policies and procedures regarding Azure cloud at all levels and actively enforce them.

review all policies and procedures; compare them to other cloud infrastructures considered to have best in practices.

make sure that IT laws and regulations are incorporated into policies, procedures, and training.

physical security

review, update, and enforce our policies on database on premises.

management
security management

allocate greater funds for cloud system security.

clearly define responsibilities of staff and communicate it to all personnel.

collaborative security management

update current policies for working with third parties.

staff security

clearly document procedures for incident identification.

plan
security awareness and training

provide all new employees with baseline training about Azure cloud computing.

provide annual training in cloud physical security for all staff.

disaster recovery plan

review contingency plans and procedures annually.

update business continuity plan.

physical security

establish a policy in which internal and external personnel are responsible for physical security.
| Function | ERMOCTAVE | ISO 31000 | ENISA |
| --- | --- | --- | --- |
| key objectives and strategies | O | X | X |
| critical asset | O | X | X |
| risk impact criteria | O | X | X |
| risk impact | O | O | O |
| risk likelihood | O | O | O |
| specification of inherent and residual risk | O | X | X |
| risk response | O | O | X |
| mitigation plan | O | X | X |
| risk control area | X | O | O |
| dedicated method | O | O | X |

© 2019 by the authors. Licensee MDPI, Basel, Switzerland. This article is an open access article distributed under the terms and conditions of the Creative Commons Attribution (CC BY) license (http://creativecommons.org/licenses/by/4.0/).