Scale-Up Synthesis and In Vivo Anti-Tumor Activity of Curcumin Diethyl Disuccinate, an Ester Prodrug of Curcumin, in HepG2-Xenograft Mice
1
Pharmaceutical Chemistry and Natural Products Program, Faculty of Pharmaceutical Sciences, Chulalongkorn University, Bangkok 10330, Thailand
2
Natural Products for Ageing and Chronic Diseases Research Unit, Chulalongkorn University, Bangkok 10330, Thailand
3
Department of Analytical Development, Pharma Nueva Co. Ltd., Bangkok 10900, Thailand
4
Pharmaceutical Ingredient Research Group, Research and Development Institute, The Government Pharmaceutical Organization, Bangkok 10400, Thailand
5
Center of Excellence for Microcirculation, Department of Physiology, Faculty of Medicine, Chulalongkorn University, Bangkok 10300, Thailand
6
Department of Food and Pharmaceutical Chemistry, Faculty of Pharmaceutical Sciences, Chulalongkorn University, Bangkok 10330, Thailand
*
Author to whom correspondence should be addressed.
Received: 30 June 2019 / Revised: 22 July 2019 / Accepted: 23 July 2019 / Published: 1 August 2019
Abstract
Previously, we synthesized curcumin and a succinate ester prodrug of curcumin namely curcumin diethyl disuccinate (CurDD) in the lab scale, which yielded hundred milligrams to few grams of the compounds. CurDD was found to be more stable in a phosphate buffer pH 7.4 and exhibited better cytotoxicity against Caco-2 cells than curcumin. Here, the one-pot syntheses of curcumin and CurDD were scaled up to afford multigram quantities of both compounds for preclinical studies using a 10-L chemical reactor. The key steps for the synthesis of curcumin were the formation of boron-acetylacetone complex and the decomplexation of boron-curcumin complex. The synthesis of CurDD could be achieved via a one-step esterification between curcumin and succinic acid monoethyl ester chloride using 4-(
N
,
N
-dimethylamino)pyridine as a catalyst. The synthesized curcumin and CurDD were then investigated and compared for an anti-tumor activity in HepG2-xenograft mice. CurDD could reduce the tumor growth in HepG2-xenograft mice better than curcumin. CurDD also exerted the stronger inhibition on VEGF secretion, COX-2 and Bcl-2 expression and induced higher Bax expression in comparison with curcumin. The results suggest that CurDD is a promising prodrug of curcumin and has a potential to be further developed as a therapeutic agent or an adjuvant for the treatment of hepatocellular carcinoma.
View Full-Text
►

▼

Figures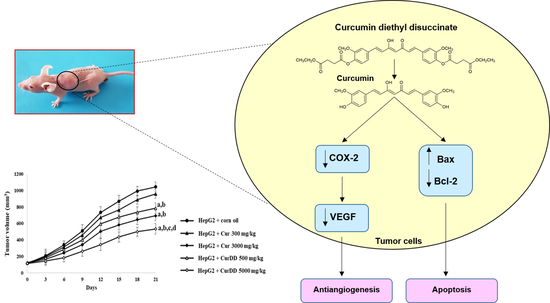 Graphical abstract
This is an open access article distributed under the
Creative Commons Attribution License
which permits unrestricted use, distribution, and reproduction in any medium, provided the original work is properly cited (CC BY 4.0).

Share & Cite This Article
MDPI and ACS Style
Muangnoi, C.; Ratnatilaka Na Bhuket, P.; Jithavech, P.; Wichitnithad, W.; Srikun, O.; Nerungsi, C.; Patumraj, S.; Rojsitthisak, P. Scale-Up Synthesis and In Vivo Anti-Tumor Activity of Curcumin Diethyl Disuccinate, an Ester Prodrug of Curcumin, in HepG2-Xenograft Mice. Pharmaceutics 2019, 11, 373.
Note that from the first issue of 2016, MDPI journals use article numbers instead of page numbers. See further details here.
Related Articles
Comments
[Return to top]