Synthesis and Preclinical Evaluation of Radio-Iodinated GRPR/PSMA Bispecific Heterodimers for the Theranostics Application in Prostate Cancer
1
Department of Medicinal Chemistry, Uppsala University, 75183 Uppsala, Sweden
2
Department of Immunology, Genetics and Pathology, Uppsala University, 75183 Uppsala, Sweden
3
Science for Life Laboratory, Uppsala University, 75183 Uppsala, Sweden
*
Author to whom correspondence should be addressed.
Received: 15 June 2019 / Revised: 16 July 2019 / Accepted: 20 July 2019 / Published: 23 July 2019
Abstract
Gastrin-releasing peptide receptor (GRPR) and prostate-specific membrane antigen (PSMA) are overexpressed in most prostate cancers. GRPR expression is higher in early stages while PSMA expression increases with progression. The possibility of targeting both markers with a single theranostics radiotracer could improve patient management. Three GRPR/PSMA-targeting bispecific heterodimers (urea derivative PSMA-617 and bombesin-based antagonist RM26 linked via X-triazolyl-Tyr-PEG2, X = PEG2 (BO530), (CH
2
)
8
(BO535), none (BO536)) were synthesized by solid-phase peptide synthesis. Peptides were radio-iodinated and evaluated in vitro for binding specificity, cellular retention, and affinity. In vivo specificity for all heterodimers was studied in PC-3 (GRPR-positive) and LNCaP (PSMA-positive) xenografts. [
125
I]I-BO530 was evaluated in PC-3pip (GRPR/PSMA-positive) xenografts. Micro single-photon emission computed tomography/computed tomography (microSPECT/CT) scans were acquired. The heterodimers were radiolabeled with high radiochemical yields, bound specifically to both targets, and demonstrated high degree of activity retention in PC-3pip cells. Only [
125
I]I-BO530 demonstrated in vivo specificity to both targets. A biodistribution study of [
125
I]I-BO530 in PC-3pip xenografted mice showed high tumor activity uptake (30%–35%ID/g at 3 h post injection (pi)). Activity uptake in tumors was stable and exceeded all other organs 24 h pi. Activity uptake decreased only two-fold 72 h pi. The GRPR/PSMA-targeting heterodimer [
125
I]I-BO530 is a promising agent for theranostics application in prostate cancer.
View Full-Text
►

▼

Figures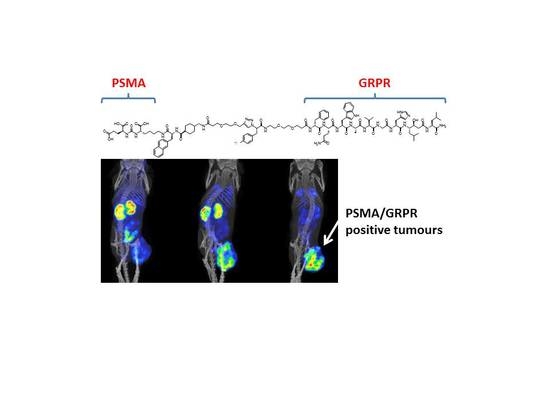 Graphical abstract
This is an open access article distributed under the
Creative Commons Attribution License
which permits unrestricted use, distribution, and reproduction in any medium, provided the original work is properly cited (CC BY 4.0).

Share & Cite This Article
MDPI and ACS Style
Abouzayed, A.; Yim, C.-B.; Mitran, B.; Rinne, S.S.; Tolmachev, V.; Larhed, M.; Rosenström, U.; Orlova, A. Synthesis and Preclinical Evaluation of Radio-Iodinated GRPR/PSMA Bispecific Heterodimers for the Theranostics Application in Prostate Cancer. Pharmaceutics 2019, 11, 358.
Note that from the first issue of 2016, MDPI journals use article numbers instead of page numbers. See further details here.
Related Articles
Comments
[Return to top]