A Low-Molecular-Weight Polyethylenimine/pDNA-VEGF Polyplex System Constructed in a One-Pot Manner for Hindlimb Ischemia Therapy
Engineering Research Center of Cell & Therapeutic Antibody, Ministry of Education, and School of Pharmacy, Shanghai Jiao Tong University, Shanghai 200240, China
*
Author to whom correspondence should be addressed.
Received: 7 February 2019 / Revised: 2 April 2019 / Accepted: 4 April 2019 / Published: 8 April 2019
Abstract
Peripheral arterial disease (PAD) is often characterized by continued reduction in blood flow supply to limbs. Advanced therapeutic strategies like gene therapy could potentially be applied to limb ischemia therapy. However, developing a gene delivery system with low toxicity and high efficiency remains a great challenge. In this study, a one-pot construction was used to integrate vector synthesis and polyplex fabrication simultaneously in a simple and robust manner. We fabricated an interpenetrating gene delivery network through the physical interaction between low-molecular-weight polyethylenimine (PEI 1.8 kDa) and plasmid DNA (pDNA) and the chemical bonding between PEI and glutaraldehyde (GA), which was named the glutaraldehydelinked-branched PEI (GPEI) polyplex. The final GPEI polyplex system was pH-responsive and biodegradable due to the imine linkage and it could successfully deliver desired vascular endothelial growth factor (VEGF) pDNA. Compared with PEI (25 kDa)/pDNA polyplexes, GPEI polyplexes showed lower cytotoxicity and higher transfection efficiency both in vitro and in vivo. In addition, we demonstrated that GPEI polyplexes could efficiently promote the formation of new capillaries in vivo, which may provide a practicable strategy for clinical hindlimb ischemia therapy in the future.
View Full-Text
►

▼

Figures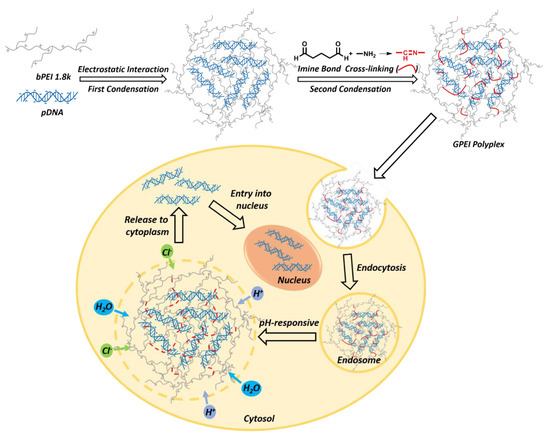 Figure 1
This is an open access article distributed under the
Creative Commons Attribution License
which permits unrestricted use, distribution, and reproduction in any medium, provided the original work is properly cited (CC BY 4.0).

Share & Cite This Article
MDPI and ACS Style
Guo, X.; Yuan, Z.; Xu, Y.; Zhao, X.; Fang, Z.; Yuan, W.-E. A Low-Molecular-Weight Polyethylenimine/pDNA-VEGF Polyplex System Constructed in a One-Pot Manner for Hindlimb Ischemia Therapy. Pharmaceutics 2019, 11, 171.
Note that from the first issue of 2016, MDPI journals use article numbers instead of page numbers. See further details here.
Related Articles
Comments
[Return to top]