Pharmaceutical Dispersion Techniques for Dissolution and Bioavailability Enhancement of Poorly Water-Soluble Drugs
1
Department of Pharmaceutics, College of Pharmacy, Jinan University, 601 West Huangpu Avenue, Guangzhou 510632, China
2
Institute of Laboratory Animals, Jinan University, 601 West Huangpu Avenue, Guangzhou 510632, China
*
Author to whom correspondence should be addressed.
Received: 27 May 2018 / Revised: 19 June 2018 / Accepted: 19 June 2018 / Published: 23 June 2018
Abstract
Over the past decades, a large number of drugs as well as drug candidates with poor dissolution characteristics have been witnessed, which invokes great interest in enabling formulation of these active ingredients. Poorly water-soluble drugs, especially biopharmaceutical classification system (BCS) II ones, are preferably designed as oral dosage forms if the dissolution limit can be broken through. Minimizing a drug's size is an effective means to increase its dissolution and hence the bioavailability, which can be achieved by specialized dispersion techniques. This article reviews the most commonly used dispersion techniques for pharmaceutical processing that can practically enhance the dissolution and bioavailability of poorly water-soluble drugs. Major interests focus on solid dispersion, lipid-based dispersion (nanoencapsulation), and liquisolid dispersion (drug solubilized in a non-volatile solvent and dispersed in suitable solid excipients for tableting or capsulizing), covering the formulation development, preparative technique and potential applications for oral drug delivery. Otherwise, some other techniques that can increase the dispersibility of a drug such as co-precipitation, concomitant crystallization and inclusion complexation are also discussed. Various dispersion techniques provide a productive platform for addressing the formulation challenge of poorly water-soluble drugs. Solid dispersion and liquisolid dispersion are most likely to be successful in developing oral dosage forms. Lipid-based dispersion represents a promising approach to surmounting the bioavailability of low-permeable drugs, though the technique needs to traverse the obstacle from liquid to solid transformation. Novel dispersion techniques are highly encouraged to develop for formulation of poorly water-soluble drugs.
View Full-Text
►

▼

Figures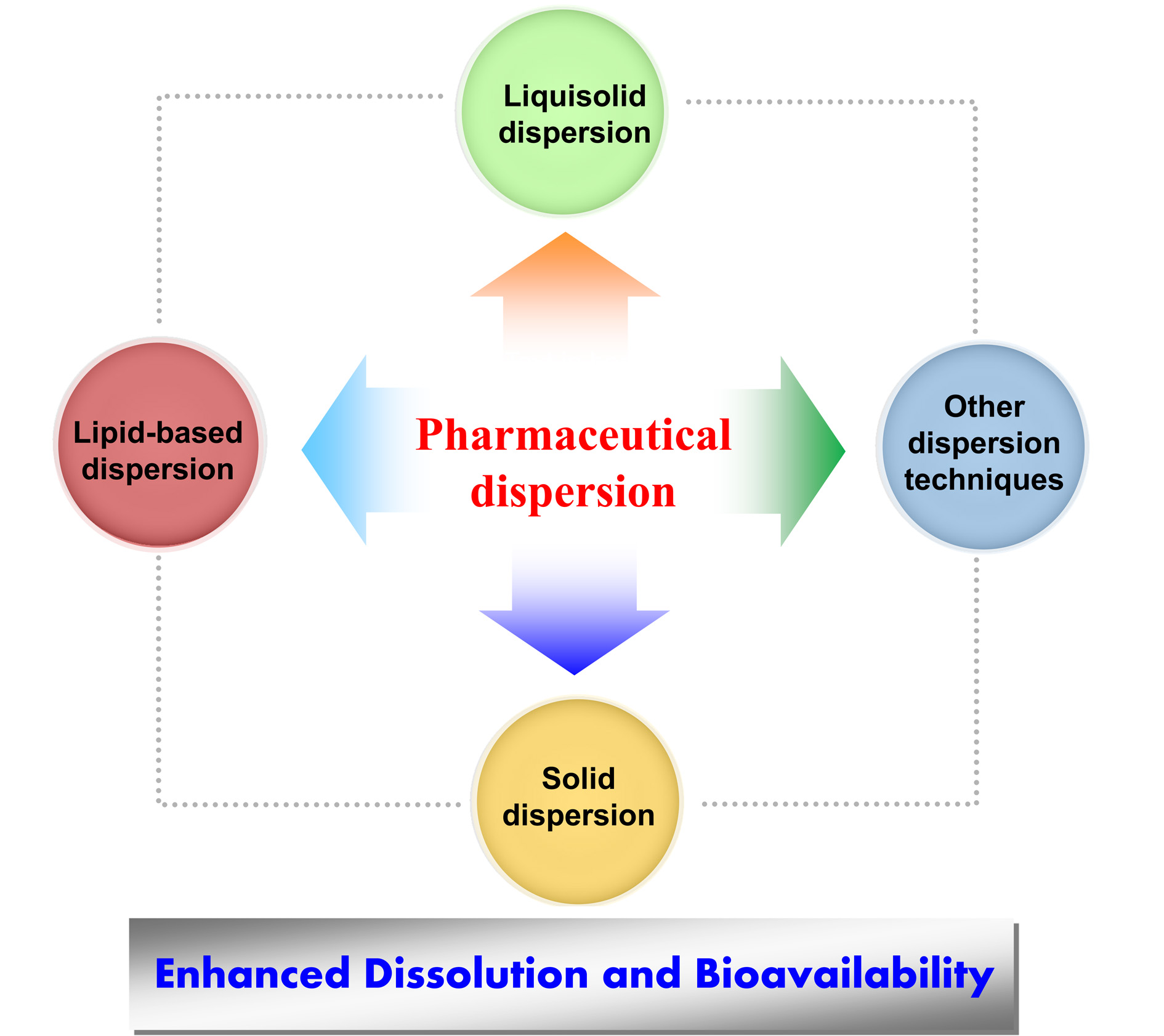 Graphical abstract
This is an open access article distributed under the
Creative Commons Attribution License
which permits unrestricted use, distribution, and reproduction in any medium, provided the original work is properly cited (CC BY 4.0).

Share & Cite This Article
MDPI and ACS Style
Zhang, X.; Xing, H.; Zhao, Y.; Ma, Z. Pharmaceutical Dispersion Techniques for Dissolution and Bioavailability Enhancement of Poorly Water-Soluble Drugs. Pharmaceutics 2018, 10, 74.
Note that from the first issue of 2016, MDPI journals use article numbers instead of page numbers. See further details here.
Related Articles
Comments
[Return to top]