Formulation, Development, and In Vitro Evaluation of a CD22 Targeted Liposomal System Containing a Non-Cardiotoxic Anthracycline for B Cell Malignancies
1
Plough Center for Sterile Drug Delivery Solutions, University of Tennessee Health Science Center, Memphis, TN 38163, USA
2
Department of Pharmaceutical Sciences, College of Pharmacy, University of Tennessee Health Science Center, Memphis, TN 38163, USA
3
Department of Pathology, College of Medicine, University of Tennessee Health Science Center, Memphis, TN 38163, USA
*
Author to whom correspondence should be addressed.
Received: 17 March 2018 / Revised: 9 April 2018 / Accepted: 11 April 2018 / Published: 15 April 2018
Abstract
Doxorubicin cardiotoxicity has led to the development of superior chemotherapeutic agents such as AD 198. However, depletion of healthy neutrophils and thrombocytes from AD 198 therapy must be limited. This can be done by the development of a targeted drug delivery system that delivers AD 198 to the malignant cells. The current research highlights the development and in vitro analysis of targeted liposomes containing AD 198. The best lipids were identified and optimized for physicochemical effects on the liposomal system. Physiochemical characteristics such as size, ζ-potential, and dissolution were also studied. Active targeting to CD22 positive cells was achieved by conjugating anti-CD22 Fab' to the liposomal surface. Size and ζ-potential of the liposomes was between 115 and 145 nm, and −8 to−15 mV. 30% drug was released over 72 h. Higher cytotoxicity was observed in CD22+ve Daudi cells compared to CD22−ve Jurkat cells. The route of uptake was a clathrin- and caveolin-independent pathway. Intracellular localization of the liposomes was in the endolysosomes. Upon drug release, apoptotic pathways were activated partly by the regulation of apoptotic and oncoproteins such as caspase-3 and c-myc. It was observed that the CD22 targeted drug delivery system was more potent and specific compared to other untargeted formulations.
View Full-Text
►

▼

Figures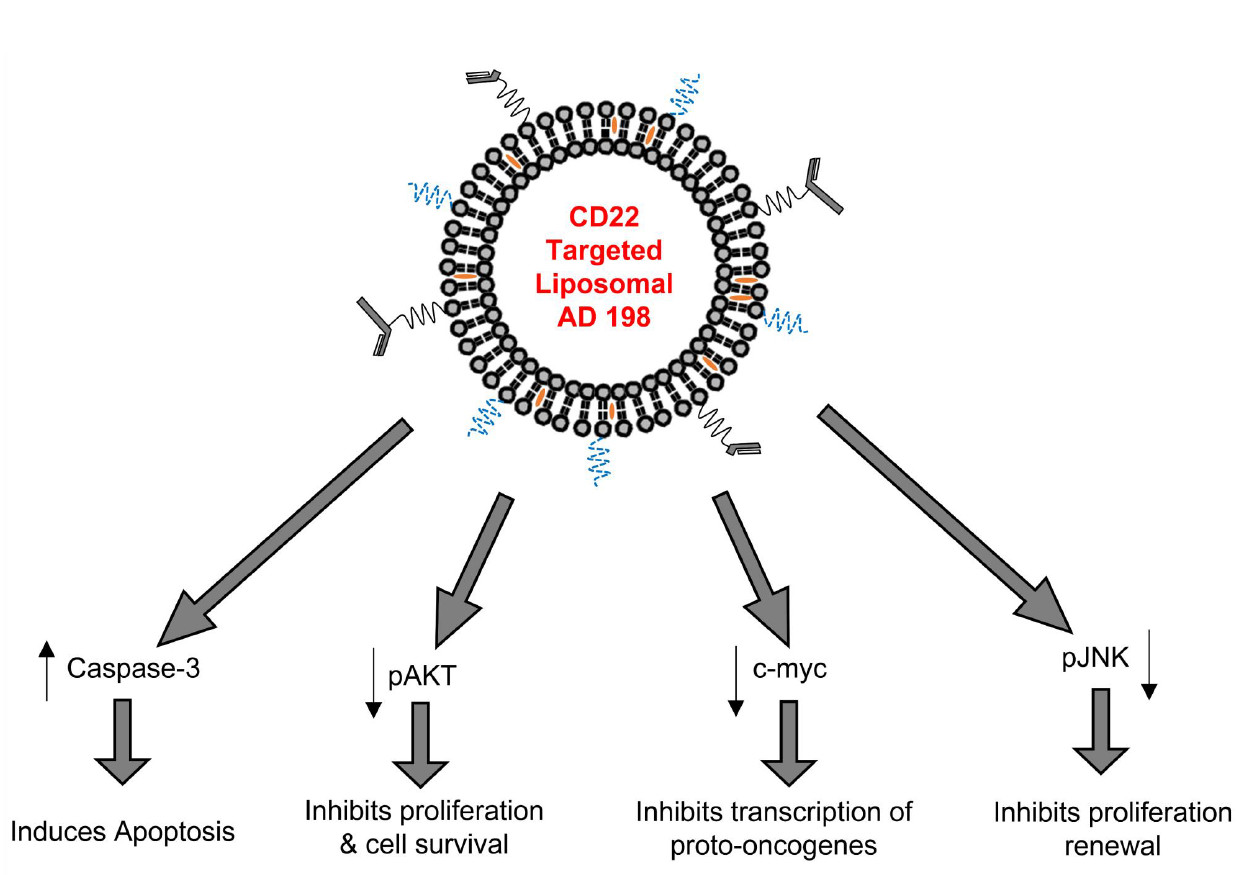 Graphical abstract
This is an open access article distributed under the
Creative Commons Attribution License
which permits unrestricted use, distribution, and reproduction in any medium, provided the original work is properly cited (CC BY 4.0).

Share & Cite This Article
MDPI and ACS Style
Mittal, N.K.; Mandal, B.; Balabathula, P.; Setua, S.; Janagam, D.R.; Lothstein, L.; Thoma, L.A.; Wood, G.C. Formulation, Development, and In Vitro Evaluation of a CD22 Targeted Liposomal System Containing a Non-Cardiotoxic Anthracycline for B Cell Malignancies. Pharmaceutics 2018, 10, 50.
Note that from the first issue of 2016, MDPI journals use article numbers instead of page numbers. See further details here.
Related Articles
Comments
[Return to top]