A Conserved Residue, Tyrosine (Y) 84, in H5N1 Influenza A Virus NS1 Regulates IFN Signaling Responses to Enhance Viral Infection
1
Toronto General Hospital Research Institute, University Health Network, 67 College Street, Toronto, ON M5G 2M1, Canada
2
Department of Immunology, University of Toronto, 1 King's College Circle, Toronto, ON M5S 1A8, Canada
3
Center for Molecular Design and Preformulations, University Health Network, 101 College Street, Toronto, ON M5G 1L7, Canada
4
Department of Pharmaceutical Sciences, Leslie Dan Faculty of Pharmacy, University of Toronto, 144 College Street, Toronto, ON M5S 3M2, Canada
5
Department of Biochemistry, Microbiology and Immunology, Faculty of Medicine, University of Ottawa, 451 Smyth Road, Ottawa, ON K1H 8M5, Canada
*
Author to whom correspondence should be addressed.
Academic Editor: Andrew Mehle
Received: 9 May 2017 / Accepted: 10 May 2017 / Published: 12 May 2017
Abstract
The non-structural protein, NS1, is a virulence factor encoded by influenza A viruses (IAVs). In this report, we provide evidence that the conserved residue, tyrosine (Y) 84, in a conserved putative SH2-binding domain in A/Duck/Hubei/2004/L-1 [H5N1] NS1 is critical for limiting an interferon (IFN) response to infection. A phenylalanine (F) substitution of this Y84 residue abolishes NS1-mediated downregulation of IFN-inducible STAT phosphorylation, and surface IFNAR1 expression. Recombinant IAV (rIAV) [H1N1] expressing A/Grey Heron/Hong Kong/837/2004 [H5N1] NS1-Y84F (rWSN-GH-NS1-Y84F) replicates to lower titers in human lung epithelial cells and is more susceptible to the antiviral effects of IFN-β treatment compared with rIAV expressing the intact H5N1 NS1 (rWSN-GH-NS1-wt). Cells infected with rWSN-GH-NS1-Y84F express higher levels of IFN stimulated genes (ISGs) associated with an antiviral response compared with cells infected with rWSN-GH-NS1-wt. In mice, intranasal infection with rWSN-GH-NS1-Y84F resulted in a delay in onset of weight loss, reduced lung pathology, lower lung viral titers and higher ISG expression, compared with mice infected with rWSN-GH-NS1-wt. IFN-β treatment of mice infected with rWSN-GH-NS1-Y84F reduced lung viral titers and increased lung ISG expression, but did not alter viral titers and ISG expression in mice infected with rWSN-GH-NS1-wt. Viewed altogether, these data suggest that the virulence associated with this conserved Y84 residue in NS1 is, in part, due to its role in regulating the host IFN response.
View Full-Text
►

▼

Figures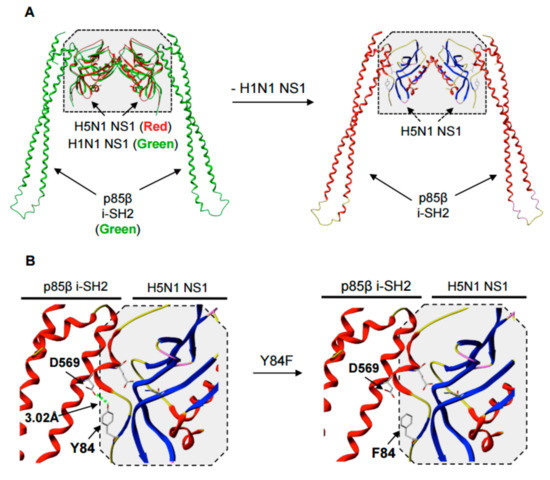 Figure 1
This is an open access article distributed under the
Creative Commons Attribution License
which permits unrestricted use, distribution, and reproduction in any medium, provided the original work is properly cited (CC BY 4.0).

Share & Cite This Article
MDPI and ACS Style
Wang, B.X.; Wei, L.; Kotra, L.P.; Brown, E.G.; Fish, E.N. A Conserved Residue, Tyrosine (Y) 84, in H5N1 Influenza A Virus NS1 Regulates IFN Signaling Responses to Enhance Viral Infection. Viruses 2017, 9, 107.
Note that from the first issue of 2016, MDPI journals use article numbers instead of page numbers. See further details here.
Related Articles
Comments
[Return to top]