Open Access This article is
freely available
re-usable
Article
Change in
Emiliania huxleyi
Virus Assemblage Diversity but Not in Host Genetic Composition during an Ocean Acidification Mesocosm Experiment
1
The Marine Biological Association, The Laboratory, Citadel Hill, Plymouth PL1 2PB, UK
2
The Microbiome Centre, Department of Surgery, University of Chicago, Chicago, IL 60637, USA
3
Division of Bioscience, Argonne National Laboratory, 9700 South Cass Avenue, Argonne, IL 60439, USA
4
Department of Biological Oceanography, NIOZ–Royal Netherlands Institute for Sea Research, P.O. Box 59, 1790 AB Den Burg, Texel, The Netherlands
*
Author to whom correspondence should be addressed.
Academic Editors: Corina P.D. Brussaard and Mathias Middelboe
Received: 12 January 2017 / Accepted: 2 March 2017 / Published: 8 March 2017
Abstract
:
Effects of elevated
p
CO
2
on
Emiliania huxleyi
genetic diversity and the viruses that infect
E. huxleyi
(EhVs) have been investigated in large volume enclosures in a Norwegian fjord. Triplicate enclosures were bubbled with air enriched with CO
2
to 760 ppmv whilst the other three enclosures were bubbled with air at ambient
p
CO
2
; phytoplankton growth was initiated by the addition of nitrate and phosphate.
E. huxleyi
was the dominant coccolithophore in all enclosures, but no difference in genetic diversity, based on DGGE analysis using primers specific to the calcium binding protein gene (
gpa
) were detected in any of the treatments. Chlorophyll concentrations and primary production were lower in the three elevated
p
CO
2
treatments than in the ambient treatments. However, although coccolithophores numbers were reduced in two of the high-
p
CO
2
treatments; in the third, there was no suppression of coccolithophores numbers, which were very similar to the three ambient treatments. In contrast, there was considerable variation in genetic diversity in the EhVs, as determined by analysis of the major capsid protein (
mcp
) gene. EhV diversity was much lower in the high-
p
CO
2
treatment enclosure that did not show inhibition of
E. huxleyi
growth. Since virus infection is generally implicated as a major factor in terminating phytoplankton blooms, it is suggested that no study of the effect of ocean acidification in phytoplankton can be complete if it does not include an assessment of viruses.
Keywords:
Emiliania huxleyi
; CO
2
; ocean acidification; climate change;
Coccolithovirus
; EhV
2. Materials and Methods
2.1. Experimental Set-Up and Sampling
The mesocosm experiment was done in the Raunefjorden at the University of Bergen Espegrand field station, Norway (latitude: 60°16′ N; longitude: 5°13′ E) during May 2006. The experiment had two phases. The first phase, until 15 May, followed the development of a phytoplankton bloom and the second phase studied the decline of the bloom; only the first phase of the experiment is considered here. Six polyethylene enclosures of 2 m diameter and 3.5 m depth containing 11 m
3
water were moored ca. 200 m from the shore and filled simultaneously with fjord water, salinity 31.4, and temperature 10.4 °C. Over a 40 h period from 4–6 May, 3 enclosures were bubbled with air enriched with CO
2
to 760 ppmv whilst the other 3 enclosures were bubbled with air at ambient
p
CO
2
. The
p
CO
2
in the air mixture was measured inline with a LI-COR 6262 CO
2
/H
2
O analyser (LI-COR, Inc., Lincoln, NE, USA). After equilibration, the pH of each of the high
p
CO
2
treatments was 7.8 and the ambient treatment mesocosms were all pH 8.15. High precision alkalinity and
p
CO
2
measurements were made throughout the experiment and pH was calculated [
18
]. All mesocosms were covered with UV-transparent polyethylene to maintain the appropriate CO
2
concentration in the headspace above the enclosures, whilst allowing transmission of the complete spectrum of light and the exclusion of rainwater. Phytoplankton blooms were initiated on 6 May by the addition of 15 µmol·L
−1
NaNO
3
bringing the initial nitrate concentration to 16.1 µmol·N·L
−1
and 1 µmol·L
−1
NaH
2
PO
4
to give an initial phosphate concentration 1.19 µmol·P·L
−1
. Silicate was not added because the aim was to test the effects of pH change on coccolithophores, but rather to stimulate diatom growth; the initial silicate concentration was 0.25 µmol·Si·L
−1
.
2.2. Water Sampling
The majority of measurements were made on water samples taken at the same time each day, between 10 a.m. and 11 a.m. Water samples were collected in 5 L carboys and transported to the shore laboratory where they were processed in a temperature controlled room at ambient seawater temperature.
2.3. Nutrient and Phytoplankton Analysis
Nutrient concentrations were determined on duplicate water samples by colorimetric analysis using the methods of Brewer and Riley [
19
] for nitrate, Grasshoff [
20
] for nitrite, and Kirkwood [
21
] for phosphate. Chlorophyll concentration was determined fluorometrically each day during the experiment, using the method of Holm-Hansen et al. [
22
] on water samples filtered through GFF glass fibre filters to monitor phytoplankton development. Samples were also taken for HPLC analysis of phytoplankton pigments, with GFF filters being stored at −80 °C between the period of sampling and laboratory analysis. Coccolithophore numbers were enumerated by analytical flow cytometry.
The rate of carbon fixation was estimated from the incorporation of
14
C-bicarbonate following the method of Joint and Pomroy [
23
]. Surface water samples were collected from each mesocosm at dawn and transferred into five 60 mL clear polycarbonate bottles and a single black polycarbonate bottle; all bottles were cleaned following JGOFS protocols [
24
] to reduce trace metal contamination. Each bottle was inoculated with 37 kBq (1 µCi) NaH
14
CO
3
; bottles were incubated at the surface and depths of 0.5, 1, 2 and 3 m in the fjord adjacent to the mesocosm facility for 24 h. Samples were filtered through 0.2 µm pore-size polycarbonate filters, dried, and treated with fuming HCl to remove unfixed
14
C and the assimilated
14
C fraction was measured in a liquid scintillation counter. The efficiency of the LSC was determined with an external standard, channels ratio method. The quantity of
14
C added to the experimental bottles was determined by adding aliquots of the stock
14
C solution to a CO
2
-absorbing scintillation cocktail, which was counted immediately in the LSC.
2.4. Extraction of DNA
Collected water was stored at 4 °C until it was filtered, which occurred within several hours. Five litres of water from each mesocosm were filtered through a Sterivex-GP Sterile Vented Filter Unit, 0.22 µm (Millipore, Merck KGaA, Darmstadt, Germany). Filters were snap frozen in liquid nitrogen and maintained at −80 °C until they were processed. In addition, 2 mL 1× PBS was applied to the filters to wash off biomass and this was pelleted by centrifugation. DNA was extracted using the Qiagen DNeasy blood and tissue kit (Qiagen, Valencia, CA, USA) according to the manufacturer's instructions.
2.5. Polymerase Chain Reaction (PCR) and Denaturing Gradient Gel Electrophoresis (DGGE) of E. huxleyi and EhV Populations
PCR/DGGE analyses of extracted DNA from the 6 mesocosms were carried out according to the protocol for
E. huxleyi
and
E. huxleyi
viruses (EhV), as detailed in Schroeder et al. [
25
] and Schroeder et al. [
13
], respectively, using primers specific to the calcium binding protein gene (
gpa
) for
E. huxleyi
and the major capsid protein (
mcp
) gene for EhV. PCR products for
gpa
and
mcp
were run on a 30%–50% denaturing gel according to Schroeder et al. in order to visualise the respective community structures [
13
]. DGGE profiles for EhV were analysed using Genetools (Syngene, Cambridge, UK) using rolling disk baseline correction and minimum peak detection; width 7, height 3, volume 2% and Savitsky–Golay filter 3 to discriminate and quantify different bands/peaks.
2.6. Statistical Analysis
Ambient and high CO
2
multi-dimensional analysis (MDA) ordinations were calculated using Primer (v6) [
26
] using Bray–Curtis resemblance matrices produced from the DGGE profiles where bands were detected according to their migration distance down the tracks using Genetools (Syngene, Cambridge, UK). Principal component analysis (PCA) were calculated in Primer using all data obtained in the experiment to investigate which components might define differences/similarities between samples.
3. Results
3.1. Bloom Evolution—pH, Nutrients and Primary Production
Following bubbling to achieve the target pHs in all mesocosms, the experimental phase was initiated on 6 May, by the addition of nitrate and phosphate. Initial pH of the non-modified treatment mesocosms was 8.14.
Figure 1
a shows the values of pH during the first nine days of the experiment that were calculated from high precision
p
CO
2
data (
Figure 1
b) [
18
]. For four days, pH and
p
CO
2
remained constant with little variation between replicate treatments. After 10 May, pH began to increase in all mesocosms, with declining
p
CO
2
values as the phytoplankton bloom developed.
Figure 1
c,d record the changes in nitrate and phosphate concentration, including the initial nutrient addition. Both nutrients declined in concentration after 10 May as phytoplankton biomass increased (
Figure 1
e). Chlorophyll a concentration increased rapidly in all enclosures (
Figure 1
f), reaching a maximum on 13 May. However, there were differences in the maximum concentrations attained; the three high
p
CO
2
-treatment mesocosms had maximum chlorophyll concentrations of 6.23, 4.51 and 6.08 µg·L
−1
, but chlorophyll concentrations were higher (10.71 and 11.22 µg·L
−1
) in two of the ambient high
p
CO
2
-treatment mesocosms (4 and 6). A slightly lower phytoplankton biomass developed in enclosure M5—one of the ambient
p
CO
2
-treatment mesocosm—with a chlorophyll a concentration of 9.60 µg·L
−1
. The chlorophyll concentration in this mesocosm also declined more rapidly after 13 May than in the other treatments.
Primary production rates were very consistent in the three high
p
CO
2
-treatment mesocosms (
Figure 1
f), reaching maximum values on 12 May, with little variation between enclosures. In all the ambient
p
CO
2
mesocosms, primary production was >900 mg C m
−2
·d
−1
on 12 May and remained at this value for two days in M4 and M6. However, production in M5 was less than in the other two ambient
p
CO
2
-treatments, which is consistent with the lower chlorophyll concentration in this enclosure.
3.2. E. huxleyi Genetic Composition during the Mesocosm Experiment
3.3. EhV Population Analysis
Acknowledgments
Twenty-seven people participated in the mesocosm experiment and we thank all of them for their contributions. In particular, we thank Dorothee Bakker for high precision measurements of the carbonate system, Isabel Mary and Andrew Whiteley for flow cytometer measurements of coccolithophore number and Cecilia Balestreri for laboratory support. Special thanks are due to the staff at the Espegrand field station for their assistance. The mesocosm experiment was supported by NERC, through Grant No. NE/C507902, as part of the Post-Genomics and Proteomics Programme.
Author Contributions
I.J. and D.C.S. conceived and designed the experiments; A.H. and K.J.C. performed the experiments; A.H., I.J. and D.C.S. analyzed the data; J.G. contributed reagents/materials/analysis tools; and A.H. and I.J. wrote the paper.
Conflicts of Interest
The authors declare no conflict of interest.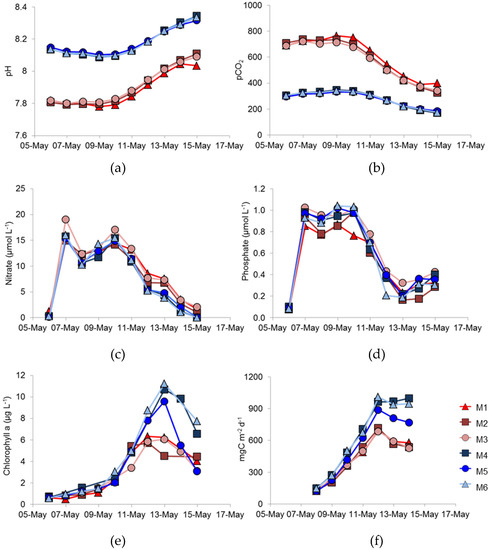 Figure 1.
Temporal changes over the period of the experiment in (
a
) pH, which was calculated from measurements of (
b
)
p
CO
2
in µatmospheres; (
c
) nitrate concentration, µmol·N·L
−1
; (
d
) phosphate concentration µmol·P·L
−1
; (
e
) chlorophyll concentration µg·L
−1
; and (
f
) depth-integrated primary production as mg·C·m
−2
·d
−1
. Enclosures M1 (
▲
), M2 (
■
), M3 (
●
), M4 (
■
), M5 (
●
), M6 (
▲
).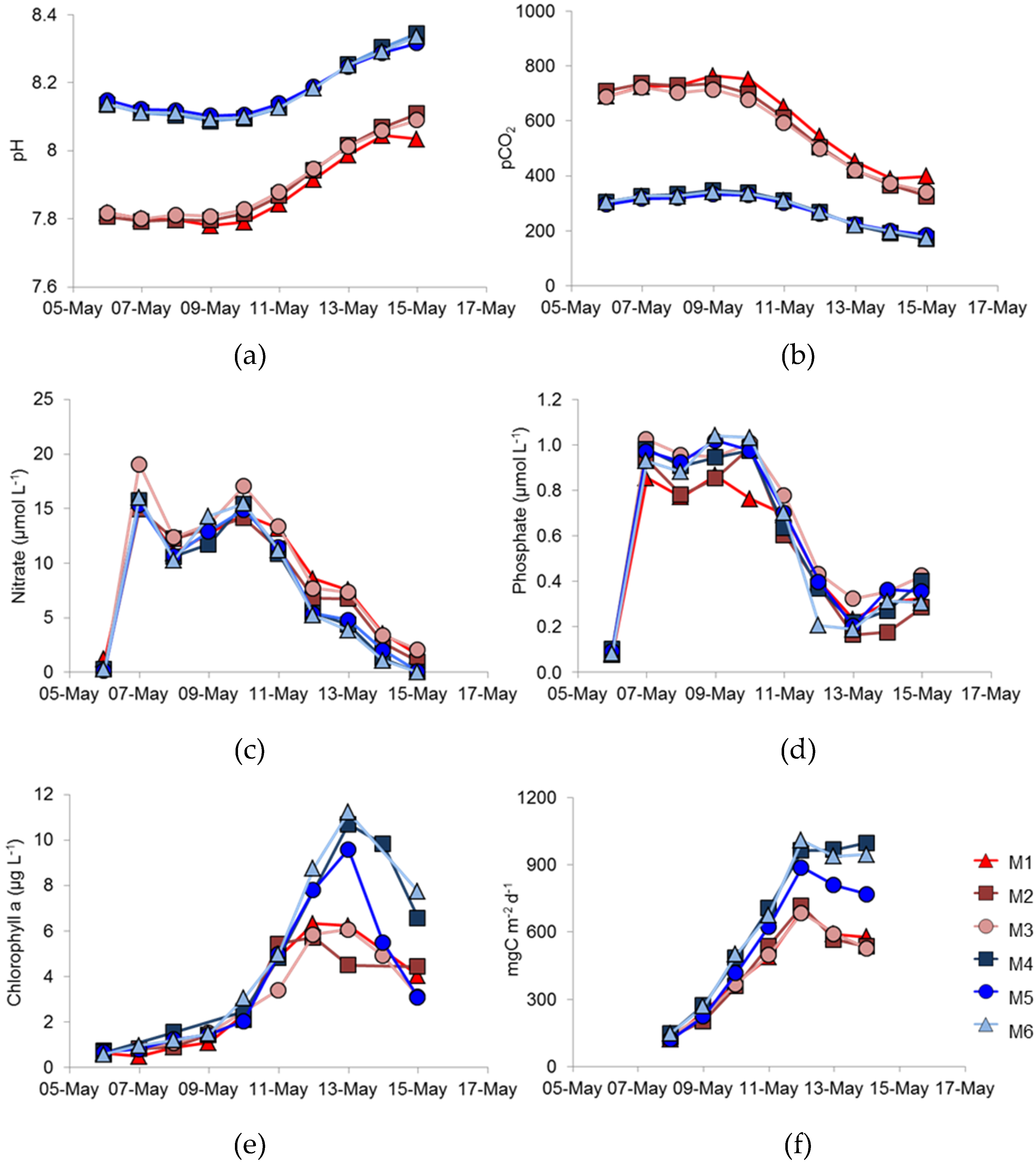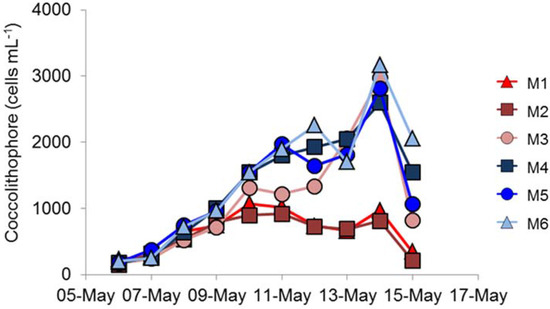 Figure 2.
Total coccolithophore numbers assessed by flow cytometry. Enclosures M1 (
▲
), M2 (
■
), M3 (
●
), M4 (
■
), M5 (
●
), M6 (
▲
).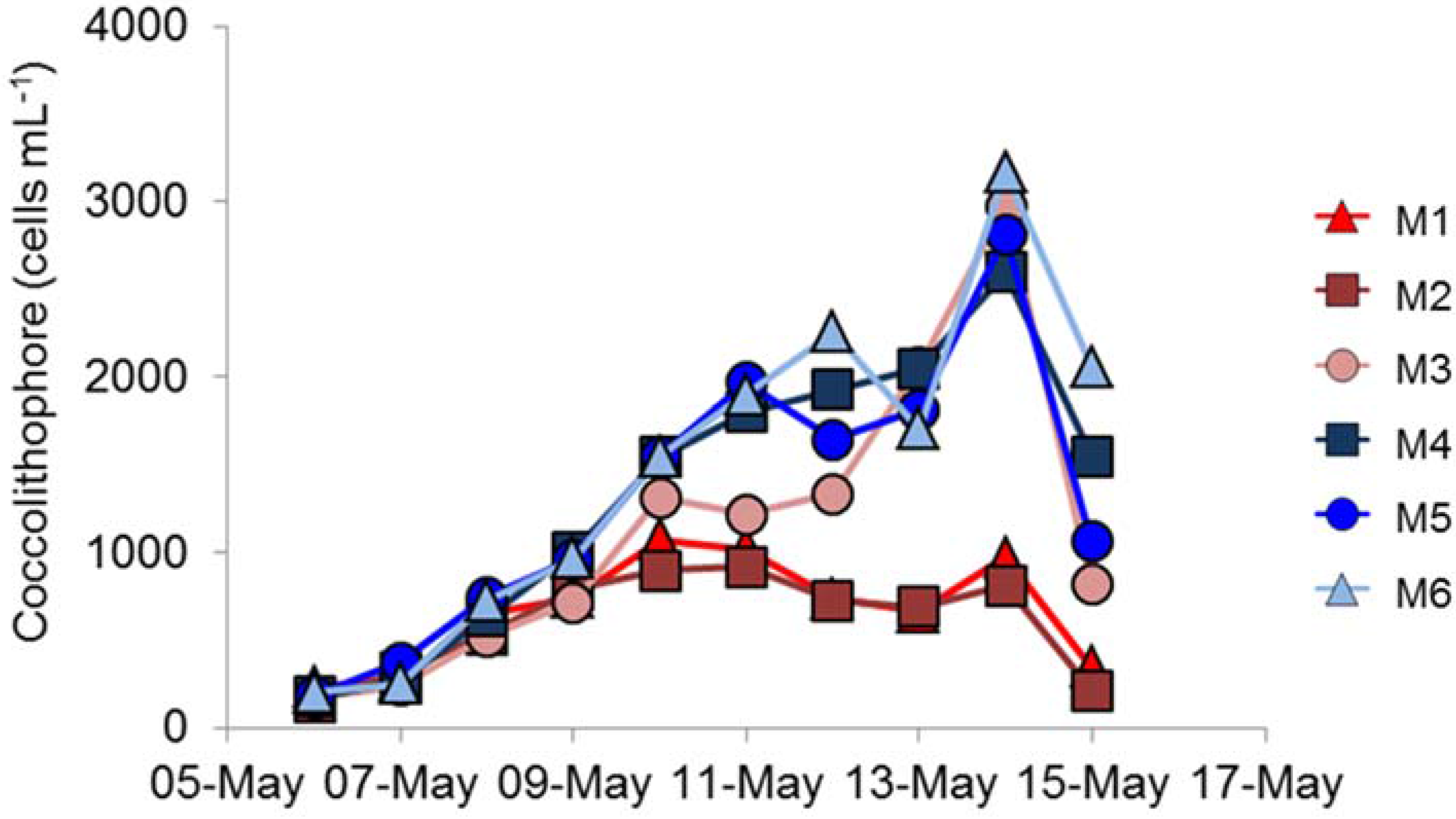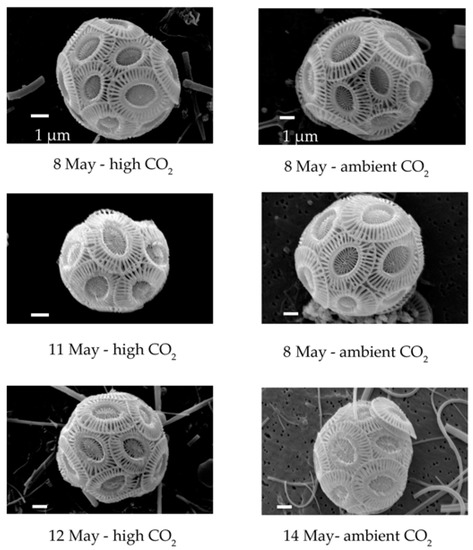 Figure 3.
TEM images of identical
Emiliania huxleyi
morphologies (typical type A) present in both pCO
2
treatments throughout the experiment.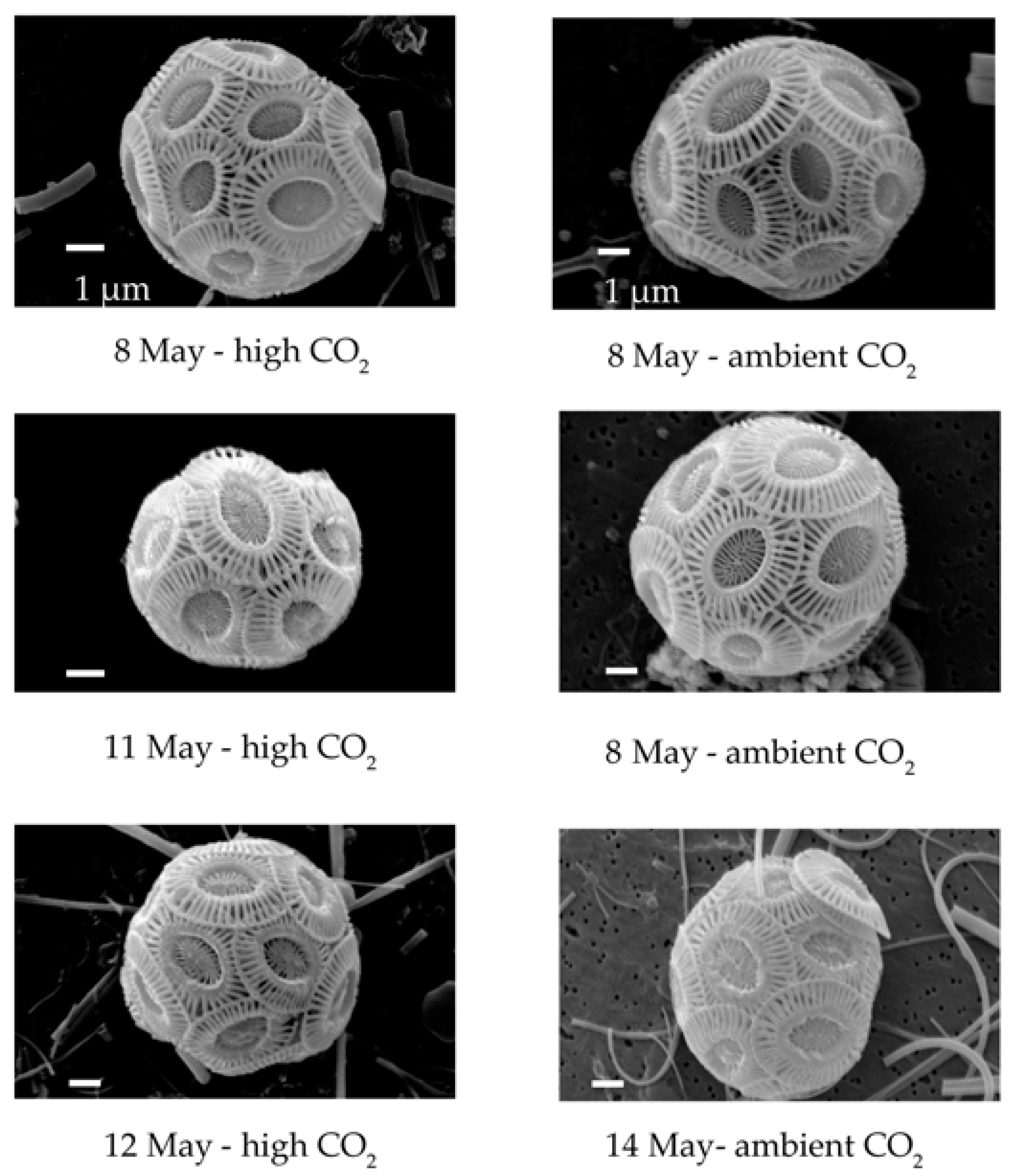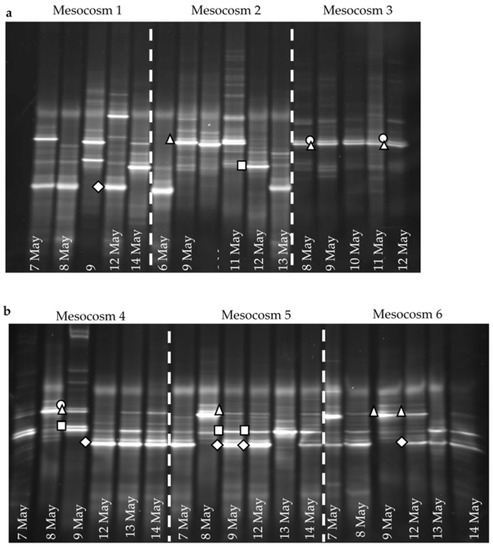 Figure 4.
DGGE gels of EhV
mcp
-PCR products during the experiment from (
a
) high
p
CO
2
-treatment mesocosms, 1, 2, and 3 and (
b
) ambient
p
CO
2
-treatment mesocosms 4, 5, and 6. Bands that migrated at the same position when run on the same gel are indicated with the same symbol.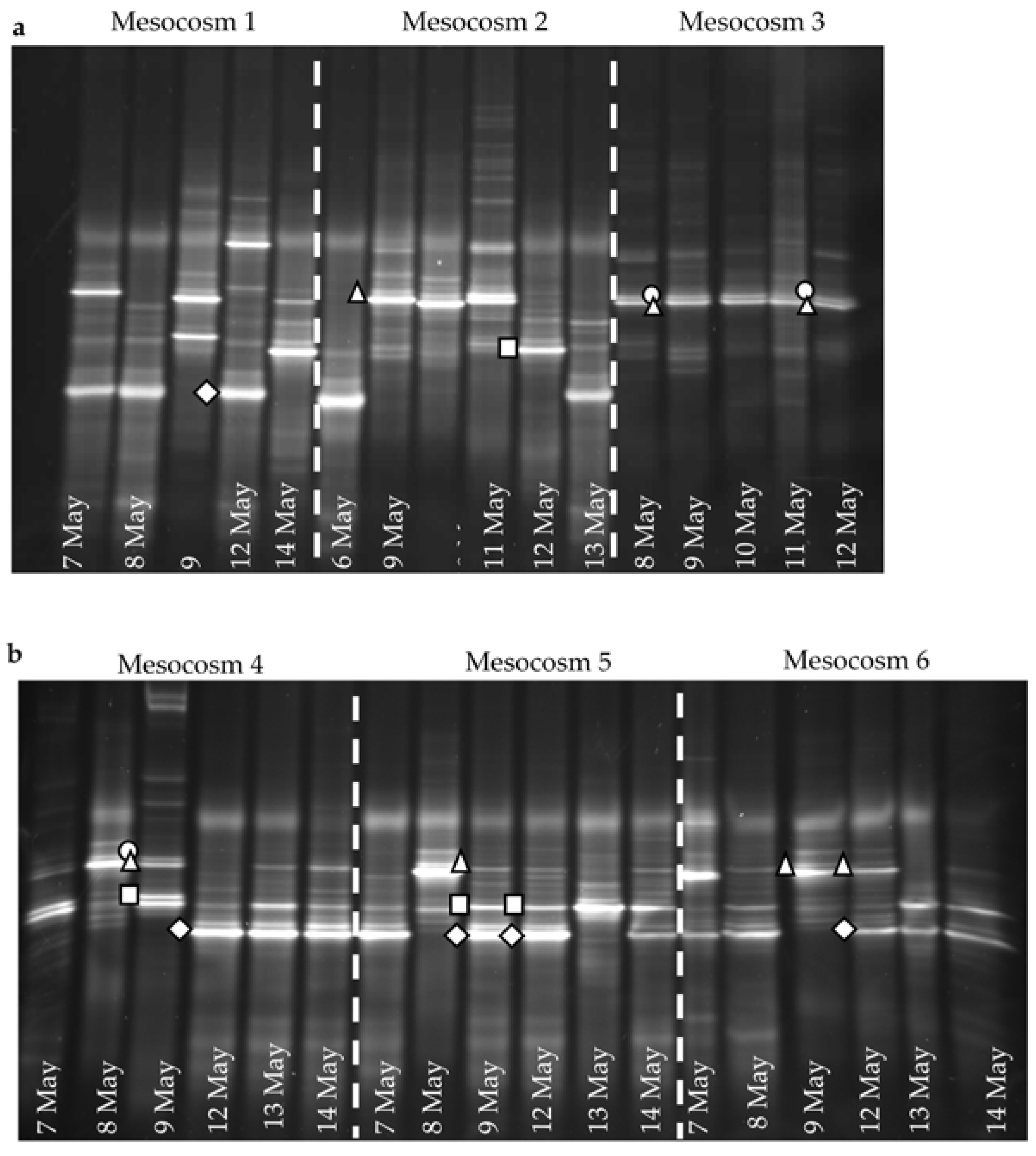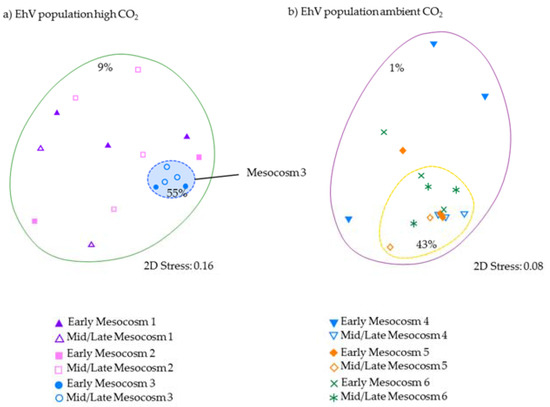 Figure 5.
Bray–Curtis multidimensional plots based on the DGGE profiles (
Figure 4
) for EhV from (
a
) the high
p
CO
2
-treatment mesocosms 1, 2, and 3 and (
b
) ambient
p
CO
2
-treatment mesocosms 4, 5, and 6. "Early stage" corresponds to 7–9 May when coccolithophore numbers were <1000 cells mL
−1
in ambient enclosures and "mid/late stage" corresponds to 12–14 May when coccolithophore numbers exceeded 1500 cells mL
−1
in ambient enclosures. Contours indicate the percentage similarity, as indicated.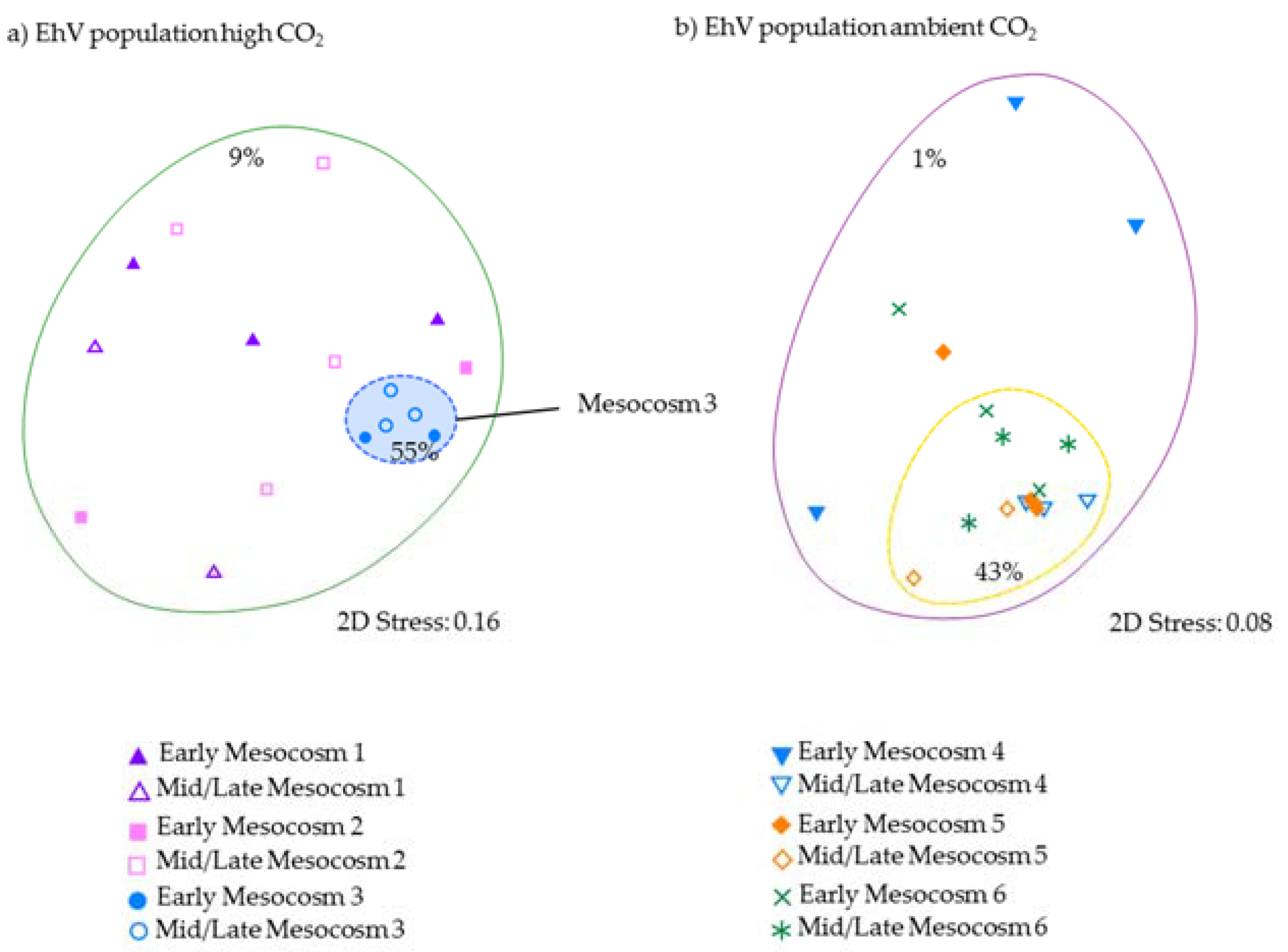 © 2017 by the authors. Licensee MDPI, Basel, Switzerland. This article is an open access article distributed under the terms and conditions of the Creative Commons Attribution (CC BY) license ( http://creativecommons.org/licenses/by/4.0/).