Influenza NA and PB1 Gene Segments Interact during the Formation of Viral Progeny: Localization of the Binding Region within the PB1 Gene
1
Department of Microbiology and Immunology, The University of Melbourne at the Peter Doherty Institute of Infection and Immunity, Parkville 3010, Victoria, Australia
2
Architecture et Réactivité de l'ARN, Université de Strasbourg, CNRS, IBMC, 15 rue René Descartes, Strasbourg 67084, France
3
Seqirus, 63 Poplar Rd, Parkville 3052, Victoria, Australia
4
Unité de Génétique Moléculaire des Virus à ARN, Département de virologie, Institut Pasteur, Paris 75005, France
*
Author to whom correspondence should be addressed.
Academic Editor: Eric O. Freed
Received: 28 June 2016 / Revised: 16 August 2016 / Accepted: 16 August 2016 / Published: 20 August 2016
Abstract
The influenza A virus genome comprises eight negative-sense viral RNAs (vRNAs) that form individual ribonucleoprotein (RNP) complexes. In order to incorporate a complete set of each of these vRNAs, the virus uses a selective packaging mechanism that facilitates co-packaging of specific gene segments but whose molecular basis is still not fully understood. Recently, we used a competitive transfection model where plasmids encoding the A/Puerto Rico/8/34 (PR8) and A/Udorn/307/72 (Udorn) PB1 gene segments were competed to show that the Udorn PB1 gene segment is preferentially co-packaged into progeny virions with the Udorn NA gene segment. Here we created chimeric PB1 genes combining both Udorn and PR8 PB1 sequences to further define the location within the Udorn PB1 gene that drives co-segregation of these genes and show that nucleotides 1776–2070 of the PB1 gene are crucial for preferential selection. In vitro assays examining specific interactions between Udorn NA vRNA and purified vRNAs transcribed from chimeric PB1 genes also supported the importance of this region in the PB1-NA interaction. Hence, this work identifies an association between viral genes that are co-selected during packaging. It also reveals a region potentially important in the RNP-RNP interactions within the supramolecular complex that is predicted to form prior to budding to allow one of each segment to be packaged in the viral progeny. Our study lays the foundation to understand the co-selection of specific genes, which may be critical to the emergence of new viruses with pandemic potential.
View Full-Text
►

▼

Figures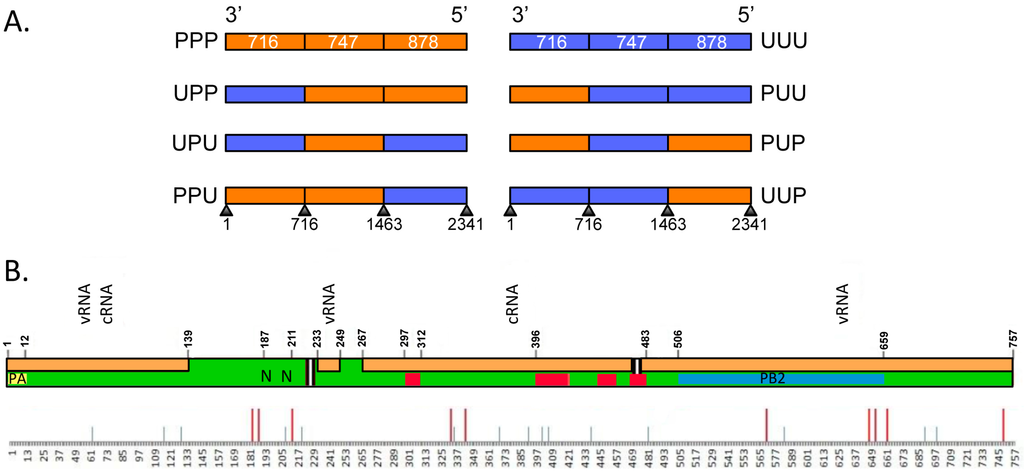 Figure 1
This is an open access article distributed under the
Creative Commons Attribution License
which permits unrestricted use, distribution, and reproduction in any medium, provided the original work is properly cited (CC BY 4.0).

Share & Cite This Article
MDPI and ACS Style
Gilbertson, B.; Zheng, T.; Gerber, M.; Printz-Schweigert, A.; Ong, C.; Marquet, R.; Isel, C.; Rockman, S.; Brown, L. Influenza NA and PB1 Gene Segments Interact during the Formation of Viral Progeny: Localization of the Binding Region within the PB1 Gene. Viruses 2016, 8, 238.
Note that from the first issue of 2016, MDPI journals use article numbers instead of page numbers. See further details here.
Related Articles
Comments
[Return to top]