Open Access This article is
freely available
re-usable
Review
Mechanisms of Cellular Membrane Reorganization to Support Hepatitis C Virus Replication
1
Division of Gastroenterology, Department of Internal Medicine, University of Michigan Medical School, Ann Arbor, MI 48109, USA
2
Department of Microbiology and Immunology, University of Michigan Medical School, Ann Arbor, MI 48109, USA
3
Medicine Service, Ann Arbor Veterans Administration Health System, Ann Arbor, MI 48105, USA
*
Author to whom correspondence should be addressed.
Academic Editor: Alexander Ploss
Received: 3 March 2016 / Accepted: 15 May 2016 / Published: 20 May 2016
Abstract
: Like all positive-sense RNA viruses, hepatitis C virus (HCV) induces host membrane alterations for its replication termed the membranous web (MW). Assembling replication factors at a membranous structure might facilitate the processes necessary for genome replication and packaging and shield viral components from host innate immune defenses. The biogenesis of the HCV MW is a complex process involving a concerted effort of HCV nonstructural proteins with a growing list of host factors. Although a comprehensive understanding of MW formation is still missing, a number of important viral and host determinants have been identified. This review will summarize the recent studies that have led to our current knowledge of the role of viral and host factors in the biogenesis of the MWs and discuss how HCV uses this specialized membrane structure for its replication.
Keywords:
viral replication; double membrane vesicle; RNA virus; phosphatidylinositol 4-phosphate; phosphatidylinositol 4-kinase
1. Introduction
Hepatitis C virus (HCV) is a globally prevalent human pathogen. More than 170 million people are chronically infected worldwide, among whom many will develop cirrhosis and hepatocellular carcinoma. HCV is an enveloped, single-stranded positive-sense RNA virus classified in the
Hepacivirus
genus within the
Flaviviridae
family. The 9.6 kb genome contains one open reading frame (ORF) that is flanked by non-translated regions, which are necessary for viral RNA translation and replication [
1
,
2
,
3
]. A single polyprotein is translated from the ORF, which is co- and post-translationally processed by cellular and viral proteases to generate ten mature proteins: Core, E1, E2, p7, NS2, NS3, NS4A, NS4B, NS5A, and NS5B. The structural proteins (Core, E1, and E2) are incorporated into virus particles, whereas the nonstructural proteins p7 to NS5B coordinate the intracellular processes of the virus life cycle [
1
,
2
,
3
]. While p7 and NS2 are dispensable for genome replication, they are required for particle assembly [
4
,
5
]. NS3 through NS5B are necessary and sufficient for HCV genome replication. As we will discuss extensively in this review, HCV replication is associated with the induction of host membrane alterations that are thought to support sites of viral RNA replication. The induction of altered host membranes for viral replication is characteristic of all positive sense RNA viruses [
6
]. A negative sense replicative intermediate synthesized from the positive sense RNA genome serves as template for the generation of progeny positive sense RNA genomes. The newly-synthesized positive sense RNA can either enter a new translation/replication cycle or be packaged into virions [
2
]. This review will summarize our current knowledge on HCV-induced membrane alterations, as well as the role of viral nonstructural proteins and host factors in this process.
2. History and Methods of Studying the HCV Membranous Web
3. Biogenesis of the Membranous Web
Although HCV has long been known to induce membrane rearrangements, it is only recently that some of the mechanisms that are responsible for the formation of these structures have begun to be unraveled. Despite the substantial progress that has been made during the past few years, we are still far from understanding this complex process in detail. In the following sections, we summarize what is known about the role of both viral and cellular proteins in HCV-induced membrane reorganization.
3.1. Role of Viral Factors in Membranous Web Biogenesis
By using HCV polyprotein overexpression, Egger
et al.
[
10
] first showed that expression of viral nonstructural proteins resulted in membrane alterations that morphologically resemble those observed in replicon cells, demonstrating that viral RNA replication is not required for membranous web formation. By expressing individual HCV proteins, these authors found that expression of NS4B was sufficient to induce membrane alterations resembling MWs. Later studies have shown that the N-terminal alpha helix AH2 [
35
] as well as C-terminal sequences [
36
] are important for HCV replication, NS4B oligomerization, and DMV morphogenesis. Mutations of either of the two positively-charged lysine residues flanking the N-terminal alpha helix AH1 abrogate HCV replication and are associated with the formation of significantly larger DMVs when expressed in the context of NS3-5B using a non-replicative system [
37
].
Subsequent studies, however, have provided evidence that NS5A is the only HCV NS protein capable of forming DMVs when expressed in isolation [
17
,
22
], albeit much less efficiently than when expressed in the context of NS3-5B. In contrast, expression of NS4B alone leads to the exclusive formation of single-membrane vesicles rather than DMVs [
17
]. The amino-terminal "domain 1" of NS5A is necessary and sufficient for the formation of DMVs when expressed in the context of the NS3-5B polyprotein [
22
]. This work also identified roles of other HCV NS proteins in efficient DMV formation, notably the NS3 helicase domain, and the expression of the NS3-4A protease
in cis
with NS4B-5B. Finally, mutations that accelerate the normally slow polyprotein cleavage kinetics at the NS4B-5A junction or constructs that do not express any NS4B-5A precursor impair or abrogate DMV formation [
22
], suggesting that a NS4B-5A precursor is somehow essential for DMV biogenesis. Further evidence for a functional interaction between NS4B and NS5A comes from the identification of mutations in NS5A that rescue mutations flanking NS4B AH1 [
37
] or help rescue a NS4B C-terminal mutant [
36
]. Overall, these studies suggest that most, if not all, nonstructural proteins are required to work in concert for the efficient formation of DMVs.
3.2. Roles of Host Factors in Membranous Web Biogenesis
In addition to viral proteins, an increasing list of host factors has also been shown to contribute to membranous web formation. Here, we well briefly discuss the mechanisms of several selected host factors in MW formation.
4. Functions of the Membranous Web
4.1. The Membranous Web and HCV Genome Replication
4.2. Other Potential Functions of the Membranous Web
Membrane association of the HCV replicase complex has also been shown to shield viral RNA from innate immune recognition. The HCV RNA genome and its replicative intermediates are thought to encode potent pathogen-associated molecular patterns (PAMPs) recognized by host cell pattern recognition receptors (PRRs) such as retinoic acid-inducible gene 1 (RIG-I) and melanoma differentiation-associated protein 5 (MDA5) (reviewed in [
84
]). Recently, Neufeldt
et al.
showed that both RIG-I and MDA5 are excluded from the HCV replication organelles, and that addition of a nuclear localization signal to RIG-I or MDA5 resulted in their replicase complex localization and stimulation of immune response [
85
]. These results would appear to support a model of HCV replicase and viral RNA localization inside DMVs, and suggest that enclosure of the HCV replicase and HCV RNA within membranous structures restricts access of PRRs to HCV-encoded PAMPs and by doing so, protect viral RNA from innate immune recognition.
5. Future Perspectives
Despite important recent advances in our understanding of the molecular requirements of the HCV replication process, many important questions remain unresolved. It is still not clear how viral proteins and host factors work in concert to alter the host ER membranes to initiate the formation of MWs. It is also not known whether the replication of HCV occurs on the exterior or in the interior of DMVs. Advances in microscopy techniques, including cryo-electron tomography, focused ion beam scanning electron microscopy, and superresolution microscopy, will probably contribute to future breakthroughs in this field. Finally, while this review focuses on the replication of HCV, how genome replication is coordinated with polyprotein translation or virion assembly is not well known. As all of these are general questions shared by all positive-sense RNA viruses, answers to these questions will benefit not only the study of HCV but also of positive-sense RNA viruses.
Acknowledgments
This work was supported by grants DK097374 from the National Institutes of Health and the Greenview Foundation Hepatitis C Research Fund (to AWT). Microscopy was performed at the University of Michigan Microscopy & Image Analysis Laboratory with support from the University of Michigan Center for Gastrointestinal Research (NIDDK 5P30DK034933).
Conflicts of Interest
The authors declare no conflict of interest.
Abbreviations
The following abbreviations are used in this manuscript:
| | |
| --- | --- |
| DMV | double-membrane vesicle |
| DRM | detergent resistant membrane |
| EM | electron microscopy |
| HCV | hepatitis C virus |
| MMV | multi-membrane vesicle |
| MW | membranous web |
| PAMP | pathogen-associated molecular pattern |
| PCH | Pombe Cdc15 homology |
| PI4P | phosphatidylinositol 4-phosphate |
| PRR | pattern-recognition receptor |
| SMV | single-membrane vesicle |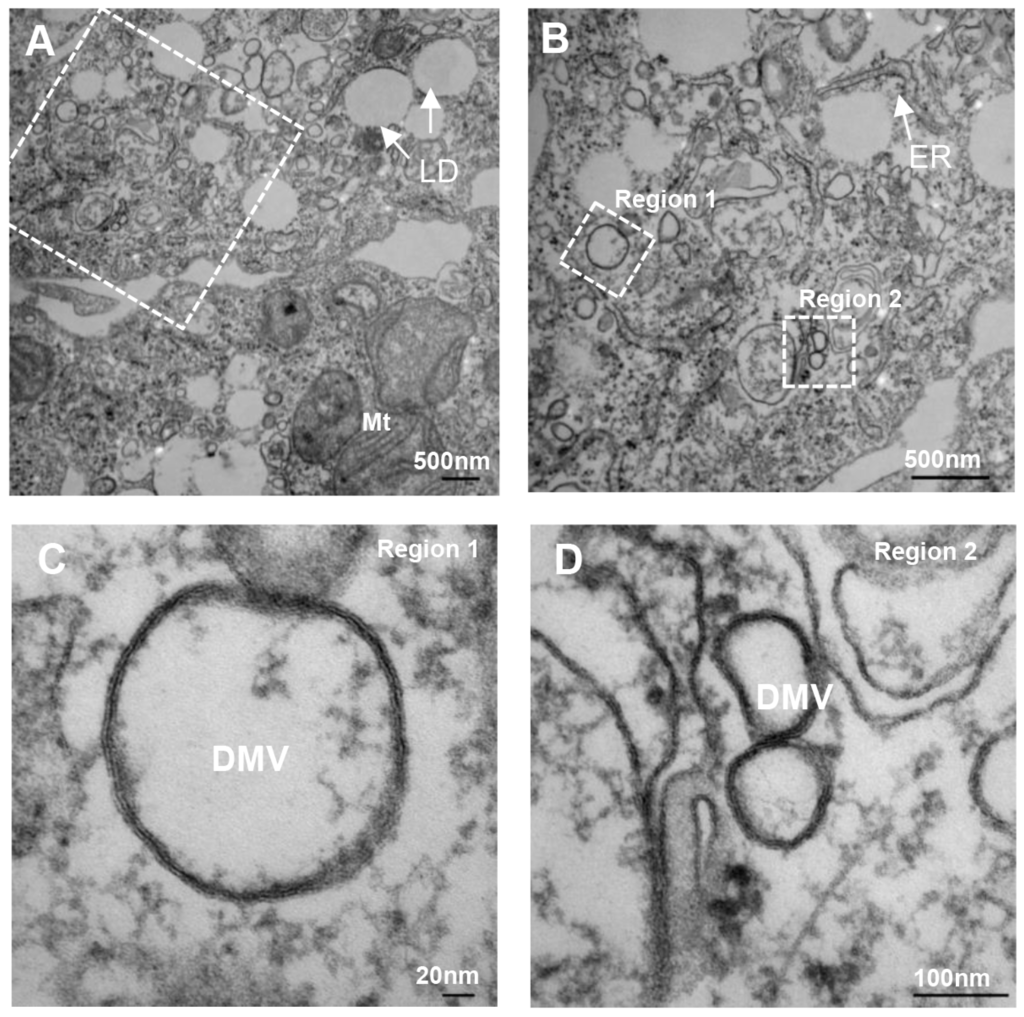 Figure 1. Ultrastructure of membranous webs and double-membrane vesicles (DMVs). (A‒D) Huh 7.5.1 cells were infected with the JFH1 strain of hepatitis C virus (HCV) for 54 h before fixation and processing for transmission electron microscopy. Consecutive enlargements of the boxed areas are shown. "Region 1" and "Region 2" in panel (B) are shown in panels (C and D), respectively. ER: endoplasmic reticulum; Mt: mitochondria; LD: lipid droplets.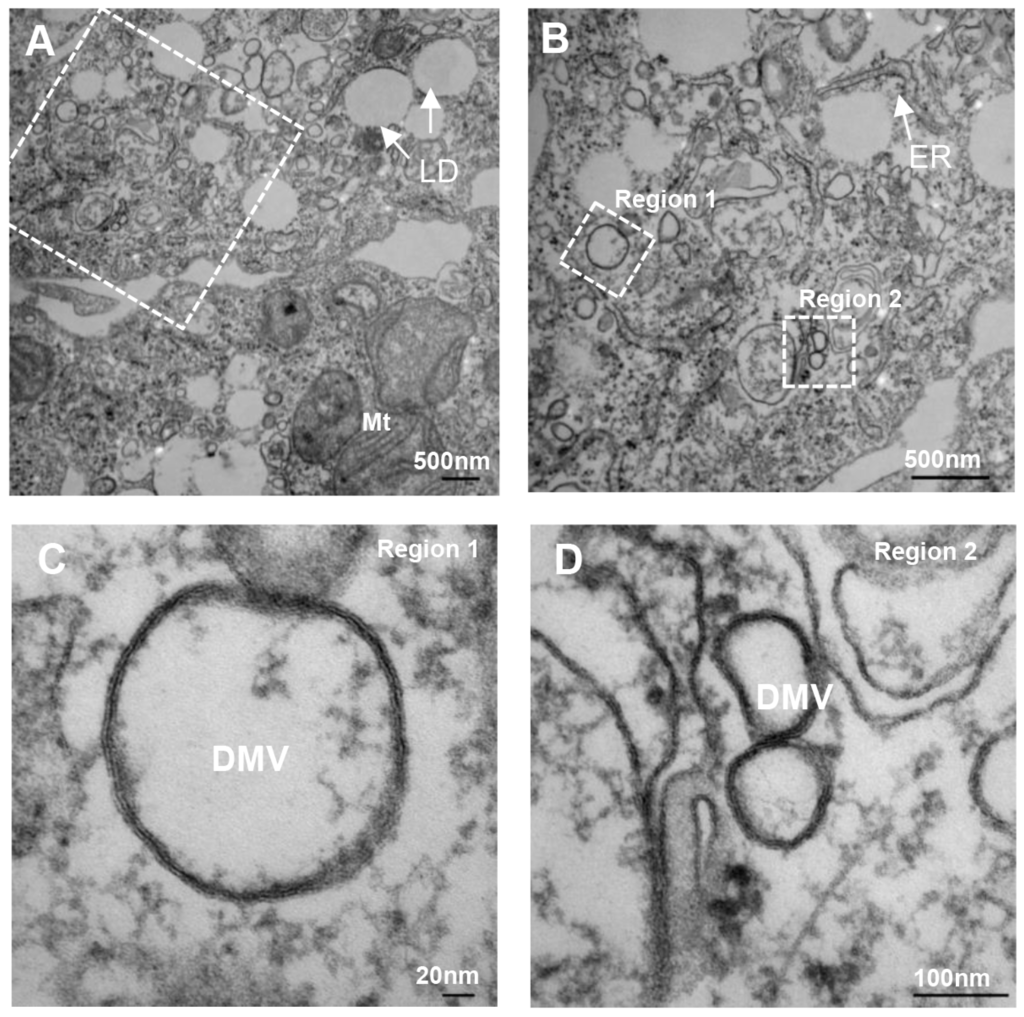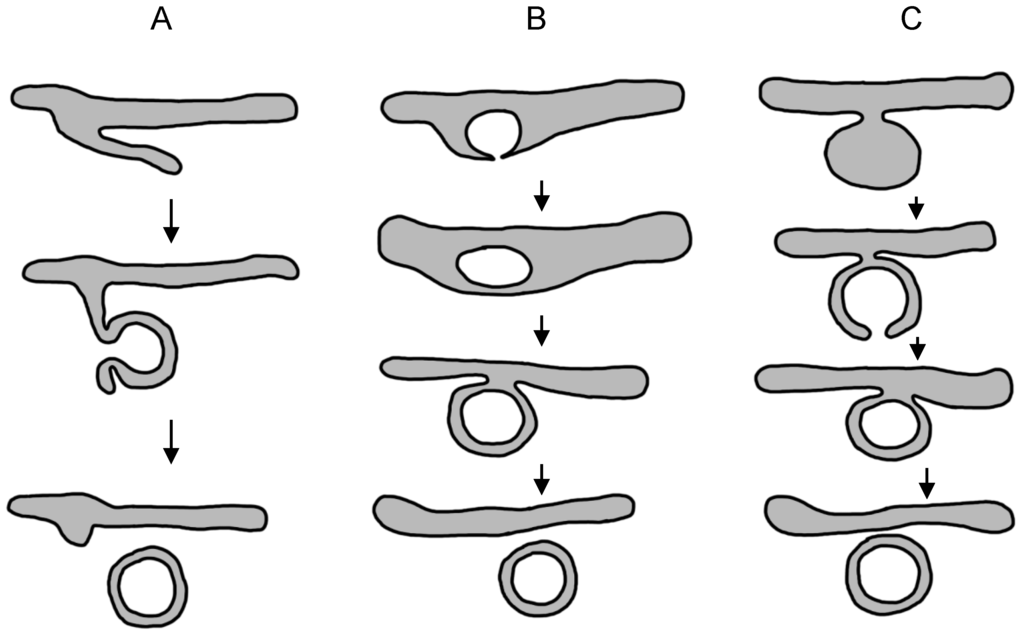 Figure 2. Possible models for the formation of virus-induced double-membrane vesicles from the endoplasmic reticulum. (A) Protrusion and detachment model; (B) double-budding model that begins with invagination into the ER lumen; and (C) tubulation and invagination model that begins with membrane exvagination from the ER.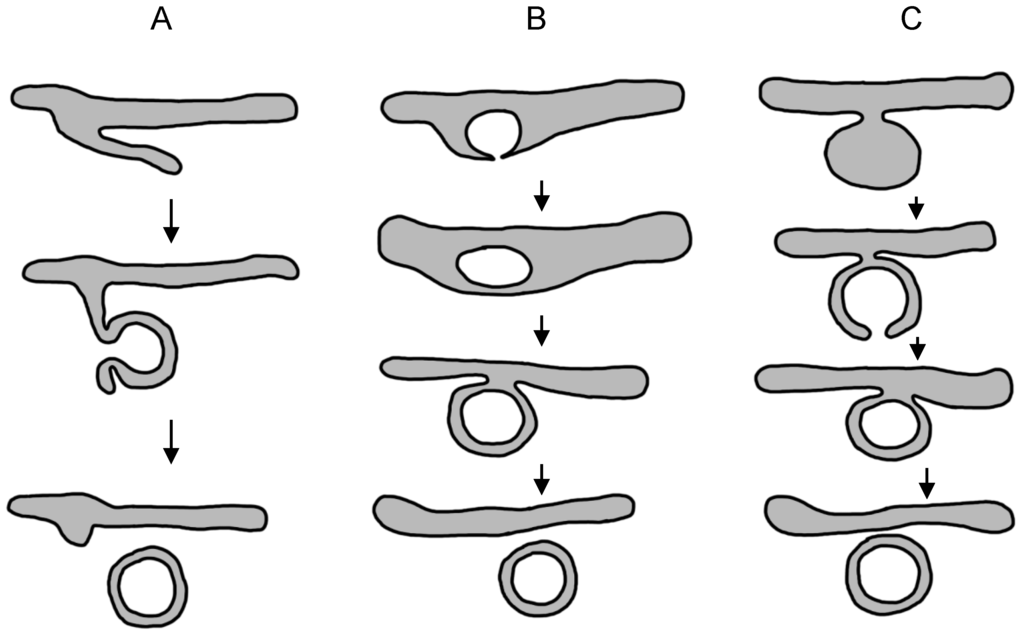 © 2016 by the authors; licensee MDPI, Basel, Switzerland. This article is an open access article distributed under the terms and conditions of the Creative Commons Attribution (CC-BY) license (http://creativecommons.org/licenses/by/4.0/).