Open Access This article is
freely available
re-usable
Article
Human Cytomegalovirus Nuclear Egress Proteins Ectopically Expressed in the Heterologous Environment of Plant Cells are Strictly Targeted to the Nuclear Envelope
1
Division of Biochemistry, Department of Biology, Friedrich-Alexander University Erlangen-Nuremberg, Staudtstrasse 5, Erlangen 91058, Germany
2
Institute for Clinical and Molecular Virology, Friedrich-Alexander University Erlangen-Nuremberg, Schloßgarten 4, Erlangen 91054, Germany
*
Author to whom correspondence should be addressed.
Academic Editor: Thomas Hohn
Received: 22 December 2015 / Accepted: 29 February 2016 / Published: 10 March 2016
Abstract
:
In all eukaryotic cells, the nucleus forms a prominent cellular compartment containing the cell's nuclear genome. Although structurally similar, animal and plant nuclei differ substantially in details of their architecture. One example is the nuclear lamina, a layer of tightly interconnected filament proteins (lamins) underlying the nuclear envelope of metazoans. So far no orthologous lamin genes could be detected in plant genomes and putative lamin-like proteins are only poorly described in plants. To probe for potentially conserved features of metazoan and plant nuclear envelopes, we ectopically expressed the core nuclear egress proteins of human cytomegalovirus pUL50 and pUL53 in plant cells. pUL50 localizes to the inner envelope of metazoan nuclei and recruits the nuclear localized pUL53 to it, forming heterodimers. Upon expression in plant cells, a very similar localization pattern of both proteins could be determined. Notably, pUL50 is specifically targeted to the plant nuclear envelope in a rim-like fashion, a location to which coexpressed pUL53 becomes strictly corecruited from its initial nucleoplasmic distribution. Using pUL50 as bait in a yeast two-hybrid screening, the cytoplasmic re-initiation supporting protein RISP could be identified. Interaction of pUL50 and RISP could be confirmed by coexpression and coimmunoprecipitation in mammalian cells and by confocal laser scanning microscopy in plant cells, demonstrating partial pUL50-RISP colocalization in areas of the nuclear rim and other intracellular compartments. Thus, our study provides strong evidence for conserved structural features of plant and metazoan nuclear envelops and identifies RISP as a potential pUL50-interacting plant protein.
Keywords:
human cytomegalovirus; pUL50; pUL53; nuclear envelope; plant cells; re-initiation supporting protein RISP
Supplementary Materials
The following are available online at
www.mdpi.com/1999-4915/8/3/73/s1
, Figure S1: eGFP::pUL50 construct and Western blot detection, Figure S2: pUL53::tagRFP construct and Western blot detection, Figure S3: CoIP constructs, Figure S4: RISP::tagRFP construct, Figure S5,S6: Regions of interest used for statistical analysis.
Acknowledgments
This work was funded by grants of the Deutsche Forschungsgemeinschaft (SFB796 subproject C2 and C3). The authors would like to acknowledge Ingrid Schießl (1) and Hanife Bahsi (2) for excellent technical assistance, Stipan Jonjic, Tihana Lenac and coworkers (University of Rijeka, Croatia) for generating and providing valuable monoclonal antibodies, Frederik Börnke (Leibniz Institute of Vegetable and Ornamental Crops, Großbeeren) for yeast two-hybrid screening, as well as Katharina Schmitt (1) for performing X-Gal filter staining assay.
Author Contributions
Uwe Sonnewald and Manfred Marschall conceived and designed the experiments; Christian Lamm, Katrin Link, Sabrina Wagner and Jens Milbradt performed the experiments and together with Uwe Sonnewald and Manfred Marschall analyzed the data; Christian Lamm, Manfred Marschall, Jens Milbradt and Uwe Sonnewald wrote the paper.
Conflicts of Interest
The authors declare no conflict of interest.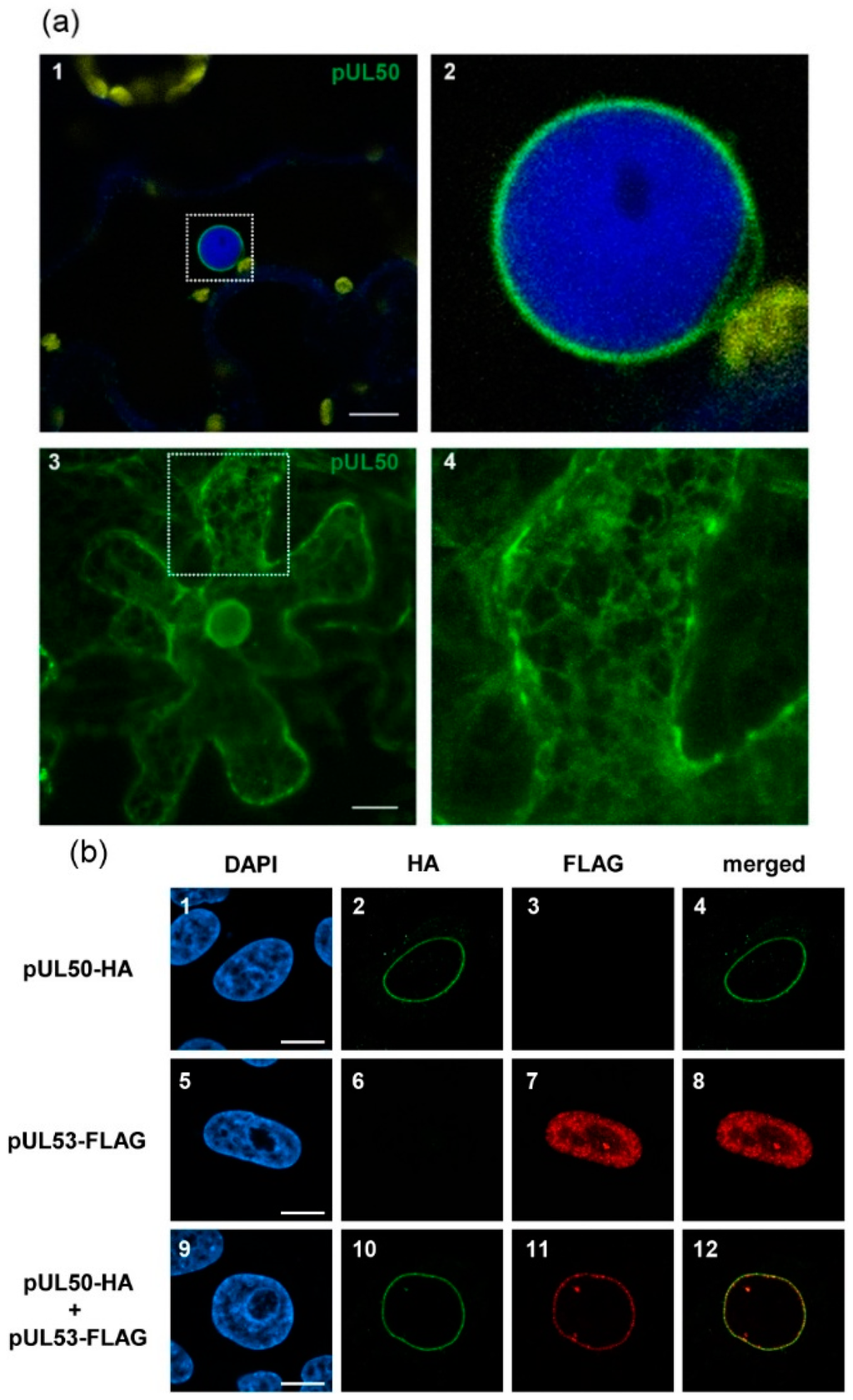 Figure 1.
Expression and localization of pUL50 (
a
) Transient expression of eGFP::pUL50 in
Nicotiana benthamiana
: panel 1, DAPI-staining was performed to identify nuclei (blue), the GFP-fusion construct (green) was localized to the nuclear envelope; chloroplast autofluorescence is shown in yellow, the dotted box indicates the section shown in panel 2; panel 2, magnified section from panel 1; panel 3, pUL50 also localized to the endoplasmic reticulum in
Nicotiana benthamiana
, maximum projection of a z-stack image, the dotted box indicates the section shown in panel 4; panel 4, magnified section from panel 3 reveals the localization of eGFP::pUL50 to the net-like structure of the endoplasmic reticulum; (
b
) Immunolocalization of pUL50-HA (green) and pUL53-FLAG (red) in HeLa cells: Panels 1-4, single transfection of pUL50-HA in DAPI (blue) stained cells revealed the localization to the nuclear envelope; panels 5-8, single transfection of pUL53-FLAG in DAPI stained cells showed nucleoplasmic localization; panels 9-12, cotransfection of pUL50-HA and pUL53-FLAG demonstrating the potential of pUL50 to recruit pUL53 to the nuclear rim. White bars represent 10 µm.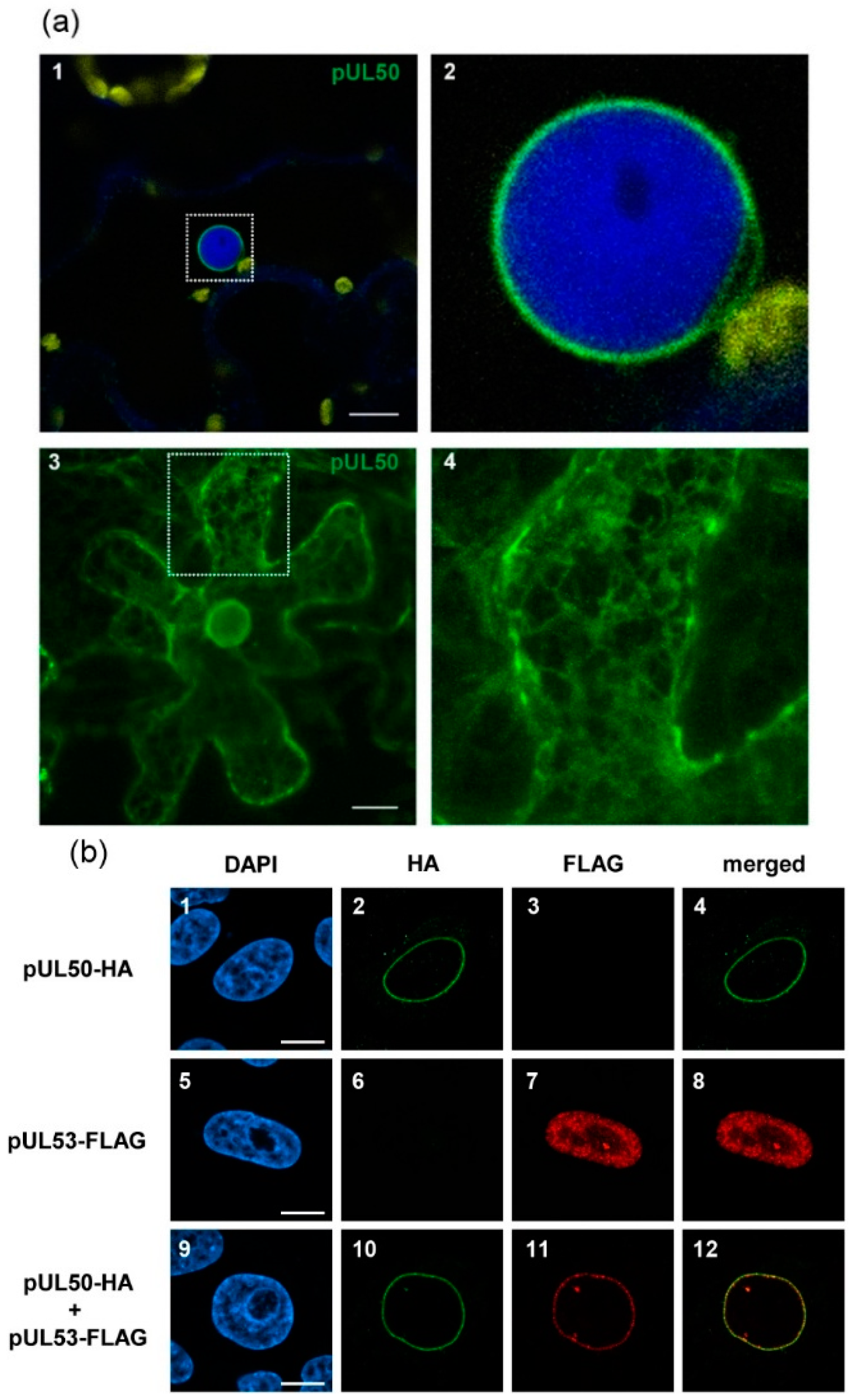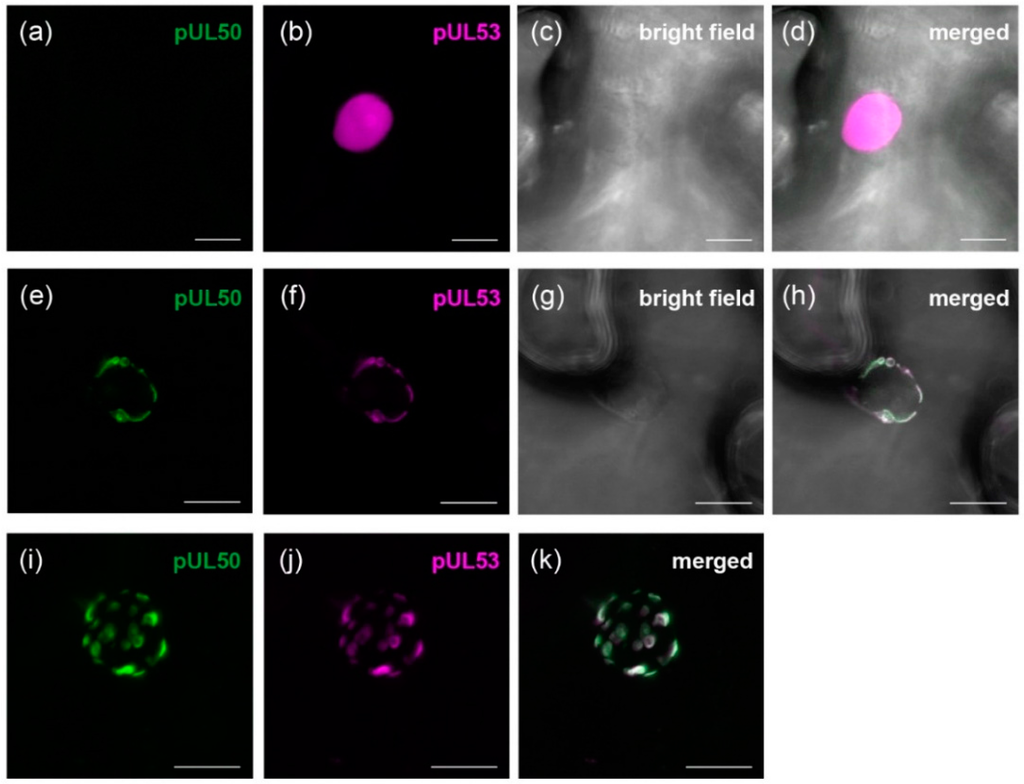 Figure 2.
Expression of pUL53::tagRFP (depicted in magenta) and colocalization with eGFP::pUL50 (depicted in green). (
a
)–(
d
) Transient expression of pUL53::tagRFP in
Nicotiana benthamiana
: No fluorescence in the GFP-channel, tagRFP-signal corresponding to pUL53 was restricted to the nucleoplasm; (
e
)–(
h
) Coexpression of eGFP::pUL50 and pUL53::tagRFP in
Nicotiana benthamiana
: Colocalization of both constructs suggested that pUL50 was able to recruit pUL53 to the nuclear rim; (
i
)–(
k
) Coexpression of eGFP::pUL50 and pUL53::tagRFP in
Nicotiana benthamiana
, z-stack maximum projection: Constructs colocalized in patch-like structures at the nuclear periphery. White bars represent 10 µm.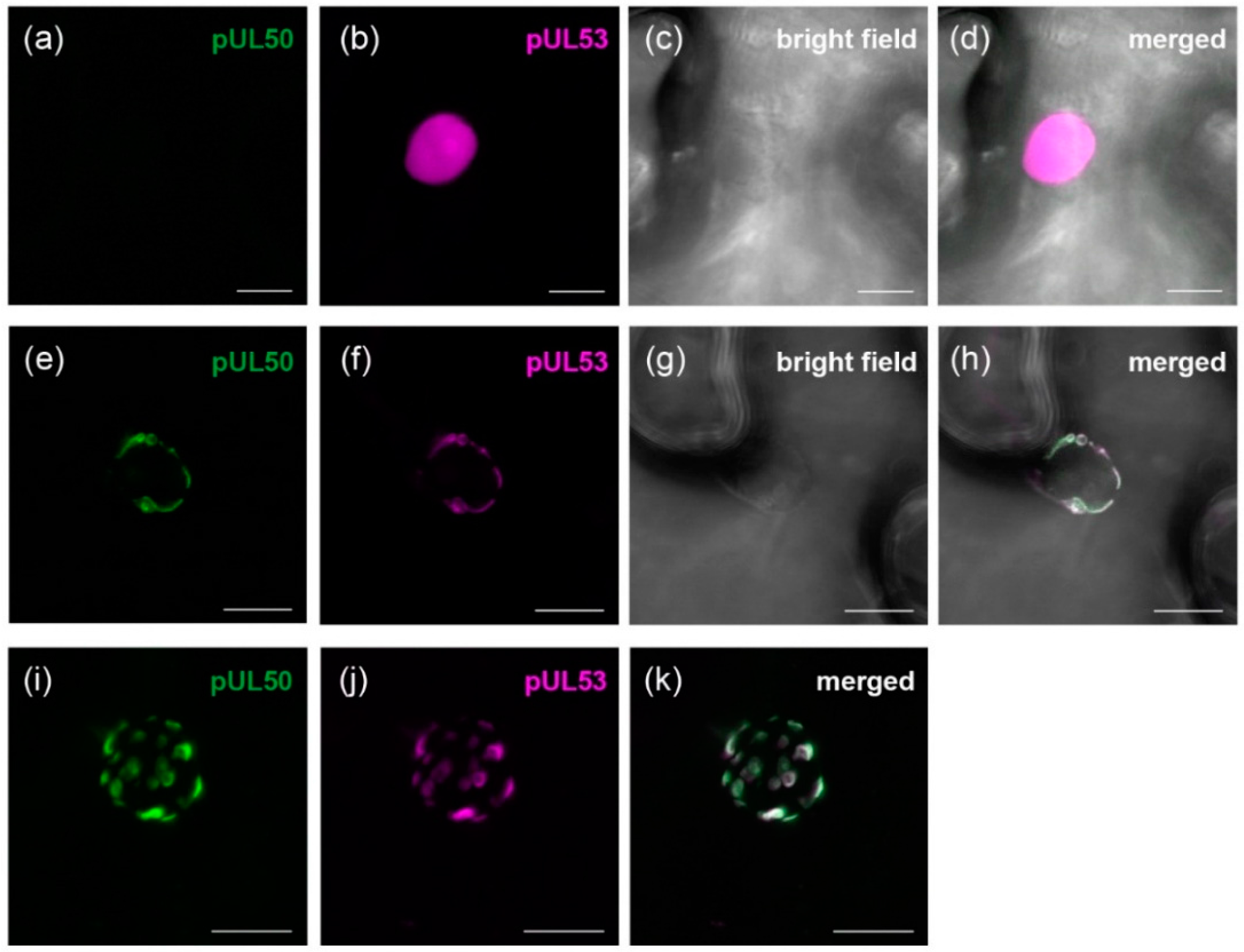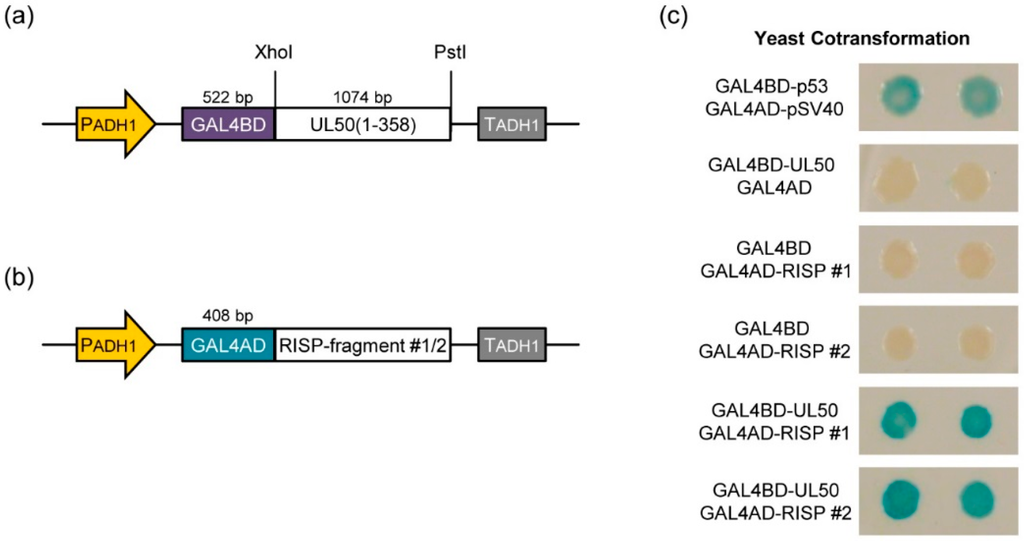 Figure 3.
Yeast two-hybrid assay with pUL50 as bait. (
a
) Bait construct yielding a GAL4 binding domain-pUL50 fusion protein, used for screening and cotransformation. PADH, alcohol dehydrogenase 1 promoter; TADH1, alcohol dehydrogenase 1 terminator; restriction sites were used as indicated; values over schemes indicate size of the respective fragment in basepairs; (
b
) Prey construct identified during screening and used for cotransformation, the GAL4 activation domain fused to a fragment of
Arabidopsis thaliana
RISP; (
c
) X-Gal filter staining assay confirms interaction of pUL50 and RISP in yeast cells.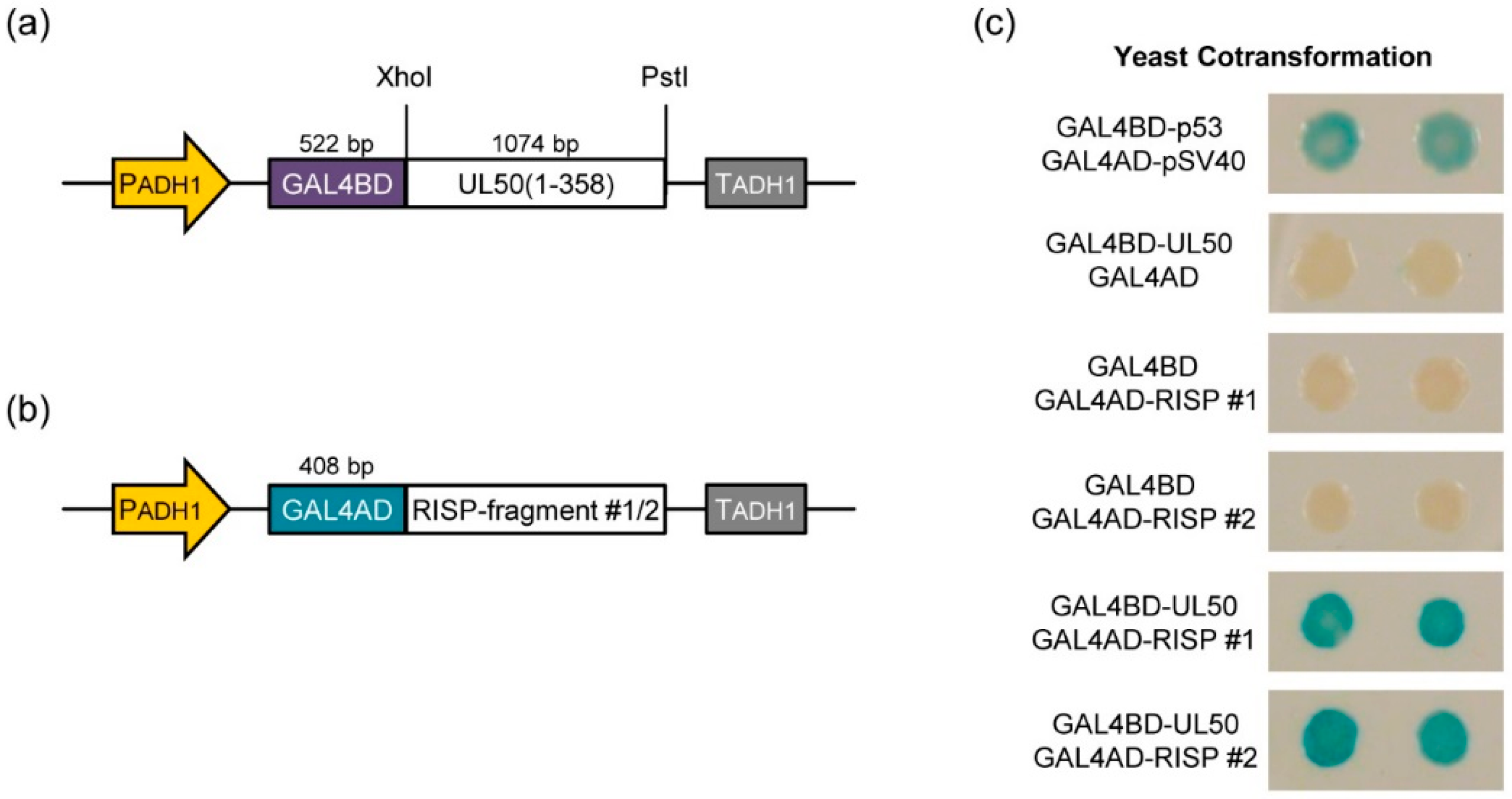 Figure 4. Interaction between RISP with HCMV pUL50 in human cells. (a,b) Coimmunoprecipitation (CoIP) assay. Human 293T cells were transiently cotransfected with constructs coding for FLAG-tagged RISP and HA-tagged HCMV proteins pUL50(1–358) (ratio 1:1 and 1:3, lanes 3 and 4, respectively), pUL97 (lane 5) or pUL53 (lane 6), or with an empty vector (pcDNA3.1, lane 2) as control. Coexpression of HA-tagged pUL50(1–358) and FLAG-tagged pUL53 served as CoIP control (lane 7); RFP expression served as transfection control (lane 1). At 2 days post-transfection, cells were lysed, and HA-tagged proteins were immunoprecipitated using mouse monoclonal antibody mAb-HA. CoIP samples (a) and lysate controls (input) (b) taken prior to the addition of the CoIP antibody were subjected to standard Western blot analysis using tag-specific antibodies as indicated. Ig-HC, cross-reactive band for immunoglobulin heavy chain.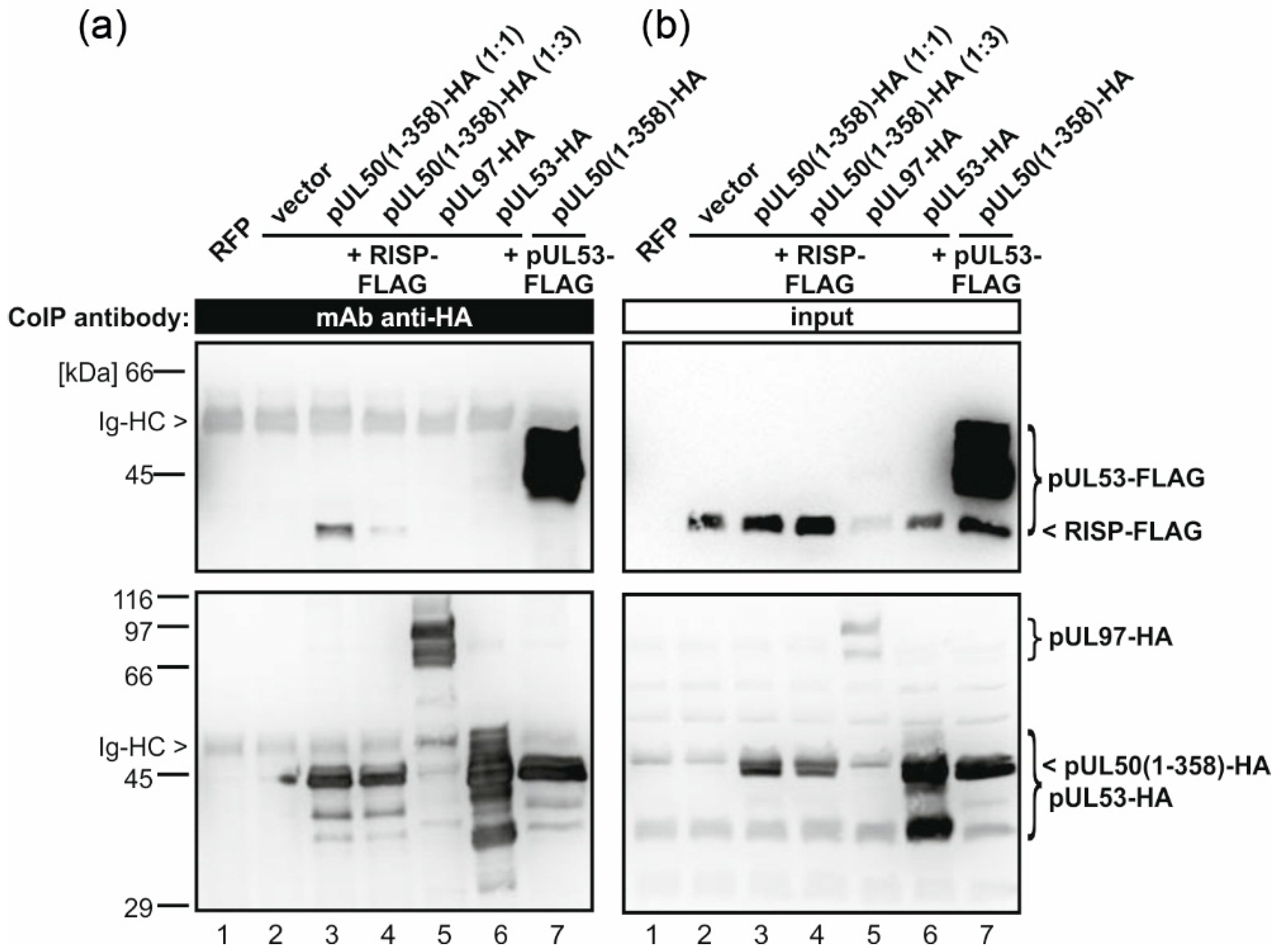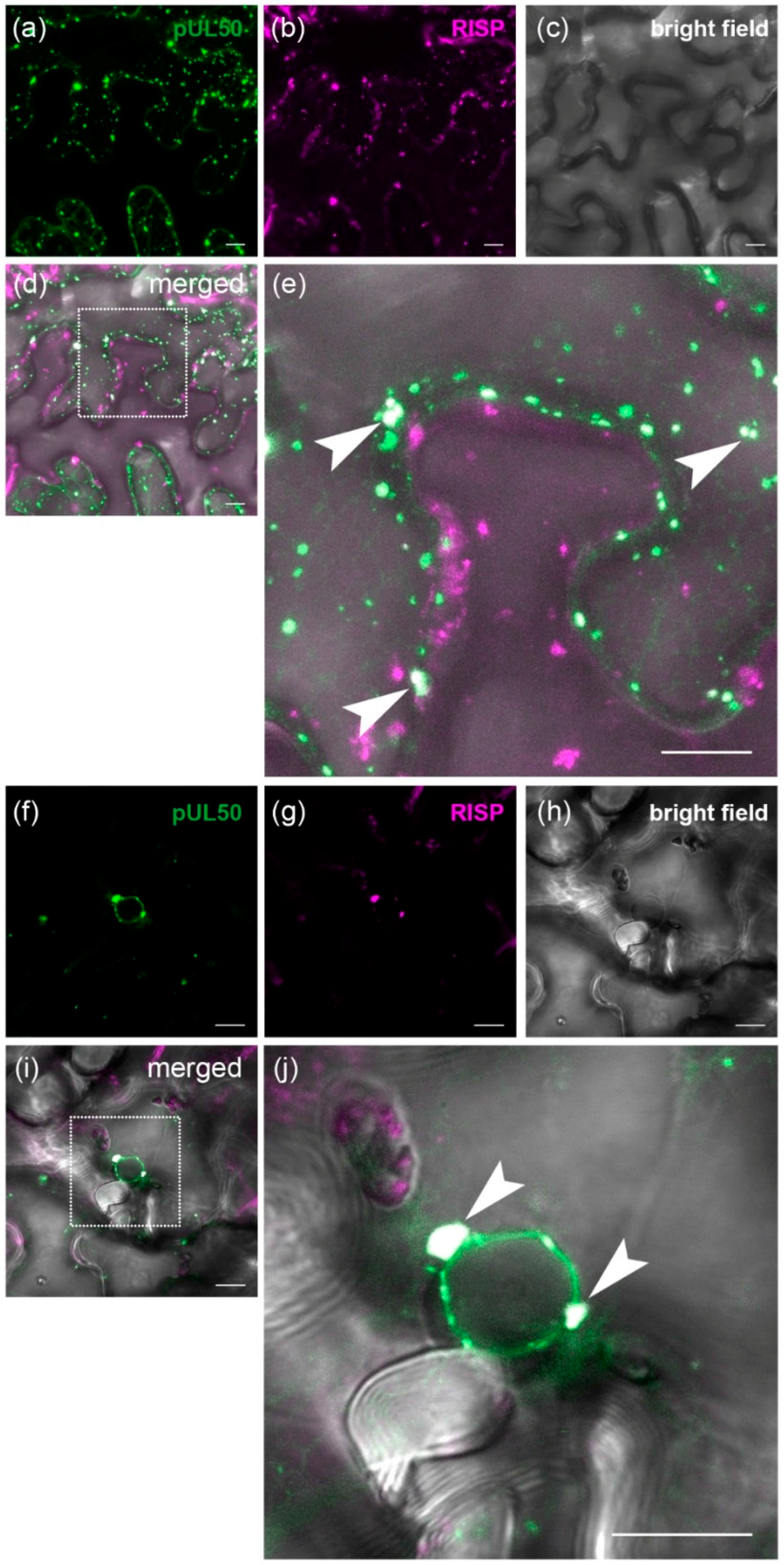 Figure 5.
Colocalization studies of eGFP::pUL50 (depicted in green) and RISP::tagRFP (depicted in magenta). (
a
) Note that upon coexpression, eGFP::pUL50 was found retained in cytoplasmic aggregates; (
b
) As reported earlier [
63
], RISP::tagRFP was mainly localized to cytoplasmic dot-like structures; (
d
) The merged image demonstrates colocalization of eGFP::pUL50 and RISP::tagRFP. The dotted box indicates the section magnified in (
e
); (
e
) Magnified section from (
d
), arrowheads point towards some of the cytoplasmic aggregates that incorporate both eGFP- and tagRFP-fluorescence signals; (
f
) During coexpression with RISP::tagRFP, eGFP::pUL50 still localized to the nuclear rim, in part also in nucleus-associated aggregates; (
g
) RISP::tagRFP localized to aggregates in the vicinity of the nucleus; (
i
) Both eGFP::pUL50 and RISP::tagRFP signals overlapped to a substantial extent at nuclear sites. The dotted box represents the area magnified in (
j
), in which the colocalization becomes obvious, arrowheads indicate aggregates of eGFP- and tagRFP-signals that merge in association with the nuclear envelope; white bars represent 10 µm.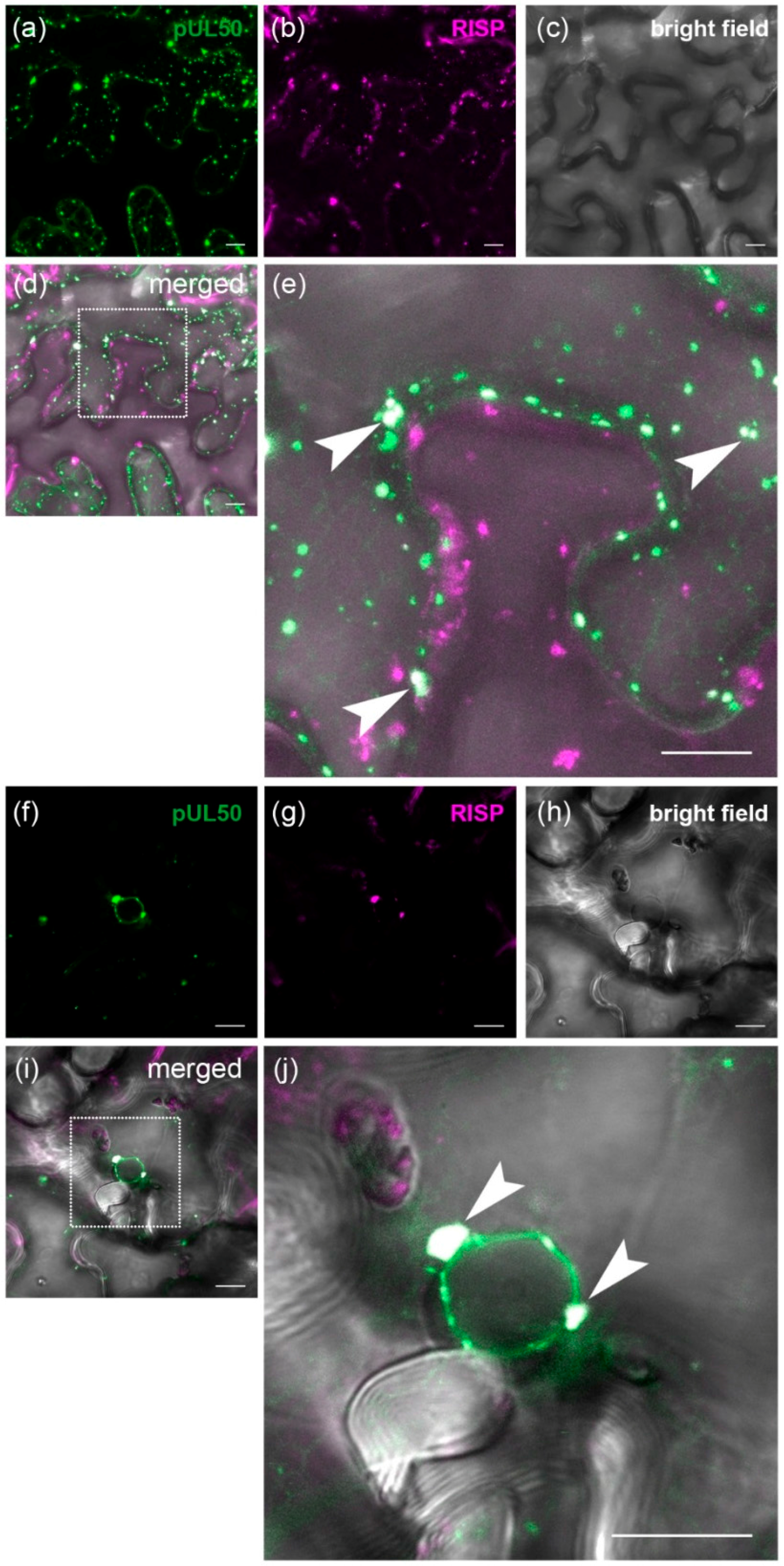 Figure 6. Comparison of selected structures from nuclear envelopes of metazoans and plants. Although not conserved on the level of amino acid sequence, several structures share functional redundancy. Depicted is the protein complex linking the nucleo- and cytoskeleton as well as the nuclear lamina/plant lamina (plamina). fActin: Filamentous actin; KASH: Klarsicht, ANC-1 and SYNE homology proteins; SUN: Sad1/UNC-84 proteins; WIP: WPP domain-interacting proteins; WIT: WPP domain-interacting tail-anchored proteins.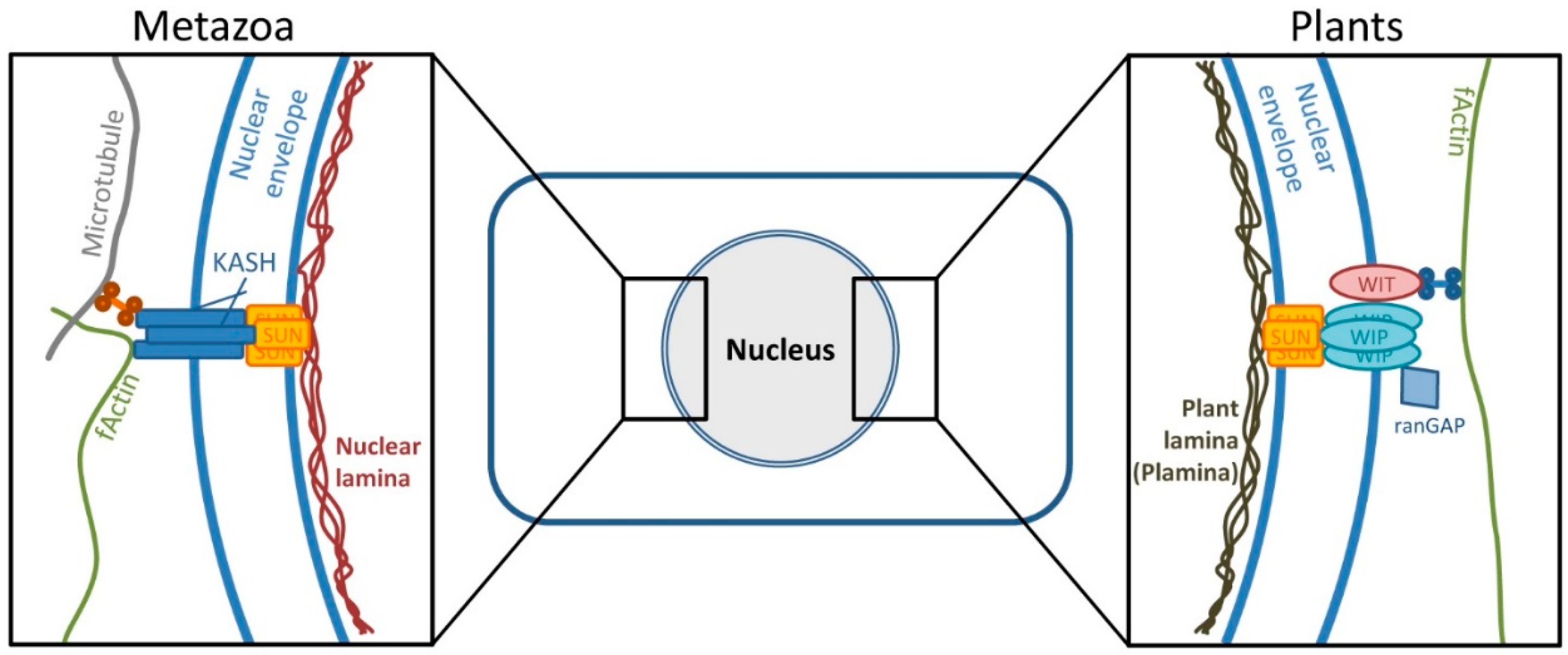 Table 1. Sequences of oligonucleotide primers used for cloning.
Primer Name
Sequence (5' to 3')
Primers for RFP Vector Construction
RFP fw SalI
GTCGACGGATCTGGTGTGTCTAAGGGCGAAGAGCTG
RFP rev PstI
CTGCAGCTATCAATTAAGTTTGTGCCCCAGTTTG
Primers for Localization Studies

in Plants

pUL50 fw
CACCATGGAGATGAACAAGGTTCTCCATC
pUL50 rev
TCAGTCGCGGTGTGCGGAG
pUL53 fw
CACCATGTCTAGCGTGAGCGGC
pUL53 rev
AGGCGCACGAATGCTGTTGAG
RISP fw
GGATCCAACAATGTCGAGTAATTGGGGAAGTAGCTCG
RISP rev
GTCGACTACAGCAGGAAGAGGAACTAAGCAAGTTG

in Human Cells

5-RISP_EcoRV-Acc65I
TCAGGTACCGATATCATGAACGACCTGAGTGAACATGTAC
3-RISP-FLAG_NotI-ApaI
TCAGGGCCCGCGGCCGCTTACTTGTCGTCATCGTCTTTGTAGTCTACAGCAGGAAGAGGAACTAAGC
© 2016 by the authors; licensee MDPI, Basel, Switzerland. This article is an open access article distributed under the terms and conditions of the Creative Commons by Attribution (CC-BY) license (http://creativecommons.org/licenses/by/4.0/).