Whole-Genome Analysis of a Novel Fish Reovirus (MsReV) Discloses Aquareovirus Genomic Structure Relationship with Host in Saline Environments
State Key Laboratory of Freshwater Ecology and Biotechnology, Institute of Hydrobiology, Chinese Academy of Sciences, Wuhan 430072, China
*
Author to whom correspondence should be addressed.
Academic Editor: Andrew Mehle
Received: 19 March 2015 / Revised: 18 July 2015 / Accepted: 22 July 2015 / Published: 3 August 2015
Abstract
Aquareoviruses are serious pathogens of aquatic animals. Here, genome characterization and functional gene analysis of a novel aquareovirus, largemouth bass Micropterus salmoides reovirus (MsReV), was described. It comprises 11 dsRNA segments (S1–S11) covering 24,024 bp, and encodes 12 putative proteins including the inclusion forming-related protein NS87 and the fusion-associated small transmembrane (FAST) protein NS22. The function of NS22 was confirmed by expression in fish cells. Subsequently, MsReV was compared with two representative aquareoviruses, saltwater fish turbot Scophthalmus maximus reovirus (SMReV) and freshwater fish grass carp reovirus strain 109 (GCReV-109). MsReV NS87 and NS22 genes have the same structure and function with those of SMReV, whereas GCReV-109 is either missing the coiled-coil region in NS79 or the gene-encoding NS22. Significant similarities are also revealed among equivalent genome segments between MsReV and SMReV, but a difference is found between MsReV and GCReV-109. Furthermore, phylogenetic analysis showed that 13 aquareoviruses could be divided into freshwater and saline environments subgroups, and MsReV was closely related to SMReV in saline environments. Consequently, these viruses from hosts in saline environments have more genomic structural similarities than the viruses from hosts in freshwater. This is the first study of the relationships between aquareovirus genomic structure and their host environments.
View Full-Text
►

▼

Figures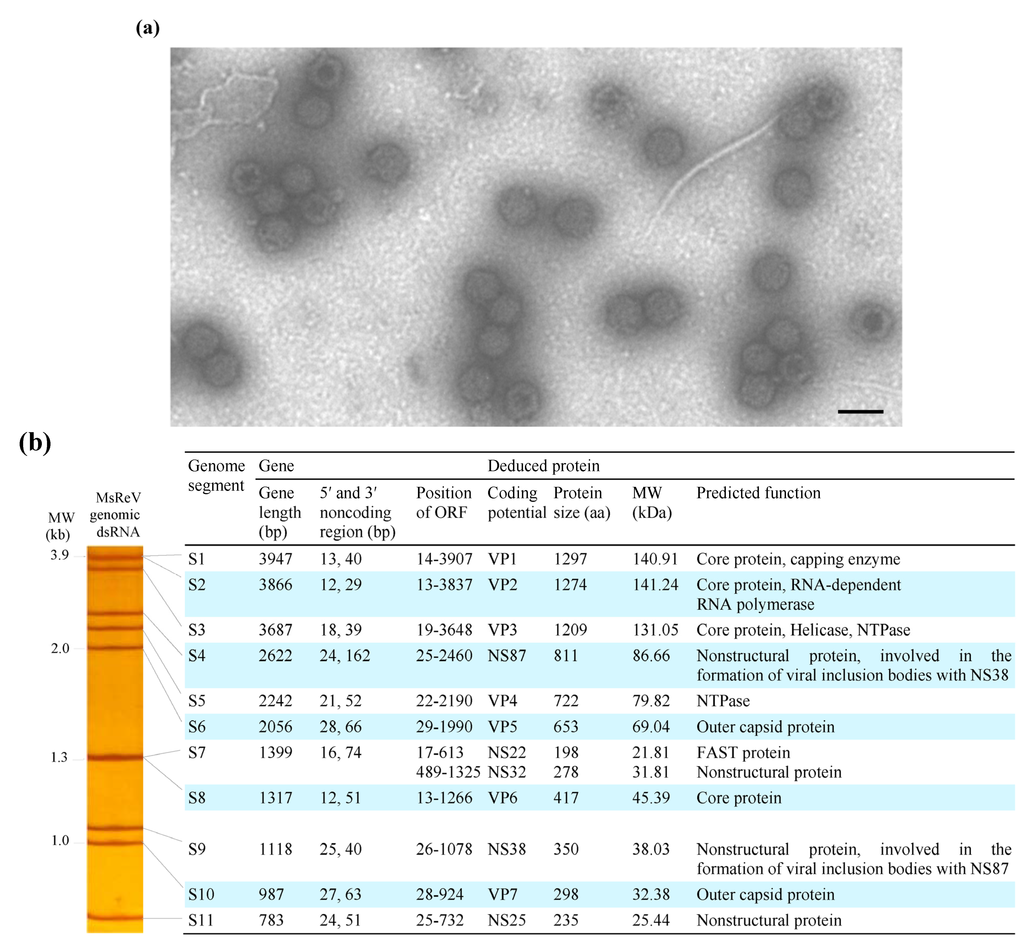 Figure 1
This is an open access article distributed under the
Creative Commons Attribution License
which permits unrestricted use, distribution, and reproduction in any medium, provided the original work is properly cited (CC BY 4.0).

Share & Cite This Article
MDPI and ACS Style
Chen, Z.-Y.; Gao, X.-C.; Zhang, Q.-Y. Whole-Genome Analysis of a Novel Fish Reovirus (MsReV) Discloses Aquareovirus Genomic Structure Relationship with Host in Saline Environments. Viruses 2015, 7, 4282-4302.
Related Articles
Comments
[Return to top]