Fiber-Modified Adenovirus for Central Nervous System Parkinson's Disease Gene Therapy
1
Department of Cell Biology, The University of Alabama at Birmingham, Birmingham, AL 35294, USA
2
Center for Neurodegeneration and Experimental Therapeutics, Department of Neurology, The University of Alabama at Birmingham, Birmingham, AL 35294, USA
3
Department of Microbiology, University of Alabama at Birmingham, Birmingham, AL 35294, USA
4
Department of Radiation Oncology, School of Medicine, Washington University in St. Louis, St. Louis, MO 63108, USA
*
Author to whom correspondence should be addressed.
Received: 29 November 2013 / Revised: 22 July 2014 / Accepted: 27 July 2014 / Published: 21 August 2014
Abstract
Gene-based therapies for neurological diseases continue to develop briskly. As disease mechanisms are elucidated, flexible gene delivery platforms incorporating transcriptional regulatory elements, therapeutic genes and targeted delivery are required for the safety and efficacy of these approaches. Adenovirus serotype 5 (Ad5)-based vectors can carry large genetic payloads to provide this flexibility, but do not transduce neuronal cells efficiently. To address this, we have developed a tropism-modified Ad5 vector with neuron-selective targeting properties for evaluation in models of Parkinson disease therapy. A panel of tropism-modified Ad5 vectors was screened for enhanced gene delivery in a neuroblastoma cell line model system. We used these observations to design and construct an unbiased Ad vector platform, consisting of an unmodified Ad5 and a tropism-modified Ad5 vector containing the fiber knob domain from canine Ad serotype 2 (Ad5-CGW-CK2). Delivery to the substantia nigra or striatum showed that this vector produced a neuronally-restricted pattern of gene expression. Many of the transduced neurons were from regions with afferent projections to the injection site, implicating that the vector binds the presynaptic terminal resulting in presynaptic transduction. We show that Ad5-CGW-CK2 can selectively transduce neurons in the brain and hypothesize that this modular platform is potentially adaptable to clinical use.
View Full-Text
►

▼

Figures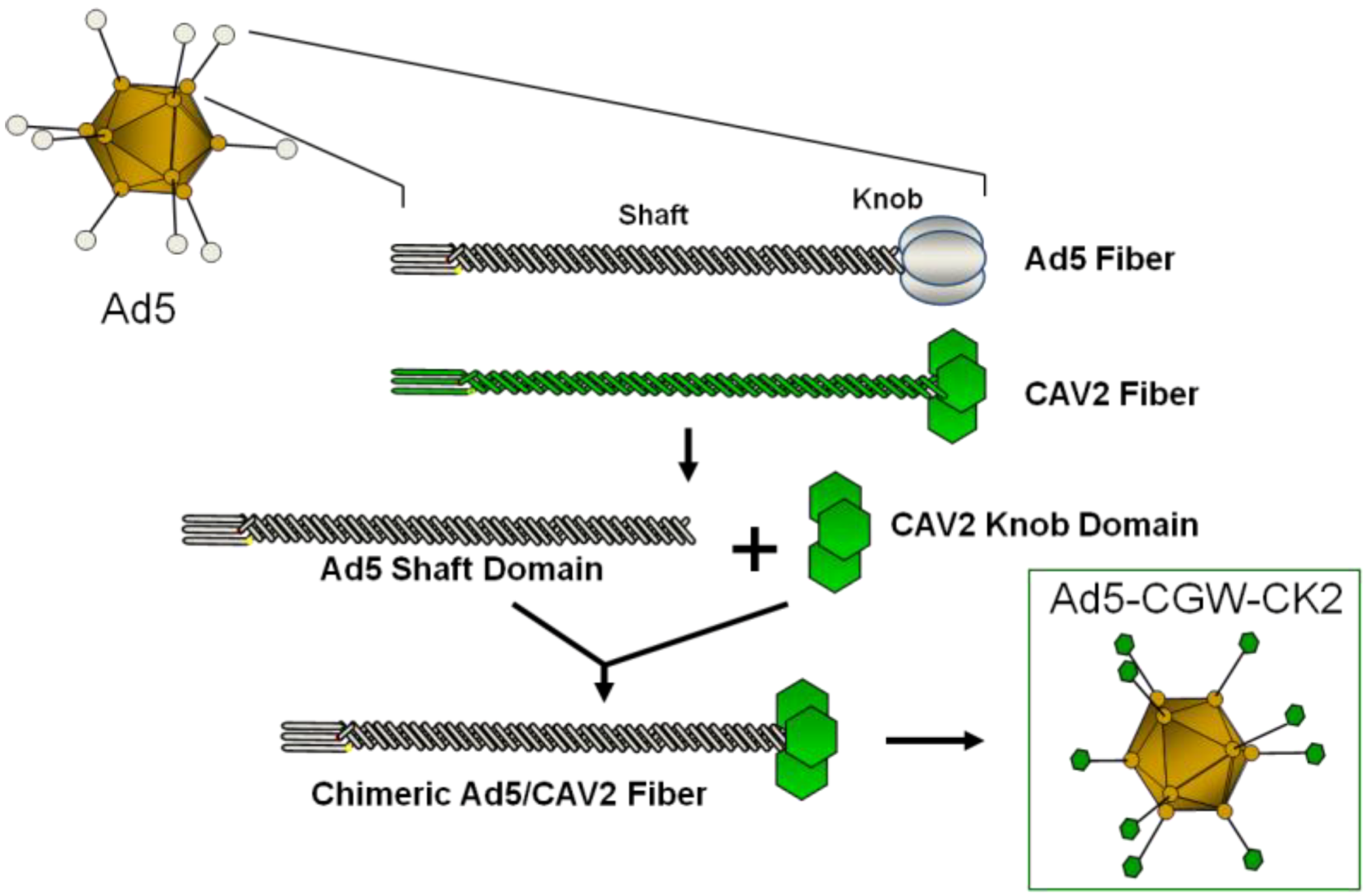 Figure 1

Share & Cite This Article
MDPI and ACS Style
Lewis, T.B.; Glasgow, J.N.; Harms, A.S.; Standaert, D.G.; Curiel, D.T. Fiber-Modified Adenovirus for Central Nervous System Parkinson's Disease Gene Therapy. Viruses 2014, 6, 3293-3310.
Related Articles
Comments
[Return to top]