Preclinical and Clinical Development of a YFV 17 D-Based Chimeric Vaccine against West Nile Virus
1
Sanofi Pasteur, 1 Discovery Drive, Swiftwater,, PA 18370, USA
2
Sanofi Pasteur, 38 Sidney St, Cambridge, MA 02139, USA
3
Sanofi Pasteur, 1755 Steeles Ave West, Toronto, ON M2R 3T4, Canada
4
Sanofi Pasteur, 1541 Avenue, Marcel Mérieux, Marcy-l'Étoile 69280, France
5
Acambis Inc., 38 Sidney Street, Cambridge, MA 02139, USA
*
Author to whom correspondence should be addressed.
†
Current address: Sanofi Pasteur, 295 Townsend Hill Road, Townsend, MA 01469, USA
Received: 16 August 2013 / Revised: 11 November 2013 / Accepted: 18 November 2013 / Published: 9 December 2013
Abstract
Substantial success has been achieved in the development and implementation of West Nile (WN) vaccines for horses; however, no human WN vaccines are approved. This review focuses on the construction, pre-clinical and clinical characterization of ChimeriVax-WN02 for humans, a live chimeric vaccine composed of a yellow fever (YF) 17D virus in which the prM-E envelope protein genes are replaced with the corresponding genes of the WN NY99 virus. Pre-clinical studies demonstrated that ChimeriVax-WN02 was significantly less neurovirulent than YF 17D in mice and rhesus and cynomolgus monkeys. The vaccine elicited neutralizing antibody titers after inoculation in hamsters and monkeys and protected immunized animals from lethal challenge including intracerebral inoculation of high dose of WN NY99 virus. Safety, viremia and immunogenicity of ChimeriVax-WN02 were assessed in one phase I study and in two phase II clinical trials. No safety signals were detected in the three clinical trials with no remarkable differences in incidence of adverse events (AEs) between vaccine and placebo recipients. Viremia was transient and the mean viremia levels were low. The vaccine elicited strong and durable neutralizing antibody and cytotoxic T cell responses. WN epidemiology impedes a classical licensure pathway; therefore, innovative licensure strategies should be explored.
View Full-Text
►

▼

Figures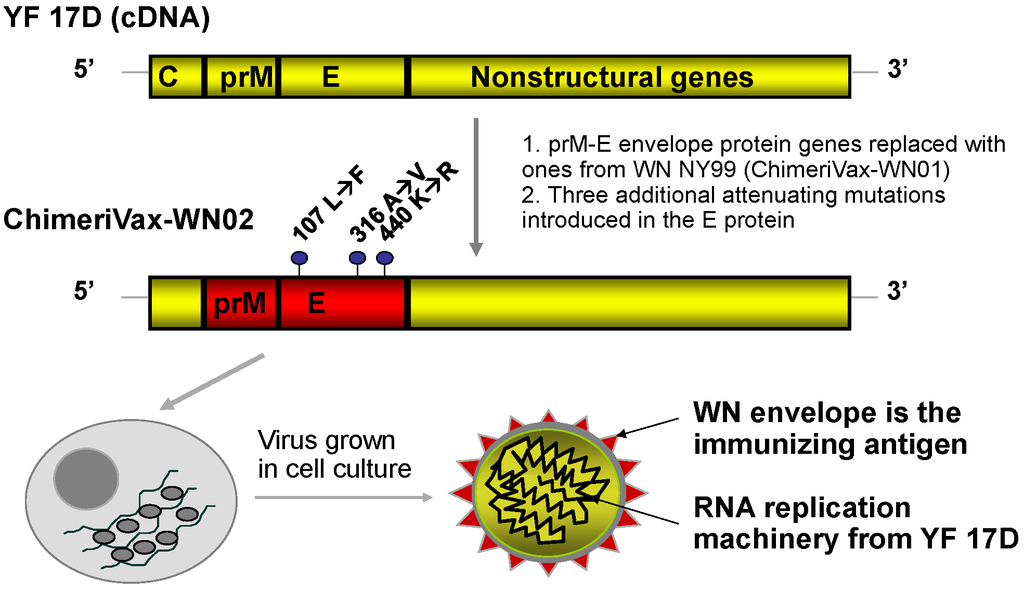 Figure 1

Share & Cite This Article
MDPI and ACS Style
Dayan, G.H.; Pugachev, K.; Bevilacqua, J.; Lang, J.; Monath, T.P. Preclinical and Clinical Development of a YFV 17 D-Based Chimeric Vaccine against West Nile Virus. Viruses 2013, 5, 3048-3070.
Related Articles
Comments
[Return to top]