Enhanced Heterosexual Transmission Hypothesis for the Origin of Pandemic HIV-1
1
Laboratory for Clinical and Epidemiological Virology, Rega Institute for Medical Research, Katholieke Universiteit Leuven, Leuven B-3000, Belgium
2
Instituto de Medicina Tropical Alexander von Humboldt, Universidad Peruana Cayetano Heredia, Lima 31, Peru
3
Centro de Malária e Outras Doenças Tropicais, Instituto de Higiene e Medicina Tropical, Universidade Nova de Lisboa, Lisboa 1349-008, Portugal
4
Research Group of Theoretical Biology and Evolutionary Ecology, Eötvös Loránd University and the Hungarian Academy of Sciences, Budapest 1117, Hungary
*
Author to whom correspondence should be addressed.
Received: 6 September 2012 / Revised: 15 September 2012 / Accepted: 17 September 2012 / Published: 3 October 2012
Abstract
HIV-1 M originated from SIVcpz endemic in chimpanzees from southeast Cameroon or neighboring areas, and it started to spread in the early 20th century. Here we examine the factors that may have contributed to simian-to-human transmission, local transmission between humans, and export to a city. The region had intense ape hunting, social disruption, commercial sex work, STDs, and traffic to/from Kinshasa in the period 1899–1923. Injection treatments increased sharply around 1930; however, their frequency among local patients was far lower than among modern groups experiencing parenteral HIV-1 outbreaks. Recent molecular datings of HIV-1 M fit better the period of maximal resource exploitation and trade links than the period of high injection intensity. We conclude that although local parenteral outbreaks might have occurred, these are unlikely to have caused massive transmission. World War I led to additional, and hitherto unrecognized, risks of HIV-1 emergence. We propose an Enhanced Heterosexual Transmission Hypothesis for the origin of HIV-1 M, featuring at the time and place of its origin a coincidence of favorable co-factors (ape hunting, social disruption, STDs, and mobility) for both cross-species transmission and heterosexual spread. Our hypothesis does not exclude a role for parenteral transmission in the initial viral adaptation.
View Full-Text
►

▼

Figures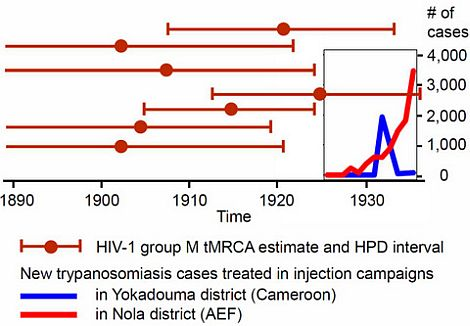 Graphical abstract

Share & Cite This Article
MDPI and ACS Style
Sousa, J.D.; Alvarez, C.; Vandamme, A.-M.; Müller, V. Enhanced Heterosexual Transmission Hypothesis for the Origin of Pandemic HIV-1. Viruses 2012, 4, 1950-1983.
Related Articles
Comments
[Return to top]