Open Access This article is
freely available
re-usable
Review
Possibilities for RNA Interference in Developing Hepatitis C Virus Therapeutics
Department of Microbiology, The University of Chicago, Chicago, IL 60637, USA; E-Mails:
[email protected]
* Author to whom correspondence should be addressed; E-Mail:
[email protected]
;Tel.: +1-773-702-5673; Fax: +1-773-834-8150.
Received: 6 July 2010; in revised form: 4 August 2010 / Accepted: 4 August 2010 / Published: 6 August 2010
Abstract
:
The discovery and characterization of the RNA interference (RNAi) pathway has been one of the most important scientific developments of the last 12 years. RNAi is a cellular pathway wherein small RNAs control the expression of genes by either degrading homologous RNAs or preventing the translation of RNAs with partial homology. It has impacted basic biology on two major fronts. The first is the discovery of microRNAs (miRNAs), which regulate almost every cellular process and are required for some viral infections, including hepatitis C virus (HCV). The second front is the use of small interfering RNAs (siRNAs) as the first robust tool for mammalian cellular genetics. This has led to the identification of hundreds of cellular genes that are important for HCV infection. There is now a major push to adapt RNAi technology to the clinic. In this review, we explore the impact of RNAi in understanding HCV biology, the progress in design of RNAi-based therapeutics for HCV, and remaining obstacles.
Keywords:
RNA interference; hepatitis C virus; siRNA therapy
1. A brief history of RNA therapeutics
In the last 30 years, numerous novel roles for RNA in the regulation of gene expression have been discovered in addition to its traditional function as a conveyor of message from DNA to protein. Many of these RNA functions have been and will continue to be probed for therapeutic applications. The earliest therapeutic nucleic acids explored were antisense oligonucleotides, typically short (13-25 nucleotides (nts)) single-stranded DNA or RNA molecules. Hybridization of an antisense molecule with its target RNA results in either degradation by RNase H or steric hindrance of the mRNA splicing or translational machinery [reviewed in 1]. In 1998, the United States Food and Drug Administration approved the first antisense DNA drug, fomivirsen by Isis Pharmaceuticals, to treat cytomegalovirus retinitis in immuno-compromised patients [
2
], thus demonstrating that clinical application of therapeutic nucleic acids is an achievable goal.
Ribozymes and aptamers are RNA molecules identified in the 1980's that were also tested for therapeutic potential. Hammerhead ribozymes, a class of catalytic RNAs (~40 nts), are of particular interest because of their ability to recognize and cleave at specific RNA sequences [
3
,
4
]. Aptamers are highly structured RNAs (25-40 nts) with a high affinity for their protein ligand making them useful as possible drug inhibitors. For example, the transactivation response (TAR) aptamer encoded by HIV-1 binds the viral transactivator of transcription protein (Tat), and when over-expressed
in vitro
, TAR renders cells resistant to HIV-1 replication [
5
].
The newest and most promising addition to the field of RNA therapeutics arose from the discovery of the RNA interference (RNAi) pathway in 1998 by eventual Nobel Prize recipients Fire and Mello [
6
]. In
C. elegans
, Fire et al. noted injection of long, double stranded (ds) RNAs (~300-1000 nts) complementary to a specified mRNA was accompanied by efficient elimination of the targeted transcript. This phenotype could not be reproduced in mammalian cells until Elbashir et al. provided a major breakthrough [
7
]. They showed that target mRNAs could be silenced by the transfection of cells with chemically synthesized siRNAs, which were designed to mimic the native siRNAs produced by RNAi in other systems [
7
]. It was subsequently shown that short hairpin RNAs (shRNAs), which mimic endogenous pre-miRNAs, could be expressed in cells and also yield effective target RNA silencing [
8
]. These studies have ushered in a new era of using siRNAs and shRNAs for mammalian genetics and therapeutic approaches. While RNAi-based therapeutics have not yet realized their considerable potential, much work is being done to advance these approaches into the clinic.
2. The RNAi pathway
RNAi is a conserved mechanism of post-transcriptional gene silencing (PTGS) identified in multiple organisms, from worms to plants to mammals. Much of the mechanism and key components of the RNAi pathway are now appreciated (
Figure 1
). In the cytoplasm, Dicer, a RNase III type enzyme, cleaves long dsRNAs into ~21-25 nucleotide (nt) siRNAs, with 5' phosphate groups and two nt 3' overhangs [
9
,
10
]. The strand complementary to the target mRNA is called the guide strand while the other is called the passenger strand. Clues as to how Dicer recognizes its dsRNA substrate and how cleavage sites are chosen lie within its structure [
11
,
12
]. Dicer proteins usually contain a helicase/ATPase domain, two RNaseIII-like domains, a PAZ domain, and a dsRNA binding domain. The size of siRNAs produced are predicted by the distance between the PAZ and the RNaseIII domains, and the 3' overhangs are a common feature produced by RNaseIII activity [
11
]. Several positively charged residues connecting these domains are thought to facilitate binding of RNA [
11
].
Figure 1. Illustration of the endogenous RNAi pathway and therapeutic mimics. Genome-encoded primary microRNAs (pri-miRNAs) are processed by Drosha into pre-miRNAs that are then exported from the nucleus. In the cytosol, Dicer cleaves pre-miRNAs into miRNAs and a single-stranded guide RNA is incorporated into RISC. Depending on sequence homology between the guide strand and the target, RISC either cleaves the mRNA or causes translational repression. The RNAi pathway can be activated by synthetic siRNAs or shRNAs to therapeutically treat metabolic disorders, cancers, or viral infections. shRNAs delivered by viral vectors mimic pre-miRNAs while siRNAs mimic the native miRNA duplexes and are incorporated into RISC. shRNAs must be exported from the nucleus and siRNAs delivered using liposome-based technologies must escape from endosomal compartments before being processed. Accessory proteins involved are DiGeorge syndrome critical region 8 (DGCR8), argonaute 2 (ago2), and HIV-transactivating response RNA-binding protein (TRBP).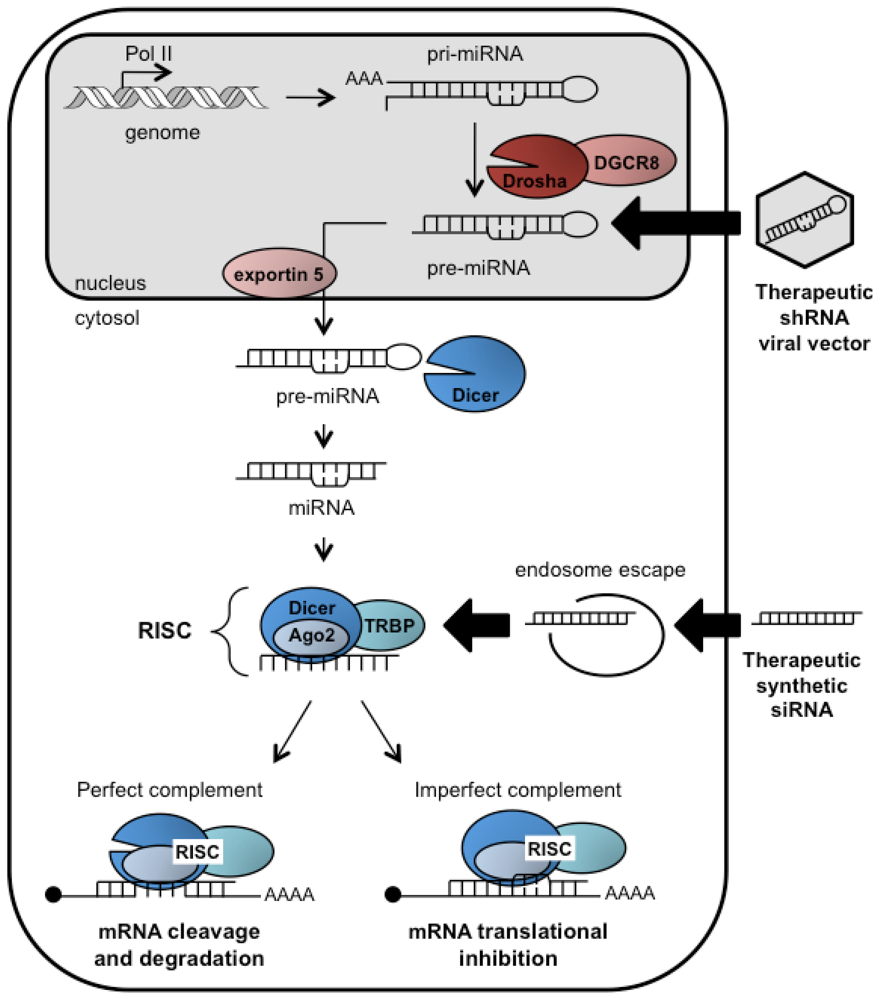 Dicer then delivers the siRNA to the RNA-induced silencing complex (RISC), in part consisting of Dicer, argonaute proteins, and HIV-transactivating response RNA-binding protein (TRBP) [
13
]. Argonaute 2 (Ago2) is the catalytic endonuclease at the heart of human RISC that binds the siRNA duplex, cleaves and removes the passenger strand, and thus leaves behind an intact single-stranded guide [
14
,
15
]. The strand with least complementarity at the 5' end tends to serve as the guide [
16
]. Furthermore, TRBP binds to the more thermodynamically stable end of the siRNA and orients it with Ago2 in a way that helps identify the guide strand [
17
]. The degree of complementarity between the guide and target mRNA determines whether the mRNA is degraded (exact match) or translationally repressed due to steric hindrance (partial homology) [
18
]. In the case of exact homology, the RNase H domain of Ago2 is responsible for target mRNA cleavage [
14
].
Endogenous microRNAs (miRNAs) are the natural substrates for Dicer in mammals [reviewed in 18]. In the nucleus, RNA polymerase II (Pol II) transcribes genome-encoded primary miRNAs (pri-miRNAs) that can contain multiple hairpins [
19
]. A complex consisting of the RNase III enzyme Drosha and dsRNA binding protein DGCR8 cleaves the pri-mRNAs into 60-80 nt hairpins called pre-miRNAs [
20
]. Pre-miRNA hairpins are exported into the cytoplasm where they are recognized by Dicer and cleaved to generate the final miRNA duplex with characteristic two nt 3' overhangs [
20
]. Novel Dicer-independent mechanisms for miRNA processing may also exist since it was reported that miR-451 cleavage relied only on Ago2 catalytic activity in zebrafish [
21
]. The majority of miRNA-derived guide strands have only partial target homology and are directed by RISC to the 3' untranslated region (UTR) of mature mRNAs resulting in translational repression [
22
]. The "seed" region of the miRNA (nts 2-8 from 5' end of the guide strand) is critical for recognition of target 3'UTRs [
23
]. More recently, it has been shown that central nucleotides can also guide substrate selection in some cases [
24
]. RNAi is now recognized as a critical regulator of virtually every cellular process.
RNAi has become a preferred method to perform highly specific genetic manipulations for functional studies in cell culture. RNAi studies have also greatly expanded the repertoire of possible drug targets to treat metabolic and genetic disorders, cancer, or viral infections. The underlying principle for RNAi-based therapy is to trigger PTGS using mimics of Dicer substrates (
Figure 1
): either chemically synthesized siRNAs or virally expressed shRNAs. Synthetic siRNAs can be delivered to Dicer in the cytosol by a variety of delivery approaches. shRNAs encoded in viral delivery vectors must be exported and processed by the endogenous miRNA pathway.
A study by Song et al. demonstrated the first
in vivo
siRNA application for disease therapy [
25
]. They showed that systemic delivery of siRNA duplexes targeting Fas, a mediator of hepatitis and fibrosis, resulted in hepatocyte-uptake and protected the treated mice from liver injury in a fulminant hepatitis mouse model. More
in vivo
studies for other diseases soon followed supporting the efficacy of siRNA-based therapies [reviewed in 26, 27]. An array of antiviral RNAi therapies have been corroborated in animal models, for example, influenza [
28
,
29
], respiratory syncytial virus (RSV) [
30
,
31
], parainfluenza virus [
30
], coxsackievirus B [
32
], SARS-associated coronavirus [
33
], West Nile virus [
34
], and herpes simplex virus (HSV-2) using a topical application [
35
].
4. Advantages & pitfalls of RNAi therapeutics
5. siRNA drugs in clinical trials
6. The final frontier for RNAi therapeutics for HCV: effective siRNA delivery to the liver
7. Conclusions and outlook
The identification of RNAi in mammalian cells is less than a decade old. However, the field has dramatically altered our fundamental understanding of gene regulation in almost every setting. It is clear that there is an enormous potential for RNAi-based therapies, which is as of yet unrealized. In the case of HCV, RNAi therapies will not be the next generation of antivirals to emerge from clinical trials. These almost certainly will be more classical protease and polymerase small molecule inhibitors that will be used in combination with IFN and ribavirin. Nevertheless, it is clear that additional therapeutic strategies involving novel targets will likely be required to treat patients who fail to respond to this combination therapy, which is proposed to be ~15-25% of treated patients [
116
]. It is possible that RNAi therapeutics may be one of the next generations of drugs to help fill this niche.
The compelling strength of RNAi therapeutic approaches is that once the proper modifications are designed to minimize off-target effects, while maximizing effective delivery of siRNAs or shRNAs to the hepatic cytosol, they are universally applicable to any liver target. Only the siRNA nucleotide sequence needs to change in order to target any hepatotropic virus or liver gene target, e.g. to treat diseases with elevated LDL or cholesterol. Thus, if the issues with effective delivery are overcome, it will be trivial to apply this technology to many different hepatotropic diseases.
Acknowledgments
We would like to thank Kelly Coller and Nicholas Heaton for critical reading of the manuscript. G.R. acknowledges support from the National Institute of Allergy and Infectious Disease (AI080703), the American Cancer Society (118676-RSG-10-059-01-MPC), and Susan and David Sherman. K.L.B. acknowledges support from the American Cancer Society (PF-10-240-01-MPC).
© 2010 by the authors; licensee MDPI, Basel, Switzerland This is an open-access article distributed under the terms of the Creative Commons Attribution License, which permits unrestricted use, distribution, and reproduction in any medium, provided the original work is properly cited.