Open Access This article is
freely available
re-usable
Review
Oncolytic Viruses for Cancer Therapy: Overcoming the Obstacles
1
Centre for Molecular Oncology and Imaging, Institute of Cancer, Barts and The London School of Medicine and Dentistry, Queen Mary University of London, London EC1M 6BQ, UK; E-Mails:
[email protected]
(H.H.W.);
[email protected]
(N.R.L.)
2
Sino-British Research Centre for Molecular Oncology, Zhengzhou University, Zhengzhou 450052, China
Author to whom correspondence should be addressed; E-Mail:
[email protected]
; Tel.: +44-2078823596, Fax: +44-2078823884.
Received: 28 October 2009; in revised form: 2 January 2010 / Accepted: 6 January 2010 / Published: 11 January 2010
Abstract
:
Targeted therapy of cancer using oncolytic viruses has generated much interest over the past few years in the light of the limited efficacy and side effects of standard cancer therapeutics for advanced disease. In 2006, the world witnessed the first government-approved oncolytic virus for the treatment of head and neck cancer. It has been known for many years that viruses have the ability to replicate in and lyse cancer cells. Although encouraging results have been demonstrated
in vitro
and in animal models, most oncolytic viruses have failed to impress in the clinical setting. The explanation is multifactorial, determined by the complex interactions between the tumor and its microenvironment, the virus, and the host immune response. This review focuses on discussion of the obstacles that oncolytic virotherapy faces and recent advances made to overcome them, with particular reference to adenoviruses.
Keywords:
oncolytic virus; adenovirus; vaccinia virus; cancer gene; host immune response
1. Introduction
Cancer is a major cause of death globally. Although treatments for the disease have improved significantly, conventional chemotherapy or radiotherapy still have limited effects against many forms of cancer, not to mention a plethora of treatment-related side effects. This situation signifies a need for novel therapeutic strategies, and one such approach is the use of viruses. The ability of viruses to kill cancer cells has been recognized for more than a century [
1
]. They achieve this by a number of mechanisms, including direct lysis, apoptosis, expression of toxic proteins, autophagy and shut-down of protein synthesis, as well as the induction of anti-tumoral immunity. Although clinical trials of several naturally-occurring oncolytic viruses were started back in the 1950s, it was only in 1991 that a herpes simplex virus-1 (HSV-1) with deletion of its thymidine kinase
UL23
gene became the first genetically-engineered, replication-selective oncolytic virus to be tested in the laboratory [
2
]. In 2005, an adenovirus (Ad) with
E1B 55K
gene deletion (H101(Oncorine); Shanghai Sunway Biotech, Shanghai, China) was approved in China as the world's first oncolytic virus for head and neck cancer in combination with chemotherapy [
3
]. However, until now the widespread use of oncolytic virotherapy is still far from reality. Promising laboratory results have not been translated to improved clinical outcomes, and this appears to be determined by the complex interactions between the tumor and its microenvironment, the virus, and the host immunity. There are already a number of reviews on oncolytic viruses for cancer treatment but this article will focus on the obstacles facing oncolytic virotherapy, with particular reference to Ads, and the recent advances made to overcome these hurdles.
Mechanisms of tumor selectivity
The term 'oncolytic viruses' applies to viruses that are able to replicate specifically in and destroy tumor cells, and this property is either inherent or genetically-engineered. Inherently tumor-selective viruses can specifically target cancer by exploiting the very same cellular aberrations that occur in these cells, such as surface attachment receptors, activated Ras and Akt, and the defective interferon (IFN) pathway (
Figure 1
). Some viruses have been engineered with specific gene deletion – these genes are crucial for the survival of viruses in normal cells but expendable in cancer cells (
Figure 2
). Deletion of the gene that encodes thymidine kinase, an enzyme needed for nucleic acid metabolism, results in dependence of viruses such as HSV and vaccinia virus on cellular thymidine kinase expression, which is high in proliferating cancer cells but not in normal cells. Vaccinia also produces the vaccinia growth factor (VGF) that binds to and activates the epidermal growth factor receptor (EGFR), creating an environment that supports its replication. It follows that deletion of genes encoding for both thymidine kinase and VGF leads to further selectivity of vaccinia virus in cancers with an activated EGFR-Ras pathway [
4
]. Another approach in conferring tumor selectivity is to restrict virus replication by its dependence on transcriptional activities that are constitutively activated in tumor cells. This can be achieved by the insertion of a tumor-specific promoter driving the expression of a critical gene [
5-11
]. Others viruses either possess naturally (e.g., Coxsackievirus A21 [
12
] and measles virus (MV) [
13
]) or have been designed to have specific tropism based on the expression of cell surface receptors unique to cancer cells [
14-20
].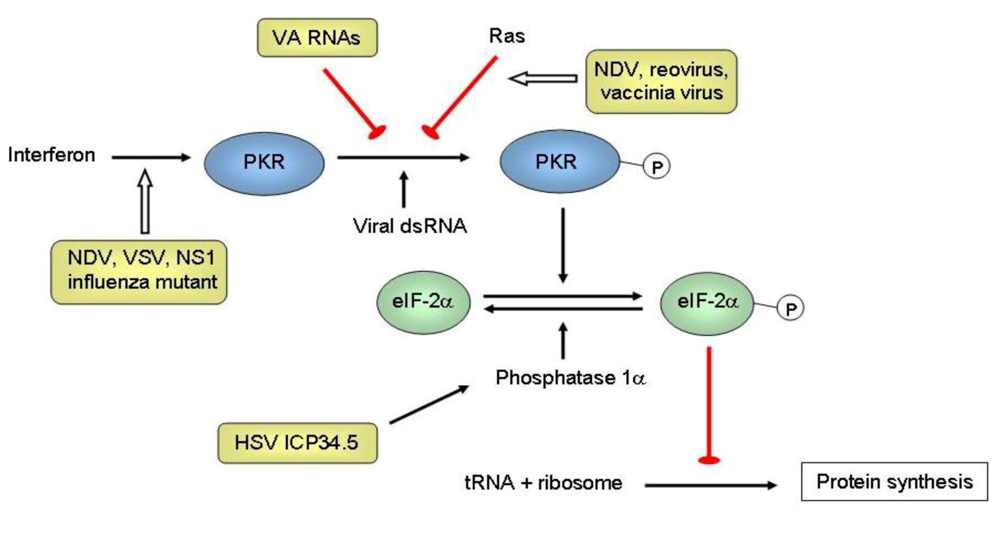 Figure 1.
Mechanisms of tumor selectivity of several oncolytic viruses. The interferon (IFN)/double-stranded RNA-activated protein kinase (PKR) pathway is a natural anti-viral defense system. IFNs produced by infected cells result in the upregulation of PKR. On binding to viral double-stranded RNA (dsRNA), PKR autophosphorylates, which in turn phosphorylates the α subunit of eIF-2. Phosphorylated eIF-2α sequesters eIF-2B, a guanine nucleotide exchange factor. Without eIF-2B, the GDP bound to eIF-2 cannot be exchanged for GTP. As a result eIF-2 is unable to bring the initiator transfer RNA (tRNA) to the 40S ribosomal subunit, and the synthesis of viral protein is inhibited. Inactivated IFN and activated Ras pathways are frequently found in cancer (the latter could inhibit PKR), and some naturally-found viruses can replicate selectively in cancer but not normal cells, including the Newcastle disease virus (NDV)[
21
], reovirus[
22
], vaccinia virus[
23
], and vesicular stomatitis virus (VSV)[
24
]. The herpes simplex virus (HSV) protein ICP34.5 interacts with cellular phosphatase 1α to dephosphorylate eIF-2α, leading to synthesis of proteins needed for virus replication. Deletion of gene that encodes for ICP34.5 (
RL1
) results in selective replication in tumors with a defective IFN/PKR pathway[
25
]. The influenza virus
NS1
-deleted mutant is also dependent on this defective pathway[
26
]. Adenoviruses normally produce virus-associated (VA) RNAs to inhibit PKR. As such, engineered
VAI
-deleted adenovirus (
dl
331) could replicate selectively in tumors with an activated Ras pathway[
27
]. Epstein-Barr virus (EBV) also expresses RNAs similar to VA RNAs and these can complement
dl
331, resulting in selectivity in EBV-associated tumors[
28
].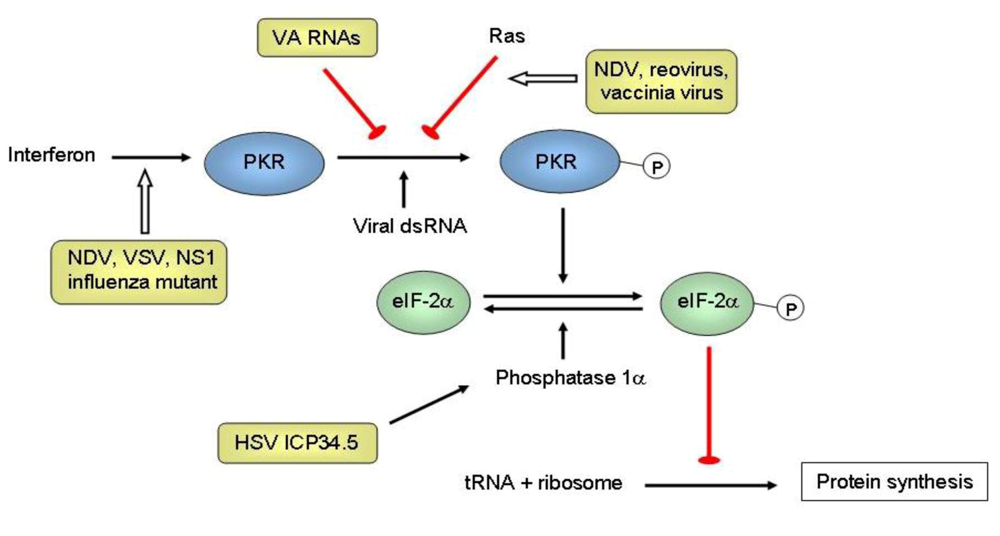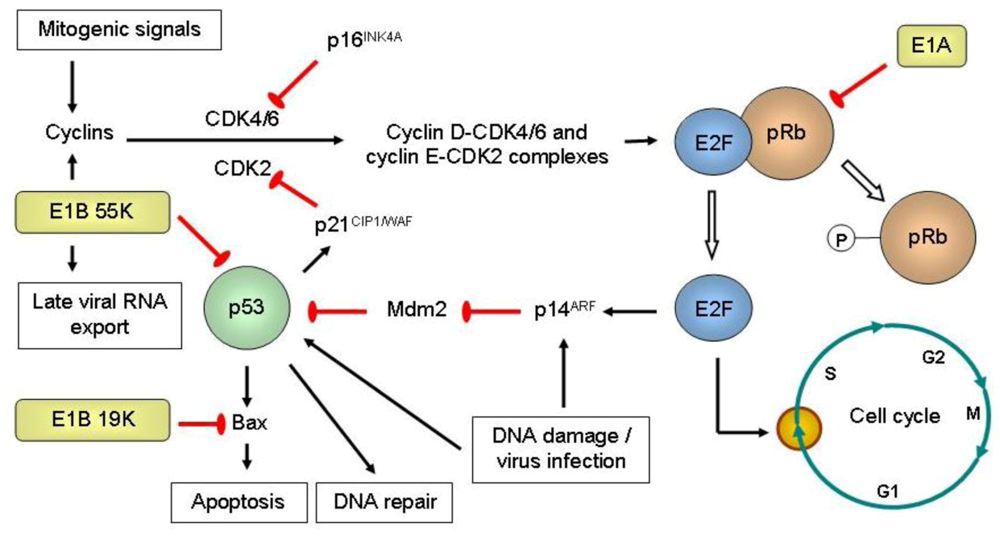 Figure 2.
Engineered replication selectivity of oncolytic adenoviruses (Ads) by deletion of the
E1A
,
E1B 19K
or
E1B 55K
gene. Retinoblastoma protein (pRb) is normally hypophosphorylated and binds to transcription factors of the E2F family to regulate the G1-to-S checkpoint of the cell cycle. Upon stimulation by mitogenic signals, upregulation of cyclins enables cyclin-dependent kinases (CDKs) to phosphorylate pRb, releasing E2F that leads to the expression proteins needed for DNA synthesis and thus cell cycle progression. E2F upregulates p14
ARF
, which inhibits Mdm2. Mdm2 normally results in p53 degradation. p53 is a transcription factor that is upregulated and activated by stress signals such as virus infection or DNA damage. It results in the expression of proteins that induce apoptosis (Bax), cell cycle arrest (p21
CIP1/WAF
via its inhibition of CDK2) or DNA repair. p16
INK4A
is a tumor suppressor that inactivates CDK4/6. The adenoviral E1A proteins bind to pRb to release E2F, so that viral DNA could be replicated. E1A also promotes the acetylation of pRb by p300/CBP, causing pRb to associate with Mdm2 to inhibit p53. Because cancer cells are often in the S phase,
E1A CR2
-deleted Ad5 mutant (
dl
922-947) could selectively replicate in and destroy replicating cancer cells but not normal resting cells[
29
]. E1B 19K binds to and inhibits Bax. The tumor selectivity of
E1B 19K
-deleted Ad2 (
dl
250) is due to multiple defects in the apoptotic pathways, where survival of the virus in normal cells would be limited owing to rapid apoptosis induction in the presence of tumor necrosis factor-α (TNF-α)[
30
]. E1B 55K interacts with the adenovirus E4 open reading frame 6 (E4orf6) protein to form an E3 ubiquitin ligase complex that targets p53 for degradation. It also induces the expression of cyclin E as well as simultaneously inhibits cellular mRNA export and promotes the export of late viral mRNAs.
E1B 55K
-deleted Ad could replicate in tumor selectively because of non-functioning p53[
31
], cyclin E overexpression[
32
], and E1B 55K-independent late viral RNA export in cancer but not normal cells[
33
].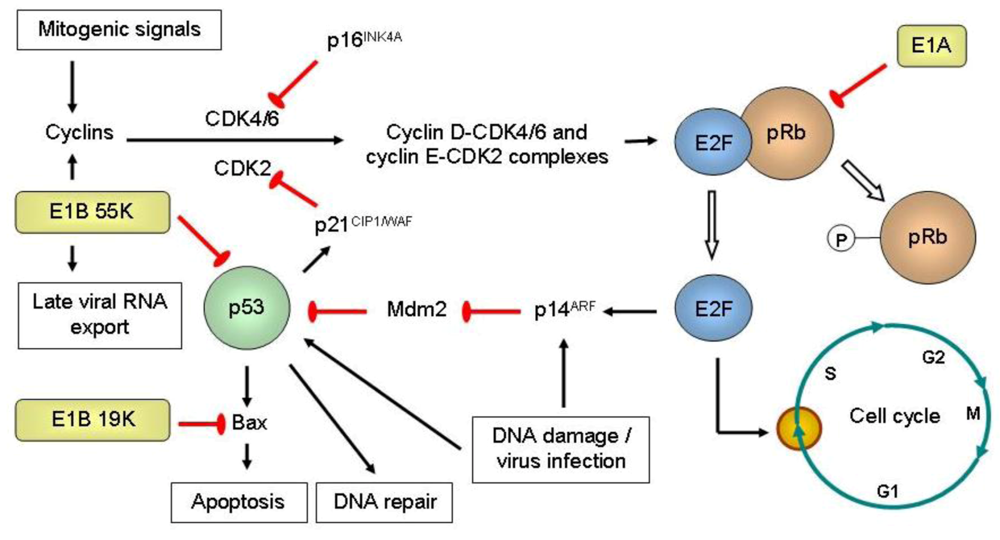 More recently, gene silencing by RNA interference technology has been utilized to confer tumor selectivity. MicroRNAs (miRNAs) or small interfering RNAs (siRNAs) regulate gene expression post-transcriptionally by translation block or cleavage of specific, complementary mRNA via the RNA-induced silencing complex (RISC). By inserting a complementary sequence next to a critical viral gene, it is possible to confine virus replication to tumor but not normal cells that express high levels of the corresponding miRNA. This has been demonstrated by several groups [
34-38
]. Gürlevik
et al.
[
39
] developed a recombinant Ad that encodes multiple RNA-interfering transcripts under the control of a p53-responsive promoter. The transcripts could effectively silence a set of critical viral genes. As p53 is a transcription factor often lost or mutated in human malignancy, this virus could therefore replicate in cancer but not normal cells where functional p53 would lead to an anti-viral RNA interference.
Optimizing oncolytic viruses for improved anti-tumoral potency
Arming oncolytic viruses with therapeutic genes
The tumor environment and oncolytic viruses
Modification of the host immune response in favor of oncolytic viruses
Most studies of oncolytic viruses have been done, by necessity, on human tumor xenografts in immunodeficient mice – far from reflective of the human condition. Unsurprisingly, data from these studies have not been predictive for clinical trial results. The effects of the host immune response on the efficacy of oncolytic viruses are complex. When stimulated, immune cells could result in virus clearance but might also induce specific and non-specific anti-tumoral activities. It appears that the innate immune response plays an important role in virus clearance, whereas T cell-mediated responses are largely responsible for the anti-tumoral effect [
133-137
].
For the treatment of metastatic or hematological malignancies, intravenous virus delivery could be hindered by neutralizing antibodies, complement activation, non-specific uptake by other tissues such as the liver and spleen, as well as poor virus escape from the vascular compartment (
Figure 3
). For Ad, adhesion to blood cells could also lead to therapeutic inhibition [
138
]. Numerous experiments have been done to modify the immune response in favor of virus replication and tumor lysis. One method is by using an immunosuppressive agent, such as cyclophosphamide, that has been shown to improve virus spread and anti-tumoral efficacy [
139-145
]. Kurozumi
et al
. [
146
] found that single doses of the angiostatic and anti-inflammatory cyclic peptide of arginine-glycine-aspartic
(cRGD), given before an oncolytic HSV, resulted in reduced tumor vessel permeability, leukocyte infiltration and IFN-γ, leading to increased survival of rats with intracranial gliomas. Various data suggest that pre-existing antibodies decrease virus spread after intravenous delivery [
147-149
], but have a lesser effect on intratumoral injection [
44
,
150
,
151
]. Although antibodies could prevent possible toxicity [
152
], they could also reduce efficacy. Possible ways to circumvent this include plasmapheresis to deplete antibodies and the use of other viral strains with a lower prevalence of antibodies in the human population. One example is Ad11 [
118
,
119
], with a reported antibody prevalence of 10-31% compared to 45-90% for Ad5 [
122
,
153-155
]. These antibodies are mainly directed against the viral hexon proteins [
156
], suggesting that the use of Ad11 virion might be better than chimeric Ad5/11, where the fibers are derived from Ad11 but the rest, including hexon, belong to Ad5. A caveat to this is that for unknown reasons, Ad11 appears to induce more pro-inflammatory cytokines and chemokines than Ad5 or Ad5/11 in mice after systemic injection [
120
].
Instead of injecting naked virions, using cells as delivery vehicles could hide the viral antigen from antibodies and complements. This so-called "Trojan horse" strategy involved infecting the body's cells
in vitro
and administering these cells back systemically, which would then carry the oncolytic virus to the tumor environment. Cells that have been tested include mesenchymal stem cells [
157-159
], monocytes [
160
], outgrowth endothelial cells [
160
], tumor cells [
161-163
], T cells [
164-166
], and dendritic cells (DCs) [
165
]. Ong
et al
. [
167
] showed that MV-infected T cells could facilitate tumoral delivery in low, but not high antibody concentration. Power
et al
. [
168
] tested a number of carrier cells including solid tumor and leukemic cells, and demonstrated that the efficacy of oncolytic vesicular stomatitis virus (VSV) was significantly improved compared to naked virion injection. Interestingly, Zhu
et al
. [
169
] demonstrated that mice pre-immunized with HSV exhibited reduced growth of S-180 tumor after intratumoral treatment with HSV. PBMCs from seropositive mice showed greater cytotoxicity
in vitro
compared to naïve mice, with higher IFN-γ induction. It is not known if this also applies to intravenous virus delivery or to other oncolytic viral species. Whilst the cell carrier approach has yielded promising data
in vivo
, numerous issues must be considered before clinical application, including the best cell type to use, ease of infection, tumor-targeting capabilities, protection of virus from the host immune response, virus delivery, and tumorigenicity. Recently Kangasniemi
et al
. [
170
] have demonstrated that silica gel-encapsulated Ads allowed for extended release of the viruses and slightly delayed the development of anti-Ad antibodies. This method has anti-tumoral activity, but comparison with other methods of administration was not performed.
After intravenous delivery the liver, part of the reticuloendothelial system, is the predominant site of Ad5 sequestration with significant hepatocyte transduction [
171
,
172
]. Ad5 is known to cause liver toxicity, and its use has raised some concerns after the death of Jesse Gelsinger in 1999 from Ad5-based gene therapy injected directly into the hepatic artery [
173
]. A landmark study by Waddington
et al
. [
174
] showed that liver transduction is mediated by interaction of the adenoviral hexon protein with the blood coagulation factor X. This provides a further rationale for the development of other Ad serotypes for oncolytic therapy, such as Ad11 and Ad35 as they bind weakly to factor X compared to Ad5 [
118
] or other Ad5 chimera. In CD46 transgenic mice, Ad11 persisted much longer in the circulation after intravenous delivery compared to Ad5 together with the absence of liver transduction [
120
,
122
]. As for Ad5, ways to reduce liver uptake include recent experiments performed by Barry
et al
. They studied the effect of Kupffer cell depletion (by pre-dosing mice with non-replicating Ad5) and warfarin treatment (to inhibit vitamin K-dependent coagulation factors) and found that this approach significantly increased the anti-tumoral effect of systemically delivered oncolytic Ad5 in nude mice [
175
]. Good results have also been demonstrated by coating Ad5 with high molecular weight polyethylene glycol [
176
] or by genetic modification of the hexon protein to ablate blood factor binding [
177
] for liver detargeting.
A plethora of immunostimulatory genes have been inserted into the genome of oncolytic viruses with the aim of stimulating effective anti-tumoral immune responses. Recent examples include the heat shock proteins [
179
,
180
], chemokine (C-C motif) ligand 5 (CCL5) [
181
], IFN [
182
], granulocyte macrophage colony-stimulating factor (GM-CSF) [
183-185
], IL-12 [
186
], IL-18 [
81
,
82
], and IL-24 [
187
,
188
]. Vaccinia virus normally expresses a number of type I IFN-inhibiting proteins to counteract the cellular IFN anti-viral response. Because cancer cells frequently have an inactivated IFN pathway, anti-IFN gene-deleted vaccinia could selectively replicate in these cells. Kirn
et al
. [
189
] utilized this mutant and inserted a gene that encodes IFN-β (which itself has anti-proliferative, anti-angiogenic, and immunomodulatory anti-tumoral effects), and demonstrated enhanced tumor selectivity and potency
in vivo
. Shashkova
et al
. [
190
] used a four-pronged approach by co-infecting cancer cells with a replicating oncolytic Ad with ADP overexpression and IFN-α expression, given together with a non-replicating virus encoding the gene for TRAIL, with impressive results. The currently used oncolytic MVs were derived from the attenuated Edmonston tag (Edmtag) strain. Significantly, they lack antagonizing activity against the host anti-viral IFN immune response, thus inhibiting virus spread. Recombinant MV encoding the measles phosphoprotein (
P
) gene product from wild-type MV, an IFN antagonist, has been found to exhibit reduced IFN sensitivity and better oncolytic potency
in vivo
[
191
]. A recombinant VSV vector which expresses a gene from human CMV has been found to have increased anti-tumoral activity
in vivo
[
192
]. The expressed protein inhibited the natural killer (NK) cell-activating ligand CD155, resulting in decreased accumulation of NK and NKT cells at the infected tumor site and elevated virus replication.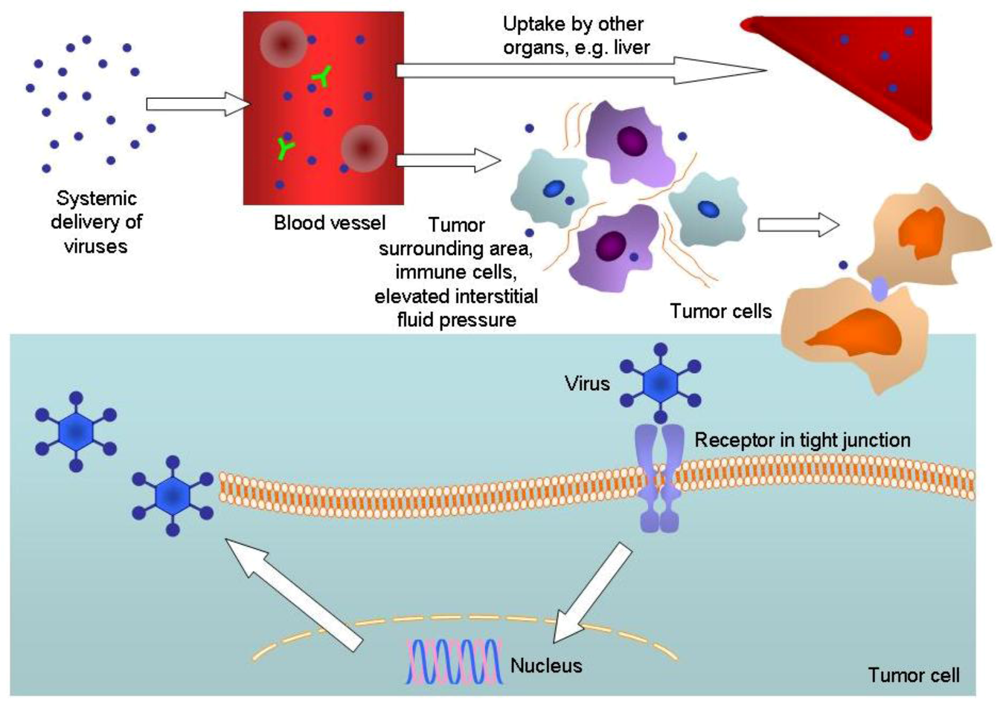 Figure 3.
Obstacles to successful delivery of oncolytic viruses to tumor cells. After intravenous injection, viruses are neutralized by pre-existing antibodies and complement activation. Adenoviruses (Ads) also interact with blood cells. Recent work has revealed that Ad5 binds to erythrocytes via the Coxsackie and adenovirus receptor (CAR) and complement receptor 1 (CR1) in the absence and presence of anti-Ad5 antibodies, respectively[
178
]. Sequestration into other organs and the reticuloendothelial system is a particular problem, often with resulting toxicities. From the blood stream, viruses have to pass through a mixture of extracellular matrix, cells (including normal and immune cells) and high interstitial fluid pressure before reaching the tumor. They then have to attach to the cellular receptor (often trapped in tight junction), be internalized, translocate to the nucleus, replicate, produce structural and other proteins, lyse the cell and release their progenies – some of these steps could be inhibited by factors such as the natural host immune response, hypoxic environment, soluble factors, and genetic changes in the tumor cell.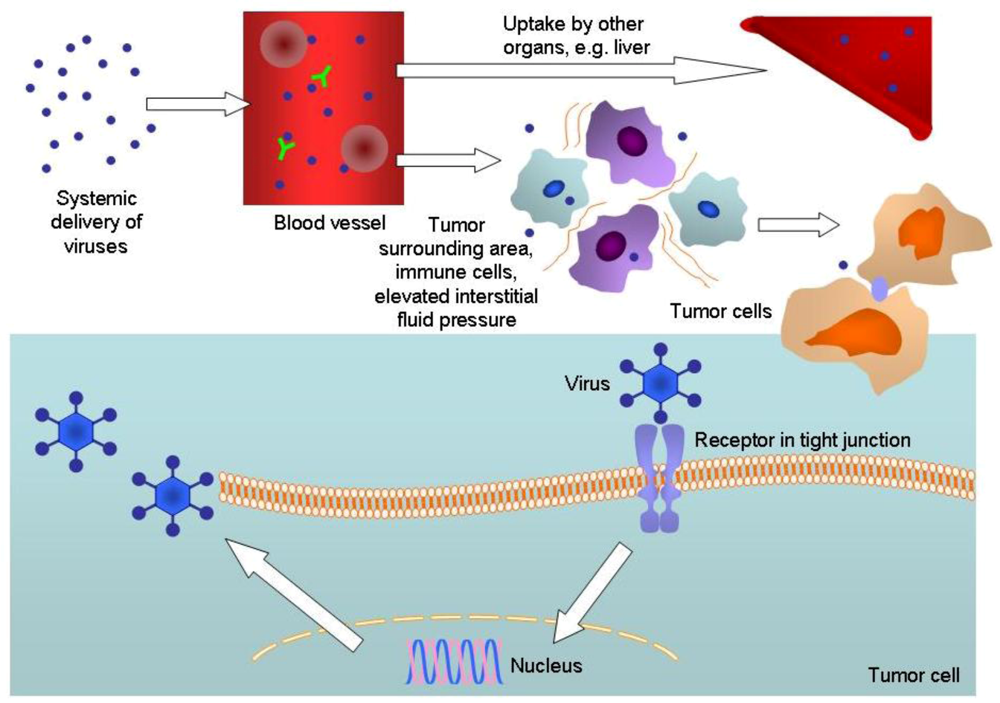 Antigen-specific activation and proliferation of lymphocytes are regulated by interaction of the peptide-antigen-major histocompatibility complex (MHC) with the T cell receptor, as well as both positive and negative signals from co-stimulatory molecules expressed on antigen-presenting cells (APCs). The most important of the APCs are the DCs. DCs are capable of capturing antigens secreted or shed by tumor cells and upon maturation, present the peptides to T cells. Endo
et al
. [
193
] showed that virus replication led to the production of uric acid in cancer cells, which stimulated DCs to produce IFN-γ and IL-12. IFN-γ subsequently induced the expression of the proteosome activator PA28, which functions to generate tumor antigenic peptides required for MHC class I presentation, resulting in the induction of cytotoxic T lymphocytes (CTLs) against tumor cells. Lapteva
et al
. [
194
] and Ramakrishna
et al
. [
195
] demonstrated that increased DC migration and maturation by oncolytic Ad encoding β-defensin-2 or macrophage inflammatory protein 1α (MIP-1α) and Fms-like tyrosine kinase-3 ligand (Flt3L) significantly enhanced anti-tumoral immune responses. Chuang
et al
. [
196
] used another approach whereby tumor-bearing mice were first primed with DNA encoding a highly immunogenic foreign antigen ovalbumin (OVA), followed by intratumoral injection of vaccinia virus encoding the same antigen. The DNA vaccination served to generate OVA-specific CTLs against infected cancer cells, and the virus resulted in further oncolysis. A study by Diaz
et al
. [
135
] revealed that depletion of regulatory T cells reduced the efficacy of oncolytic VSV, due to the relief of anti-viral immune response suppression. Anti-tumoral immune activity could be improved by adoptive T cell transfer or incorporation of tumor-associated antigen into the virus. Huang
et al
. [
197
] utilized an oncolytic Ad armed with IL-12 and 4-1BB ligand, and demonstrated impressive results in mice bearing B16-F10 melanoma tumors. Amongst other functions, 4-1BB ligand (expressed on DCs) enhances T cell proliferation and IL-12 promotes their differentiation. The anti-tumoral effect was even greater when the virus was given together with DCs.
The
E3
region of the adenoviral genome is divided into
E3A
(encodes the 12.5K, 6.7K, gp19K and 11.6K proteins) and
E3B
(10.4K, 14.5K and 14.7K proteins) and is involved in immune response evasion and virus release from cells. Because it is dispensable, this region is frequently deleted in many adenoviral mutants to provide more space for therapeutic gene insertion, although recent work has suggested that transgene expression was higher if gene was inserted at regions other than
E3
, such as
L3
[
198
]. Deletion of the whole
E3B
region, however, could attenuate the virus oncolytic potency by increasing macrophage infiltration and expression of TNF and IFN-γ [
51
,
133
]. Potency could be restored by selective deletion of
E3
gp19K
whilst retaining other
E3
regions [
133
,
199
]. In addition to the inhibition of NK cell activation [
200
], gp19K is an endoplasmic reticulum membrane glycoprotein that inhibits the transport of MHC class I to the cell surface and delays its expression to avoid killing by CTLs [
201
,
202
]. CTL evasion is common in tumor cells and therefore the function of gp19k is redundant in these cells. Deletion of this gene, however, would ensure normal cells infected with this virus are eradicated, and in effect this confines virus replication to tumor cells.
2. Conclusions
The field of oncolytic virotherapy is expanding and viruses continue to hold promise as effective treatments in combination with chemotherapy or other therapeutic modalities. As continuing work is being done to improve the currently available oncolytic viruses, novel viral species are also emerging and worth exploring, for example the porcine Seneca Valley virus [
203
], myxoma virus [
204
], Sindbis virus [
205
], and Semliki Forest virus [
206
]. Viruses have unique properties in comparison to small molecular drugs. They can replicate and spread in addition to carry anti-tumoral therapeutic genes. However, during the course of evolution the human body has developed ways to overcome infection and this has imposed a significant barrier towards achieving maximum therapeutic efficacy of oncolytic viruses. Recent advances in our understanding of tumor biology and virology have helped to overcome some of these hurdles, and different groups have successfully targeted features that varied from virus delivery to altering the host immune response. It is hoped that this collective effort will finally pave way for the development of effective and safe viruses for cancer therapy.
3. Competing interests
The authors declare that they have no competing interests.
Acknowledgments
The authors' work is supported by Cancer Research UK, Nature Sciences Foundation of China (30530800), the Medical Research Council, Digestive Cancer Campaign and the National Institute for Health Research (Experimental Cancer Medicine Centres).
© 2010 by the authors; licensee Molecular Diversity Preservation International, Basel, Switzerland This is an open-access article distributed under the terms of the Creative Commons Attribution License, which permits unrestricted use, distribution, and reproduction in any medium, provided the original work is properly cited.