The Cajal Body in Plant-Virus Interactions
1
Shanghai Center for Plant Stress Biology, Chinese Academy of Sciences, Shanghai 201602, China
2
Center for Excellence in Molecular Plant Science, Chinese Academy of Sciences, Shanghai 201602, China
3
University of the Chinese Academy of Sciences, Beijing 100049, China
*
Author to whom correspondence should be addressed.
Received: 9 January 2020 / Revised: 14 February 2020 / Accepted: 18 February 2020 / Published: 23 February 2020
Cajal bodies (CBs) are nuclear membraneless bodies composed of proteins and RNA. Although it is known that CBs play a role in RNA metabolism and the formation of functional ribonucleoprotein (RNP) particles, the whole breadth of CB functions is far from being fully elucidated. In this short review, we will summarize and discuss the growing body of evidence pointing to an involvement of this subnuclear compartment in plant-virus interactions.
1. Cajal Bodies in Plants
Cajal bodies (CBs; also known as accessory bodies or coiled bodies) are membraneless subnuclear organelles first described in 1903 by the cytologist Santiago Ramon y Cajal [
1
]. These nuclear bodies are present in all eukaryotes examined to date; their size (0.2–2 μm) and number (1–6 in animals; 1–2 in plants) vary depending on cell type, cell cycle status, and metabolic activity (reviewed in [
2
]) (
Figure 1
).
The defining component of CBs is a protein named coilin, considered the signature marker of this organelle. Strikingly, and despite the conservation of coilin across vertebrates and in plants, functional information about this protein is limited [
3
]; it has been demonstrated, however, that coilin is required for plant CB formation [
4
,
5
]. CBs are both physically and functionally associated with another subnuclear body, the nucleolus, with which they share components (e.g. fibrillarin) [
6
,
7
]. CBs are known to participate in the maturation of certain nuclear RNA species and in the formation of small nuclear ribonucleoproteins (snRNPs) involved in transcription, splicing, telomere maintenance, and ribosome biogenesis (reviewed in [
6
,
8
,
9
,
10
,
11
,
12
,
13
,
14
]). In plants, some elements of the RNA-directed DNA methylation (RdDM) pathway are concentrated in CBs [
15
,
16
], so this compartment has been proposed to be a site for the assembly of protein/RNA complexes mediating de novo DNA methylation [
17
,
18
]. In addition to the previously mentioned functions of CBs, these organelles also seem to influence cell cycle and DNA repair, growth, and developmental responses [
2
,
11
,
19
,
20
].
In recent years, multiple works have drawn a connection between plant CBs and responses to abiotic and biotic stresses (reviewed in [
2
]). Nevertheless, whether these functional effects are directly linked to RNA metabolism and/or snRNP formation or, on the contrary, rely on other functions of CBs remains to be clarified. Particularly intriguing is the interplay between CBs and the infection by viruses, which is emerging as a relevant aspect in multiple plant-virus interactions [
5
,
21
,
22
,
23
,
24
,
25
,
26
,
27
,
28
] (
Table 1
); the nature of this relationship, however, might vary depending on viral properties as discussed below.
2. The Emerging Role of the Cajal Body in Plant-Virus Interactions
3. Conclusions and Outlook
A growing body of work is making the CB emerge as a relevant player in plant-virus interactions, based on localization and interactions of adapted virus-encoded proteins, as well as on functional genetic data. However, considering the results currently available in the literature, general patterns have not so far become evident; the nature of the involvement of CBs in the infection by a particular virus might depend on biological properties of the species, hence its requirements and evolved strategies for replication and spread. Although an involvement of CBs in the assembly of viral RNPs, and hence systemic movement, has been clearly demonstrated for the RNA virus GRV, and a link between CBs and RdDM-mediated methylation of the viral genome seems likely for the DNA virus TYLCV, CBs may exert a plethora of other functions during the viral subversion of the host cell. A broad and comprehensive analysis of the role of CBs across diverse plant-virus interactions will likely be required for commonalities to arise.
Funding
Research in R.L.-D.'s lab is supported by the Strategic Priority Research Program of the Chinese Academy of Sciences (Grant No. XDB27040206), the National Natural Science Foundation of China (NSFC) (Grant Nos. 31671994 and 31870250), and the Shanghai Center for Plant Stress Biology of the CAS.
Acknowledgments
The authors are grateful to Liping Wang and Alberto P. Macho for critical reading of the manuscript, and apologize to authors of primary work that could not be cited because of space limitations.
Conflicts of Interest
The authors declare no conflict of interest. Funders had no role in the design of the study; in the collection, analyses, or interpretation of data; in the writing of the manuscript; or in the decision to publish the results.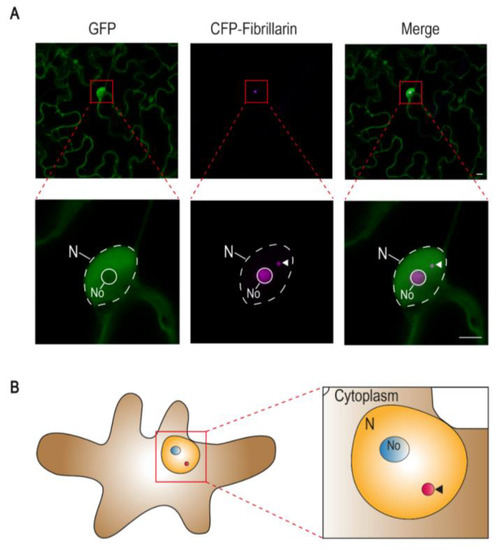 Figure 1.
The Cajal body in plants. (
A
) Confocal micrographs of
Nicotiana benthamiana
epidermal pavement cells transiently expressing free green fluorescent protein (GFP) and the nucleolus and Cajal body marker fibrillarin fused to the cyan fluorescent protein (CFP-fibrillarin). Scale bar: 5 μm. (
B
) Schematic representation of a
N. benthamiana
epidermal pavement cell showing the nucleus, the nucleolus, and a Cajal body. N: Nucleus; No: Nucleolus. In both (
A
) and (
B
), arrowheads indicate the Cajal body.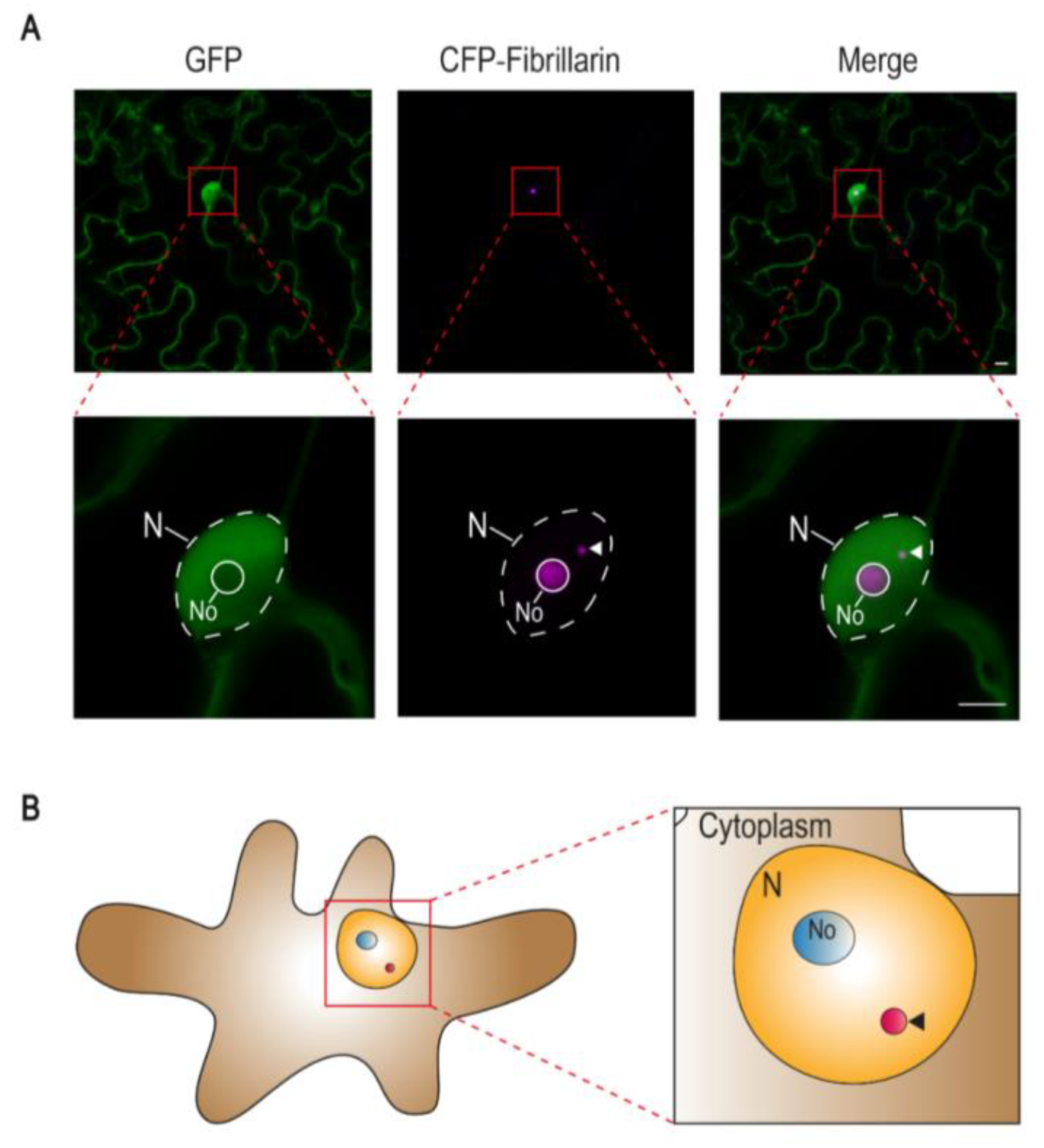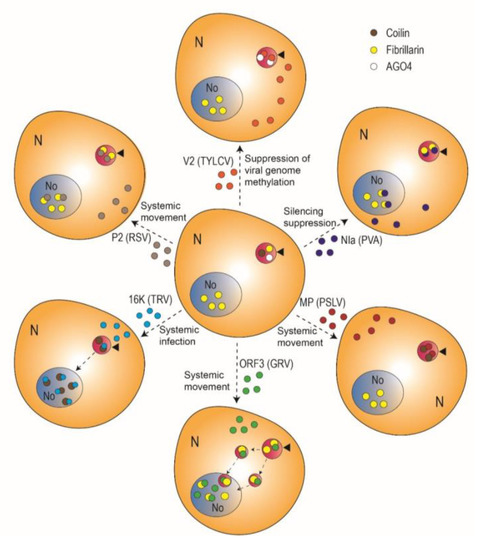 Figure 2.
Plant virus-encoded proteins described as localized in Cajal bodies and/or interacting with Cajal body components. Arrowheads indicate Cajal bodies; dotted arrows denote movement. See text for details. TYLCV:
Tomato yellow leaf curl virus
; PVA:
Potato virus A
; PSLV:
Poa semilatent virus
; GRV:
Groundnut rosette virus
; TRV:
Tobacco rattle virus
; RSV:
Rice stripe virus
.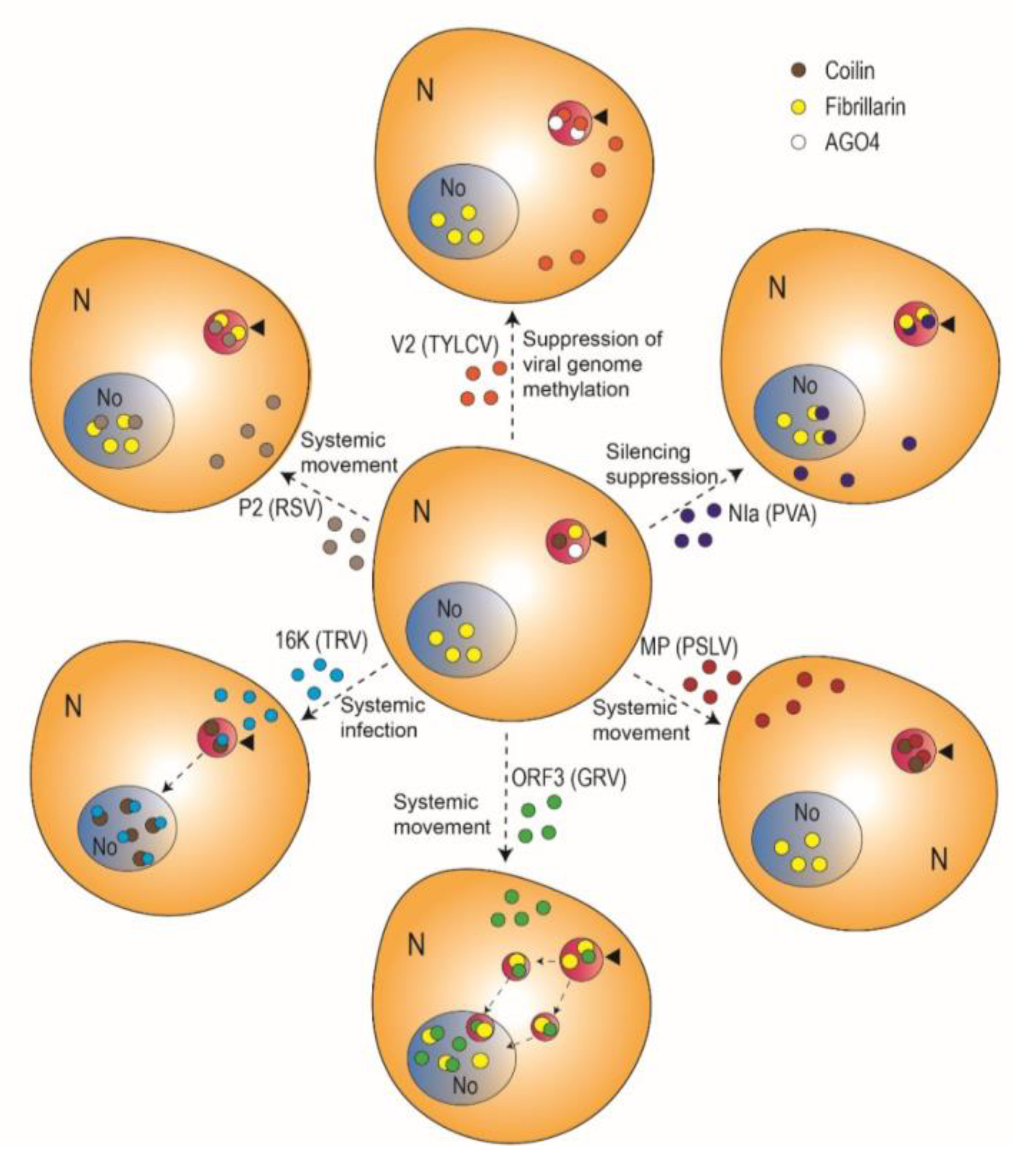 Table 1. Plant virus-encoded proteins described as localized in the Cajal body and/or interacting with Cajal body components.
Virus Name
Family
Genus
Genome
Virus-Encoded Protein
Localization
Known Cajal Body Interactor
Described Function
Ref.

Rice stripe virus

(RSV)

Phenuiviridae

Tenuivirus

(−)ssRNA
P2
Nucleus, cytoplasm, Cajal bodies, nucleolus
Fibrillarin
Systemic movement
[23]

Potato virus A

(PVA)

Potyviridae

Potyvirus

(+)ssRNA
Nuclear inclusion protein a (NIa)
Nucleus, nucleolus, Cajal bodies
Fibrillarin
Suppression of RNA silencing
[22]

Groundnut rosette virus

(GRV)

Tombusviridae

Umbravirus

(+)ssRNA
Open reading frame 3 (ORF3) protein
Cajal bodies, nucleolus, Cajal body (CB)-like structures
Fibrillarin
Systemic movement
[25]

Poa semilatent virus

(PSLV)

Virgaviridae

Hordeovirus

(+)ssRNA
Movement protein (MP; TGBp1)
Nucleolus, Cajal bodies, inclusions in the nucleoplasm
Coilin
Cell-to-cell and systemic movement
[26]

Tobacco rattle virus

(TRV)

Virgaviridae

Tobravirus

(−)ssRNA
16K
Nucleus, nucleolus, Cajal bodies
Coilin
Systemic infection
[24]

Tomato yellow leaf curl virus

(TYLCV)

Geminiviridae

Begomovirus

ssDNA
V2
Cajal bodies, nucleoplasm, cytoplasm
AGO4
Suppression of viral DNA methylation
[27]

Grapevine red blotch-associated virus

(GRBaV)

Geminiviridae

Grablovirus

ssDNA
V2
Nucleoplasm, Cajal bodies, cytoplasm, nucleolus
Fibrillarin
Unknown
[29]

Citrus tristeza virus

(CTV)

Closteroviridae

Closterovirus

(+)ssRNA
P23
Nucleolus, Cajal bodies, plasmodesma
Unknown
Suppression of RNA silencing
[21]

© 2020 by the authors. Licensee MDPI, Basel, Switzerland. This article is an open access article distributed under the terms and conditions of the Creative Commons Attribution (CC BY) license (http://creativecommons.org/licenses/by/4.0/).