Caucasian Ethnicity, but Not Treatment Cessation Is Associated with HBsAg Loss Following Nucleos(t)ide Analogue-Induced HBeAg Seroconversion
1
Department of Gastroenterology and Hepatology, Antwerp University Hospital, 2650 Antwerp, Belgium
2
Laboratory of Experimental Medicine and Pediatrics, University of Antwerp, 2650 Antwerp, Belgium
3
Department of Gastroenterology and Hepatology, Erasmus MC University Medical Center Rotterdam, 3015 AA Rotterdam, The Netherlands
4
Toronto Centre of Liver Disease, University Health Network, Toronto General Hospital, University of Toronto, Toronto, ON M5G2C4, Canada
5
Department of Gastroenterology and Hepatology, ZNA Stuivenberg, 2060 Antwerp, Belgium
6
Department of Gastroenterology and Hepatology, Ghent University Hospital, 9000 Ghent, Belgium
7
Department of Gastroenterology and Hepatology, Saint-Pierre University Hospital, 1000 Brussels, Belgium
8
Department of Gastroenterology and Hepatology, GZA Antwerp, 2610 Antwerp, Belgium
9
Department of Gastroenterology, Hepatopancreatology and Digestive Oncology, CUB Hôpital Erasme, Université Libre de Bruxelles, 1050 Brussels, Belgium
10
Department of Hepatology, University Hospitals KULeuven, 3000 Leuven, Belgium
*
Author to whom correspondence should be addressed.
Received: 27 June 2019 / Revised: 17 July 2019 / Accepted: 25 July 2019 / Published: 26 July 2019
Abstract
It is well appreciated that ethnicity influences the natural history and immune responses during a chronic hepatitis B infection. In this study, we explore the effect of ethnicity and treatment cessation on Hepatitis B surface Antigen (HBsAg) seroclearance in patients with Nucleos(t)ide Analogue (NA)-induced Hepatitis B e Antigen (HBeAg) seroconversion. We performed a multi-ethnic, multicentric observational cohort study. The analyzed cohort consisted of 178 mono-infected, predominantly male (75.3%) chronic hepatitis B patients of mixed ethnicity (44.4% Asians, 48.9% Caucasians) with nucleos(t)ide analogue-induced HBeAg seroconversion. Treatment was withdrawn in 105 patients and continued in 73, leading to HBsAg loss in 14 patients off- and 16 patients on-treatment, respectively. Overall, HBsAg loss rates were not affected by treatment cessation (hazard ratio 1.45,
p
= 0.372), regardless of consolidation treatment duration. Caucasian ethnicity was associated with an increased chance of HBsAg loss (hazard ratio 6.70,
p
= 0.001), but hepatitis B virus genotype was not (
p
= 0.812). In conclusion, ethnicity is the most important determinant for HBsAg loss after NA-induced HBeAg seroconversion, with up to six-fold higher HBsAg loss rates in Caucasians compared to Asians, irrespective of treatment cessation and consolidation treatment duration.
View Full-Text
►

▼

Figures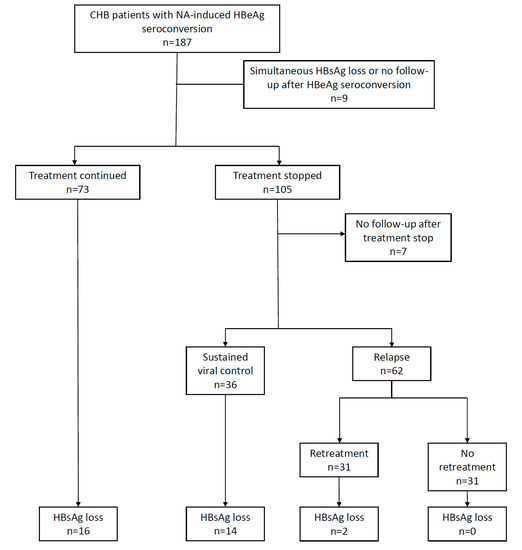 Figure 1
This is an open access article distributed under the
Creative Commons Attribution License
which permits unrestricted use, distribution, and reproduction in any medium, provided the original work is properly cited (CC BY 4.0).

Share & Cite This Article
MDPI and ACS Style
Van Hees, S.; Chi, H.; Hansen, B.; Bourgeois, S.; Van Vlierberghe, H.; Sersté, T.; Francque, S.; Wong, D.; Sprengers, D.; Moreno, C.; Nevens, F.; Janssen, H.; Vanwolleghem, T. Caucasian Ethnicity, but Not Treatment Cessation Is Associated with HBsAg Loss Following Nucleos(t)ide Analogue-Induced HBeAg Seroconversion. Viruses 2019, 11, 687.
Note that from the first issue of 2016, MDPI journals use article numbers instead of page numbers. See further details here.
Related Articles
Comments
[Return to top]