Open Access This article is
freely available
re-usable
Article
Screening of an FDA-Approved Drug Library with a Two-Tier System Identifies an Entry Inhibitor of Severe Fever with Thrombocytopenia Syndrome Virus
1
State Key Laboratory of Emerging Infectious Diseases, Li Ka Shing Faculty of Medicine, The University of Hong Kong, Pokfulam, Hong Kong, China
2
Department of Microbiology, Li Ka Shing Faculty of Medicine, The University of Hong Kong, Pokfulam, Hong Kong, China
3
Carol Yu Centre for Infection, Department of Microbiology, Li Ka Shing Faculty of Medicine, The University of Hong Kong, Pokfulam, Hong Kong, China
4
Hainan Medical University-The University of Hong Kong Joint Laboratory of Tropical Infectious Diseases, Hainan Medical University, Haikou 571101, China, and The University of Hong Kong, Pokfulam, Hong Kong, China
5
Department of Pathogen Biology, Hainan Medical University, Haikou 571101, China
6
Key Laboratory of Translational Tropical Medicine, Hainan Medical University, Haikou 571101, China
7
Key Laboratory for Medical Virology and National Institute for Viral Disease Control and Prevention, Chinese Centre for Disease Control and Prevention, Beijing 102206, China
8
School of Biomedical Sciences, The University of Hong Kong, Pokfulam, Hong Kong, China
9
The Collaborative Innovation Center for Diagnosis and Treatment of Infectious Diseases, The University of Hong Kong, Pokfulam, Hong Kong, China
†
These authors contributed equally to this work.

Received: 16 April 2019 / Accepted: 24 April 2019 / Published: 25 April 2019
Abstract
:
Severe fever with thrombocytopenia syndrome virus (SFTSV) is an emerging tick-borne bunyavirus that causes severe disease in humans with case-fatality rates of up to 30%. There are currently very limited treatment options for SFTSV infection. We conducted a drug repurposing program by establishing a two-tier test system to rapidly screen a Food and Drug Administration- (FDA)-approved drug library for drug compounds with anti-SFTSV activity in vitro. We identified five drug compounds that inhibited SFTSV replication at low micromolar concentrations, including hexachlorophene, triclosan, regorafenib, eltrombopag, and broxyquinoline. Among them, hexachlorophene was the most potent with an IC50 of 1.3 ± 0.3 µM and a selectivity index of 18.7. Mechanistic studies suggested that hexachlorophene was a virus entry inhibitor, which impaired SFTSV entry into host cells by interfering with cell membrane fusion. Molecular docking analysis predicted that the binding of hexachlorophene with the hydrophobic pocket between domain I and domain III of the SFTSV Gc glycoprotein was highly stable. The novel antiviral activity and mechanism of hexachlorophene in this study would facilitate the use of hexachlorophene as a lead compound to develop more entry inhibitors with higher anti-SFTSV potency and lower toxicity.
Keywords:
antiviral; broxyquinoline; bunyavirales; eltrombopag; entry; hexachlorophene; Huaiyangshan banyangvirus; regorafenib; SFTSV; triclosan
Author Contributions
Conceptualization, S.Y., J.F.-W.C., H.C., M.L., D.-Y.J. and K.-Y.Y.; Data curation, Z.-W.Y. and L.W.; Formal analysis, S.Y., Z.-W.Y., T.G.-W.T. and J.C.; Funding acquisition, J.F.-W.C. and K.-Y.Y.; Investigation, S.Y., J.F.-W.C., Z.-W.Y. and K.-Y.Y; Methodology, L.W., T.G.-W.T., J.C., J.H., C.C.-Y.C., K.K.-H.C. and J.-P.C.; Project administration, F.Y.; Resources, M.L., D.-Y.J. and K.-Y.Y.; Software, L.W. and K.K.-H.C.; Supervision, S.Y., J.F.-W.C., H.C. and K.-Y.Y.; Validation, J.-P.C. and F.Y.; Visualization, Z.-W.Y. and C.C.-Y.C.; Writing – original draft, S.Y. and J.F.-W.C.; Writing – review & editing, M.L., D.-Y.J. and K.-Y.Y.
Funding
This work was partly supported by the donations of Michael Seak-Kan Tong, Hui Ming, Hui Hoy and Chow Sin Lan Charity Fund Limited, Mr. Patrick Wan-Keung Lee, Ms. Marina Man-Wai Lee, Chan Yin Chuen Memorial Charitable Foundation, and the Hong Kong Hainan Commercial Association South China Microbiology Research Fund; and funding from the High Level Hospital-Summit Program in Guangdong, The University of Hong Kong-Shenzhen Hospital; and the Collaborative Innovation Center for Diagnosis and Treatment of Infectious Diseases, the Ministry of Education of China. The sponsors had no role in the design and conduct of the study, in the collection, analysis and interpretation of data, or in the preparation, review or approval of the manuscript.
Conflicts of Interest
J.F.-W.C. has received travel grants from Pfizer Corporation Hong Kong and Astellas Pharma Hong Kong Corporation Limited, and was an invited speaker for Gilead Sciences Hong Kong Limited and Luminex Corporation. The other authors declared no conflict of interest. The funding sources had no role in study design, data collection, analysis or interpretation or writing of the report. The corresponding author had full access to all the data in the study and had final responsibility for the decision to submit for publication.

Figure 1. Optimization and comparison of biochemical assays for Food and Drug Administration- (FDA) approved drug compound library screening. Vero cells seeded in 96-well plate were infected with severe fever with thrombocytopenia syndrome virus (SFTSV) for 1 h with the multiplicities of infection (MOIs) indicated (1, 0.1 and 0.01), followed by phosphate buffered saline (PBS) wash and replacement of fresh Dulbecco's modified eagle medium (DMEM) containing 0.1% DMSO (negative control) or favipiravir (50 µg/mL, positive control). (a) Cell viability of each well was determined on day 1, 3, and 5 post-infection, which was normalized by that of the mock-infected cells. (b) Cell culture supernatant was collected at the indicated time points and applied for ELISA to measure the SFTSV-nucleoprotein (NP) protein intensity. (c) Alternatively, viral copy in the supernatant was determined by quantitative RT-PCR (qRT-PCR). The experiments were carried out in triplicate. The results are shown as mean ± standard deviation.

Figure 2. Identification of anti-SFTSV drug compounds. (a) Screening pipeline and attrition rates of compounds from primary screening by ELISA, secondary screening by viral load reduction assay, followed by prioritization by IC99. (b) Shown are chemical structures of five selected drugs that show dose-dependent inhibition of SFTSV replication.

Figure 3.
Evaluation of the in vitro anti-SFTSV activity of hexachlorophene. (
a
) SFTSV viral load reduction quantified by qRT-PCR in Vero and Huh 7 cells at 72 hpi (0.01 MOI) with hexachlorophene. (
b
) Half maximal inhibitory concentration (IC
50
) of hexachlorophene is around 2.6 ± 0.14 µM as determined by plaque reduction assay in Vero cells. (
c
) Cell cytotoxicity assay of hexachlorophene in Vero cells as determined at 72 hpi. All experiments were performed in triplicates. * denotes
p
< 0.05 (compared to the DMSO control group by one-way ANOVA). Data are presented as mean values ± standard deviation (error bars).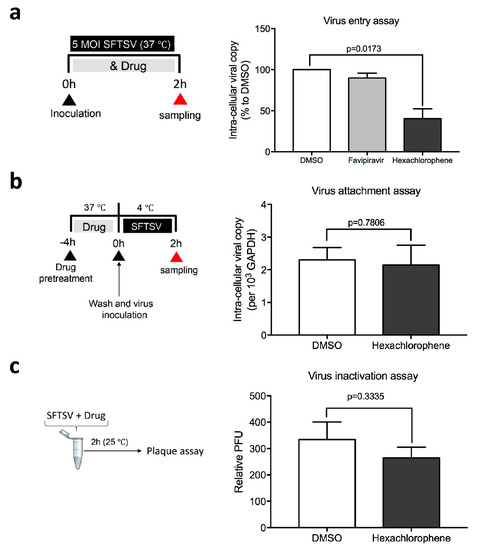 Figure 4.
Hexachlorophene interferes with SFTSV entry without inhibiting viral attachment to host cells or inactivating the virions. (
a
) SFTSV entry assay. Vero cells were infected with the mixture of SFTSV (MOI = 5.0) and indicated drug for 2 h, followed by intensive wash and detection of intracellular SFTSV viral RNA load by qRT-PCR assays. Favipiravir (T-705), a known virus polymerase inhibitor, was used as the negative control. (
b
) SFTSV attachment assay. Vero cells were pre-treated by hexachlorophene for 4 h, followed by intensive wash and shift to 4 °C incubate with SFTSV (MOI = 5.0). After 2 h, the infectious inoculum was removed, cells were washed, and the intra-cellular viral RNA load was determined by qRT-PCR. (
c
) SFTSV inactivation assay. SFTSV was incubated with 10 µM hexachlorophene for 2 h, followed by standard plaque assay from diluting the mixture for 1000 fold (i.e., the remaining concentration of hexachlorophene was below its IC
50
). All experiments were performed in triplicates. Data are presented as mean values ± standard deviations. P value was calculated by Student's
t
-test (compared with the DMSO group).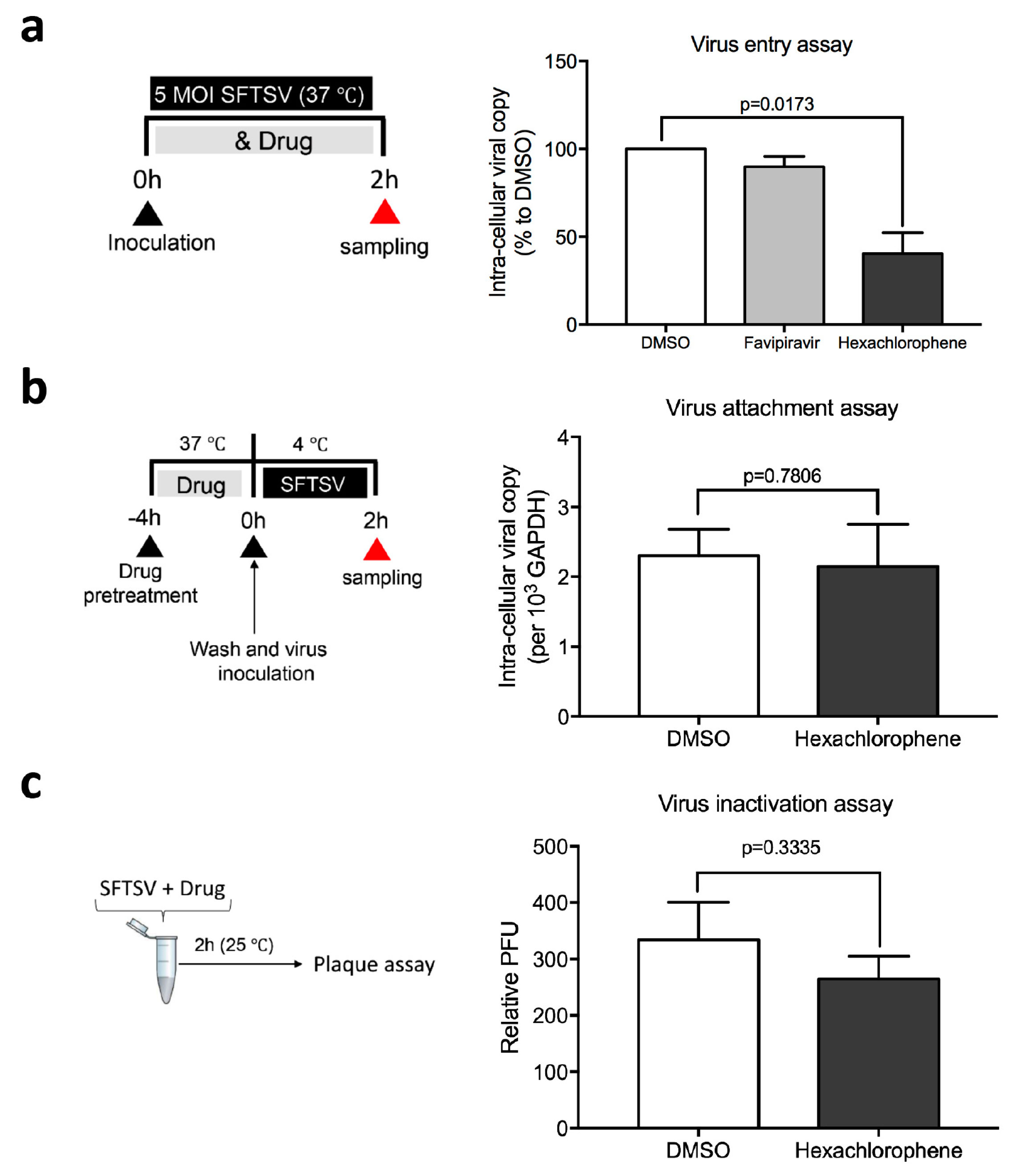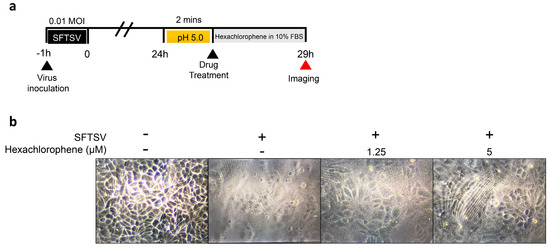 Figure 5. Hexachlorophene inhibits membrane fusion of SFTSV. (a) Schematic representation of the experimental procedures. Vero cells were infected with SFTSV (MOI = 0.01) for 1 h. At 24 hpi, the cells were treated with citrate-phosphate buffer adjusted to the pH 5.0 for 2 min, washed, and then replaced with DMEM containing 10% fetal bovine serum (FBS) and different concentrations of hexachlorophene. Syncytium formations were determined by microscopic examination at 5 h after drug addtion. (b) Syncytium formation of SFTSV-infected Vero cells with or without hexachlorophene treatment. Mock-infected Vero cells (left) were included as the negative control (magnification 80×).
Figure 6. Docking model between hexachlorophene and the SFTSV Gc glycoprotein. (a) Left: top-ranked docking pose predicting the binding between hexachlorophene and the deep hydrophobic pocket of the SFTSV Gc glycoprotein. Hydrophobicity is highlighted in red. Right: the SFTSV Gc glycoprotein domains I, II, and III are highlighted in red, yellow, and blue, respectively. (b) 2D and (c) 3D intermolecular interaction showing hydrogen bonding, halogen bonding, and hydrophobic interactions between hexachlorophene and Gc protein. Hydrogen and halogen bonds are indicated in blue lines, and the distances are also labeled.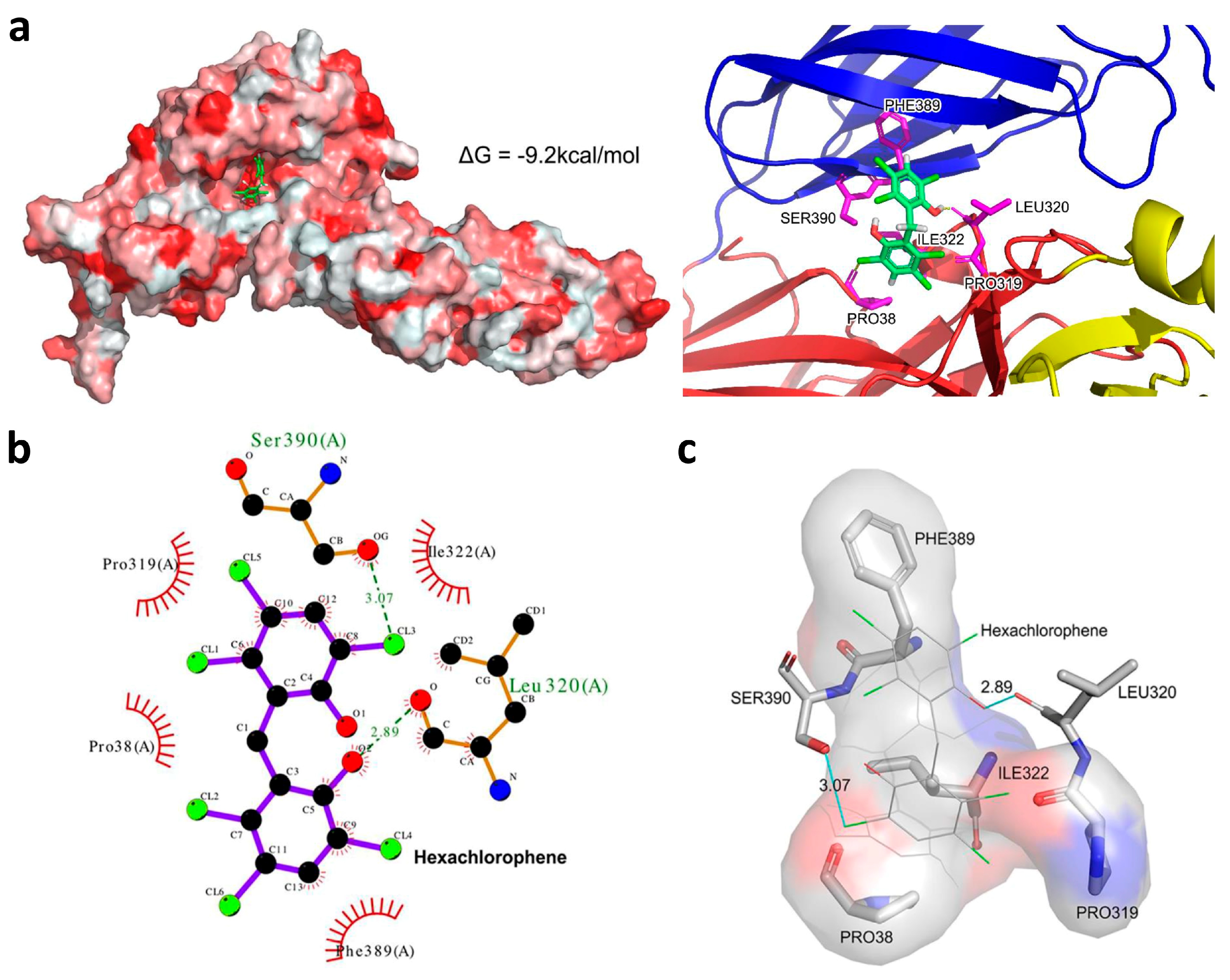 | Compound | IC99 (µM) | IC50 (µM) | CC50 (µM) | Selectivity Index |
| --- | --- | --- | --- | --- |
| Hexachlorophene | 7.5 ± 1.2 | 1.3 ± 0.3 | 24.3 ± 3.2 | 18.7 |
| Triclosan | 8.5 ± 2.1 | 3.2 ± 0.4 | 17.7 ± 2.9 | 5.5 |
| Regorafenib | 11.3 ± 0.5 | 4.5 ± 0.5 | 31.3 ± 0.5 | 7.0 |
| Eltrombopag | 10.3 ± 3.4 | 4.1 ± 0.2 | 18.4 ± 0.2 | 4.5 |
| Broxyquinoline | 16.3 ± 4.3 | 5.8 ± 1.3 | 36.4 ± 5.5 | 6.3 |

© 2019 by the authors. Licensee MDPI, Basel, Switzerland. This article is an open access article distributed under the terms and conditions of the Creative Commons Attribution (CC BY) license (http://creativecommons.org/licenses/by/4.0/).