RNAi-Mediated Down-Regulation of Dicer-Like 2 and 4 Changes the Response of 'Moneymaker' Tomato to Potato Spindle Tuber Viroid Infection from Tolerance to Lethal Systemic Necrosis, Accompanied by Up-Regulation of miR398, 398a-3p and Production of Excessive Amount of Reactive Oxygen Species
1
Faculty of Agriculture and Life Science, Hirosaki University, Bunkyo-cho 3, Hirosaki 036-8561, Japan
2
Union Graduate School of Agricultural Sciences, Iwate University, 3-18-8 Ueda, Morioka, Iwate 020-8550, Japan
3
Graduate School of Science and Technology, Hirosaki University, Bunkyo-cho 3, Hirosaki 036-8561, Japan
*
Author to whom correspondence should be addressed.
Received: 28 February 2019 / Revised: 8 April 2019 / Accepted: 10 April 2019 / Published: 13 April 2019
Abstract
To examine the role of RNA silencing in plant defenses against viroids, a Dicer-like 2 and 4 (DCL2&4)–double knockdown transgenic tomato plant line, 72E, was created. The expression of endogenous
SlDCL2
s and
SlDCL4
in line 72E decreased to about a half that of the empty cassette line, EC. When challenged with potato spindle tuber viroid (PSTVd), line 72E showed significantly higher levels of PSTVd accumulation early in the course of the infection and lethal systemic necrosis late in the infection. The size distribution of PSTVd-derived small RNAs was significantly different with the number of RNAs of 21 and 22 nucleotides (nt) in line 72E, at approximately 66.7% and 5% of those in line EC, respectively. Conversely, the numbers of 24 nt species increased by 1100%. Furthermore, expression of the stress-responsive microRNA species miR398 and miR398a-3p increased 770% and 868% in the PSTVd-infected line 72E compared with the PSTVd-infected EC. At the same time, the expression of cytosolic and chloroplast-localized Cu/Zn-superoxide dismutase 1 and 2 (
SOD1
and
SOD2
) and the copper chaperon for SOD (
CCS1
) mRNAs, potential targets of miR398 or 398a-3p, decreased significantly in the PSTVd-infected line 72E leaves, showing necrosis. In concert with miR398 and 398a-3p, SODs control the detoxification of reactive oxygen species (ROS) generated in cells. Since high levels of ROS production were observed in PSTVd-infected line 72E plants, it is likely that the lack of full dicer-likes (DCL) activity in these plants made them unable to control excessive ROS production after PSTVd infection, as disruption in the ability of miR398 and miR398a-3p to regulate SODs resulted in the development of lethal systemic necrosis.
View Full-Text
►

▼

Figures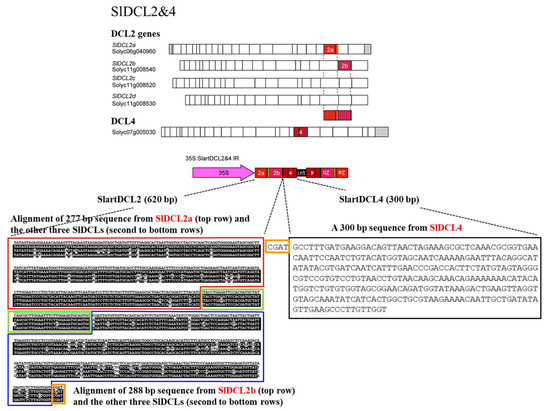 Figure 1
This is an open access article distributed under the
Creative Commons Attribution License
which permits unrestricted use, distribution, and reproduction in any medium, provided the original work is properly cited (CC BY 4.0).

Share & Cite This Article
MDPI and ACS Style
Suzuki, T.; Ikeda, S.; Kasai, A.; Taneda, A.; Fujibayashi, M.; Sugawara, K.; Okuta, M.; Maeda, H.; Sano, T. RNAi-Mediated Down-Regulation of Dicer-Like 2 and 4 Changes the Response of 'Moneymaker' Tomato to Potato Spindle Tuber Viroid Infection from Tolerance to Lethal Systemic Necrosis, Accompanied by Up-Regulation of miR398, 398a-3p and Production of Excessive Amount of Reactive Oxygen Species. Viruses 2019, 11, 344.
Note that from the first issue of 2016, MDPI journals use article numbers instead of page numbers. See further details here.
Related Articles
Comments
[Return to top]