Codon Usage Bias Analysis of
Citrus tristeza virus

: Higher Codon Adaptation to

Citrus reticulata

Host

1

Advanced Centre for Plant Virology, Division of Plant Pathology, ICAR-Indian Agricultural Research Institute, New Delhi 11012, India

2

ICAR-Central Citrus Research Institute, Nagpur 440033, India

3

Department of Plant Pathology, Assam Agricultural University, Jorhat 785013, India

4

Department of Botany and Plant Sciences, University of California, Riverside, CA 92507, USA

5

National Clonal Germplasm Repository for Citrus & Dates, United States Department of Agriculture-Agricultural Research Service, Riverside, CA 92507, USA

6

Asia-Pacific Association of Agricultural Research Institutions, Bangkok 10100, Thailand

*

Author to whom correspondence should be addressed.

Received: 18 February 2019 / Revised: 25 March 2019 / Accepted: 3 April 2019 / Published: 8 April 2019
Abstract
Citrus tristeza virus
(CTV), a member of the aphid-transmitted closterovirus group, is the causal agent of the notorious tristeza disease in several citrus species worldwide. The codon usage patterns of viruses reflect the evolutionary changes for optimization of their survival and adaptation in their fitness to the external environment and the hosts. The codon usage adaptation of CTV to specific citrus hosts remains to be studied; thus, its role in CTV evolution is not clearly comprehended. Therefore, to better explain the host–virus interaction and evolutionary history of CTV, the codon usage patterns of the coat protein (
CP
) genes of 122 CTV isolates originating from three economically important citrus hosts (55 isolate from
Citrus sinensis
, 38 from
C. reticulata
, and 29 from
C. aurantifolia
) were studied using several codon usage indices and multivariate statistical methods. The present study shows that CTV displays low codon usage bias (CUB) and higher genomic stability. Neutrality plot and relative synonymous codon usage analyses revealed that the overall influence of natural selection was more profound than that of mutation pressure in shaping the CUB of CTV. The contribution of high-frequency codon analysis and codon adaptation index value show that CTV has host-specific codon usage patterns, resulting in higheradaptability of CTV isolates originating from
C. reticulata
(Cr-CTV), and low adaptability in the isolates originating from
C. aurantifolia
(Ca-CTV) and
C. sinensis
(Cs-CTV). The combination of codon analysis of CTV with citrus genealogy suggests that CTV evolved in
C. reticulata
or other
Citrus
progenitors. The outcome of the study enhances the understanding of the factors involved in viral adaptation, evolution, and fitness toward their hosts. This information will definitely help devise better management strategies of CTV.
View Full-Text
►

▼

Figures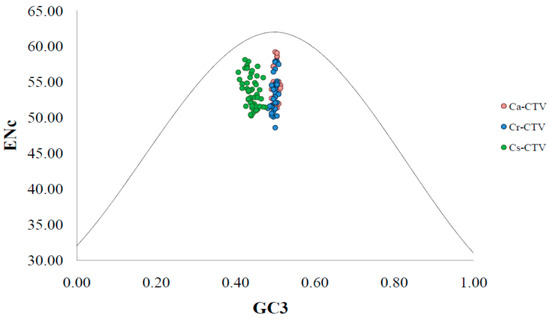 Figure 1
This is an open access article distributed under the
Creative Commons Attribution License
which permits unrestricted use, distribution, and reproduction in any medium, provided the original work is properly cited (CC BY 4.0).

Share & Cite This Article
MDPI and ACS Style
Biswas, K.K.; Palchoudhury, S.; Chakraborty, P.; Bhattacharyya, U.K.; Ghosh, D.K.; Debnath, P.; Ramadugu, C.; Keremane, M.L.; Khetarpal, R.K.; Lee, R.F. Codon Usage Bias Analysis of Citrus tristeza virus: Higher Codon Adaptation to Citrus reticulata Host. Viruses 2019, 11, 331.
Note that from the first issue of 2016, MDPI journals use article numbers instead of page numbers. See further details here.
Related Articles
Comments
[Return to top]