Development of a Versatile, Near Full Genome Amplification and Sequencing Approach for a Broad Variety of HIV-1 Group M Variants
1
Department of Pathology, New York University School of Medicine, New York, NY 10016, USA
2
Faculty of Medicine and Biomedical Sciences, Department of Biochemistry, University of Yaoundé 1, BP 1364 Yaoundé, Cameroon
3
Faculty of Science, Department of Biochemistry, BP 1364 Yaoundé, Cameroon
4
Center of Research for Emerging and Re-Emerging Diseases (CREMER), Institute of Medical Research and Study of Medicinal Plants, BP 906 Yaoundé, Cameroon
5
Applied Bioinformatics Laboratories (ABL) and Genome Technology Center (GTC), Division of Advanced Research Technologies (DART), New York University Langone Medical Center, New York, NY 10016, USA
6
Medical Diagnostic Center, BP 15810 Yaoundé, Cameroon
7
Chantal Biya International Reference Center for Research on HIV/AIDS Prevention and Management, BP 3077 Messa Yaoundé, Cameroon
8
Manhattan Veterans Affairs New York Harbor Healthcare System, New York, NY 10010, USA
9
Faculty of Medicine and Biomedical Sciences, Department of Microbiology, Parasitology and Infectious Diseases, University of Yaoundé 1, BP 1364 Yaoundé, Cameroon
10
Faculty of Medicine and Biomedical Sciences, Department of Pharmacotoxicology & Pharmacokinetics, University of Yaoundé 1, BP 1364 Yaoundé, Cameroon
*
Author to whom correspondence should be addressed.
Received: 5 March 2019 / Revised: 26 March 2019 / Accepted: 27 March 2019 / Published: 1 April 2019
Abstract
Near full genome sequencing (NFGS) of HIV-1 is required to assess the genetic composition of HIV-1 strains comprehensively. Population-wide, it enables a determination of the heterogeneity of HIV-1 and the emergence of novel/recombinant strains, while for each individual it constitutes a diagnostic instrument to assist targeted therapeutic measures against viral components. There is still a lack of robust and adaptable techniques for efficient NFGS from miscellaneous HIV-1 subtypes. Using rational primer design, a broad primer set was developed for the amplification and sequencing of diverse HIV-1 group M variants from plasma. Using pure subtypes as well as diverse, unique recombinant forms (URF), variable amplicon approaches were developed for NFGS comprising all functional genes. Twenty-three different genomes composed of subtypes A (A1), B, F (F2), G, CRF01_AE, CRF02_AG, and CRF22_01A1 were successfully determined. The NFGS approach was robust irrespective of viral loads (≥306 copies/mL) and amplification method. Third-generation sequencing (TGS), single genome amplification (SGA), cloning, and bulk sequencing yielded similar outcomes concerning subtype composition and recombinant breakpoint patterns. The introduction of a simple and versatile near full genome amplification, sequencing, and cloning method enables broad application in phylogenetic studies of diverse HIV-1 subtypes and can contribute to personalized HIV therapy and diagnosis.
View Full-Text
►

▼

Figures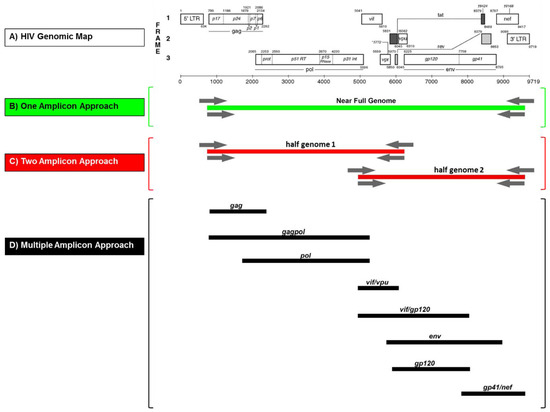 Figure 1
This is an open access article distributed under the
Creative Commons Attribution License
which permits unrestricted use, distribution, and reproduction in any medium, provided the original work is properly cited (CC BY 4.0).

Share & Cite This Article
MDPI and ACS Style
Banin, A.N.; Tuen, M.; Bimela, J.S.; Tongo, M.; Zappile, P.; Khodadadi-Jamayran, A.; Nanfack, A.J.; Meli, J.; Wang, X.; Mbanya, D.; Ngogang, J.; Heguy, A.; Nyambi, P.N.; Fokunang, C.; Duerr, R. Development of a Versatile, Near Full Genome Amplification and Sequencing Approach for a Broad Variety of HIV-1 Group M Variants. Viruses 2019, 11, 317.
Note that from the first issue of 2016, MDPI journals use article numbers instead of page numbers. See further details here.
Related Articles
Comments
[Return to top]