Cytotoxic Drugs Activate KSHV Lytic Cycle in Latently Infected PEL Cells by Inducing a Moderate ROS Increase Controlled by HSF1, NRF2 and p62/SQSTM1
1
Department of Experimental Medicine, "Sapienza" University of Rome, Italy, Laboratory affiliated to Istituto Pasteur Italia-Fondazione Cenci Bolognetti, Viale Regina Elena 324, 00161 Rome, Italy
2
Department of Research, Advanced Diagnostics, and Technological Innovation, Regina Elena National Cancer Institute, 00144 Rome, Italy
3
Department of Medical, Oral and Biotechnological Sciences, University "G. d'Annunzio", 66013 Chieti, Italy
*
Authors to whom correspondence should be addressed.
Received: 12 November 2018 / Revised: 17 December 2018 / Accepted: 21 December 2018 / Published: 24 December 2018
Abstract
Previous studies have indicated that cytotoxic treatments may induce or not activate viral lytic cycle activation in cancer cells latently infected by Kaposi's sarcoma-associated herpesvirus (KSHV). To investigate the molecular mechanisms responsible for such an effect, we compared two cytotoxic treatments able to induce the viral lytic cycle, named 12-O-tetradecanoylphorbol 13-acetate (TPA) (T) in combination with sodium butyrate (B) and bortezomib (BZ), with two cytotoxic treatments that did not activate this process, named metformin (MET) and quercetin (Q). Our results indicated that TB and bortezomib increased levels of oxygen reactive species (ROS) while metformin and quercetin reduced them. The finding that N-acetylcysteine (NAC), a reactive oxigen species (ROS) scavenger, counteracted K-bZIP expression induced by TB or bortezomib, confirmed that an ROS increase played a role in KSHV lytic cycle activation. Moreover, we found that TB and bortezomib up-regulated p62/Sequestosome1(p62/SQSTM1) protein, while metformin and quercetin down-regulated it. p62/SQSTM1 silencing or the inhibition of NF-E2-related factor 2 (NRF2) or Heat Shock Factor 1 (HSF1), that mediate p62/SQSTM1 transcription, also reduced KSHV lytic antigen expression induced by TB or bortezomib. Interestingly, such combination treatments further increased intracellular ROS and cytotoxicity induced by the single TB or bortezomib treatment, suggesting that NRF2, HSF1 and p62/SQSTM1 keep the ROS level under control, allowing primary effusion lymphoma (PEL) cells to continue to survive and KSHV to replicate.
View Full-Text
►

▼

Figures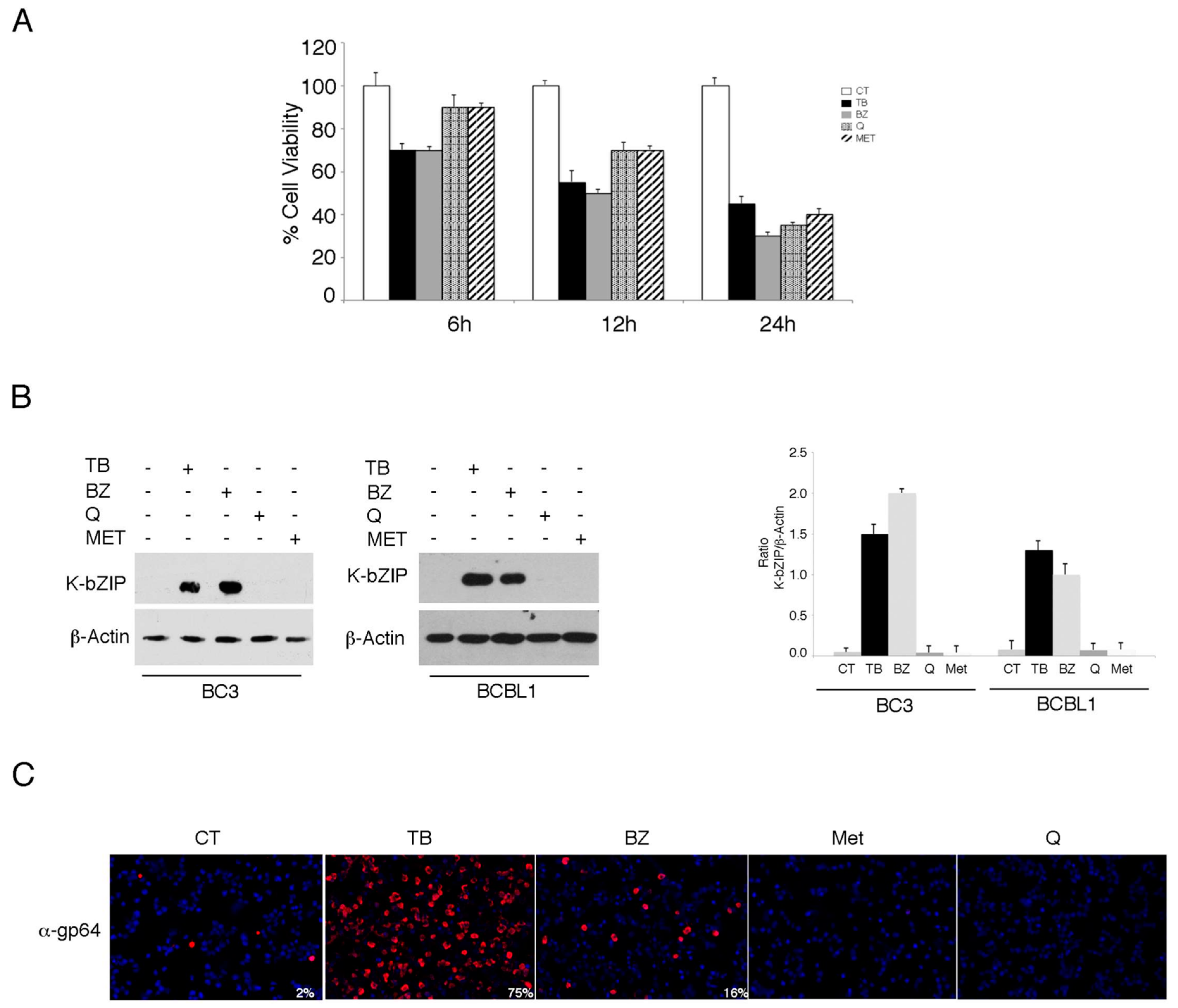 Figure 1
This is an open access article distributed under the
Creative Commons Attribution License
which permits unrestricted use, distribution, and reproduction in any medium, provided the original work is properly cited (CC BY 4.0).

Share & Cite This Article
MDPI and ACS Style
Granato, M.; Gilardini Montani, M.S.; Angiolillo, C.; D'Orazi, G.; Faggioni, A.; Cirone, M. Cytotoxic Drugs Activate KSHV Lytic Cycle in Latently Infected PEL Cells by Inducing a Moderate ROS Increase Controlled by HSF1, NRF2 and p62/SQSTM1. Viruses 2019, 11, 8.
Note that from the first issue of 2016, MDPI journals use article numbers instead of page numbers. See further details here.
Related Articles
Comments
[Return to top]