Prospects in Innate Immune Responses as Potential Control Strategies against Non-Primate Lentiviruses
1
Instituto de Agrobiotecnología (IdAB), UPNA-CSIC-Gobierno de Navarra, Navarra 31192, Spain
2
Dpto. Sanidad Animal, Facultad de Veterinaria, Universidad Complutense de Madrid, Madrid 28040, Spain
3
Malattie Infettive degli Animali Domestici, Dipartimento di Scienze Veterinarie, Università degli Studi di Torino, Torino 10095, Italy
*
Author to whom correspondence should be addressed.
Received: 7 June 2018 / Revised: 8 August 2018 / Accepted: 10 August 2018 / Published: 17 August 2018
Lentiviruses are infectious agents of a number of animal species, including sheep, goats, horses, monkeys, cows, and cats, in addition to humans. As in the human case, the host immune response fails to control the establishment of chronic persistent infection that finally leads to a specific disease development. Despite intensive research on the development of lentivirus vaccines, it is still not clear which immune responses can protect against infection. Viral mutations resulting in escape from T-cell or antibody-mediated responses are the basis of the immune failure to control the infection. The innate immune response provides the first line of defense against viral infections in an antigen-independent manner. Antiviral innate responses are conducted by dendritic cells, macrophages, and natural killer cells, often targeted by lentiviruses, and intrinsic antiviral mechanisms exerted by all cells. Intrinsic responses depend on the recognition of the viral pathogen-associated molecular patterns (PAMPs) by pathogen recognition receptors (PRRs), and the signaling cascades leading to an antiviral state by inducing the expression of antiviral proteins, including restriction factors. This review describes the latest advances on innate immunity related to the infection by animal lentiviruses, centered on small ruminant lentiviruses (SRLV), equine infectious anemia virus (EIAV), and feline (FIV) and bovine immunodeficiency viruses (BIV), specifically focusing on the antiviral role of the major restriction factors described thus far.
1. Introduction
Lentiviruses are retroviruses that induce slow-developing diseases commonly unnoticed for several months or even years, until the final clinical stages that inexorably lead to the individual's death. In spite of tremendous efforts aiming at controlling lentiviral infections in the last 40 years, a definitive strategy to limit the spread of the infection has not yet been developed [
1
]. Antiretroviral treatment is the only strategy able to maintain a healthy status of the infected individual, although economic issues restrict this strategy to humans. Promising vaccination strategies are being devised constantly. However, sterilizing immunity has not been reached, due to viral heterogeneity and escape mutants selection. A logical strategy has consisted in unveiling humoral and cellular adaptive responses as it correlates to protection after infection. Lately, the innate immune response on behalf of understanding basic processes capable of restricting lentiviral replication, has become a realistic alternative to control lentivirus spread [
2
].
All lentiviruses generally share common features regarding virion particle structure (
Figure 1
), genetics, infection kinetics, tropism, immune response elicited, transmission, etc. In general, lentiviruses infect immune cells (mainly macrophages and T lymphocytes) and induce several types of immune dysfunctions (macrophage subset differentiation, T-cell anergy, etc.), inflammation, and organ/tissue impairments.
Innate immune response is elicited early after infection onset, and contrarily to adaptive immune response, it does not require the specific recognition, processing, and presentation of the infective agent (antigen presentation) to trigger a response. The innate immune response is mediated by broad spectrum interactions between pathogen associated molecular patterns (PAMPs) and germline-encoded pathogen recognition receptors (PRRs) [
3
]. After engaging, normally on the surface of immune cells (mostly macrophages and dendritic cells), intracellular signaling induces a series of downstream events intended to face the infection. Among the multiple blocks supplied by the innate immune response, intrinsic factors, such as interferon-stimulated genes (ISGs), are gaining increasing interest in animal as well as primate lentivirus research, due to efficient inhibition of the viral replication cycle at multiple steps. Among ISGs, the focus has been put on a handful of molecules including TRIM5α, APOBEC3, and tetherin (BST2). TRIM5α is able to recognize viral incoming capsid in the pre-integration complex, and induces a premature decapsidation, impairing integration and significantly reducing proviral load and viral production, after auto-ubiquitination and autolysis in the proteasome. APOBEC3 is a cytidine-deaminase that causes uracil accumulation in negative-strand nascent DNA, leading to detrimental G to A mutation in the proviral DNA. Lastly, tetherin is able to trap virions inside the cells, avoiding virus budding, and therefore, virus transmission between cells. Lentiviruses are quite species-specific, and this innate immune response is responsible for preserving the species barrier. Thus, intrinsic restriction exerted by innate immunity would be able to block the infection by a lentivirus from other species [
4
].
On the other hand, evolution has shaped viral genetics in order to evade these restriction mechanisms. For example, in HIV infection, the viral protein Vif has the main function of avoiding APOBEC3 incorporation into viral particles. Vpu is particularly dedicated to dock tetherin and degrade it via proteasome, and the high genetic heterogeneity found within the capsid region is likely a consequence of long-lasting direct contact with TRIM5α proteins. This so-called "evolutionary arms race" has led to a strong purifying selection in somatic genes encoding virus-interacting proteins. So far, these innate mechanisms have been partially unveiled in the simian or human counterparts. However, recent research involving equine, ovine, bovine, and feline lentiviruses has been conducted.
Among lentiviruses affecting animal production, those infecting equines (EIAV) and small ruminants (SRLV) are the most important in terms of economic losses.
Feline immunodeficiency
virus (FIV) is a big concern for veterinarians who have to advise cat owners in the absence of treatments. On the other end of the spectrum, infection in cattle by bovine immunodeficiency virus (BIV) is usually a laboratory finding, as it is generally asymptomatic, although a related bovine lentivirus,
Jembrana disease
virus (JDV) causes severe and acute disease in Bali cattle. The comparison of the host responses against these viruses may shed some light on how to fight the most virulent ones.
In this review, recent advances in the control of non-primate lentiviruses based on early diagnosis, vaccination, and innate immunity are compared, with special attention to the intrinsic restriction factors, envisioning new strategies oriented to control lentivirus occurrence.
2. Prevention and Control
Despite great efforts in controlling lentiviral infections through vaccination, mostly after the discovery of HIV, no satisfactory immunization strategy has been found. Lentivirus infection is difficult to control, due to the virus' ability to integrate into the host's genome, inducing persistent infections and eluding the immune response. However, animal lentiviruses can be controlled through different strategies, including early diagnosis and animal management or vaccination with attenuated viruses.
2.1. Small Ruminant Lentiviruses (SRLV)
Future discoveries and advances in understanding the biology of SRLV–host interactions are essential in identifying means to control viral transmission, the disease manifestation, or both.
2.2. Equine Infectious Anemia Virus (EIAV)
2.3. Feline Immunodeficiency Virus (FIV)
3. Innate Immunity
The innate immune system provides a first line of defense against viruses. Dendritic cells and macrophages play key roles in initiating and coordinating this first-line immunity with the adaptive immune response. However, in several animal lentivirus infections, macrophages also represent the main target cell, which probably causes immune dysfunction. Soon after viral infection, cells of the innate immune system use pattern-recognition receptors (PRRs) to sense pathogen invasion by engaging pathogen-associated molecular patterns (PAMPs). It has been proposed that a "trinity" of pathogen sensors operate the innate immune response to pathogen infection: the nucleotide binding oligomerization domain-like receptor (NLRs), the retinoic acid-inducible gene (RIG)-like receptor (RLRs), and the Toll-like receptors (TLRs) [
52
]. NLRs and RLRs have not being studied, and little information on the possible role of TLRs concerning animal lentiviral replication and pathogenesis is available.
Engaging of PAMPs rapidly induces type I interferon (IFN-I) and pro-inflammatory cytokine synthesis. Induction of IFN-I regulates the expression of several "interferon stimulated genes" or ISGs whose protein products have direct antiviral properties. This group of proteins are also known as "restriction factors" and inhibit virus replication by targeting specific steps in the viral cycle. High genetic variability in the restriction factors might also limit the spread and extent of infections and disease within the natural host population (intra-species transfer) (
Figure 3
).
Activation of macrophages with phorbol esters or certain cytokines stimulates gene expression of EIAV [
53
], SRLV [
54
], or FIV [
55
] initially related to the activation of cellular transcription factors binding the viral LTR regulatory region.
The interaction of innate immunity and non-primate lentiviruses is not well understood yet. Here, we summarize some important aspects of this immunity in each of the viruses included in this review (SRLV, EIAV, FIV, and BIV/JDV).
3.2. EIAV
EIAV infection is considered as a model for natural immunological resistance against lentivirus replication and persistence [
67
].
The oxidant/antioxidant equilibrium is affected by EIAV modifying glutathione peroxidase (GPx) and uric acid levels, both danger signals of the innate immunity [
68
].
After infection, equine macrophages produce IFN-I and the subsequent induction of hundreds of ISGs with antiviral activity. Viperin (virus inhibitory protein endoplasmic reticulum-associated interferon-inducible) is one of these ISGs that regulates virus replication by broad antiviral activity against influenza A, HIV-1, hepatitis C, West Nile virus, Dengue, and EIAV at multiple steps of viral replication [
69
].
3.3. FIV
FIV infects T-cells (CD4+ and CD8+), cells of the monocyte/macrophage lineage, and cells of the central nervous system, through an initial interaction of FIV Env with the receptor CD134 and subsequent binding to the CXCR4 chemokine receptor [
70
]. CD134, a member of the tumor necrosis factor and nerve growth factor receptor superfamily, is a costimulatory molecule abundantly expressed on activated lymphocytes, monocytes, macrophages, and dendritic cells.
FIV-infected cats have an innate immune defect that is reflected in impaired clearance of the infecting pathogen inoculated subcutaneously, suggesting DC dysfunction related to antigen presentation and migratory capacities, rather than to Treg induction as it occurs in HIV-1 infection [
71
].
4. TLR Signaling
Although TLRs provide protection against a wide variety of pathogens, inappropriate or unregulated activation of TLR signaling can lead to chronic inflammatory and autoimmune disorders.
5. Interferon
Interferons are a family of cytokines classified into three types. Type I interferons (IFN-I) include IFN-α, IFN-β, and several others. Ruminants express IFN-τ, an IFN-I produced by the ruminant trophoblast with an important role in gestation [
92
]. Type I interferons are induced early after virus infection, and mediate innate immune response. Many cells may secrete IFN-α/β, but dendritic cells are the main producers of IFN-α.
Type II interferon (IFN-II), also called the immune interferon, only includes IFN-γ that is mainly synthesized by T-cells and NK cells. IFN-γ plays an important role in innate and adaptive immune responses, but this review will focus on IFN-I that mainly acts at early stages after infection.
Viral dsRNA activates the pathways of NF-κB and IRF-3, the main factors that regulate the transcription of IFNs. These factors cross the nuclear membrane and bind the
IFN-β
gene promoter, forming an enhanceosome complex. Other co-activators and RNA polymerase aggregate with the enhanceosome, allowing the transcription of IFN-β that is secreted.
In the next amplification step, IFN-β binds the IFN-α/β heterodimeric receptor (IFNAR) in an autocrine and paracrine manner, and through dimerization, activates JAK proteins (Janus tyrosine kinases) and initiates a positive feedback loop that triggers the activation of ISGF3 (heterotrimer of STAT1, STAT2, and IRF9) and the expression of IRF-7. IRF-7 has been identified as the main regulator of IFN-I expression [
93
] in collaboration with IRF-3 [
94
] (
Figure 4
).
TLR signaling activates IRF-7 directly, triggering the secretion of high levels of IFN-α [
95
,
96
,
97
]. Phosphorylated IRF-7 and ISGF-3 cross the nuclear membrane and bind DNA regulatory cis-acting sequences, called interferon-stimulated response elements (ISRE), which have a consensus sequence AGTTTCNNTTTCNC/T [
98
]. This sequence is present in several interferon-stimulated genes (ISGs) that encode proteins with antiviral activity, such as restriction factors. Among ISGs, APOBEC3, TRIM5α, and tetherin are the most studied proteins induced by IFN, with the ability to block lentivirus infection. These antiviral proteins interrupt different points in the viral replication, depending on the type of infected cell and the virus [
94
]. For these reasons, IFN-I has been used with a variable degree of success in treating viral infections, including retroviral infections.
However, retroviruses may contain ISRE in their LTR [
99
], by which viral genome transcription is enhanced when an IFN-induction pathway is triggered.
6. Host Restriction Factors
Among the ISGs that can directly interfere with different stages of the virus replication cycle, Tripartite motif-containing protein 5 alpha (TRIM5α), apolipoprotein B mRNA-editing enzyme, catalytic polypeptide-like 3 (APOBEC3) and tetherin (also known as bone marrow stromal antigen 2, BST2) are upregulated by IFN-I, and have received much attention in the last few years.
The connection of intrinsic resistance mechanisms in controlling host restriction has been clearly shown for the primate lentiviruses, but it is not completely understood in non-primate lentiviruses [
111
]. However, the plasticity of lentiviruses allows them to counteract these restriction factors through their accessory genes.
6.1. TRIM5α
The evolutionary analysis of TRIM5 holds transposable lessons to the study of other intrinsic antiviral factors.
6.2. APOBEC3
6.2.1.
SRLV
VMV Vif is essential for the infection of primary macrophages and for
in vivo
infections, highlighting the importance of APOBEC3 restriction in natural infection. Sheep (
Ovis aries
) encode three different A3 genes:
APOBEC3Z1
(A3Z1),
APOBEC3Z2
(A3Z2), and
APOBEC3Z3
(A3Z3), that result in the synthesis of a fourth protein (A3Z2Z3) due to alternative splicing. Ovine A3Z2-Z3, containing two Zn-domains, is able to restrict SRLV infection, as well as HIV-1 infectivity [
153
]. The cellular proteins recruited by SRLV Vif in sheep include Cullin5 (CUL5), and the substrate adaptors Elongin B/C25 and cyclophilin A (CYPA, also known as peptidylprolyl isomerase A), as cofactors for degrading sheep APOBEC3.
Unlike primate lentiviruses, SRLV Vif does not interact with CBF-β [
150
]. The mechanism involving CYPA implies that VMV Vif hijacks this molecule as a cofactor to reconstitute the E3 ligase [
154
]. Despite the ability of SRLV Vif to degrade A3Z2Z3, circumventing this defense mechanism, infection can be controlled under specific
in vivo
and
in vitro
conditions. A3Z1 is resistant to Vif degradation, and is highly expressed in resistant cells, such as monocytes and M1-macrophages [
155
]. Furthermore, A3Z1 can be incorporated into virions, even in the presence of viral Vif.
In vitro
expression of A3Z1 reduced the production of SRLV and the infectivity of HIV-1, most likely through deaminase mechanisms.
6.2.2.
EIAV
EIAV is genetically the simplest virus within the genus, and contains only three accessory genes, namely
tat
,
rev
, and
S2
, lacking
vif
, a unique feature of EIAV. This is of particular interest concerning the restriction exerted by APOBEC3 proteins. The ability of human A3G to inhibit EIAV replication is a clear example of restriction of heterologous viruses [
156
]. Also, human A3F, murine A3Z2Z3, and porcine A3Z2Z3 exert antiviral activity against EIAV [
157
].
Horses express six different A3 genes with single or double cytidine deaminase domains [
158
] (
Figure 6
). This is close to the quantity present in the human genome, and greater than that reported in any other non-primate species. While being potent inhibitors of heterologous retroviruses through deamination, equine A3s exert weak restriction against EIAV, despite efficient incorporation into virions. Only A3Z3 demonstrated effective restriction of EIAV replication in CrFK cells [
157
]. This suggests that EIAV has evolved to develop a novel mechanism that acts after virion incorporation to escape antiviral activities of APOBEC3 proteins in the absence of Vif. Whether EIAV persists without any countermeasure against the activity of the equine A3 proteins remains unknown. Zielonka et al. [
157
] propose that by tolerating the incorporation of inactive equine A3 proteins (A3Z1b, A3Z2a-Z2b, and A3Z2e), EIAV avoids the encapsidation of active antiviral A3Z3 by adapting its cellular tropism to macrophages, in which A3Z3 expression is very low. However, as raised in human and ovine cases, restriction exerted by the different A3 proteins may be highly influenced by the cellular type in which restriction is evaluated, A3Z1 being inactive in dividing cells, such as 293-T or TIGEF, but exhibiting antiviral activity in myeloid cells [
144
,
155
].
In addition to cytidine deaminases, adenosine deaminases that act on RNA also have a role in restricting or promoting viral replication, being highly dependent on the virus. Equine ADAR1 is a positive regulator of EIAV replication by promoting LTR and Rev Responsive Element (RRE) activities [
159
], similar to human ADAR1 [
160
].
6.2.3.
FIV
As in other species, feline T-cells and macrophages express APOBEC3. Feline
A3
gene encoding a Z1 domain protein does not exist but, as in the human case, three similar copies of
Z2
genes (
A3Z2a
,
A3Z2b
, and
A3Z2c
), a single copy of
Z3
(
A3Z3
), and also an A3Z2-Z3 by read-through transcription and alternative splicing, are found (
Figure 6
).
FIV Vif protein induces the degradation of feline A3 proteins, by interacting with CUL5, ELOB, and ELOC [
152
,
161
], but not with CBF-β [
150
]. FIVΔvif is moderately inhibited by feline A3Z3 and is strongly suppressed by feline A3Z2-Z3. This antiviral activity against FIVΔvif is correlated with the detection of cytidine deamination. It is unknown why the feline A3Z2 proteins do not inhibit FIVΔvif or FIV despite efficient deaminase activity [
112
]. The interaction between Vif and A3 proteins is Zn-independent [
152
].
The Vif protein from domestic cat FIV can efficiently inhibit A3 of other Felidae (puma, lion, lynx, bobcat, or tiger) [
162
]. These results indicate that A3 proteins from big cats are not major determinants that prevent cross-species transmission of FIV from the domestic cat to these closely related animal species. A characterization of the molecular interaction of domestic cat FIV Vif, with A3s of different felids, may reveal the interacting domains of Vif and A3, besides explaining the broad activity of domestic cat FIV Vif. However, differences are seen, as
puma lentiviruses group A
(PLV-A) counteract the antiviral action of A3Z3 of both puma and bobcat, whereas PLV-B Vif counteracts only puma A3Z3. The amino acid at position 178 in the puma and bobcat A3Z3 is exposed on the protein surface, and determines the sensitivity to PLV-B Vif-mediated degradation [
151
].
7. Other Host Protein Factors
7.1. SAMHD1
Recently, the human protein SAMHD1 has been identified to be causative for the post-entry restriction of HIV-1 in myeloid cells [
183
,
184
]. Viral particle-associated Vpx protein induces a proteasome-dependent degradation of SAMHD1 in the target cell very early after entry. The SAMHD1 protein has two domains that are widely found in all genomes: an N-terminal SAM domain followed by an HD domain. SAM (sterile α motif) domains have diverse functions, such as binding to kinases, other proteins, or RNA [
185
]. The HD domain with histidine and aspartic acid residues for metal coordination defines a superfamily of metal-dependent phosphohydrolases, which includes many proteins that are involved in nucleic acid metabolism, such as dGTPases, nucleotidyltransferases, and helicases.
The antiviral mechanism of SAMHD1 has not yet been identified, but SAMHD1 may exert antiviral activity through degradation of viral RNA, rather than through its dNTPase activity [
186
,
187
]. However, controversy has been raised related to these findings [
188
,
189
]. Recent findings suggest that innate immune responses are downregulated by SAMHD1 due to NF-κB, and type-I IFN inhibition [
190
] and interference with HIV replication cycle may also involve LTR promoter activity [
191
].
Studies based on SAMHD1 antiviral activity regarding non-primate lentiviruses are currently lacking. It would be interesting to determine whether the feline gene for SAMHD1 (found on cat chromosome A3) encodes an antiviral protein, and whether FIV expresses a viral counteracting measure against feline SAMHD1 that functions similarly to Vpx. FIV possesses an additional small open reading frame, termed
orfA
, which encodes a factor that facilitates the transactivation of transcription during viral replication [
192
].
7.2. HEXIM1
Tat proteins from BIV, JDV, HIV-1, HIV-2, SIV, and EIAV bind to the
TAR
(transactivation region) present at the 5′ end of viral RNA transcripts and recruit the cellular positive transcription elongation factor b (P-TEFb), which consists of the cyclin-dependent kinase 9 (CDK9) and cyclin T1, to the viral promoter. The hexamethylene bisacetamide (HMBA)-inducible protein 1 (HEXIM1) is a component of the inactive positive transcription elongation factor (P-TEFb) [
193
]. Upon binding to the 7SK small nuclear RNA, HEXIM1 oligomers undergo a conformational change and then bind to cyclin T1. Following association with the P-TEFb complex, HEXIM1 inhibits the activity of CDK9 [
194
]. Through this mechanism, human HEXIM1 suppresses HIV-1 Tat transactivation [
195
]. Similarly, the bovine HEXIM1 (BHEXIM1) inhibits Tat-mediated BIV LTR transcription by competing with Tat for binding to B-cyclin T1 [
196
]. Based on these results, these authors proposed that BHEXIM1 would have a potential role on the BIV latent lifecycle, and the absent clinical signs of infected livestock.
7.3. Schlafen 11
SLFN11 is a novel restriction factor also induced by type-I interferon, based on bias regarding relative synonymous codon usage by binding to tRNA.
Among non-primate lentiviruses, Schlafen 11 has been studied in the EIAV field so far. Overexpression of equine SLFN11 inhibited EIAV replication, and silencing increased viral production by a mechanism involving impairment of viral mRNA translation [
197
].
8. Concluding Remarks
Recent research on restriction factors involved in lentivirus biology is offering promising results in terms of antiviral activity. By overexpressing them exogenously as a potential treatment or rather by selecting highly responder individuals or those harboring advantageous polymorphisms, new strategies in the control of non-primate lentiviruses may be envisioned.
However, care should be taken in these new designs, since dysregulation of the pathways involved by exogenous administration may lead to IFN-α overproduction and disease development due to onset of autoimmune processes.
New restriction factors are being discovered, and further studies are needed to investigate, for example, the role, if any, of HEXIM1 in lentiviruses lacking Tat protein, or the importance of specific polymorphisms in
TLR
genes associated with lentivirus resistance.
In an attempt to relieve adverse effects related to interferon-based therapies,
in vivo
testing of restriction factors as therapeutic agents is being conducted in the human field [
198
] and its application to the veterinary field may contribute to both animal and human health.
Author Contributions
L.d.P.-M. drafted the SRLV part and designed illustrations. E.G.-L. and A.D. contributed the FIV and the bovine lentivirus parts. I.E. and C.G.-A. drafted the FIV current control measures. D.d.A., A.D., E.G.-L. and S.R. critically reviewed the manuscript and wrote the final version. R.R., conceptualization, writing and supervision of the manuscript.
Funding
This research was funded by MINECO grant number [AGL2013-49137-C3-1-R].
Acknowledgments
I.E. and C.G.-A. were funded by Public University of Navarra predoctoral contract. R. Reina was supported by Spanish Ministry of Science and Innovation "Ramón y Cajal" contract. The editorial assistance of David A. Bruhn is gratefully acknowledged.
Conflicts of Interest
The authors declare no conflict of interest.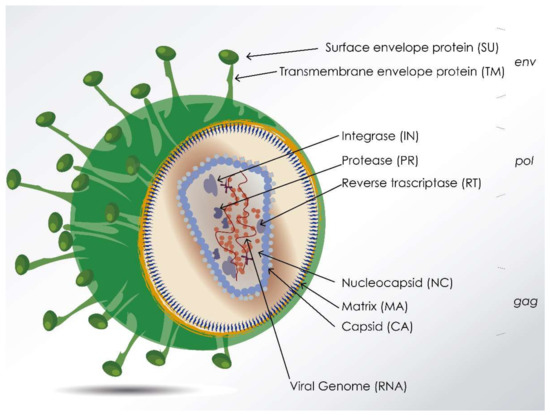 Figure 1.
Virion particle schematic representation of animal lentiviruses. Figure depicts common structural genes and encoded proteins. Gene
gag
encodes the viral core proteins, including capsid (CA), matrix (MA), and nucleocapsid (NC) proteins. CA is relatively conserved, NC directly interacts with viral RNA. Gene
pol
encodes the replication-related enzymes, such as protease (PR), reverse transcriptase (RT) that catalyzes the viral DNA synthesis, and integrase (IN). Gene
env
encodes the envelope polyprotein that, after digestion by a cellular protease, result in transmembrane (TM) and surface (SU) subunits.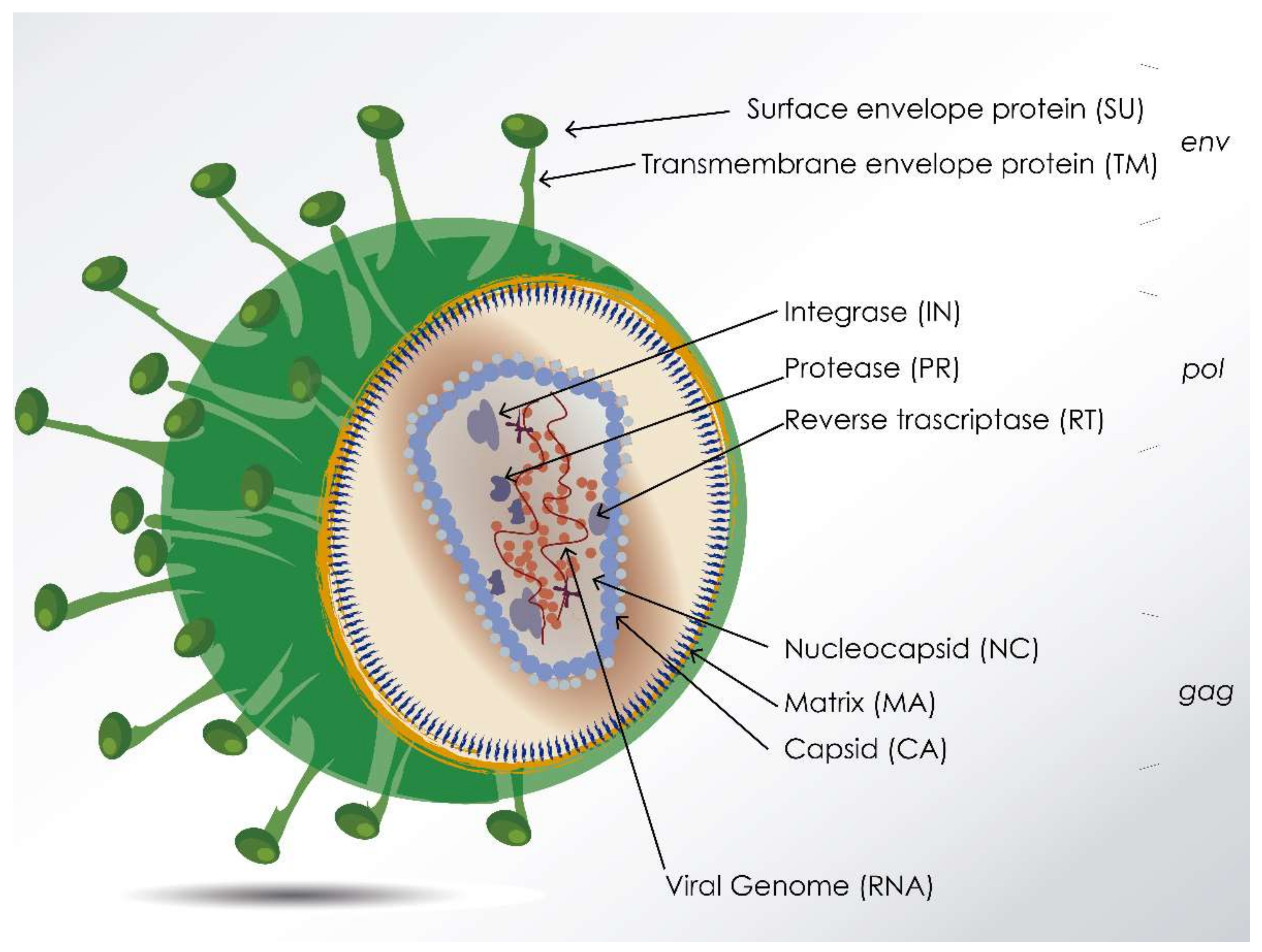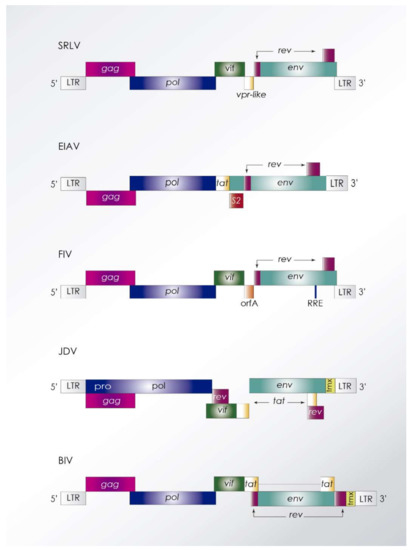 Figure 2.
Proviral genomic structure of most common animal lentiviruses. Genes
gag
,
pol
, and
env
, as well as flanking long terminal repeats (LTRs), are common features among animal lentiviruses. Small ruminant lentiviruses (SRLV) encode three accessory genes
vif
,
vpr
-like, and
rev
without evidence of a transactivation activity [
8
].
Equine infectious anemia
virus (EIAV) encodes an
S2
gene whose protein may accomplish a function similar to that exerted by HIV Nef [
9
].
Feline immunodeficiency
virus (FIV) encodes
orfA
with functions similar to Vpr and Nef, since it produces G2 cell cycle arrest and downregulation of E2 ubiquitin conjugating enzymes [
10
], respectively.
Jembrana disease
virus (JDV) and
bovine immunodeficiency
virus (BIV) encode four accessory genes,
vif
,
tat
,
rev
, and
tmx
that may exert Nef-like properties. Animal lentiviruses also encode a dUTPase subunit involved in regulating cellular dNTP ratio. BIV encodes a dUTPase-related gene without enzymatic activity.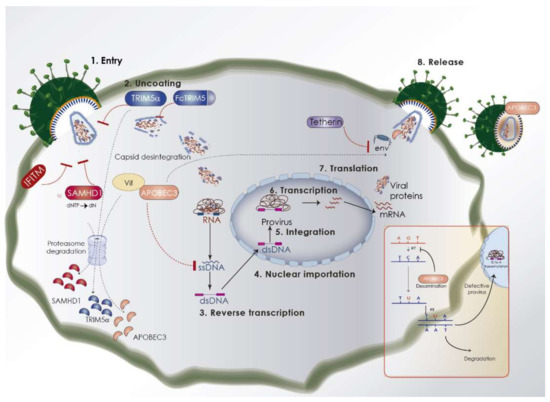 Figure 3.
Overview of the lentivirus replication cycle and cellular restriction factors that target lentiviruses and their viral antagonists. The key mechanisms by which restriction factors directly act upon the retroviral replication cycle, and their counteraction by viral accessory proteins, are depicted. Virus replication steps are shown with numbers. After entry, TRIM5α recognizes viral capsid and induces premature decapsidation and autoubiquitination, except in the case of
Felis catus
. Other measures that may inhibit the infection cycle at this stage are SAMHD1 and IFITM (interferon-induced transmembrane protein 3). Viral Vif can counteract some of these mechanisms by inducing proteasome-associated degradation. APOBEC3, which is harbored in viral particles, mediates hypermutation of the viral genome, as indicated in the inset panel. When the lentiviral genome and proteins are assembling, tetherin can trap new virions and reduce infectivity.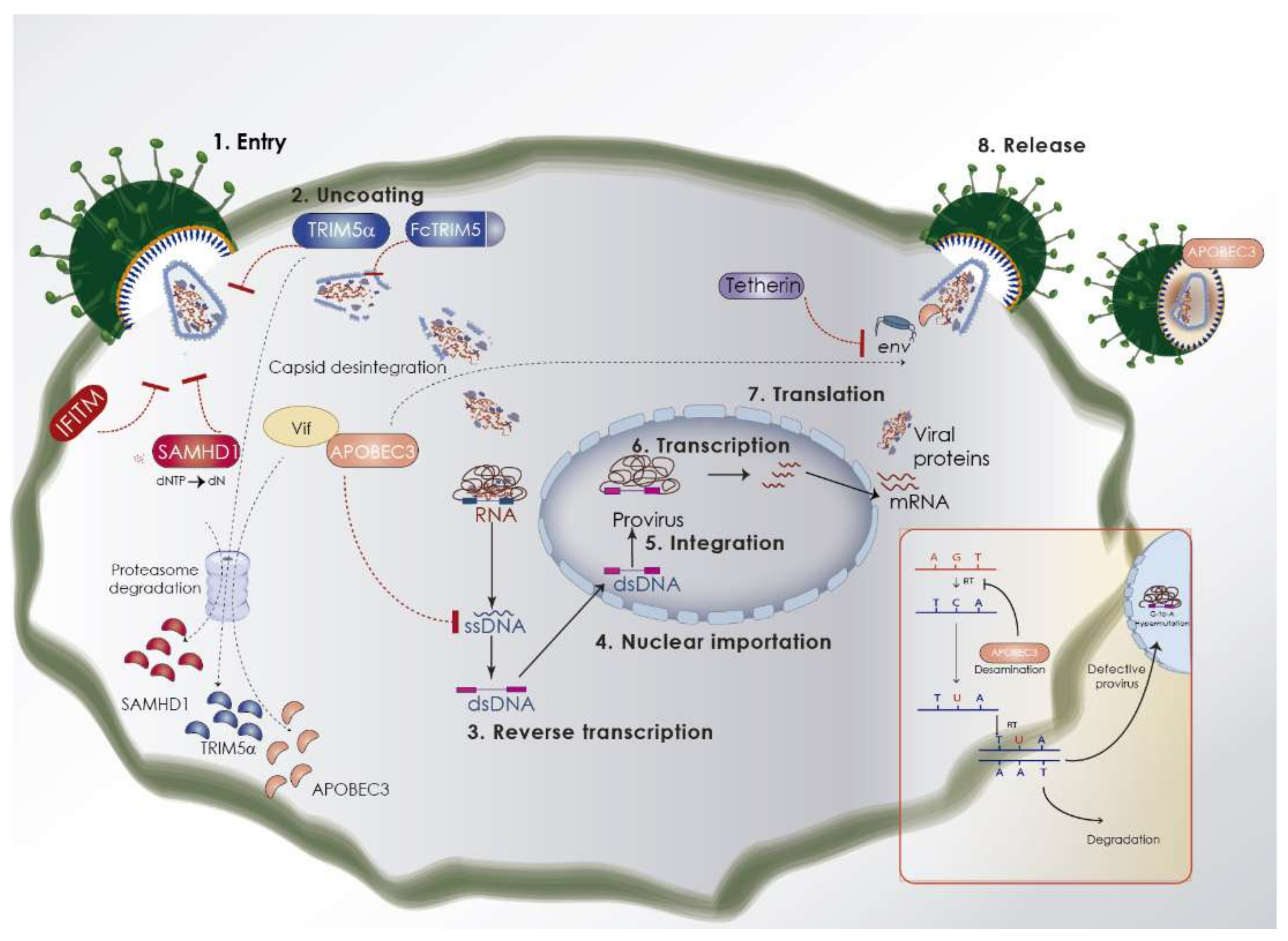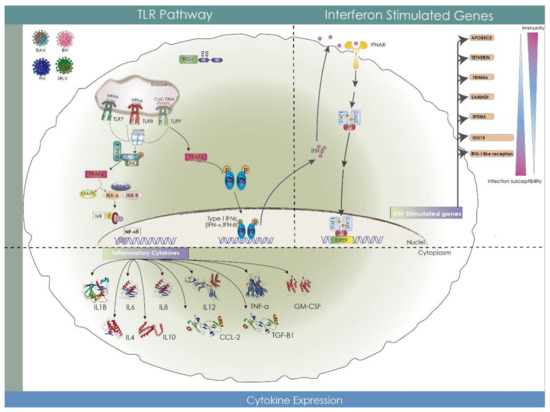 Figure 4. Animal lentiviruses innate immune sensing. Toll-like receptors (TLRs) 7, 8, and 9 can sense virus-derived nucleic acids and induce a signaling cascade involving IRAK-1 that results in the expression of inflammatory cytokines and type I-IFN, such as interferon alpha (IFN- α) and beta (IFN-β). Receptor for IFN (IFNAR) engages type I IFN molecules, inducing the expression of many antiviral proteins known as IFN-stimulated genes, among which, restriction factors are present.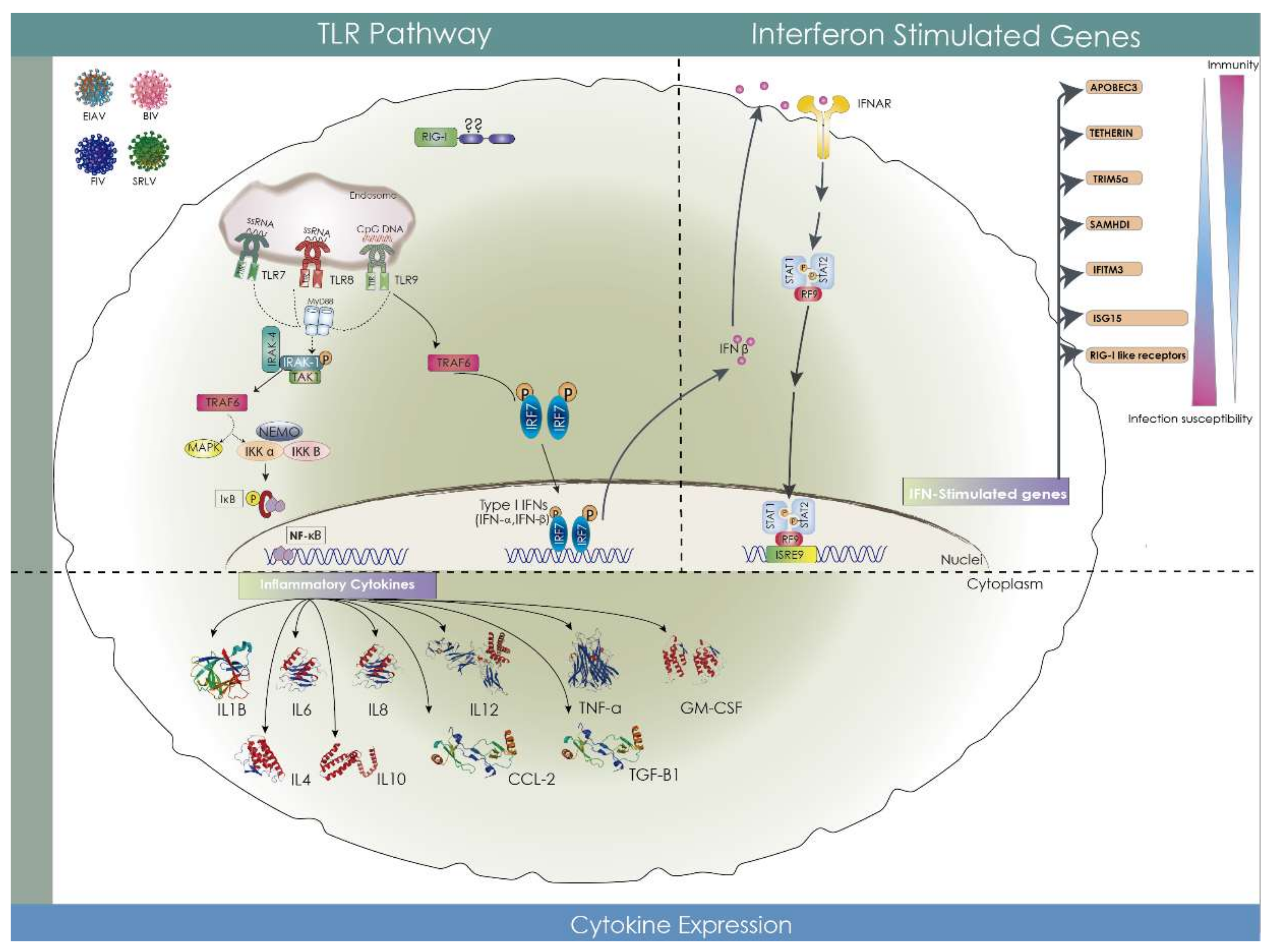 Figure 5. Schematic representation of ovine, caprine, bovine, equine, and feline Tripartite motif-containing protein 5 alpha (TRIM5α). RING, B-box-2, coiled-coil, and PRY/SPRY domains are represented. Feline TRIM5α lacks the PRY/SPRY domain because of a premature stop codon in the mRNA transcript. Predicted structure of GenBank accession numbers: JN835300-JN835311 (ovine) and JQ582845-JQ582849 (caprine), DQ380509 (bovine), XM_014741762.2 (equine), NM_001163659 (feline).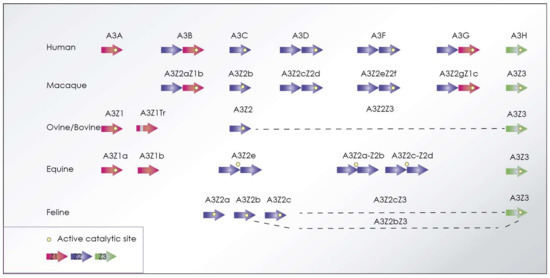 Figure 6. APOBEC3 proteins encoded by primates in comparison with ovine, bovine, equine, and felines highlighting Zn2+ domains and deaminase catalytic site. Ovine, bovine, and feline encode alternative splicing derived proteins (highlighted with a discontinuous line) and a truncated isoform in the case of small ruminants.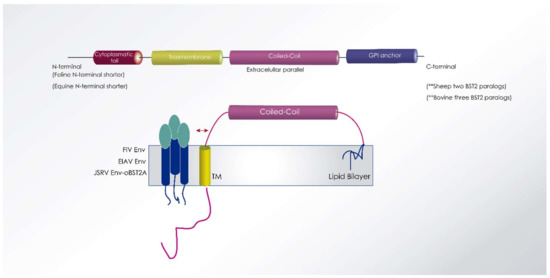 Figure 7.
BST2/tetherin protein structure representation including animal lentiviruses targeted species. Cytoplasmatic tail, transmembrane, coiled-coil, and GPI anchor domains are represented. The N-terminal cytoplasmatic tail of feline and equine tetherin is characterized by a shorter region compared to other species. Sheep and bovine tetherin have two and three paralogs, respectively, which inhibit virus infectivity by different mechanisms [
171
].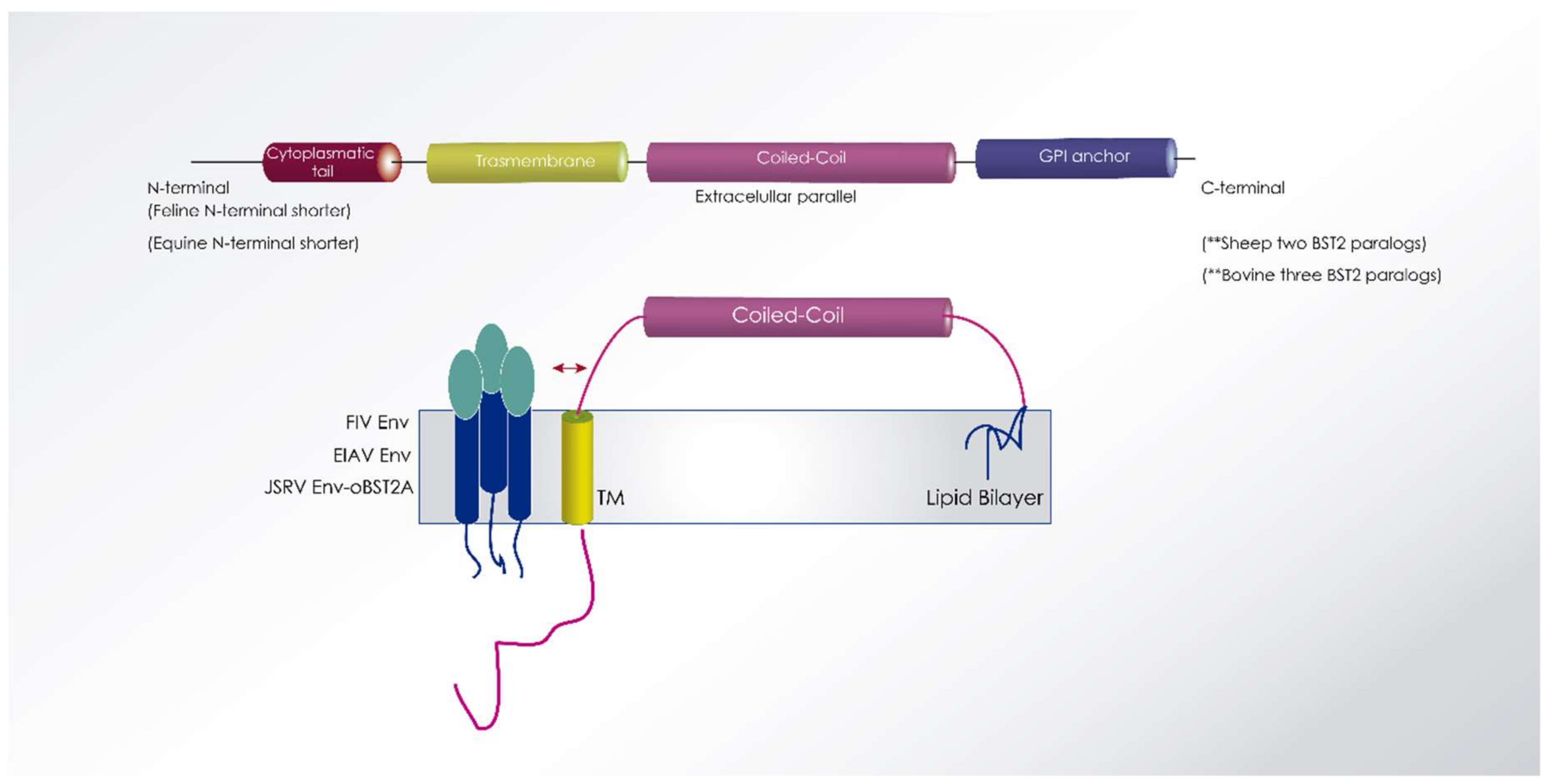 © 2018 by the authors. Licensee MDPI, Basel, Switzerland. This article is an open access article distributed under the terms and conditions of the Creative Commons Attribution (CC BY) license (http://creativecommons.org/licenses/by/4.0/).