Functional Genomics and Immunologic Tools: The Impact of Viral and Host Genetic Variations on the Outcome of Zika Virus Infection
1
Department of Animal Dairy and Veterinary Sciences, College of Agriculture and Applied Sciences, Utah State University, Logan, UT 84322, USA
2
Institute for Antiviral Research, Utah State University, Logan, UT 84322, USA
3
Veterinary Diagnostics and Infectious Diseases, Utah Science Technology and Research, Utah State University, Logan, UT 84341, USA
†
These authors contributed equally to this work.
*
Author to whom correspondence should be addressed.
Received: 30 June 2018 / Revised: 31 July 2018 / Accepted: 2 August 2018 / Published: 11 August 2018
Abstract
Zika virus (ZIKV) causes no-to-mild symptoms or severe neurological disorders. To investigate the importance of viral and host genetic variations in determining ZIKV infection outcomes, we created three full-length infectious cDNA clones as bacterial artificial chromosomes for each of three spatiotemporally distinct and genetically divergent ZIKVs: MR-766 (Uganda, 1947), P6-740 (Malaysia, 1966), and PRVABC-59 (Puerto Rico, 2015). Using the three molecularly cloned ZIKVs, together with 13 ZIKV region-specific polyclonal antibodies covering nearly the entire viral protein-coding region, we made three conceptual advances: (i) We created a comprehensive genome-wide portrait of ZIKV gene products and their related species, with several previously undescribed gene products identified in the case of all three molecularly cloned ZIKVs. (ii) We found that ZIKV has a broad cell tropism in vitro, being capable of establishing productive infection in 16 of 17 animal cell lines from 12 different species, although its growth kinetics varied depending on both the specific virus strain and host cell line. More importantly, we identified one ZIKV-non-susceptible bovine cell line that has a block in viral entry but fully supports the subsequent post-entry steps. (iii) We showed that in mice, the three molecularly cloned ZIKVs differ in their neuropathogenicity, depending on the particular combination of viral and host genetic backgrounds, as well as in the presence or absence of type I/II interferon signaling. Overall, our findings demonstrate the impact of viral and host genetic variations on the replication kinetics and neuropathogenicity of ZIKV and provide multiple avenues for developing and testing medical countermeasures against ZIKV.
View Full-Text
►

▼

Figures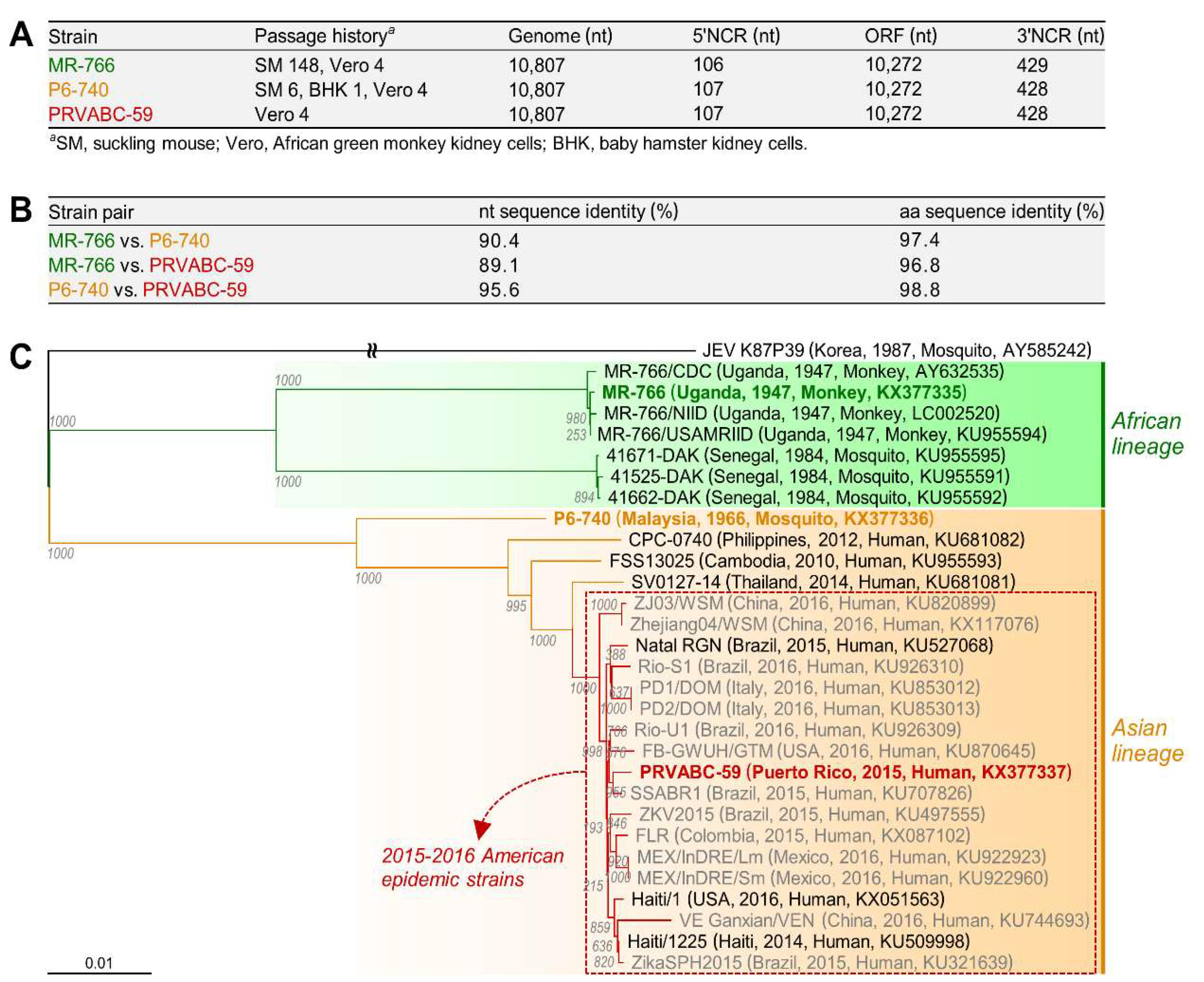 Figure 1
This is an open access article distributed under the
Creative Commons Attribution License
which permits unrestricted use, distribution, and reproduction in any medium, provided the original work is properly cited (CC BY 4.0).

Share & Cite This Article
MDPI and ACS Style
Yun, S.-I.; Song, B.-H.; Frank, J.C.; Julander, J.G.; Olsen, A.L.; Polejaeva, I.A.; Davies, C.J.; White, K.L.; Lee, Y.-M. Functional Genomics and Immunologic Tools: The Impact of Viral and Host Genetic Variations on the Outcome of Zika Virus Infection. Viruses 2018, 10, 422.
Note that from the first issue of 2016, MDPI journals use article numbers instead of page numbers. See further details here.
Related Articles
Comments
[Return to top]