Neutralizing Epitopes and Residues Mediating the Potential Antigenic Drift of the Hemagglutinin-Esterase Protein of Influenza C Virus
1
Department of Infectious Diseases, Yamagata University Faculty of Medicine, Yamagata 990-9585, Japan
2
Institute for Frontier Life and Medical Sciences, Kyoto University, Kyoto 606-8507, Japan
3
Hakubi Center for Advanced Research, Kyoto University, Kyoto 606-8501, Japan
4
Department of Microbiology, Yamagata Prefectural Institute of Public Health, Yamagata 990-0031, Japan
5
Virus Research Center, Clinical Research Division, Sendai Medical Center, Sendai 983-8520, Japan
*
Author to whom correspondence should be addressed.
Received: 9 July 2018 / Revised: 7 August 2018 / Accepted: 8 August 2018 / Published: 9 August 2018
Abstract
We mapped the hemagglutinin-esterase (HE) antigenic epitopes of the influenza C virus on the three-dimensional (3D) structure of the HE glycoprotein using 246 escape mutants that were selected by a panel of nine anti-HE monoclonal antibodies (MAbs), including seven of the C/Ann Arbor/1/50 virus and two of the C/Yamagata/15/2004 virus. The frequency of variant selection in the presence of anti-HE MAbs was very low, with frequencies ranging from 10
−4.62
to 10
−7.58
for the C/Ann Arbor/1/50 virus and from 10
−7.11
to 10
−9.25
for the C/Yamagata/15/2004 virus. Sequencing of mutant HE genes revealed 25 amino acid substitutions at 16 positions in three antigenic sites: A-1, A-2, and A-3, and a newly designated Y-1 site. In the 3D structure, the A-1 site was widely located around the receptor-binding site, the A-2 site was near the receptor-destroying enzyme site, and the Y-1 site was located in the loop on the topside of HE. The hemagglutination inhibition reactions of the MAbs with influenza C viruses, circulating between 1947 and 2016, were consistent with the antigenic-site amino acid changes. We also found some amino acid variations in the antigenic site of recently circulating strains with antigenic changes, suggesting that viruses that have the potential to alter antigenicity continue to circulate in humans.
View Full-Text
►

▼

Figures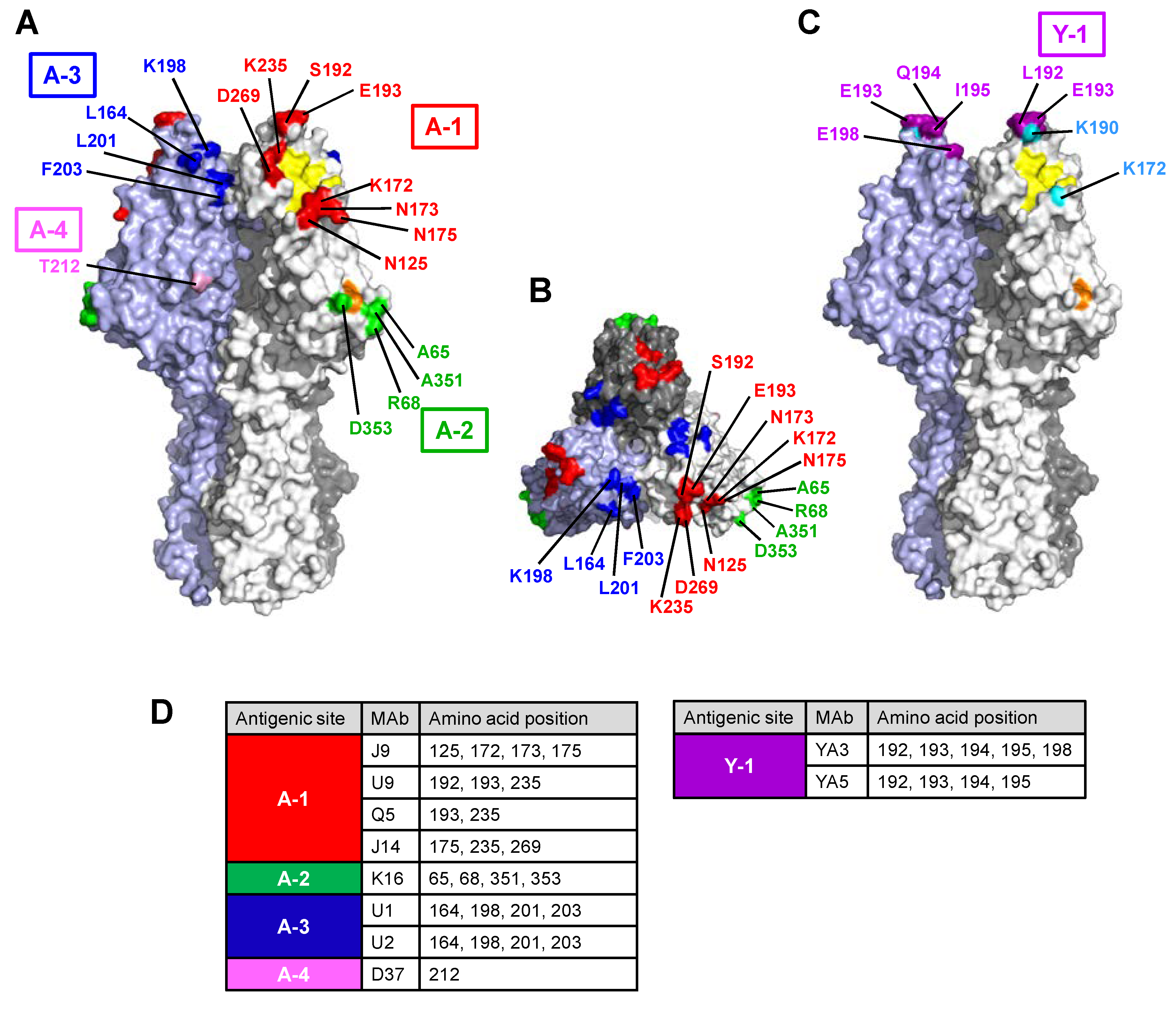 Figure 1
This is an open access article distributed under the
Creative Commons Attribution License
which permits unrestricted use, distribution, and reproduction in any medium, provided the original work is properly cited (CC BY 4.0).

Share & Cite This Article
MDPI and ACS Style
Matsuzaki, Y.; Sugawara, K.; Furuse, Y.; Shimotai, Y.; Hongo, S.; Mizuta, K.; Nishimura, H. Neutralizing Epitopes and Residues Mediating the Potential Antigenic Drift of the Hemagglutinin-Esterase Protein of Influenza C Virus. Viruses 2018, 10, 417.
Note that from the first issue of 2016, MDPI journals use article numbers instead of page numbers. See further details here.
Related Articles
Comments
[Return to top]