Adaptive Mutations in Influenza A/California/07/2009 Enhance Polymerase Activity and Infectious Virion Production
1
Department of Microbiology and Immunology, Dalhousie University, 5850 College Street, Halifax, NS B3H 4R2, Canada
2
The Hospital for Sick Children, University Health Network, Toronto, ON M5G 2C4, Canada
3
CGEB-Integrated Microbiome Resource (IMR) and Department of Pharmacology, Dalhousie University, 5850 College Street, Halifax, NS B3H 4R2, Canada
4
Division of Microbiology, Department of Pathology and Laboratory Medicine, Nova Scotia Health Authority (NSHA), Halifax, NS B3H 1V8, Canada
*
Author to whom correspondence should be addressed.
Received: 16 March 2018 / Revised: 15 May 2018 / Accepted: 15 May 2018 / Published: 18 May 2018
Abstract
Mice are not natural hosts for influenza A viruses (IAVs), but they are useful models for studying antiviral immune responses and pathogenesis. Serial passage of IAV in mice invariably causes the emergence of adaptive mutations and increased virulence. Here, we report the adaptation of IAV reference strain A/California/07/2009(H1N1) (also known as CA/07) in outbred Swiss Webster mice. Serial passage led to increased virulence and lung titers, and dissemination of the virus to brains. We adapted a deep-sequencing protocol to identify and enumerate adaptive mutations across all genome segments. Among mutations that emerged during mouse-adaptation, we focused on amino acid substitutions in polymerase subunits: polymerase basic-1 (PB1) T156A and F740L and polymerase acidic (PA) E349G. These mutations were evaluated singly and in combination in minigenome replicon assays, which revealed that PA E349G increased polymerase activity. By selectively engineering three PB1 and PA mutations into the parental CA/07 strain, we demonstrated that these mutations in polymerase subunits decreased the production of defective viral genome segments with internal deletions and dramatically increased the release of infectious virions from mouse cells. Together, these findings increase our understanding of the contribution of polymerase subunits to successful host adaptation.
View Full-Text
►

▼

Figures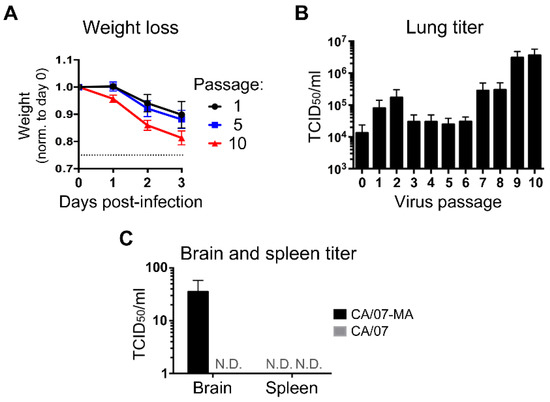 Figure 1
This is an open access article distributed under the
Creative Commons Attribution License
which permits unrestricted use, distribution, and reproduction in any medium, provided the original work is properly cited (CC BY 4.0).

Share & Cite This Article
MDPI and ACS Style
Slaine, P.D.; MacRae, C.; Kleer, M.; Lamoureux, E.; McAlpine, S.; Warhuus, M.; Comeau, A.M.; McCormick, C.; Hatchette, T.; Khaperskyy, D.A. Adaptive Mutations in Influenza A/California/07/2009 Enhance Polymerase Activity and Infectious Virion Production. Viruses 2018, 10, 272.
Note that from the first issue of 2016, MDPI journals use article numbers instead of page numbers. See further details here.
Related Articles
Comments
[Return to top]