Bioinformatics Meets Virology: The European Virus Bioinformatics Center's Second Annual Meeting
1
European Virus Bioinformatics Center, 07743 Jena, Germany
2
Faculty of Mathematics and Computer Science, Friedrich Schiller University Jena, 07743 Jena, Germany
3
Theoretical Biology and Bioinformatics, Utrecht University, 3508 TC Utrecht, The Netherlands
4
Department of Viroscience, Erasmus Medical Center, 3015 GD Rotterdam, The Netherlands
5
Department of Biosystems Science and Engineering, ETH Zürich, 4058 Basel, Switzerland
6
SIB Swiss Institute of Bioinformatics, 4058 Basel, Switzerland
7
Université Clermont Auvergne, CNRS, LMGE, F-63000 Clermont-Ferrand, France
8
Department of Parasitology, Institute of Biomedical Sciences, University of São Paulo, 05508-000 São Paulo, Brazil
9
National Center for Biotechnology Information, NLM, National Institutes of Health, Bethesda, MD 20894, USA
10
Institute of General Microbiology, Kiel University, 24118 Kiel, Germany
11
Clinical and Epidemiological Virology, Rega Institute, KU Leuven, University of Leuven, 3000 Leuven, Belgium
12
Department for Computational Biology of Infection Research, Helmholtz Center for Infection Research, 38124 Braunschweig, Germany
13
Institute of Biology, Free University Berlin, Schwendenerstr. 1, 14195 Berlin, Germany
14
Department for Materials and Environment, BAM Federal Institute for Materials Research and Testing, Unter den Eichen 87, 12205 Berlin, Germany
15
J. Craig Venter Institute, Rockville, MD 20850, USA
16
MRC-University of Glasgow Centre for Virus Research, Garscube Campus, Glasgow G61 1QH, UK
17
J. Craig Venter Institute, La Jolla, CA 92037, USA
18
Department of Genetics, University Medical Center Groningen, 9700 RB Groningen, The Netherlands
19
Department of Microbial Ecology, Netherlands Institute of Ecology (NIOO-KNAW), 6708 PB Wageningen, The Netherlands
20
Centrum Wiskunde & Informatica, Science Park 123, 1098 XG Amsterdam, The Netherlands
21
Leibniz Institute for Age Research-Fritz Lipmann Institute, 07745 Jena, Germany
*
Authors to whom correspondence should be addressed.
†
These authors contributed equally to this work.
‡
These authors organized the conference.
Received: 9 May 2018 / Revised: 11 May 2018 / Accepted: 11 May 2018 / Published: 14 May 2018
Abstract
The Second Annual Meeting of the European Virus Bioinformatics Center (EVBC), held in Utrecht, Netherlands, focused on computational approaches in virology, with topics including (but not limited to) virus discovery, diagnostics, (meta-)genomics, modeling, epidemiology, molecular structure, evolution, and viral ecology. The goals of the Second Annual Meeting were threefold: (i) to bring together virologists and bioinformaticians from across the academic, industrial, professional, and training sectors to share best practice; (ii) to provide a meaningful and interactive scientific environment to promote discussion and collaboration between students, postdoctoral fellows, and both new and established investigators; (iii) to inspire and suggest new research directions and questions. Approximately 120 researchers from around the world attended the Second Annual Meeting of the EVBC this year, including 15 renowned international speakers. This report presents an overview of new developments and novel research findings that emerged during the meeting.
View Full-Text
►

▼

Figures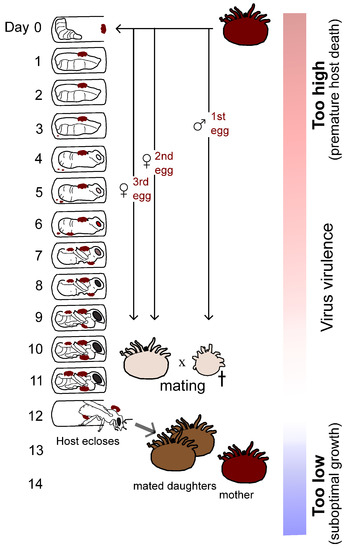 Figure 1
This is an open access article distributed under the
Creative Commons Attribution License
which permits unrestricted use, distribution, and reproduction in any medium, provided the original work is properly cited (CC BY 4.0).

Share & Cite This Article
MDPI and ACS Style
Ibrahim, B.; Arkhipova, K.; Andeweg, A.C.; Posada-Céspedes, S.; Enault, F.; Gruber, A.; Koonin, E.V.; Kupczok, A.; Lemey, P.; McHardy, A.C.; McMahon, D.P.; Pickett, B.E.; Robertson, D.L.; Scheuermann, R.H.; Zhernakova, A.; Zwart, M.P.; Schönhuth, A.; Dutilh, B.E.; Marz, M. Bioinformatics Meets Virology: The European Virus Bioinformatics Center's Second Annual Meeting. Viruses 2018, 10, 256.
Note that from the first issue of 2016, MDPI journals use article numbers instead of page numbers. See further details here.
Related Articles
Comments
[Return to top]