Mutation of CD2AP and SH3KBP1 Binding Motif in Alphavirus nsP3 Hypervariable Domain Results in Attenuated Virus
1
Institute of Technology, University of Tartu, 50411 Tartu, Estonia
2
Department of Microbiology, Tumor and Cell Biology, Karolinska Institutet, SE-171 77 Stockholm, Sweden
*
Authors to whom correspondence should be addressed.
†
These authors contributed equally to this work.
‡
Present address: Institute for Glycomics, Griffith University, QLD 4222 Southport Brisbane, Australia.
§
Present address: Department of Biochemistry, University of Cambridge, Cambridge CB2 1QW, UK.
‖
Present address: Department of Pathology, University of Cambridge, Cambridge CB2 1QP, UK.
¶
Present address: MRC-University of Glasgow Centre for Virus Research, Glasgow G61 1QH, Scotland, UK.
Received: 21 March 2018 / Revised: 17 April 2018 / Accepted: 20 April 2018 / Published: 27 April 2018
Abstract
Infection by Chikungunya virus (CHIKV) of the Old World alphaviruses (family Togaviridae) in humans can cause arthritis and arthralgia. The virus encodes four non-structural proteins (nsP) (nsP1, nsp2, nsP3 and nsP4) that act as subunits of the virus replicase. These proteins also interact with numerous host proteins and some crucial interactions are mediated by the unstructured C-terminal hypervariable domain (HVD) of nsP3. In this study, a human cell line expressing EGFP tagged with CHIKV nsP3 HVD was established. Using quantitative proteomics, it was found that CHIKV nsP3 HVD can bind cytoskeletal proteins, including CD2AP, SH3KBP1, CAPZA1, CAPZA2 and CAPZB. The interaction with CD2AP was found to be most evident; its binding site was mapped to the second SH3 ligand-like element in nsP3 HVD. Further assessment indicated that CD2AP can bind to nsP3 HVDs of many different New and Old World alphaviruses. Mutation of the short binding element hampered the ability of the virus to establish infection. The mutation also abolished ability of CD2AP to co-localise with nsP3 and replication complexes of CHIKV; the same was observed for Semliki Forest virus (SFV) harbouring a similar mutation. Similar to CD2AP, its homolog SH3KBP1 also bound the identified motif in CHIKV and SFV nsP3.
View Full-Text
►

▼

Figures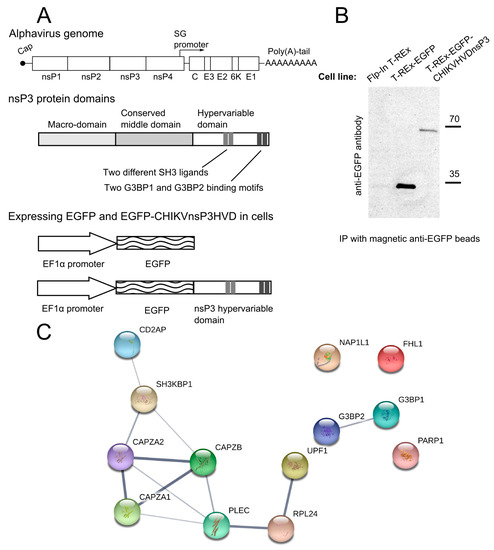 Figure 1
This is an open access article distributed under the
Creative Commons Attribution License
which permits unrestricted use, distribution, and reproduction in any medium, provided the original work is properly cited (CC BY 4.0).

Share & Cite This Article
MDPI and ACS Style
Mutso, M.; Morro, A.M.; Smedberg, C.; Kasvandik, S.; Aquilimeba, M.; Teppor, M.; Tarve, L.; Lulla, A.; Lulla, V.; Saul, S.; Thaa, B.; McInerney, G.M.; Merits, A.; Varjak, M. Mutation of CD2AP and SH3KBP1 Binding Motif in Alphavirus nsP3 Hypervariable Domain Results in Attenuated Virus. Viruses 2018, 10, 226.
Note that from the first issue of 2016, MDPI journals use article numbers instead of page numbers. See further details here.
Related Articles
Comments
[Return to top]