Glycosylation of Hemagglutinin and Neuraminidase of Influenza A Virus as Signature for Ecological Spillover and Adaptation among Influenza Reservoirs
1
Department of Biotechnology, College of Life Science and Biotechnology, Yonsei University, 50 Yonsei-ro, Seodaemun-gu, Seoul 03722, Korea
2
Vaccine Translational Research Center, Yonsei University, 50 Yonsei-ro, Seodaemun-gu, Seoul 03722, Korea
3
Department of Integrated OMICS for Biomedical Science, College of World Class University, Yonsei University, 50 Yonsei-ro, Seodaemun-gu, Seoul 03722, Korea
4
Biomedicine Pharmaceutical Group, CJ Healthcare R&D Center, CJ HealthCare, 811 Deokpyeong-ro, Majang-myeon, Icheon 17389, Korea
*
Authors to whom correspondence should be addressed.
Received: 25 February 2018 / Revised: 25 March 2018 / Accepted: 5 April 2018 / Published: 7 April 2018
Abstract
Glycosylation of the hemagglutinin (HA) and neuraminidase (NA) of the influenza provides crucial means for immune evasion and viral fitness in a host population. However, the time-dependent dynamics of each glycosylation sites have not been addressed. We monitored the potential N-linked glycosylation (NLG) sites of over 10,000 HA and NA of H1N1 subtype isolated from human, avian, and swine species over the past century. The results show a shift in glycosylation sites as a hallmark of 1918 and 2009 pandemics, and also for the 1976 "abortive pandemic". Co-segregation of particular glycosylation sites was identified as a characteristic of zoonotic transmission from animal reservoirs, and interestingly, of "reverse zoonosis" of human viruses into swine populations as well. After the 2009 pandemic, recent isolates accrued glycosylation at canonical sites in HA, reflecting gradual seasonal adaptation, and a novel glycosylation in NA as an independent signature for adaptation among humans. Structural predictions indicated a remarkably pleiotropic influence of glycans on multiple HA epitopes for immune evasion, without sacrificing the receptor binding of HA or the activity of NA. The results provided the rationale for establishing the ecological niche of influenza viruses among the reservoir and could be implemented for influenza surveillance and improving pandemic preparedness.
View Full-Text
►

▼

Figures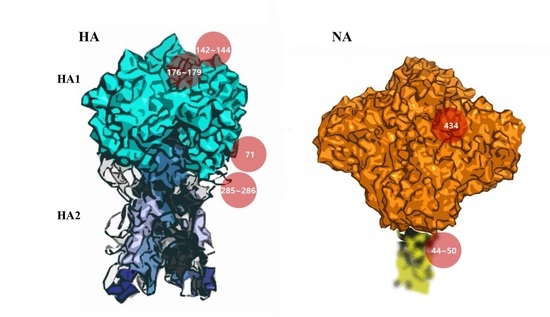 Graphical abstract
This is an open access article distributed under the
Creative Commons Attribution License
which permits unrestricted use, distribution, and reproduction in any medium, provided the original work is properly cited (CC BY 4.0).

Share & Cite This Article
MDPI and ACS Style
Kim, P.; Jang, Y.H.; Kwon, S.B.; Lee, C.M.; Han, G.; Seong, B.L. Glycosylation of Hemagglutinin and Neuraminidase of Influenza A Virus as Signature for Ecological Spillover and Adaptation among Influenza Reservoirs. Viruses 2018, 10, 183.
Note that from the first issue of 2016, MDPI journals use article numbers instead of page numbers. See further details here.
Related Articles
Comments
[Return to top]