Open Access This article is
freely available
re-usable
Review
Oropouche Fever: A Review
1
Department of Microbiology, Faculty of Medicine, School of Health Sciences, University of Ioannina, 45110 Ioannina, Greece
2
Department of Physiology, Anatomy and Microbiology, La Trobe University, Bundoora, VIC 3086, Australia
*
Author to whom correspondence should be addressed.
Received: 26 February 2018 / Accepted: 3 April 2018 / Published: 4 April 2018
Abstract
:
Oropouche fever is an emerging zoonotic disease caused by Oropouche virus (OROV), an arthropod transmitted Orthobunyavirus circulating in South and Central America. During the last 60 years, more than 30 epidemics and over half a million clinical cases attributed to OROV infection have been reported in Brazil, Peru, Panama, Trinidad and Tobago. OROV fever is considered the second most frequent arboviral febrile disease in Brazil after dengue fever. OROV is transmitted through both urban and sylvatic transmission cycles, with the primary vector in the urban cycle being the anthropophilic biting midge
Culicoides paraensis
. Currently, there is no evidence of direct human-to-human OROV transmission. OROV fever is usually either undiagnosed due to its mild, self-limited manifestations or misdiagnosed because its clinical characteristics are similar to dengue, chikungunya, Zika and yellow fever, including malaria as well. At present, there is no specific antiviral treatment, and in the absence of a vaccine for effective prophylaxis of human populations in endemic areas, the disease prevention relies solely on vector control strategies and personal protection measures. OROV fever is considered to have the potential to spread across the American continent and under favorable climatic conditions may expand its geographic distribution to other continents. In view of OROV's emergence, increased interest for formerly neglected tropical diseases and within the One Health concept, the existing knowledge and gaps of knowledge on OROV fever are reviewed.
Keywords:
Oropouche virus; OROV disease; arbovirus; Culicoides; Amazon
1. Introduction
Oropouche fever is an emerging zoonotic disease caused by Oropouche virus (OROV), an arbovirus of the Orthobunyavirus genus in the
Peribunyaviridae
family (order Bunyavirales), which is transmitted to humans predominantly by the biting midge
Culicoides paraensis
[
1
,
2
]. OROV fever is an acute febrile disease, similar to dengue fever, with common clinical symptoms such as fever, headache, muscle and joint pain and skin rash, which may develop into meningitis and/or encephalitis [
3
,
4
]. OROV was first isolated in 1955 from the blood of a forest worker in Vega de Oropouche, Trinidad and from then onwards it has been found circulating in the Amazonian region (South and Central America) causing sporadic cases and outbreaks. Since the early 1960s, OROV has been implicated in more than 30 epidemics. However, it is only recently that OROV fever has attracted more research attention for reasons associated with the climate change, the geographic expansion of the arthropod vectors, the globalization of human and animal transportation and the emergence of other arboviral diseases hitting the headlines (West Nile fever, Zika). Furthermore, OROV's potential to spread geographically, increasing the probabilities of the disease to emerge in new areas is signifying its importance at an international public health level. Because of its potential public health significance, an update of the existing knowledge on OROV fever is presented.
4. Transmission Cycles
OROV is conserved in nature by an urban cycle and a sylvatic cycle, which may include several different vectors (
Figure 2
). In the urban cycle,
C. paraensis
is the primary vector [
38
], which has been implicated in large epidemics affecting up to 100,000 patients [
39
]. The role of
C. paraensis
as a main urban vector has been supported by experimental and epidemiological data. Pinheiro and colleagues proved that
C. paraensis
midges are able to transmit OROV to hamsters 6 to 12 days after blood-feeding on viremic patients, and the threshold titer enabling transmission and infection was approximately 5.3 log
10
SMLD
50
/mL [
32
]. It has been reported that other
Culicidae
species, such as
Cx. quinquefasciatus
can contribute to the OROV transmission, but relevant experimental studies show the threshold of infection for this species to be high (≥9.5 log
10
SMLD
50
/mL) indicating low efficiency of virus transmission by this mosquito species [
40
]. The
C. paraensis
efficiency to transmit the disease feeding on lower virus-titer blood-meals provides strong evidence that they are the most important OROV vectors [
24
]. Although
Cx. quinquefasciatus
is recognized to be an anthropophilic vector to a lesser extent, OROV is the only member of the
Orthobunyavirus
genus isolated from this mosquito species, based on the detection of OROV's SRNA in both patients and insects by nested-reverse transcription-polymerase chain reaction (RT-PCR) [
4
]. The epidemiological data are based on observations that higher incidence of human OROV infections is recorded in areas with high densities of midges [
40
] and during epidemics midges' densities are higher too [
5
]. Relevant studies have excluded involvement of domestic animals such as cats, dogs or chickens, in the urban cycle, suggesting humans to be the sole vertebrate host, with no evidence of direct human-to-human OROV transmission [
5
]. Hemagglutinin antigens to OROV obtained from hamster brain and serum samples have been used as serological diagnostic tools for epidemiological surveys as well [
5
].
In the sylvatic cycle mammals, wild and domestic birds are the natural reservoir hosts. Antibodies to OROV have been found in pale-throated three-toed sloths (
Bradypus tridactylus
), nonhuman primates such as capuchin monkeys (
Sarajus
spp.), black-and-gold howler monkeys (
Alouatta caraya
), black-tufted marmosets (
Callithrix penicillata
), rodents (
Proechimys
spp.), and birds (
Fringillidae
,
Thaurapidae
,
Columbidae
) implicated in the transmission of OROV. Nevertheless, the existing literature on OROV detection in the reservoir hosts is rather limited. Published data report OROV isolation from one sloth in 1960 (Brazil), antibodies detection in one rodent, 34 wild birds and 12 domestic birds during an epidemic in Mojui dos Campos, Pará State, Brazil in 1975 [
40
,
41
], isolation from non-human primates in Arinos region, Southeast Brazil in 2000 [
11
] and in Miranda, State of Mato Grosso, Brazil in 2013 [
42
]. In a very recent publication by Romero-Alvarez and Escobar (2017), only sixteen references related to OROV detection in different reservoirs in Brazil, Colombia, Trinidad and Venezuela are cited [
43
]. The mosquito species
Cq. venezuelensis
,
Ae. serratus
,
Cx. quinquefasciatus
and midges of the genus
Culicoides
have been reported to be likely vectors in the sylvatic cycle as indicated by epidemiological and laboratory based evidence [
4
,
33
,
41
,
43
,
44
].
Humans are probably the link between the two distinct transmission cycles, since OROV is usually invading urban areas through a viremic individual who visited a forest, got infected there and returned to an urban area during the viremic phase [
5
]. Still, there are gaps of knowledge in the transmission cycle, such as the reported low isolation rates (1:12,500) of OROV from midges during epidemics, which may be attributed to low susceptibility of this vector to the virus or to the ability of a fragment only of the insect population to transmit OROV, but this has to be answered by further studies [
5
,
40
]. In addition, the role of wild animals has not been explored adequately in other geographic locations outside Brazil, as well as the role of birds in the potential spread of OROV in other countries or continents taking into account the birds' wide geographic distribution and movement. From the available literature data, OROV is circulating at low levels in the wildlife and human reservoirs, but whenever a perturbation in the environment (vegetation loss/deforestation, habitat loss) and/or in the community (human and/or animal immigration) occurs, OROV outbreaks are emerging. Therefore, the urban transmission of OROV can probably be sporadic and temporary, but also may be maintained among urban populations for longer periods or permanently, at a relatively low level of activity and thus may go unrecognized [
29
]. A surveillance study in Iquitos, Peru, during a period of significantly increased transmission, suggested a peri-urban transmission cycle, since the majority of OROV isolates were detected in both rural and urban sites located in the outskirts of the city [
45
].
6. Pathogenesis
It is recognized that OROV is highly detectable in blood from the onset of infection, and can progressively reach the neural routes, resulting in a systemic infection and primary central nervous system (CNS) inflammatory response [
5
]. Since the disease is systemic, and, in severe cases, the CNS is affected, with the virus being detected in cerebrospinal fluid (CSF), the relative research is mostly oriented in exploring the mechanism by which OROV is infecting CNS. Intracerebral inoculation of OROV in experimental animals, especially mice and hamsters is reported to induce the infection [
64
,
65
]. An early study on hamsters inoculated intracerebrally reports fatal severe hepatitis with necrosis of hepatocytes and Kupffer cell hyperplasia, with no detection of OROV in the animal tissues and no identification of any sites of virus replication [
66
]. Recent studies use the subcutaneous route for OROV inoculation into the experimental animal models because this route resembles the natural route of infection by this arbovirus. The golden hamster (
Mesocricetus auratus
), in which both the virus replication and the disease may occur, has been used for subcutaneous experimental inoculation of OROV by Rodrigues et al. (2011) [
64
]. Hamsters inoculated with OROV developed systemic infection with neurological motor impairment and paralysis, along with the accumulation of the virus in both brain and liver, suggesting hematogenous transmission to brain and liver. Apparently, the blood–brain barrier (BBB) is probably penetrated by a Trojan-horse mechanism considered to play significant role in several viral pathogenesis manifestations [
64
,
67
]. In this mechanism, the pathogen is carried through the blood stream hiding inside the infected phagocytes and thus it is going unrecognized to the target organs/tissues, where it can replicate, eluding any immune response, bypassing and crossing any barriers such as the BBB. However, a neural route of brain invasion may be involved due to the observed viral accumulation within neurons [
64
]. The hepatotropic nature of OROV is described by both Araujo et al. (1978) and Rodrigues et al. (2011), despite the different inoculation routes [
64
,
66
]. It has to be noticed that there are no reports on hepatitis manifestations in OROV fever patients, but altered liver enzymes have been reported [
32
].
Experimental infections in mice demonstrated severe manifestations of encephalitis related to extended spread of OROV through the brain parenchyma. In one study, suckling BALB/c mice were subcutaneously inoculated with OROV developing severe disease five days post inoculation with lethargy and paralysis leading to death >80% of the animals within 10 days. Viral replication in brain neurons pointing out the neurotropism of OROV, was documented by in situ hybridization, immunohistochemistry and virus titration [
65
]. Despite the severe CNS disease, histopathology was mild in brain and spinal cord with little inflammation indicating that replication in neurons may occur with relatively little functional impairment. Interestingly, spleen hyperplasia with absence of OROV recovery or antigen detection in the spleen was reported too, a finding reminiscent of the results of Araujo et al. (1978) although different animals and routes of inoculation were used, and different organs (liver, spleen) were studied [
66
].
Activation of mitochondrial antiviral-signaling protein (MAVS), interferon-regulatory factors (IRF) 3 and 7, and production of type I interferon (IFN-I) have been found to play an important role in the innate immune system's response to viral infection, by controlling the virus replication, the liver damage and the progressive death in mice experimental models [
46
]. In addition, the interferon-regulatory factor 5 (IRF-5) has been discovered to play a key role in modulating the host antiviral response in peripheral organs that control OROV's dissemination in CNS, having an inhibitory effect on the neuroinvasive disease manifestation and the virus replication in liver, spleen and blood during early stages of infection in mice [
68
]. In a later experimental study by Santos et al. (2014) in mice too, it is suggested that OROV uses the neural route during the early phases and with the progression of the infection somehow becomes able to cross the BBB, which may happen in parallel with the neural spread and probably is associated with viremia [
69
]. A study on OROV induced apoptosis in HeLa cells has indicated that in vitro OROV infection causes apoptosis by an intracellular pathway involving mitochondria and is triggered by a mechanism dependent on virus replication and protein expression [
70
]. Only recently, a minigenome and virus particle production assay was established according to BeAn 19991 and TRVL-9760 strain sequences [
51
]. These assays along with an OROV rescue system based on a T7 RNA polymerase-driven plasmid system developed by the same group will enhance the efforts of understanding the molecular biology of the virus [
50
]. Conclusively, the existing knowledge on OROV fever pathogenesis mechanism is limited and there is a need for further research in this field.
7. Clinical Manifestations
OROV fever is manifesting as a self-limited, dengue-like, acute febrile illness that lasts 2–7 days, and is associated with a variety of symptoms such as fever, chills, headache, myalgia, arthralgia, malaise, dizziness, nausea, vomiting, photophobia, retro-ocular pain, and, in rare occasions, skin rash appearing more commonly on trunk and arms, hemorrhagic signs such as spontaneous bleeding, petechiae, epistaxis, gingival bleeding, and CNS signs like aseptic meningitis or meningoencephalitis [
5
,
32
,
39
,
41
,
43
,
44
,
47
,
50
,
53
]. In some patients, physical weakness and strength loss (asthenia) have been noticed for a period of 2–4 weeks [
32
]. The CNS manifestations usually occur in immunocompromised individuals and children, and patients with previous BBB disruption [
71
]. Neurological manifestations clinically defined as meningitis or meningismus are recorded mostly during large outbreaks and include severe headache, dizziness, lethargy, diplopia, nystagmus and, in some cases, ataxia, nuchal rigidy and increased cells in CSF [
44
,
53
].
The most frequently reported symptoms as recorded during large epidemics in Brazil were: fever (100%), headache (79.3%), arthralgia (68.7%), myalgia (30%) in Parauapebas and Porto de Moz, (2003–2004) outbreak [
13
], fever (100%), headache (99.3%), chills (59.3%), myalgia (46.9%), dizziness (39.8%), photophobia (38.1%), and nausea/vomiting (36.3%) in the Magalhães Barata and Maracanã outbreaks, (2006) [
54
], fever (100%), headache (72.7%), myalgia (70.3%), arthralgia (57.8%), rash (42.2%), and hemorrhagic manifestations (15.5%), in the Manaus outbreak (2007) [
3
].
The disease incubation period is 3–8 days. After this period, the infected individuals develop symptoms, are highly viremic and can transmit OROV if they are bitten by midges. It is reported that viremia decreases significantly, resulting to a reduction in the viral titer at 72%, 44% and 23% on the 3rd, 4th and 5th day, respectively [
4
]. The acute phase of OROV fever commonly lasts 2–7 days [
43
,
53
]. Recurrence of symptoms has been observed is some cases, particularly within the first 10 days after the onset of symptoms [
4
,
32
]. In about 60–70% of reported cases, mild symptoms (fever, headache, chills) may recur one to several times 2–3 weeks after their initial manifestation [
5
,
13
,
30
]. The disease affects people of all age groups and both genders. In endemic countries, OROV must be included in the differential diagnosis of cases suspected of acute infection of the CNS. It is reported that 6.1% of CSF samples of hospitalized patients with confirmed viral CNS infection in Western Brazilian Amazon were found OROV positive by a combination of RT-PCR and nested RT-PCR [
72
,
73
]. It has to be pointed out that there is a lack of data on OROV's potential effect in fetal development, although abortions and teratogenic effects in animals from other Simbu viruses have been reported [
30
].
9. Treatment and Prevention Options
Currently, the available treatment for OROV infection is symptomatic, which means that the provided medication is only easing the symptoms but is not affecting the causative agent (by killing the virus or inhibiting its replication). Generally, the prognosis for OROV fever is good and no deaths have been reported ever since the first outbreak in 1960. In the existing literature, data on in vitro or in vivo experiments for potential treatment or prevention options are scanty. A study by Livonesi et al. (2006) on ribavirin, a broad-spectrum antiviral drug, reports no inhibitory effect on OROV and another study by Livonesi et al. (2007) reports some antiviral activity of IFN-α on OROV [
78
,
79
]. Concerning prevention options, so far, there is no vaccine for OROV fever prophylaxis in humans. Thus, prevention strategies are based on control or eradication measures for the arthropod vectors and personal protections measures. Vector control measures rely on reducing midge populations through the eradication of breeding sites, by applying good agricultural practices [
27
]. Personal protection measures rely on prevention of midge biting using mechanical barriers (mosquito nets), insect repellant devices (insect light traps) [
80
], repellant-treated clothing and anti-mosquito lotions, although the latter have been incriminated for allergies and/or dermatological reactions.
Chemical insecticides such as deltamethrin and
N
,
N
-Diethyl-meta-toluamide (DEET) have demonstrated very sufficient insecticide effects against
Culicoides
species. However, the ecological consequences of the insecticides usage at a large scale are of particular concern [
81
,
82
]. Alternatively, various natural compounds (pyrethrins, picaridin, azadirachtin) and plant derived essential oils (eucalyptus, levanter, geraniol, neem) have been proposed as repellents [
27
,
82
]. The complete and permanent eradication of the arthropod vectors is rather impossible, considering the abundance of
Culicoides
populations. Education of human populations in endemic regions (e.g., farmers, cattle-breeders, forest workers, housekeepers, pupils/students, tourists) about the seasons of high exposure risk, the potential implications on human health due to midge biting and personal protection options can contribute significantly to OROV fever prevention.
10. Conclusions
OROV fever is an emergent zoonotic disease that is currently endemic in certain regions of South and Central America. Despite the fact that it has been infecting over half of million people in South America, the disease—like most of the arboviral diseases—was a neglected disease for almost sixty years. Thus, data on the distribution, prevalence and incidence rates in human, animal and vector populations are inadequate and possibly underestimated. OROV fever is an acute febrile illness, but is self-limited and it is not a fatal disease, which may explain the lack of adequate attention by researchers, international health agencies and policy makers. OROV's spread is related to environmental factors including climate, fauna and flora changes, as well as to socioeconomic factors such as human population demographics, agricultural practices and poor standards of living. There are contradictory reports on the possible impact of age and gender on the prevalence of the disease and there are no reports relating the disease severity with factors such as the geographic region, season, vector species or the virus lineage and/or genotype. Nevertheless, there is full agreement of the literature on the factors incriminated in OROV disease emergence, which are summarized in: deforestation, human population growth, intensive animal farming, monoculture plantations, highway and dam building in the tropics, climate change, increased human and animal mobilization, and globalization of food trade. The OROV fever emergence and distribution, like other vector-borne diseases, is a consequence of the ecologic equilibrium's disturbance, which is observed world-wide. Considering that environmental, climate and demographic changes are a global phenomenon, it will not be surprising for OROV to spread outside Latin America in the near future. Furthermore, taking into account that this is another emerging zoonotic disease, it has to be encountered within the "One Health" approach through the collaboration of human and veterinary medicine, entomology, biology and environmental sciences.
Acknowledgments
No funding has been received in support of this work or for covering the publication costs.
Author Contributions
Hercules Sakkas, Petros Bozidis, Ashley Franks and Chrissanthy Papadopoulou made an equal contribution to the writing of this manuscript.
Conflicts of Interest
The authors declare no conflict of interest.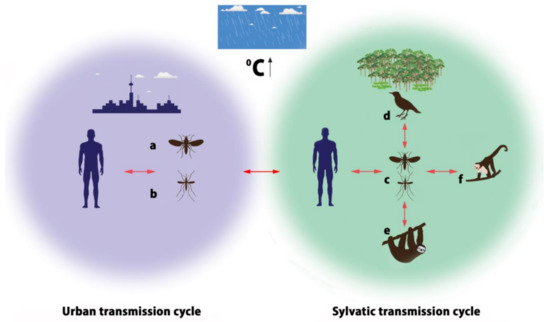 Figure 2.
Urban (U) and sylvatic (S) transmission cycles of OROV (Vectors—a:
C. paraensis
; b:
Cx. quinquefasciatus
; c:
Culicoides
midges,
Cq. venezuelensis, Ae. serratus, Cx. quinquefasciatus
; Hosts—d: birds; e: sloths; f: monkeys).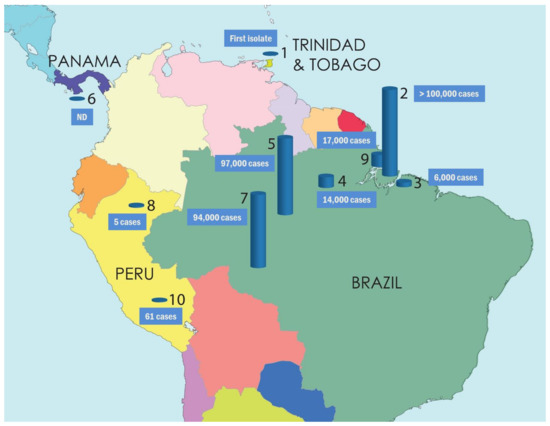 Figure 3. The spread of OROV in Central and South America from 1955 to 2016 (Bar symbols represent the affected populations in different geographical locations, and the estimated or confirmed number of infected individuals in several outbreaks). 1—Trinidad and Tobago, 1955 first isolated (one case); 2—Belém, Pará, Brazil, 1961 first epidemic (11,000 cases), 1979–1980 epidemic (>100,000 cases); 3—Braganca, Pará, Brazil, 1967 epidemic (6000 cases); 4—Santarém, Pará, Brazil, 1975 epidemic (14,000 cases); 5—Manaus, Amazonas, Brazil, 1980–1981 epidemic (97,000 cases); 6—Panama, 1989 first epidemic (N.D: no data); 7—Ariquemes and Ouro Preto do Oeste, Rondônia, Brazil, 1991 epidemic (94,000 cases); 8—Iquitos, Peru, 1992 first epidemic (five confirmed cases); 9—Magalhães Barata & Maracanã, Pará, Brazil, 2006 epidemic (17,000 cases); 10—Cusco, Peru, 2016 last reported epidemic (61 cases).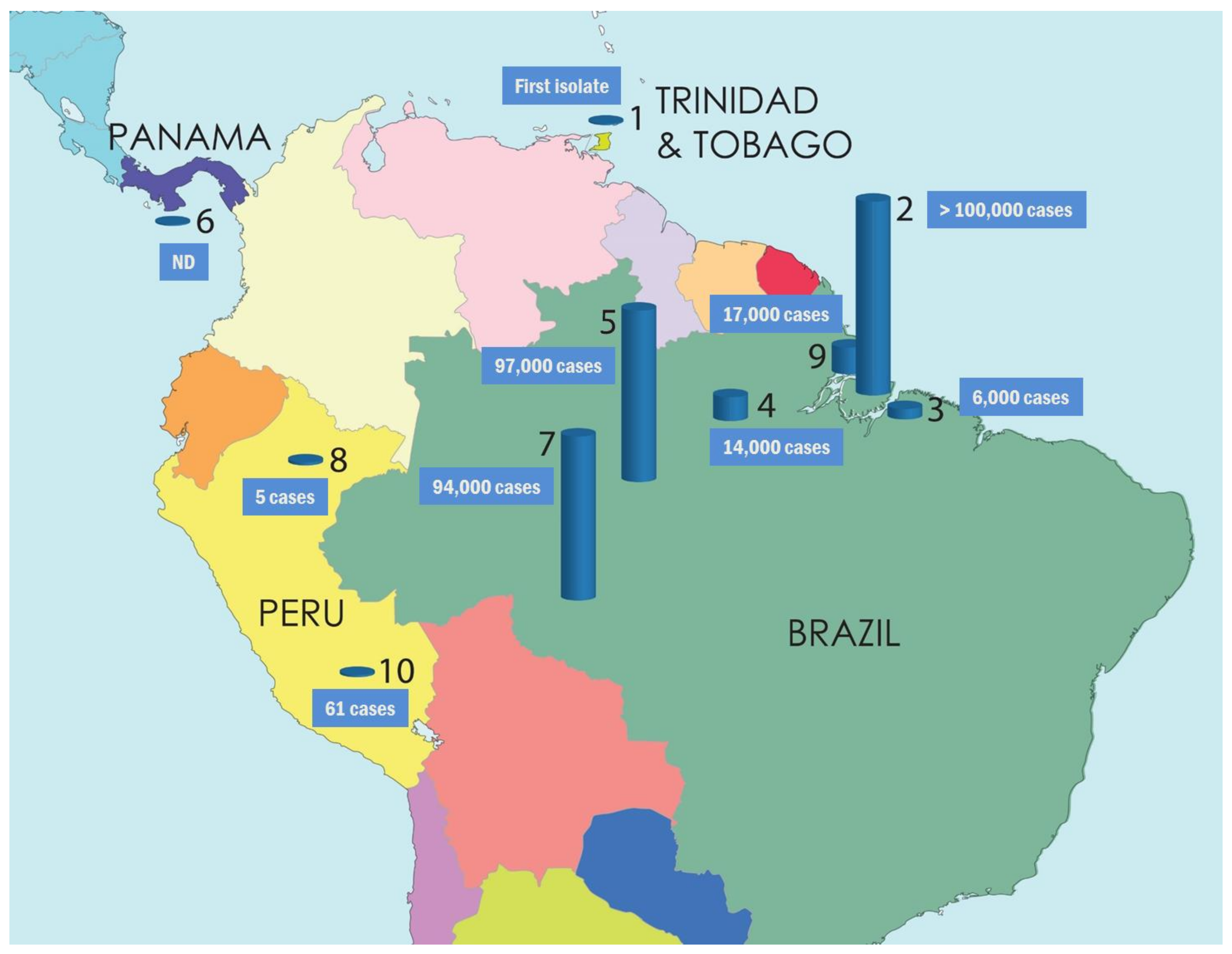 © 2018 by the authors. Licensee MDPI, Basel, Switzerland. This article is an open access article distributed under the terms and conditions of the Creative Commons Attribution (CC BY) license (http://creativecommons.org/licenses/by/4.0/).