Spindle-E Acts Antivirally Against Alphaviruses in Mosquito Cells
1
MRC-University of Glasgow Centre for Virus Research, Glasgow G61 1QH, UK
2
Institute of Technology, University of Tartu, Nooruse 1, Tartu 50411, Estonia
3
Bernhard-Nocht-Institute for Tropical Medicine, Bernhard-Nocht-Strasse 74, Hamburg 20359, Germany
4
German Centre for Infection Research (DZIF), partner site Hamburg-Luebeck-Borstel-Riems, Hamburg 20359, Germany
*
Authors to whom correspondence should be addressed.
†
Present address: Experimental Medicine, Nuffield Department of Medicine, University of Oxford, Oxford OX1 3SY, UK.
Received: 30 January 2018 / Revised: 14 February 2018 / Accepted: 15 February 2018 / Published: 18 February 2018
Abstract
Mosquitoes transmit several human- and animal-pathogenic alphaviruses (
Togaviridae
family). In alphavirus-infected mosquito cells two different types of virus-specific small RNAs are produced as part of the RNA interference response: short-interfering (si)RNAs and PIWI-interacting (pi)RNAs. The siRNA pathway is generally thought to be the main antiviral pathway. Although an antiviral activity has been suggested for the piRNA pathway its role in host defences is not clear. Knock down of key proteins of the piRNA pathway (Ago3 and Piwi5) in
Aedes
aegypti
-derived cells reduced the production of alphavirus chikungunya virus (CHIKV)-specific piRNAs but had no effect on virus replication. In contrast, knock down of the siRNA pathway key protein Ago2 resulted in an increase in virus replication. Similar results were obtained when expression of Piwi4 was silenced. Knock down of the helicase Spindle-E (SpnE), an essential co-factor of the piRNA pathway in
Drosophila melanogaster
, resulted in increased virus replication indicating that SpnE acts as an antiviral against alphaviruses such as CHIKV and the related Semliki Forest virus (SFV). Surprisingly, this effect was found to be independent of the siRNA and piRNA pathways in
Ae. aegypti
cells and specific for alphaviruses. This suggests a small RNA-independent antiviral function for this protein in mosquitoes.
View Full-Text
►

▼

Figures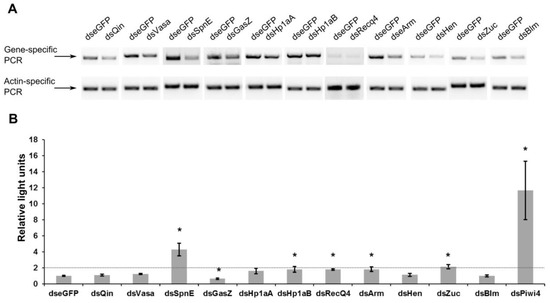 Figure 1
This is an open access article distributed under the
Creative Commons Attribution License
which permits unrestricted use, distribution, and reproduction in any medium, provided the original work is properly cited (CC BY 4.0).

Share & Cite This Article
MDPI and ACS Style
Varjak, M.; Dietrich, I.; Sreenu, V.B.; Till, B.E.; Merits, A.; Kohl, A.; Schnettler, E. Spindle-E Acts Antivirally Against Alphaviruses in Mosquito Cells. Viruses 2018, 10, 88.
Note that from the first issue of 2016, MDPI journals use article numbers instead of page numbers. See further details here.
Related Articles
Comments
[Return to top]