Open Access This article is
freely available
re-usable
Article
Metagenomic Virome Analysis of
Culex
Mosquitoes from Kenya and China
1
Key Laboratory of Agricultural and Environmental Microbiology, Wuhan Institute of Virology, Chinese Academy of Sciences, Wuhan 430071, China
2
Key Laboratory of Special Pathogens, Wuhan Institute of Virology, Chinese Academy of Sciences, Wuhan 430071, China
3
University of Chinese Academy of Sciences, Beijing 100049, China
4
Veterinary Services Department, Kenya Wildlife Service, P.O. Box 40241, Nairobi 00100, Kenya
5
Mammalogy Section, National Museum of Kenya, P.O. Box 40658, Nairobi 00100, Kenya
6
Entomology Section, National Museum of Kenya, P.O. Box 40658, Nairobi 00100, Kenya
†
These authors contributed equally to this work.

Received: 4 December 2017 / Accepted: 9 January 2018 / Published: 12 January 2018
Abstract
:
Many blood-feeding arthropods are known vectors of viruses that are a source of unprecedented global health concern. Mosquitoes are an integral part of these arthropod vectors. Advancements in next-generation sequencing and bioinformatics has expanded our knowledge on the richness of viruses harbored by arthropods. In the present study, we applied a metagenomic approach to determine the intercontinental virome diversity of
Culex quinquefasciatus
and
Culex tritaeniorhynchus
in Kwale, Kenya and provinces of Hubei and Yunnan in China. Our results showed that viromes from the three locations were strikingly diverse and comprised 30 virus families specific to vertebrates, invertebrates, plants, and protozoa as well as unclassified group of viruses. Though sampled at different times, both Kwale and Hubei mosquito viromes were dominated by vertebrate viruses, in contrast to the Yunnan mosquito virome, which was dominated by insect-specific viruses. However, each virome was unique in terms of virus proportions partly influenced by type of ingested meals (blood, nectar, plant sap, environment substrates). The dominant vertebrate virus family in the Kwale virome was
Papillomaviridae
(57%) while in Hubei it was
Herpesviridae
(30%) and the Yunnan virome was dominated by an unclassified viruses group (27%). Given that insect-specific viruses occur naturally in their hosts, they should be the basis for defining the viromes. Hence, the dominant insect-specific viruses in Kwale, Hubei, and Yunnan were
Baculoviridae
,
Nimaviridae
and
Iflaviridae
, respectively. Our study is preliminary but contributes to growing and much needed knowledge, as mosquito viromes could be manipulated to prevent and control pathogenic arboviruses.
Keywords:
Culex quinquefasciatus
;
Culex tritaeniorhynchus
; virome; mosquito microbiome; metagenomics; emerging infectious diseases; insect-specific viruses
Acknowledgments
We are grateful to the entomology section, National Museums of Kenya and Hubei Provincial Center for Disease Control and Prevention (Hubei CDC) for assistance in sampling. This work was supported by the Ministry of Science and Technology of China (Science and Technology Basic Work Program 2013FY113500) and Sino-Africa Joint Research Center, Chinese Academy of Sciences (SAJC201605).
Author Contributions
Zhiming Yuan, Han Xia and Evans Atoni conceived and designed the experiments; Evans Atoni and Yujuan Wang performed the experiments; Evans Atoni, Yujuan Wang, Han Xia, Samuel Karungu, Ali Zohaib and Cecilia Waruhiu analyzed the data; Han Xia, Vincent Obanda, Bernard Agwanda, Morris Mutua and Zhiming Yuan contributed reagents/materials/analysis tools; Evans Atoni, Yujuan Wang, Vincent Obanda, Han Xia and Zhiming Yuan wrote the paper.
Conflicts of Interest
The authors declare no conflict of interest.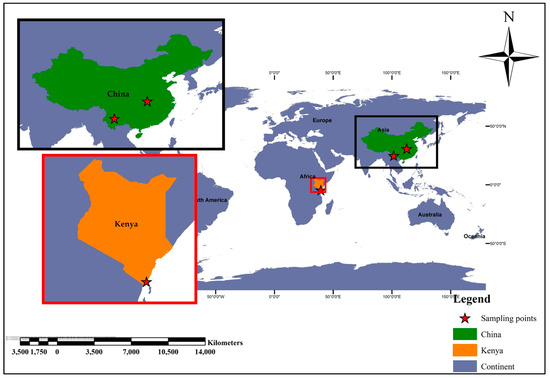 Figure 1. World geographical map outlining the geo-location of Kenya and China. Kenya is outlined in orange in the African continent while China is outlined in green in the Asian continent. The red stars represent sampling sites.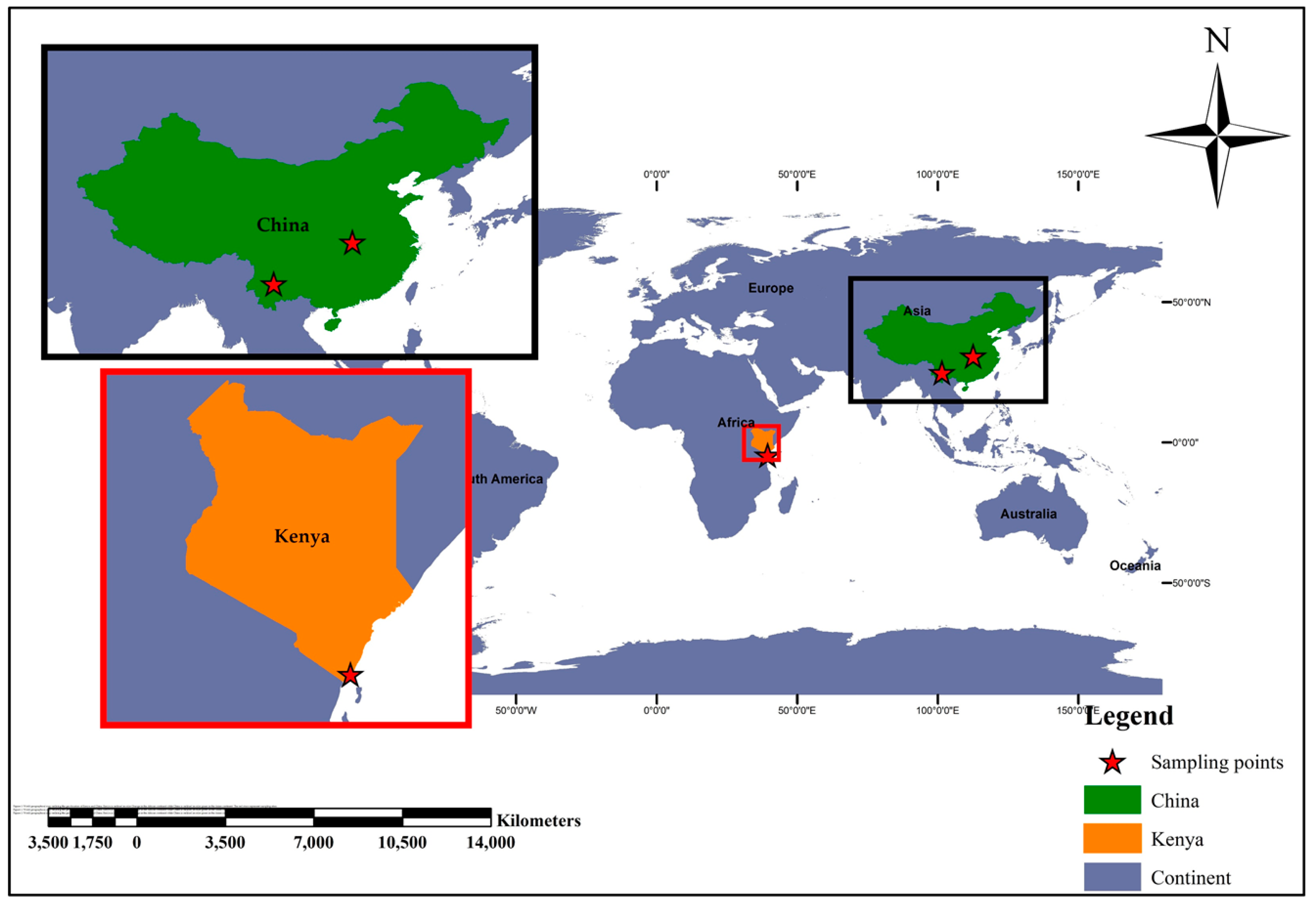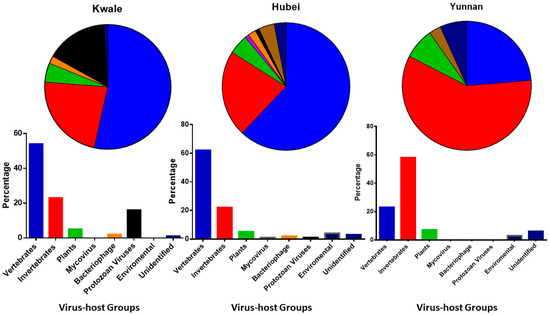 Figure 2. Percentage proportions of viruses in different host groups from mosquitos in Kwale, Kenya, and the Hubei and Yunnan provinces of China.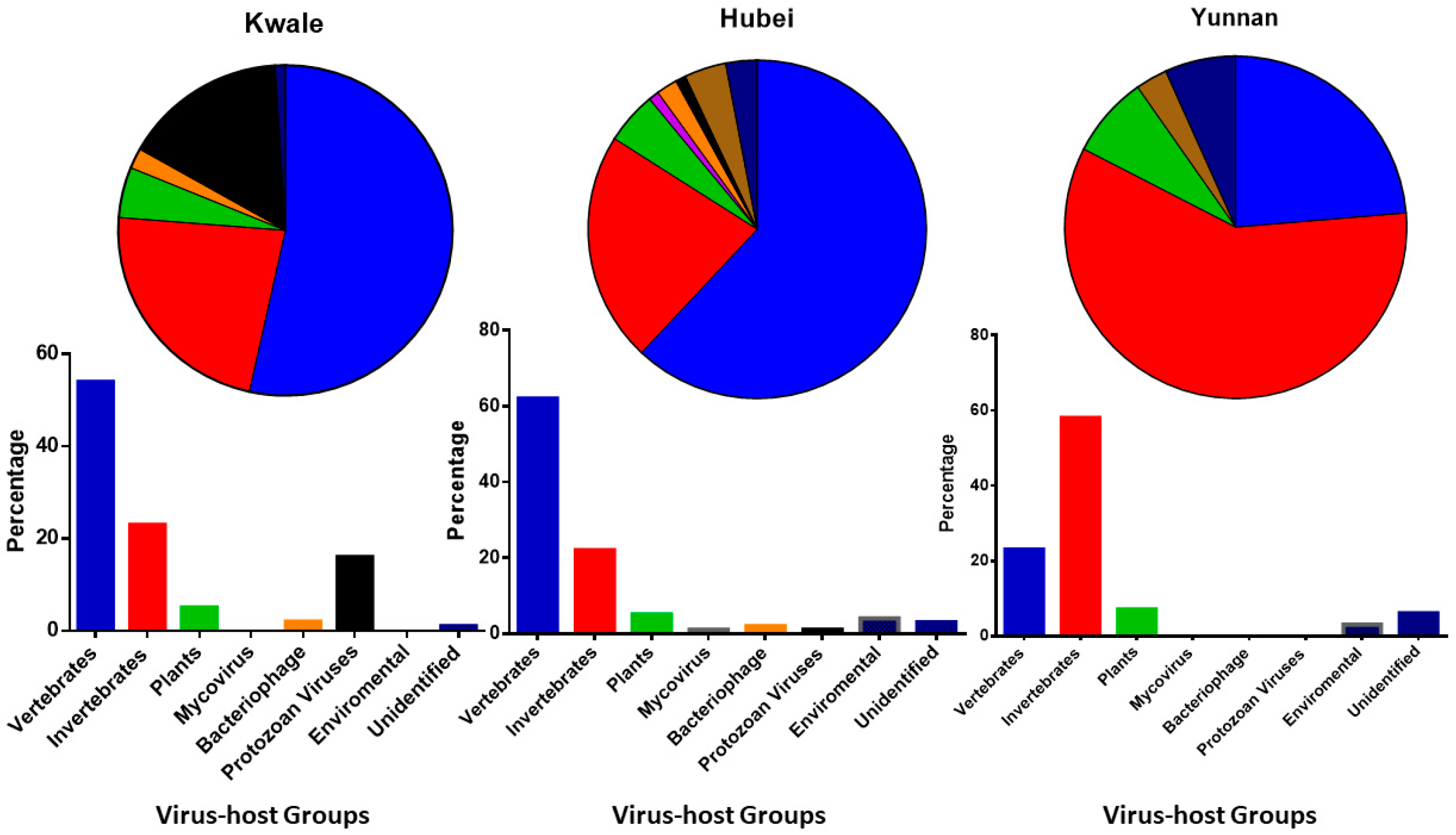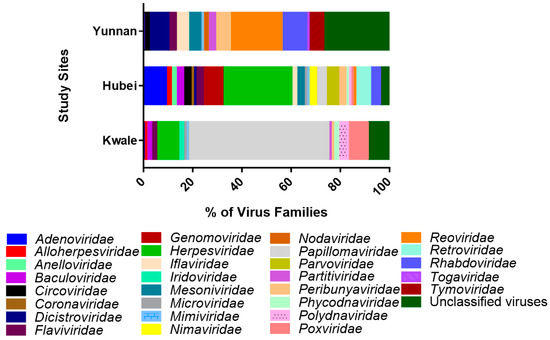 Figure 3.
Stacked bar graph of all virus families (color coded) identified in the viromes of the
Culex
mosquito in Kwale county, Kenya and provinces of Hubei and Yunnan, China, 2014–2017. Only virus families with reads more than 30 were included in the figure.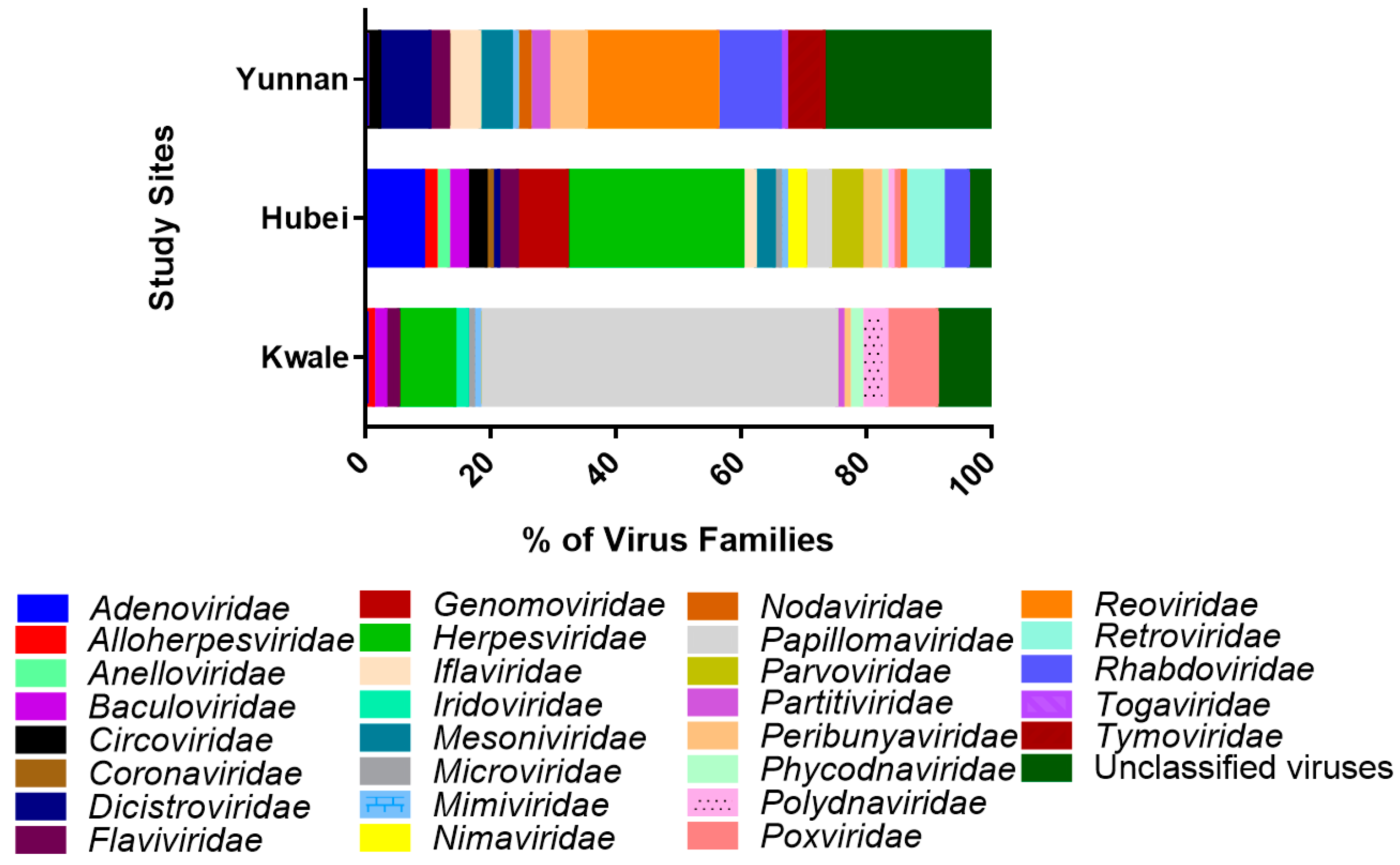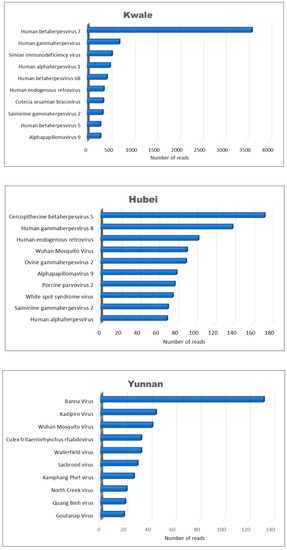 Figure 4.
Abundance of the 10 most common virus species in
Culex
mosquito viromes in Kwale, Hubei, and Yunnan.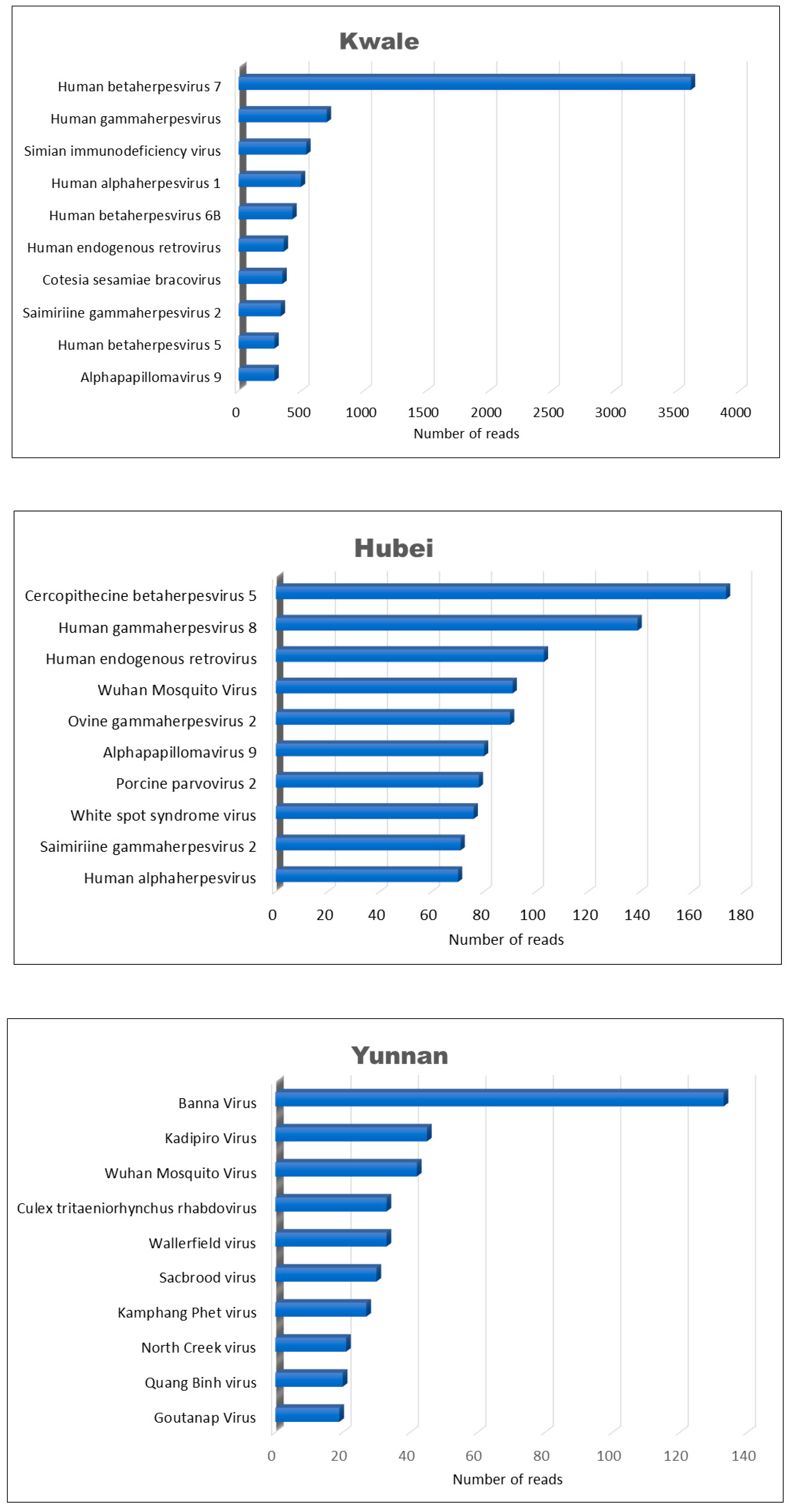 Country
Location
Coordinates
Mosquito Species
No. of Sequenced Reads
Average Length of Reads
Kenya
Kwale
4.46057° S, 39.47795° E

Culex quinquefasciatus

21,747,508
150 bp
China
Hubei
30.8843° N, 112.5923° E

Culex tritaeniorhynchus

6,714,707
125 bp
Yunnan
24.9756° N, 101.4848° E

Culex tritaeniorhynchus

36,277,174
398 bp

© 2018 by the authors. Licensee MDPI, Basel, Switzerland. This article is an open access article distributed under the terms and conditions of the Creative Commons Attribution (CC BY) license (http://creativecommons.org/licenses/by/4.0/).