Open Access This article is
freely available
re-usable
Article
The Transcriptomic Responses of
Pinus massoniana
to Drought Stress
1
School of Forestry Science, Guizhou University, Guiyang 550025, Guizhou, China
2
Institute for Forest Resources & Environment of Guizhou, Guizhou University, Guiyang 550025, Guizhou, China
3
School of Karst Science, Guizhou Normal University, Guiyang 550001, Guizhou, China
*
Author to whom correspondence should be addressed.
Received: 29 April 2018 / Accepted: 31 May 2018 / Published: 4 June 2018
Abstract
:
Masson pine (
Pinus massoniana
) is a major fast-growing timber species planted in southern China, a region of seasonal drought. Using a drought-tolerance genotype of Masson pine, we conducted large-scale transcriptome sequencing using Illumina technology. This work aimed to evaluate the transcriptomic responses of Masson pine to different levels of drought stress. First, 3397, 1695 and 1550 unigenes with differential expression were identified by comparing plants subjected to light, moderate or severe drought with control plants. Second, several gene ontology (GO) categories (oxidation-reduction and metabolism) and Kyoto Encyclopedia of Genes and Genomes (KEGG) pathways (plant hormone signal transduction and metabolic pathways) were enriched, indicating that the expression levels of some genes in these enriched GO terms and pathways were altered under drought stress. Third, several transcription factors (TFs) associated with circadian rhythms (HY5 and LHY), signal transduction (ERF), and defense responses (WRKY) were identified, and these TFs may play key roles in adapting to drought stress. Drought also caused significant changes in the expression of certain functional genes linked to osmotic adjustment (P5CS), abscisic acid (ABA) responses (NCED, PYL, PP2C and SnRK), and reactive oxygen species (ROS) scavenging (GPX, GST and GSR). These transcriptomic results provide insight into the molecular mechanisms of drought stress adaptation in Masson pine.
Keywords:
Pinus massoniana
Lamb.; drought stress; transcriptome; transcription factor; defense response
Supplementary Materials
The following are available online at
https://www.mdpi.com/1999-4907/9/6/326/s1
, Table S1: Primers used in qRT-PCR. (XLS), Table S2: Statistical analysis of unigenes annotated in public databases. (XLS), Table S3: Unigenes differentially expressed between different water stress conditions. (XLS), Table S4: GO enrichment results for DEGs in drought-stressed versus control seedlings. (XLS), Table S5: KEGG pathway enrichment results for DEGs in drought-stressed versus control seedlings. (XLS), Table S6: Transcription factors differentially expressed in drought-stressed versus control seedlings. (XLS).
Author Contributions
M.D. and G.D. conceived and designed the research. M.D. conducted the experiments. G.D. contributed new reagents and analytical tools. M.D. and Q.C. analyzed the data. M.D. wrote the manuscript. All authors read and approved the manuscript.
Funding
The work was supported by grants from the National Natural Science Foundation of China (31660200), National science and technology support project (2015BAD09B0102), Special Core Program of Guizhou Province, P.R. China (20126001), and the Science and Technology Support Project of Guizhou Province (20172525).
Acknowledgments
We would like to thank Novogene Corporation (Beijing, China) for assistance with sequencing services.
Conflicts of Interest
The authors have no conflicts of interest to declare.

Figure 1. Phenotypic variation of Masson pine seedlings under different soil moisture conditions. CK, well-watered control; LD, light drought; MD, moderate drought; and SD, severe drought.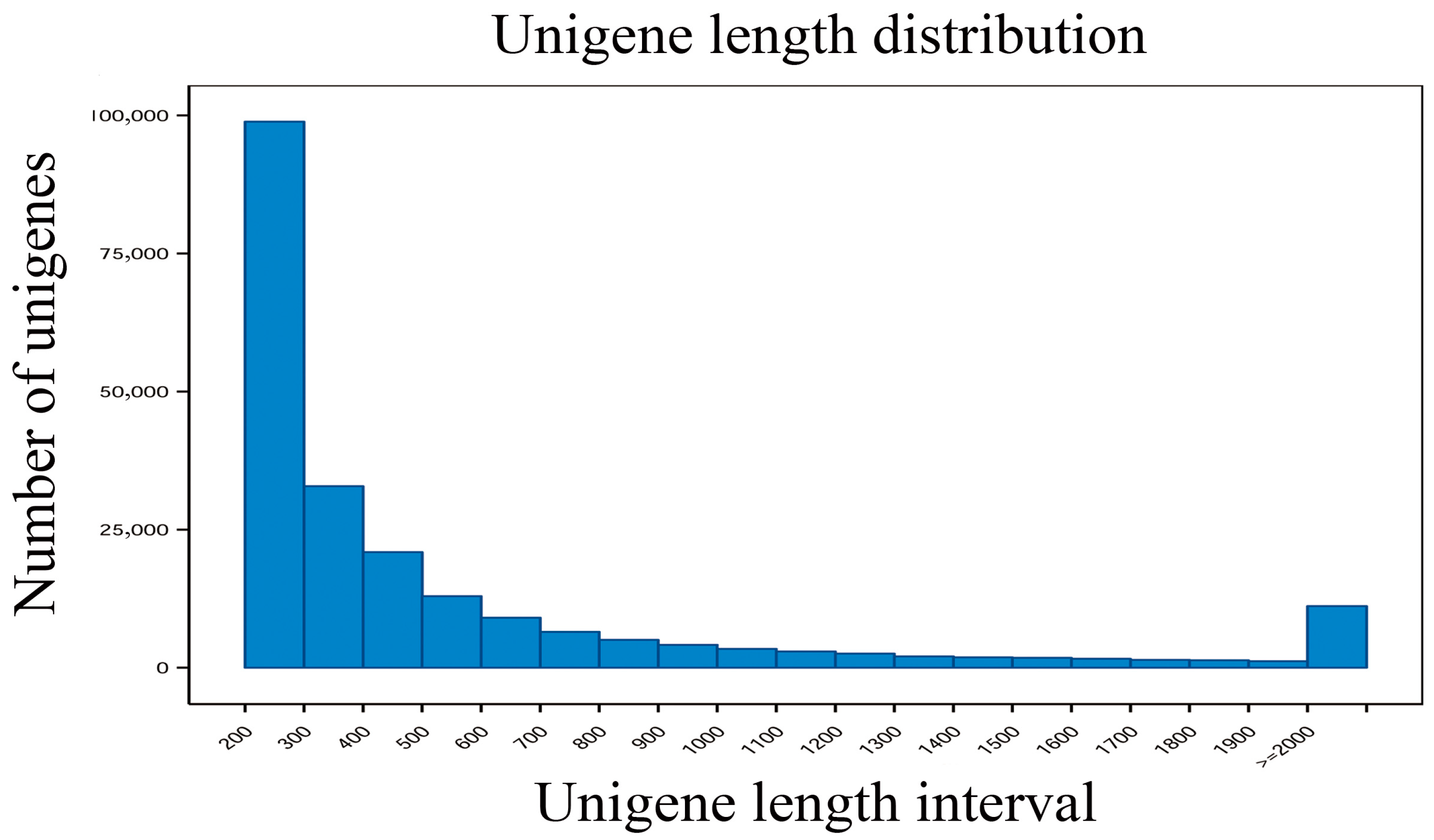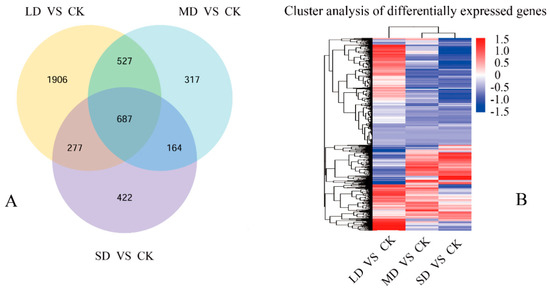 Figure 3. Venn diagram and cluster analysis of differentially expressed genes in three comparisons. (A) Venn diagram showing that a total of 4300 unigenes were identified as differentially expressed in the three comparisons (LD, MD and SD versus CK); the number of DEGs in each comparison are shown in each circle; the number of overlapping regions represent the 687 DEGs that were found in each comparison. (B) A cluster analysis of differentially expressed genes is shown in the right panel; red indicates up-regulated genes and blue indicates down-regulated genes.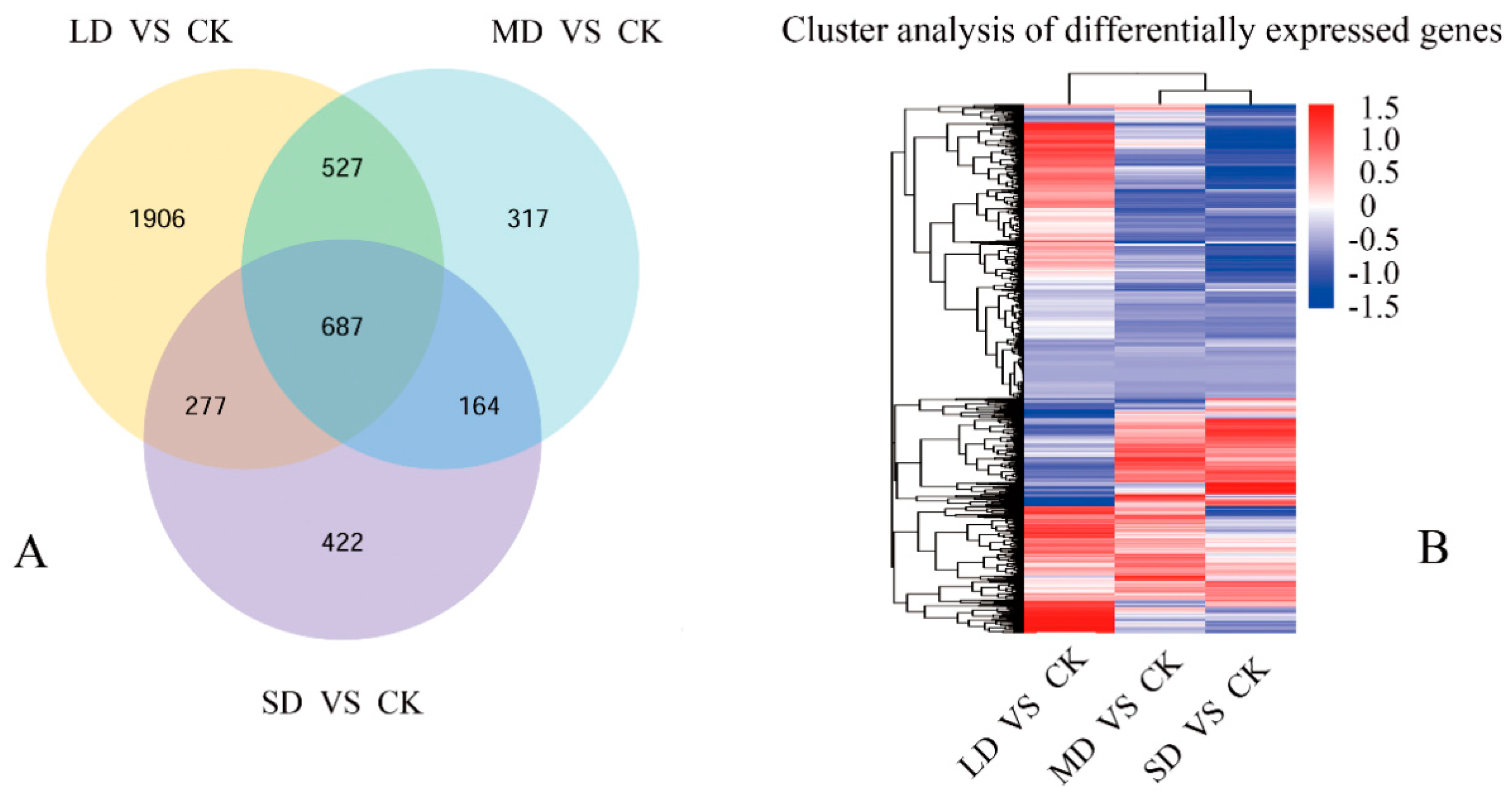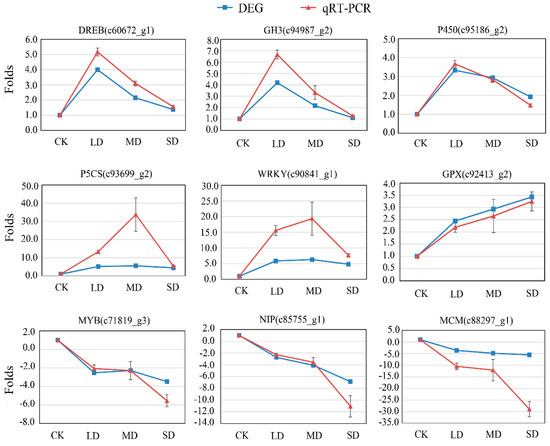 Figure 4.
Expression changes of nine randomly selected unigenes as determined by qRT-PCR results and DGE sequencing data. The
x
-axis values indicate the different water content conditions. The
y
-axis values represent the change in expression under the various drought stress conditions relative to the well-watered control condition. Data represent the fold changes of expression for each unigene in the drought treatment relative to control conditions. Error bars represent standard deviations. Blue indicates the RNA-Seq results, and red indicates the qRT-PCR results.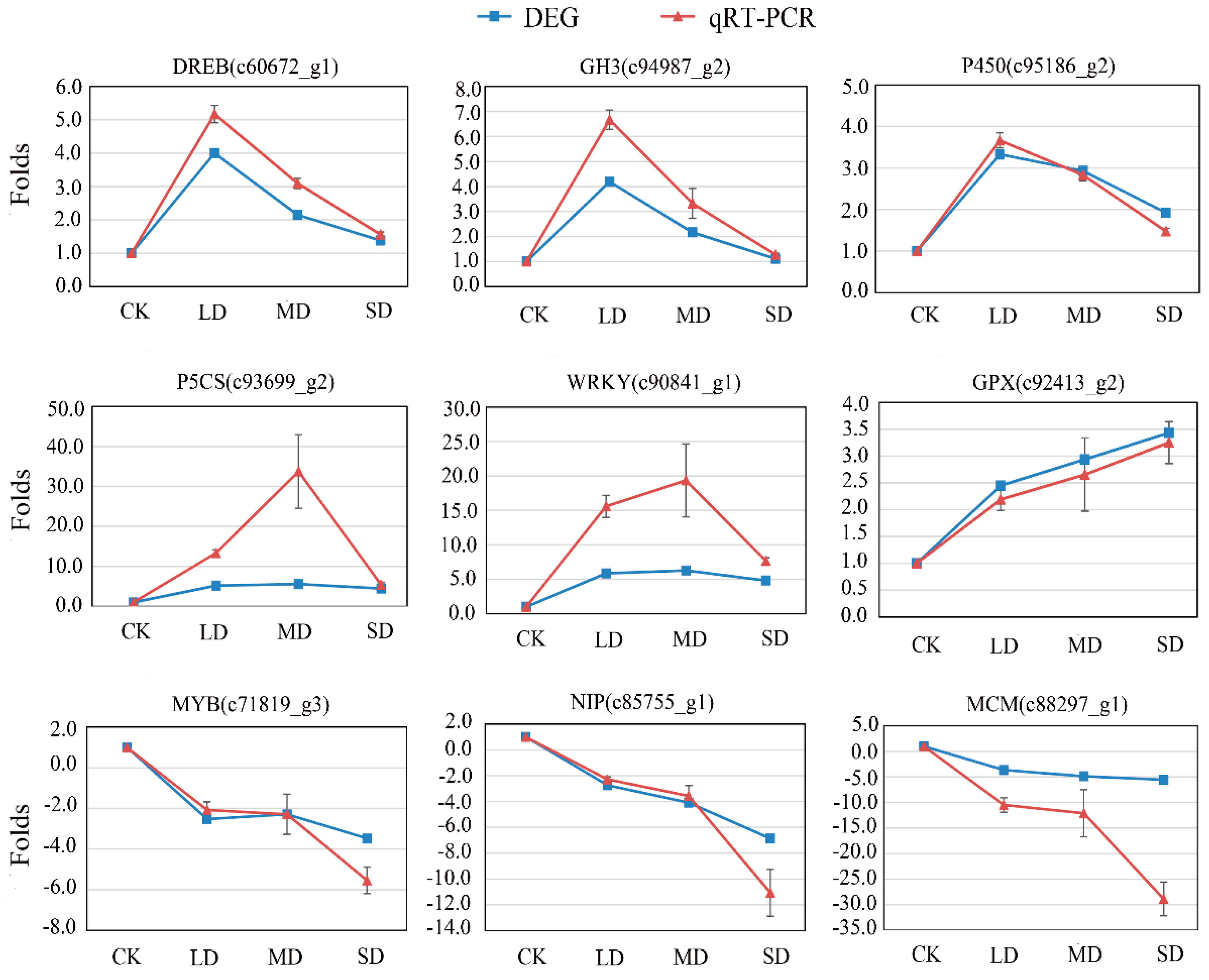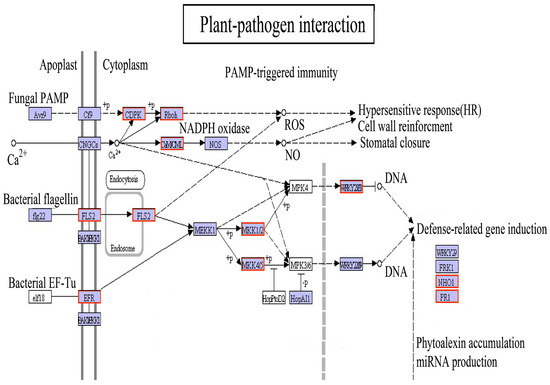 Figure 5. Unigenes inferred to be involved in the plant–pathogen interaction pathway. Blue inside the boxes indicates unigenes predicted to be involved in the pathway. White inside the boxes indicates unigenes that were not identified in the expression profile analysis. Red in the borders indicates that the genes increased expression under drought stress relative to the well-watered condition.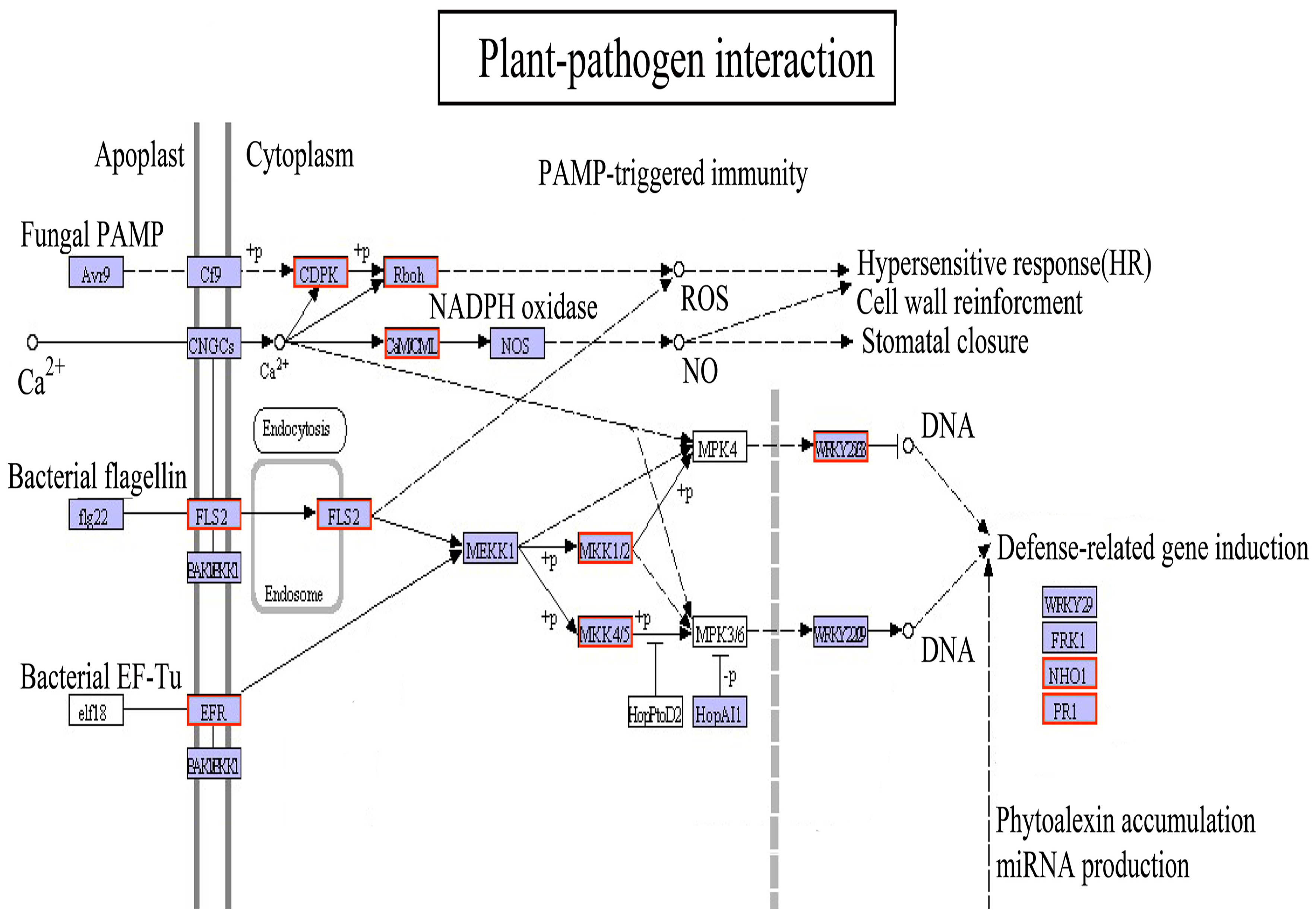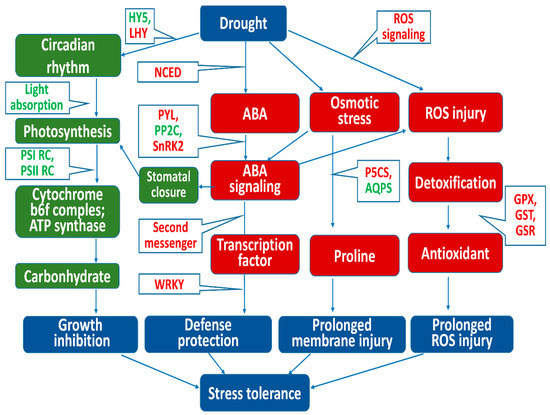 Figure 6. A model of different adaptive strategies regulated by drought-responsive genes in Masson pine. Red or green inside the white boxes indicates unigenes that showed increased or decreased expression, respectively. Blue inside the boxes indicates different adaptive strategies. Red inside the boxes indicates that the biological function was activated. Green inside the boxes indicates that the biological function was repressed.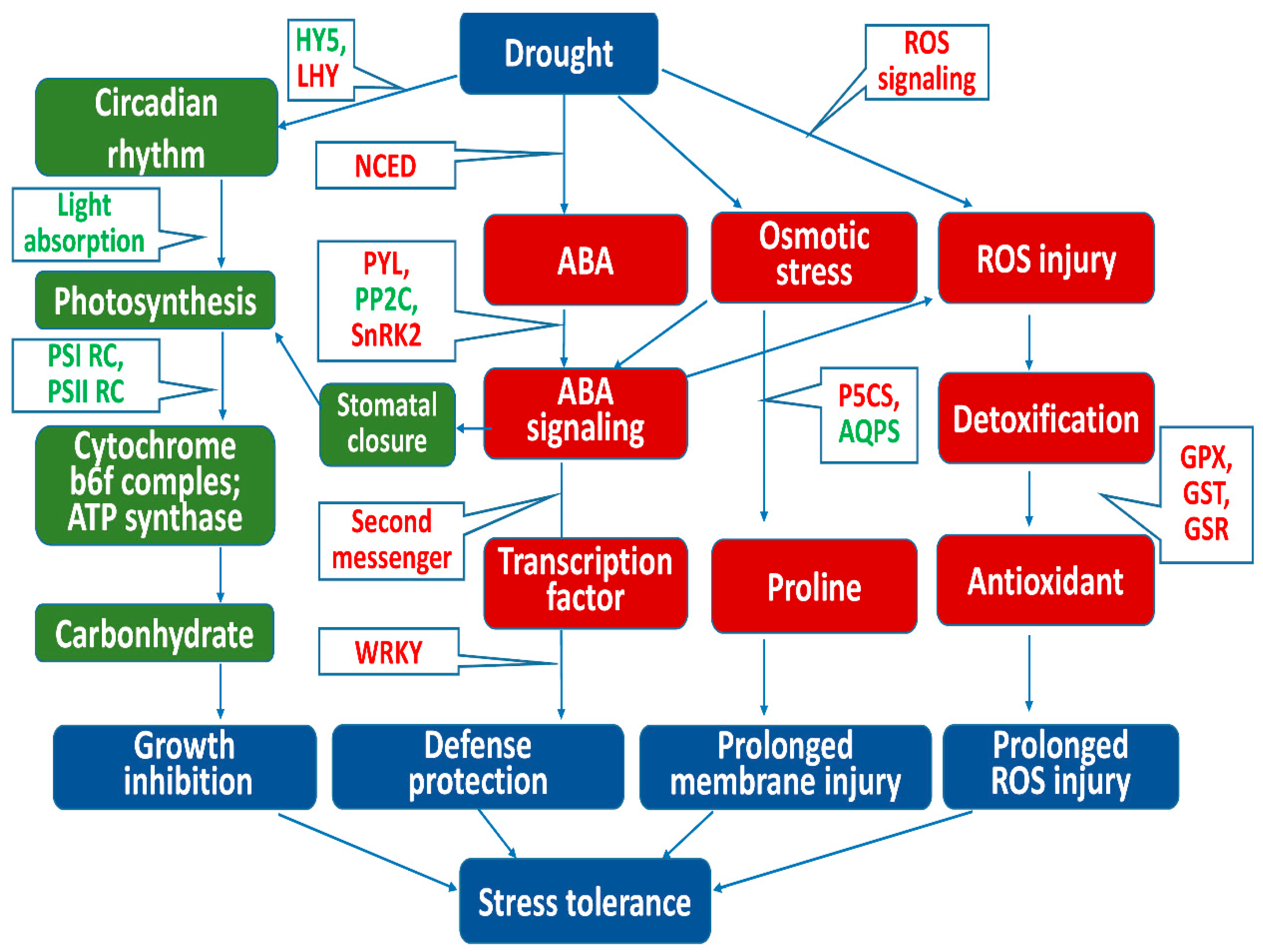 © 2018 by the authors. Licensee MDPI, Basel, Switzerland. This article is an open access article distributed under the terms and conditions of the Creative Commons Attribution (CC BY) license (http://creativecommons.org/licenses/by/4.0/).