Open Access This article is
freely available
re-usable
Article
Rapid Shifts in Soil Nutrients and Decomposition Enzyme Activity in Early Succession Following Forest Fire
1
Institute of Arctic and Alpine Research, University of Colorado Boulder, 450 UCB, Boulder, CO 80309, USA
2
Biological Sciences Division, Pacific Northwest National Laboratory, P.O. Box 999, Richland, WA 99352, USA
3
Department of Biology, New Mexico State University, MSC 3AF, P.O. Box 30001, Las Cruces, NM 88003, USA
4
Université de Bretagne Occidentale, UFR Sciences et Techniques, 6 Avenue Victor Le Gorgeu, 29238 Brest, France
5
Department of Geological Sciences, The University of Texas at El Paso, 500 W University, El Paso, TX 79902, USA
6
Department of Ecology and Evolutionary Biology, University of Colorado at Boulder, 334 UCB, Boulder, CO 80309, USA
7
Biology Department, Duke University, 125 Science Drive, Durham, NC 27708, USA
†
Deceased on 31 December 2015.

Received: 3 August 2017 / Accepted: 13 September 2017 / Published: 15 September 2017
Abstract
:
While past research has studied forest succession on decadal timescales, ecosystem responses to rapid shifts in nutrient dynamics within the first months to years of succession after fire (e.g., carbon (C) burn-off, a pulse in inorganic nitrogen (N), accumulation of organic matter, etc.) have been less well documented. This work reveals how rapid shifts in nutrient availability associated with fire disturbance may drive changes in soil enzyme activity on short timescales in forest secondary succession. In this study, we evaluate soil chemistry and decomposition extracellular enzyme activity (EEA) across time to determine whether rapid shifts in nutrient availability (1–29 months after fire) might control microbial enzyme activity. We found that, with advancing succession, soil nutrients correlate with C-targeting β-1,4-glucosidase (BG) EEA four months after the fire, and with N-targeting β-1,4-
N
-acetylglucosaminidase (NAG) EEA at 29 months after the fire, indicating shifting nutrient limitation and decomposition dynamics. We also observed increases in BG:NAG ratios over 29 months in these recently burned soils, suggesting relative increases in microbial activity around C-cycling and C-acquisition. These successional dynamics were unique from seasonal changes we observed in unburned, forested reference soils. Our work demonstrates how EEA may shift even within the first months to years of ecosystem succession alongside common patterns of post-fire nutrient availability. Thus, this work emphasizes that nutrient dynamics in the earliest stages of forest secondary succession are important for understanding rates of C and N cycling and ecosystem development.
Keywords:
carbon; decomposition; disturbance; ecosystem process; extracellular enzymes; exoenzymes; forest fire; nitrogen; soil enzymes; succession
3. Results
3.1. Extracellular Enzyme Activities
In burned soils, BG activity was significantly higher in 29-month soils than one- and four-month soils (
Table 1
), denoting a trend for increasing activity through time, becoming more comparable to reference soil activity levels. In contrast, NAG activity showed significant declines from 4- to 29-month soils. BG:NAG ratios exhibited a strong partitioning between the 1-/4-month and 29-month time points (
Table 1
). For instance, in burned samples, 29-month soils had significantly higher BG:NAG ratios than one- and four-month soils.
BG activity at all times was higher in reference soils than burned soils. While BG showed significantly higher activity in 29-month soils than four-month soils, no differences in NAG activity or BG:NAG ratios over time were observed in reference soils (
Table 1
).
3.2. Soil Properties
Burned soils showed patterns of change over time in ammonium (NH
4
+
), total dissolved nitrogen (TDN), and percent moisture (
Table 1
). Significant decreases in NH
4
+
and TDN were observed between 4- and 29-month burned soils. Moisture declined from 1-month to 29-month time point; soil moisture at one month was significantly higher than at 29 months in burned soils. No significant changes were observed in total C and N pools as measured via %N, %C, or C:N ratio across any of the time points in burned soils.
Unburned reference soils showed declines in soil moisture over time with 4- and 29-month soils have significantly lower soil moisture than one-month soils. pH showed significant differences month to month (
Table 1
).
3.3. Soil Properties and Extracellular Enzyme Activity
In burned soils, EEA was uncorrelated to edaphic factors initially (i.e., at one month post-fire) but began to strongly relate to nutrient pools (%C and %N) at four months (r of >0.8) and onward (
Table 2
). These burned soils showed strong correlations between BG (but not NAG) and %C and %N. In contrast, the reference plots at this time point showed correlations of both NAG and BG with edaphic properties including C and N pools. By 29 months, both BG and NAG correlated with C and N pools, while no correlations were observed in reference plots (
Table 2
). Taken together, these analyses demonstrate that BG activity in burned soils correlated with soil nutrient pools during the 4–29-month post-fire interval, while NAG correlated with these same factors later in successional time only (e.g., at 29 months) (
Table 2
). In reference soils, both BG and NAG correlated with nutrient pools at four months and showed no correlation at 1- and 29-month time points.
5. Conclusions
We found evidence for a connection between rapid shifts in nutrient pools and microbial decomposition enzyme activity in the first several years of secondary succession. We show that within 29 months of post-fire succession relative increases in BG:NAG ratios occur. These shifts are distinct from reference soils, and may represent rapid successional responses to changing nutrient dynamics. Our work demonstrates that soil nutrients first correlate with BG activity (C-targeting) and then correlate additionally with NAG activity (N-targeting) within 29 months of succession. This shift is likely driven by changes in substrate availability and quality as post-fire landscapes first show reductions in C pools, followed by reductions in NH
4
+
/TDN pools over the timeframe examined in this study. Built on the empirical findings of this and other studies, our conceptual model suggests when and why we may expect to observe changes in nutrient–enzyme relationships across the initial stages of post-fire succession (
Figure 2
).
Despite the use of a single site in our research, such study systems and sampling schemes have traditionally been used in the study of ecosystem succession with great success in advancing the field empirically and theoretically [
14
,
44
,
50
,
51
]. Nonetheless, the research conducted herein represents samples from a single fire disturbance and thus we are limited in our ability to generalize such findings. We also note that scales of disturbance should be explicitly considered in future work and constrain the conclusions of this study, which were based on a high-severity fire. Past work has shown that high- vs. low-severity fires, for example, can modulate ecosystem responses in terms of soil chemistry and EEA [
6
,
18
].
We present our conceptual model as a hypothesis for further work (
Figure 2
). While this work describes shifts in EEA potential and the linkage between nutrients and soil enzyme activity within the first years of succession, future work should more closely examine the possible ecological mechanisms that underlie these patterns, such as how specific changes in microbial communities may be driving the observed differences in biogeochemical potential with EEA. Past work at this site in which bacterial communities were sequenced at each time point showed no correlation between bacterial community structure and EEA in the post-fire successional soils (data not shown); however, fungal communities are dominant drivers of EEA as well and further research may reveal to what extent microbial data can explain variation in soil EEA that is responsible for the cycling of C and N in these ecosystems [
5
].
Acknowledgments
This work was supported by the National Science Foundation of the USA through grant DEB-1258160 to D.R.N. and S.K.S. We also acknowledge support from the Microbiomes in Transition (MinT) Initiative at Pacific Northwest National Laboratory, operated by Battelle for the U.S. Department of Energy (DE-AC05-76RL01830). We thank Duaba and Sean O'Neill for assistance in the establishment of the field site and Janet Prevéy for botany insights at the field site. We appreciate the expertise of Holly Hughes in analytical chemistry and the comments of two anonymous reviewers on the manuscript. Diana Nemergut—a superbly creative and innovative scientist—guided and worked on this manuscript. Diana continues to impact not only the scientific community and ongoing research but also far wider, diverse communities of people who she forever shines upon with her generous and beautiful life.
Author Contributions
J.E.K., D.R.N., S.K.S., E.B.G. and S.F. conceived and designed the experiments; J.E.K., D.R.N., S.K.S., E.B.G., S.F., and J.D. performed field work; J.E.K., E.B.G., S.F., A.L., and A.L. performed laboratory work; J.E.K. analyzed the data; and J.E.K. wrote the paper with the assistance of D.R., S.K.S., E.B.G., and S.F.
Conflicts of Interest
The authors declare no conflict of interest.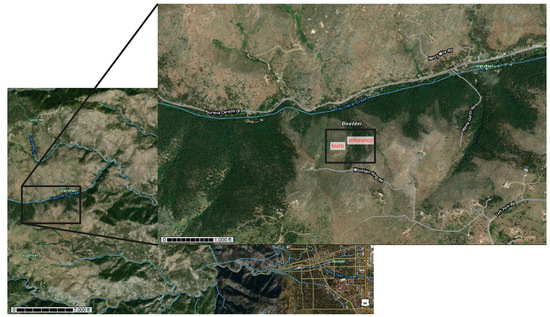 Figure 1. Maps of Boulder and Fourmile Canyon and surrounding region, with sample area demarcated in inset map. Maps are from the U.S. Department of Agriculture Natural Resources Conservation Service.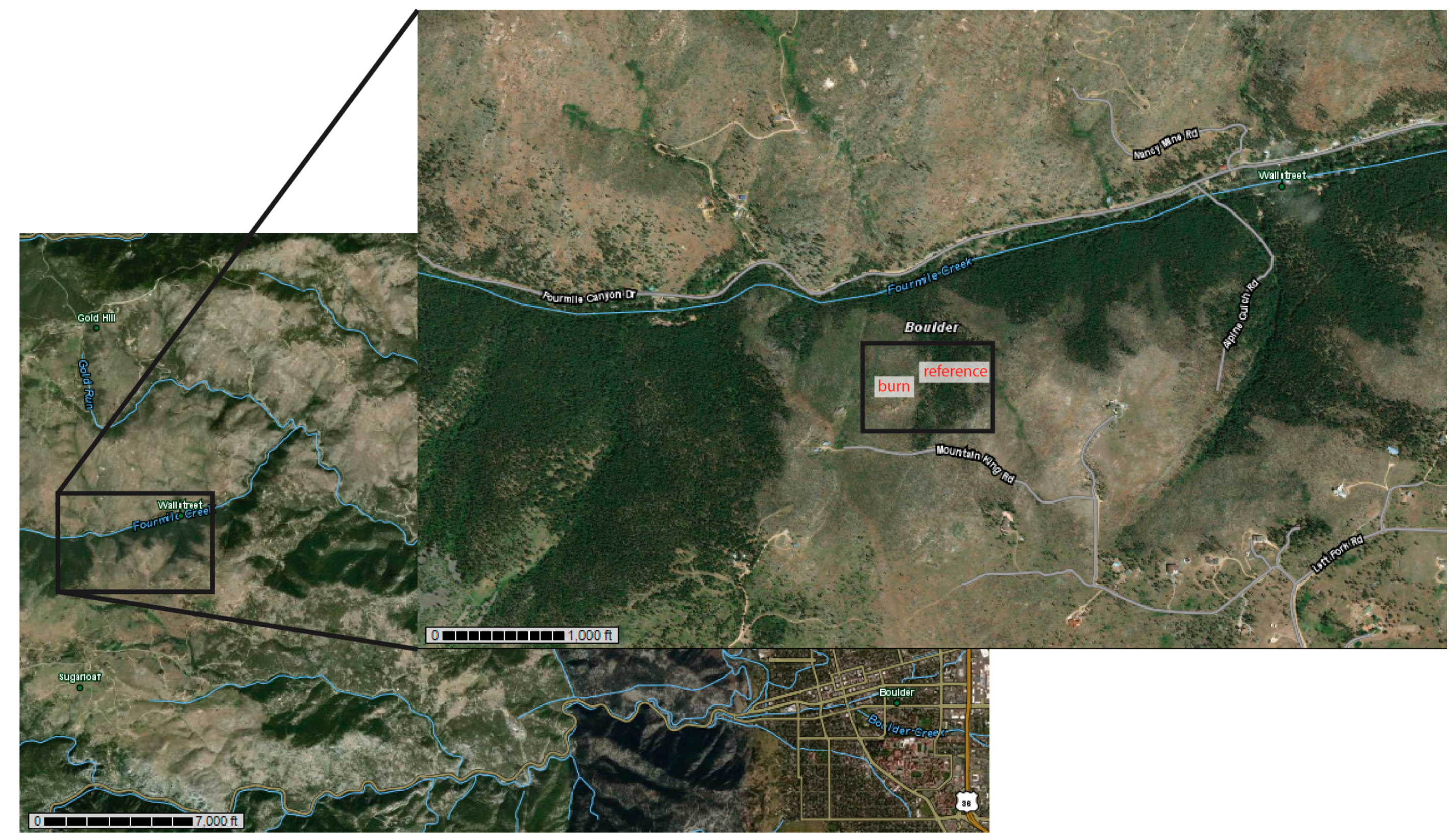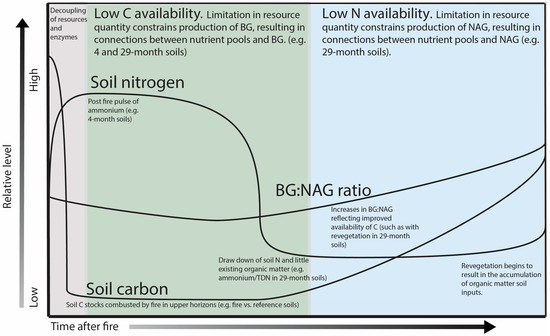 Figure 2. Soil resource and extracellular enzyme dynamics on a short timescale (<3 years) after a forest fire.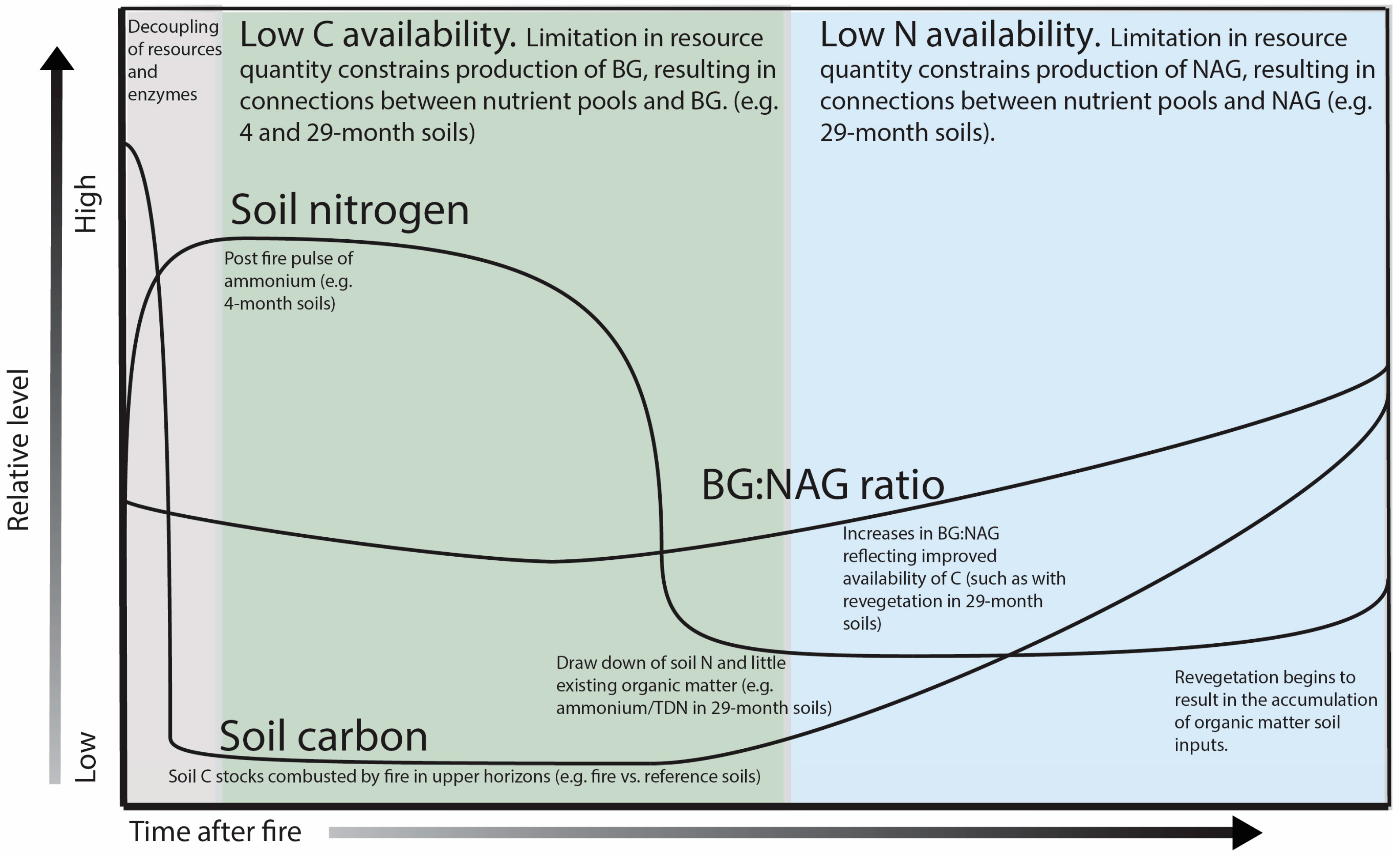 | Category | pH | % Moisture | % N | % C | NH4 (mg/kg Soil) | NPOC (mg/g Soil) | TDN (mg/g Soil) | BG (nmol Activity/h/g Soil) | NAG (nmol Activity/h/g Soil) | BG:NAG Ratio |
| --- | --- | --- | --- | --- | --- | --- | --- | --- | --- | --- |
| BURN | | | | | | | | | | |
| 1-month | 7.21 (0.30) AB | 9.93 (4.55) BA | 0.14 (0.04) | 2.43 (0.95) | N/A | N/A | N/A | 53.94 (12.02) C | 78.53 (31.46) AB | 0.74 (0.23) B |
| 4-months | 8.08 (0.41) A | 8.55 (2.36) ABC | 0.11 (0.04) | 2.33 (1.07) | 48.94 (14.95) A | 0.30 (0.16) | 0.06 (0.02) A | 76.38 (27.67) BC | 107.54 (43.07) A | 0.75 (0.18) B |
| 29-months | 7.00 (0.28) B | 2.16 (0.80) C | 0.12 (0.03) | 2.48 (0.66) | 2.30 (1.33) B | 0.31 (0.30) | 0.02 (0.02) B | 127.00 (27.57) A | 44.41 (14.61) B | 3.01 (0.71) A |
| REFERENCE | | | | | | | | | | |
| 1-month | 6.44 (0.67) B | 19.74 (10.17) A | 0.27 (0.08) | 6.21 (2.01) | N/A | N/A | N/A | N/A | N/A | N/A |
| 4-months | 7.08 (0.46) A | 6.35 (3.50) C | 0.24 (0.17) | 6.59 (5.08) | 2.39 (1.40) | 0.26 (0.18) | 0.02 (0.01) | 147.83 (54.97) B | 136.29 (63.12) | 1.17 (0.38) |
| 29-months | 6.63 (0.34) AB | 8.40 (6.12) BC | 0.24 (0.08) | 5.20 (2.19) | 1.24 (0.60) | 0.09 (0.04) | 0.01 (0.004) | 254.41 (86.14) A | 251.77 (116.38) | 1.13 (0.38) |
Letters denote significant differences across timepoints (

p

< 0.05) as per Kruskal-Wallis contrasts within Burn/Reference categories.

Table 2.
Correlations between β-1,4-glucosidase (BG) and β-1,4-
N
-acetylglucosaminidase (NAG) enzyme activity and edaphic properties. Significant (
p
< 0.05) correlations (Pearson's r) shown for burned and reference soils across all time points.
BURNED PLOTS
REFERENCE PLOTS
Time
Factors
BG
NAG
BG
NAG
1-month post-fire October
pH
NS
NS
N/A
N/A
moisture
NS
NS
N/A
N/A
C
NS
NS
N/A
N/A
N
NS
NS
N/A
N/A
C:N
NS
NS
N/A
N/A
4-months post-fire January
pH
NS
NS
NS
NS
moisture
NS
NS
0.9
0.76
C
0.83
NS
0.81
0.79
N
0.9
NS
0.78
0.72
C:N
NS
NS
0.77
NS
29-months post-fire June
pH
NS
NS
NS
NS
moisture
NS
NS
NS
NS
C
0.69
NS
NS
NS
N
NS
NS
NS
NS
C:N
NS
0.69
NS
NS
33-months post-fire October
pH
NS
NS
NS
NS
moisture
0.64
NS
NS
NS
C
NS
NS
0.84
0.84
N
NS
0.66
0.96
0.86
C:N
NS
0.74
NS
NS
NS = not significant N/A = not available.

© 2017 by the authors. Licensee MDPI, Basel, Switzerland. This article is an open access article distributed under the terms and conditions of the Creative Commons Attribution (CC BY) license (http://creativecommons.org/licenses/by/4.0/).