Open Access This article is
freely available
re-usable
Review
Earth System Model Needs for Including the Interactive Representation of Nitrogen Deposition and Drought Effects on Forested Ecosystems
1
Environmental Science Division, Argonne National Laboratory, Argonne, IL 60493, USA
2
Department of Biological Sciences, University of Illinois, Chicago, IL 60607, USA
*
Author to whom correspondence should be addressed.
Academic Editors: Carl Beierkuhnlein and Andreas Bolte
Received: 9 May 2017 / Accepted: 24 July 2017 / Published: 27 July 2017
Abstract
:
One of the biggest uncertainties of climate change is determining the response of vegetation to many co-occurring stressors. In particular, many forests are experiencing increased nitrogen deposition and are expected to suffer in the future from increased drought frequency and intensity. Interactions between drought and nitrogen deposition are antagonistic and non-additive, which makes predictions of vegetation response dependent on multiple factors. The tools we use (Earth system models) to evaluate the impact of climate change on the carbon cycle are ill equipped to capture the physiological feedbacks and dynamic responses of ecosystems to these types of stressors. In this manuscript, we review the observed effects of nitrogen deposition and drought on vegetation as they relate to productivity, particularly focusing on carbon uptake and partitioning. We conclude there are several areas of model development that can improve the predicted carbon uptake under increasing nitrogen deposition and drought. This includes a more flexible framework for carbon and nitrogen partitioning, dynamic carbon allocation, better representation of root form and function, age and succession dynamics, competition, and plant modeling using trait-based approaches. These areas of model development have the potential to improve the forecasting ability and reduce the uncertainty of climate models.
Keywords:
nitrogen deposition; drought; carbon cycle; stress; models
1. Introduction
To answer questions about the future of the terrestrial C sink, we need to understand the behavior of ecosystems under long-term chronic N deposition and drought, as well as the interactions between these phenomena. ESMs are important tools for exploring the relationships between climate and vegetation responses, but current models might not be able to capture these processes.
This review seeks to determine whether the current ESM framework of the C cycle is sufficient to capture the vegetation response to the combined effects of drought and growing N loading in ecosystems. To that end, this paper will review the observed impacts on C uptake and allocation due to increased N availability, drought, and their combined effects. Next will be a review of how current ESMs represent the coupled carbon-nitrogen model for C uptake and partitioning. We will present recent developments in several state-of-the-art LSMs, including the limitations of the representations for capturing interactions from N deposition and drought stress. Finally, we will discuss which additional processes should be the focus of future model developments to reduce uncertainty and improve predictive power.
2. Observations of N Impacts
3. Observations of Drought Impacts
4. Interactions between N and Drought
5. Earth System Models
ESMs are designed to predict the climate state by integrating feedback between the atmosphere, land, and ocean. One goal of these models is to capture biosphere-atmosphere interactions in order to understand what will be the vegetation response to changing environmental conditions. The land component has undergone considerable growth over the last decade and now has complexity that rivals atmospheric models. This growth has greatly improved the climate forecasting ability of ESMs, but these models still fall short of providing a good estimate of the land C sink. The following section and
Table 1
details some important processes already included in many LSMs that are necessary to capture vegetation responses to increased N and drought. The limitations of these model advances are also highlighted.
5.1. Nitrogen
An obvious and crucial component for capturing N deposition impacts on plants is the treatment of N, but early versions ESMs only considered the C cycle and neglected the N cycle completely. Carbon-only models miss a significant N deficit and therefore overestimate C sequestration by ecosystems under climate change [
102
,
103
]. Many of the latest versions of ESMs now include N (and a rare few include phosphorus). However, because N is often a limiting nutrient in ecosystems, the focus is on plant response under limited N conditions and on the effects of the progressive N limitation [
104
] that is expected under elevated CO
2
. Although some models offer prescribed N, more sophisticated ones employ an N pool (bulk or speciated) that is available to both plants and decomposers. Nitrogen additions come from sources including lightning, deposition, mineralization, and biological fixation. Losses are from plant uptake, immobilization, leaching, and nitrification/denitrification processes. Models can represent N limitation in different ways, including using N to scale photosynthesis [
105
,
106
], downscaling potential gross primary productivity (GPP) to reflect N availability [
38
,
84
,
85
,
107
], defining a C cost of N uptake [
108
], optimizing N allocation for leaf processes [
109
], or adapting a flexible C:N ratio for N allocation [
106
]. Nitrogen uptake is scaled depending on demand, based on stoichiometry (see
Section 5.2
) and availability, where photosynthesis and decomposition may be downscaled. More recent developments have led to the development of the Fixation and Uptake of Nitrogen (FUN) model [
108
], which expands N acquisition to include processes of passive uptake, active uptake, re-translocation, and symbiotic N fixation through a C cost. Other advances in the Community Land Model (CLM) expand N uptake to include methods using Michaelis-Menten equations [
106
,
110
] or equilibrium chemistry approximation [
111
,
112
]. Additional processes such as abiotic (i.e., mineral surface) competition for soil nutrients (Nutrient COMpetition model, [
111
]) are anticipated for the next generation of the CLM and the Accelerated Climate Model for Energy (ACME).
5.2. Allometry
ESMs rarely include dynamic responses to changes in resource availability. The most common allocation approach assigns C to each plant component (usually leaf, stem, and root) via fixed ratios that vary with plant functional type (PFT), but not spatially or temporally [
38
,
85
,
88
,
95
,
107
,
113
,
114
,
115
]. For models that include N (and less often P), N uptake plays a strong role in governing C assimilation and drives competition between plants and decomposers. In these cases, C allocation requires an additional constraint of fulfilling C:N:P ratios. Nitrogen uptake is controlled by plant demand and decomposition requirements determined from fixed C partitioning and C:N stoichiometry. When N and P demands to maintain stoichiometric C:N:P are unmet, photosynthesis is downscaled [
116
,
117
]. This simple approach works well for regions that have relatively stable environments, but it does not permit plant plasticity responses to changing nutrients. This method of C allocation has been highlighted as a weakness of these models [
118
,
119
] and has resulted in some models swapping to more dynamic allocation schemes that allow responses to stress, as in Friedlingstein et al. [
120
]. Carbon allocation in two ESMs (CTEM [
86
,
87
] and ORCHIDEE [
94
]) is governed by the most limiting resource; light limitation results in more biomass being allocated to the stem, and water and N limitations result in more biomass being allocated to the roots. However, because N is not explicit in these models, the N limitation is parameterized.
The simple representation of plant allometry in ESMs can have a significant influence on biogeochemistry since the allocation of biomass in the form of C to woody versus non-woody (or photosynthetic versus non-photosynthetic) plant components drives biogeochemical cycling, the quality and quantity of litter, and the duration of C storage. Our ability to model C uptake and subsequent storage therefore depends on including C allocation relationships and their responses under changes in resource availability.
5.3. Roots
Another component of ESMs that is oversimplified is root forms and function. For example, most root algorithms in ESMs consist of a fixed rooting depth and distribution [
93
]. This constrains water uptake to the root zone (weighted by effective root fraction in each layer) and does not allow differential water uptake from soil layers due to changes in root kinetics and morphology, nor does it allow changes in root distribution or depth to increase the water available to the plant. Water uptake is generally a function of plant demand (for evapotranspiration needs), root distribution, and soil water content [
121
]. The most common model approach to determine water limitation is to calculate a water stress scalar, which can be a function of soil water matric potential, matric potential when stomata are open or closed, or soil water content [
121
]. That water stress scalar is then multiplied by physiological variables such as transpiration, stomatal conductance, photosynthetic capacity, and maintenance respiration to capture water stress on plants. One approach to improve the evapotranspiration in the CLM is to add root hydraulic redistribution [
122
], which can transport water either up or down the soil column. Hydraulic redistribution does not influence root growth or distribution, but it does enhance water uptake by shifting the water distribution in the root zone.
Nitrogen uptake (when included) is often less complex in ESMs; most N uptake is from a bulk N mineralization pool that depends on supply and demand rather than root biomass or profile, although some recent work has focused on uptake as a function of root biomass [
106
]. Essentially, plants are given every opportunity to extract all available N necessary for growth. Although this allows an implicit metric for allowing roots an opportunity to adjust their uptake, it is not realistic and lacks feedbacks on the biogeochemistry from changes in the root profile.
Recently, studies focused on modeling root growth to maximize various plant traits have been conducted. For example, Sivandran and Bras [
123
] used optimization techniques for root growth in the TIN-based Real-Time Integrated Basin Simulator coupled to the Vegetation Generator for Interactive Evolution (tRIBS + VEGGIE) model to maximize plant transpiration. The improved root parameterizations allowed more root C to be allocated to soil layers with high soil moisture, increased water uptake, and decreased plant water stress. Another study by McMurtrie et al. [
124
] altered the vertical distribution of root mass to maximize N uptake. However, the underlying limitation in all studies is that they focus on maximizing only one limiting resource, namely, water or N. This limits the studies' relevance to environments that share those resource limitations so they may not reflect the future state of those regions or be suitable for global application.
6. Models Development Priorities
While ESMs have advanced considerably, there are several processes that still require attention if we are to capture the effects from N deposition and drought as shown in the pathways in
Figure 1
and
Figure 2
. Future model development should focus on the following goals (see
Table 2
for summary): (1) allow a more flexible coupling of C and N in models; (2) integrate a dynamic C partitioning algorithm; (3) improve the structure and function of roots; (4) include succession and age classes; (5) include intra-plant competition; and (6) develop methods of trait-based modeling rather than the traditional PFT approach. Some of these developments are being addressed, at least in part, for the next generation of models. For others, support needs to come from observation and the empirical community to develop robust methodology for inclusion in models.
7. Conclusions
We have provided a review of the impacts of N and drought on ecosystems and a list of future model recommendations that serves to address the missing processes needed in LSMs to capture those interactions. While this list is extensive, it is by no means exhaustive. Our suggestions target two co-occurring stressors, but additional stresses will also be present that should be considered such as warming, elevated CO
2
, and herbivory. For example, herbivory could reduce the N benefits of elevated productivity from consumption [
145
] or be a source of N deposition. Effects from elevated CO
2
can vary; CO
2
fertilization can help mitigate extreme heat and drought [
146
], or fertilization effects on productivity may be eliminated during drought and nutrient limitation [
147
]. These additional impacts on ecosystems are important, considering that CO
2
fertilization currently plays a larger role than N deposition in increasing productivity [
148
].
Another example is the interactions that exist between N availability, drought, and air temperature. It is thought that forest productivity should increase with temperature at the global scale, but droughts often associated with increases in temperature have lowered the NPP potential in some regions [
149
]. For instance, tropical forests can increase Net Ecosystem Exchange (NEE) with modest increases in air temperature, and drought effects could be ameliorated with increases in atmospheric CO
2
[
150
]. The interactions of temperature with drought and N can also affect the surface properties of forests beyond evapotranspiration. Drought sensitive forests (deciduous forests) tend to have a higher surface albedo than drought resistant ones (e.g., conifer forests), affecting the regional energy balance [
151
]. Further, increases in temperature can increase decomposition and N mineralization rates in the absence of drought, but N mineralization will not respond to temperature if moisture is the limiting factor [
152
]. These biophysical properties are important in understanding the global net effect of drought and N deposition on biosphere climate interactions [
153
] and are not the focus of this work. It is important to note that, in most elevated temperature ecosystem experiments, drought is a secondary effect caused by elevated temperature treatments [
154
,
155
], making it difficult to distinguish primary from integrated responses of forests to drought and temperature on biogeochemical and biophysical processes.
This study only focused on two stressors to ecosystems, N and drought. Although some of the identified processes targeted by this manuscript may help models to capture impacts from other climate-related effects, additional ecosystem processes will need to be addressed in the future. As the community integrates additional processes in models to capture vegetation responses to N inputs, we can revisit the resulting C uptake to evaluate the sink capacity of the terrestrial surface. However, special care should be taken when implementing additional parameters and processes into models, particularly so that models are not over-parameterized and so that the resulting C cycle response is not constrained by incomplete observational data. In the near term, model sensitivity studies can be used to determine the most sensitive parameters and processes that drive changes in C and nutrient cycles. More research on the structural uncertainty of models can provide insight on those processes that have strong feedbacks or introduce instability. Finally, when rigorous model testing through benchmarking is complete, we can focus on additional questions related to the fate of C in the land.
Improving estimates of the global terrestrial C sink is a priority for ESM development. In order to improve the predictions and reduce uncertainty, model development should focus on the processes that will be affected by multiple co-occurring stressors such as N deposition and drought. We have suggested avenues of model improvement that are possible in the near future with hopes that future generations of models can benefit and capture the response to increased N availability and drought.
Supplementary Materials
The following are available online at
www.mdpi.com/1999-4907/8/8/267/s1
, Table S1, Summary of previous studies that have investigated N deposition, drought, and the interactions of ecosystems.
Acknowledgments
Argonne National Laboratory's work was supported under U.S. Department of Energy contract DE-AC02-06CH11357. B.D. is supported by the Accelerated Climate Modeling for Energy (ACME) program, sponsored by the US Department of Energy, Office of Science, Office of Biological and Environmental Research. We also thank US Forest Service grant 15-JV-11242302-038. We thank Hormoz BassiriRad, Henry Howe, and Eduardo Dias de Oliveira for their discussion and comments on early versions of the draft. We also thank the anonymous reviewers for helpful suggestions on organization and flow, which greatly improved the manuscript.
Author Contributions
B.D. conceived the review concept, collected and analyzed the relevant information. B.D. and M.G. wrote the manuscript.
Conflicts of Interest
The authors declare no conflict of interest.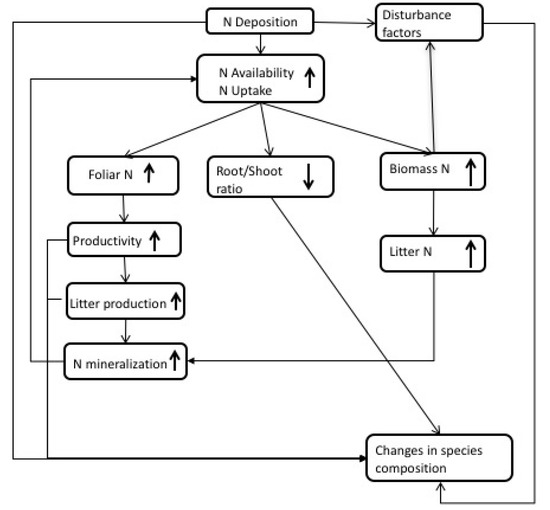 Figure 1.
Effects of N deposition on ecosystems, based on the concepts of Bobbink et al. [
7
]. Up arrows represent an increase, and down arrows represent a decrease. Three main pathways exist: changes in foliar or leaf N, changes to biomass partitioning, and increases in biomass N. Changes in leaf or plant N generally lead to a positive feedback by increasing N in the litter pool. Changes in the partitioning of biomass can lead to changes in competition for resources that will ultimately affect species distribution. In general, the impacts of N deposition occur over short timescales (<5 years), while changes to species composition and disturbance occur over longer timescales [
7
].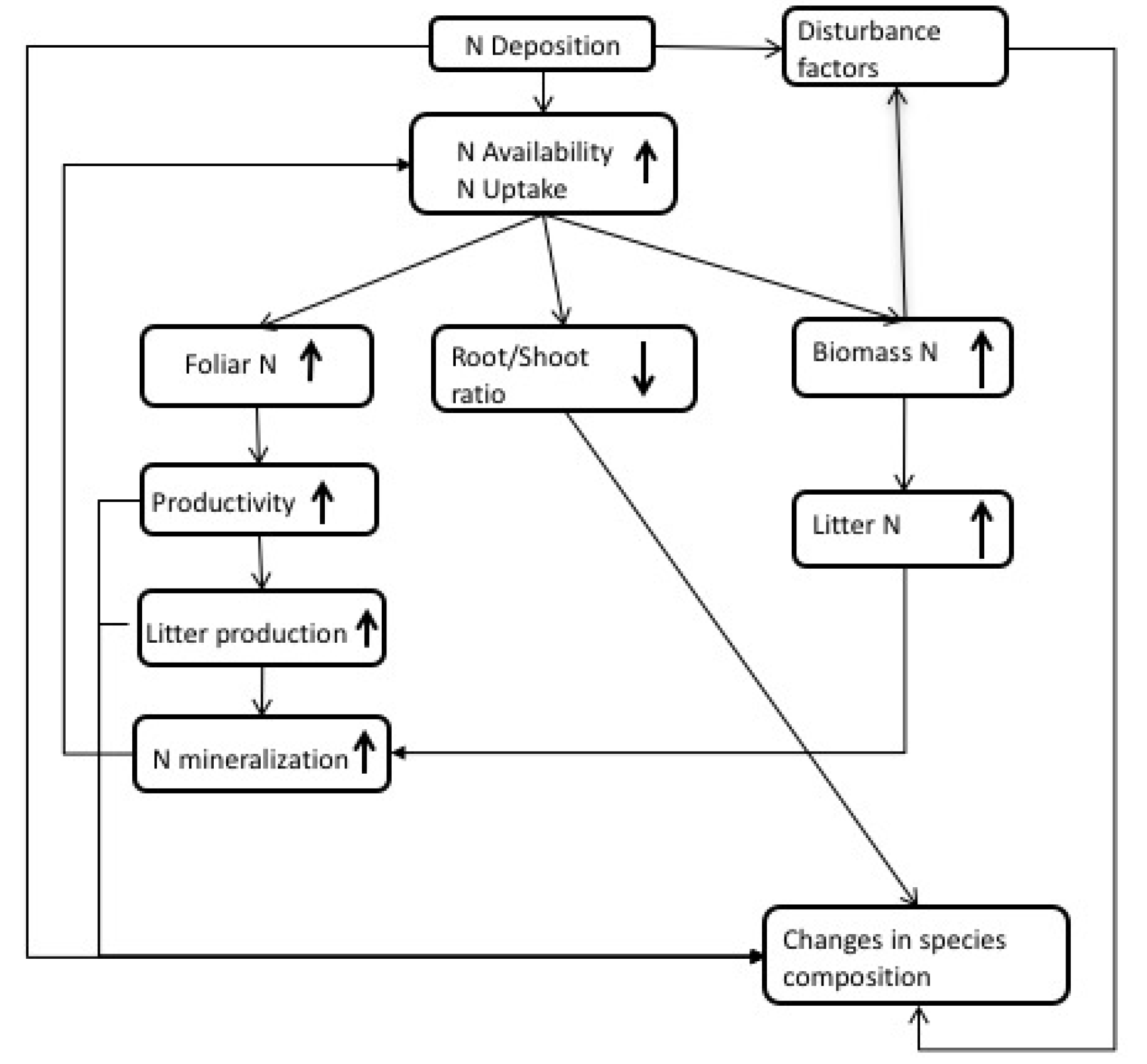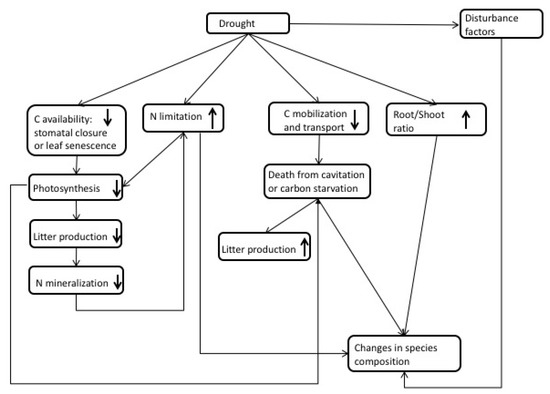 Figure 2. Effects of drought on ecosystems. Up arrows represent an increase, and down arrows represent a decrease. Four main pathways exist: changes in C availability, increases in N limitation, changes to C mobilization and transport, and changes to biomass partitioning (i.e., root:shoot). Changes in C availability and N limitation both lead to decreases in photosynthesis, which has a positive feedback on N limitation when less biomass is contributing N to litter pools. Changes in C availability and a lack of C mobilization can lead to death from carbon starvation. Several pathways result in altered species composition from shifts in nutrient availability and competition. In general, the impacts from drought occur over short timescales (<5 years), while changes to species composition and disturbance occur over longer timescales.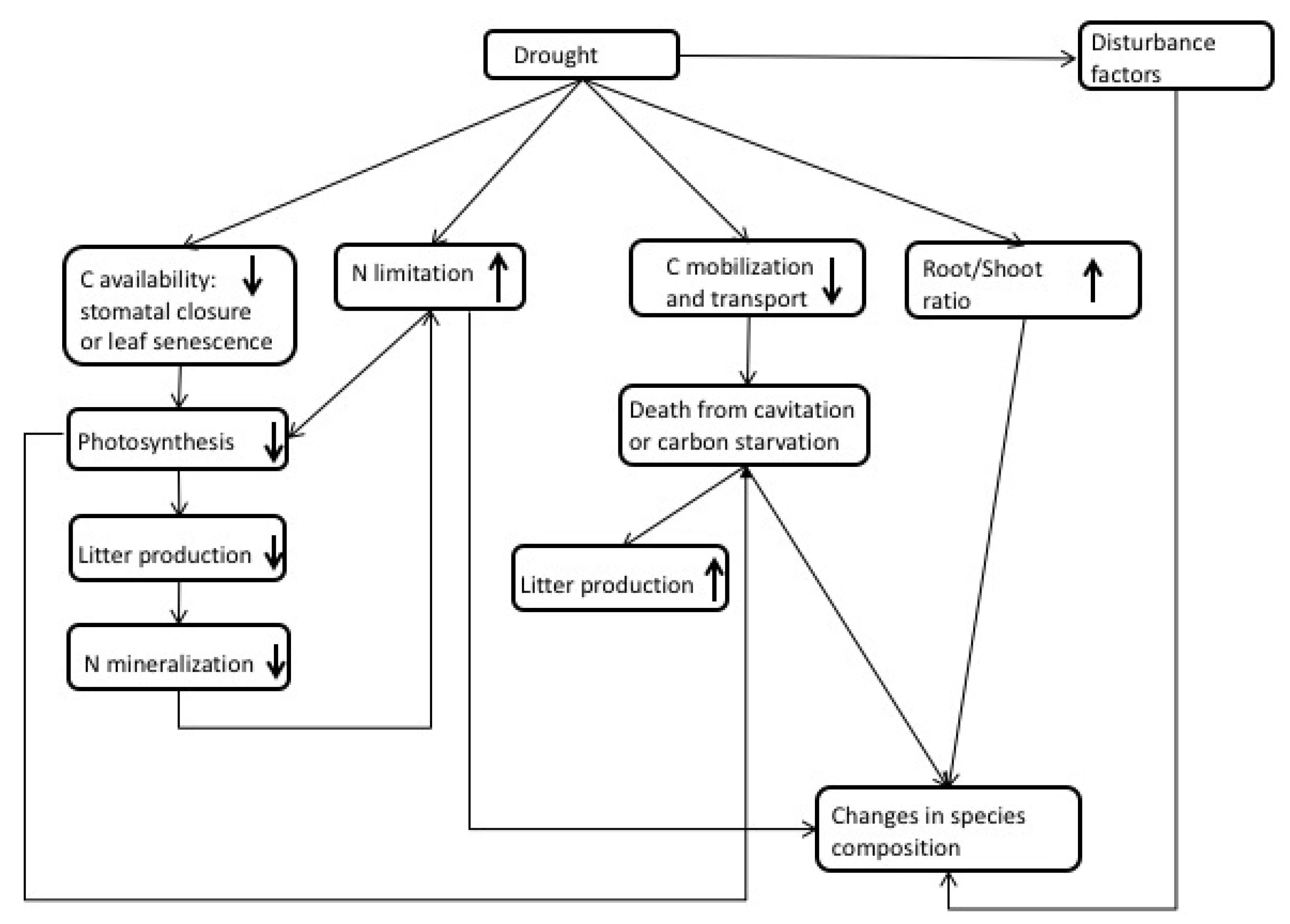 Table 1. Representation of key model features from a subset of terrestrial ecosystem models.
Process
Model
CLM4.5
CABLE
CTEM
LM3
Reference
[84]
[85]
[86,87]
[38,88]
Time step
30 min to one hour
30 min
30 min to one day
30 min
Plant Functional Type (PFTs)
14 natural and two generic crop types
15 natural and one crop type
seven natural and two crop types (C3 and C4)
five natural
Dynamic vegetation
Dependent on climate or prescribed
NA
Dependent on climate or prescribed
Dependent on climate and light

Plant C

Photosynthesis
[89,90]
[89]
[89,90]
[89,90]
Phenology
Evergreen, stress deciduous, seasonal deciduous, and crop
Biome dependent, four states, input from remote sensing
Four leaf states: maximum growth, normal growth, leaf fall, and dormancy
Drought and cold deciduous seasonal
Allocation
Fixed fraction
Fixed fraction
Dependent on light, water, phenological status
Functional balance to maintain root-to-shoot ratio

Plant N

Uptake
Dependent on N pool size, plant demand
Dependent on N pool size, plant demand
NA
Michaelis-Menten kinetics, dependent on N pool size and root biomass; priority given to immobilization
Fixation
Function of Net Primary Productivity (NPP)
External input
NA
Dependent on plant N demand, NPP, and light availability; C cost paid for biological nitrogen fixation (BNF)
Stoichiometry (C:N)
Flexible (within 0.8 N:C)
Fixed (PFT dependent)
NA
Fixed (PFT dependent)

Plant water

Uptake
Dependent on plant demand, root profile, and soil matric potential
Dependent on plant demand, root fraction, and soil water content
Dependent on soil moisture content
NA
Root architecture
Double exponential for water uptake [91]; single exponential for soil C/N cycling [92]
Exponential [86]
Prescribed maximum rooting depth, root distribution dependent on time and PFT [93]
NA
Process
Model
ORCHIDEE
O-CN
JULES
LPJ-GUESS
Reference
[94]
[94,95]
[96,97]
[98,99]
Time step
30 min to one day
30 min to one day
30 min to one day
1 day
PFTs
10 natural and two agricultural grasses
10 natural and two agricultural grasses
5 natural
11 natural
Dynamic vegetation
Dependent on climate, stand structure, and light
Dependent on climate, stand structure, and light
Dependent on NPP and tree-shrub-grass hierarchy from the Lotka-Volterra competition approach
Dependent on climate, stand structure, light and soil resources, disturbance, and succession

Plant C

Photosynthesis
[89,90]
[100]
[90,101]
[90,101]
Phenology
Drought and cold deciduous seasonal
Drought and cold deciduous seasonal
Cold deciduous
Evergreen, drought, and cold deciduous
Allocation
Rule-based response to external limits; dependent on light, water, and N
Pipe model to maintain root-to-shoot ratio
Fixed fraction
Functional balance to maintain root-to-shoot ratio

Plant N

Uptake
Implicit, dependent on soil humidity and soil temperature
Michaelis-Menten kinetics, dependent on fine root biomass, plant N status, N pool size, and soil temperature
NA
Dependent on N pool size, plant demand, root mass, and soil temperature
Fixation
NA
Calculate potential N fixation from evapotranspiration
NA
Calculate potential N fixation from evapotranspiration
Stoichiometry (C:N)
Prescribed
Flexible (provided range)
Fixed fraction
Flexible (provided range)

Plant water

Uptake
Dependent on plant demand, root fraction, and soil water content
Dependent on plant demand, root fraction, and soil water content
Dependent on plant demand, root fraction, and available soil moisture
Dependent on plant demand and soil water in root zone
Root architecture
Exponential root profile
Exponential root profile
Double exponential
Two soil layers; more roots in lower layer (except grass)
Table 2. Summary of recommendations for model development.
Recommendation
Description
Impact
Example(s)
Flexibility of CN coupling
• Allows C:N ratios in the leaf to vary with N availability
• Dynamic partitioning of N in the plant
• Effects N in the leaf with influences on photosynthesis
Fixation and Uptake of Nitrogen (FUN) model [108]
Leaf Utilization of Nitrogen for Assimilation (LUNA) [109]
Community Land Model (CLM)/Accelerated Climate Model for Energy (ACME) [106]
Adaptive dynamics approach to C partitioning
• Flexibility in C allocation to account for plant plasticity across environmental conditions
• Optimize nutrient uptake
• Increase tissue allocation to respond to limiting resource
CLM/ACME [106]
Improve form and function of roots
• Time varying root structure (depth and distribution)
• Variable root depth, traits, plasticity, and hydraulics that scale across space and time
• Adapt to heterogeneity of water and nutrients in soil
• Optimizes below ground resource uptake
Dynamic root depth [125]
Maximize N [124]
Maximize evapotranspiration (ET) [123]
Succession
• Representing age class
• Variable growth dynamics and response to stress with age
• Capture disturbance and recovery
• Heterogeneity in plant distribution, improved canopy light dynamics
Ecosystem Demography (ED) model [126]
Competition
• Inter- and intra-species competition for resources (e.g., light, water, N, etc.)
• Allows competition both within and between PFTs
• Alters allocation of resources to outcompete neighbors
• Possibly altering productivity or shift vegetation distribution
Triple Tragedy of Commons [127]
Competition with consumers [111]
Trait-based modeling
• Varying morphology, physiology, or phenology characteristics of individuals across an environmental gradient
• Environment acts as filter for trait composition
• Adaptation and evolution of species to environmental conditions
• Dynamic vegetation moves beyond simple rules of existence and/or establishment
Adaptive Dynamic Global Vegetation Model (aDGVM) [128]
Jena Diversity-Dynamic Global Vegetation Model (JeDi-DGVM) [129]
CSIRO Atmospheric Biosphere Land Exchange (CABLE) [130]
© 2017 by the authors. Licensee MDPI, Basel, Switzerland. This article is an open access article distributed under the terms and conditions of the Creative Commons Attribution (CC BY) license (http://creativecommons.org/licenses/by/4.0/).