Open Access This article is
freely available
re-usable
Article
Costs of Lost opportunities: Applying Non-Market Valuation Techniques to Potential REDD+ Participants in Cameroon
Department of Resource Economics and Environmental Sociology, University of Alberta, Edmonton, Alberta, T6G-2H1, Canada
*
Author to whom correspondence should be addressed.
Academic Editors: Esteve Corbera and Heike Schroeder
Received: 30 October 2016 / Accepted: 28 February 2017 / Published: 3 March 2017
Abstract
:
Reduced Emissions from Deforestation and Forest Degradation (REDD+) has been systematically advanced within the UN Framework Convention on Climate Change (UNFCCC). However, implementing REDD+ in a populated landscape requires information on local costs and acceptability of changed practices. To supply such information, many studies have adopted approaches that explore the opportunity cost of maintaining land as forest rather than converting it to agricultural uses. These approaches typically assume that the costs to the smallholder are borne exclusively through the loss or gain of the production values associated with specific categories of land use. However, evaluating the value of land to smallholders in incomplete and messy institutional and economic contexts entails other considerations, such as varying portfolios of land holdings, tenure arrangements, restricted access to capital, and unreliable food markets. We suggest that contingent valuation (CV) methods may provide a more complete reflection of the viability of REDD+ in multiple-use landscapes than do opportunity cost approaches. The CV approach eliminates the need to assume a homogenous smallholder, and instead assumes heterogeneity around social, economic and institutional contexts. We apply this approach in a southern rural Cameroonian context, through the lens of a hypothetical REDD+ contract. Our findings suggest local costs of REDD+ contracts to be higher and much more variable than opportunity cost estimates.
Keywords:
reduced emissions from deforestation and forest degradation; carbon retention; avoided deforestation; willingness to accept; payments for ecosystem services; contingent valuation.
1. Introduction
We explore the value of lost opportunities through a study of farmers' willingness to accept compensation for REDD+ in a multiple land use context in southern Cameroon. We present three types of results. First, we use contingent valuation to assess the willingness of individual land users to accept compensation for the lost opportunities that REDD+ would create. Second, we investigate factors affecting that willingness. Third, by aggregating willingness to accept compensation (WTA) amounts across the sample, we generate a potential abatement cost curve for avoided emissions.
2. Materials and Methods
2.1. Approaches to Measuring Costs of Avoided Deforestation
2.2. Study Site and Context
2.3. Data Collection
A questionnaire was pre-tested with 29 Akok households. From previous studies in the area, we anticipated finding approximately 200 households in the eight sub-villages and thus chose to implement a census sampling approach. Excluding the 29 households involved in the pre-test, the survey was administered to all of the 169 other households. Only two of the 169 households were unable to complete the survey.
The survey was designed to be conversational, as inconsistent literacy levels across the village required the survey to be administered as face-to-face interviews. Each survey took approximately one hour to complete, and households were compensated for their time with a bar of soap and a pen. Responses were kept anonymous, and respondents were reminded that they were free to stop the interview at any time. Informed consent was obtained through an information/consent form as stipulated by the University of Alberta Ethics Board.
2.4. Measures and Models
A potential supply curve of land offered into forest conservation contracts for the Akok households was generated from the individual WTA estimates, combined with the number of hectares of fallow managed by each household. Results for the 167 households were ordered from lowest (0 CFA/ha/annum) to highest WTA (>1,000,000 CFA/ha/annum) to create the potential supply curve.
3. Results
We begin our presentation of results with an overview of some descriptive statistics that provide a characterization of the households' landholdings. We then discuss the WTA results in terms of dollar amounts and numbers of households that accepted and rejected contracts. Determinants of WTA are then investigated with the binomial logit model. Our results conclude with a discussion of the derived carbon abatement curve.
Respondents were asked to identify the origin of each cultivated field to compare to the shifting cultivation model presented by Brown [
33
]. These results are summarized in
Table 2
. Most smallholders convert high forest into transitionary forest fields (60%), however many also use secondary forest (21%) and very old fallow (13%) to create forest fields (
Table 2
). Mixed food crops were created from several different types of fallow, but most frequently from old fallow (63%). Another type of field (
asan
) was included, which are "off-season fields that are cultivated in lower lying areas where there is sufficient moisture to carry a crop through the long dry season" (Brown, 2006, p.76) [
33
]. Although the majority (66%) of these wetlands are cultivated from swamps (
merecage
), smallholders identified that they are also created from other types of forest and fallow. Cocoa was planted on every original land type, with 47% originating from lands that were fallow for at least 10 years prior to being converted to cocoa (high forest, secondary forest, very old fallow and old fallow).
The mean total land holdings for households in Akok village was 29.0 ha, of which 24.4 ha was fallow and available for future cultivation. The 24.4 ha of fallow was comprised of 11.1 ha of secondary forest, 5.5 ha of very old fallow, 4.4 ha of old fallow, and 3.5 ha of young fallow. For the average household, therefore, the forest conservation contract would mean that only the 3.5 ha of young fallow and 4.4 ha of old fallow would be available for clearing for shifting cultivation within the next ten years. The average household reported to be actively cultivating 4.9 ha of land, including 2.3 ha of cocoa agroforestry, 1.4 ha of forest field, 0.8 ha of mixed food crops, and 0.1 ha of wetland.
Survey results indicate that 94 percent of all respondents would accept the contract within the range of bids offered. However, 10 percent of these respondents accepted a bid of 0. These respondents were then asked whether they were willing to pay to participate in the contract, and all responded "yes." In contrast, 6% of the sample was not willing to accept the contract for any of the amounts offered.
Figure 2
shows the proportion of respondents that indicated they would be willing to accept a bid amount for each bid level. Results indicate an acceptance rate of greater than 50 percent if compensation value was approximately greater than or equal to 200,000 CFA/ha/annum. The mean WTA was 226,047 CFA/ha/annum, while the median value was 222,416 CFA/ha/annum. At higher bid values, the curve becomes flatter indicating that a relatively small percentage of the respondents (i.e., approximately 10%) required bids of between 500,000 and 1,000,000 CFA/ha/annum to accept the contract.
Table 3
contains the results of the binary logit model on the probability of accepting the contract. Six of the variables are found to be statistically significant at the 5% level of better.
BID
is shown to be highly significant and displays the expected sign, where higher bids increase the probability of accepting the contract. A number of perception variables are also significant.
CASHANDFOOD
is negative and significant, indicating that people who are more in agreement with their ability to buy food at the market will be less inclined to accept the contract. This result is contrary to our initial expectations, but could be caused by income effects for which we are not able to control. People who state that they are able to feed their family with market purchased food are likely to have higher incomes, which could decrease their willingness to accept cash for a contract. PRICE is also negative and significant indicating, as expected, that stronger agreement with clearing more land in response to higher prices will decrease the probability of accepting a contract. INSECURE is also significant with a positive sign, perhaps indicating that people tend to believe that the contract will alleviate the need for them to cultivate the land in order to maintain rights.
With respect to types of land holdings, people who had larger areas of
YOUNG&OLDFALLOW
(fallow less than 10 years) were less likely to accept the contract. Our first hypothesis was that larger areas of young and old fallow would provide farmers with more options for renewing their crop cultivation land if they did enter the contract. This contrary result suggests a different rationale that is consistent with the results from the focus group and survey. As shown in
Table 2
, forest fields are rarely created from young or old fallow, but instead are created by slash and burn of primary or secondary forests. Respondents may have been worried that young and old fallow areas could be drawn into the contract, thus removing those areas as future options for slash and burn transition into forest fields.
Finally,
AGEHOUSEHOLDHEAD
was positive and significant, perhaps because older people were more inclined to prefer cash, rather than expending labor to grow their crops.
Figure 3
shows marginal costs of carbon abatement for various amounts of carbon derived from conserving areas of land. Due to missing data for some households, this supply curve is based on 135 the possible 169 households. We estimate that the amount of carbon held in fallows by those households equates to about one million tonnes of CO
2
e. Across the 135 households, the mean net present value of ten annual payments of the WTA is USD 29.94/t CO
2
e at a 15% discount rate and USD 55.67/t CO
2
e at a 0.01% discount rate. However, accounting for the sizes of the fallow areas on each of the 135 farms, the weighted mean net present value of the ten annual payments was USD 11.32/t CO
2
e at a 15% discount rate and USD 29.94 / t CO
2
e at a 0.01% discount rate, implying that households with larger areas had lower WTAs. However, the shape of the curve (
Figure 3
), assuming the 15% discount rate indicates that farmers would be willing to conserve 61% of the standing carbon stock for payments equating to a net present value of less than 10 USD/t CO
2.
e. Lower payments would still attract considerable interest from area farmers. For example, about 27% of the carbon could be conserved for less than payments equating to a net present value of less than 5 USD / t CO
2
e. At the other extreme end of the figure, the 18 highest observations of costs per tonne, which range from USD 55 to 675/t CO
2
e, in the right hand panel of
Figure 3
, add up to less than 2% of the carbon stock.
4. Discussion
With its high levels of forest carbon stocks, and potential threats of deforestation, Cameroon could make substantial contributions toward realizing the promise of REDD+. Like other African countries with relatively weak governance indicators, however, Cameroon has not attracted large investments in REDD+ [
45
]. To be more attractive destinations for REDD+ investments, countries such as Cameroon must conserve forested areas in a manner consistent with local institutions and acceptable to those with a stake in the way land is used. Previous studies [
18
,
46
] have focused on the institutional arrangements for land and forest governance in Cameroon.
Here, our primary focus is on the farm-level economics of REDD+. In identifying the potential for conserving lands as part of REDD+ programs, costs of lost opportunities are frequently measured by forgone production values for given types of land. However, our results using a WTA approach suggest that there are a number of features of local contexts that could cause opportunity cost approaches to be misleading.
Our estimates, derived from WTA's, tend to be somewhat higher than previous estimates based on opportunity cost approaches. For example, using a bottom up approach and comparing opportunity costs across locations in Indonesia, Peru and Cameroon, Swallow et al. (2007) [
15
] found a range of costs of 2 to 10 USD/t CO
2
e for 20 years of avoided deforestation using an interest rate of 15%. Their estimate for Akok village is around 8 USD/t CO
2
e. Similarly, Boucher (2008) [
47
] found a range of costs of 1.84–5.18 USD/t CO
2
e for 20 years of sequestration and reported results from top-down studies ranging from 7.77 to 18.86 USD/t CO
2
e for 20 years of sequestration. In contrast, our estimated range of values for a 10-year contract is between 15.79 and 5533.15 USD/t CO
2
e at a discount rate of 0.1%, and between 7.97 and 2792.25 USD/t CO
2
e at a discount rate of 15%. Our lower bound estimate of WTA is roughly equal to the estimated opportunity cost for households in Cameroon calculated by Swallow et al. (2017) [
15
]. We have not adjusted for inflation because the CFA to USD exchange rate changed by less than 10% over this period.
The possibility of low costs per tonne CO2e was one of the factors that originally drew attention to the use of REDD+ as a mitigation option. The results presented in this paper suggest that previous estimates of opportunity costs may have seriously under-estimated the amounts that land users would need to be paid in exchange for farmers giving up discretion over future land use. The relatively high value of opportunity cost derived through the CV stated preference method is also consistent with the general hypothesis posited in this study, that smallholders consider more than the forgone production when considering REDD contract acceptance.
The drivers behind probabilities of accepting a contract provide some insights into local contexts that could be driving up WTA's. Though higher
BID
amounts do increase the probability of acceptance, these amounts are having to overcome a number of other drivers that reduce acceptance, likely because households wanted to maintain options to work their land. Local challenging, incomplete and messy institutional and economic contexts are apparent in influencing decisions. Specifically, people who believe more strongly that they have sufficient cash to consider markets as means of contributing to food security (i.e.,
CASH&FOOD
) were less likely to accept a contract. Likewise, people who agreed more that they would want to clear more land if prices improved (i.e.,
PRICE
) were also less likely to lock up their lands in a contract. Moreover, people who agreed less with the need work their land in order to maintain their rights were also less likely to accept a contract. There were also some characteristics of households, and their land holdings, which were found to be impediments. Younger household heads (AGEHOUSEHOLDHEAD) and households with more areas of young and old fallow (YOUNG&OLDFALLOW) were also less likely to accept a contract.
One striking finding is the degree of heterogeneity among values of land to households. The CV approach leads to a diverse range of acceptance for forest carbon conservation. The sample is split roughly into three groups: individuals willing to participate for no compensation, the majority of the sample willing to participate given some compensation, and individuals not willing to participate in the program, or only willing at extremely high levels of compensation relative to the rest of the sample. In the first group, 10% of the sample required no payment, perhaps because they saw the contract as a means of securing tenure to their land. However, there was also 5% of the sample that would not accept any offered amount to accept the contract. Nonetheless, the carbon abatement costs
Figure 3
) suggests a clear population subset that is willing to enter the proposed deforestation mitigation contract for a relatively low payment. Policy makers would be able to prevent nearly half of the available carbon stock (i.e., approximately 5,000,000 t CO
2
e ) from being emitted for a 10-year period for approximately 8 USD/t CO
2
e CO
2
, considering an interest rate of 15%.
No matter what amount would need to be paid to smallholders to avoid deforestation, an underlying principal, as discussed above, is that of Free, Prior and Informed Consent (FPIC) [
9
]. Consistent with this principal are contingent valuation approaches that solicit consensual (i.e., willing) values. The heterogeneity among households that arises in identifying consent presents both problems and promise for structuring REDD+ contracts. Promise arises from identifying large numbers of households who would willingly pay cost-effective amounts (relative to other options) to sequester carbon. Problems arise in developing payment schemes that could reflect the heterogeneity in WTA, but that would be deemed equitable among participants.
Acknowledgments
The authors acknowledge generous financial assistance from the University of Alberta and the World Agroforestry Centre. Caitlin Schmidt from the University of Alberta, Doug Brown from World Vision, Zac Tchoundjeu and Serge Ngendakumana from the World Agroforestry Centre, and Valentina Robiglio and Guillaume Lescuyer from the International Institute for Tropical Agriculture (IITA) provided valuable input and guidance for the field studies in Cameroon. Arlette, Chistiane, Yannick and Dominique all supported implementation of the survey in Akok. Two anonymous reviewers provided very helpful comments and suggestions. Of course, the people of Akok are thanked for their participation in the focus group and household survey.
Author Contributions
B.S. conceived this study and secured support from the funders and host organizations. DT., B.S. and M.L. designed the survey with inputs from C.S. D.T. implemented the field studies with those listed in the acknowledgements. D.T. did most of the data analysis with support from B.S. and M.L. D.T. wrote the first draft of the manuscript. B.S. and M.L. revised and refined the manuscript. B.S. is the corresponding author.
Conflicts of Interest
The founding sponsors had no role in the design of the study; in the collection, analyses, or interpretation of data; in the writing of the manuscript, and in the decision to publish the results.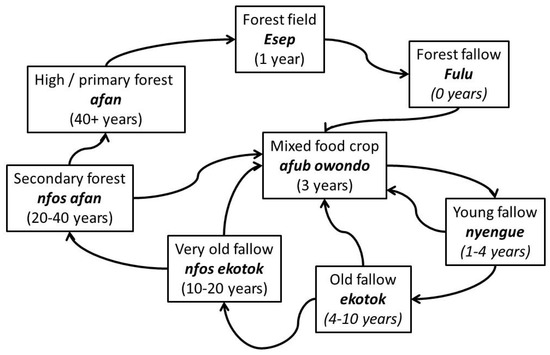 Figure 1.
The typical
Bulu
shifting cultivation system in Southern Cameroon (adapted from Brown, 2006 [
33
]).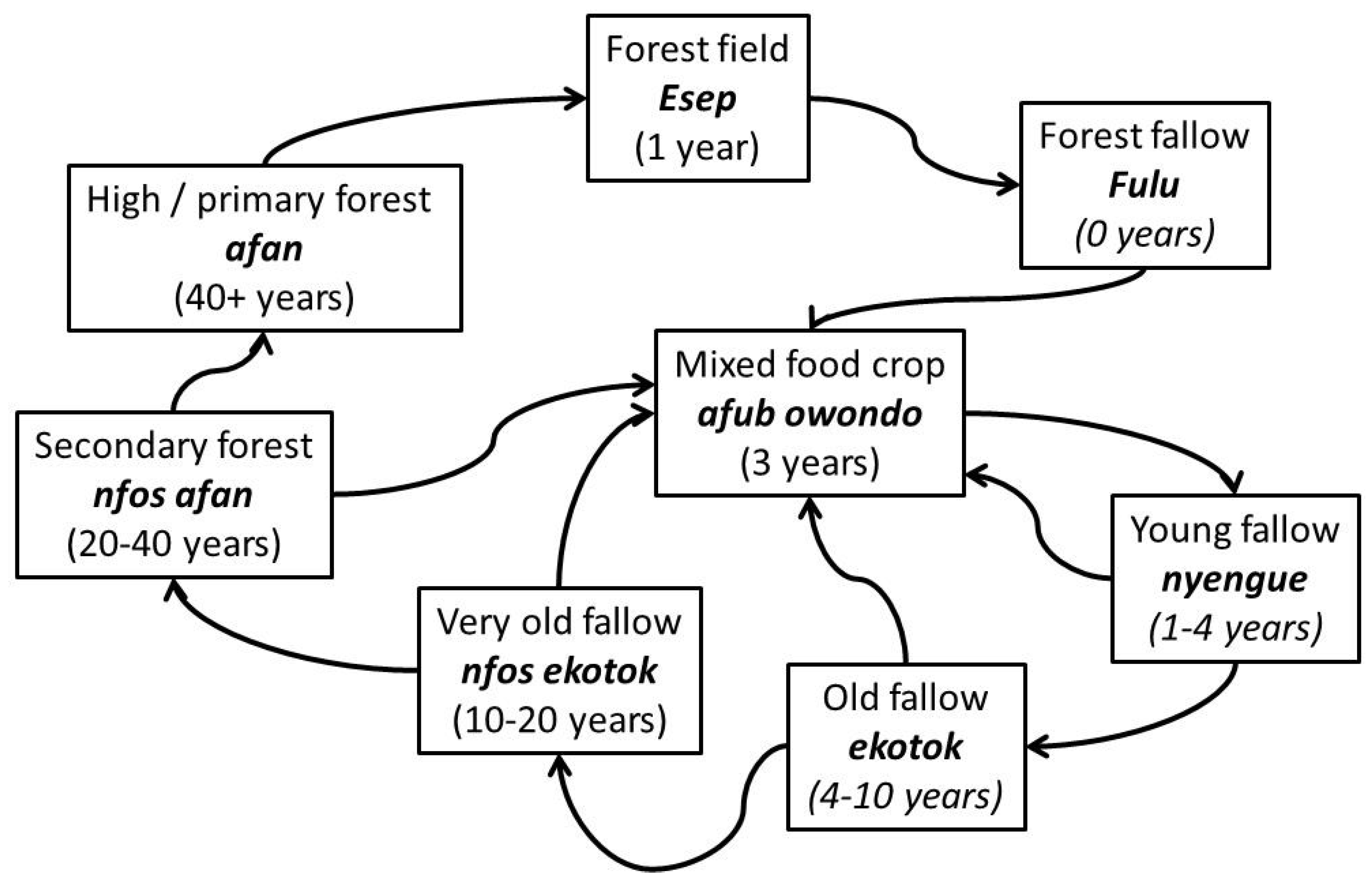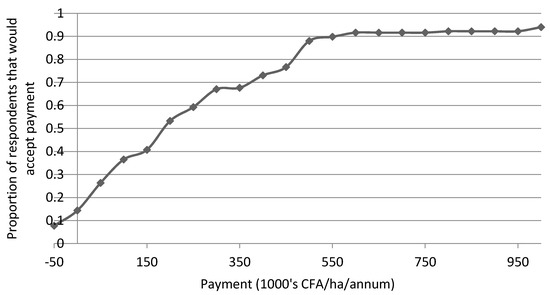 Figure 2. Turnbull upper bound non-parametric WTA (willingness to accept) results for smallholders accepting a deforestation restriction contract in Akok, Cameroon.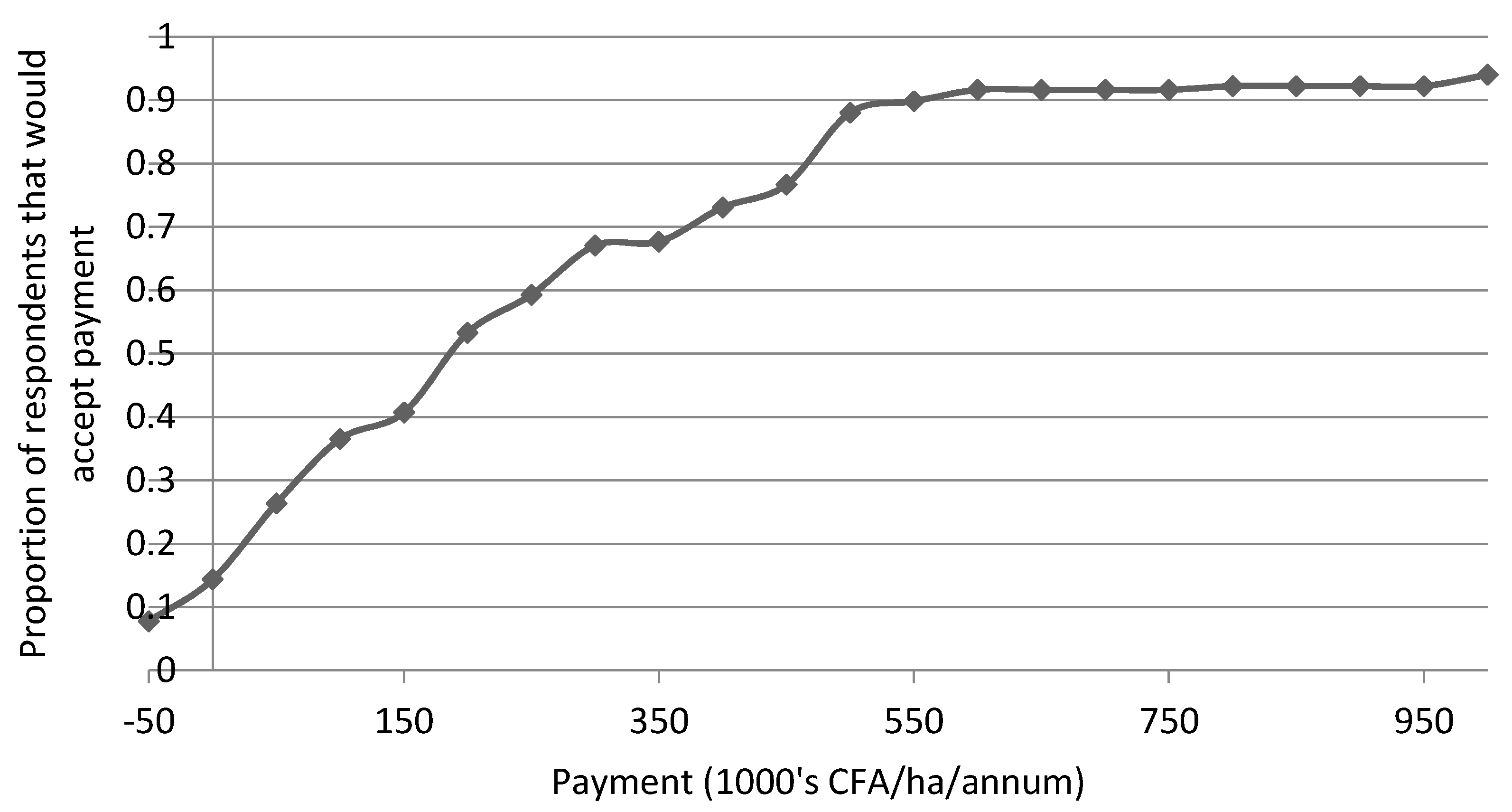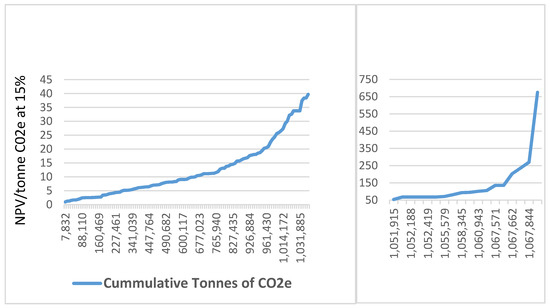 Figure 3.
Marginal carbon abatement cost curve of land offered into REDD contracts based on smallholder land holdings and the proposed REDD-like contract in Akok village, Cameroon (
n
= 135). The right hand segment of the graph represents the highest 18 observations.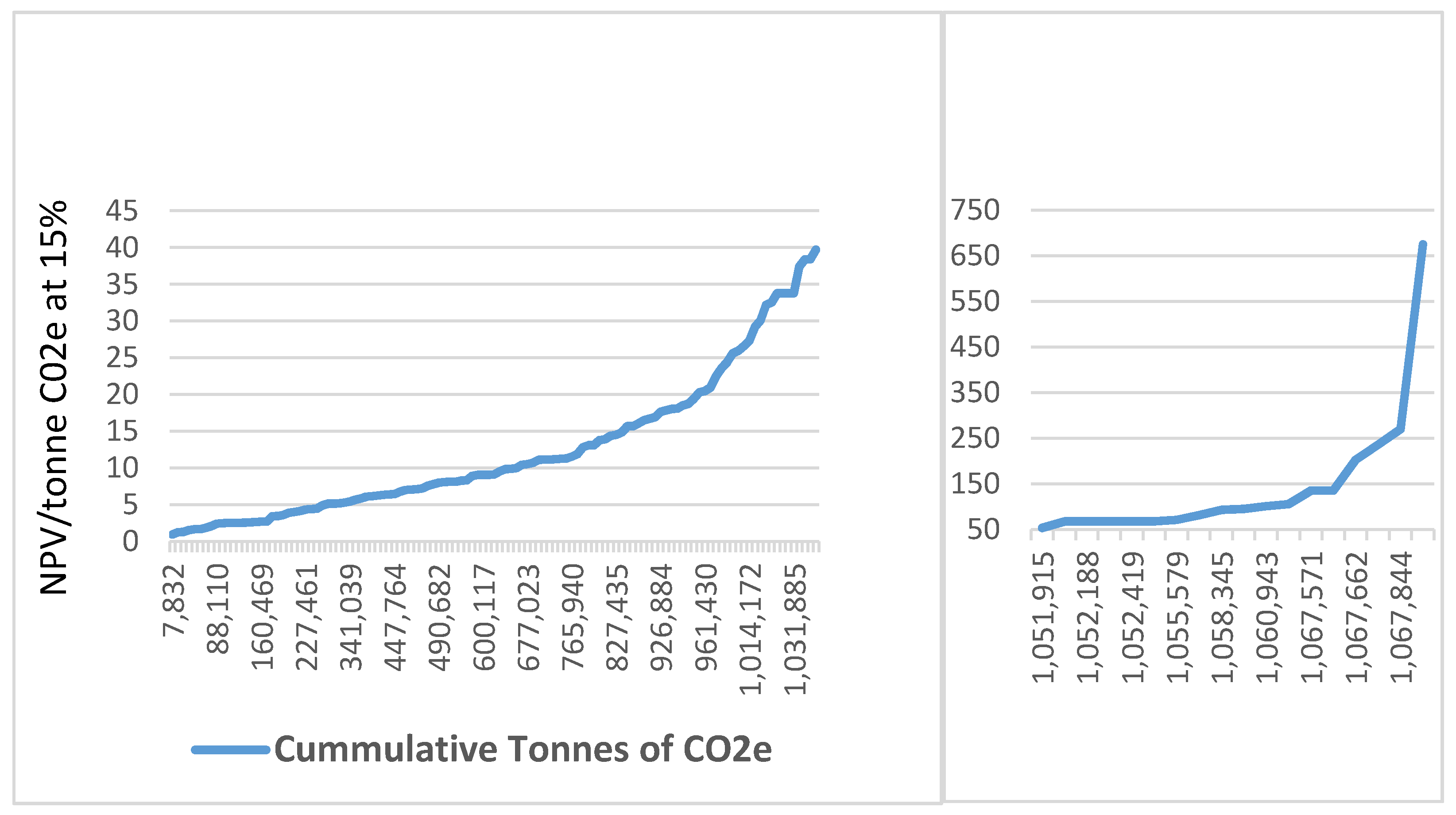 Table 1. Variables in the binary logit model describing participation in the contract.
Variables
Description of Variables

Dependent Variable

P(YES)

The probability of a smallholder agreeing to enter into a contract at a given bid level

Independent Variables

BID

Payment level that would be paid to the smallholder on an annual basis per hectare (i.e., CFA/ha/year)

Perceptions (higher rating corresponds with agree more)

CASH&FOOD

Subsistence vs. market food
"

If I cannot produce enough food to feed everyone in my family, I can buy it at the market

"

PRICE

Market sensitivity
"

If the price of one of the crops that I cultivate goes up, I will clear more of my fallow that is 10 years or older

"

INSECURE

Risk perceptions of tenure security
"

If I do not want someone else to be able to cultivate my fallows that are 10 years old and older, I will have to cultivate them"

CASH&LAND

Cash and land investments
"

If I receive additional revenue, I will invest in agroforestry

"

Characteristics of Land Holdings

VERYOLDFALLOW

Total area of currently fallowed land that is older than 10 years (ha)—

nfos ekoyok

YOUNG&OLDFALLOW

Total area of currently fallowed land that is 1–10 years (ha)—

nyengue

and

ekotok

AREACOCOA

Total area of current cocoa agro-forests (ha)

AREACULTIVATED

Total area of dedicated food crops that the household is currently cultivating –

afub owondo

and

es

ë

p

(ha)

Household Characteristics

DEPENDENTS

Number of dependents in the household (0–14 years old)

GENDERHOUSEHOLDHEAD

Gender of head of household (1 = male, 0 = female)

AGEHOUSEHOLDHEAD

Age of head of household (years)

MARRIAGE

Marital status of head of household (1 = married, 0 = single or widowed)
Table 2. Shifting cultivation transitions between land types.
Current land types
Forest Field

(esep)

Mixed Food Crops

(afub owondo)

Wetland

(asan)

Cocoa
% of small holders transitioning between land types
Original land type
High Primary Forest

(afan)

60
1
7
18
Secondary Forest (

nfos afan

)
21
1
5
11
Very Old Fallow (

nfos ekotok

)
13
14
7
3
Old Fallow (

ekotok

)
6
63
9
15
Young Fallow (

nyegue

)
1
9
7
3
Forest Fallow (

fulu

)
0
7
0
0
Forest Field

(esep)

-
6
0
17
Swamp (

merecage

)
0
0
66
33

Number of households with this field type

134
142
40
133

Table 3. Results of a binary logit model of smallholders' willingness to accept a bid for a hypothetical deforestation restriction contract.
Table 3. Results of a binary logit model of smallholders' willingness to accept a bid for a hypothetical deforestation restriction contract.
Explanatory Variables
Estimated Coefficient
Standard Error

BID

0.0000050797 ***
0.0000005464

CASH&FOOD

−0.00325 ***
0.00073

PRICE

−0.00152 ***
0.00034

INSECURE

0.00106 ***
0.00024

CASH&LAND

0.09343
0.13574

VERYOLDFALLOW

−0.00025
0.00046

YOUNG&OLDFALLOW

−0.00100**
0.00052

AREACOCOA

−0.00034
0.00064

AREACULTIVATED

0.00028
0.00074

DEPENDENTS

−0.01368
0.04407

GENDERHOUSEHOLDHEAD

−0.36618
0.34160

AGEHOUSEHOLDHEAD

0.00148 ***
0.00038

MARRIAGE

−0.00020
0.00031

Constant

−1.1186

***

0.43354
Log likelihood
−1479.06
χ2 (9

d.f.

)
1129.07
McFadden Pseudo

R

2
0.2762
Observations (21 × 167)
Median WTA
222416 CFA/ha/annum
(467.27 USD/ha/annum)
***, **, * Significant, respectively, at the 1%, 5% and 10% levels.
© 2017 by the authors. Licensee MDPI, Basel, Switzerland. This article is an open access article distributed under the terms and conditions of the Creative Commons Attribution (CC BY) license ( http://creativecommons.org/licenses/by/4.0/).