Open Access This article is
freely available
re-usable
Article
Swiss Needle Cast in Western Oregon Douglas-Fir Plantations: 20‐Year Monitoring Results
1
Department of Forest Engineering, Resources and Management, Oregon State University, 280 Peavy Hall, Corvallis, OR 97331, USA
2
US Forest Service, 1220 SW Third Ave., Portland, OR 97208, USA
3
Oregon Department of Forestry, 2600 State St., Salem, OR 97310, USA
4
Weyerhaeuser Corporation, 505 N. Pearl St., Centralia, WA 98531, USA
*
Author to whom correspondence should be addressed.
Academic Editor: Eric J. Jokela
Received: 2 June 2016 / Accepted: 21 July 2016 / Published: 26 July 2016
Abstract
:
Swiss needle cast (SNC), a foliar disease specific to Douglas-fir (
Pseudotsuga menziesii
), is caused by an endemic Ascomycete fungus (
Phaeocryptopus gaeumannii
). In the late 1980s and early 1990s significant symptoms began to appear in coastal Oregon, and these have been associated with the planting of Douglas-fir in the Sitka spruce zone, leaf wetness during potential spore dispersal in May–August, and mild winter temperature. The first annual aerial survey was initiated in 1996 and has continued through 2015, which indicates a significant increase in area of visible symptoms from the air, increasing from 53,050 ha in 1996 to 238,705 ha in 2015. Monitoring plots in the NW Oregon Coast Range verified impacts of SNC on tree growth and productivity, with growth reductions averaging about 23% in the epidemic area linked to needle retention. A series of monitoring plots was set up in the western Cascade Mountains of Oregon and 590 10–23-year old Douglas-fir trees in 59 stands were tracked for 10 years, measured in 2001, 2006, and 2011. No measureable growth impacts were noted in this region of Oregon. A new plot network is being installed throughout the Oregon and southwest Washington coastal ranges as a means of monitoring future disease impact and providing framework for additional studies.
Keywords:
Douglas-fir; foliage disease; Swiss Needle Cast; forest pathology; disease severity assessment; aerial survey
Acknowledgments
Funding for the Cooperative Aerial Survey was from US Forest Service, Forest Health Monitoring Program, Oregon Department of Forestry, and Swiss Needle Cast Cooperative membership. We thank Mike McWilliams, Floyd Freeman, United States Department of Agriculture, Forest Service; and Bob Ohrn and Charlie Thompson, Salem Bureau of Land Management. We also thank Jon Laine, Kevin Nelson, and Michael Thompson from ODF and field crews from the Salem and Eugene BLM and the Mt. Hood and Willamette NF's for data collection; and J.T. Marrs Contract Cutting for tree climbing and sampling. We are grateful to Robbie Flowers, USDA Forest Service for contributing the aerial photograph of mixed species stand.
Author Contributions
G.R. led the writing of the document with later additions and corrections by D.C.S. G.F. wrote the Cascade Mountains plot section and produced
Figure 6
, relationship of pseudothecial density and elevation. G.R., D.C.S., G.F., A.K., J.B. contributed to the current research monitoring plot network in Coastal Oregon experimental design. A.K. and D.N. performed aerial surveys. A.K. produced aerial survey figures, map of Oregon, and aerial photographs. G.F., A.K., and J.B. contributed to the experimental design of the Cascade Mountains plot study.
Conflict of Interest
The authors declare no conflict of interest.
Abbreviations
The following abbreviations are used in this manuscript:
| | |
| --- | --- |
| SNCC | Swiss Needle Cast Cooperative |
| SNC | Swiss needle cast |
| PNW | Pacific Northwest |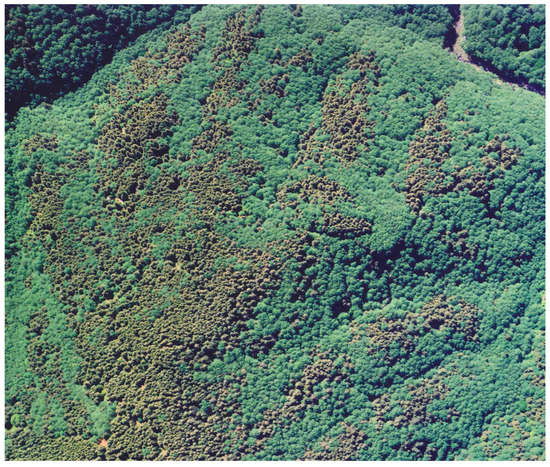 Figure 2. Mixed species stand with severe SNC infection (brown foliage). Light green trees are hardwoods (red alder).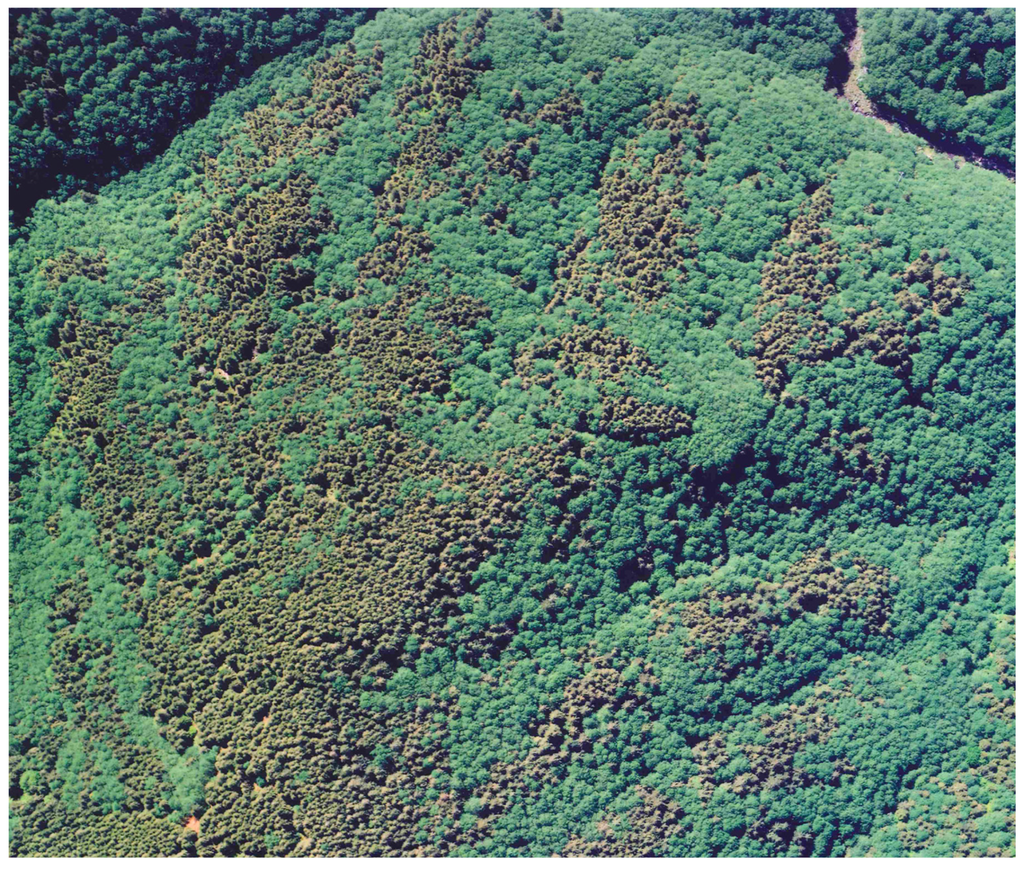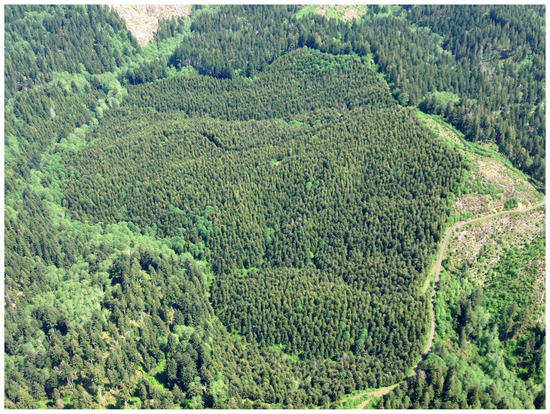 Figure 3. Mixed species stand with moderate SNC symptoms (yellowish foliage). Light green trees are hardwoods, mostly red alder, dark green trees are Sitka spruce and Western hemlock.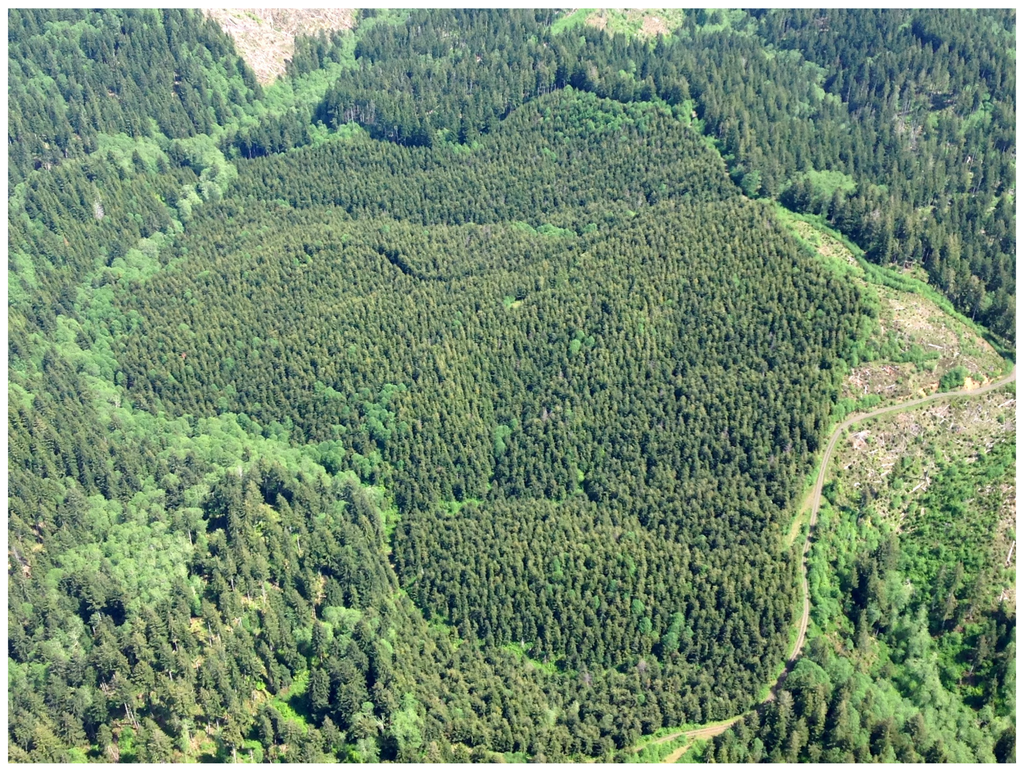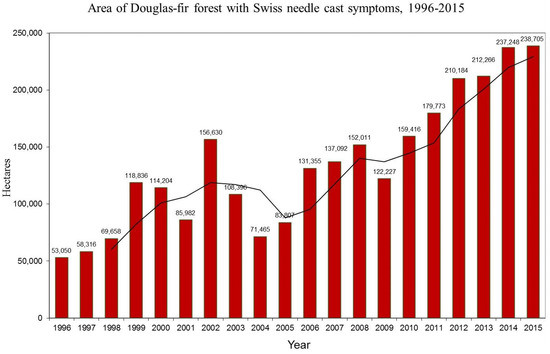 Figure 4. Area of Douglas-fir forests with Swiss needle cast symptoms determined from aerial survey in late spring from 1996 to 2015 (20 years).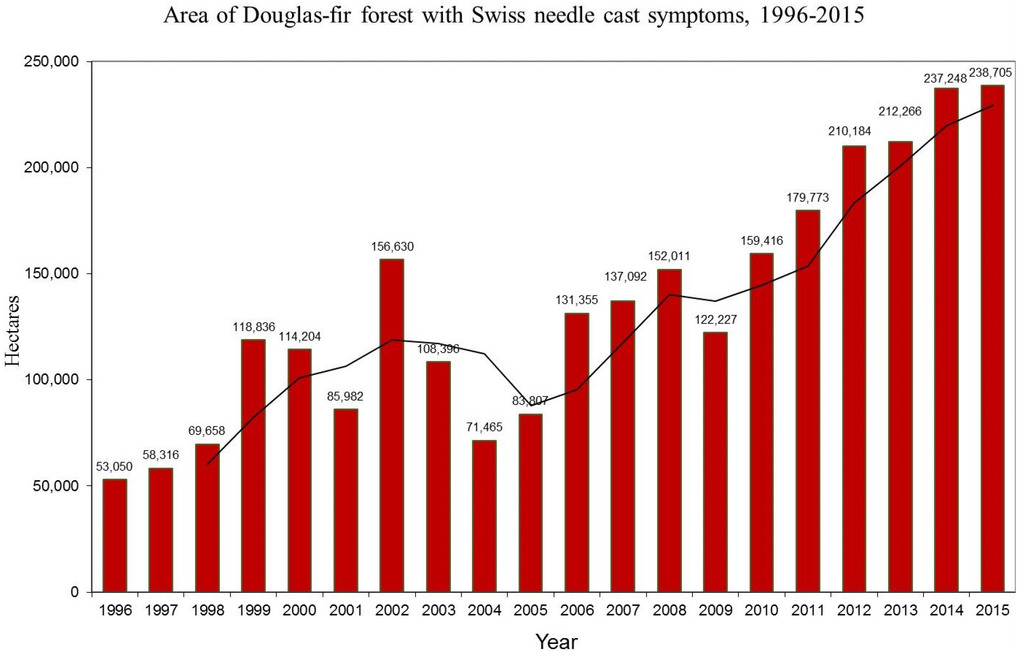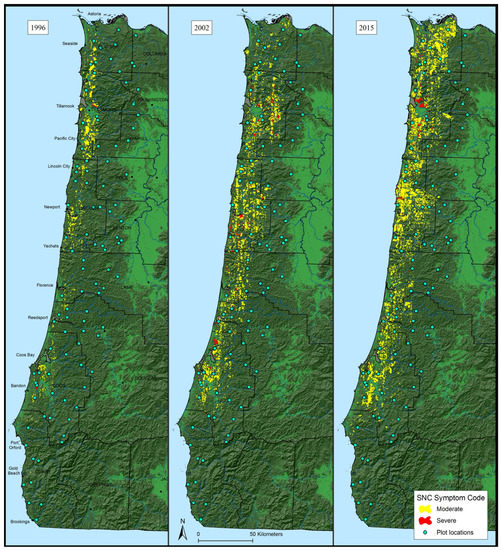 Figure 5. Spatial pattern of Swiss needle cast-symptomatic Douglas-fir in the Coast Range of Oregon as determined by aerial detection survey in 1996, 2002, and 2015. Yellow indicates moderate symptoms, while red indicates severe symptoms. The blue dots represent new plot network.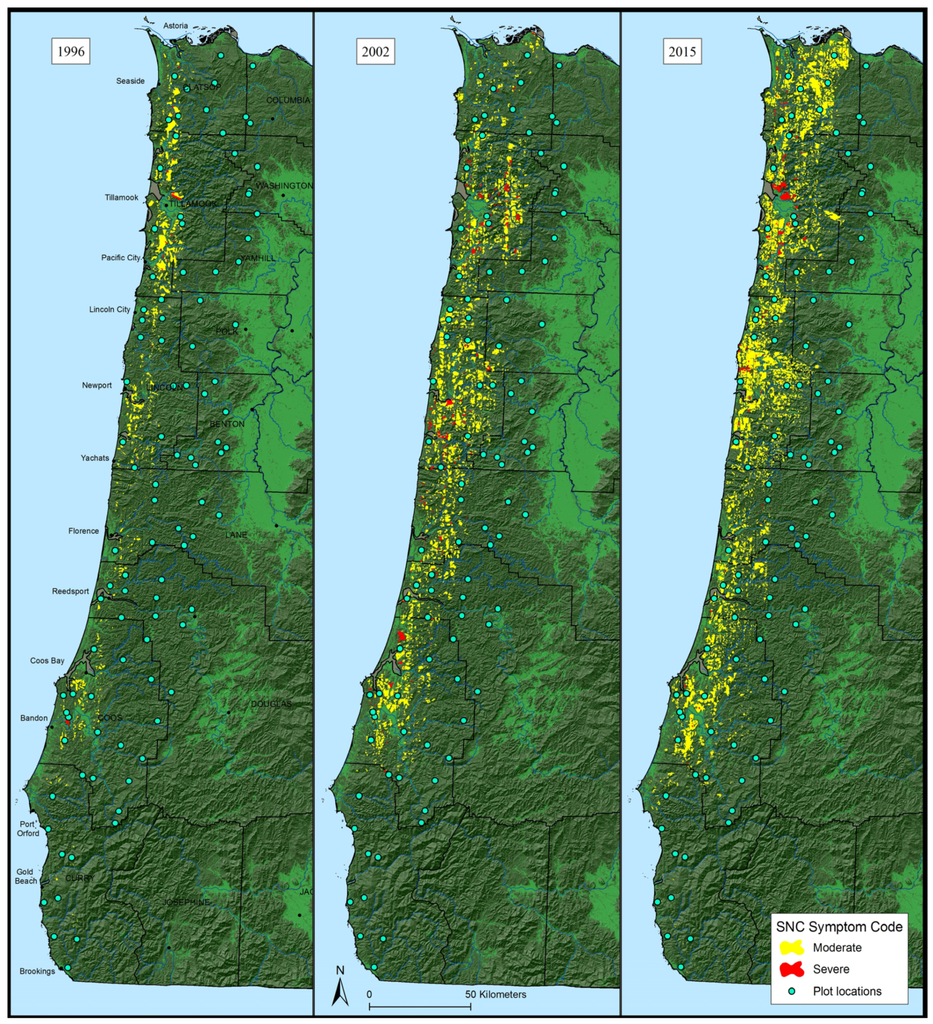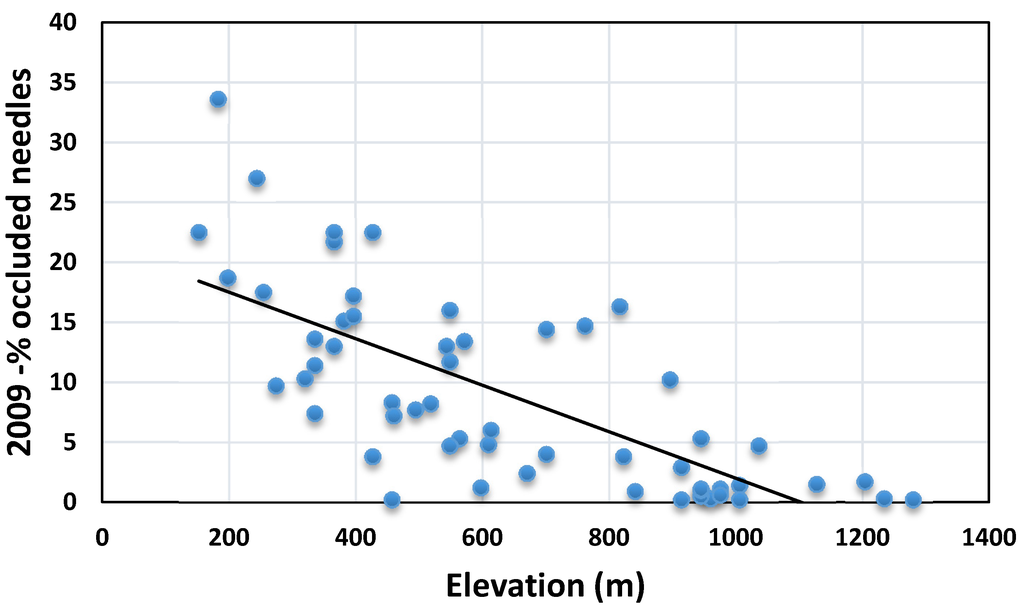 © 2016 by the authors; licensee MDPI, Basel, Switzerland. This article is an open access article distributed under the terms and conditions of the Creative Commons Attribution (CC-BY) license (http://creativecommons.org/licenses/by/4.0/).