Unmanned Aerial Vehicles and Biosecurity: Enabling Participatory-Design to Help Address Social Licence to Operate Issues
1
Eco Research Associates Ltd., 435 Memorial Avenue, Burnside, 8053 Christchurch, New Zealand
2
Cawthron Institute, 98 Halifax Street E, The Wood, 7010 Nelson, New Zealand
3
Will Allen & Associates, P.O. Box 30108, 8023 Christchurch, New Zealand
4
Scion, 10 Kyle Street, Riccarton, 8011 Christchurch, New Zealand
5
Te Tira Whakamātaki Māori Biosecurity Network, 7400 Rangiora, New Zealand
6
Scion, 49 Sala Street, Whakarewarewa, 3010 Rotorua, New Zealand
7
Forest Research, Northern Research Station, Roslin, Midlothian EH25 9SY, Scotland
*
Author to whom correspondence should be addressed.
Received: 12 June 2019 / Revised: 26 July 2019 / Accepted: 15 August 2019 / Published: 16 August 2019
Abstract
Forest health can be adversely affected by invasive organisms. Biosecurity measures to prevent the establishment of harmful invasive organisms at national points of entry (e.g., airports or shipping ports) are vital to protect forest health. Innovations in pest eradication technologies are being developed based on their efficiencies and effectiveness. However, the question of whether people find them acceptable is rarely considered. In New Zealand, research is underway into the use of highly targeted pesticide spraying using unmanned aerial vehicles (UAVs) as a novel technology to eradicate pest species that impact forest, food, and fibre sectors. Public approval for such technologies, however, can be a critical aspect for their success. A tool can be technically effective (achieve eradication), but uptake may be impossible if communities do not trust the technology. We developed a method for enabling discussions about the use of UAVs and their acceptability in general before being operationalized for biosecurity. This paper presents an investigation of how "participatory-design", an often tactile, visual, and inclusive process of community engagement can improve the acceptance of technology use in the public sphere. We asked people, both scientists and citizens, to evaluate the acceptability of a range of UAV uses (including biosecurity) along a continuum and then explored the reasons for their placement. Key criteria for acceptable and unacceptable uses were subsequently developed to help technology designers and operators consider aspects of social acceptability during design processes. Our tool and approach facilitated discussions around technology acceptability that were subsequently adopted by our technical design team for the development and the use of acceptable UAVs for biosecurity. This research shows how systematic approaches to design can help uncover and mitigate social acceptability issues through inclusive design under increasing threats of biosecurity, whether related to challenges of trade or climate change.
View Full-Text
►

▼

Figures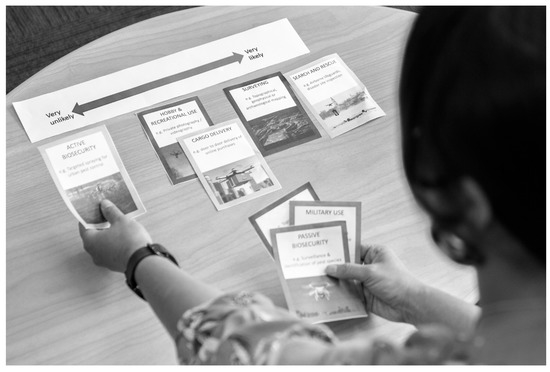 Figure 1
This is an open access article distributed under the
Creative Commons Attribution License
which permits unrestricted use, distribution, and reproduction in any medium, provided the original work is properly cited (CC BY 4.0).

Share & Cite This Article
MDPI and ACS Style
Ogilvie, S.; McCarthy, A.; Allen, W.; Grant, A.; Mark-Shadbolt, M.; Pawson, S.; Richardson, B.; Strand, T.; Langer, E.L.; Marzano, M. Unmanned Aerial Vehicles and Biosecurity: Enabling Participatory-Design to Help Address Social Licence to Operate Issues. Forests 2019, 10, 695.
Note that from the first issue of 2016, MDPI journals use article numbers instead of page numbers. See further details here.
Related Articles
Comments
[Return to top]